Vickeblanka Releases Live Video Of 'Urara' From 'Ca Va?' Single
Vickeblanka is set to spread the word of his music this year at numerous festival in Japan including SUMMER SONIC 2019 in Tokyo and Osaka in mid-August.
The singer is set to drop his third single Ca Va? on June 12. The DVD that is coupled with the CD includes footage taken from his 2019 "Wizard Tour." The singer has given us a taste of what to expect by releasing his performance of Urara from Zepp Tokyo on avex's official YouTube channel.
Vickeblanka – "Urara" from WIZARD TOUR 2019 at Zepp Tokyo
This show was held on February 10 this year. It was the final concert of the tour and enjoyed a sold-out venue.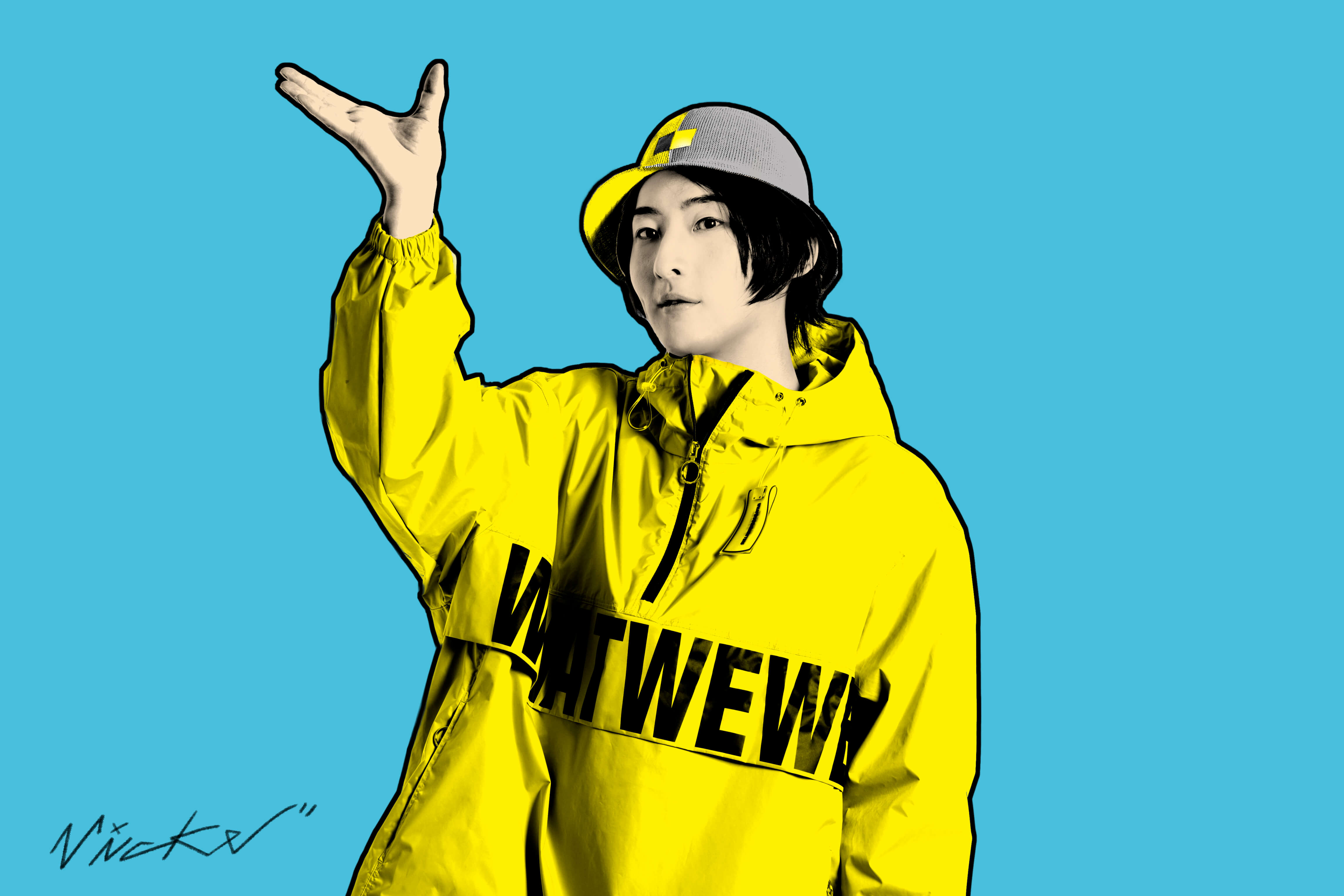 The CD cover for the single was also revealed today, as well as the news that the single's lead track Ca Va? will receive an early digital release on May 17.
Tickets for Vickeblanka's solo show Voom Voom Room at Shinkiba Studio Coast are now on sale. The concert is being held in promotion of the new single. Tickets are expected to sell out fast, so if you're looking to catch him live for the new release, then you'll want to be quick.
Ca Va? is the first release from Vickeblanka in 7 months since his second album. The record included the song Masshiro which was used as an insert song for a Japanese drama series. Ca Va? also includes the song Lucky Ending which is being used as the ending theme for the new adaptation of Natsuki Takaya's manga series Fruits Basket. It also includes an acoustic version of Urara. The original song reached No. 1 in Japan's radio charts.
Information
Ca Va?
Release Date: June 12, 2019
Early Digital Release: https://lnk.to/vickeblanka_cava
*Early digital release available from May 17, 2019上記
Voom Voom Room
Date: June 14, 2019
Time: Open 17:30 / Start 18:30
Venue: Shinkiba Studio Coast
Price: Standing ¥4,500 (Tax Included) *Separate mandatory drink fee charged upon entry
Vickeblanka Official Website: https://vickeblanka.com/
RELATED ENTRIES
Vickeblanka Releases 'Shekebon!' Music Video From New Album 'Devil'

Vickeblanka dropped his third studio album Devil digitally today on Spotify and iTunes. The album has already shot up to No. 1 on the J-Pop Album charts on iTunes Japan.

Vickeblanka is also set to premiere the music video for the album's title track Shekebon! on YouTube today (March 3) at 20:00 (JST).

Vickeblanka – "Shekebon!" (Official Music Video)

*Premiering: March 3, 2020 at 20:00 (JST)

The music video was directed by Tai Nakazawa and features Vickeblanka carrying out a solo band session. Vickeblanka showcases his love for music by playing all the instruments before performing to a crowd at the end.

Shekebon! is a song to lift up those who are going through some kind of struggle. When the music video premieres, Vickeblanka is scheduled to talk in the chat box in real time on YouTube.

Speaking about the music video, Vickeblanka said: "The video fully recreates the idea that was in my head. It was fun to shoot from beginning to end. Be sure to check it out."

The new album includes Black Catcher, which was the 10th opening theme for the TV anime series Black Clover, as well as the Ca Va?, which was written for a Spotify TV commercial.

Tickets for Vickeblanka's new tour, "Tour de Devil 2020," are now on sale. The tour is set to begin on April 29, and tickets are already sold out in certain regions, so you'd best order yours ASAP if you're thinking of going.

Vickeblanka Drops Official Music Video for Black Clover Anime Op 'Black Catcher'

Having released the new song Black Catcher digitally on January 8, 2020, Vickeblanka just dropped the song's official music video.

Vickeblanka 'Black Catcher' Official Music Video

Committed to releasing a new song digitally every month for three months, Black Catcher marks Vickeblanka's second song release in the project. Black Catcher was written as the season 10 anime opening theme song for Black Clover. The ominous video reflects darkness and urgency, weaving the turbulent story with a sense of awakening. The colours of the video create a world of distorted paradise. 

Although the new Black Clover episodes started airing just yesterday, the video for the opening theme song has already become a big sensation and is already showing signs of becoming the top fighting spirit song of 2020.

A Statement by Vickeblanka

I cannot express just how privileged I feel to have been entrusted with creating the opening theme song for Black Clover for the second time now. The music video is a story of being purified by a small version of oneself. Although part of the video is just me messing around, I hope that viewers can connect with the song through the visuals created by the unique colours and atmosphere. 

Vickeblanka will release a new album called Devil on March 4, 2020 and is also set for Tour de Devil 2020.  Tickets will be available to purchase from event hosts in the respective performance regions.

©Y/STB

Vickeblanka's New Song 'Black Catcher' Revealed as Black Clover Opening 10

Artist Vickeblanka will release a new song called Black Catcher on January 8, marking the second release of the singer's three-month digital song release plan. Black Catcher will be used as the tenth opening theme song for the anime Black Clover.

A strong melody pours out over the dark soundscape of this song. The groaning bassline is punctured by the sharp beat of the drums, over which the guitar melody glides gracefully, entwined with the turbulent yet beautiful piano accompaniment. The fighting spirit of the song rises with the endless strength of the vocals. 

This isn't the first Black Clover opening theme song for Vickeblanka – the artist previously released the song Black Rover as a Black Clover anime opening. The song ranked at number 15 on Spotify's 2019 list of most played Japanese songs overseas. At the moment, the sensational song has been played over 20 million times on streaming services and over 15 million times on just Spotify alone, leaving expectations for Vickeblanka's upcoming track at an all-time high. 

A Statement by Vickeblanka

As a Jump fan, I am extremely honoured to be in charge of a Black Clover opening for the second time now. As the story has progressed significantly since, I put a lot more empathy into this song. It is filled with darkness and a sense of urgency. 

Vickeblanka is set to release the new album Devil on March 4, marking the artist's third ever original album release in a year and four months. As fans reminisce of how we were drawn in by the euphoric world of Vickeblanka's previous album wizard, the complete change of tone with the new album Devil is sure to shock listeners. 

Vickeblanka will also embark on a tour titled Tour de Devil 2020 which consists of eight performances including some in Higashi-Meihan halls. The tour will kick off at Orix Theater, Osaka on April 29 and will arrive at NTK Hall Forest Hall, Nagoya on May 1. The final performance will take place on May 9 at Nakano Sunplaza in Tokyo. Tickets will be available to purchase from event hosts in the respective performance regions.

©Y/STB

Vickeblanka releases 3rd single! anime music video for "Lucky Ending" has been unveiled!

Singer/songwriter Vickeblanka will release his third single on Wednesday 12th June. The single will consist of four songs including "Lucky Ending", which is the ending theme for anime Fruits Basket. You can also get your hands on the single DVD version, which includes video extracts from his sold-out final live performance at Zepp Tokyo for his "WIZARD TOUR 2019".

To commemorate this single release, Vickeblanka will perform a one-man-live show called "Voom Voom Room" on Friday 14th June at Shinkiba Studio Coast.

Vickeblanka  / 『Lucky Ending』(anime music video)

Lucky Ending is also available for digital download. A Fruits Basket music video version of the video with lyrics has also been released.

A light three beat rhythm drives the song. Vickeblanka's gentle voice sings words of love, perfectly depicting the image of Fruits Basket. Please check out this popular masterpiece!

© Natsuki Takaya/ Hakusensha, Inc/ Fruits Basket Production Committee

Information

Unspecified

Release date: Weds 12/06 2019

CD+DVD

Price: ¥2,500 + tax

Serial number:AVCD-94432/B

CD only

Price:¥1,200+ tax

Serial number:AVCD-94433

– CD –

・Lucky Ending

(Includes 4 songs in total)

– DVD –

WIZARD TOUR 2019@Zepp Tokyo live performance clips

Lucky Ending

Digital release:Weds 10/04

Digital download link:https://avex.lnk.to/vickeblanka_luckyending

Vickeblanka official website: http://vickeblanka.com/

Anime Fruits Basket official website: https://fruba.jp/

New Fruits Basket Anime Ending Theme 'Lucky Ending' by Vickeblanka to be Released Digitally

Vickeblanka embarked on a solo tour in January to promote his second studio album wizard with the final show wrapping up at a sold-out Zepp Tokyo on February 10. His schedule for 2019 is packed with performances at upcoming events and festivals including this year's Summer Sonic.

The new anime adaptation of Fruits Basket began airing on April 5, 2019. The opening theme Again is performed by Beverly while the ending theme Lucky Ending is performed by Vickeblanka. It has been announced that the ending theme will be released digitally on April 10, 2019. In the song, Vickeblanka sings gently of love against a light and jaunty melody.

The song's Kanji lyrics have also been released officially. Click the link on Vickeblanka's site here.

Ending Theme for New Fruits Basket Anime to be Performed by Vickeblanka

It has been announced that Vickeblanka will perform the ending theme Lucky Ending for the upcoming new anime adaptation for the manga series Fruits Basket written and illustrated by Natsuki Takaya.

Vickeblanka is a Japanese pop singer and songwriter who is set to perform at many big music festivals in Japan this year, including SUMMER SONIC 2019 in both Tokyo and Osaka.

Fruits Basket was serialised in Hana to Yume, published by Hakusensha, from 1998 to 2006. It has sold over 30 million copies worldwide. The original anime adaptation by Studio Deen ran in 2001 from July to December. The new series will have a new cast and staff.

Talking about his collaboration with the series, Vickeblanka comments: "I enjoyed reading shojo manga as a child because of my younger sister. It wouldn't be an exaggeration to call Fruits Basket the bible for all girls, so it is truly an honour for me to be able to perform the ending theme. Lucky Ending is a very precious song to me. It's a fateful harmony of my own personal feelings and the messages I took from reading the series. Please be sure to give it a listen. I too am looking forward to the [new] anime airing."

Fruits Basket will begin airing on April 6, 2019.

Information

Lucky Ending

Digital Release: Early April 2019

Vickeblanka Official Website: http://vickeblanka.com/

Fruits Basket

Initial Broadcast: April 6, 2019

Fruits Basket Official Website: https://fruba.jp/

©Natsuki Takaya・Hakusensha / Fruits Basket Production Committee

Vickeblanka to Releases Live Video Footage From Upcoming 2nd Album 'wizard'

Japanese pop singer and songwriter Vickeblanka attracted much attention for his insert song in the Japanese TV drama series Kemono ni Narenai Watashitachi starring Yui Aragaki and Ryuhei Matsuda.

The music artist has released two live videos which are taken from his concert at TSUTAYA O-EAST in Shibuya as part of his ULALA TOUR 2018. Both videos are also included with the first press limited edition of his upcoming second album wizard. The two videos include performances of Black Rover which was used as the opening theme song for the anime series Black Clover, and TARA. The videos are available to watch on YouTube and GYAO! until December 9. Fans who were unable to attend this sold-out show will be happy to see Vickeblanka's performance with professional camerawork.

The artist's much-anticipated second album wizard is his first in one year and four months. He will delve into new music territory, with everything from laid-back lo-fi rock to dance music, ballads with a beautiful falsetto voice, an uplifting symphonic sound and beyond.


First press editions of the album will contain an application card to enter a lottery to win tickets to Vickeblanka's WIZARD TOUR 2019.

Information

wizard

First Press Limited Edition (CD+DVD): ¥3,800 (+Tax) [AVCD-96009/B]
*Includes application card to enter a lottery to win tickets to Vickeblanka's "WIZARD TOUR 2019." Application Period: November 20 at 10am to December 2.

Regular Edition (CD-Only): ¥3,000 (+Tax) [AVCD-96010]
*Includes application card to enter a lottery to win tickets to Vickeblanka's "WIZARD TOUR 2019." Application Period: November 20 at 10am to December 2.

Release Events
・11/16 @ Mitsui Outlet Park Sapporo Kitahiroshima, Hokkaido (Start – 18:30)
*"AIR-G'brilliant days×F Live Event in Mitsui Outlet Park Sapporo Kitahiroshima, Hokkaido" / Line-Up: Vickeblanka, Seiya Matsumuro
・11/24 @ Tower Records Umeda NU Chayamachi, Osaka (Start – 16:00)
・11/25 @ Nagoya PARCO West Bldg. 1F, Aichi (Start – 16:00)
・12/2 @ Tower Records Fukuoka PARCO, Fukuoka (Start – 16:00)
・12/9 @ Tower Records Shibuya B1F CUTUP STUDIO, Tokyo (Start – 13:00)

Release Event Content: Acoustic set, signing

Vickeblanka Official Website: http://vickeblanka.com/

Vickeblanka Reaches #1 On NetEase Cloud Music's ACG Rankings

Japanese pop singer and songwriter Vickeblanka has clocked in at the number one spot on Chinese freemium music streaming service NetEase Cloud Music in the ACG (Animation Comic Game) weekly rankings the song WALK (movie ver.) on his second single Natsu no Yume / WALK.

The digital release of the single also ranked 3rd place in the Japanese iTunes album charts.

WALK (movie ver.) is used as the main theme song for the CGI anime anthology drama film Flavors of Youth which will be available on Netflix from August 4, 2018. The film is animated by CoMix Wave Films who are known for working on many of Makoto Shinkai's works including the international hit movie Your Name.

Flavors of Youth is split into three parts each made with a different director. Each episode is themed around the Chinese idiom 衣食住行 that highlights the four necessities of life: clothing, food housing and transportation.

The first episode, The Rice Noodles, is directed by Jiaoshou Yi Xiaoxing and tells the tale of a man unable to recreate the taste of rice vermicelli he ate as a child. The second episode, A Little Fashion show, is directed by Japanese 3D director and CG chief on Shinkai's works Yoshitaka Takeuchi. It tells the story of a fashion model who loses her passion for her job as a younger woman steals the spotlight. The final episode, Love in Shanghai, is directed by Li Haoling, the face of Chinese animation company Haoliners. It follows a graduate who rediscovers his childhood sweetheart by listening to old cassette tapes.

When this Chinese-Japanese co-produced film was released the theme song was met with a huge response in both countries. An official music video was also released which showcases the beautiful scenery and the human spirit while fully capturing the feeling of the movie's world.

Vickeblanka will appear as a special guest to perform the song when the film drops worldwide on August 4.

Vickeblanka Releases Black Clover Anime Music Video for 'Black Rover'

Vickeblanka is a J-pop singer-songwriter who made his major debut with the single Urara back in April which reached number one on radio charts across Japan. Recently, it was decided that he would perform the main theme song for Shiki Oriori, an upcoming anime movie from animation studio CoMix Wave Films who are known particularly for Makoto Shinkai's movies (Your Name, The Garden of Words).

On May 29, the official anime music video for Black Rover, the third opening for the anime series Black Clover, was released. The music video is the original video used in the series' opening. The song is included on Vickeblanka's Urara single.

It's a fast-paced, heroic song, and the first anime song to be performed by Vickeblanka.

The artist will head on tour in June to perform in six cities. The Aichi and Osaka dates have already sold out. Tickets for the other concerts are now on sale, so if you're thinking of going, be sure to get your ticket quick.

■Information

Vickeblanka – "Black Rover" (Anime Music Video)

​https://youtu.be/8RSfSxkN0ek​

Vickeblanka ULALA TOUR 2018

06.01 @ Sapporo Cube Garden, Hokkaido ― 18:00 Doors / 19:00 Start

06.08 @ Sendai enn 2nd, Miyagi ― 18:00 Doors / 19:00 Start

06.15 @ Fukuoka BEAT STATION, Fukuoka ― 18:00 Doors / 19:00 Start

06.22 @ Nagoya ReNY limited, Aichi ― 18:00 Doors / 19:00 Start *SOLD OUT

06.23 @ Umeda Shangri-La, Osaka ― 17:00 Doors / 18:00 Start *SOLD OUT

06.29 @ Shibuya Tsutaya O-East, Tokyo ― 18:00 Doors / 19:00 Start

All Standing – ¥4,000 (Tax Included) *Plus mandatory drink charge

Tickets now on sale via the following:

E-Plus: http://eplus.jp/vickeblanka18/

Yahoo! Tickets: http://r.y-tickets.jp/vickeblanka1801

Lawson Tickets: http://l-tike.com/bkulala18-lawson/

Ticket Pia: http://w.pia.jp/t/vickeblanka/

P-Codes By Region

Hokkaido 107-221 Miyagi 108-503 Fukuoka 108-343 Aichi 107-529 Osaka 108-546 Tokyo 109-291

Vickeblanka Official Homepage: http://vickeblanka.com/