Chun-Li Inspired Street Fighter Shoes to be Released by Onitsuka Tiger
Onitsuka Tiger will release its new Street Fighter inspired trainers―made as part of its MEXICO 66 SD line―on July 27. To promote the trainers, manga author Masakazu Katsura designed an original Chun-Li key visual for the release.
As well as Katsura's illustration, 10 other artists have also contributed their own original Chun-Li drawings, including Hikaru Chō. For a limited-time only while the shoes are available, these illustrations can be seen by heading into select branches of Onitsuka Tiger listed below.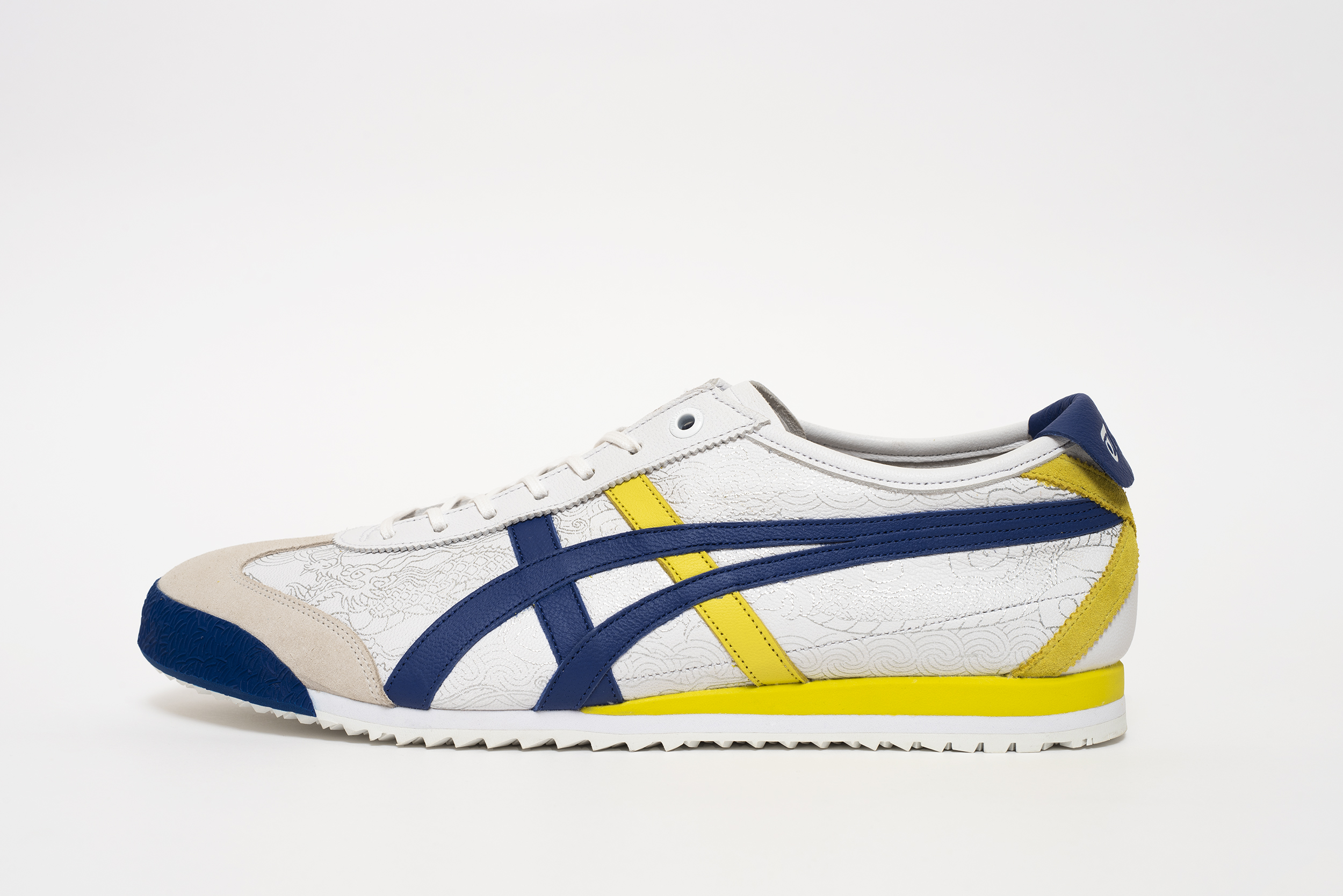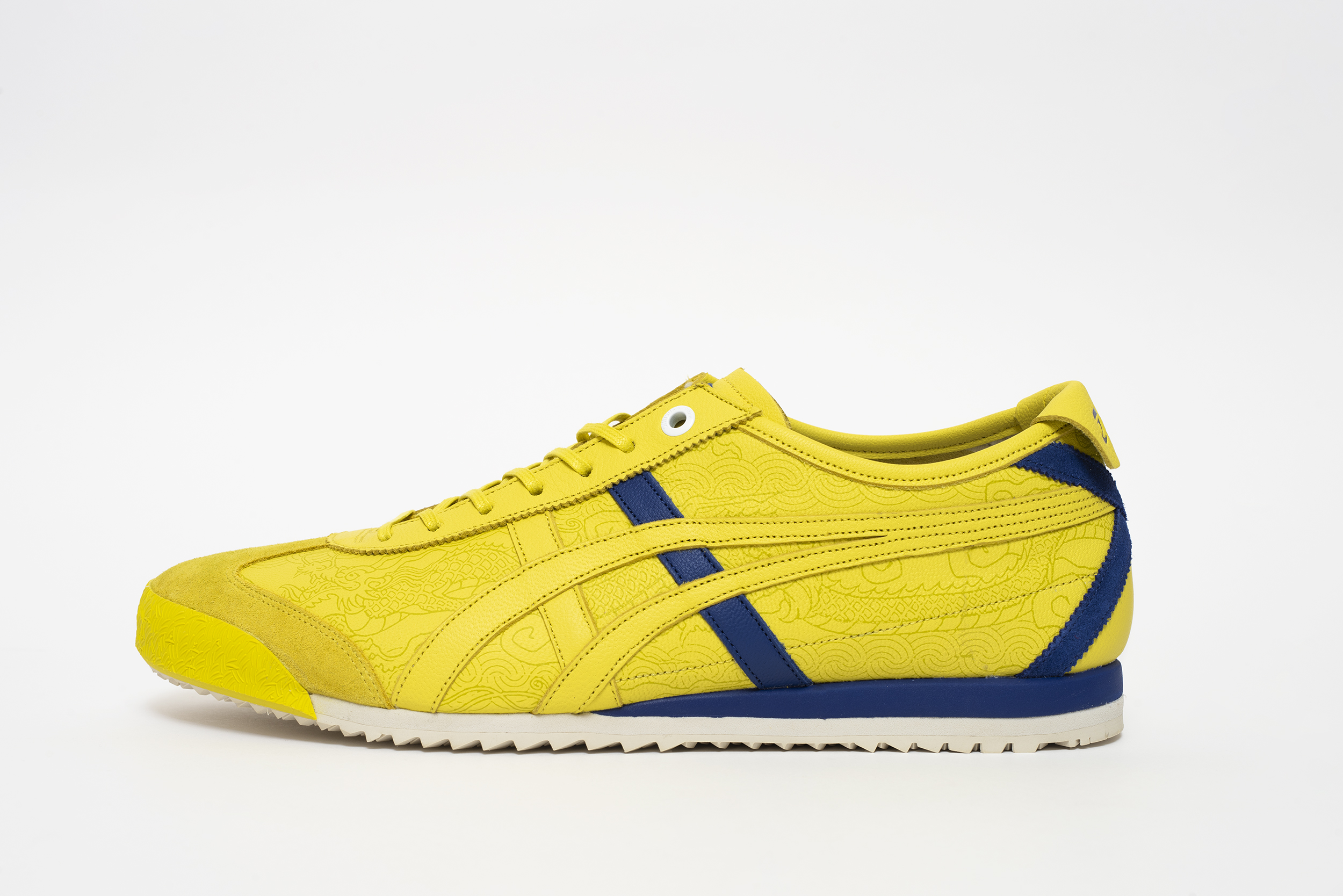 MEXICO 66 SD: ¥18,000 Each (Before Tax)
The shoes come with a card bearing a unique product code which can be used in-game to give Chun-Li an original Onitsuka Tiger outfit as well as the MEXICO 66 SD shoes themselves.
Chun-Li aren't going to want to miss out on this exclusive opportunity.
©Masakazu Katsura / Shueisha
Information
Chun-Li Illustration Schedule
May 24, 2019 – May 26, 2019 @ Onitsuka Tiger Omotesando
June 7, 2019 – June 9, 2019 @ Onitsuka Tiger Shinjuku East
June 21, 2019 – June 23, 2019 @ Onitsuka Tiger Namba
*Schedule subject to change.
Street Fighter V Arcade Edition Website: http://www.capcom.co.jp/sfv/
Onitsuka Tiger Website: www.onitsukatiger.com
RELATED ENTRIES
Abeno Q's Mall Announces Collaboration with Street Fighter II Starting October 1

Street Fighter II will collaborate with a commercial facility for the first time in history! The beloved fighting game will take over Abeno Q's Mall in Osaka from October 1 until October 31, 2022. Popular characters from the game will appear all over the premises, and visitors will be able to take part in unique games to win exclusive prizes. 

There are also a number of interesting challenges that will pop up around Abeno Q's Mall. At the entrance, visitors will be greeted by Ryu and Ken, the main characters from Street Fighter II, as they unleash their Hadouken. Guests will be able to take pictures with Ryu with a special AR Photo Spot, and characters and stages from the title will appear around the mall. A participatory game event, Street Fighter Challenge, will be available for customers spending ¥3,000 or more (including tax). These customers will actually be able to test their Street Fighter skills, with winners winning a ¥500 yen mall gift card if they are victorious. Fans of the fighting game won't want to miss this unique event!

© CAPCOM CO., LTD. ALL RIGHTS RESERVED.

Information

Abeno Q's Mall/Street Fighter II Collaboration
Running: October 1 – October 31, 2022
Address: 1-6-1 Abenosuji, Abeno-ku, Osaka
Official Site: https://qs-mall.jp/abeno

Street Fighter 6 and Onitsuka Tiger Announce Collaboration

Street Fighter 6, the next installment of the classic Capcom fighting series, is teaming up with Japanese shoe company Onitsuka Tiger.

This marks the second collaboration between Capcom and Onitsuka Tiger, following the release of the Street Fighter V Arcade Edition collab shoes in 2019. The two are committed to impacting culture and feel strong ties to their Japanese roots, honoring the classic ways while being inspired by modern style.

New visuals of Chun-Li and Kimberly, a new character scheduled to appear in Street Fighter 6, have been created for the collaboration. In this tag team featuring an old and new character, Chun-Li wears Onitsuka Tiger's iconic MEXICO 66 model shoes, while Kimberly wears the DELECITY model, combining the essence of classic kicks with the spirit of the here and now. A special T-shirt has also been created featuring these new visuals, so check out the Capcom online store eCAPCOM or visit the Capcom stores in Tokyo or Osaka to snag one.

 

In addition, Onitsuka Tiger plans to sell collaborative items in the first half of 2023, featuring original visuals of Chun-Li and Kimberly drawn by Thai cartoonist Wisut Ponnimit. Ponnimit is known as the creator of Mamuang, a popular character around the world.

Expect to see more exciting collaborations between Capcom and Onitsuka Tiger in the future!

Street Fighter 6 Coming in 2023, Characters and Battle System Revealed

The Street Fighter series is celebrating its 35th anniversary in 2022. Fans are excited following the announcement that Street Fighter 6 will be coming sometime in 2023 for PlayStation 4, PlayStation 5, Xbox Series X/S, and PC via Steam!

Along with an announcement trailer, characters for the upcoming title have been revealed. Fan favorites Ryu, Jack, and Chun-Li are back along with all eight original 'World Warriors' characters from Street Fighter II. A new character for the sixth installment, Jamie, has also been revealed! The game will be powered by Capcom's proprietary RE Engine, previously used to develop Devil May Cry 5, Monster Hunter Rise, and Resident Evil Village. Early footage of the game is extremely smooth, bringing the classic fighting game into a new generation. Fans will be able to engage with three distinct game modes: Fighting Ground, World Tour, and Battle Hub.

The beginning of the newly-released trailer shows off the World Tour mode, taking place in sprawling Metro City. The game will feature an extensive single-player adventure mode. What kinds of experiences await?

Street Fighter 6 will introduce a new 'Drive' System, allowing players more free reign when it comes to experimenting with how best to use a particular character. Five different techniques can be used when the Drive Gauge is filled, and these can be used to enhance a player's offensive or defensive options. Players can also engage an Overdrive Art similar to EX Special Moves from past titles.

Fans will notice the TV show-like quality of the announcement trailer. Streamers will find this an incredibly enjoyable game to play while chatting with viewers, as Street Fighter 6 will include real-time in-game commentary with audio recorded by "well-known talent from the fighting game community."

Look for more Street Fighter 6 news coming soon!

©CAPCOM CO., LTD. ALL RIGHTS RESERVED.

Information

Street Fighter 6

Release Date: 2023

Platforms: PlayStation 4, PlayStation 5, Xbox Series X/S, PC via Steam

Official Site: https://www.streetfighter.com/6/

Onitsuka Tiger Announces Special Collection with Foxy Illustrations

In the Year of the Tiger, fashion brand Onitsuka Tiger has a chance to shine. The Year of the Tiger only comes around every 12 years, and to celebrate, the company is offering a variety of products featuring tiger motifs during 2022.


 

This special collection was created using the work of foxy illustrations, a self-taught artist who began illustrating while living abroad in Denmark, Canada, Shanghai, and London, and who is currently based in Tokyo. Each piece features original characters blended with Onitsuka Tiger style. Preorders are open now and sales will begin on March 25 at select stores throughout Japan and online.

Three cute and sexy girls wearing Onitsuka Tiger's popular shoes and tiger-patterned clothing are featured in the new collection which includes everything from T-shirts to tote bags. 

This stylish zodiac motif is sure to bring you good luck in 2022!

Street Fighter 35th Anniversary Exhibition to be Held in Shibuya and Kitakyushu

A Street Fighter exhibition honoring the series' 35th anniversary is currently being held in Tokyo! The event will also open in Kitakyushu on June 18, 2022.

'Can You Shoot a Hadouken?' Experience

Life-size Statues of Chun-Li and Vega

※All photos are from the Fukuoka venue.

Original Merchandise at a Glance

The Street Fighter series debuted in arcades in 1987 and is celebrating its 35th anniversary throughout 2022.

This exhibition was initially held in Fukuoka City in 2020, and will now travel to the Tokyo Anime Center and the Kitakyushu Municipal Museum of Art.

Street Fighter quickly became a social phenomenon upon release and is still beloved around the world. The release of Street Fighter II in 1991 established the fighting game genre, and the newest title Street Fighter V continues to be a fan favorite.

This exhibition traces the history of Street Fighter, displaying original drawings from the original title's production, arcade machines, and more. With the help of Capcom, guests can enjoy hands-on digital content using the latest technology. 

Information

Street Fighter Exhibition – 'A World of People Stronger than Me' 

Shibuya Exhibition
Running: February 10 – March 27, 2022
Hours: 11:00 – 20:30 (Last entry at 20:00)
*Closing at 17:00 on March 27 (Last entry at 16:30)
Location: Tokyo Anime Center, Shibuya MODI 2F (1-21-3 Jinnan, Shibuya, Tokyo)
Tickets/Details: https://tokyoanimecenter.jp/event/streetfighter_35th_anniversary/

Kitakyushu Exhibition
Running: June 18 – August 7, 2022
Hours: 10:00 – 18:00 (Last Entry at 17:30)
Location: Kitakyushu Municipal Museum of Art, Riverside Gallery, Riverwalk Kitakyushu 5F (1-1-1 Muromachi, Kokurakita-ku, Kitakyushu, Fukuoka)

Tickets/Details: https://streetfighter.artne.jp/

'Year of Onitsuka Tiger' Launched, First Project Includes Collaboration with Yasushi Nichisawa

Fashion brand Onitsuka Tiger has developed a new contemporary collection combining trends and sports with heritage and innovation. 

As 2022 is the Year of the Tiger in the Chinese Zodiac, the brand is stepping up their game for the next twelve months. Onitsuka Tiger is teaming up with a handful of artists to release the 'Year of Onitsuka Tiger,' a series of products featuring tiger motifs. These will be available worldwide starting January 1, 2022 at participating stores and online. 

Legendary Japanese illustrator Yasushi Nichisawa drew a creature for the Onitsuka Tiger brand in his later years, and this image is finally being revealed as a highlight of the new collection. A red version and a blue version of 'OnitsukaTiger Man' will grace some new items going on sale soon. 

Sculptor Takayuki Takeya was commissioned to create a one-of-a-kind 'OnitsukaTiger Man' figure, and while it's not for sale, it's certainly something to behold. It will be on display at the Omotesando flagship store and other select locations, so keep an eye out.

It's said that wearing something related to the year's zodiac sign will bring good luck, so you might want to pick up some Onitsuka Tiger merch in 2022!

Information

Year Of Onitsuka Tiger

Onitsuka Tiger Collaborates With Tomohisa Yamashita For eSports Tournament Intel World Open

With the global eSports tournament Intel World Open having begun on Friday, Onitsuka Tiger announced a surprise partnership with Japanese actor and singer Tomohisa Yamashita.

The collaboration includes a special YouTube series which launched its first episode on Tuesday which aims to promote the development of inclusivity in eSports. The series is titled Tomo's Game Room and features numerous episodes that includes the Yamashita playing Street Fighter V Champion Edition, as well as another of him meeting with the winner of the tournament.

Onitsuka Tiger is also producing the official uniforms for the tournament. This includes six items such as a tracksuit, t-shirt, long sleeve tee and more which are designed around comfort. The apparel is branded with the event's official logo. The shoes are also coloured to represent Street Fighter and Rocket League, two games featuring as part of the tournament.

GRAPHIC TEE | ¥11,000 (Tax Included)

A replica t-shirt of the official uniform is now available worldwide on Onitsuka Tiger's official website. The tee is limited to 120 units, so don't miss out.


Seeing the potential of eSports as a medium in which we can create a society where everyone can be accepted regardless of age, gender, nationality, or disability, Onitsuka Tiger is looking to make use of the opportunity of this tournament to spread these values.

Onitsuka Tiger x Doi Tung Sustainable Sneaker Collection Revealed

Onitsuka Tiger has announced the release of a new sneaker collection in collaboration with the Doi Tung Development Project in Thailand. The collection will be released on May 24 at Onitsuka Tiger stores in Omotesando, Osaka Shinsaibashi, and Kobe, as well as the brand's online store.

MEXICO 66 Unisex Model | ¥13,200 (Tax Included)


MEXICO 66 PARATY Unisex Model | ¥11,100 (Tax Included)

SERRANO Unsiex Model | ¥11,000 (Tax Included)


MEXICO 66 Thai Exclusive Model

Onitsuka Tiger is a Japanese sports fashion brand that combines heritage and innovation to create contemporary collections.

The Doi Tung Development Project is the leading project of Mae Fah Luang Foundation, a non-profit organisation. Onitsuka Tiger has banded together with the project to create sustainably-produced sneakers .





The Onitsuka Tiger x Doi Tung collection shines a spotlight on the traditional craftsmanship of Thailand's craftsmen in three models: MEXICO 66, MEXICO 66 PARATY, and SERRANO. The sneaker's designs feature hand-woven textiles inspired by traditional patterns from Thai culture. These textiles take a week to produce by hand from start to finish and are softer than fabric woven by machines. The combination of red and blue serves as a nod to Onitsuka Tiger's signature look. The red and yellow fusion on the soles also represents the key colours of Doi Tung and Onitsuka Tiger.

 

The collaboration not only serves as an homage to Thai handiwork, but as an opportunity to create more jobs too. The sneakers also represent the relationship between Thailand and Japan.

 

Retro Street Fighter Clothing Collection Releases in Collaboration With HUF

Fashion brand HUF, which was established in San Francisco back in 2002, has released a new Street Fighter Collection featuring vintage, 8-bit designs.

 The collection is sure to be a nostalgia fest for fans of Capcom's iconic series, with designs featuring characters, stages, and more from Street Fighter in the form of shirts, tees, socks, hats, fleeces, and accessories.

The two resort shirts feature the background art of memorable stages from the games as well as Blanka's Electric Thunder and more. There's also a skateboard deck series for collectors which include references to the bonus stages.

A special HUF X hoodie featuring a Street Fighter arcade machine has also been added to the line-up amongst other must-grabs.

Onitsuka Tiger Reveals Spring/Summer 2021 Collection

Japanese fashion brand Onitsuka Tiger has revealed its 2021 Spring/Summer Collection which combines fashion with sports, heritage, and innovation.日

Look Book (Excerpt)

Shoes

The concept for the 2021 Spring & Summer Collection is "The Onitsuka Tiger Attitude" which incorporates the brand's attitude not only into the product details and branding but each and every collection piece. The collection is divided into four themes: "THE SAILING KITE," "THE CLEAN LINES," "THE VINTAGE IS NOW," and "THE WORKING PROGRESS." The line-up is inspired by the blowing winds and the sails of a boat on the ocean.

The shoes fuse elements from Onitsuka Tiger's footwear archive with contemporary designs to create all-new models. The "ACROMOUNT" takes inspiration from the brand's 1970's array combining fabric and leather for a vintage feel. The "DENITGRE," a popular long-selling model which also appeared in the 2020 Autumn & Winter Collection, arrives as a hybrid model in the new "DENITIGRE MX." The "TAI-CHI-REB™️ SOCK MT" features a slim form with embroidered uppers.

The collection's colour palette is a mix of highlight colours like orange and saxe blue as well as black, green, burgundy, and more, capturing that Onitsuka Tiger spirit while infusing into contemporary pieces for a fresh result.

Onitsuka Tiger Releases New Autumn/Winter Sneakers in Premium Line 'THE ONITSUKA'

Onitsuka Tiger is a Japanese contemporary fashion and sports brand that combines heritage with innovation. Their simple yet timeless "THE ONITSUKA" line features hybrid design dress hoes and sneakers that match every style from casual to formal.

Many of the shoes in THE ONITSUKA line feature shoes with uppers made from internationally-renowned, high-quality leather from Kobe cattle, as well as αGEL Foam soles for high shock resistance and comfort, and shark tooth soles made from rubber sponge for added durability and comfort.


JUMPA Unisex Model | ¥38,000 (Before Tax)

Inspired by ski boots and fitted with a large tongue. Made entirely with Japanese leather.

CHUKKA-S (Men's Model) | ¥43,000 (Before Tax)

Classic chukka boots with hidden laces to give a smart appearance.

BLUCHER MT (Unisex Model) | ¥50,000 (Before Tax), BLUCHER LO (Unisex Model) | ¥48,000 (Before Tax)

Based on the first ever basketball shoes released by Onitsuka Tiger in 1950. The upper features multiple colours and materials to create an original knitted tweed look.

Street Fighter V's 'Ring of Destiny' and 'Ring of Prosperity' Stages Jacked by Cup Noodle

Street Fighter V's DLC stages "Ring of Destiny" and "Ring of Prosperity" have been taken over by Nissin Foods's instant cup noodle brand Cup Noodle in Japan.

The Street Fighter video game series has sold over 44 million copies worldwide. Cup Noodle's collaboration with the internationally-celebrated series comes in promotion of the 2020 season of the Street Fighter League: Pro-JP, an e-sports league featuring Capcom's popular Street Fighter series in Japan. Both the "Ring of Destiny" and "Ring of Prosperity" stages will feature a Cup Noodle design until the final day of the league's grand finale, after which the stages will return to normal. This date has yet to be announced.

Nissin Foods | Comment

"We are supporting the biggest battle held by the Street Fighter V community by collaboration with [two of] the game's stages. In recent years, more people have woken up to gaming receiving much more attention. We see countless competitors around the world who are showing their talents. Momofuku Ando, the founder of [Nissin Food Products Co., Ltd.], invented the world's first instant noodles, Cup Noodle, which has been enjoyed by many competitors for being time-saving, allowing for them to hone their skills in their spare time. Cup Noodle wholeheartedly supports Street Fighter League: Pro-JP 2020 and the fiery passion of participating competitors. Hungry To Win!"

©CAPCOM U.S.A., INC. 2016, 2020 ALL RIGHTS RESERVED.