One Piece Collaborates With Nissin in Cup Noodle Commercial Featuring Character Zoro
Instant noodle brand Nissin Foods just released a new animated commercial in collaboration with the anime series One Piece. The commercial is part of the company's "HUNGRY DAYS" series and this time centres around the One Piece character Zoro.
Nissin has made four other videos in the series so far, all in collaboration with various anime franchises including Kiki's Delivery Service, Heidi, Girl of the Alps, Sazae-san, as well as an animated original entitled Saishukai ("The Last Time"). Nissin commercials have become the nation's favourite in the food industry. The series has become a big hit having been viewed over 18 million times.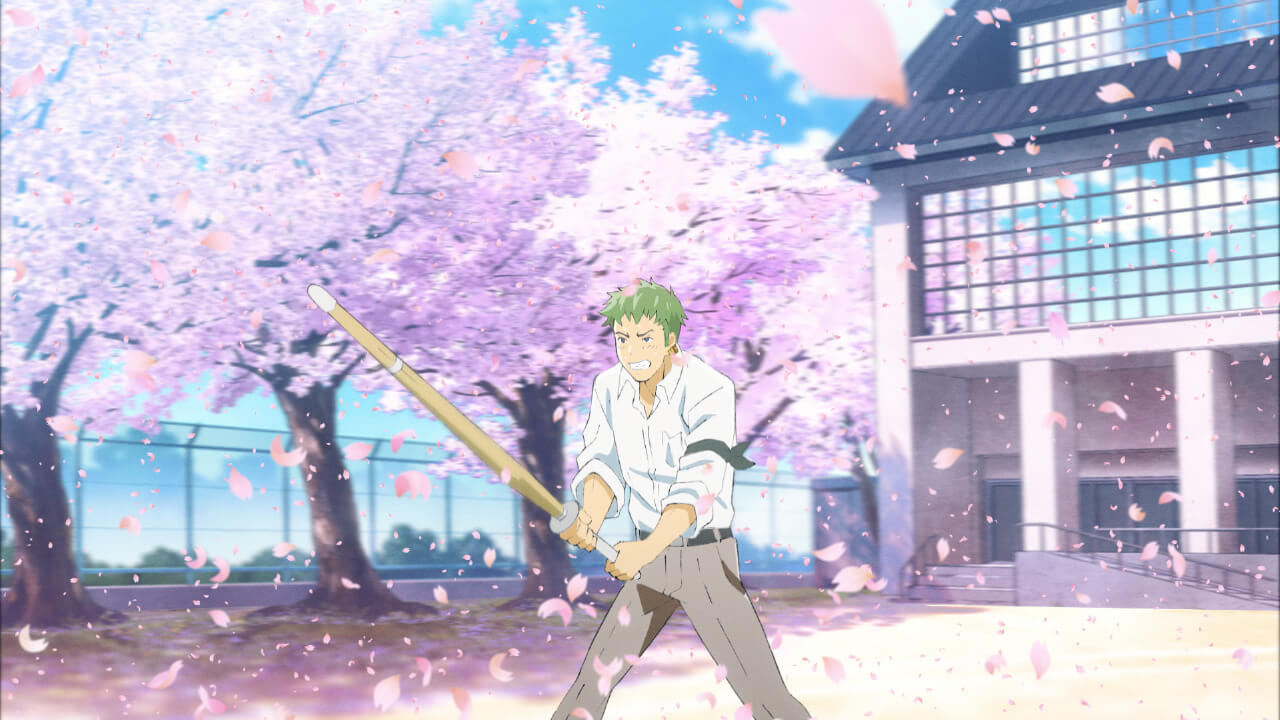 A year after the TV anime series One Piece ended, Nissin initiated a collaboration with the series. which lead to the creation of this animated commercial.
The commercial re-imagines the characters as ordinary high school students. It follows the story of main character Luffy's friend Zoro and his youthful strive for improvement!
Hungry Days One Piece Zoro Version
Esteemed manga artist Eisaku Kubonouchi, who is known for creating the manga series Tsurumoku Dokushinryo, worked on the character design for the commercial, while and the music was created by BUMP OF CHICKEN. The voice actors/actresses for the characters including Luffy (Mayumi Tanaka) and Zoro (Kazuya Nakai) are the same people who voice acted for the anime too! The narration was directed by famous voice actress Megumi Hayashibara.
RELATED ENTRIES
One Piece's Vivi Appears in Anime's Third Commercial Collaboration With Nissin Cup Noodles

Instant noodle brand Nissin Foods just dropped the third animated commercial in collaboration with the One Piece anime series on December 6. The commercial is part of the company's "HUNGRY DAYS" series of ads.

The commercial comes as the sequel to their first collaboration with the anime series which featured the character Zoro back in May. The video gained huge attention across social media with a combined view count of over 22 million views across Twitter, Facebook and YouTube, making it Nissin's most watched online video. Together with the trailer announcing the start of the series and the second collaboration, the series as a whole has amassed over 35 million views.

The new commercial sees Vivi taking the spotlight. Like the previous commercials, it re-imagines the characters as ordinary high school students. This edition sees Vivi announcing to the rest of the characters that she is transferring schools, and we see just how much she cherishes them as friends.

The video features over 50 characters in various scenes.

The video even features actual voice actors from the anime series reprising their roles for the commercial, including Misa Watanabe who voices Vivi, Mayumi Tanaka (Luffy), Akemi Okamura (Nami), Masako Nozawa (Doctor Kureha), and others. The character designs were designed by Eisaku Kubonouchi and the music is by BUMP OF CHICKEN.

We look forward to seeing who will play the main role of the next commercial. Stay tuned for the next edition.

One Piece x New Era® Collaborate On Limited Edition Rucksacks

Headwear and apparel brand New Era® is collaborating with the internationally-beloved hit anime series One Piece, which turned 20-years-old on Sunday (October 20), to release a stylish new rucksack from the PREMICO webstore.

The rucksack takes inspiration from the Straw Hat Pirates and fuses it with New Era's iconic street fashion style.

The bag's outer pocket features delicate embroidery of the crew's skull logo as well the name "STRAW HAT" in all-caps.

The interior design of the rucksack features a print of an old-fashioned map and bears a cushioned pocket with plenty of room for stashing your tablet, notebook laptop or other items.

There's also a side pocket for carrying a bottle. The charm dangling from the outside pocket features a ship anchor for that extra pirate aesthetic.

The bag comes in a black colour with a standard unisex silhouette, meaning it can easily be incorporates in a wide variety of styles.

Each bag also comes with a cap clip with the One Piece logo on one side and the New Era logo on the other.

This is a limited edition rucksack with only 2,000 being made, making this a must-grab for all fans!

©️Eiichiro Oda / Shueisha・Fuji TV・Toei Animation

Information

NEW ERA x ONE PIECE Official Rucksack Collaboration

Release Date: October 21, 2019

Delivery: Mid January 2020

Price: ¥19,800 (Does not include tax or shipping fee)

Quantity: 2000

Official Website: https://iei.jp/op48pr/

Food Review: Nutrient-Packed Vegan Cup Noodles Vegewel RICE NOODLES

Frembassy is a Japanese company whose aim is to create a barrier-free food culture in Japan where everybody can laugh and enjoy their meals together. On Thursday, the company introduced its new Vegewel RICE NOODLES on Vegewel Marché, a food website run by the company, which will be sold for a limited time. The cup noodles are vegetarian and vegan-friendly and packed with healthy ingredients.

Vegewel RICE NOODLES are made with no animal products, dairy, egg, wheat or crustaceans, and contain no chemical or synthetic seasonings. They can be enjoyed by both children and adults alike.

The bowl contains the noodles, seasoning, and soup powder. Simply put all the ingredients into the bowl, pour over hot water, and leave for 3 minutes before tucking in.

The chewy noodles are an original creation made from rice flour and made specifically for Vegewel RICE NOODLES. The flour is made from Akitakomachi, a type of rice, and provides a great flavour balance with the other ingredients.

The soup and seasoning contains absolutely no additives, chemical seasonings, or yeast extract.  To ensure no quality is lost in the flavour of the cup noodles, only citric acid is added to the rice flour noodles. The bowl is packed full of crispy cut up vegetables which is rare when it comes to cup noodles in Japan. The secret to their crispiness comes from allowing the vegetables to dry in a vacuum drier in cold vapour. Normally, glucose is added to the dried vegetables, but that has been taken out of the process for these noodles too.

One bowl contains 125g of vegetables, letting you get 1/3 of your daily intake of veggies. Their delicious taste coupled with sweet mirin makes for a treat for your taste buds. The seasoning is simple, but once you've put everything together, the flavour takes on a whole new level.

I recommend adding lots of fresh vegetables like okra and tomato, maybe even a sprinkle of paprika and a small dash of extra virgin olive oil.

A bowl contains 266Kcal which is is much lower compared to your ordinary cup noodles. It's also low in fats and zero in cholesterol. It makes for a simple, healthy and light lunch or even dinner. Japan is still catching up when it comes to vegan cuisine, so this is a great option if you're staying there and in need of something!

Information

Vegewel RICE NOODLES

Price: ¥590 (Before Tax)

Product Page: https://vegewel.com/en/marche/products/ricenoodles

Ingredients

Noodles: Japanese Rice (Made in Japan), Corn Starch, Citric Acid

Seasoning: Yacón (Hokkaido), Broccoli (Hokkaido), Daokon (Aichi), Carrot (Aichi)

Soup: Soy Sauce Powder (Soy Sauce/Tapioca), Shiitake Powder, Sesame Powder, Onion Powder, Tomato Powder, Rock Salt, Mirin Powder

One Piece's Nami Appears in Anime's Second Commercial Collaboration With Nissin Cup Noodles

Instant noodle brand Nissin Foods just dropped the second animated commercial in collaboration with the One Piece on September 13. The commercial is part of the company's "HUNGRY DAYS" series of ads.

The commercial comes as the sequel to their first collaboration with the anime series which featured the character Zoro back in May. The video gained huge attention across social media with a combined view count of over 21 million views across Twitter, Facebook and YouTube, making it Nissin's most watched online video. Together with the video announcing the start of the series the series has over 25 million views. According to the CMDB, Japan's commercial research institute, the Zoro video is the number one most liked commercial from any company in Japan, making it 20 years since Nissin has achieved that status.

The new commercial sees Nami taking the spotlight. Like the Zoro edition, it re-imagines the characters as ordinary high school students. In this parallel world, we see Nami living her ordinary, day-to-day life as a student, with appearances from familiar faces.

Eisaku Kubonouchi

BUMP OF CHICKEN

The video features voice acting from Mayumi Tanaka and Akemi Okamura who voices Luffy and Nami in the anime series respectively. Eisaku Kubonouchi (creator of Tsurumoku Dokushinryo) is in charge of the character designs while BUMP OF CHICKEN performs the music.

The video will be available to watch until May 16, 2020. Be sure to check it out alongside the previous work.

One Piece: Stampede T-Shirts to be Released by UNIQLO For Upcoming Film

UNIQLO have announced that they will release a line of t-shirts to celebrate the release of the upcoming anime film One Piece: Stampede which will hit Japanese theatres on August 9. The t-shirts will be released as part of the company's UT graphic t-shirt collection at UNIQLO stores in Japan and on their website on July 29.

The collaboration marks the second time One Piece has teamed up with UT. The entire collection was crafted by UNIQLO's UT team with feedback from the legendary Eiichiro Oda, the author of the manga series.

The collection is inspired by the idea of the Straw Hat Pirates boarding the Thousand Sunny and heading on summer vacation, with Luffy carrying a gun barrel on his back for launching fireworks and Chopper wearing a firework explosive hat.

There is also the Pirates Festival t-shirt featuring the same mark that Chopper wears in the film.

Help commemorate the anime's 20th anniversary in the run up to the movie's release by getting your pirate hands on one of these exclusive t-shirts!

©Eiichiro Oda/Shueisha・Fuji Television・Toei Animation

"One Piece: Stampede" ©Eiichiro Oda / 2019 "One Piece" Production Committee

Information

One Piece: Stampede UT Collection

Release Date: July 29, 2019
Price: Men's – ¥990 (Before Tax) / Kids – ¥790 (Before Tax)
Designs: Men's – 8 / Kids – 3
Available: At UNIQLO stores and the online store in Japan. Kids sizes available at branches with a kids section only.
Sizes: Men's XS-4XL (XS, XXL-4XL available online only) / Kids 100-160 (100 and 160 available only only)
Product Page: www.uniqlo.com/jp/store/feature/uq/ut/onepiece-stampede/

UT Celebrates Iconic One Piece Scenes in New T-Shirt Collection

UNIQLO are set to release a new collection of One Piece t-shirts from their t-shirt graphic brand UT on May 10 online and at all stores across Japan.

The One Piece anime series began broadcasting in 1999 and is an adaptation of Eiichiro Oda's manga series of the same name serialised in Weekly Shonen Jump. The series is adored the world over.

The new t-shirt collection celebrates the series' 20th anniversary with designs of iconic scenes. "Friendship, Love & Bonds" are the keywords in these designs which feature familiar faces of characters. They are a must-have for any fan of the show.

© Eiichiro Oda/Shueisha, Toei Animation

One Piece Chopper Pancake Figure Designed by Japanese Illustrator Ryo Taniguchi

Bandai's official shopping site Premium Bandai is releasing a limited edition Chopper figure in its high-quality figure line Portrait.Of.Pirates on January 11.

The figure is being released to celebrate P.O.P One Piece's series 15th anniversary.

The figure was designed by Japanese illustrator Ryo Taniguchi who took inspiration from Chopper's sweet tooth.

It features Chopper sat on top of a pile of pancakes and wearing a hat decorated with macarons, cream and fruits, making it almost delicious enough to eat. The figure brings a new charm to the P.O.P line of figurines.

Information

Portrait.Of.Pirates One Piece "LIMITED EDITION" Tony Tony Chopper Ver.OT

On Sale: January 11, 2019 from 13:00 (JST)

Delivery Date: May 2019 (subject to change)

Price: ¥5,000 (includes tax, does not include shipping or handling charges)

Sold Via

Premium Bandai: http://p-bandai.jp/?rt=pr

MEGATREA SHOP: https://www.megatreshop.jp/

Jump Characters Store: https://jumpcs.shueisha.co.jp/

©Eiichiro Oda / Shueisha・Fuji TV・Toei Animation

*Sales will end if purchases exceed the stock limit.

*Product subject to change without notice.

*Photos display a product still in development. Actual product may differ slightly.

*Available to order outside Japan.

Music video of the love song, "Right Now,"written by V6 member, Shimizu Shota, has been released

V6's 50th double A-side single, "Super Powers / Right Now" will be released on January 16th. The music video of this song has now been released. The concept of the song is "a love song for adults" and was written by Shimizu Shota. It is a dark/sexy song with a tricky beat and is a song where you can feel the "new sound" of Shimizu Shota. The song depicts the game of love from a man's honest perspective.

The music video depicts a dance scene and six variations of one scene using some gimmicks and editing effects. The sound is simple but the dance is very complicated.

Also, the single includes the theme song of the animation, "ONE PIECE" called "Super Powers." The sleeve jacket of the first edition released with the music video is also gathering much attention.

This "ONE PIECE's original illustration sleeve" is a special sleeve that includes an illustration depicting the members of "the wheat straw clan" and V6. The members of the clan and V6 are making the same pose in the illustration. This valuable illustration shows that it is possible to create a strong power by gathering everyone's spirit together.

Shimizu Shota's comments ("Right Now" – lyrics, music and arrangement)

I am very happy that I could write a song for V6. And I am very pleased that the members of V6 directly asked me to write a song for them.

I am so happy that idols which have been watching since my childhood are dancing in tune to this song that I wrote. I want to go back to my childhood and tell myself that I am going to write a song for them in the future.

I tried to write a song which elevates the charm of the group and I hope that many people will watch them dancing.

Information

Super Powers/Right Now

Release date: January 16th, 2019

First Edition A  AVCD-94269/B

CD+DVD / 1800+tax

Comes with tall case and sleeve

First Edition B   AVCD-94270/B

CD+DVD /1800+tax

Comes with tall case and sleeve

Normal Edition AVCD-94271

CD /1200+tax

One Piece Themed Escape Game 'One Piece Puzzle Hunt' Opens in Singapore

Singaporean fans of One Piece can get ready to delve into the pirate world of the series with an all-new escape game that is now running at the island resort of Sentosa until February 13, 2019.

Titled "One Piece Puzzle Hunt," this escape-style attraction makes use of AR technology to solve puzzles. It makes use of the entire island resort and can be played by getting your hands on a game set and the AR app at the reception.

Successful escapees will get their hands on some limited edition original merchandise. All of this is limited in stock and will discontinue once everything has been given out, so don't miss this chance. Sail the seas together with Luffy and his crew!

Information

ONE PIECE PUZZLE HUNT

Running: December 14, 2018 – February 13, 2019

Time: 10:00-19:00

Locations: Sentosa Island, Singapore

Game Set: Purchased at the reception in front of iFly located 1-minute on foot from the exit of Beach Station that leads to Siloso Beach

Game Set Price: 30SGD

Requirements

・Up to 2 hours are needed to play but you can play across multiple days while the event is running.

・Can be played alone or in groups.

・One set of merchandise will be given per game set.

Official Website: https://sg.onepiecepuzzlehunt.com/

Boy Band V6 Performs TV Anime One Piece's New Opening Song 'Super Powers'

Japanese boy band V6 will perform the new opening theme song Super Powers for the hit anime series One Piece.

The song was written specially for the series and is described as expressing a world of adventure delved in eagerly with friends. The titles "super powers" refers to the abilities that each character wields, and that if everybody brings their strength together they can create an even bigger power. The lyrics too use keywords like "friends," "courage" and "adventure," and the music has a refreshing sound and fast-paced melody that's sure to motivate listeners. Details surrounding the CD release have yet to be announced.

The One Piece anime adaptation will enter its 20th anniversary next year. V6, too, will celebrate 23 years since their debut. This is an extremely rare and valuable collaboration to see V6 providing a theme song for any series.

V6 Members' Comments

Masayuki Sakamoto

"When I heard that it was decided we would perform the theme song I was overjoyed. The lyrics to 'Super Powers' contain the message that if friends bring their strengths together they can create an even bigger power. I think it's a song that One Piece fans are loving."

Hiroshi Nagano

"It's been 23 years since V6's debut, and it will be 20 years next since since the One Piece anime started. I'm so happy with the timing – being able to do the theme song to an anime we have grown with for the most part. I hope we can get lively together in the run up to the 20th anniversary."

Yoshihiko Inohara

"We are extremely honoured to have been allowed to intrude on the world of One Piece in our song. It has a fast-paced melody so I think it fits very well as an anime opening."

Gô Morita

"The melody is powerful and the lyrics are very straight foward. This is One Piece, something loved by a lot of people, so I hope people will be interested in this song too."

Ken Miyake

"The series was one I loved already. I've been waiting since the anime started. I never thought we'd be responsible for one of the theme songs, so I was over the moon. The theme of the song is 'living life with comrades with all  your might.' It expresses the world of adventure depicted in One Piece. The story in the anime starting in October I think it one people cannot overlook, so I definitely want them to listen to the theme song too!"

Junichi Okada

"I've liked the series since I was a kid; I still buy and read Jump Magazine to this day. The lyrics are littered with words like 'comrade,' 'courage' and 'adventure.' I think it's a song that will feel very much One Piece."

Comment: Yuta Kano ("One Piece" Producer, Fuji TV)

"I was kindly able to watch V6 in concert a little while back, and what I saw was that there was wide range of people enjoying them [in the crowd]. Their songs are also high quality, and they have a great number of famous songs. I felt they they are a rare artist who are able to bring people together. I thought to myself I wanted to request them to do a theme song for One Piece, so I gave the offer. I feel that the completed song is a cool song that has both that Sunday morning excitement and freshness! I would be happy if this becomes one of V6's new anthems in their discography!"

You can catch V6's new song Super Powers on One Piece from October 7.

Goku, Frieza, Luffy & Other Popular Characters Turn Into Rubik's Cubes!

Charaction CUBE is a new Rubik's Cube series that is releasing its first line of character themed puzzles at the end of September.

These huge-headed 3D puzzles celebrate a list of popular series including Dragon Ball Super, Mobile Suit Gundam, Naruto and more.

They are 85mm tall and are split into seven different moving parts. They maintain the same level of fun as the classic Rubik's Cubes. You can enjoy them as puzzles and also as collector's items.

They are developed by Megahouse who are responsible for selling the Rubik's Cube series of puzzles in Japan. Megahouse plans to ship them outside JApan in the future with Asia as its first overseas customers. The designs were created by character designer Ryo Taniguchi.

These make a perfect gift for puzzle and/or anime lovers out these. Pick your favourite character and challenge yourself!

■Information

Charaction CUBE – 1st Line (11 Designs)

On Sale: End of September 2018

Price: ¥1,814 (Tax Included)

Age: 15+ Years

Size/Weight: 85mm/60g

Material: ABS, POM

Webpage: https://rubikcube.jp/characube/

Rubik's Cube Japan: http://rubikcube.jp/

©Sotsu・SUNRISE INC.  ©Bird Studio/Shueisha・Fuji TV・Toei Animation

©Eiichiro Oda/Shueisha・Fuji TV・Toei Animation

©'76, '13, '18 SANRIO APPR. NO.S5916699

©Masashi Kishimoto Scott / Shueisha・TV Tokyo・Pierott ©Mizuki Pro・Fuji TV・Toei Animation

Rubik' s® Used under licence Rubiks Brand Ltd.

©1974 Rubik's® Used under licence Rubiks Brand Ltd. All rights reserved.

Dragon Ball, Naruto & One Piece Feature in Jump x UT's Last T-Shirt Collection

UNIQLO has been developing a spring and summer collection this year under its illustrative t-shirt brand UT themed on 'wearing the things you love.' The collection is being made in collaboration with Shonen Jump which is celebrating its 50th anniversary this year. The collection is gaining much attention, featuring some of the most memorable characters from Jump franchises.

©BIRD STUDIO / SHUEISHA

©Masashi Kishimoto Scott / SHUEISHA 

©Eiichiro Oda / SHUEISHA

This last collection will hit UNIQLO stores and online on July 27, with t-shirts from Dragon Ball, Naruto and One Piece.

©BIRD STUDIO / SHUEISHA

©Masashi Kishimoto Scott / SHUEISHA 

©Eiichiro Oda / SHUEISHA

The collection features a range of different illustrations, including Jump magazine front covers in the early days of series' serialisations, as well as Goku vs. Cell, Sasuke and Naruto vs. Madara, the scene where Luffy and Ace part ways, and more.

If you're a fan of any of the series, these t-shirts are sure to strike a chord with you! Don't miss out on this final collection.

■Information

Weekly Shonen Jump 50th Anniversary UT Collection