Attack on Titan Theme Song 'Shinjitsu e no Shingeki' by Linked Horizon CD Cover Revealed
Several of the voice acting cast for the ongoing second part of Attack on Titan season three are currently appearing on a series of live streams over the next few weeks, the first having been on May 20. In the streams the voice cast gave their comments on the band Linked Horizon―who perform the anime's current opening theme Doukei to Kabane no Michi―and their new single Shinjitsu e no Shingeki.
It will be the band's 4th single and is set to drop on June 19. The CD covers for both the Regular Edition and First Press Edition have been unveiled.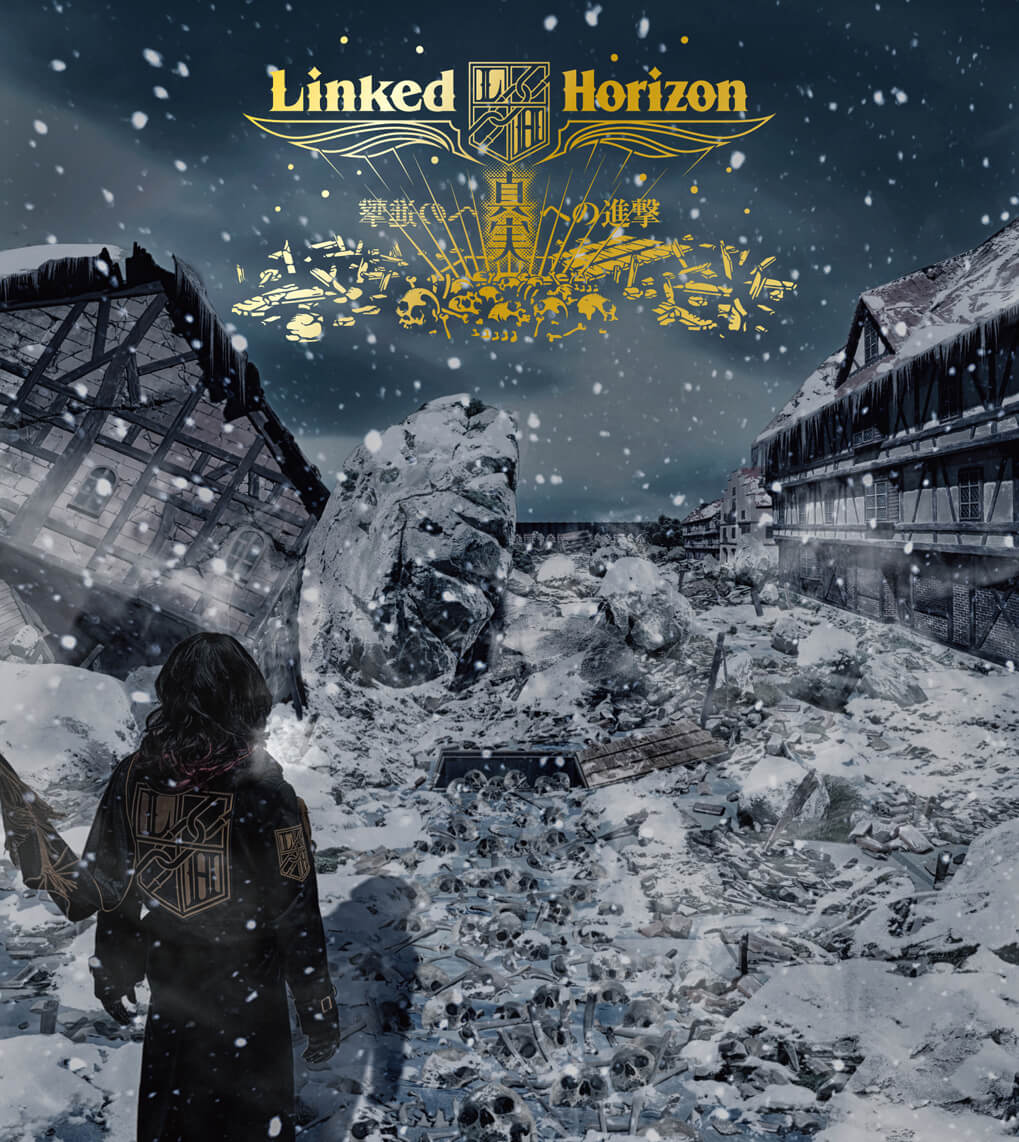 The First Press Edition features band member Revo looking out to snow-covered ruins and a road of corpses.
The Regular Edition cover seems to showcase the entrance to a basement. Eren's, perhaps?
When bought at select stores, CDs will come with one of the above-pictured character covers: Eren, Mikasa, Armin or Erwin.
Information
Shinjitsu e no Shingeki
Release Date: June 19, 2019
First-Press Edition: ¥1,389 (Before Tax) [PCCA.04796] *Comes with luxurious CD sleeve
Standard Edition: ¥1,111 (Before Tax) [PCCA.04797]
Linked Horizon Official Website: https://shingeki.linked-horizon.com/
RELATED ENTRIES
Attack on Titan: The Final Season Episode 76 "Condemnation" to Air In January 2022

It has been announced that the 76th and final episode of Attack on Titan: The Final Season, "Condemnation," will be airing on NHK in January 2022. Before the broadcast, a special omnibus that reflects on the story so far will be aired, along with a new original animation (OAD) featuring Levi, Annie, Mikasa, and various other characters from the series.

 

The latest broadcast information was announced on August 22 2021 at the Attack on Titan Orchestral Concert.  The director Hayashi spoke, saying "Sorry for the wait! The Final Season Part Two will be shown in January of the new year! From the huge battle in the Shiganshina District, all the way to the Titans origin story, we're finally approaching the climax of the story. We have also been taking on new challenges on how to visualize the story; How will those certain scenes turn out..? Please look forward to it!"

 

With four months still left to wait before the final episode of Attack on Titan: The Final Season Part Two airs, further details will be released in the future.

 

©Iseyama Hajime, Kodansha / Attack on Titan: The Final Season Production Committee

©諫山創・講談社/「進撃の巨人」The Final Season製作委員会

Information

Attack on Titan: The Final Season, Episode 76: Condemnation

Scheduled to air on NHK in January 2022.

The Final Season Official Site: https://shingeki.tv/final/ 

Video Distribution Service dTV Announces Viewer Rankings for First Half of 2021

Streaming service dTVⓇ has announced its overall viewer ranking for the first half of 2021. Did your favorite shows make the cut?


Jujutsu Kaisen

Tokyo Revengers

Demon Slayer: Kimetsu no Yaiba

Attack on Titan The Final Season

Kimetsu Academy 

dTV First Half Viewer Ranking 2021

Jujutsu Kaisen

(Anime) 

Detective Conan: The Scarlet Bullet

(Anime Film)

Tokyo Revengers

(Anime)

Demon Slayer: Kimetsu no Yaiba

(Anime)

Attack on Titan The Final Seaso

n (Anime)

Furuhata Ninzaburo

Season 1 (Drama)

Detective Conan

(Anime)

Alita: Battle Angel

(Western Film)

Kimetsu Academy

(Anime)

BTS JAPAN OFFICIAL FANMEETING VOL.5 [MAGIC SHOP] (Special)


The first and second seasons of Tozaburo Furuhata are no longer available. Season 3 is out now. 

Pulling in the most views between January and July was Jujutsu Kaisen, the popular anime series following high-schooler Yuji Itadori and his struggle with curses and sorcery. The show took the top spot by a huge margin, sitting at number one for four consecutive months between January and April. What makes it so popular? It could be its blend of horror and comedy, making it an attractive watch for all kinds of anime fans. 

In second place, Detective Conan: The Scarlet Bullet. Who is Shuichi Akai, and what was his involvement in the disaster at the World Sports Games? This is the 24th Detective Conan film, and not one to miss, grossing over $20 million and holding the title of the third highest IMAX opening in Japanese history. 

Rounding out the top three, anime series Tokyo Revengers tells the story of a delinquent with the ability to travel back in time. When his lover is murdered, Takemichi Hanagaki goes back to his junior high school days, intent on saving her life. Airing on dTV beginning in April, viewership has steadily increased, reaching #3 in May and hitting the top spot in June. 


 

Unsurprisingly, two internationally beloved series also made the top ten. Demon Slayer: Kimetsu no Yaiba and Attack on Titan The Final Season sit in fourth and fifth place, making the top five an anime-only club. Kimetsu Academy, a junior and senior high-school spinoff of Demon Slayer sits at number nine, even though episodes are less than two minutes long on average. Never underestimate the power of animation!

The classic 1994 drama series Furuhata Ninzaburo began to climb the rankings after the death of Masakazu Tamura in April this year from heart failure. Though seasons one and two are no longer streaming on the service, season three was just added to the catalogue on August 1!

Hollywood epic Alita: Battle Angel, an adaptation of the sci-fi manga series, was the only western film to crack the top ten. BTS JAPAN OFFICIAL FANMEETING VOL.5 [MAGIC SHOP], which included footage of a special event with fans at the popular KPOP group's last show at Kyocera Dome Osaka in 2019, finishes out the list. 

While these ten might have drawn the most views, there are plenty of other films, concerts, dramas and anime series available on dTV, so be sure to check them out!

Attack on Titan The Final Season Part 2 Teaser Visual Released

An event titled 'MAPPA STAGE 2021 – 10th ANNIVERSARY -' was held in Japan on June 27 where a teaser visual was released for Part 2 of the Attack on Titan anime's final season which shows Eren together with a mysterious girl.

Attack on Titan The Final Season Part 2 Special Teaser Promo

The event was attended by Yuki Kaiji (Eren Yaeger), Marina Inoue (Armin Alert), Ayane Sakura (Gabi Brown), the anime series director Yuichiro Hayashi, and composer Kohta Yamamoto who gave their thoughts and impressions on The Final Season.

The final volume of the Attack on Titan manga released on June 9 which saw comments trending from fans around the world on the ending. Attack on Titan The Final Season Part 2 is set to air this winter.

©諫山創・講談社/「進撃の巨人」The Final Season製作委員会

Information

TVアニメ「進撃の巨人」The Final Season 

第76話「断罪」 

NHK総合にて今冬放送予定

*放送日時は変更になる場合がございます

The Final Season公式サイト:https://shingeki.tv/final/

Attack on Titan Orchestra Concert Invites Line-Up of Famous Guest Artists

An Attack on Titan orchestra concert has been announced and will take place at Pacifico Yokohama National Convention Hall on August 22, 2021. Scheduled to perform are guests are Hiroyuki Sawano and Kohta Yamamoto as well as guest vocalists Aimee Blackschleger, Eliana, Laco, and mpi. Priority tickets can be applied for by purchasing Volume 1 of the DVD or Blu-ray volume of Attack on Titan The Final Season which is set to be released in Japan on July 7.

©諫山創・講談社/「進撃の巨人」The Final Season製作委員会

The final season's original soundtrack was also released digitally on June 23 with 23 tracks by Kohta Yamamoto and Hiroyuki Sawano. Check out the preview below.

Attack on Titan The Final Season Original Soundtrack

Information

Attack on Titan Orchestra Concert
Date: August 22, 2021

Daytime Slot: Open 13:00 / Start 14:00

Evening Slot: Open 17:00 / Start 18:00

Venue: Pacifico Yokohama National Convention Hall

Address: 1-1-1 Minato Mirai, Nishi-ku, Yokohama-shi, Kanagawa
Line-Up: Hiroyuki Sawano / Kohta Yamamoto
Guest Vocals: Aimee Blackschleger, Eliana, Laco, mpi
Price: ¥9,900 (Tax Included) *Reserved seating

Concert Details: https://shingeki.tv/final/special/20210822_concert/

Attack on Titan Official Website: https://shingeki.tv/final/

Priority Tickets
How to Obtain: Purchase the Volume 1 DVD or Blu-ray volume of Attack on Titan The Final Season releasing July 7
Application Window: July 7, 2021 – July 20, 2021

Winner Selection (Random): July 23, 2021 from 19:00

Payment Window: July 23, 2021 – July 26, 2021

No. of Tickets: Two per serial number for either slot

Devote Your Heart to Attack on Titan in the Final Survey Corps Project

To commemorate the end of Attack on Titan's 12-year saga, the editorial team at Weekly Shonen Magazine launched the 'Final Survey Corps Application' project on June 9 which imagines the staff and fans as part of the Survey Corps to express their love for the series. The staff at Animate and TSUTAYA stores in Japan are currently donning Survey Corps uniforms. A special online exhibition will also be held by the magazine to give thanks to fans who have supported Attack on Titan for 12 years.

Fans can use the all-new Survey Corps Maker service where they can upload their own photo or an illustration of themselves or an original character and writes words dedicated to the series. They are encourage to share this with other Survey Corps members around the world.



Survey Corps Maker: How to Use

1. Select a base image
2. Write your thoughts and comments about Attack on Titan
3. Share with the world

Survey Corps Maker Samples

The staff at Animate Ikebukuro

The staff at TSUTAYA 

Attack on Titan Online Exhibition

The online exhibition is a virtual event that was conceived after the COVID-19 pandemic forced the for in-person event in Japan to be cancelled. But this shift is good news to fans outside Japan as it means everyone around the world can join – and it's free.



The event requires a quick sign-up, after which fans can enjoy looking through displays of official artwork. There's also a merch shop with exclusive items to get your hands on. Please note that the exhibition features spoilers up to the final chapter.

Attack on Titan's Survey Corps Relax in Animate's Merchandise Collection

Anime and manga merchandise website ARMA BIANCA has announced a special Attack on Titan fair which includes the release of an original merchandise collection at Animate stores across Japan. The event, titled 'Attack on Titan ~Survey Corps' Relax Time~ in Animate,' will run from August 21 to September 5.

Grab merch pre-sales at the event

Levi Relax Ver. Glitter Pin | AMNIBUS Exclusive 

Eren & Levi Relax Ver. Mini Card | Animate Exclusive

Postcards (8 Designs) | Fair Exclusive

Fans of the anime series can get the hands on pre-sales of a bounty of merch as well as exclusive items. Grab your maneuver gear and blast your way to Animate this summer.

©諫山創・講談社/「進撃の巨人」The Final Season製作委員会 ®KODANSHA

Information

Attack on Titan ~Survey Corps' Relax Time~ in Animate

Japanese Event Title: 進撃の巨人~兵士たちのリラックスタイム~ in アニメイト
Running: August 21, 2021 – September 5, 2021

Location: Animate (Ikebukuro/Takasaki/Sendai/Omiya/Chiba/Utsunomiya/Sapporo/Shibuya/Nagoya/Niigata/Sannomiya/Kyoto/Fukuoka PARCO/Okayama/Hiroshima/Kumamoto/Osaka Nipponbashi/Gifu/Yokohama Vivre/Online)
Details: https://event.amnibus.com/shingeki-animate/

Official Website: https://amnibus.com/

Attack on Titan Key Ring Collection Features Retro Japanese Billboard Designs

A new collection of Attack on Titan key rings is now available to order on the Japanese anime, manga, and hobby website CharaDepa for a limited time until May 30. The collection features designs of the series characters inspired by old-time retro Japanese billboards.

Attack on Titan Retro Key Rings | 7 Designs | ¥680 (Before Tax)

©諫山創・講談社/「進撃の巨人」The Final Season製作委員会 ®KODANSHA

Information

Attack on Titan Retro Key Rings

Order Window: May 19, 2021 – May 30, 2021

Attack on Titan Manga Collection and Merchandise Releases in Japan

The online Japanese bookstore Rakuten Books is celebrating the release of Attack on Titan's final manga volume with eight new listings that will slash their way onto the website on October 15, 2021. Orders will be open for a limited time between June 9 and July 31.

The Attack on Titan manga series began serialisation in Kodansha's Bessatsu Shōnen Magazine in September 2009. The final volume was released on April 9, 2021, concluding Hajime Isayama's internationally-acclaimed story.

The Merch Collection

Volume 34 Book Cover | ¥880 (Tax Included)

A paper book cover featuring all of the major characters from the series.

Manga Collection Box A (Volumes 1-12) | ¥2,750 (Tax Included)

The first 12 volumes of the series packed in a box featuring Eren, Mikasa, Armin, Levi, and the Colossal Titan.

Manga Collection Box B (Volumes 13-22) | ¥2,750 (Tax Included)

The box for volumes 13-22 features major characters from the Survey Corps.

Manga Collection Box C (Volumes 23-34 | ¥2,750 (Tax Included)

The final box packing volumes 23-34 has all of the main characters as children.

Backpack | ¥6,600 (Tax Included)

Carry Mikasa and your stuff wherever you go with this backpack.

A4 Folder Set A (Includes 2) | ¥990 (Tax Included)

Two A4-size folders with designs taken from the front covers of volume 29 and 30.

A4 Folder Set B (Includes 2) | ¥990 (Tax Included)

Two A4-size folders with designs taken from the front covers of volume 31 and 32.

A4 Folder Set B (Includes C) | ¥990 (Tax Included)

Two A4-size folders with designs taken from the front covers of volume 33 and 34.

Japan Celebrates Eren Jaeger's Birthday With a 1-Month Party Schedule

Japanese video streaming service GYAO! is now running a one-month celebration of Eren Jaeger's birthday, the popular character from the hit anime series Attack on Titan, until April 30.

A video of Yūki Kaji, the voice actor for Eren, was released to promote the celebration.

Top 10 Eren Jaeger scenes

The anime team at GYAO! have picked out their 10 favourite action scenes featuring Eren which are rolling out over on the streaming service until April 12.

Stream The Final Season's 16 episodes for free

Users on GYAO! can also watch episodes 1-16 of Attack on Titan The Final Season for free until April 5.

Luxury Attack on Titan Rings Feature Eren and Levi Designs

Japanese character jewellery brand U-TREASURE has released two solitaire rings based on the fan-favourite Attack on Titan characters Eren and Levi. The rings are available to purchase at the U-TREASURE Concept Store in Ikebukuro and on their official website until April 13.

Attack on Titan Solitaire Levi & Eren Rings: Silver – ¥16,500 Each (Tax Included) / Platinum 950 – ¥297,000 Each (Tax Included)

Eren Solitare Ring Name Engraving

Eren Solitaire Ring garnet stone inspired by Eren's basement key

Eren Solitaire Ring on show

Levi Solitare Ring Name Engraving

Levi Solitare Ring green garnet stone inspired by Levi's teacup

Levi Solitare Ring on show

©諫山創・講談社/「進撃の巨人」The Final Season製作委員会

Information

Attack on Titan Solitaire Rings

Order Window: March 16, 2021

Available: U-TREASURE Concept Store Ikebukuro / U-TREASURE Online Shop

Attack on Titan Attempts to Break Guinness World Record For Largest Comic

In the run up to the climactic conclusion of the internationally-acclaimed manga series Attack on Titan, Kodansha is attempting to break the Guinness World Record for the "Largest Comic Book Published."

Kodansha released photos of its comic which features the first two chapters of the manga's first volume. It's 6-7 times largest than a regular tankо̄bon manga book publication. On Saturday (March 6), the publishing company released 100 limited-edition volumes which are available for purchase on a first-come, first-served basis. The comic will obtain the record once all 100 volumes have been sold.

The current record holder is Turma da Mônica which was created by Mauricio de Sousa Produções and is published by Panini Brasil. It has held the record since August 2018.

Information

Attack on Titan Giant Comic

Released: March 6, 2021

Shipping: From May 2021

Volumes: 100 (First-Come, First-Served)

Price: ¥150,000 (Before Tax)

Buy Here: https://kodanshaonlinestore.jp/

Attack on Titan's Eren and Levi Get Hot and Sweaty Together in the Spa in New Merch Drop

Hot spring chain Gokurakuya is set to host a collaborative event with the TV anime series Attack on Titan on Friday (March 5). It will take place at 32 of the chain's RAKU SPA venues in promotion of the anime series' final season.

Check out the promotional videos released for the collaboration.

 

 

Hand Towels: Entry Price + Sauna Set | ¥770 (Tax Included)

Merch Line-Up

Acrylic Stands | ¥1,980 Each (Tax Included)

Folders | ¥550 (Tax Included)

Online Shop Exclusives

Tapestry | ¥5,808 (Tax Included)

A1 Posters | ¥1,848 Each (Tax Included) / A2 Posters | ¥1,518 Each (Tax Included)

First-Come, First-Served Free Postcards

Photo Spots

Take a photo against a backdrop of Eren and Levi

Take a photo against a backdrop of Hange

Dishes, drinks, and desserts are also being served until April 11, 2021. Check out the menu below.

Eren's Bandage Parfait | ¥1,188 (Tax Included)

Mikasa's Red Tomato Ramen | ¥1,408 (Tax Included)

Armin's Mushroom Porcini Omurice | ¥1,848 (Tax Included)

Levi's Triple Hamburgers | ¥3,278 (Tax Included)

Survey Corps Seafood Squid Ink Pasta | ¥1,848 (Tax Included)

Eren's Strawberry Soda Float / Mikasa's Lychee Soda Float / Armin's Mikan Soda Float / Levi's Grape Soda Float / Hange's Purple Soda Float | ¥715 Each (Tax Included)

Coasters (12 Designs)

Outfit Rentals

Eren Shirt – ¥330 (Tax Included)

Colossal Titan Suit – ¥330 (Tax Included) *Limited to one person per day, first-come first-served

Birthday Plan

To celebrate Eren's birthday, the hot springs will also be serving up a special cake limited-time cake and setting up a backdrop for people to take photos with. These will be available from March 24 to April 2.

Eren's Chocolate & Raspberry Birthday Cake | ¥1,958 (Tax Included)

Photo Spot

Backdrop

(C)諫山創・講談社/「進撃の巨人」The Final Season製作委員会