A new 90-second trailer has just been released for Weathering with You, the next animated film by internationally acclaimed Japanese director Makoto Shinkai (Your Name., The Garden of Words).
The film's soundtrack is being left to rock band RADWIMPS, and in the new trailer, we get to hear two main theme songs: Ai ni Dekiru Koto wa Mada Aru Kai as well as the new Grand Escape (Movie edit) which features Japanese actress Toko Miura. Check it out below.
As Makoto Shinkai himself spoke about, the trailer features an array of sounds, from the howling wind and patter of the rain to the summery music of RADWIMPS and clear, beautiful and mysterious voice of Toko Miura.
Grand Escape (Movie edit) feat. Toko Miura came about after RADWIMPS vocalist Yojiro Noda expressed his desire to have a female vocalist sing in place of him. The song sees Toko Miura take over as the main vocalist of the track in which the world finally gets to hear the power of expression in her voice.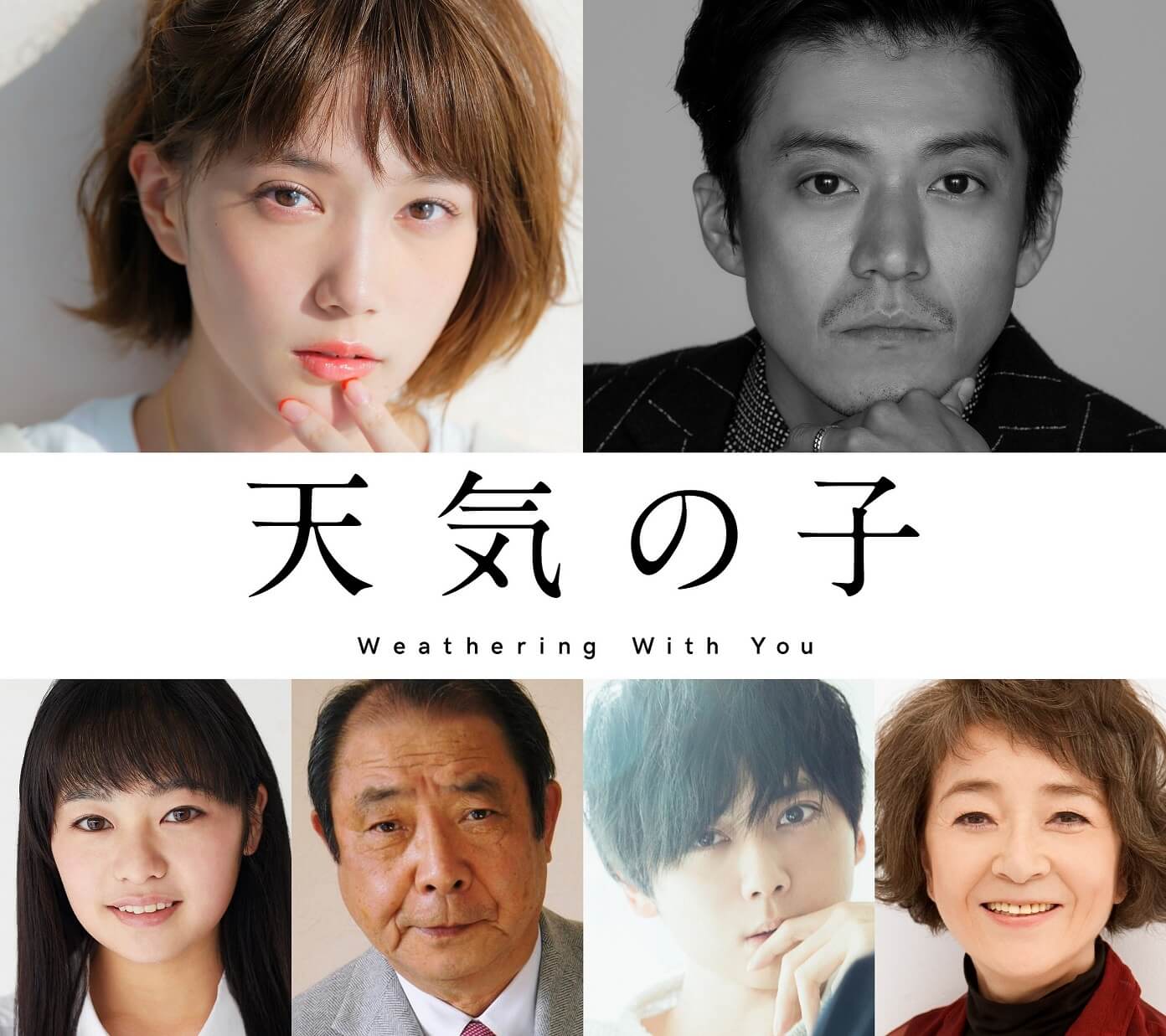 The trailer details additional members to the voice cast. This includes lauded actor and a spearhead of the Japanese film industry Shun Oguri who is set to appear in the upcoming Godzilla vs. Kong film in 2020. He will play the role of Keisuke Suga, a writer who meets the protagonist Hodaka Morishima while they are both on a ferry to Tokyo.
Actress and model Tsubasa Honda, who is noted for the diversity of her work, will voice Natsume, a college student who works in the same company as Suga and has a fiery curiosity for gathering information to write about. Legendary actress Chieko Baisho will voice the elderly lady Tomi who makes a request of the two main characters Hodaka and Hina.
The other just-announced cast also includes Sakura Kiryu as Nagisa Amano, an elementary school student and younger brother of Hina; Sei Hiraizumi as Yasui, an old police detective who pays a visit to Suga's office after an incident in the city; and Yuuki Kaji as Takai, another detective and Yasui's accomplice who appears before Hodaka and the others as part of the investigation.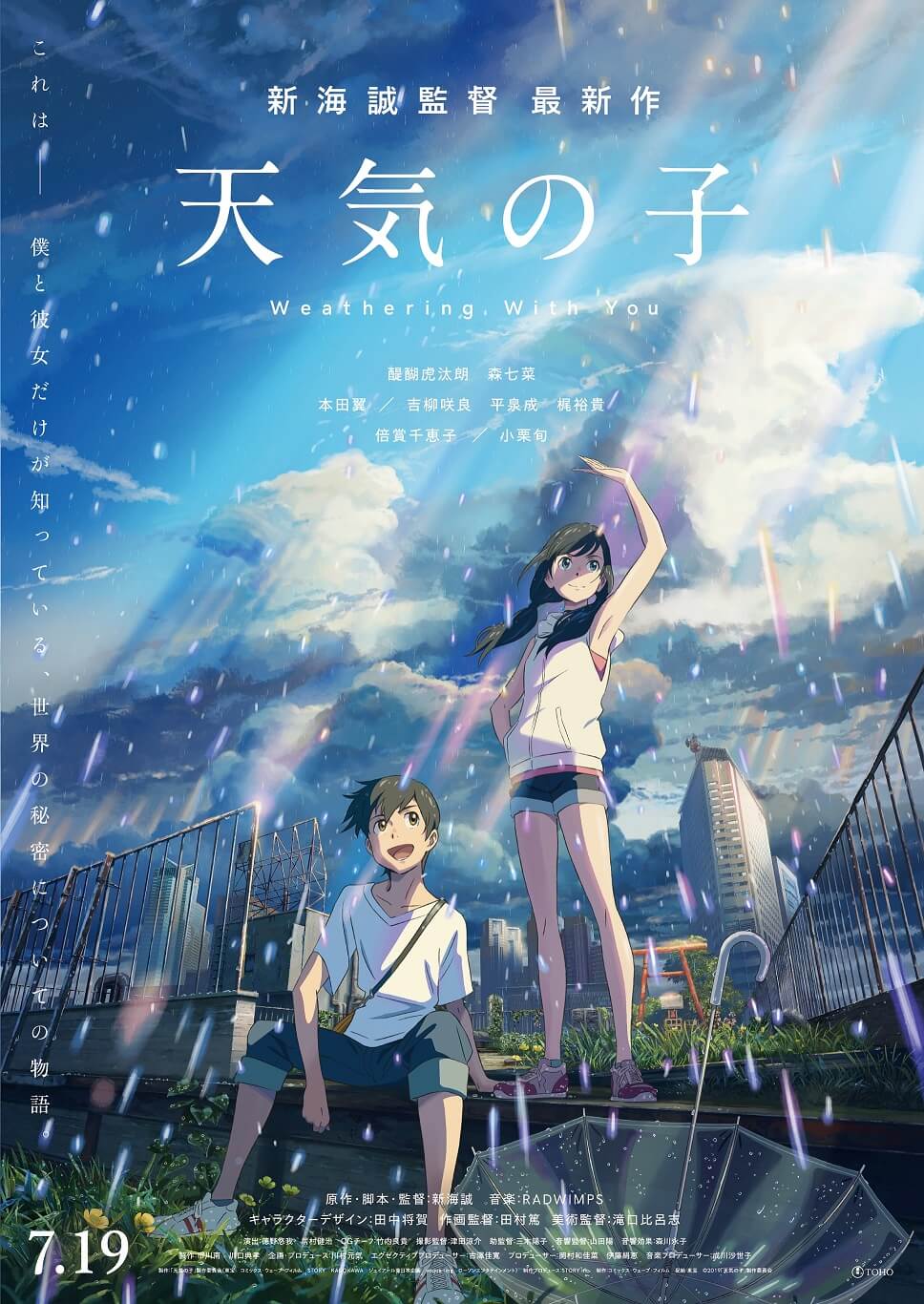 The above-pictured new key visual was also released alongside the trailer. It pictures the moment when the rain finally lets up and the sun starts to shine through the clouds. The beautiful image is inherently Makoto Shinkai-esque.
The film's soundtrack by RADWIMPS will drop on July 19, the same date the film itself is set for release. It will feature five main theme songs with vocals including the two in the trailer as well as 27 instrumental tracks.
©️2019 "Weathering with You" Production Committee
Information
"Tenki no Ko" (Weathering with You Soundtrack)
Release Date: July 19, 2019
Price: ¥3,000 (Before Tax) [UPCH-20520]
RADWIMPS Official Website: http://radwimps.jp/
Weathering with You
Release Date: July 19, 2019
Writer/Director/Screenwriter: Makoto Shinkai
Music: RADWIMPS
Production: "Weathering with You" Production Committee / STORY inc.
Production Company: CoMix Wave Films
Distributor: Toho
Official Website: https://www.tenkinoko.com/