Let's enjoy sweet Christmas with new sweets "Ice Cream Roll"
HANDELS VÄGEN, a premium ice cream brand founded in Kyoto, will start their reservation for their Christmas limited ice cream roll on November 15. It will have new sensation from the traditional ice cream!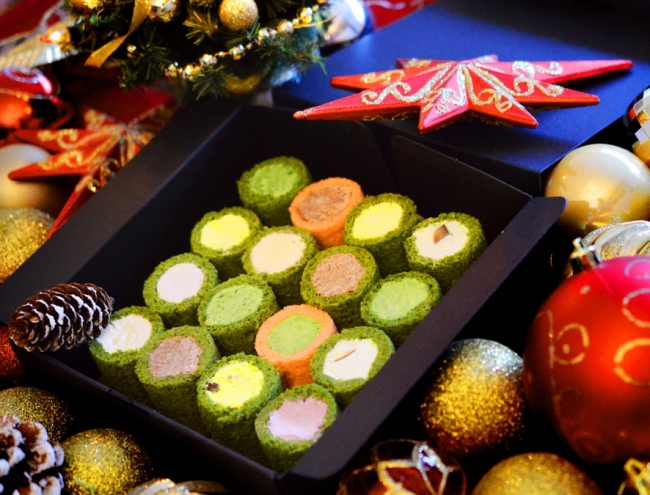 HANDELS VÄGEN is an ice cream brand created by an itamae, Japanese chef who took a year to produce its own Japanese ice cream. The chef applies his knowledge and experience during the itamae period to selectively choose seasonal ingredients and to provide the best ice cream. 
Although traditional ice cream cake serves as a whole, this Christmas cake has three main components; "can add color" "can choose the flavor" and "have a special way to eat". After many trials, they have created the cute roll cake! 
There are 16 ice cream roll in each set and has 14 Kyoto's Uji matcha and 2 raspberry flavored roll cakes. You can change the order and add taste to the original Christmas cake! Let's arrange the ice cream roll and create your original Christmas tree!
■Information
HANDELS VÄGEN Christmas roll 
Online and Store reservation period: November 15 (tue)- December 15 (thu) 
In Store: December 23 (fri) ~ Deceber 25 (sun) 
Online order expectation date: December 17 (sat) ~ December 25 (sun) 
Cost: 1 set (16 roll cakes) 3,200 yen 
WEB:www.handelsvagen.com/onlinestore/
Store reservation:https://www.handelsvagen.com/store/
−−−
■Related article:New limited edition Japanese Starbucks sweets "Milk Custard Pudding" & "Chocolate Pudding"!
■Related article:【MOSHI MOSHI GOURMET】The best Fruit Parlor where you can enjoy seasonal fruits in Japan.
RELATED ENTRIES
Introducing the Kawaii Girls of the World | Kawaii Fashion Snap #4: Pink Paradise

Welcome to Episode 4 of Kawaii Fashion Snap where we get to know all about the kawaii girls of the world and their fashion. Each girl in this series has incorporated Japanese-like fashion into their wardrobe and turned it into something of their own.

Today, we'll be taking a look at outfits that make use of the colour pink♡

Currently residing in Tokyo, Molly leaves a huge impression with her T-shirt that reads "ANTI WAR" in both English and Japanese. Her stylish use of cute pastel colours throughout accentuates this fashionable look, and her pink and purple hair combined with the thick sole trainers is a match made in heaven.

Molly is a big fan of the Japanese idol group CY8ER and has even gotten a photo with the group―as well as several chekki photos with Rinahamu, one of the members. Be sure to check out her Instagram @pink_morii

The Pinkmilkteahime has us wanting to dye our own hair blue because hers looks so cute. This co-ord may look simple at first with the single big pink t-shirt, but in fact the rest of her outfit and all of her accessories are uniformly blue, which makes her hair look even more beautiful. Even the blue and pink artwork in the background is in tune with her look.

On her Instagram, she posts not only more beautiful looks, but pictures of her latest purchases too―from snacks to stationery. Follow her on Instagram @pinkmilkteahime

Brodie's baby pink jumper skirt co-ord is kawaii supreme. She is serving us regalia princess with her frilly blouse and jumper skirt which has sweet patterns on it. And if you look closely, her white phone case has a cute flower pattern design♡

If you're look for some girly styles then we highly recommend following Brodie @vanillabwunny

Everything about the composition of this shot of Mimi Usagi can be described as cute. She has a cute character t-shirt on, and everything from her innerwear to her skirt is perfectly pink.

Her pink cheek makeup adds a glimmering allure and helps flaunt her clearly innate kawaii. We want to try shooting a look like she has in this photo too! Be sure to follow her @usagimimichu

Alexandra has gone for a sexy style here: her simple pink one piece is stunning and laces together flatteringly with those glittery shoes. And all of the items and accessories she has with her are pink, from the chekki camera in her hand to her shoulder bag♡

Alexandra's Instagram feed is a treasure trove of exquisite and artistic looks. If fantasy takes your fancy, then make sure you follow her @sasha786x

If you'd like to feature in the next Kawaii Fashion Snap or know somebody that would, then follow us on Instagram and post at us with the hashtag #moshimoshiphoto. We hope you look forward to the next entry!

SHIBUYA109's Purikura Photo Booth Shop moreru mignon Undergoes Rennovation

moreru mignon is a shop located in the department store SHIBUYA109 in Tokyo. It specialises in 'purikura,' a unique type of photo booth which lets you decorate your photos before printing them out. The shop just reopened on May 22 with all-new decor and has been moved to floor B2F of SHIBUYA109.

GIRLS'TREND Kenkyuusho of Japanese entertainment company FuRyu produced the new design of the shop. It is inspired by the bedroom of a girl who loves style and is just a smidgen selfish. The wall is plastered with pictures of cats based on female models, and poking out of the clothe-filled closet is a huge cat's tail with a ribbon tied around it.

There is also a huge Instagrammable sofa bed and a display of food, milk and more.

For a limited time only, the purikura machine designs have cats posing as models on the side of them. Customers can also get their hands on a cute new shop card. The shop itself serves up all the "kawaii" a girl could need with its photogenic interior. It can be enjoyed for some simple purikura shots, for taking commemorative photos, and for just getting together with your girl friends.

And to celebrate the reopening, limited copies of a free magazine titled Nyaaruzu Trend ("Girly Cat Trends") will be available at the shop from May 31. It includes a bonus copy of GIRLS'TREND, a free magazine published by FuRyu.

If you're in Tokyo and in need of taking some kawaii photos then be sure to head to moreru mignon.

Information

moreru mignon SHIBUYA109
Address: SHIBUYA109 Floor B2F (2-19-1 Dogenzaka, Shibuya, Tokyo)
Business Hours: 10:00-21:00

*In line with the renovations, the name of the floor which this shop is on will change to "MOG MOG STAND" on June 28, 2019.

SHIBUYA109 Official Website: https://www.shibuya109.jp/ladies/

Summer Dessert Buffet with Colourful Sweets to be Held at Hilton Tokyo Bay

Hilton Tokyo Bay is an official hotel of Tokyo Disney Resort®. For summer only, the hotel will be serving a dessert buffet in its lounge O from July 6.

July 2, 2018 marks the 30th anniversary of Hilton Tokyo Bay, and they have many projects in store to celebrate. This dessert buffet is the first to commemorate the milestone.

Since July 2015 when lounge O first began the theme of a dessert buffet, it has served over 80,000 customers. It has receive much support particularly from female customers and housewives as the kind of thing you just have to take photos of.

The buffet will take on the form of an American diner for the 30th anniversary inspired by the 80s when the establishment opened. It will also take on a 'Hawaiian' concept and serve close to 40 different desserts, the highest number the hotel has ever prepared.


The menu will include a refreshing jelly called 'Rainbow,' named after the area in California, that is made with classic American diner cream soda. There will also be rainbow cakes inspired by Hawaii, as well as other colourful cakes and typical desserts and light food.

Enjoy a colourful summer dessert buffet at Hilton Tokyo Bay.

■Information Hawaiian Diner

Location: lounge O, Hilton Tokyo Bay Lobby Floor

Running: July 6, 2018 – August 31, 2018 on Fridays, Weekends, Holidays and Obon (August 13-15):

Time:

Weekends, Holidays & Obon ー 13:30-15:30 / 16:00-18:00 (2 slots 2 hours each)

Fridays: 13:30-16:30 (3 hours)

Price: Adults ¥3,100 / Children (4-12 years) ¥1,750

*Drink bar use included.

*Price includes service charge and tax.Bookings: 047-355-5000

Website: 

http://pr.kmcpr.co.jp/e/213552/plans-restaurants-4494/38pmx/113190817

Sebastian Masuda to Release Personal Book Exploring His Identity and Living Truly to Himself

Sebastian Masuda is an art director whose career as a pioneer of Japan's 'kawaii' culture has taken him around the world where he attracts great support from people regardless of their age, nationality or gender.

His new book, Sekai ni Hitotsu Dake no 'Kawaii' no Mitsukekata ("How to Find the Only 'Kawaii' in the World") will be released on June 11, 2018

Masuda is well known as the producer of Harajuku's concept shop 6%DOKIDOKI which holds many enthusiastic fans. He has also been recognised internationally for his artistic work on Kyary Pamyu Pamyu's hit video PONPONPON. His overseas activity shifted into full swing back in 2014 where he held a personal exhibition in New York. Now, he works on the art direction of numerous advertisements and products, is a movie director, the producer of the concept restaurant KAWAII MONSTER CAFE and more. He is also holding lectures and workshops around the world.

Masuda is well known as the producer of Harajuku's concept shop 6%DOKIDOKI which holds many enthusiastic fans. He has also been recognised internationally for his artistic work on Kyary Pamyu Pamyu's hit video PONPONPON. His overseas activity shifted into full swing back in 2014 where he held a personal exhibition in New York. Now, he works on the art direction of numerous advertisements and products, is a movie director, the producer of the concept restaurant KAWAII MONSTER CAFE and more. He is also holding lectures and workshops around the world.

Sekai ni Hitotsu Dake no 'Kawaii' no Mitsukekata explores what 'self' is and why Sebastian Masuda went on to start thinking about it.

Let's go to Fellisimo "YOU+MORE's"limited-time-offer shops!

The small-goods brand Felissimo named "YOU+MORE!" will open limited-time-offer shops from May throughout Japan.

They are going to sell humorous and cute goods using the motifs of animals such as rabbit, dog, panda, squirrel and hedgehog and photogenic items.

Also, "Toy Poodle Popcorn" and "Bichon Frise Popcorn" will sell their limited items at Tokyo MITASU Store, ecute Ueno Store, and LUMINE Tachikawa Store.

Let's get their cute and humorous items!

Pastel Coloured Yume Kawaii Buffet Arriving at Hilton Tokyo Odaiba

Hilton Tokyo Odaiba are introducing a summer dessert buffet to their menu to be eaten at the hotel's Seascape Terrace Dining. Roll up there between June 1 and September 2 to pastel coloured desserts, shaved iced, and summer fruits like peaches, watermelons, grapes, lychees and more.

The theme of the buffet is 'a dreamy-cute home party in the middle of summer.' The term Yume Kawaii translates to 'dream-cute' and conjures up a dreamy, fairy-tale-like image of pastel colours like pink, and glitter. It's a hugely popular term used by today's millennial generation. There are almost 400,000* related social media posts with the hashtag #ゆめかわいい (#yumekawaii) mostly by younger Japanese girls. There are also over 6 million* related social media posts with the hashtag #ユニコーン (#unicorn) both in Japan and overseas, an immensely popular creature outside Japan and one that has come to be seen a lot in Japan too.

*Statistics compiled by Hilton Tokyo Odaiba PR Office (as of March 17, 2018)

The dessert buffet skipping its way to Hotel Tokyo Odaiba includes pastel coloured bavarois in the image of unicorns, bunny inspired lollipops and much more, all of which bring out the world of yume-kawaii. You can also feel like a princess in the special photo spot they will have set up, and enjoy the uniquely named desserts. This dessert buffet can only be experienced at Hotel Tokyo Odaiba.

Enjoy the plentiful dessert buffet which has plenty of mouth-watering material for Instagram!

■Information

A Dreamy-Cute Midsummer Home Party ~Summer Dessert Buffet~
Address: Seascape Terrace Dining at Hilton Tokyo Odaiba (2F), 1-9-1 Daiba, Minato, Tokyo
Running: June 1, 2018―September 2, 2018
Time: Slot One 15:00-16:30 (90 minutes) / Slot Two 16:45-17:50 (45-minute Express Buffet)

Price

Slot One: [Weekdays] Adult ¥3,400, Child ¥2,040 / [Weekends & Holidays] Adult ¥3,800, Child ¥2,280

Slot Two: [Weekdays] Adult ¥2,400, Child ¥1,440 / [Weekends & Holidays] Adult ¥2,800 / Child ¥1,680

*Prices do not include tax or service charge.

*Child age constitutes as 6-11 years old.

Kaori's Easy Recipe – Learn How to Make "Duffy Cherry Blossom Jelly"

With just a small bit of ingenuity, turn everyday food into something cute using Kaori's recipe series! With a few simple ideas, an ordinary recipe magically transforms into a cute dish.

For this recipe, you'll learn how to make cute Duffy cookies with cherry blossom jelly, perfect for springtime!

1: Ingredients
☆Annin Tofu
Daiso Annin Milk Purin   1 box
Milk 400ml

☆Cherry Blossom Jelly
Salted cherry blossoms 10 buds
Water 200ml
Sugar 1 tbsp
Food colouring Just a little

Gelatin 4-5g
Water 15ml
☆Prepare the gelatin by dissolving in the water.

☆Cookie Dough
Please refer to my previous article where I made Hello Kitty sandwich cookies.
https://www.moshimoshi-nippon.jp/39411
(For this recipe we're making Duffy, so I mixed a little bit of brown food colouring into the dough)
★You can use anything as a substitute for the cookie shape.

2: After lightly rinsing the salted cherry blossom buds, soak them in water for 30 minutes to one hour to extract the salt.


3: Make the annin milk purin according to the instructions on the box.


4: Once the mix from step 3 has cooled down, transfer it into a vessel and store in the fridge to solidify.


5: Add a little bit of pink food colouring to the 200ml of water.
☆If you add the food colouring into the water while it's in the pot you won't know how deep the pink colour is due to the colour of the pot, so be sure to add it beforehand in a clear bowl or jug so you can gauge the colour.


6: Transfer the water in step 5 into a pot and add the sugar and salted cherry blossom buds from step 2. Once the sugar has melted well, add the gelatin that you dissolved in water. Mix well.


7: After checking that your mix from step 4 has solidified, pour your cooled down mix from step 6 on top and place in the fridge once more to solidify.


8: After cutting and shaping your cookie dough, use a knife to cut into the armpits as shown by the arrow.
☆When inserted into the glass it will deepen.

Once the cookie is cooked drawn the face on with a chocolate pen.
(Of course, you can leave it as it is too♡)

Once that's done, top your jelly with the cookie!

Kaori also invites you into her world of character-themed food dishes in her recipe series! Please check out her Instagram where she has uploaded many pictures of her character dishes!

■Profile

Kaori Kubota (

@kaopan27

)

I live in Hokkaido and I love to make character-shaped meals, desserts and breads.

I enjoy making character foods because I want to see my family smiling,

My character foods and character bento boxes are introduced in my Instagram page→@kaopan27

Hilton TOKYO BAY's "dreamy and cute" buffet will be held

Tokyo Disney Resort's ® official hotel Hilton TOKYO BAY (lounge O) will offer a dessert buffet "Strawberry Field" from the 13th of January 2018 (Sat.) to the 1st of July (Sun.).

The most eye-catching item on the buffet table created with the theme of "strawberry field" is a giant strawberry cake which is 1.2meters X 1.2 meters. Some of the strawberry seed's patterns are shaped in a rabbit's face. Colorful small birds gathering in the trees which have heart-shaped berries are celebrating the advent of spring. In addition to the "strawberry" desserts, about 35 kinds of standard desserts and small dishes will be offered inside a "yumekawa" (cute and dreamy) space. You can feel like you have become a heroin in a folktale by visiting this photogenic space. This space is suitable for taking photos which can be uploaded onto your SNS.

Also, this dessert buffet where you can enjoy the collaboration of chocolate and strawberries is suitable to be used as a gift for valentine's day. The buffet is recommended for persons who want to give a present to their girlfriend/boyfriend, friends or girls who want to have a party with friends

 "Strawberry and Chocolates' brochette"

A brochette of chocolate ganache wrapped in a crape and fresh strawberries. The look of the product is cute but it is fairly heavy since it has lots of chocolate ganaches inside.

 "Strawberry Cheese and Chocolates' Mont Blanc"

This is a Mont Blanc which uses two kinds of creams, custard and chocolate cream and cream cheese and strawberry cream.

"Strawberry Rabbit Roll"

This is a roll cake using rhubarb and strawberries wrapped in strawberry cream and it is a playful product which represents the cute ears of a rabbit using white chocolate. Rhubarb is a kind of vegetable that looks like sweet coltsfoot and has a fresh texture and sourness. You can enjoy soft flavor of the roll cake and the sourness of the rhubarb.

Let's enjoy this photogenic buffet.

■Information

Dessert Buffet "Strawberry Field"

Venue: Hilton TOKYO BAY lobby, "lounge O"

Date: Saturday, Sunday and holidays – two buffets (13:30~15:30/16:00~18:00)

Price: Adult – 2,800 yen / child (4 to 12 years old) – 1,600 yen

※drink bar is included

※the prices noted above do not include service fee and tax

Reservation (TEL): 047-355-5000 – restaurant

Ginza "Merrifactury" will sell two kinds of icing cookies to celebrate New Years

An icing cookie specialized store, "Merrifactury" will sell cookies for the New Year's holiday including two new kinds related to the year of the Dog.

 Dog(circled) ¥592(tax included)  Dog(2018)¥470(tax included)

A cookies with an illustration of a dog which is the symbol animal of 2018 and two cookies with the year 2018 depicted on them are made especially for next year's New Year's.

Daruma¥570 Tai ¥495 Kadomatsu ¥588 (tax included)

Kagamimochi(cat)¥583 Fuji's New Year ¥535(tax included)

Other cookies using the motifs of New Year's Day such as daruma (Japanese traditional doll), kadomatsu (New Year's decorative pine tree) and "pochibukuro" (money envelope to give to children as a new year's gift) with the illustration of sea bream will be sold. Also, they are going to sell cookies with unique designs such as a cat-shaped kagamimochi (Traditional Japanese New Year decoration) and Mount Fuji wearing a kimono.

Let's enjoy New Years with these cute icing cookies.

Kawaii video released for Halloween candy and snack collaboration between Sebastian Masuda and LOTTE!

Sebastian Masuda, leader of Japan's kawaii culture, has teamed up with LOTTE to produce Halloween candy as part of their "Enjoy Halloween" series so that you can enjoy yourself a kawaii Halloween this year.

Seven of LOTTE's most popular snack and treat brands including "Koala's March," "Toppo," "Ghana" and "Pai no Mi" are now on sale, with 9 to choose from, all in limited edition Halloween packaging. The products and individual packaging feature small dress-up items for you to do some tiny Halloween fancy dress! There are lots of designs to get your hands on and enable you to enjoy creating kawaii Halloween fancy dress easily.

A movie for the "ENJOY HALLOWEEN KAWAII" project has also been released! It features Yutaro and MANON making use of their kawaii dress-up accessories from the snack packaging.

Dress up your face, eyes and ears with the packaging, take photos and post them online with #カワイイハロウィン (#kawaiihalloween)!

Enjoy a kawaii Halloween party this year with the new range of LOTTE's Enjoy Halloween series!

■Information

"Enjoy Halloween Series"
On sale from August 29, 2017

On sale August 29, 2017

Enjoy Halloween "Koala's March" (chocolate) – ¥100

Enjoy Halloween "Toppo" – ¥150

Enjoy Halloween "Pai no Mi" – ¥150

Enjoy Halloween "Ghana Share Pack" – ¥313

Enjoy Halloween "Koala's March Share Pack" – ¥313

Enjoy Halloween "Choco Pie Party Pack" – ¥379

Enjoy Halloween "Custard Cake Party Pack" – ¥379

Fit's (grape mix/peach) – ¥130

*All products are open price.

LOTTE Homepage: https://www.lotte.co.jp

5 Must-Visit Spots in Harajuku Recommended by the MOSHI MOSHI BOX Harajuku Tourist Information Center

Summer is here, and that means all the kids and tourists are lining the streets of Harajuku. As part of our MOSHI MOSHI NIPPON Project, we also manage a tourist information center in the heart of Harajuku called the "MOSHI MOSHI BOX," where we offer tourist guidance to lots and lots of people every day.

With that in mind, the MOSHI MOSHI BOX staff would like to recommend some of the popular locations around Harajuku, so be sure to use this as a reference guide when you visit!

1:Meiji Shrine

The best places in Harajuku to enjoy are those where you can sightsee but also shop at the same time! But shops in Harajuku open later than usual, so we recommend taking a stroll to Meiji Shrine in the morning.

Of course, you can visit and pay homage at the shrine, and upon heading up to it you will be met by the "Mori no Terrace," a place with gorgeous tables and chairs made out of wood for you to sit and relax and enjoy the warmth and scent of nature. You should totally check this place out after you have gone to see the shrine.

For more details on Meiji Shrine, please visit: http://www.moshimoshi-nippon.jp/51035

■Information

Meiji Shrine
Address: 1-1 Yoyogikamizonocho, Shibuya-ku, Tokyo

Opening Hours: Opening hours subject to change depending on the month, so please check the homepage below.
TEL: 03-3379-5511
Official Homepage: http://www.meijijingu.or.jp/index.html

2:Discover the Latest Trends at Harajuku's Bargain Shops!

When you think of Harajuku, you think of it as the number one fashion hub. One of the great things about Harajuku is how you can get some of the most popular and trending items at a super cheap price.

3 standout shops we recommend are SPINNS, Santa Monica Haraujuku, and KINJI. Whichever one you go to you'll find lots of different clothes all at an affordable price, so you're going to want to check these out for sure.

3:Hungry? Then go to the Pomu Pomu Purin Café!

If you find yourself feeling peckish while on your Harajuku shopping spree, then we recommend having lunch at the Pomu Pomu Purin Café! The café is completely theme around the popular character Pomu Pomu Purin. It has a delicious menu filled with treats that look both kawaii and tastes great.

The café also has seasonal menus limited to whatever season it is, meaning an enjoyable time however many times you decide to go.

Full details regarding the Pomu Pomu Purin Café can be found here:  http://www.moshimoshi-nippon.jp/27816

■Information

Pomu Pomu Purin Café Harajuku

Address: CUTE CUBE HARAJUKU 3F, 1 Chome-7-1 Jingumae, Shibuya-ku, Tokyo, 〒150-0001

TEL: 03-5786-0770

Opening Hours: 11:00-21:00 (irregular holidays)

>>next page

Cute Giftworthy Shoebill Cold-Brew Coffee With Authentic Flavour!

Felissimo have released a cold-brew coffee set in packaging of the popular shoebill bird. It comes as part of their "YOU+MORE!" line, a brand of miscellaneous 'humourous' items. "YOU+MORE!" is a portemaneu of the Japanese pronunciation of the word "humour". The shoebill coffee pack is now available over on Felissimo's online store.

 

The shoebill—a popular bird with a sharp, dignified glint in its eyes with which it stares intently while motionless. Felissimo have taken it upon themselves to take this design and put it on the packaging of a delicious cold-brew coffee they are selling. That's the story. Of course, the concept is funny, but the humour behind this release also lies in how the product is named. The word for "shoebill" in Japanese is "Hashibirokou" (ハシビロコウ) and the word for coffee is "kouhii" (コーヒー). The name of the product is a portmanteau of these two words; "Hashibirokou" ends in "kou" and "coffee" begins with "kou". By combining the two words, you get the product name – "Hashibirokouhii," or "Shoebill Coffee". The coffee itself is also the real deal!

 

To enjoy this coffee, you simply need to add one pack of coffee into 250ml of water, and then place it in the fridge for 8 hours before you sleep. By the time you wake up, you have a delicious cold-brew of coffee waiting for you in the morning. Of course, you can put it inside your own flask to take out with you too! Its flavour is 100% certified specialty coffee. The quality control of the product is high, and it boasts a high quality flavour and aroma. And despite it being cold-brew coffee, there is no unwanted bitterness or murkiness, meaning you can enjoy this clear and delicious beverage to its fullest.

 

People will no doubt be happy receiving this as a gift with packaging like this, it's definitely photograph worthy!

Know the taste of this authentic and effortless-to-make coffee!

■Information

YOU+MORE! Jitto Matteru Hashibirokou no Mizudashi Kouhi no Kai

1 Box – ¥1,350 (+8% ¥1,458)

・Contents: Contains five 20g coffee bags

※Depending on the state of the product, it cannot be returned unless defective.

・The product will be delivered once a month.

(Coffee Beans: Costa Rica, Honduras / Manufacturing: Japan)

For full details, please visit the official web page >>> http://www.feli.jp/s/pr17072103/2/

Related Article:All you need is a sense of humor! "Standing Ears Shiba Inu Portion Bag" will debut from "YOU+MORE!".

Related Article:You won't be able to stop stroking this Felissimo mini pouch which looks and feels just like a small bird!