【Tokyo Cafe】The best Fruit Parlor where you can enjoy seasonal fruits in Japan.
Autumn is a season to have a good appetite. It is the best season for pacific saury, matsutake mushroom, chestnut, and pumpkin and so on. I bet you've already tasted these foods at Japanese restaurants. However, there is a place where you can enjoy some seasonal foods without going to restaurants. It is called "Fruit Parlor" where they have a tea room attached to a fruit store. One of the most popular Fruit Parlors where people visit from all over the country is called "Fruit Parlor Fukunaga."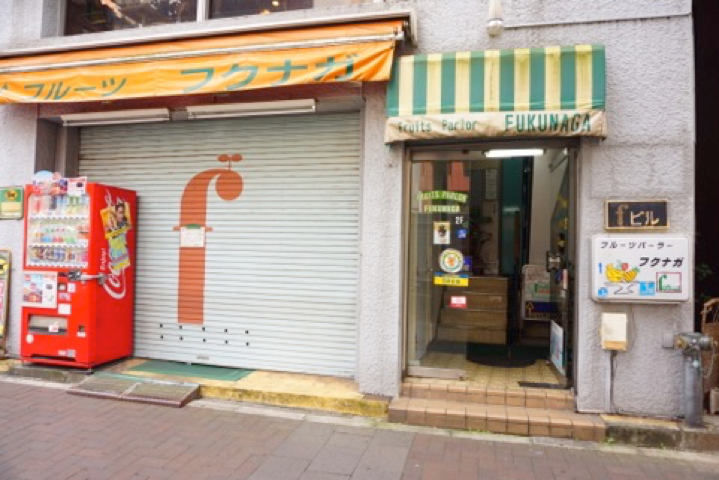 Walking two minutes from Yotsuya-san-chome station, you will be able to smell something fruity from the fruit shop on the first floor. You can get to the second floor parlor by going up these narrow stairs.
You must have "seasonal fruits parfait" in here. Spring is strawberry. Beginning of summer is cherry. Mid-summer is peach. Autumn is fig, grape, pear and persimmon. You can enjoy seasonal fruits the whole year. When I visited here, "grape parfait" was being served which has seven different kinds of grapes that you can enjoy. Which fruits you can eat depends on what season you visit.
Starting with light-green Shine Muscat and going clockwise, there are Pione, Nagano purple, Gorby, and Gigantic Peak in the center. The appearance of these five different kinds of big grapes is overwhelming. All of these are seedless. After tasting each grape, there is a home-made sorbet made with boiled grapes. It is blended with valuable Campbell Early brand grapes produced in Iwate prefecture and Muscat Bailey A produced in Yamanashi prefecture. It has a simple taste without adding too much sugar. The rich and sour sorbet made me feel that they go to great lengths to make a high quality desert.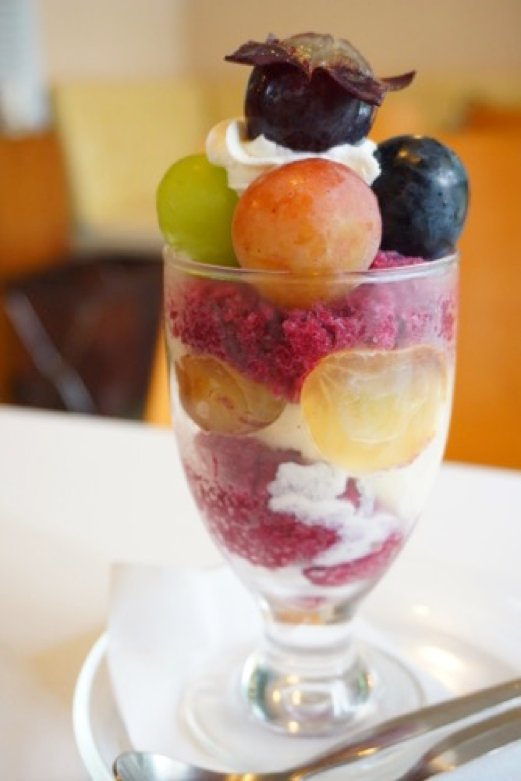 When I was eating, I couldn't stop smiling. The talkative owner, Seiichiro Nishimura, talked to me. He told that he wants everyone to be healthy by eating what made them physically and psychologically happy. This aggressive looking man has been committed to serving high quality fruits for forty three years.
It is good thing that there are some fruits parlors in popular sightseeing areas, such as "Fruit Parlor Goto" in Asakusa, "Ginza Sengbiki-ya, Fruit Parlor, Ginza main store" where have one hundred twenty two histories in Ginza and "Shibuya Nishimura Fruit Parlor" where is close to the center district in Shibuya. Enjoy the fruit parfait which is filled with great fruits in fall season.
■Inforation
・Fruit Parlor Fukunaga
Address:F-Bldg. 2F, 3-4 Yotsuya, Shinjuku-ku, Tokyo
・Fruit Parlor Goto Address:2-15-4 Asakusa, Taito-ku, Tokyo
・Ginza Sengbiki-ya, Fruit Parlor Address: 5-5-1, Ginza, Chuo-ku, Tokyo
・Shibuya Nishimura Fruit Parlor Address:Nishimura-Bldg. 2F, 22-2 Udagawacho, Shibuya-ku, Tokyo
Yuriko Ueki(Writer)
ーーー
■Related article:Colourful M&M's® chocolate to hit Japan for the first time in Harajuku at pop-up cafe " M&M'S®My Bottle Café"!
■Related article:Petite Disney Tsum Tsum cakes on sale at Ginza Cozy Corner from November 1st!
RELATED ENTRIES
Royal Park Hotel Begins Serving Limited-Time Desserts For Golden Week

For this year's Golden Week, Royal Park Hotel in Tokyo is serving up a limited-time selection of two desserts on its first floor cafe and bakery IKI: the Koinobori Roll Cake and Animal Sweets & Pastries, both of which are available now until May 5. It's also selling two different mont blancs for Mother's Day and Father's Day.

Carp streamer-inspired roll cake and animal pastries

Koinobori Roll Cake – ¥2,160 (Tax Included)

Animal Sweets & Pastries: Sheep Cheesecake, Bear Tiramisu, Rabbit Mousse – ¥540 Each / Piglet Pastry, Dog Pastry, Chick Pastry – ¥324 (Tax Included)

This line-up of takeout desserts and pastries are made at the hotel's own cafe and bakery IKI, all of which have been made to celebrate Children's Day which falls on May 5 every year. This includes a moist chocolate and strawberry carp streamer roll cake which is popular at IKI every year. There's also a cute selection of animal delights including the light and fluffy Sheep Cheesecake, mascarpone cream and coffee Bear Tiramisu, and a sweet and tangy Rabbit Mousse made from assorted berry mousse and jelly, as well as three pastries made to look like a chick, dog, and piglet.

Serving: April 29, 2021 – May 5, 2021

Happy Father's Day & Happy Mother's Day Specials

Mother's Day Mont Blanc / Father's Day Mont Blanc – ¥1,944 Each (Tax Included)

The Mother's Day Mont Blanc is a wonderfully light combination of strawberry jelly, fresh strawberries, white chocolate mousse, and strawberry cream. The Father's Day version is made with a fresh mascarpone cream, a mont blanc base that's made from chestnut and blackcurrant jam, chocolate cream, and caramelised nuts.

Mother's Day Mont Blanc: May 7, 2021 – May 9, 2021

Father's Day Mont Blanc: June 18, 2021 – June 20, 2021

 

Monthly Breads: May & June

Each mother, IKI releases limited-time breads or pastries. For May, customers can enjoy the rich Edamame & Bacon Parmesan France and the bitter Chocolate Cream Cornet. In June, there's an Orange Cream Cornet made with sliced orange peel, and the Tomato Rustic which is crunchy on the outside and soft in the middle, combining tomato and cheese. There's also Shokupan made with matcha and large-grained adzuki beans.

Edamame & Bacon Parmesan France / Chocolate Cream Cornet (Dark Chocolate) – ¥302 Each (Tax Included)

Orange Cream Cornet – ¥302 / Tomato Rustic – ¥302 / Shokupan (Matcha & Adzuki Bean) – ¥648 (Tax Included)

May Monthly Bread: May 6, 2021 – May 31, 2021

June Monthly Bread: June 1, 2021 – June 30, 2021

Information

Royal Park Hotel Golden Week Desserts

Start Date: April 29, 2021

Where: IKI

Address: royal Park Hotel, 2-1-1 Nihonbashikakigarachō, Chuo-ku, Tokyo

Official Website: https://www.rph.co.jp/event/GWevent2021.html

Shiseido Parlour Releases Creamy BOUQUET DE FRAISES Biscuit Cake

The Ginza branch of Shiseido Parlour in Tokyo released its new BOUQUET DE FRAISES biscuit cake on Friday. The dessert is inspired by Shieido Parlour's strawberry parfait and is made to be held in one hand. It comes with three kinds of creams, and each is a crunchy and customisable delight decorated like a bouquet.

BOUQUET DE FRAISES | ¥540 (Tax Included)

The buttery cone is a cat tongue biscuit and is filled with cream shanty, cream patissiere, and strawberry jam. The bouquets are also topped with fresh strawberries.

BOUQUET DE FRAISES (Box of 10) | ¥5,724 (Tax Included) | Reservation-only

New Doraemon and Korosuke Dessert Gets Served at the Fujiko F. Fujio Museum

The Kawasaki-based Fujiko F. Fujio Museum, which is dedicated to the Japanese manga writing duo who created Doraemon, is now serving up its new Doraemon Korosuke Chiffon Sandwich which was added to the menu on Wednesday.

Doraemon Korosuke Chiffon Sandwich | ¥1,280 (Tax Included)

The new arrival sees Doraemon and Korosuke turned into chiffon sandwiches with the beloved blue robot cat made from chocolate and filled with banana cream and his friend filled with mango cream.

Check out some of the other items available on the menu at the museum too.

Doraemon Arrabbiata | ¥1,230 (Tax Included)

French Toast de Anki Bread | ¥980 (Tax Included)

Fork into the Doraemon Arrabbiata with tomato sauce and a Doraemon face made from egg sheets, or a French toast inspired by Doraemon's Copying Tost, one of his many Secret Gadgets.

ⒸFujiko-Pro

Information

Doraemon Korosuke Chiffon Sandwich

Released: April 21, 2021

Where: Fujiko F. Fujio Museum

Address: 2-8-1 Nagao, Tama Ward, Kawasaki, Kanagawa 214-0023, Japan

Opening Hours: 10:00-18:00

Official Website: http://fujiko-museum.com/english/

Detective Conan Turns Into Confections at Japanese Convenience Stores

In promotion of the latest entry to the Detective Conan anime film series, Detective Conan: The Scarlet Bullet, which was released on March 18, Bandai released two traditional Japanese wagashi sweets from its Tabemas confection series at 7-Eleven convenience stores in Japan on April 23.

Tabemas Detective Conan 2021

Conan Edogawa

Shuichi Akai

'Tabemas' is an abbreviation of the Japanese words taberareru masukotto, meaning 'mascots that you can eat.' It is a Japanese confectionery series that combines well-known characters and Japanese sweets made from ingredients like red bean paste, sugar and rice flour. The sweets are also made with a dough called "nerikiri" which is used in making traditional Japanese wagashi sweets.

The sweets feature titular character Conan Edogawa and FBI agent Shuichi Akai from the new film, recreating their looks in adorable detail and making the custard and chocolate flavoured respectively. The colours of the confections are naturally-derived from the ingredients used, meaning no artificial colourings are used.

(C)青山剛昌/小学館・読売テレビ・TMS 1996

Information

Tabemas Detective Conan 2021

Released: April 23, 2021

Price: ¥278 Each (Tax Included)

Available: The chilled desserts corners of 7-Eleven convenience stores in Japan

Tabemas:  https://www.bandai.co.jp/candy/tabemas/

*Available while supplies last

*Stock date may differ from branch to branch

*Select stores not participating

Mini Pixar Cakes by Ginza Cozy Corner Includes Toy Story, The Incredibles, Finding Nemo, and More

Japan's confectionery shop Ginza Cozy Corner are releasing a new collection of petite Pixar cakes at all branches on April 23.

The cakes comes in time for celebrating Children's Day in Japan, as well as making a perfect snack for Golden Week and for kids and parents to enjoy together. Pixar fans have nine to enjoy in the collection such as the Little Green Men from Toy Story, Nemo and Dory from Finding Nemo and Finding Dory, Sully from Monster's Inc., the Pixar Ball, and more.

Pixar Collection (9 Included) | ¥2,700 (Tax Included)

Flavours include the strawberry mousse Lightning McQueen, the Jack Jack raspberry jelly and mango cream, the Buzz Lightyear blueberry jam and cheese mousse, and more.

Pixar Cake Assortment (6 Included) | ¥540 (Tax Included)

The packaging also features cute artwork of everyone's favourite Pixar characters. Choose between the whole nine cake box collection or this assortment of six white chocolate and strawberry cookies.

Pixar Sweets Box (10 Included) | ¥918 (Tax Included)

There's also a 10-piece box of six cookies and four madeleines.

KitKat Japan Releases New Mini Maple Chocolate Bars For Earth Day

In accordance with Earth Day, which is set for April 22, Nestlé released its limited-time KitKat Mini Maple on Monday to raise awareness of environmental issues and the future of the planet.

KitKat Mini Maple (3 Included)

KitKat Mini Maple (12 Included)

9 packaging designs with different messages related to the environment

'KitKat Always For Earth Day' online talk event to take place on April 30

In September 2019, Nestlé began packaging five of its major large-sized KitKat bags in paper bags rather than plastic, and since autumn 2020, most of their large sized bags are now made from paper. This has helped reduce 450 tonnes of plastic per year.

Now, Nestlé is releasing a new collection of packages for Earth Day featuring original designs by up-an-coming young artist SUGI. Each features messages from members of MIMO, a group managed by Japanese model Mila Aina, stating messages about helping to protect the environment and the future of planet earth.

Alice in Wonderland Themed Afternoon Tea Buffet 'Lost in Europe' Heads to Nagoya

This spring, Hilton Nagoya is set to serve up a special afternoon tea set and buffet plan at its first floor all-dining restaurant IN PLACE 3-3. The theme of the afternoon tea line-up, which will be served either as a set-only plan or the set plus a buffet, is 'Lost in Europe.' Fans of Lewis Carroll's beloved novel Alice's Adventures in Wonderland can look forward to jumping in the rabbit hole as they indulge in a colourful and delicious line-up that sends them straight to wonderland.

The plans will run for three months during which three different menu line-ups will be served, each with a European feel to them as Alice finds her curiosity tending away from Japanese cuisine to the delectable assortments of overseas.

Spain will serve as the first menu. Travelling to Spain, Alice finds the country one overflowing with creativity in the arts, so says the story of this fun afternoon tea. Dishes will be plated with desserts fusing together Spain's food culture with that of Wonderland, traditional Spanish desserts, sweet treats inspired by Spanish art, and more. Many of the irresistible items will also be made with almonds – Spain being the second largest producer of almonds in the world.

Inside the restaurant, diners will feel like they have travelled to a Spanish rendition of Wonderland with a mix of styles from both locations, such as Spanish sunflowers, mosaic tiles, stained glass windows, and more.

A little look at the menu (some of it)

1. Afternoon Tea Set Menu: ¥4,600 (Tax Included)

Cubism Cheshire Cat Arroz Con Leche

A coconut-flavoured Spanish rice pudding made with coconut lavender jelly. Its design, from the stripes to the grinning teeth, are references to the Cheshire Cat.

Blue Caterpillar Siesta Cake

A cake covered in striking blue chocolate, made with pistachio mousse, and filled with a mixed berry jelly.

Butterfly Windmills Mousse

An artistic delight made with smooth chestnut mousse and colourful butterfly wings attached.

Plate Menu

Pistachio Crema Catalana in Berry Sauce

A traditional dessert of Catalonia, this crema catalana features a rich pistachio-flavoured custard cream and is served with a berry sauce.

Savoury Items

Salted churros that are crunchy on the outside and fluffy in the inside, and a checked bocadillo filled with Spanish omelette.

Lost in Europe Afternoon Tea Set Summary

10 desserts, two savoury items, and a choice of a soft drink, coffee, or tea.

2. Afternoon Tea Set & Dessert Buffet: Adults ¥5,000 / Children ¥2,500

Mischievous Crazy Clock Cake 

A warped, melted clock made with passion fruit cream and orange and mango mousse.

Mosaic Tile Sangria Jelly (Non-Alcoholic)

A refreshing beverage made with non-alcoholic white wine and grape, strawberry, and grapefruit jelly, all made to look like mosaic tiles.

Savoury Items

Pick from nine different savoury items like paella, sopa de ajo garlic soup, patatas bravas, tapas, and more.

There are also a range of other desserts like a coffee jelly ice cream, a melon cake, and more, as well as fruity iced candies.

Afternoon Takeout Box

Customers can also get their afternoon tea set to go with a mix of desserts and savouries.

Neko Neko Cheesecake Releases New Cat-Shaped Mikan Orange Flavoured Cake

Neko Neko Cheesecake is set to open pre-sales for its new Nyan Cheese Mikan cheesecake at Pastel branches of Neko Neko Cheesecake on April 22 before rolling it out at all Neko Neko Cheesecake branches.

Neko Neko Cheesecake is a sister brand of Neko Neko Kuu Pan from the same company which serves cat-shaped bread.

Nyan Cheese Mikan | Single Slice: ¥237 (Tax Included)

Nyan Cheese Mikan | Box of 4: ¥1,080 (Tax Included)

The cheesecake is made with Brie de Meaux, aka the king of cheeses, and cooked at a high temperature to add a gorgeous browned surface. They contain rich juice from mandarin oranges to give them a refreshing kick perfect for the spring season. A perfect snack or post-dinner dessert.

Pompompurin Celebrates 25th Anniversary With Cute Pudding Confection at Lawson

Bandai released a new chewy and delicious custard pudding-flavoured confection at Lawson convenience stores in Japan on Tuesday in celebration of Pompompurin's 25th anniversary, the popular character by Sanrio.

Mochi Mochi Pompompurin Yaki Pudding Flavour | ¥158 (Tax Included)

The cute confection is made to look like Pompompurin laying down. The chewy delight is filled with Japanese custard pudding-flavoured cream.

The packaging also features limited-edition artwork for Purin's 25th year milestone where he is joined by his cute furry friends.

©2021 SANRIO CO.,LTD. 著作(株)サンリオ

TETRIS® Gummy Candy Releases in Japan

Japanese candy company UHA Mikakuto has collaborated with the video game TETRIS® to launch pre-sales on their new Tsumu Gummy TETRIS® which hit shelves on Monday (April 12) in Japan.

Tsumu Gummy TETRIS® | ¥370 (Before Tax)

The colourful gummies arrive in seven different forms, shaped and coloured like the blocks in TETRIS®, meaning you can stack them as well as eat them. They are an assortment of green grape, red grape, orange, and strawberry flavours, and one pack weighs in at 180g.

Tetris ® & © 1985~2021 Tetris Holding.

Kaori's Easy Recipe: Learn to Make Baymax Mushi-Pan Steamed Bread

With just a small bit of ingenuity, turn everyday food into something cute using Kaori's Easy Recipe! With a few simple ideas, an ordinary recipe magically transforms into a cute dish.

Today, I'll teach you how to make Baymax mushi-pan steamed bread.

Ingredients

This recipe makes 5 portions

140g strong flour

20g granulated sugar

Pinch of salt

3g dry yeast

3g baking powder

5g vegetable oil

85ml-90ml milk (room temperature)

1

Mix everything together in a food processor. If you don't have a food processor, you can also knead the ingredients well by hand.

2

Ferment at 40℃ for 40 minutes. If you don't have a fermentation machine, leave in a warm environment.

3

Once the dough has doubled in size, divide into five portions and put into separate cups. If using paper cups, rub a little bit of oil inside.

4

Bake in the oven at 40℃ for 20-25 minutes.

5

After baking, steam in a steamer for 12-13 minutes. If you don't have a steamer, put into a frying pan or large pot with a little bit of water and cover.

6

Once cooled, use some nori seaweed to make Baymax's face and you're done!

Kaori Kubota (@kaopan27)

I live in Hokkaido and I love to make character themed foods, desserts and pastries♡

I want to see my family smile, so I enjoy putting in a bit of effort to make character foods and changing food into something cute♡

You can see more of my character foods and character bento boxes on my Instagram page → @kaopan72

French chocolatier Pierre Hermè Represents Products Of Kochi Prefecture

Pierre Hermè, the French pastry chef and chocolatier, has founded a brand called "Made in Pierre Hermè" in 2018 where he represents the wonderful products of Japan that he specially selected to share with the world.

The producers and farmers of Kochi prefecture, Japan collaborated with "Made in Pierre Hermè"

Line ups of Kochi Fair organised by "Made in Pierre Hermè"

 

The Tokyo branches of "Made in Pierre Hermè" launched in 2020 followed by their Fukuoka Airport branch opening in Spring 2021. The new branches openig soon. From 2021, which marks the 3rd Anniversary of the brand, they will hold a fair every 3 months to introduce and celebrates excellent producers and products in each region in collaboration with local governments across Japan in order to deliver brand's concept more starting with Kochi prefecture where is surrounded by abundant nature and food culture. The Kochi fair is set to open from April 16 to July 31 at all branches of "Made in Pierre Hermè".  A kick-off event of the fair is happening on April 15 at COMMUNE Omotesando in Tokyo. 





The fair will be featuring the hidden gems of Kochi such as Kochi Yuzu citrus macarons, salad dressings made of vegetables locally produced, Hachi-kin, the produced poultry, canned Tuna, Tosayama ginger ale, matcha and Kochi yuzu citrus brownies, yuzu peel cookies and more. In addition, collaboration products with Kochi producers such as sun-dried salt gelato, tomato ketchup, and green tea will be on sale. Don't miss the chance to taste the flavour of Kochi proudly represents by Pierre Hermè! 

Information

Made in Pierre Hermè 

Made in Pierre Hermè Kochi Marche
Kick-off Event: April 15, 2021 from 11:00 to 18:00

Where: COMMUNE Omotesando

Made in Pierre Hermè Kochi Fair

Running:  April 16, 2021- July 31, 2021
Where: All Made in Pierre Hermè branches
Official Site:https://www.pierreherme.co.jp/ph/