【Outdoor Area /FOOD AREA 】What to expect at MOSHI MOSHI NIPPON FESTIVAL 2016!Free entry and tons to do!
The MOSHI MOSHI NIPPON FESTIVAL isn't just an indoor event, there's lots going on outside the venue too. Stage performances, food, photo spots and more, there's plenty for you to enjoy. In this section we will dissect what exactly you can expect from the outdoor area at MOSHI MOSHI NIPPON FESTIVAL 2016!
【FOOD AREA / NIPPON UMAI YOKOCHO】
"NIPPON UMAI YOKOCHO" – the food area you can enter for free and eat all the Japanese food you can think of from some of the most famous restaurants around Japan!
MOSHI MOSHI NIPPON FESTIVAL 2016 is almost upon us and will start this weekend. We'd like to introduce to you our extremely popular on-site food area that you'll be able experience at the event.
Kenta Gyoza
This is Japanese Utsunomiya Gyoza! The signature dumpling "Kenta Gyoza" has sweet vegetable mixed with juicy pork inside of thin dumpling skin. The crispness and deliciousness will make tasty chemistry inside of your mouth!
New Sapporo Delicacy Meat Bomb! 
Meat Bomb, a juicy dumpling rolled with pork belly! God of chili oil, Sapporo Maruesu Shokudo invented a new menu, collaborated with Osaka Gachinko Ramen. Taste this big Meat Bomb Gyoza! Cheese topping is also available.
Sirloin steak beef cutlet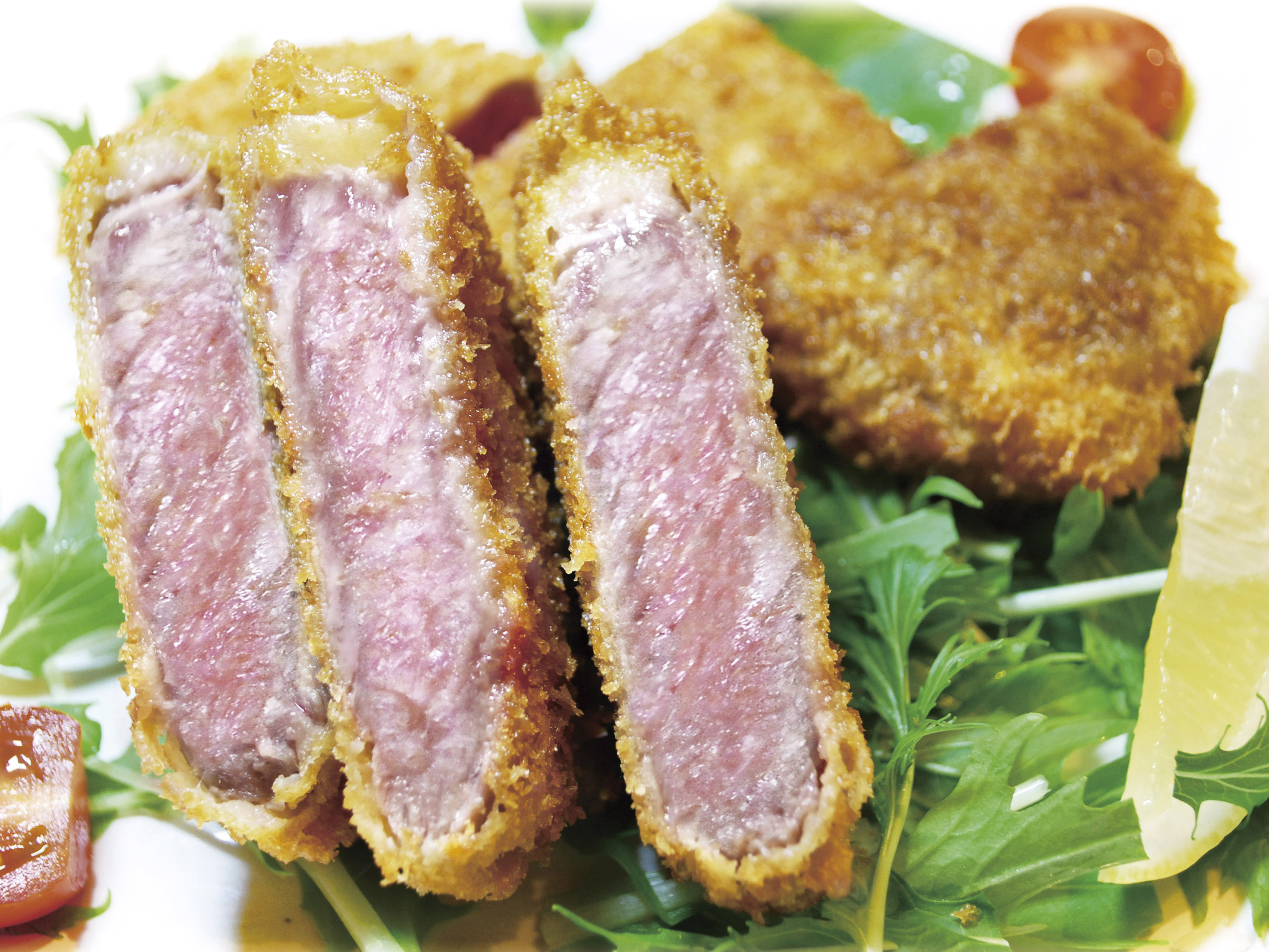 Girls loved it! Sirloin steak beef cutlet with Japanese style! Umami of the beef, sirloin is used for crispy cutlet, topped with Kujo green onion from Kyoto. Enjoy with wasabi soy sauce!
Super luxurious! Matsuzaka beef Premium Meat Burger
Is it too much meat? The highest-class Wagyu is also inside! Not just a meat burger with meat patties, but there are the highest-class Wagyu, "Matsuzaka beef" in between the meat patties! Try out this culture hybrid burger and taste Japan!
Wakana's Original Taiwan Mazesoba
Nagoya's orgin B-class gourmet "Taiwan Mazesoba" is here! Latest hot topic, B-class gourmet Taiwan Mazesoba is actually a modern taste of Japan, originated from Nagoya, not Taiwan. Roasted pork matches with noodle and toppings so well!
A finisher!! Kenshiro Steak
The descent of special Kenshiro Steak is here. Arranged the signature dish, Kenshiro grill, by using rare part of beef "Hanging tender", cooked with low temperature method made the steak juicier! The original onion sauce matches with steak too!
Sakaiminato Fisherman's Crab Miso Soup
Red Snow Crab × Marukome Miso! Red Snow Crab from top fishery landing port, Sakaiminato, meets the most popular miso Marukome! Half of a giant crab and delicious miso are in the hot soup. Enjoy the fisherman's taste and get warm!
Wagyu Roast Beef Bowl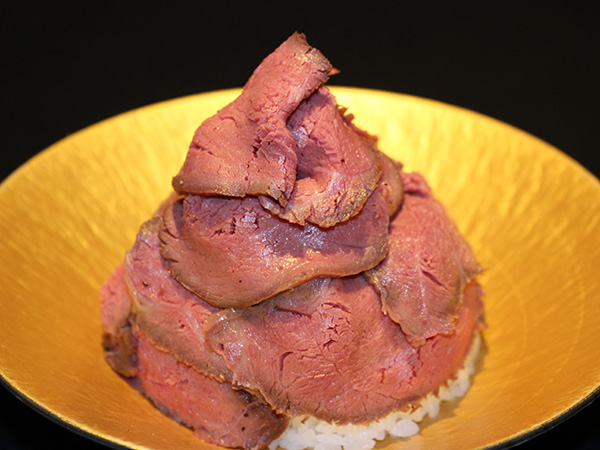 Special Wagyu Roast Beef Bowl, Only for this event! Famous restaurant Shotaian brought Wagyu Roast Beef Bowl only for this event! Experience the tasty Japanese Wagyu with ponzu mixed with grated daikon!
Agura Domestic Beef Hormone Ramen (Salt・Miso・Soysauce)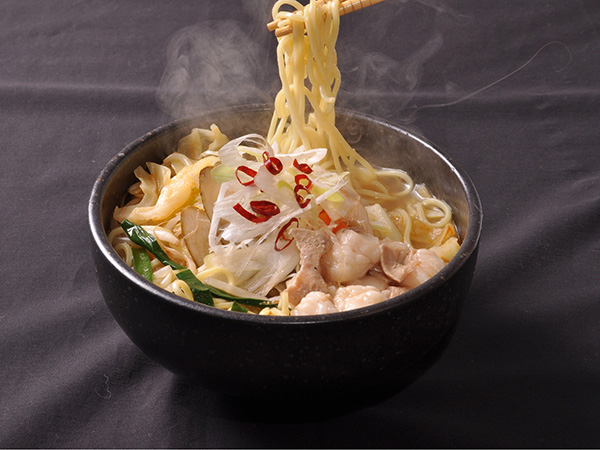 Choose your favorite sauce from Salt・Miso・Soysauce ! Arranged the No.1 menu from the restaurant, Japanese Hormone Hotpot matched with traditional Ramen noodle! Taste the traditional Japanese delicacy with selectable sauces!
Jumbo Beef Tongue Meatball Skewer
Don't you know most Japanese loves Beef Tongue? Jumbo meatball skewer made by secret recipe is not only for Beef Tongue lover but also for Meatball lover! Experience the special jumbo meatball skewer made by beef tongue!
AEON TOPVALUE (KAWAii HALAL STATION)
Colorful Shopping Wonderland comes to MOSHI MOSHI NIPPON Festival!!! AEON, Asia's number one premier retailer will have two booths at this year's event! Outside, check out our KAWAii HALAL STATION, where we will be giving away a limited amount of AEON TOPVALU brand instant noodles. Taste the delicious, JAKIM certified halal noodles right on the spot!
Domino's Pizza
Oystar of "Kunihiro"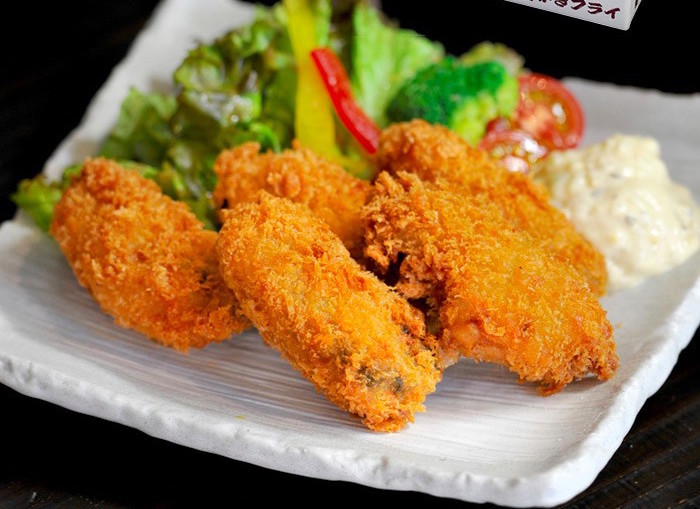 You can eat fried oysters in seasonin‐season. We have 3 tastes, plane, curry, or lemon. You may want to eat oysters in wintter.
Ryo-hin kaigi
Ryohin-kaigi, that delivers good products developed by editors of sports / outdoor professional magazines, recommend a lump meat for those who are tired of ordinary BBQ food. You can watch demonstration and taste twice a day. Let's come to eat the juicy meats.
Harajuk Nippon Market AMAZAKE
You can drink Amazake (甘酒, [amazake]) in our place, which is a traditional sweet, low- or non-alcohol (depending on recipes) Japanese drink made from fermented rice.
DIDYCO
Let's play a game of searching for capsules embedded in a huge "Nukadoko", bed of salted rice bran used for pickling. If you find winning ticket, exchange for a prize. Enjoy the feel of Nukadoko with few opportunities to touch. Some content is named after the popular movie "Kimo no na wa."
Minabe town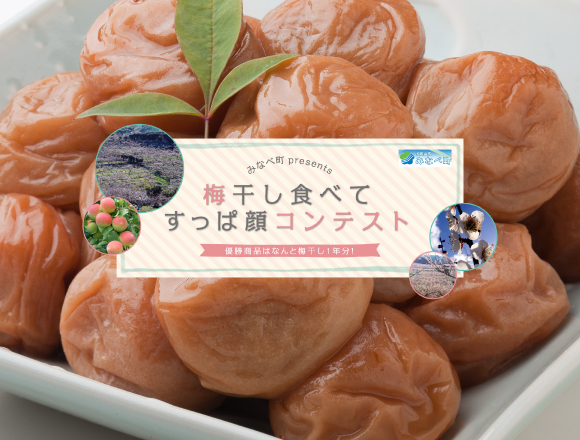 Let's eat umeboshi's the finest among high -class pickled plums, kounannume, at Minabe City booth. There will be other hands on activities such as ume boshi gacha, a capsule game, and a photo contest to win the year round amount of umeboshi. Don't forget to enter the photo contest by eating sour salt plums infront of Kawaii panel!
おいしさ研究所大地
We provide three types of vinegar you can drink : tastes of lemon, blueberry, and citron. Try and find the taste you like.
Soft drink/Alcohol
Varieties of Cocktails, Beer and of course Soft drinks! Heineken, Coca Cola, Tea, and many varieties of drink are here! We also have Hot drinks!
Experience Japanese Culture Booth "WABI-SABI"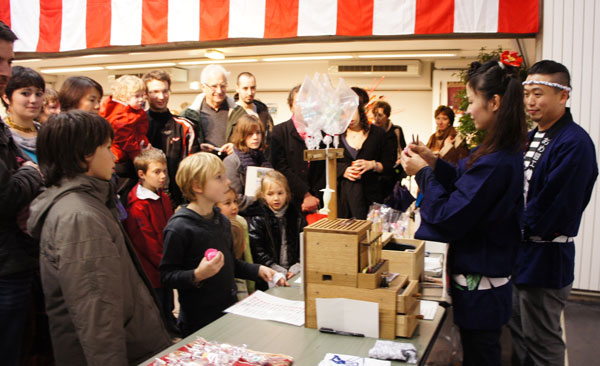 Confectionist and amezaiku (creating animal sculptures from candy) maker Takako. You can have a try at making your own candy sculptures alongside Takako, who won the top award at the Japanese confectionary competition Wagashi Hakurankai. Takako is known for creating gorgeous delicate and soft designs. Why don't you have a try at making your own kawaii animal too?
—
Take advantage of and eat all you can at the food area at the MOSHI MOSHI NIPPON FESTIVAL on November 26th and November 27th to experience eating speciality foods from all around the country that you wouldn't normally be able to eat in Tokyo!
▼Outdoor area contents
—
■Information
MOSHI MOSHI NIPPON FESTIVAL 2016 in TOKYO
Venue:TOKYO TAIIKUKAN (1-17-1 Sendagaya Shibuyaku Tokyo)
Date:November 26th(Sat.) and 27th(Sun.) , 2016
Tickets:http://msmsnippon16-1.peatix.com
※Foreigners who register beforehand can enter the venue free of charge on condition that they show their passport or residence card to the entry staff on the day of the event
RELATED ENTRIES
GREEN SPOON Releases New Limited-Edition Superfood Potages

GREEN SPOON is a Japanese company whose mission is to promote a fun and healthy eating lifestyle and culture to people in the form of fruits and vegetables that are delivered to consumers every month. This year, the food brand is releasing a new series of three soups for the spring season which will be served on March 1, March 29, and April 26 respectively.

These limited-time soup recipes are the latest to join GREEN SPOON's menu of 15 soups which was first released in November 2020. The line-up features three potages packed full of superfoods and nutrients.

"Like the Sun" is a nutty, butternut squash potage that will release on March 1. This will be followed by the beetroot and red onion sour potage "Toriko" on March 29. Finally, "See the sea" is an avocado potage made with olives and will arrive on April 26. Each can be ordered to any address in Japan via GREEN SPOON's official website. A maxium of two can be ordered each month per person.

The Line-Up

"Like the Sun" Butternut Squash Nutty Potage

The butternut squash in "Like the Sun" brings a smooth sweetness to the potage. This is layered with various spices as well as almonds and hazelnuts for a nutty fragrance.

The result is a rich potage with a distinct moist texture and melon-like flavour. The squash is as velvety as butter and combines deliciously with the nut assortment.

"Toriko" Beetroot & Red Onion Sour Potage

"Toriko" is a sour potage that mixes together beets, mini tomatoes, red onions, and apple cider vinegar for a refreshing, tangy kick. The combination of ingredients also makes for a colourful presentation and healthy pack of nutrients.

"See the sea" Olive Avacado Potage

"See the sea" is a creamy Mediterranean-style potage packed full of umami flavour made with avacado, anchovies, green olives, and dried tomato. Avocado is a superfood containing rich vitamins and minerals. It's also rich in oleic acid, a healthy fat.

Price Plan (Before Tax)

8 Monthly Plan: ¥7,200 in Total (¥900 per delivery)

12 Monthly Plan: ¥10,500 in Total (¥875 per delivery)

20 Monthly Plan: ¥16,800 in Total (¥840 per delivery)

Stay warm this winter with one of GREEN SPOON's special soups.

Information

GREEN SPOON Spring Limited Soups

Release Dates: March 1, 2021 / March 29, 2021 / April 26, 2021

GREEN SPOON Official Website: https://greenspoon.co.jp/

Chawanmushi Recipe: Savoury Dessert Made With Carrots, Cream Cheese & Mirin

Together with soy sauce and miso, mirin is a fundamental condiment in the Japanese kitchen and for many recipes for Japanese food. It's a sweet rice wine that has lower alcohol content and higher sugar content when compared to sake, adding a sweet flavour to dishes.

Today, we're taking a look at a recipe that uses "Mikawa Mirin," a brand of mirin made from high quality rice, to make carrot and cream cheese chawanmushi. Chawanmushi is a savoury egg custard dessert eaten in Japan.

Carrot & Cream Cheese Chawanmushi

Chawanmushi is made using mirin and has a smooth texture to it as well as a subtly sweet flavour. It's the perfect accompaniment to a hot summer's day.

Ingredients (Serves 1)


●Chawanmushi
60g carrots
240ml dashi
20ml soy sauce
120ml Mikawa Mirin
8g sugar
18g cream cheese
1 egg

●Okra-an
Okra
30ml dashi
0.5g salt
3ml Mikawa Mirin

Method

We will start by making the chawanmushi.

1. Slice the carrots and boil them until they become soft.

2. Add the soy sauce, sugar, and lots of mirin and cook through the dashi.

3. Cook for approximately 20 minutes on a medium heat, then cool with ice. Add the cooled carrots, cream cheese, and 20ml of the dashi into a blender and bend.

4. Add the egg to the mix and steam the mix for 12 minutes on a medium heat.

While the chawanmushi is cooling, we'll make the okra-an.

5. Mix together the okra-an dashi, mirin, and salt together. Add watered potato starch and thinly sliced okra. Leave to cool in the refrigerator.

6. Add the okra-an to the cooled chawanmushi and tuck into your cute two-layered dessert.

Carrot & Cream Cheese Chawanmushi

The dessert is an enjoyable mix of the sticky texture from the okra-an and smooth chawanmushi. It's great to have not only at lunch or dinner, but at home parties with friends too.

–How's the taste?


Misa Kimura: "It works really well with the mirin. The chawanmushi is like a sweet treat. It's super easy to make too, so I think I'll be making it at home!"

Mirin is indispensable to any Japanese cupboard and can be used in many ways, whether it be a classic Japanese dish or a dessert like this one.

Mikawa Mirin 700ml: ¥1,122 (Tax Included)

This authentic brand of mirin is made using a traditional method of Japanese brewing which blends in the delicious taste of rice. It's so delicious that you just want to drink the whole bottle. A high quality mirin, it has a distinct sweetness, colour, and texture. It has a rich flavour, and the taste of the rice elevates the flavours of its ingredients.

Mikawa Mirin Official Website: http://www.mikawamirin.jp/
Official Online Store: http://mikawamirin.jp/product/product_step1.php?m=n
Official Facebook: https://www.facebook.com/mikawamirin

Recipe


This recipe was conceived by ITEMAE, a famous restaurant serving Japanese cuisine that is listed in the Michelin Guide.

Model: Misa Kimura
Photographer: Haruka Yamamoto

Information

ITEMAE
Address: 10-14 Kamiyamachō, Shibuya, Tokyo
Opening Hours: Lunch 11:30-15:00 (Weekdays Only) / Dinner 18:00-23:30
Closed: Sundays / New Year's Holiday
TEL: 050-5595-4795

Inari Sushi Restaurant Tsurigitsune to Open in Osaka International Airport's North Terminal

Japanese food and confectionery company Bijuu is opening a new restaurant called Tsurigitsune inside Osaka International Airport's North Terminal on August 5, 2020. The restaurant will specialise in inari sushi, a type of sushi packed into pouches of deep-fried tofu.

Bijuu is known for producing and selling such products as Kyoto's famous coarse sweet red bean paste-filled yatsuhashi otabe crackers.

Tsurigitsune will serve "Kyo Dashi Oinari," a type of inari sushi made with fried tofu Saga Tofu Morioka—a long-standing tofu shop in Sagano, Kyoto—soaked in lots of sumptuous Kyoto-style dashi. The restaurant will also serve a special type of sweet otabe cracker which cannot be eaten anywhere else.


Kyo Dashi Oinari (Includes 15) | ¥3,240 (Tax Included)

The dashi that the Kyo Dashi Oinari are soaked in take up all the delicious flavour of kombu, sababushi smoked mackerel, iwashibushi pilchard, and katsuobushi dried bonito, all of which serve to add that authentic Kyoto flavour.


Tanto Otabeyasu | ¥930 (Tax Included) *Served 6:30-10:00

As well as Kyo Dashi Oinari, Tsurigitsune's menu includes a line-up of dishes that celebrate the flavour of dashi, including soba, dashimaki tamago omelette, and more.

If you're travelling to Osaka, why not get an authentic Kyoto experience too by dining at Tsurigitsune?

Information

Tsurigitsune
Grand Opening: August 5, 2020
Address: Osaka International Airport North Terminal 2F Boarding Area, 3-555 Hotarugaike NishimachiToyonaka, Osaka
Opening Hours: 6:30-20:20 (Last Orders 19:50)
TEL: 06-6836-9217

Official Website: http://www.bijuu.co.jp/tsurigitsune/

Stock Your Kitchen With Japanese Kitchenware Tools by SALON adam et rope'

SALON adam et rope' has launched its new "Nihon no Daidokoro Dougu" (Japanese Kitchen Tools) collection which features a curated selection of Made In Japan kitchenware and cookware items from high quality Japanese brands.

Kasane

Top: ¥12,000 / Middle: ¥12,000 / Bottom: ¥9,000 (Before Tax)

Traditionally, Japanese knives were made by men with men in mind, but these Kasane knives are made by women to fit with the modern age. They are made in such a way to feel comfortable in smaller hands. The handles are made from rare natural wood from the cerasus jamasakura trees of Gifu Prefecture which give them a texture that changes as you continue to use the knives. The blades themselves are made from high-carbon stainless steel which gives them superior sharpness and durability. The blade edge is the result of a new technology developed by Sumikama called "Zero Edge" which makes them thin and sharp.

Kaji Donya

 
Left: ¥1,300 / Middle: ¥2,000 / Right: ¥2,800 (Before Tax)

Left: ¥1,000 / Middle: ¥1,200 / Right: ¥2,000 (Before Tax)

These handy stackable containers are made by Kaji Donya, a company based in Tsubame, Niigata. The height of each one is the same which makes them super convenient when stacking inside fridges.

Ceramic Grill: ¥1,400 (Before Tax)

The ceramic grill is a longtime seller at SALON. If you're grilling bread on it, it leaves the outside crispy and the inside nice and soft. It uses far-infrared rays which means the water content of the ingredients grilled on it is not lost, allowing for the full tasty flavour to stay locked in and the food plump and juicy.

Father's Day: Otokomae Tofu Celebrates Dad's Around the World With New Tofu Product

Japanese tofu company Otokomae Tofu is celebrating Father's Day this year by releasing its new "Chichi no Hi Tofu" (Father's Day Tofu) at supermarkets around Japan for a limited time between June 15 and June 21.

When you pour soy sauce over the Father's Day Tofu, a message of gratitude appears on the tofu's surface in Japanese. This is a unique, one-of-a-kind tofu experience. There are four messages in total which translate to: "Manly," "Thanks always, dad. I love you, live a long life," "You work so hard papa, I love you," and "Dad."

Giving your dad some Father's Day Tofu is sure to make for a Father's Day to remember!

Information

Chichi no Hi Tofu (Father's Day Tofu)

Running: June 15, 2020 – June 21, 2020

Price: ¥158 (Before Tax)

Available: Supermarkets in Japan (Except Hokkaido and Okinawa)

Otokomae Tofu Official Website: http://otokomae.com

McDonald's Japan: Chicken Tatsuta Mentai Cheese & Other Japanese Flavoured Foods Coming to the Menu

McDonald's Japan is introducing some mouth-watering new foods to its menu including two which incorporates chicken tatsuta: the "Chicken Tatsuta Mentai Cheese" which is made with walleye pollack roe, and the bite-sized "Hitokuchi Tatsuta"ーthe latter of which is arriving to the side menu.

It is also introducing the "Rice Chicken Tatsuta" burger following the success of the "Rice Burger" which was released at stores for the first time earlier back in February of this year.


These new menu items will be released on May 13, 2020 at all McDonald's branches in Japan for a limited time.

Chicken Tatsuta Mentai Cheese

Chicken tatsuta is a popular Japanese dish which combines a soft, soy ginger-soaked chicken patty with spicy sauce and stuffs it inside a bun. McDonald's new "Chicken Tatsuta Mentai Cheese" adds spicy walleye pollack roe mayo and smooth white cheddar cheese to the equation. It will be available all day round, including for the morning menu.

Hitokuchi Tatsuta

Rice Chicken Tatsuta

The "Rice Chicken Burger" will be available in the evenings only.

Japanese actor Toshiyuki Nishida is appearing in the TV commercials to promote the "Hitokuchi Tatsuta" while comedian Nobuyuki Hanawa and actor Katsumi Takahashi appear in the "Rice Chicken Tatsuta" commercials which feature a re-recording of the song SWEET MEMORIES ~Amai Kioku~ by Seiko Matsuda.

Popular Yakiniku Restaurant Futago to Open New Branch at THE JUNEI HOTEL in Kyoto

FTG Company, which operates 74 restaurants inside and outside Japan, is set to open its new restaurant Nikukappou Futago at THE JUNEI HOTEL Kyoto in Higashiyama, Kyoto on March 27, 2020 where it will serve authentic Japanese wagyu beef and full courses.

THE JUNEI HOTEL Kyoto is a small luxury tourist hotel housing eleven rooms in total, including its Bamboo Suite. Bamboo can be found throughout all the rooms as part of the hotel's concept: "A sojourn embraced by bamboo in a moonlit space." The rooms, as well as the hotel interior overall, showcases beautiful traditional handiwork using bamboo.

Inside Nikukappou Futago

Nikukappou Futago fuses traditional Japanese elements with modern ones. It features half-size eating areas as well as private areas. Customers can expect their private dining experience to include freshly-cooked full courses with high quality Japanese wagyu and seasonal ingredients.

Menu in Japanese *Menu will change monthly

Nikukappou Futago's concept is "A relaxed adult's Iki." The word iki here refers to a range of different meanings in Japanese, like "sophistication," "breath," "spirit," and "life." The restaurant will work to serve a hospitable service that enables each and every person to enjoy that iki that lives inside them.

Foie Gras & Wagyu Filet Mouthful Bowl

Wagyu Loin & Kyoto Vegetable Shabu-shabu

The course is made with seasonal ingredients and vegetables. Plus, in using a range of cooking methods, the original flavour meat of the meat is intensified.

Wagyu Sirloin Sumiyaki

Enjoy a selection of high-quality rare wagyu cuts like sirloin, filet, loin, and more. You can also enjoy a selection of classic Japanese dishes like yakiniku, shabu-shabu, and sukiyaki, all in one course.

Like the changing seasons in Kyoto, the menu will be altered every month to bring something new. Discover your iki and enjoy a great meal at Nikukappou Futago.

Information

Nikukappou Futago THE JUNEI HOTEL KYOTO

Address: THE JUNEI HOTEL KYOTO Floor 1F, 4-139 Honmachi, Higashiyama Ward, Kyoto
Grand Opening: March 27, 2020
Opening Hours: 17:00-23:00  (Last Orders 22:00)
No Fixed Holidays

Seats: 32 (6 Half-Size Rooms / 2 Private Rooms
TEL: 075-525-0052

Course Price: ¥11,000 (Tax and service charge not included) *Course menu to change each month

Official Website: https://nikutei25.com/

Winners Announced For The 7th Washoku World Challenge Competition

The final round for the 7th Washoku World Challenge Competition was held in Tokyo on February 20 and 21, which saw WANG Wei Ping of China, and chef at SUN with AQUA JAPANESE DINING SUNTORY, as the winner.

The two-day event brought together five chefs from Hong Kong, Singapore, Paris, Donostia-San Sebastian, and New York come together to compete and show their skills create dishes based on the competition's main theme of "Umami" and this year's theme of "Texture and Mouthfeel."

The judges said: "This 7th edition demonstrates that the finalists' technical level keeps improving every year. Creating Japanese dishes that incorporate the characteristics and unique ideas of other countries' culinary cultures, while respecting the fundamentals of Japanese cuisine built on the concept of umami, expands the potential of Japanese cuisine. The creations of each one of the finalists embodied this notion."

Middle Contender: WANG Wei Ping, 1st Place Winner

WANG Wei Ping's Dish

On the first day, the chefs used the same ingredients to create a "nimonowan." On the second day, they forged their own original dishes using five or more ingredients which they arranged on a Japanese "hangetsubon" tray.

When reacting to his victory, Wang Wei Ping said: "I thank the owner and other members of my restaurant. After returning to Shanghai, I would like to continue conveying the excellence of Japanese cuisine, which is both healthy and tasty."

Finalists

Hong Kong

First Place: WANG Wei Ping (China, SUN with AQUA JAPANESE DINING SUNTORY)

USA

Second Place: Yael PEET (USA, Fury's) *The restaurant will be open this summer.

Singapore

Third Place: Loh Man HONG (Singapore, FAT COW)

Paris

Wojciech POPOW (Poland, Beaverbrook)

Judges

– Head Judge: Mr. Yoshihiro MURATA

(Chairman of Japanese Culinary Academy, Owner and chef of Kikunoi, Japanese Cuisine Goodwill ambassador)

– Deputy Head Judge: Mr. Masahiro NAKATA

(Director of Taiwa Gakuen Education Inc. President of Kyoto Culinary Art College)
– Judge: Mr. Hideaki MATSUO

(Owner of Japanese Cuisine KASHIWAYA, Japanese Cuisine Goodwill ambassador)
– Special Judge: Yoshio KOJIMA

(Comedian)

Fermented Food Cafe 'Tsuke x Koji Haccomachi' to Open in Kyoto's Sanjo Area

Tsuke x Koji Haccomachi is a new cafe opening in the Sanjo area of Kyoto on February 22, 2020, that is centred entirely on fermented foods.

The name "Haccomachi" derives from the Japanese word Hakko (Hacco), meaning fermented, and Komachi (Comachi), meaning a beautiful woman. The cafe hopes for people to incorporate fermented foods into their livesーsomething which is rooted in Japanese food cultureーand live comfortably.

The cafe's logo showcases the making of kōjiーa type of mould used in the fermentation process of certain food products in Japan, like soybeans. The logo hope to pass down this long upheld tradition.

Hakko fermentation is a major part of Japan's food culture. Since ancient times, the sweetness and umami brought about by the enzymes in the fermentation process have served to accompany many foods in the country, such as miso, soy sauce, mirin, rice vinegar, and so onーall traditional condiments used in the Japanese kitchen that are still fundamental today.

The menu at Tsuke x Koji Haccomachi features a line-up of fermented foods made in Kyoto, including those from Kyoto-based soybean makers Fujiwara Shokuhin, Sawai Shoyu Honten which has produced the same high quality soy sauce for decades, sake brewery Kitagawa Honke which has been around since the Edo Period, and more.

A Small Look at the Menu

Lunch Menu

Haccomachi Special – Fermented Lunch Plate: ¥1,690

This lunch plate is an assortment of hors d'oeuvre made with fermented condiments, tandoori chicken that has been pickled to elevate the umami, marlin fish, soup, and more.

Dinner Menu

Spare Ribs On The Bone in Miso Yuan Yaki: ¥1,490

This hearty portion of spare ribs are marinated in a miso, mirin, and soy sauce mix. Taste the full umami flavour of the juicy meat.

Namerō Miso Salmon in Yoghurt Sauce: ¥770

The salmon is served namerō style, a type of tataki or pounding method, in miso. The yoghurt has both a refreshing and rich flavour.

Homemade Komekoji Rice Malt Sweet Sake Yoghurt: ¥470

The splitting of the sour yoghurt serves to elevate the sweetness of the sake. This is a drink that even those who don't like sweet sake are sure to enjoy.

Cafe Menu

Miso Pound Cake w/ Vanilla Ice Cream: ¥550

The miso pound cake is a collaboration with Japanese confectionery company Sarasa, which has 6 branches of cafes and shops in Kyoto. It's made using komekoji rice malt powder provided by an old-fashioned Japanese shop (菱六もやし). The umami of the miso is intensified, and the cake stays moist thanks to the powder. It's served with a dollop of refreshing vanilla ice cream.

Blackcurrant & Vanilla Sweet Sake Affogato: ¥550

A unique spin on the affogato dessert which has you pouring hot sweet sake over tangy and refreshing blackcurrant sherbet and rich vanilla ice cream. Enjoy the mix of the hot sake and the cool ice cream.

Discover the Japanese tradition of fermentation at Tsuke x Koji Haccomachi, opening February 22, 2020.

Information

Tsuke x Koji Haccomachi

Grand Opening: February 22, 2020
Address: 78-1 Masuyacho, Shitagaru Yanaginobamba Sanjo-dori, Nakagyo Ward, Kyoto,
Opening Hours: [Weekdays] 11:00-15:00 & 17:00-22:00 / [Weekends & Holidays] 11:00-22:00

Closed: Wednesdays
Official Website: https://haccomachi.jp/

Akasaka Yuuga: The New Japanese Restaurant in Tokyo's Gourmet Warzone Akasaka

Akasaka is known as a warzone when it comes to gourmet restaurants, but a new contender has arrived. Akasaka Yuuga opened this month in Akasaka Ni-chome, Tokyo. This restaurant serves Japanese style cuisine featuring carefully selected flavours taken from across the country.

Yuuga gets most of their fish from Choshi Port, which boasts the best fish yield in Japan, as well as other carefully chosen seafood from across Japan in addition to seasonal vegetables. They bring out the full flavour of their ingredients, all of which are matched to the current season. They even serve Japanese black beef.

Their concept centres on how recognised and loved Japanese food is internationally. The restaurant makes full use of Japan's traditional food culture and prepares food using a variety of cooking methods. Everything in the restaurant is carefully considered to ensure diners enjoy their meal experience with all five senses, from not only the food but the decor and hospitality too. There are also counter seats available for customers who want to watch their food being prepared while they talk, whether to their friends or with the skilled chefs, offering an unforgettable dining experience for Japanese people and foreigners alike. There are also private eating booths for those who want to eat with friends, family, or celebrate a special day.

Nijushisekki

Nijushisekki refers to the days that divide the solar year into twenty four equal sections and highlight the longest days of sun in summer, the shortest days in winter, and the days being the same in spring and autumn.

The dishes at the restaurant reflect these regular changes; the dishes are not bound strictly by Japanese cuisine, but make use of various cooking and preparation methods, with thought and consideration put into every dish.

Japanese Black Beef

Yuuga prides itself not only on seasonal vegetable and fish-filled menu, which is both a feast for the belly and eyes, but on the beef used in its course meals too.

Yuuga serves Japanese black beef which comes from a rare breed of cow which is difficult to rear. It has a distinct rich flavour and low melting point which gives it a melt-in-the-mouth texture.

Courses

There are three courses to choose from that cater to customers desires, costing ¥8,000, ¥12,000, and ¥20,000 respectively. This includes appetisers, and customers can choose from a range of wines from around the world select by sommeliers, as well as champagne, whisky, and of course sake and shochu.

Information

Akasaka Yuuga

Address: Yamaguchi Bldg. 1F, 2-14-8 Akasaka, Minato Ward, Tokyo

Business Hours: 17:00-23:00 (Last Orders 22:00)

Closed: Sundays & Public Holidays

Official Website: http://yuuga.ku-shin.jp

This Week's Breakfast: Warming Up With Asa Kayu at Asora no Chaya in Ise

One thing I do at least once a week without fail is treat myself out to some delicious food or dessert. I find it very important time well spent in order to live a happy, fulfilling life.

During a business trip to Ise, I decided to treat myself to some breakfast in the coastal city. I got up nice and early and went to pray at the Toyo' ukedaijingu of Ise Grand Shrine before making my way to Asora no Chaya to order some of their Asa Kayu ("Morning Porridge") to warm myself up since I was feeling a little cold.

Asora no Chaya is about an 8-minute walk from Ise Stationーwhich by the way is the closest station to the Toyo' ukedaijingu of Ise Grand Shrineーand just a minute's stroll from the inner shrine itself.

At the entrance they had "Asa Kayu" written on the door as pictured above. The cafe itself is located on the second floor.

The cafe has wood-based decor, and the windows are nice and big, letting lots of natural light seep in. From the window I could see Ise Grand Shrine which I prayed at just moments ago. It's a place where you can wind down and relax.

I ordered the "Mike no Asa Kayu Awabi" (in Japanese: 御饌の朝かゆ 鮑). I found out that the word mike is used to refer to precious, sacred food. Apparently, your good fortune will increase if you eat it after praying to the god of food at the Toyo' ukedaijingu.

Mike no Asa Kayu Awabi (御饌の朝かゆ 鮑) – ¥2,040 (Tax Included)

My meal arrived in a wooden box. When I opened it, I was happy to see that I not only received the porridge, but other small plates and bowls of food too.

I was charmed by how shiny the rice was in the sunlight. To eat the thin rice porridge, you add the awabi, pickled vegetables, kombu, bonito broth and other ingredients.

The rice porridge is easy to digest and warms you up to the coreーthe perfect way to relax on a cold day. The combination of the tender bonito and the smooth porridge is a match made in heaven. It's a very simple dish with no unnecessary additions. It has a gentle flavour that makes your mind and body just wind down and relax.

As well as the rice porridge, the meal comes with other healthy foods too like dried fish, soft boiled egg and vinegared ingredients. For dessert, you get zenzai which is a type of sweet soup. This is a very special breakfast you can only experience here at this cafe, coupled with a view of Ise Grand Shrine, all in the early morning.

Whenever I wake up early, it feels like I'll have a very different start to the day than usual, but spending my morning in Ise, praying at Ise Grand Shrine and eating kayu porridge at Asora no Chaya had me holding my head high.

This morning, it was the start of another new day, and I began it feeling dignified.

Today's Souvenir

Awabi Gohan no Moto – ¥1,300 (Tax Included)

I wanted to share the happiness between friends and family on this fine day where I got to eat a delicious breakfast. This Awabi Gohan no Moto is an easy way to enjoy awabi. You took it together with rice to make awabi rice. Being able to purchase awabi, which is a high quality ingredient, at this price is an absolute steal.

Writer: Sayuri Mizuno (MOSHI MOSHI NIPPON)


Translator: Joshua Kitosi-Isanga

Information

Asora no Chaya

Address: Ise Sekiya Honten Floor 2F, 13-7 Honmachi, Ise, Mie Prefecture

Closed: Wednesdays

Opening Hours: Asa Kayu 7:30-10:00 / Lunch 11:30-14:30 / Cafe 7:30-17:00 (Until 16:00 on weekdays)

Official Website: https://www.asoranochaya.com

Orders Now Open For Japan's Ultimate Mochi Brand 'THE OMOCHI'

dot science launched a new brand on Wednesday called 'THE OMOCHI.' Together with the brand's partner Kasaharamochiーa Miyazaki-based mochi making companyーthey are aiming to update one of Japan's most recognised traditional confections: mochi.

Kasaharamochi make their mochi using an old-fashioned method that is almost extinct which makes use of a kamado BBQ and firewood. They shoot towards making the ultimate mochi.

In the video below, one of the staff members at Kasaharamochi discusses the cooking techniqueーthe oldest method, but the one that creates the most delicious mochi around.

Ingredients are carefully selected and placed carefully into the fire to steam. Kasaharamochi has continuously sought this ancient technique to cook the perfect mochi, a flavour which has been eaten by emperors and the imperial family during celebrations. This mochi has now been dubbed THE OMOCHI.

For the first line-up of the THE OMOCHI brand there will be 5 different types of mochi.

Pickled Egg Yolk & Soy Sauce

Cinnamon Honey Bar Mochi

THE OMOCHI website is also showcasing how best to eat and enjoy mochi as well as what is possible with this sweet treat. The website offers wine pairings, what to eat mochi with, original recipes and more, so be sure to check out the website.

THE OMOCHI Original Recipes: https://theomochi.com/#recipe

Information

THE OMOCHI Line-Up (10 Included)
01. Plain – ¥1,200 (Before Tax)
02. Genmai Rice – ¥1,200 (Before Tax)
03. Shrimp – ¥1,500 (Before Tax)
04. Walnut – ¥1,400 (Before Tax)
05. Soy – ¥1,400 (Before Tax)

THE OMOCHI Official Website: https://theomochi.thebase.in/