Sanrio Character Awards 2019 | Event Report
Hi, everyone. Midori here from MMN's editorial department.
The Sanrio Character Awards is a hugely popular event held in Japan every year. The winners were just recently announced, and I got to attend the announcement event.
This year marks the 34th run of the awards which have become an annual custom amongst Sanrio fans. People waited with a slight nervous anticipation at Puroland where the event was held as they awaited for the award ceremony to begin.
The ceremony began with an initial greeting by Kabuki Nyantarou before the participating characters of the awards were presented on screen. There were over 80 entries this year!
They took no time at all in listing the winners in order from the top. Cinnamoroll has reigned champion for two years in a row, but taking the crown this year is Hello Kitty who is celebrating her 45th anniversary. After her were Cinnamoroll and then Pompompurin. Hello Kitty is the poster girl for Sanrio but the last time she earned the No. 1 spot was six years ago in 2013, and last year she was in 4th place.
Hello Kitty is the only character since 2000 to win three years in a row. The highest streak by the other characters is just two years. When the votes began rolling in this year Cinamoroll was initially at the top with Hello Kitty in 2nd place, but halfway through they swapped places. Of course, we mustn't forget Pompompurin and YOSHIKITTY either who followed close behind them.
Firstly, let's take a look at who received the Special Awards.
Cogimyun―Sanrio's flour dough fairy character―obtained a much higher ranking than last year, earning her the Hop Step Jump Award. Fans were fascinated with this announcement as Cogimyun is said to the most elusive of the Sanrio characters.
Hello Mandy reigned in the Collaborations Category, a collaboration between Hello Kitty and Mandy Sekiguchi from Japanese boy band GENERATIONS from EXILE TRIBE. Sekiguchi himself surprised the crowd as he was present to receive the award alongside Hello Mandy.

Taking home the TikTok Award this year is Marumofubiyori Moppu. Moppu is a cute white bear who likes to lounge around at home wrapped in his favourite blanket. His sleepy videos were a hit on the Japanese TikTok.
Now, for the main announcements.
Ranks 20 through 10 were announced via large cardboard panels.
The top 10 were then announced in order, from 10 down to 1. Each of these popular characters were announced until just 2nd and 1st place were left to be announced. The remaining two names were Cinnamoroll and Hello Kitty, leaving fans anxious to hear who the winner of 2019 will be.
And the winner is…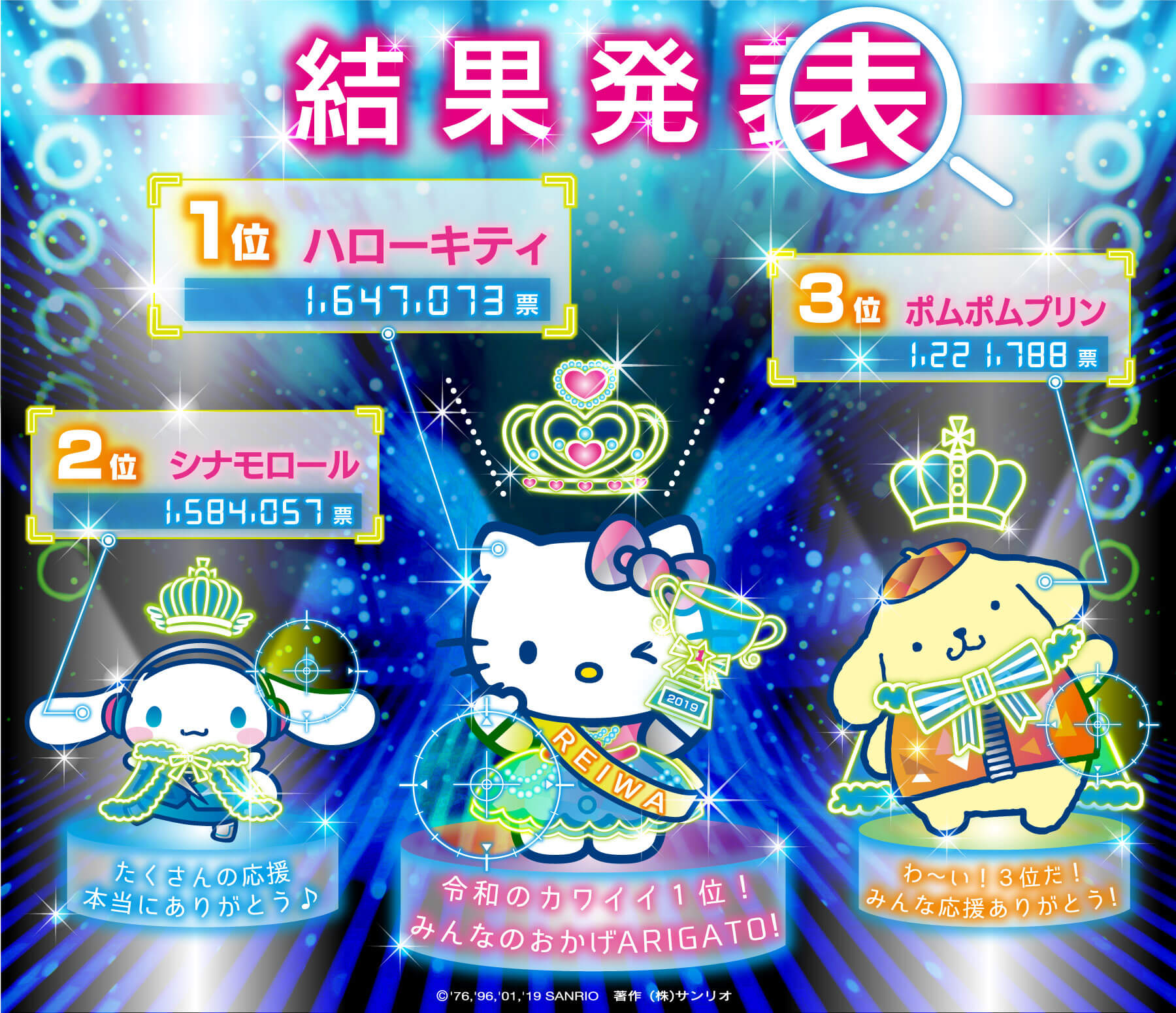 Hello Kitty, with 1,647,073 votes! Not only does she take home the top award, it's also her 45th anniversary and the first win of Japan's Reiwa era. Cinnamoroll came in a close second at 1,584,057 votes. I saw some fans with tears in their eyes as a result of this heated battle.
At the end, the characters lined up in a big row and celebrated their rank by holding up a card.
To celebrate her win, it was announced that Hello Kitty will hit up Sanrio stores across Japan to show her gratitude. Exclusive merchandise will also be available for purchase to thank fans for their support. Full details can be found on Sanrio's official website.
The Awards were also held in several overseas countries with the outcomes being much different. In Taiwan Cinnamoroll was 1st place, Pompompurin 2nd place and Hello Kitty 3rd place. In China, it was Cinnamoroll in 1st place, My Melody in 2nd place, and YOSHIKITTY in 3rd place, a collaboration between X Japan member Yoshiki. And in Hong Kong it was Pekkle in 1st place, Pompompurin in 2nd place and Cinnamoroll in 3rd place.
This year's award ceremony for the internationally beloved Sanrio characters comes to an end. Congratulations, Hello Kitty!
RELATED ENTRIES
Sanrio Puroland Begins Autumn's Puro Halloween Event

From September 9 until November 1, Sanrio Puroland is celebrating the spookiest season of the year with the Puro Halloween event. On the first day of the event, guests immediately showed up to enjoy the new additions to the park, including the light show, Halloween photo spot, and an exclusive food menu filled with autumn flavors. 

The theme of this year's event is the popular Halloween phrase "Trick or Treat!" Popular Sanrio characters are all dressed up in spooky costumes, with each joining Team Trick or Team Treat!

First Set of Seasonal Goods (Costume ver.)

Light Show

 

At Puro Village, guests can see the incredible Trick or Treat light show, perfect for getting into the Halloween mood!

Fairyland Theater will present the new 'Let's Trick or Treat' stage show as well, with Hello Kitty and Dear Daniel dressed in new costumes as they dance and play games with each other.

Special Greeting

'Vampire Butler Cafe ~Broken Rules~' Immersive Horror Experience


Along with these new shows, those looking for a fright can visit the Vampire Butler Cafe, Puroland's first immersive horror show featuring handsome actors dressed as vampires. This will only be open after Puroland closes, and only on select dates. Younger children can also enjoy a special candy-catching event sure to excite!



Starting October 1, a Halloween version of the Mewkledreamy March stage show will wow audiences. Everyone's favorite characters Mew, Peko, and Su will appear in new costumes, so don't miss it!

Limited Time Food Menu

Limited Time Photo Spot


In the Rainbow Hall on the third floor, guests can take pictures a bright orange and purple photo spot. In the Character Food Court on the first floor, new menu items are available, served on decorated tables. The limited food menu offers everything from Meatball Curry to a Luxurious Sweet Potato Parfait. If you like autumn treats, be sure to enjoy while taking some pictures to post on social media!

Come enjoy the Halloween season with your favorite Sanrio characters, and don't forget to say "Trick or Treat!" 

© 2022 SANRIO CO., LTD. TOKYO, JAPAN MMP,TX 著作 株式会社サンリオ

Sanrio Releases New Collection Inspired by Gyaru from the 90s and 2000s

On September 14, Sanrio will release an adorable new collection of goods inspired by 90s gyaru fashion! Fans of Japanese pop culture may be familiar with the gyaru subculture, and now, you can grab your favorite Sanrio character all dressed up like a fashionable girl on the streets of Tokyo during the Heisei era. These items will be available at Sanrio stores nationwide, Sanrio corners in department stores, and Sanrio online. The lineup includes goods featuring Hello Kitty, My Melody, Kuromi, and Cinnamoroll. 

 

A total of 17 new items will be available, including mascot keychains, accessory cases, and plenty more to show off your gyaru side. Hair clips, which were very popular during the height of gyaru fashion, are perfect to either attach to your head or to your school bag. 

Along with the listed goods, secret straps featuring nostalgic 90s motifs will also be sold at random! These are perfect for hanging on your glove compartment, a mirror in your purse, or your bag.

 

New Products

Mascot Keychain (4 varieties): ¥1,980 each

Each mascot keychain shows a popular Sanrio character dressed in popular Gyaru fashion.

Accessory Case with Hole for Strap (4 varieties): ¥1,100 each 

Hair Clip (4 varieties): ¥990 (Set of 2)

Pouch: ¥2,420

Secret Strap (8 varieties): ¥880 each

Each comes with a strap. The Cell phone can be opened and closed.

*Secret Straps are sold in a blind box.

Pochacco and Pekkle Collaboration Donuts Coming Soon

The handmade donut shop Floresta will be offering some adorable Pochacco and Pekkle donuts from September 10 until September 30, 2022. Customers can snag them at Floresta locations and the online store.

Floresta specializes in donuts made from all-natural ingredients, and these adorable collaboration donuts are sure to put a smile on Sanrio fans' faces!

 

These donuts are made with Floresta's special white chocolate mixed with strawberry powder and pumpkin powder. Not overly sweet, these goodies will suit anyone's palate.

Although these sweet treats may be colorful, they were made with all-natural ingredients and are free of synthetic colors, fragrances, and preservatives. Many customers have said that the natural taste is totally different from that of standard donuts, so why not give it a try with family or friends?

Information

Pochacco & Pekkle Collaboration Donuts

Available: September 10 – September 30, 2022

Where to Buy: In-store or at the online shop (https://floresta-ec.jp/)

*Preorders begin on September 10 at 10:00 AM

*Items available in limited quantities. 

Sanrio Avatar Creation App Hello Sweet Days Celebrates 5th Anniversary with Collab Cafe

To commemorate the 5th anniversary of Sanrio's avatar app Hello Sweet Days, a cafe collaboration with Sanrio Characters Honey Toast Cafe in Yokohama, the Pompompurin Cafe in Harajuku, and the Cinnamoroll Cafe in Shinjuku will begin on August 20, 2022. This is the first collaboration to take place at all three stores at once.

Collaboration Cafe

Each location will offer a different collaborative drink for a limited time only. Those who purchase these tasty beverages or show the Hello Sweet Days app screen to the staff will receive exclusive goods while supplies last! Music from the app will be played in each cafe, so be sure to check it out!

Collaboration Drinks

Exclusive Merch

Limited-Time Event

The Sugoroku Event is a popular part of the Hello Sweet Days app. This year's event will begin on August 21 and will take a look at the history of the app, given that it is celebrating its 5th anniversary. Players will be able to take look back on past additions and earn a variety of special rewards!

Running: August 21 – August 30 at 23:59

The Smile Festival SNS Contest will also be going on, inviting fans to participate to win Sanrio goods. More details on how to submit an entry are available on the app. 

There will be many other special events and campaigns both inside and outside the app during the month of August to celebrate the 5th anniversary, so keep an eye out for more!

Ⓒ 2022 SANRIO CO., LTD. APPROVAL NO. L633389 Ⓒcocone

Hello Kitty and Wish Me Mell Inspire Dinner and Dessert Buffet at Keio Plaza Hotel

Starting September 3, Keio Plaza Hotel Tama will offer a special dinner and dessert buffet inspired by the Sanrio characters Hello Kitty and Wish Me Mell. The adorable event will take place at the Jurin restaurant on the 4th floor, and guests will be able to enjoy some cute dishes and desserts inspired by the character's gratitude. The event will run until October 30 and will only be held on weekends and holidays. 

The restaurant's patissier has designed a collection of sweet dishes based on the two characters, from strawberry shortcakes inspired by Wish Me Mell's outfit to pastel-colored cakes and rainbow jello. Cream-filled fruit sandwiches cut to look like Hello Kitty's face are sure to offer guests the perfect photo op! For those wanting something savory, over 15 dishes will be available, including roast beef, pasta and cheese, curry, and more.

Special seats including large stuffed animal versions of Hello Kitty and Wish Me Mell will be available, limited to two tables per day.

Come enjoy a relaxing meal with these two adorable characters!

Coji-Coji and Sanrio Characters Come Together to Celebrate Cinnamoroll's 20th Anniversary

To commemorate Cinnamoroll's 20th anniversary, Coji-Coji and a ton of other Sanrio characters are coming together to celebrate!

The characters who live in fairy tale lands are always on a mission to entertain humans. Coji-Coji attends a school and studies hard every day, following the example of famous characters active in the human world. Sanrio characters have come to the school to study hard themselves, and this newly-created collaboration art shows the characters in adorable matching school uniforms.

Look forward to these new collaborative products coming in the summer of 2022, as well as other unique plans to celebrate the anniversary of Cinnamoroll!

Golden Kamuy x Sanrio Characters Collaboration Cafe to Open in Shibuya

Characters from the popular anime series Golden Kamuy will team up with beloved Sanrio characters for a new collaboration cafe! Fans should visit Chugai Grace Cafe in Shibuya by July 18 to try some themed dishes and grab some exclusive merchandise.

Menu

Eat the Great North! Cream Stew Plate

Almond Pound Cake with Lingonberry Sauce

Matagi's Stump Birthday Cake

Monkichi the Monkey and Shiraishi's Banana Soda

Cola Float and Strange Juice

Goods

Pin – Cafe ver. (7 varieties, random)

Acrylic Stand (7 varieties)

Acrylic Frame Keychain (7 varieties)

Acrylic Block – Cafe ver.

Let's Go to the Cafe! Curry (2 varieties)

Pouch (10 varieties)

Genjirou Tanigaki Birthday Set

Collab Menu Order / Advanced Reservation Bonus Coaster (17 varieties)

Matagi's Stump Birthday Cake Order Bonus – Bromide

Goods Preorder Bonus Bromide (17 varieties)

The collaboration menu will include a tasty Almond Pound Cake with Lingonberry Sauce and Matagi's Stump Birthday Cake to celebrate Tanigaki's birthday! Don't miss out on these exclusive menu items and goods. 

©野田サトル/集英社・ゴールデンカムイ製作委員会
© 2022 SANRIO CO., LTD. TOKYO, JAPAN(L)

Natural Donut Shop Floresta Collaborates with Sanrio's Kiki and Lala for New Treats

From July 2 until July 24, the handmade donut shop Floresta will be offering donuts inspired by the Sanrio characters Kiki and Lala! These treats, made from all-natural ingredients, will be available at Floresta shops and at the online store.


The Little Twin Stars, Kiki and Lala, were born on the Omoiyari Star in the Dream-Star Cloud.

 

The older sister Lala and younger brother Kiki appear on these healthy donuts along with a shooting star. Floresta's special white chocolate is kneaded with purple sweet potato powder and strawberry powder to create a donut that isn't too sweet.

Little Twin Stars Collaboration Donuts

Part 1: July 2 – July 12
Ring Donuts (2 varieties)

Kiki / Lala

Part 2: July 13 – July 24
Kiki & Lala Shooting Star Donut Holes




During the second half of the event, guests will be able to grab donut holes based on the beloved characters. Although these sweet treats may be colorful, they were made with all-natural ingredients and are free of synthetic colors, fragrances, and preservatives. 

Enjoy these donuts yourself, buy them for a friend, or bring them to a family get-together.


© 2022 SANRIO CO., LTD. APPROVAL NO. L631150

Sanrio Puroland Opens New Sensory Show Fusing Real and Virtual Worlds

Starting July 15, Sanrio Puroland will premiere a new show, Nakayoku Connect. The unique hands-on experience will blend both the real and virtual worlds.

The interactive show Nakayoku Connect is set to introduce a new type of entertainment that combines a real live show filled with twinkling lights and lasers set to pop dance music with a virtual world. This is the first new show to be performed at Puro Village in three years, since Wish me mell's Chance for You began in September 2019. This will also be the first time in about two years–since the temporary closure in 2020–that regular shows will be held in Puro Village during business hours.

 

For the first time ever, this show will be presented not only in Puroland, but virtually as well. Visitors are welcome to enjoy this unprecedented experimental show incorporating the world around us and the world inside the computer.

In Japanese, Nakayoku means 'to care about friends' and 'to get along happily.' The creators of the show believe that this is an important value to think about today, and visitors will enjoy seeing their favorite characters, from Hello Kitty and Dear Daniel to Bad Badtz-Maru and Kogimyun. The live and virtual shows will be performed simultaneously, and the characters will wear new costumes inspired by the concept of retro-futurism.





For a more immersive experience, the show will utilize a 'fiber beam' for the first time ever. Harmless to the body, the entirety of Puro Village will be illuminated, with the lights and animations linked to the show's music. Come enjoy this brand-new experience!

Sanrio to Create Original Character Inspired by Boy Band JO1

Sanrio and LAPONE Entertainment have teamed up to launch the JO1 x Sanrio Character Development Project to create a new character inspired by the globally popular boy band JO1.

The new project combines JO1's creativity with Sanrio's beloved branding to create a character embodying the member's strengths. JO1 announced the project during the 2022 SANRIO FES at Pacifico Yokohama North on June 12. A teaser has also been posted on the official JO1 YouTube channel. A special program will closely follow the project and new episodes will be posted on YouTube in the future, so be sure to watch!

Teaser Video


JO1's marketing department has been tasked with making the group's fans feel even closer, and the new character will be a kind of 'alter ego' of JO1. It's unclear what kind of character we'll see at the end of this, but fans are excited to find out!


©'22 SANRIO 著作(株)サンリオ ©️LAPONE ENTERTAINMENT

Final Results of 2022 Sanrio Character Ranking Announced

The results are in! The annual Sanrio Character Award tallies millions of votes to discover which of the company's 450 characters is the fan favorite for the year. In 2022, nearly 26.5 million people cast their vote, totaling up to 124% of last year's turnout.

Taking the top spot for the third year in a row is Cinnamoroll, almost reaching 3 million votes. The character is celebrating his 20th anniversary this year, so it's fitting that he should take home the trophy!

Pompompurin came in second. The adorable dog has been in the top three for the past eight years and managed to rack up nearly 2.4 million votes. Surprisingly, Kuromi came in third, surpassing her rival My Melody for the first time ever. This was also the first time in the history of the competition that Kuromi has ranked in the top three.


Hangyodon ranked eighth, becoming the first new character in the top ten in 34 years. The fish character has been seeing increased popularity over the past year. 

All rankings are available to view on the official website, so be sure to take a look to find out where your favorite sits!

©'22 SANRIO  S/D·G  S/F·G  SP-M  著作 (株)サンリオ

Godiva Cafe Releases Drinks and Goods Inspired by Sanrio's Hapidanbui

Godiva Cafe first collaborated with Sanrio's Hapidanbui collective in February of this year. The second collaboration will begin on June 15, 2022!

Hapidanbui Chocolixer – White Chocolate Cacao 27% / Cacao 50%

Hapidanbui Godiva Cafe Original Pouch (with Godiva Soft Cookie)

The second collaboration will highlight the characters Pochacco and Pekkle. Godiva Cafe's iconic drink, the Chocolixer, will be available in a special sleeve, and an original sticker will be handed out with each purchase.

Pochakko and Peckle pouches designed exclusively for the collaboration will also be available in-store while supplies last!

 © 2022 SANRIO CO., LTD. APPROVAL NO. L630772

Information

Godiva Cafe x Hapidanbui – 2nd Collaboration

Hapidanbui Chocolixer

Price: ¥680 (Tax Included)

Where to Buy: Godiva Cafe locations nationwide

Available: June 15 – end of August

Hapidanbui Godiva Cafe Original Pouch

Price: ¥1,850 (Tax Included)

Where to Buy: Godiva Cafe locations nationwide

Available: June 15 while supplies last

Official Site: https://www.godiva.co.jp/