5,000 Hydrangea to Bloom at Yokokuji Temple in Kyoto
Yanagidani Kannon (Yokokuji Temple) is located in the city of Nagaokakyo in Kyoto Prefecture. The temple has been used as a place of prayer for many people with eye disease since the Heian Period. It is believed that praying at the temple will cure eye disease.
This summer, the temple's annual Hydrangea Week is set to take place once again from June 8 to July 7 which will welcome around 5,000 hydrangeas, the biggest collect in the whole of Kyoto.
Yanagidani Kannon is home to a bamboo thicket that was the model for The Tale of the Bamboo Cutter. During the event, you'll get to take in the sight of 5,000 gorgeous hydrangeas. Additionally, the event will include a special public opening of the Joushoin, or upper study, which is normally open only once a month. From there you can see one of the gardens which was selected as an old garden of the pre-war days. Guests can also receive an original hydrangea goshuin stamp which are available for a limited time only. Part of the treasury house will also be open for public viewing which includes treasures bestowed by the Japanese Imperial family.
At the Joushoin, visitors can look forward to seeing paintings by Kanō Mitsunobu, a influential artist of the Kanō school of Japanese painting, as well as Konoe Nobutada, both of whom were active during the Azuchi–Momoyama period. The pieces encompass the world of the Man'yōshū, a collection of of ancient Japanese waka poetry, one of which was the impetus for the naming of the new Japanese Reiwa era. For just ¥800, visitors can gain access to both the Joushoin and the treasury.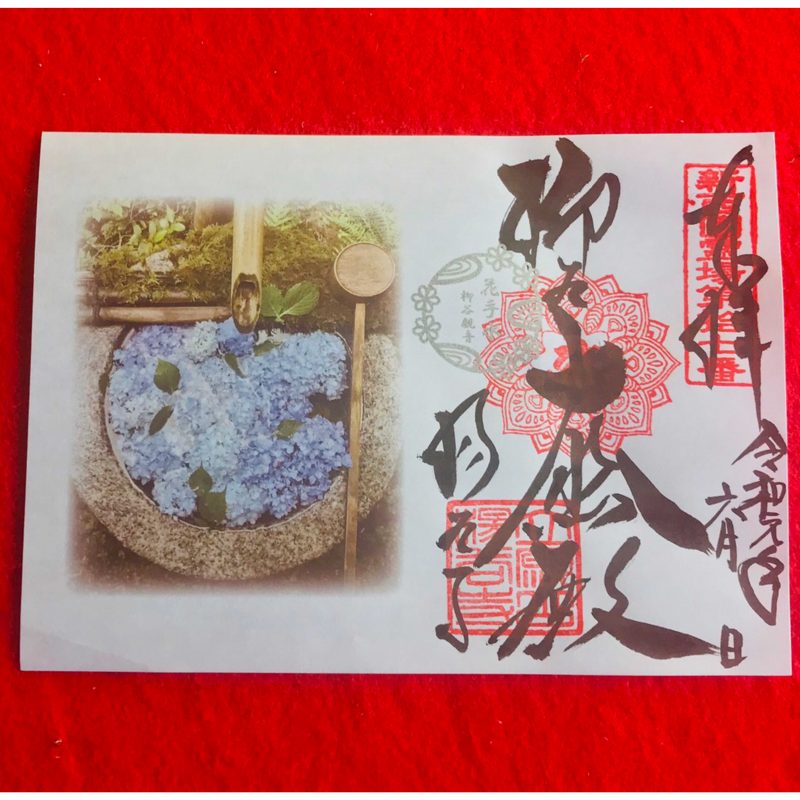 The above pictured goshuin stamp will also be available from June 17. There will also be an exhibition of paintings with different showcases each month. In June, Murasakishikibu will be on display. This was painted by Hanko Kajita, a painter who was active in the Meiji and Taisho periods and whose works are displayed in the Tokyo National Museum and Yokohama Museum of Art.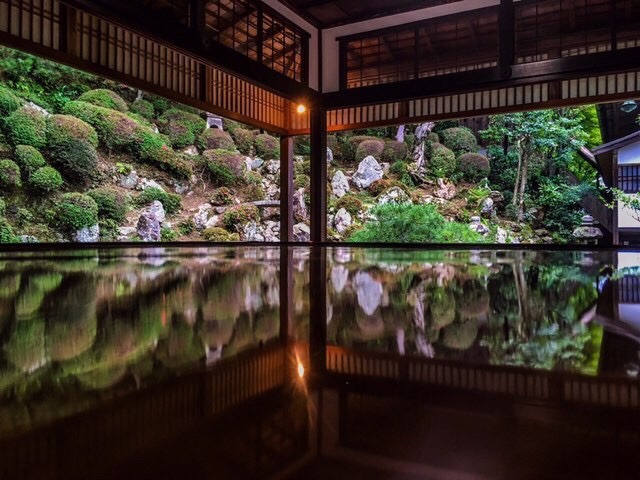 Don't miss this year's hydrangea season at Yokokuji Temple in Kyoto.
Information
Yanagidani Kannon Hydrangea Week
Running: June 8, 2019 – July 7, 2019
Time: 10:00-16:00
Location: Yanagidani Kannon, Yokokuji Temple (Dōnotani-2 Jōdodani, Nagaokakyo, Kyoto)
Price: ¥300
Yanagidani Kannon Official Website: http://yanagidani.jp/
RELATED ENTRIES
3 Must-Visit Locations to See Kyoto's Autumn Colours at Night in 2019

Kyoto is known as the ancient capital of Japan. It is said to be the place where quintessential Japanese culture started, and has charmed the world over with its incredibly rich 1,200-year history.

Autumn is a popular season in Japan, especially amongst tourists and travellers. While in spring you have the bright pink cherry blossoms, when autumntime rolls around, the trees turn into enchanting reds and yellows. People from around the world flock to see this incredible sight, with Kyoto being a very popular location.

KYOTO SIDE, a regional information website run by Kyoto Prefecture, has listed a number of must-visit places around the city for seeing the autumn foliage, which is known as koyo in Japanese. Of course, viewing the beautiful colours of the trees and their leaves is a must during the daytime, but seeing them in the evening has become popular in recent years too. It offers you an entirely different experience and atmosphere. Here's three places you should jot down for your Kyoto trip this autumn.

Jitokuin Temple: A place of rest created by the chief priest and locals

Jitokuin Temple is located in the town of Yosano in Yosa District. Maple trees were planted almost 11 years ago with the help of locals and the chief priest to create local ties. Every autumn, the trees behind the mountain bloom in vivid hues, leading the temple to be nicknamed "Koyo-ji," or "Temple of Autumn." The locals work hard in the surrounding gardens day by day, so the sights change a little bit every year.

The maple trees are planted in a way that it looks like they take an entire side of the mountain. They are a sight to be hold during the day, but for one week in November there will be illuminations in the evenings, creating a magical scene under the night sky.

Light-Up Period: November 9, 2019 – November 16, 2019

Light-Up Time: 17:00-20:00 (Temple is open 09:00-20:00)

Autumn Foliage Peak Period: Early-Mid November

Address: 2250 Akeshi, Yosano, Yoza-gun, Kyoto

Support Fund: ¥300

Official Website: http://jitokuin.com

Nariaiji Temple: The 5-storey pagoda comes together with the autumn colours

Nariaiji Temple, located in Kyoto Prefecture's city of Miyazu, is an ancient temple betwixt mountains overlooking Amanohashidate, one of Japan's "Three Scenic Views." It's home to a grand 5-storey pagoda which is surrounded by hundreds of maple trees, offering an incredible, quintessentially Japanese view during autumn.

During the day, you can snap some gorgeous photos with the Sea of Japan and Amanohashidate in the back. For two nights only, on Saturday November 9 and Sunday November 10, the entire area will be beautifully lit up with warm illuminations.

Light-Up Period: November 9, 2019 – November 10, 2019

Light-Up Time: Sunset – 21:00 (Temple is open 08:00-16:30)

Autumn Foliage Peak Period: Early-Late November

Address: 339 Nariaiji, Miyazu, Kyoto

Price: ¥500

Official Website: http://www.nariaiji.jp/

Kasagiyama Prefectural Natural Park: A bright-red landscape from the mountain peak

Kasagiyama Prefectural Natural Park: is located atop Mt. Kasagi and is also home to Kasagi-dera, a temple with a 1,300-year history. During autumn, one entire side of the park is dyed in autumnal colours.

This November, the area will be lit up for a limited period, offering a gorgeous view from the mountain peak of the trees below as well as the flowing Kizugawa river.

Light-Up Period: November 1, 2019 – November 30, 2019

Light-Up Time: 17:00-21:00 (Temple is open 09:00-16:00)

Autumn Foliage Peak Period: Early-Mid November

Address: Mt. Kasagi, Kasagi, Soraku District, Kyoto

Price: Illuminations – Free / Temple – Adults ¥300, Children ¥100

Official Website: https://www.kasagidera.or.jp

See Japan's autumn colours in an entirely new way this year at one of Kyoto's many autumn-time illumination events.

THE MACHIYA SHINSEN-EN: Kyoto's New Traditional & Modern Fused Hotel

THE MACHIYA SHINSEN-EN is a new hotel that just opened on Tuesday (October 15) located just a five-minute walk from Kyoto's world heritage site Nijō Castle. Renovated from an old Kyoto-esque townhouse, this 21-room hotel fuses traditional Japanese architecture with the modern, complete with a lounge on the first floor decked with an open space where guests can enjoy a gorgeous breakfast if they choose the option. The friendly staff will be waiting to welcome guests to the hotel like friends.

The hotel's name derives from Shinsenen, a Japanese Buddhist temple and Kyoto sightseeing  spot located just a one-minute walk from the site. The temple is home to Japan's only "ehomaki shrine" where Toshitokujin, the goddess of auspicious directions for the current year, is enshrined. The temple is also home to an enormous and beautiful lake, and is said to provide good luck with marriage ties, something which is known to everyone in Kyoto. The "machiya" part of the hotel's name means "townhouse" in Japanese.

The hotel combines the traditional with the modern effortlessly, with four types of suite rooms available including the spacious corner suite rooms, as well as suite rooms that focus more on traditional Japanese architecture, namely that of the old-fashioned townhouse. All suite rooms have a kitchen, washer/dryer, and other convenient amenities for those looking for a longer stay, as well as for families and larger groups.

THE SHINSEN-EN Deluxe Suite

Located on the top floor, this corner suite room offers a spacious environment and enjoys plenty of natural lighting for the window which takes up an entire wall. There are both beds as well as a tatami area with futons so you can pick how you want to sleep. There's also a roomy washroom as well as a dining space with a fully-equipped kitchen and washer dryer. The room also has a sofa, TV, refrigerator, free WiFi, and more for your convenience.

THE MACHIYA Deluxe Suite (Dragon)

This suite room has a Japanese aesthetic with its paper sliding doors and hanging scrolls. Natural light seeps in from the ceiling window fitted to the high ceiling. As well as the Japanese-style bedroom, it also has a western-style bedroom and living room, as well as both beds and futons, so you can pick if you want a Japanese sleep or a western sleep. There is a fully-equipped kitchen and washer dryer. The room also has a sofa, TV, refrigerator, free WiFi, and more for your convenience.

THE SHINSEN-EN Suite

The entrance to this suite room has lattice doors and stone paving, welcoming you with that traditional Japanese aesthetic. The spacious room basks in natural lighting from the enormous windows. There is a fully-equipped kitchen and washer dryer. The room also has a sofa, TV, refrigerator, free WiFi, and more for your convenience.

In addition to suite rooms there are four other types including Deluxe Twin, Superior Hollywood Twin, Hollywood Twin, and Classic Hollywood Twin. The rooms enjoy indigo blue and orange colouring for a relaxed and modern feel. Each have their own washrooms, toilets, sofas and desks. Additionally, all first floor rooms can be connected, so you can turn them into full 2-3 or 4-5 people spaces.

Guests can use the first floor lounge space freely and at their own leisure. And if they choose so they can also enjoy breakfast there.

The front desk staff can speak both English and Japanese so can support foreign travelers. The hotel is situated in a great place for sightseeing, so be sure to consider booking at the all-new THE MACHIYA SHINSEN-EN if travelling to Tokyo.

Information

THE MACHIYA SHINSEN-EN

Opened: October 15, 2019

Address: 17-1 17 Shinsenencho, Nakagyo Ward, Kyoto

Access: 5-minutes on foot from Nijōjō-mae Station

Rooms: 21 (approx. 22-45㎡)

Capacity: 2-5 people

Breakfast: Served in first floor lounge for an additional fee

Official Website: https://shinsen-en.com/

Suiran Ranks as Japan's Best Hotel in Condé Nast Traveler For Second Year in a Row

"Suiran, a Luxury Collection Hotel, Kyoto" has ranked as the number one hotel in Japan for the second year in a row in the Japan's Top Hotels category of Readers' Choice Awards 2019 in Condé Nast Traveler.

The Condé Nast Traveler Readers' Choice Awards lists the world's best travel experiences as ranked by international travellers. Over 600,000 people voted Suiran as Japan's best hotel for the second time.

Suiran is located in Arashiyama, Kyoto and first opened in March 2015 under a brand of luxury hotels known as The Luxury Collection®. The hotel's concept is to make full use of Arashiyama's appeal, lauded for its deep culture and history, while paving the way to the future. It houses guests from around the world who can enjoy a view of Arashiyama's lush natural landscape which changes beautifully with the seasons, and who can experience a fusion of the traditional and the modern while being served classic Kyoto hospitality.

Speaking about the award, the hotel's general manager Hiroyuki Hatori said the following: "I am greatly honoured that we have been given the number one spot two years in a row in this internationally-recognised poll. To all the people in the region who continue to support Suiran, and to all our guests who use the hotel, I thank you from the bottom of my heart. These results are an incentive to further work hard with our associates to ensure this is a hotel that people will love even more."

If you are travelling to Kyoto and looking for a place to stay, why not consider the city's best: Suiran, a hotel which continues to pass down tradition while embracing the modern?

Information

Suiran, a Luxury Collection Hotel, Kyoto

Address: 12 Sagatenryūji Susukinobabachō, Ukyo Ward, Kyoto

Access: 15-minutes on foot from Saga-Arashiyama Station / 6-minutes on foot from Arashiyama Station via Keifuku Electric Railroad / 15-minutes on foot from Arashiyama Station via the Hankyu Arashiyama Line

Official Website: https://www.marriott.com/hotels/travel/ukylc-suiran-a-luxury-collection-hotel-kyoto/

Wear Plain Clothes This Halloween at Shibuya's Jimi Halloween 2019 Event

Worried about what to wear for Halloween this year? No need to panic. If you're spending your Halloween in Shibuya this year, which is known the world over for its incredible Halloween festivities, then head to Tokyo Culture Culture on October 27 where a very unique event is taking place.

Jimi Halloween is an event that takes out the stress of having to go all out for Halloween as people go dressed as ordinary people. It has been held annually since 2014, with the number of attendees growing each year. Over 800 people took part last year, all clad in their plain clothes.

This year's event will be split into three slots, with a capacity of 200 people per slot. Sign-ups begin on October 15 at 12:00pm (JST).

Past Examples

①Situational attire

Beauty salon client

Dressing up as someone doing something has been a popular choice at the event recently. You can come up with some creative ideas that'll make people say, "You came as that?!"

②"I've seen people like that!" attire

Flea market woman

There's always certain types of people that everyone sees, and in Japan this is one of them!

③"I get it, but I don't get it" attire

Hawaii vibe  uncle

You've heard all about them, but have you seen them?

④Work attire

Handing out tissues with pachinko ads on them

Work attire is a go-to at the plain clothes event. It wouldn't be an exaggeration to say that this is the one that started the entire movement.

⑤Miscellaneous attire

Maslow's hierarchy of needs

The final entry is those which are hard to categorise. They serve whatever vibes they are feeling.

Attend this year's event and show off your own unique ideas!

Information

Jimi Halloween

Date: October 27, 2019 (3 Slots / 200 People Per Slot)

 Slot ①: 11:00-14:00 

 Slot ②: 15:00-18:00 

 Slot ③: 19:00-22:00 

★Places are available on a first-come, first-served basis at the website below

Venue: Tokyo Culture Culture (cocoti SHIBUYA 4F, 1-23-16 Shibuya, Tokyo)

Entry: Free (Apply at the link below)

Kyoto Station's Beautiful Cafe Saryo Fukucha Releases New Herb Tea and Dessert Sets & Autumn Menu

Saryo Fukucha has unveiled new Japanese herb tea and dessert pairing sets as well as a batch of seasonal autumntime menu items.

Kyoto is a city where history and tradition come together, and where every single day, people from all around the world come and go, each encountering new experiences. Saryo Fukucha opened inside Kyoto Station back in April this year. It is managed by long-running tea company Fukujuen.

▼Japanese Herb Tea & Dessert Pairing Menu

Herb Tea & Dessert Sets: ¥900 Each (Before Tax) *Herb teas by themselves are ¥500 each
Running: From October 10, 2019 (Available all year round)

Hibiscus Blend Houjicha x Crème Brûlée Chocolate Berry Confiture

The tea is a luxurious and fragrant blend of light-roasted houjicha, hibiscus and rose hip. It's perfectly paired with a rich chocolate crème brûlée and refreshing berry confiture.

Cinnamon Blend Kukicha x Mascarpone Cream & Apple Tatin

This kukicha, or twig tea, has a distinct refreshing flavour to it. It has been blended beautifully with cinnamon and chamomile. The kukicha is paired with a caramelised apple tatin which is topped with a dollop of rich mascarpone.

Peppermint Blend Kukicha x Seasonal Fruit Tart

Peppermint and chamomile are the blending ingredients for this kukicha tea. It comes with a tart with a full-bodied almond taste topped with seasonal fruits like strawberries and raspberries.

Ginger Blend Genmaicha x Tart Ricotta with Orange

Genmaicha is combined with roasted brown rice, giving it its characteristic sweet-smelling quality. Blended with ginger and dandelion leaves, it's been matched with a fromage blanc cream-topped ricotta cheese tart with a side of orange.

▼Autumn Menu

Running: October 10, 2019 – Late February 2020 (subject to change)

Sasamaki Okowa (Matsutake Mushroom & Daggertooth Pike Conger/Minced Chicken & Yama no Sachi) Houjicha Set – ¥1,200 (Before Tax)

This set was created by Hisato Nakahigashi from Miyamasou, a highly-rated inn in Kyoto. Enjoy the combination of the houjicha tea with the bamboo leaf-wrapped okowa steamed rice.

Chestnut Houjicha Wafer Cake – ¥350 (Before Tax)

Not only does this wafer cake look cute, it's packed full of autumnal ingredients too, including astringent chestnut and coarse sweet red bean paste.

FUKUCHA Specially Made Matcha Koji Sweet Sake Red Bean Soup – ¥700 (Before Tax)

The koji sweet sake used in this dessert has a gentle flavour and a strong aroma. Added to it is matcha, chestnuts, sweet potato, and rice flour dumplings, all set into a mizu manju sweet water jelly.

Japanese confections are always best paired with Japanese tea, so be sure to stop by Saryo Fukucha when travelling around Kyoto.

Information

Saryo FUKUCHA

Address: Kyoto Station Central Exit Floor 2F (901 Higashishiokoujicho, Shiokouji Sagaru, Karasuma-dori, Shimogyo Ward, Kyoto)

Opening Hours: 8:30-21:00 (Last Orders 20:30)

No Fixed Holidays
TEL: 075-744-0552
Official Website: https://fukucha-fukujuen.com/

isetan Urban Market KYOTO: Big Name Brands to Gather Inside a Traditional Kyoto Townhouse

isetan Urban Market is a popular fashion store located inside LUCUA 1100, an apparel building directly connected to the JR side of Osaka Station. The shop is set to depart Osaka and head northeast to a traditional townhouse in Kyoto where it will open a new store named isetan Urban Market KYOTO which will open on October 12 for a limited time.

"Have Fun, Be Happy" is the concept of this shop, where a diverse range of items from some of Japan's popular brands will be sold including clothing, accessories, food lingerie, cosmetics, and more.

More than half of these brands are setting up shop in Kyoto for the first time

little $uzie

A long list of brand names will make an appearance at the pop-up shop, such as little $uzie and ch!iii which are huge at isetan Urban Market, as well as other talked-about brands like MALION vintage, Paso, Celvoke, and many more.

BELPER

The shop will also see the likes of BELPER, an up-and-coming brand established by Yuichi Ozaki who won the top prize at the Bilbao International Competition. A confectionery store from Shizuoka will also make an appearance which is so popular it has people lining up outside it two hours before opening.

ASOKO

ASOKO is selling the above-pictured line "TODAY AND." made exclusively for Kyoto.

FARMAN KITCHEN MARKET

As well as designers, Osaka's fruit and vegetable store FARMAN KITCHEN MARKET will also be in attendance selling produce from contracted farmers from around Japan. There will also be a fruit and vegetable market on October 13 and 27 where sandwiches and other delicious foods will be sold.

Tradition and contemporary come together at the townhouse

Visitors will be able to relax and enjoy a mix of traditional and contemporary design at the townhouse, including with its garden and courtyard. The design was carried out by NOTA&design which is managed by NOTA_SHOP, a select shop in Shigaraki, Nagano.

Enjoy a fun and relaxing time this autumn at isetan Urban Market KYOTO.

Information

isetan Urban Market KYOTO

Location: 355 Rokkakuchō, Nakagyo Ward, Kyoto

Access: Roughly 5-minutes on foot from Shijō Station, Karasuma Oike Station, and Karasuma Station

*No car parking or bicycle space. Please arrive using public transport including bus or train

Date: October 12, 2019 – November 4, 201

*Closed Mondays, holidays, October 15, October 21, and October 2019

Time: 12:00-19:00

Official Instagram: https://www.instagram.com/isetanurbanmarketkyoto/

2019 Kobe Luminarie Winter Illuminations to Light Up Kobe This December

The 25th Kobe Luminarie light festival will take place from December 6 to 15. The theme of this year's festival is "25 Years, Guided by the Light of Hope" (Original Italian title: Da 25 anni, guidati dalle luci della speranza).

Kobe Luminarie is an illumination festival that has been held annually since 1995 in commemoration of the Great Hanshin earthquake which hit Kobe that year on January 17. The event has continued as a symbol of hope for Kobe and has also become a festival associated with the winter season. Last year's festival saw around 3.43 million people in attendance.

The "Light Bulbs" make a comeback radiating their warm light

Formerly the doorstep to foreign culture, Nakamachi-dori, lined with countless tasteful stores, will be lined with around 270 meters' worth of decorations. The entrance decoration, named Frontone, stands almost 22 meters tall with three towering gates each connected to each other. The Sparri Ara is a wide wall of lights which runs 50 meters from Frontone all the way to Kyomachisuji Crossing. And as a special instalment to the 25th run of the festival, the light bulbs used at the first festival will be strung up to create another wall illumination from Itomachi to the East block which will be dubbed the "Memorial Zone."

The event's largest light dome

In the eastern amusement park plaza, Cassa Armonica―an illuminated church structure set up every year―will be enveloped in a large 21 meter high dome featuring an arch for the first time standing 4 meters tall in the memorial area

Over in the floral clock area, the Sparri Ara wall lights twinkle beside the wisteria trees. The lights will change and transform to the sound of the music. Attendees will also be able to pick up small gifts too as well as take pictures at the various photo spots.

Earthquake Talk Booth

Talks will be held discussing the origins of Kobe Luminarie and why it started. Earthquake survivors will also talk about their real experiences.

International Creative Director and Executive Producer Daniel Monteverde, who has been working with Luminaire for 20 years, made the following comment: "The city of Kobe will bustle once again this year, which will mark 25 years. People will fill the streets and look to the sky while they wait for the chime of the bell to signal the illuminations. We hold the memories of the people we lost 25 years ago close to our hearts. I hope we can convey our hopes and dreams and our story to our children and the young people who will bear the next generation. I hope people will be proud of Kobe which has recovered from the earthquake."

He continues: "The Kobe Luminarie lights will shine once more for Hyogo, for Japan, and for the world. These lights are a symbol of each and every person's devotion, their efforts, and their love. I pray that the Luminarie lights will send a message of hope to the world and continue shining in our hearts for the rest of time." * Full comment translated from Japanese

Information

25th Kobe Luminarie

Running: December 6, 2019 – December 15, 2019

Location: Kyu Gaikokujin Kyoryuchi and Kobe East Park (Higashi Yuenchi) (Chuo Ward, Kobe, Hyogo)

Illumination Times

[Mon-Thurs] 18:00-21:30

[Fri] 18:00-22:00

[Sat] 17:00-22:00

[Sun] 17:00-21:30

*Times may be extended depending on the number of people. Event may be postponed in the case of bad weather.

Kobe Luminarie Official Website: http://kobe-luminarie.jp/

New York-Style Cafe & Restaurant Sarabeth's Celebrates 7 Years in Japan With Special Event in Shinjuku

It has been seven years since Sarabeth Levine took her New York-based cafe and restaurant Sarabeth's to Japan back in 2012. To celebrate, the establishment will hold a special one-night event with a commemorative menu.

"Fermented Foods" is the theme of the event, which will see an incredible line-up of premium dishes. There will also be a talk by Sarabeth Levine herself who will be in attendance.

The menu line-up features a range of healthy fermented foods, like pancakes and Eggs Benedict, while drinks options include lemonade with fermented syrup, goishicha tea from Aichi Prefecture, and more. There will also be Sarabeth cookies which you can take home with you.

Information

Sarabeth's Japan 7th Anniversary Special Event

Date: November 5, 2019

Time: Reception 18:30 / Open 19:30-20:45 (subject to change)

Price: ¥3,800 (Tax Included)

Capacity: 50 (Reservation-Only)

Location: Sarabeth's Lumine Shinjuku (Lumine 2 Floor 2F, 3-38-2 Shinjuku, Shinjuku Ward, Tokyo)

TEL:03-5357-7535

Reservations:  https://sarabeths7th.peatix.com

Netflix Anime Series 'Beastars' Promotional Event to Take Place at Tobu Zoo in Saitama

Tobu Zoo is set to collaborate with the upcoming drama anime series Beastars from November 2 to December 29.

Beastars is a manga series written and illustrated by Paru Itagaki. It is serialised in Weekly Shōnen Champion which is celebrating its 50th anniversary this year.

Beastars is set in a world of herbivores and carnivores. The story follows Legoshi, a quiet and gentle grey wolf and student at Cherryton Academy. His world is turned upside down when one of his fellow students is brutally murdered.

The collaboration event will see Tobu Zoo decorated with illustrations drawn specifically for the event. There will also be exclusive and original merchandise on sale, as well as themed food and more.

Beastars will premiere in Japan on Fuji TV's +Ultra programming block on October 9. It will also be streamed exclusively on Netflix.

©板垣巴留(秋田書店)/BEASTARS制作委員会

Information

BEASTARS

Release Date: October 9, 2019 on Fuji TV +Ultra

*To be released on Netflix on October 8, 2019 (Japan pre-release; overseas release date TBC)

Official Website: https://bst-anime.com/

Tobu Zoo

Address: 110 Suka, Miyashiro, Minamisaitama-gun, Saitama Prefecture

Official Website: http://www.tobuzoo.com/

Two Snoopy Chocolate Shops to Open in Kyoto on October 9

Two chocolate shops themed on American cartoonist Charles M. Schulz's Peanuts character Snoopy are set to open simultaneously in Arashiyama and Kiyomizu-zaka in Kyoto on October 9, 2019.

Tablet Chocolat – From ¥1,200

Named SNOOPY Chocolat, the shops have many delicious treats lined up for fans of Snoopy, including these tablet-shaped chocolates. There are 8 in total, each telling a story of love, friendship and family that serve to give you courage.

Tablet Chocolat Japan – From ¥500

These cute heart-shaped tablet chocolates are made with Japanese ingredients like wasabi, yuzu, shiso, sesame, matcha, adzuki, shichimi, houjicha and more.

BonBon Chocolat – From ¥800

Made with rich, fragrant cocoa and Japanese flavours like yuzu, wasabi, roasted soy flour, matcha, houjicha and Japanese sake, these luxurious chocolates are like little pieces of art featuring Snoopy in his many different looks.

Both shops will feature an interior design reminiscent of Japanese-style houses. The Kiyomizu-zaka branch will have a luxury white chocolate colour tone while the Arashiyama branch will have a brown-coloured milk chocolate tone.

Tablet Chocolat (Arashiyama Exclusive)

Tablet Chocolat (Kiyomizu-zaka Exclusive)

Both shops will also have their own individual exclusive items too like the ones above, all original to SNOOPY Chocolat.

There will of course be plenty of original merchandise to get your paws on too, like plush toys, takeout cups, mugs, tote bags, freezer bags, and more, all perfect for use at home or as gifts to a friend.

Information

SNOOPY Chocolat (Kiyomizu-zaka Branch)

Address: 2-252 Kiyomizu, Higashiyama Ward, Kyoto, Kyoto Prefecture

Business Hours: 9:30-18:30 (Open from 10:00 on October 9 only)

No Fixed Holidays

Access: 20-minutes on foot from Kiyomizu-Gojō Station via Keihan Electric Railway

SNOOPY Chocolat (Arashiyama Branch)

Address: 22 Sagatenryūji Susukinobabachō, Ukyo Ward, Kyoto, Kyoto Prefecture

Business Hours: 10:00-18:00

No Fixed Holidays

Access: 5-minutes on foot from Arashiyama Station via Keihan Electric Railway / 15-minutes on foot from Saga-Arashiyama Station via JR Line / 20-minutes on foot from Arashiyama Station via Hankyu

SNOOPY Chocolat Official Website:  http://www.snoopy-chocolat.jp

Pretty, Palatable and Pleasant: A Purin Expert's Top 6 Purin Picks in Kyoto

Here at MOSHI MOSHI NIPPON, we have never failed to provide you with the essentials: updates on the best bubble teas around Kyoto. However, today we have a special sweet treat for you. After consulting expert Instagrammer kyoto cafe life tiara, we have compiled a list of Kyoto's top purin that will fill you with satisfaction and as well as nostalgia. Purin is a type of Japanese custard pudding loved by the Japanese for generations. When it comes to searching for the best desserts in the Kansai region, kyoto cafe life tiara leaves no stone unturned . 

Cafe Yamamoto, Higashiyama

Pudding (Set): ¥750

The bitter and fragrant caramel sauce of this purin is to die for. This purin has a rich eggy flavour and is stiffer than a traditional purin. Enjoy your purin served in a silver plate which will fill you with the nostalgia of the retro Showa Era.

▼Cafe Yamamoto (やまもと喫茶)

Address:307―2 Ishibashicho, Kyoto

Opening Hours: 7:00-17:00 (L.O.16:30)

Closed: Tuesdays

Kissa Zou, Imadegawa

The purin here is rich in flavour and garnished with a scrumptious biscuit. It is too cute to eat.

▼Kissa Zou (喫茶ゾウ)

Address: 440-3 Santeicho, Kamigyo Ward, Kyoto

Opening Hours: 9:00-18:00 (Last Orders: 17:00)

No regular holidays

BAR Tantei, Mototanaka

This fancy pudding is topped with seasonal fruit, ice cream or even cake. The retro atmosphere of the bar is the perfect place to enjoy a fancy moment to yourself.

▼BAR Tantei (喫茶探偵)

Address:

26 Tanaka Satonouchicho, Sakyo Ward, Kyoto

Opening Hours: 12:00-17:00,  19:00-02:00

Closed: Sundays, additional irregular holidays.

Takagi Coffee Takashiji Honten, Shijo Street

Homemade Purin Set: ¥ 800

Takagi Coffee is known for the unique shape of their purin, which looks very similar to a slice of cake. This purin is slightly stiffer than your usual purin and has a lovely accent of rum which adults love. This is best enjoyed with a cup of coffee.

▼Takagi Coffee Takashiji Honten, Shijo Street (高木珈琲店 高辻本店)

Address: 175 Honeyacho, Shimogyo Ward, Kyoto

Opening Hours: 7:00-19:00 (Closes at 18:00 on Sundays)

Closed: January 1-3

Salon de thé François, Gion Shijo

This purin is bigger than you expect it to be. Although the flavour is simple, it will send you on a trip to old traditional Kyoto. This purin is stiffer than usual and sweet with a gentle touch of bitter caramel sauce. This is topped with ice cream and garnished with tangy yet sweet strawberries. This purin is on a slightly more luxurious level which makes it perfect for adults.

▼Salon de thé François (フランソワ喫茶室)

Address: 184 Nishikiyamachi-dori-Shijo-kudaru; Shimogyo-ku, Kyoto.

Opening Hours: 11:00-22:30(L.O 22:0)

No regular holidays

NOTTA CAFE, Saiin

This deceiving purin may appear to look like a cake and avoid jiggling like a true purin would, however, once you take a bite, the rich custard flavour will flood your mouth. The flavour is perfect for those of you who cannot handle very sweet flavours and are looking for something more refined. To fully enjoy your experience, order this purin with the oiri sweets cream soda.

▼NOTTA CAFE (ノッタカフェ)

Address: 37 Saiinkitayakakecho, Ukyo Ward, Kyoto
Opening Hours:

Tuesdays-Sundays: 11:30-20:00

Wednesdays: 11:30-21:00
Closed: Mondays

So, how about it? For those of you who are in desperate need of a sweet fix in the Kansai region, Kyoto café life tiara's Instagram will swoop in to rescue you.

Research for article contents and photos provided by: @happy_pinkrose_tiara

ROPPONGI HILLS HAPPY HALLOWEEN 2019: Monster Desserts, Horror Film Parade & More

Roppongi Hills has announced this year's Halloween festival. Titled "ROPPONGI HILLS HAPPY HALLOWEEN 2019," it will take place from October 1 to 31, packed full of spooky fun from a Halloween costume parade to a ghoulish gourmet menu line-up, featuring an always-unique array of food and drink.

Halloween Cupcakes – ¥638 Each @ LOLA'S Cupcakes Tokyo (Available from October 5)

LOLA'S Cupcakes has baked up an assortment of cute monster motif cupcakes, with flavours including pumpkin, purple sweet potato and more. Whichever one you pick, it's sure to give you a smile and delight your taste buds.

Halloween Mixed Berry Cake – ¥530 @ Roasted coffee laboratory

Creepy eyeballs adorn this cake, which is topped with blackberries and blueberries while drizzled in bloody blackcurrant jam. The cake is layered with sponge, fresh cream and a sweet and sour strawberry jelly.

Happy Monster – ¥980 @ Cafe Crepe

Delight in this cute pumpkin and fresh cream crepe, filled with pumpkin ice cream and snug in an orange crepe wrap. Housed inside is an adorable purple sweet potato mont blanc monster wearing a witch's hat.

A movie-themed parade will take place on Saturday October 26 at the event in line with the 2019 Tokyo International Film Festival. Children and adults can take part in the parade if they dress up. The 1km parade will last 25 minutes.

Gift bags will be given to all kids who get involved!

▼Halloween Parade

Date: October 26, 2019

Time: 10:30-13:30 (subject to change)

Location: Roppongi Hills Arena

Participation Conditions: Anybody who dressed up can join (the theme is "Movies")

Participation: Free

Enquiries: 03-6406-6000 (Roppongi Hills Information)

Halloween will hit Roppongi Hills for the entire month of October. Be sure to visit if you're in Japan next month!