5,000 Hydrangea to Bloom at Yokokuji Temple in Kyoto
Yanagidani Kannon (Yokokuji Temple) is located in the city of Nagaokakyo in Kyoto Prefecture. The temple has been used as a place of prayer for many people with eye disease since the Heian Period. It is believed that praying at the temple will cure eye disease.
This summer, the temple's annual Hydrangea Week is set to take place once again from June 8 to July 7 which will welcome around 5,000 hydrangeas, the biggest collect in the whole of Kyoto.
Yanagidani Kannon is home to a bamboo thicket that was the model for The Tale of the Bamboo Cutter. During the event, you'll get to take in the sight of 5,000 gorgeous hydrangeas. Additionally, the event will include a special public opening of the Joushoin, or upper study, which is normally open only once a month. From there you can see one of the gardens which was selected as an old garden of the pre-war days. Guests can also receive an original hydrangea goshuin stamp which are available for a limited time only. Part of the treasury house will also be open for public viewing which includes treasures bestowed by the Japanese Imperial family.
At the Joushoin, visitors can look forward to seeing paintings by Kanō Mitsunobu, a influential artist of the Kanō school of Japanese painting, as well as Konoe Nobutada, both of whom were active during the Azuchi–Momoyama period. The pieces encompass the world of the Man'yōshū, a collection of of ancient Japanese waka poetry, one of which was the impetus for the naming of the new Japanese Reiwa era. For just ¥800, visitors can gain access to both the Joushoin and the treasury.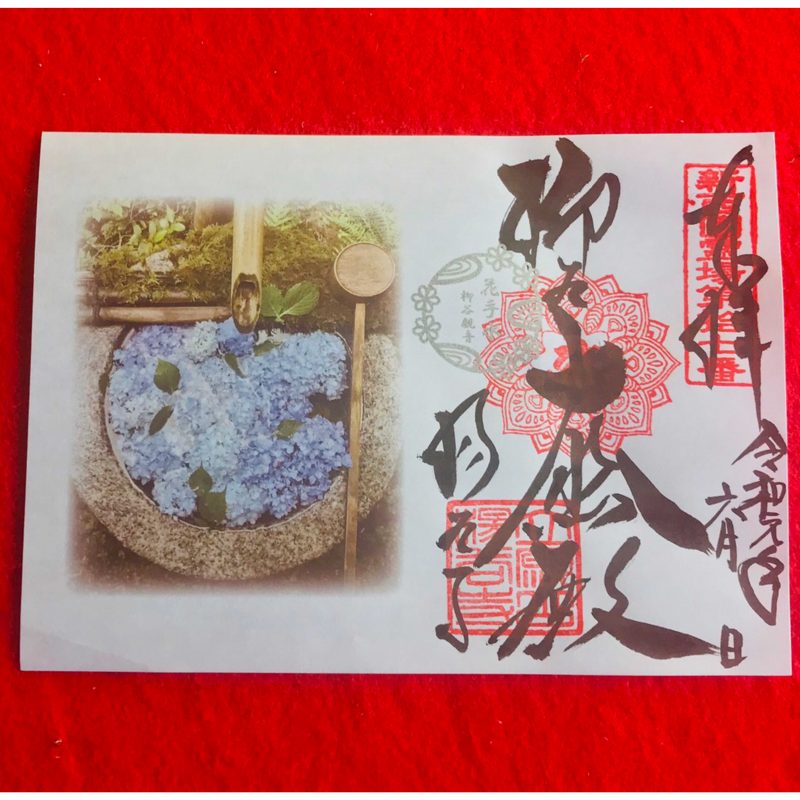 The above pictured goshuin stamp will also be available from June 17. There will also be an exhibition of paintings with different showcases each month. In June, Murasakishikibu will be on display. This was painted by Hanko Kajita, a painter who was active in the Meiji and Taisho periods and whose works are displayed in the Tokyo National Museum and Yokohama Museum of Art.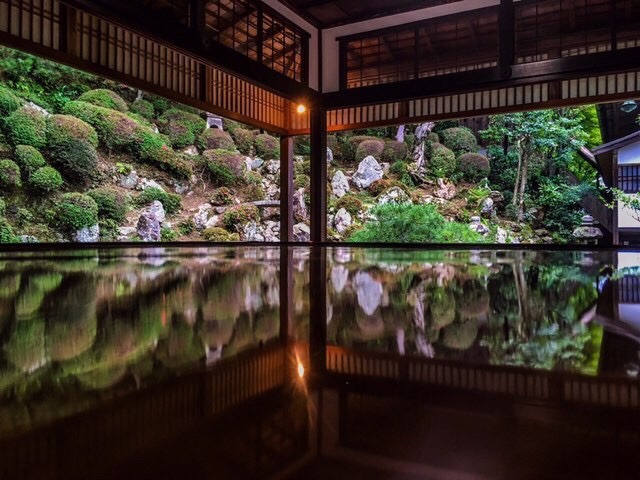 Don't miss this year's hydrangea season at Yokokuji Temple in Kyoto.
Information
Yanagidani Kannon Hydrangea Week
Running: June 8, 2019 – July 7, 2019
Time: 10:00-16:00
Location: Yanagidani Kannon, Yokokuji Temple (Dōnotani-2 Jōdodani, Nagaokakyo, Kyoto)
Price: ¥300
Yanagidani Kannon Official Website: http://yanagidani.jp/
RELATED ENTRIES
Disney Christmas 2019 at Tokyo DisneySea: Spend This Year's Holiday Season With That Special Someone♡

Tokyo Disney Resort has announced this year's Disney Christmas which will take place at Tokyo Disneyland® and Tokyo DisneySea® from November 8 to December 25. This is the Tokyo DisneySea® event line-up. For the Tokyo Disneyland® schedule, click here.

'Tis the season to be jolly this year at Tokyo DisneySea, where the Christmas spirit is set to fall and settle like December snow across the park with a fantastic line-up of festive entertainment programs, magical decorations and more. Guests are invited to join the Disney cast in welcoming a very merry Christmas at this year for Disney Christmas 2019.

It's Christmas Time!


The "It's Christmas Time!" show returns again this year to Mediterranean Harbor to wrap guests in the Christmas spirit, featuring Mickey Mouse and friends along with singers and dancers who will perform to classic Christmas tunes.

Colour Of Christmas


This magical performance takes place at nighttime on the water at Mediterranean Harbor, featuring a huge 15-meter tall shimmering Christmas tree. Held annually, this will mark the show's eighth and final run. Disney characters including Mickey will also be present for the performance.

The whole of Mediterranean Harbor will be wrapped in the Christmas spirit, with the huge tree in the centre and little trees all around, and onlookers all with their own wishes for the holiday season. Snow will also fall during the performance to create a romantic atmosphere.

Special Christmas Merchandise

Pouch – ¥2,000 (Tax Included)

Around 65 very special pieces of merchandise will be available for guests to pick up, many themed on the It's Christmas Time! show. The pouch features the cute scene of Mickey and Minnie line dancing which you will see in the show. The available plush toys also have a Christmas-y gold bell on them. All of these items will be available from November 1.

There will also be adorable Duffy and Friends merchandise to pick up. Some of these items are themed on Cape Cod Village in winter, an area in the park which serves as a greeting spot for Duffy and his friends. These Christmas items will be available from November 6.

Christmas Food & Drink

A festive feast of 15 drinks and dishes will be served for Disney Christmas, from seafood pasta to roast beef sandwiches and more. There will also be a reindeer-inspired dessert as well as alcoholic cocktails and much, much more.

Enjoy a very merry Christmas this year at Tokyo DisneySea.♡

Scorch your Senses at the Spicy as Hell and Tasty as Well 2019 Food Festival Round 2 in Shinjuku

Spicy as Hell and Tasty as Well 2019 will be holding round 2 on August 16, 2019 at Okubo Park, Kabukicho in Shinjuku. This will be the event's biggest gekikara gourmet saiten (super spicy festival) Japan has ever seen. 

Food services that represent the spicy foods of the world have all joined forces at Kabukicho in Shinjuku; Asia's largest entertainment district to tinge it with a luminescent spicy red colour. So far, around 0.7 million people with a burning passion for spice have made their way to the spice central to test their tolerance to the range of gourmet spicy dishes. From beginner to mania, the event caters to all levels of spice-lovers. From a tiny touch of spice to spicy as hell, there is a wide range of spice levels to choose from. The dishes served and participating shops are changed each week, so you can enjoy a new spicy experience each week. 

At the 1st Round, spice fans had their fill of Ciao em Cafe's Bún bò Huế. This café, which originates from the outskirts of Tokyo in Hana-Koganei, took part in the event for the first time. One of their signature dishes is the Vietnamese soup, which captured the hearts of many women for its perfectly balanced sweet yet spicy flavour.  Despite being Menya Mazeharu's first time serving at the event, their queues stretched out into the sunset from morning to evening each day .

Round 2 will see Cheese to Gibier Curry Naru Ichizoku and Tokyo spice curry Aka to Kuro spicing up the event for the first time. This is the perfect opportunity to experience Awajishima Curry made with the world's most sense-scorching spices including ghost pepper, trinidad scorpion pepper, and the carolina reaper. Tokyo spice curry serves up red curry dishes made with ingredients traditionally used in natural Chinese food therapy. Their black curries are Kashmiri curries that will leave you feeling satisfied. 

These are just a selection of the vast number of noteworthy spicy dishes. You are bound to find the perfect curry to spice up your life at this event, so please check it out.

Information

Spicy as Hell and Tasty as Well 2019 (激辛グルメ祭り2019)

Venue: Okubo Park, Kabukicho, Shinjuku 

Address: 2-43, Kabukicho, Shinjuku, Tokyo

Access: 3-min walk from Seibu-Shinjuku Station or an 8-min walk from Shinjuku station (JR/ Odakyu/ Keio lines)

Entry: Free to enter, pay for your food and drinks. 

Schedule:

2nd round: Aug 16 ー 21

3rd round:  Aug 23 ー 28

4th round: Aug 30 ー Sept 4 

5th round: Sept 6 ー 11

6th round: Sept 13 ー 18 

* Closed on Aug 15, 22, 29 and Sept 5, 12 to change the shops.

* Open on rainy days (closed during stormy weather).

* Spicy as Hell and Tasty as Well is open for a total of 38 days this year, the longest it has ever run in history.  

Website: https://www.gekikara-gourmet.com/

A Date With Yutaro: Soaking Up the Japanese Summer Sun & Visiting the Art Aquarium | Tokyo Stroll

It's been a while since our last date with Yutaro. He's been very busy with film shoots. He had some spare time today so we paid a visit to Nihonbashi for our next date. "ECO EDO Nihonbashi: Enjoy Cool Edo With All Five Senses" is an event held every year in the Nihonbashi area which takes the Edo period cultural idea of "coolness"―an in, to enjoy being cool during the summer-and puts a modern spin on it. There are many exciting things to look forward to, including the art aquarium which proves massively popular every year.

We gave ourselves more time to arrive at the meeting place to be in the safe side, but it seems Yutaro-kun was already there waiting for us!

Nihonbashi Information Center | IPPIN CAFÉ "Sparkling Herb Tea" – ¥518 (Tax Included)

"Here, you must be boiling." Yutaro-kun kindly offers a cup of IPPIN CAFE's limited-edition sparkling herb tea. It's a delicious mix of fizzy soda and lemon, a perfect refreshment for the summer. Since he ordered takeout the drink came with a goldfish straw. Goldfish are a staple sight during Japanese summer festivals so it's very fitting for the occasion! 

With our drinks in hand, it's time to head to Nihonbashi for our Edo summer date!

Wind-Chime Forest Path

Lining the path between Fukutoku Shrine and Fukutoku Garden is the Wind-Chime Forest Path where around 200 Edo-style wind chimes dangled. This year, during the evenings, the path is illuminated with beautiful lighting. 

When the breeze rolls past the wind chimes ring one by one-a cool and refreshing sound.

"I hear each one of these Edo wind chimes are individually handmade by craftsmen."

When you hear the sound of the wind chimes it makes you feel cool like a gentle breeze of the wind.

After strolling along the Wind-Chime Forest Path we make our way towards this year's ECO EDO Art Aquarium event.

The moment we step instead Yutaro is already dazzled by all the goldfish: "Wow! I knew about this place from what I'd seen online, but this my first time here! This art aquarium really is something!"

The full title of the event is "ECO EDO Nihonbashi ART AQUARIUM 2019 ~Edo, Coolness of Kingyo~ & Night Aquarium."  Goldfish were a huge part of the common culture in Nihonbashi during the Edo period. This event recreates that and brings that "coolness" aspect while combining it with contemporary art by having people observe the fish in lots of different artistic environments.

Super Oiran

"This is the biggest fish tank, apparently it has 3,000 fish swimming inside!"

"Seeing the light reflect on the water from the illuminations lets you see the fish in a different light, doesn't it?"

Looks like Yutaro-kun is having a lot of fun taking photos.

He's equally interested in just about every fish tank!

These other fish tanks have a different aesthetic to them. Their Japanese-style designs make for great photos.

Kaleidorium 3D

"This one's beautiful, it's like a kaleidoscope."

It really does look like one. When you take a peek instead you can glimpse all kinds of colourful fish gently swimming around.

Ceiling Kingyo

"There're goldfish swimming on the ceiling too. So cool! This aquarium is incredible. It brings together the great culture of Edo and contemporary art."

The Art Aquarium bustles every single year with visitors, but this year will mark its last run. It's being held at Nihonbashi Mitsui Hall, so if you have the chance to go then please do.

We of course checked out some local Nihonbashi treats too! We stopped by morozoff for some cheesecake after the aquarium.

morozoff Kamadashi Cheesecake (Goldfish) – ¥270 Each (Tax Included)

These cute cheesecakes with their goldfish designs are available for a limited time only. They're filled with sweet red bean paste. They perfect with iced tea.

"Got some! Let's eat them while we head back."

Goldfish Lantern Walkway

Our first date in Nihonbashi was so much fun. While on the date Yutaro-kun spoke about the new live-action film he's in, Kaguya-sama: Love Is War.

"It's a romance film with mind games to try and make the other person confess their love. I play the character Tsubasa. His number one highlight scene is the kabedon scene. That was my first day shooting, so I was super nervous, but I got along well with the other actors, and the atmosphere on set was harmonious, so I was able to relax for the shoots. Tsubasa is a genuine guy who will believe things that have been said to him in earnest. You've definitely gotta check out all his scenes throughout the film!"

"A lot of the cast are the same age as me, so we were all energetic together in the waiting room. There's a scene at the end where all the cast get together. It took 3 days to shoot so we ended up getting along really well."

"This film has made me realise that love comes in many shapes, and that mind games happen in a variety of ways between guys and girls. There's cute scenes that express that small bit of pride that teenagers have, the embarassment they feel, when they get butterflies, scenes that will warm your heart. The film has various elements to it so I thoroughly enjoyed watching it myself. I hope that couples in love in their teens and twenties watch it, and I also hope that married couples watch it and crack up laughing too."

"In the film it's summer break, and they go and see fireworks and stuff. It's definitely one to watch durnig the summer. You're gonna come watch it too, right? Shall we go?"

An offer we cannot refuse! We'll definitely go and see it with you, Yutaro-kun! 

Model: Yutaro

Writer: Yuki Yokoo

Photographer: Kayo Sekiguchi

Information

ECO EDO Nihonbashi 2019 ~Enjoy Cool Edo With All Five Senses~

Running: July 5, 2019 – September 23, 2019

Location: Nihonbashi Area

TEL: 03-3242-0010 (Nihonbashi Information Center)

Event Page: https://www.nihonbashi-tokyo.jp/en/ecoedo2019/

ECO EDO Nihonbashi ART AQUARIUM 2019 ~Edo, Coolness of Kingyo~ & Night Aquarium

Running: July 5, 2019 – September 23, 2019

Location: Nihonbashi Mitsui Hall Floor 5F (Entrance at 4F),  COREDO Muromachi 1, 2-2-1 Nihonbashimuromachi, Chuo Ward, Tokyo

Opening Hours: Art Aquarium 11:00-19:00 / Night Aquarium From 19:00

[Sun-Fri] 11:00-22:00 (Last Entries 22:00) [Sat & days prior to public hoiday] 11:00-23:30 (Last Entries 23:00)

Access: Directly connected to Exit A6 of Mitsukoshimae Station, accessible on the Tokyo Metro Ginza Line and Hanzomon Line / Directly connected to Shin-Nihombashi Station / 8-minutes on foot from East Exit of Kanda Station JR 8-minutes on foot from Nihonbashi Exit of Tokyo Station

TEL: 03-3270-2590

Event Page: https://www.nihonbashi-tokyo.jp/en/ecoedo2019/contents/005.html

Kaguya-sama: Love Is War Film

Release Date: September 6, 2019

Adapted from the manga of the same name by Aka Akasaka (Shueisha/Weekly Young Jump)

Cast: Sho Hirano (King & Prince), Kanna Hashimoto, Hayato Sano, Natsumi Ikema, Nana Asakawa, Mayu Hotta, YUTARO, Takashima Masahiro, Jiro Sato

Official Website: https://kaguyasama-movie.com/

TALENT PROFILE

Yutaro

Yutaro was born in Hiroshima on June 3rd 1998. His modeling career has earned him lots of attention as a fashion icon of the new generation. The famous model also works as a "charisma" shop assistant. Yutaro has gained his reputation as a "mysterious and handsome guy" from his appearance on Japanese variety shows. His debut was made on the show "Gyoretsu no Dekiru Horitsu Sodanjo" and has since then appeared on numerous different TV shows. He challenged himself to appear on stage for the very first time in March this year and is gaining popularity by the day for his diverse work.

Kyoto's Sweet and Salty Matcha Cheese Tea is an Enlightening Flavour Discovery

Kiyomizu Cheese Kobo opened at Kiyomizu Gojozaka at the foot of the famous Kiyomizudera Temple as Kyoto's first ever cheesecake shop to sell its delicious cheesecakes in a cute jar. On August 13, they released a mouthwateringly rich Matcha Cheese Tea which will enlighten you with a new way to enjoy matcha.

The Matcha Cheese Tea harnesses Kyoto's unbeatable Uji matcha which is full of rich and fresh flavour. A light cloud of fluffy cheese foam floats on top of the drink, adding a salty accent to the overall flavour. A traditional tea combined with a sweet and salty cheese flavour ー this brand new flavour discovery will leave you feeling refreshed and enlightened. The recipe for the cheese foam consists of cream cheese carefully selected by the cheesecake shop's specialists. This is then blended with a small amount of salt to accent the flavour. 

If you mix the matcha milk tea with the cheese foam, the rich matcha mixes with the saltiness of the cream cheese, creating a sweet salty flavour that you will not be able to get enough of. As the flavour is not too overpowering, you can enjoy this drink endlessly and will feel refreshed even on a hot summer's day. 

Matcha Cheese Tea: ¥460

Kiyomizu Cheese Kobo recommends three different ways to drink the Matcha Cheese Tea to enjoy three different levels of flavour combinations. 

① First off, drink just the matcha milk tea so you can experience the true authentic flavour of Kyoto's famous rich Uji matcha tea. 

② Next, move your straw so that you taste just the cheese foam on its own. The fluffy foam will gently slide over your tongue and spread a mild and sweet flavour all over your mouth. 

③ Finally, it's time to mix everything. The saltiness of the cheese foam and the sweetness of the matcha milk will create a new salty sweet flavour that you will want to try again and again.

Whether you are a Japanese local or a foreigner, this drink is a fun new way to enjoy matcha. If you are new to matcha, this is a good way to try the flavour without being too overwhelmed. 

Information

Kiyomizu Cheese Kobo (清水チーズ工房)

Address: 569-10, Shiraitocho, Higashiyama Ward, Kyoto City, Kyoto

Opening Hours: 11:00 ー 17:30

No fixed closed days.

Official Website: http://kiyomizu-cheese.com/

Harajuku Summer Festival 2019 to Take Place at Togo Shrine

GLOBAL PRODUCE, a Japanese event organiser, is set to sponsor Harajuku Summer Festival 2019 which will be held at Togo Shrine in Harajuku, Tokyo on August 23. Bringing together professional event producers, the festival will combine elements of traditional Japanese culture with the latest trends.

Food trucks and stalls will open in the dozens, including appearances from the shaved ice shop Kooriya bebe which makes its fluffy shaved ice from the natural spring waters of Mount Fuji―perfect for the hot weather―as well as Ichika, a cafe known for its tapioca Japanese tea lattes made with high quality tea leaves from Kagoshima. Current popular restaurants will also serve up delicious summertime food. There will even be the Harajuku Bon Odori 2019 dance event, and the marchers for the Tokyo 2020 Olympics will also be present.

Tokyo Bijin Project will make their first ever live appearance, a group of shining Japanese women with "wisdom, dignity and compassion" who are set to speak out for other strong women. They will talk leadership, interpretation, attending to people, the spread of Japanese culture, and more.

If you are in Japan for the summer then make sure you attend all of the different summer festivals you can.

Information

GLOBAL PRODUCE presents Harajuku Summer Festival 2019 at Togo Shrine

Date: August 23, 2019

Time: 19:00-21:00 (Reception open from 18:30)

Location: Togo Shrine (1-5-3 Jingumae, Shibuya, Tokyo)

Togo Shrine Official Website: http://www.togojinja.jp/

Disney Christmas 2019 at Tokyo Disneyland: Spend This Year's Holiday Season With That Special Someone♡

Tokyo Disney Resort has announced this year's Disney Christmas which will take place at Tokyo Disneyland® and Tokyo DisneySea® from November 8 to December 25. This is the Tokyo Disneyland® event line-up. For the Tokyo DisneySea® schedule, click here.

Disney Christmas Stories

Disney Christmas Stories celebrates the holiday season with a magical parade which will bring together the Disney cast members with their loved ones. The characters will dress in festive outfits and deliver to guests their own Christmas stories. Seven joyous Christmas stories will unfold before guests' eyes, from a merry family outing with Donald Duck, his beloved Daisy Duck and his three nephews Huey, Dewey, and Louie, to the star couple Mickey and Minnie Mouse.

The parade will seemingly stop all of a sudden which will be followed by ringing bells, signalling the start of a Christmas party. Snow will fall along the parade route, and the cast members will invite guests to join them in celebrating a heart-warming Christmas.

Christmas Decorations

An enormous 15-meter tall Christmas tree will tower over World Bazaar and illuminate the streets with its brilliant lights together with dazzling projections, combining with the festive music to create a romantic atmosphere.

The plaza in front of Cinderella's Castle will glimmer with Christmas adornments as well as Christmas presents, Winnie the Pooh decorations, and more. Each themed land across the park will also be embellished in Christmas colours, bringing a merry little Christmas to the park.

Special Christmas Merchandise

Glass Set – ¥2,200 (Tax Included)

Around 65 special Disney Christmas themed items are set to go on sale from November 1, from glasses to cushions and more, all of which can be used for Christmastime at home. Featuring designs of the Disney characters, each item is sure to bring an air of that nostalgia we all feel at Christmas.

Christmas Food & Drink


Also available from November 1 is a very special Christmas menu made up of 15 dishes and drinks. There's the seafood cream bread packed with melted cheese, a hot dog dressed in the colours of Christmas with its eye-catching red bun and white cheese, and more. There's also a dish inspired by the Disney film Beauty and the Beast who are set to appear in the parade.

Enjoy a very merry Christmas this year at Tokyo Disneyland.

4 Must-Visit Fireworks Festivals in Kyoto This Summer

Kyoto―also known as the "old capital" and said to be the birthplace of Japanese culture. In its 1,200 year history, this ancient city has given rise to much of what can be considered quintessential Japanese culture. Fireworks are a monumental feat of summer in Japan with countless festivals up and down the country dedicated to them, and Kyoto is no exception.

If you're in Kyoto this summer then you mustn't miss these 4 fireworks festivals.

Kameoka Peace Festival Hozugawa River Fireworks Festival – A Magnificent Arsenal of 8,000 Beauties

This long-running event is held every year to pray for world peace. Its spectacular display features a lineup of fireworks specially selected by the Japan Fireworks Artist Association which aims to evolve the tradition of firework culture. Expect to see the night sky illuminated with a rainbow of colours from the festival's launch of 8,000 fireworks, including the Starmine which shoots a cloud of bright stars into the overhead abyss, as well as some original fireworks crafted for the festival such as the "Kamemaru Hanabi."

▼Kameoka Heiwasai Hozugawa Fireworks Festival (Kameoka Peace Festival Hozugawa River Fireworks Festival)

Date: August 11, 2019

Time: From 19:30
Location: Hozubashi Bridge
Official Website: http://kameoka-hanabi.jp/

Kyoto Nantan City Fireworks Festival – The Spectacular Starmine

Held by the riverbed of the Katsura River, the fireworks festival in Nantan makes use of the opposite shore from the viewing point which makes the fireworks look like they are raining down from the sky like a waterfall. The finale of this festival welcomes the behemoth of all Starmine fireworks which rips across the night sky in a blazing spread. The festival is also held as part of the Bon Festival and so lanterns are let loose down the Ōi River, creating a sight of subtle grace and beauty.

▼Kyoto Nantan City Fireworks Festival

Date: August 14, 2019

Time: From 19:30

Location: Katsura River
Official Website: http://www.yagi-hanabi.com/

Miyazu Toronagashi Fireworks Festival – Floating Lanterns & Fireworks For 400 Years

Held in the city of Miyazu, this festival combines fireworks with floating lanterns and shoryobune―boats adorned with tanzaku paper slips that are sent out to light the way for the deceased as part of the Bon Festival.  Floating lanterns on the water (known as toronagashi in Japanese) in Miyazu began 400 years ago. This year, it was counted as one of Japan's three biggest toronagashi events.

Together with the boat, around 10,000 lanterns are sent into Miyazu Bay, creating a beautiful and majestic atmosphere. Close to 3,000 fireworks are set to illuminate the sky above, leading to an indescribable beauty as the fireworks and lights give off their own light.

▼Miyazu Toronagashi Fireworks Festival

Date: August 14, 2019

Time: From 19:30

Location: Shimasaki Park
Official Website: https://www.kyo.or.jp/miyazu/hanabi/

Ine Fireworks – Fireworks Galore Envelop Ine Bay

Around 1,200 fireworks climb up and over Ine Bay, lighting the calm water surface and the funaya boat houses of Ine with their brilliance. The boat houses themselves are also strung and lined with hanging lanterns.

▼Ine Fireworks

Date: August 24, 2019

Time: 20:15

Location: Ine, Kyoto
Official Website: http://www.ine-kankou.jp/inehanabi/

Did you enjoy our pick? It isn't summer in Japan without fireworks. If you're travelling to Kyoto to catch some sun this year, finish the day off with one of its many fireworks festival―from traditional Kyoto-esque events to large-scale ones with 8,000 fireworks ready to be deployed.

Sold Out On Day One―Itohkyuemon's Matcha Parfait Bars Release at Gion Shijo Store

Kyoto-based Uji tea store Itohkyuemon released its new Matcha Parfait Bars at its new branch in Gion Shijo on August 7.

The bars proved so popular that all 1,500 in stock sold out on the first day. The store is currently being piled with orders for future sales. There are five flavours to enjoy: the classic matcha parfait flavour as well as cherry blossom, tropical, mont blanc, and strawberry.

Matcha Parfait Bar – Matcha

The matcha flavoured bar retains the original rich flavour of the Uji matcha, which has been passed down since the Muromachi period, and combines it with a delicious assortment of parfait toppings including raw matcha chocolate, mini daifuku, coarse sweet red bean paste, and more.

Matcha Parfait Bar – Sakura (Cherry Blossom)

For another traditional Japanese twist there is the springtime sakura parfait bar which is made with cherry blossom pink rice flour dumplings and ice cream. It's also topped with cherry blossom cream and salted cherry blossom petals for a cute finish.

Matcha Parfait Bar – Tropical

Tropical flavours like pineapple and mango blend together in this bar which is drizzled in a sweet, sour and refreshing tropical sauce. Topped with fresh tropical fruits, this is the ultimate summertime luxury.

Matcha Parfait Bar – Mont Blanc

This bar incorporates a sense of autumn with its mix of candied chestnut, astringent chestnut skin, and melt-in-the-mouth mont blanc cream.

Matcha Parfait Bar – Strawberry

Strawberry lovers will delight in the handmade strawberry sauce and strawberry meringue of this bar. The meringue elevates the sumptuous flavours of the parfait even more, including the fresh strawberry, raspberry and blueberry toppings which provide a sweet and sour kick.

Which of these Matcha Parfait Bars do you want to try the most?

Information

Matcha Parfait Bars

Released: July 10, 2019 (On August 7, 2019 at the Gion Shijo branch)

Prices

Matcha Parfait Bar – Matcha: ¥540 (Tax Included)

Matcha Parfait Bar – Sakura (Cherry Blossom): ¥590 (Tax Included)

Matcha Parfait Bar – Tropical: ¥590 (Tax Included)

Matcha Parfait Bar – Mont Blanc: ¥590 (Tax Included)

Matcha Parfait Bar – Strawberry: ¥640 (Tax Included)

Participating Branches: Uji Honten, JR Uji Station, Gion Shijo, Byodoin, Kyoto Station, and online shop

Online Shop Product Page: https://www.itohkyuemon.co.jp/site/parfait-bar/index.html

Stay Cool This Summer in Kyoto at These 4 Nature Spots

When talking about seasons in Kyoto, a lot of people are sure to point towards autumn when the leaves turn fiery red and sun yellow. But did you know that in Kyoto enjoys cool and truly beautiful summers?

If you're in the old capital this summer, or are planning to catch the sun there with a trip next year, then you'll want to add the 4 spots in this list into your schedule, each abloom with magical foliage and verdure.

We are joined by Macchan, a Japanese Instagrammer who snaps photos of sightseeing spots around Kyoto lush with greenery.

Giouji Temple

Giouji Temple is a modest thatched hut wrapped in a bamboo thicket and maple trees. The temple is detailed in the epic The Tale of the Heike in which the dancer Gio fled to the temple from her home in the capital with her mother and sister after falling out of love with Taira no Kiyomori.

A visit here ensures you can enjoy the summer with more than just your eyes as you listen to the dancing of the bamboo thicket and the cries of the cicadas.

Giouji Temple
Address: 32 Sagatoriimoto Kozakachō, Ukyo Ward, Kyoto
Official Website: http://www.giouji.or.jp/en

Adashino Nenbutsu-ji

Adashino Nenbutsu-ji is a Buddhist temple with a history spanning 1,200 years. A memorial service for those who died without kin is taking place on August 23 and 24 at the riverbed of the temple's west wing where candles will be lit in their honour. Lanterns are also lit in the surrounding area along the streets.

Adashino Nenbutsu-ji

Address: 17 Saga Toriimotoadashinocho, Ukyo Ward, Kyoto

Official Website: http://www.nenbutsuji.jp/index.html

Fushimi Port Park

Fushimi Port Park is a huge park home to a gymnasium and sumo area. They also have a hiking course. The sea does not reach here, but there is a canal which boats go up and down, and this is where the park gets its name. It has a bounty of trees and plants, so if you're looking to enjoy a peaceful stroll in nature then be sure to visit.

Fushimi Port Park

Address: Yoshijima Kanaidocho, Fushimi Ward, Kyoto
Official Website: http://www.kyoto-park.or.jp/fushimi/

Kan'in-no-miya Residence

This residence was built for and used by the Kan'in-no-miya family in 1710, with Prince Naohito as its founder―the son of Emperor Higashiyama. The family lived in the house until 1877 after which they moved to Tokyo. Following the war, it was liberated and became a park, and today it is used to exhibit photography and paintings. The residence is famous for its peach trees, making it a popular spot in spring. However, in summertime, it's much quieter, adding grace to the tranquillity of the surrounding green landscape. What's more is that despite it being such a prestigious location, it's free to enter! Don't tell too many people about this secret spot.

Kan'in-no-miya Residence

Address: 3 Kyotogyoen, Kamigyo War, Kyoto, Kyoto Prefecture

Official Website: https://kan-in-nomiya-teiato.jp/eng/

Macchan has visited many incredible spots around Kyoto, so if you're in need of recommendations be sure to give them a follow.

Photos: @macchan358

Ice Cream Lovers' Paradise: Over 100 of Japan's Best Ice Creams Unite at Ice Cream Fair in Hokkaido

For six days only, The most mouthwatering ice cream flavours from all over Japan are heading to Sapporo Kita 3-jo Plaza AKAPLA for the regional ice cream fair Aipaku Hokkaido in Sapporo 2019. The ice cream fair will start on August 15 and end on August 20, 2019. 

The concept of Aipaku® is to make everyone's childhood dream into a reality; a paradise park where visitors are surrounded by the most delicious ice cream flavours that are found countrywide.  The Japan Ice Mania Association carefully selected heart-melting ice cream flavours from all over Japan to sell at this event. The event has been running since 2015 and has so far welcomed approximately 2 million satisfied ice cream lovers, making it the largest ice cream event in Japan. Visitors can tuck in to their ice creams straight away or buy cooler bags and dry ice at the venue to take it back home as a souvenir.

This time, Aipaku Hokkaido in Sapporo 2019 is completely changing its lineup. Compared to when it was last run in 2017, this year will see many ice creams and ice cream brands that are new to Hokkaido making their debut. If you are an ice cream lover, this is a paradise world you just cannot miss out on. 

Kikyou Shingen Soft/KIKYOUYA (¥500)

Since being launched in 2015, this ice cream has become the star of the show at Aipaku. This ice cream is otherwise only available in Yamanashi prefecture. The beautiful scent of the soft serve ice cream's kinako roasted soy bean will be the first thing to reach your nose. This ice cream is made with the original, rich-flavored brown sugar syrup of Yamanashi prefecture. 

Manhattan Roll Ice Cream/ Manhattan Roll ¥850

Roll Ice Cream is currently a big hit in Japan, so naturally it has infiltrated into this ice cream fair. This ice cream is not made using eggs like conventional ice creams. It is made with a unique combination ratio of milk, fresh cream and syrup. The result is a smooth ice cream which is rich but not overpoweringly sweet. 

Double Ruby Fantasy/ MAISON GIVRÉE/¥600

This is an Aipaku-limited ice cream. Its rise to fame occurred as a result of the World Championship of Pastry Ice Cream and Chocolate which took place in Milan in 2015. This Aipaku-limited soft serve ice cream was created by Team Japan's captain and world champion pâtissier Hiroyuki Emori. It is covered in sugar-coated ruby chocolate and decorated luxuriously with almonds, hazelnuts and pistachios. The pink colour is enough to melt your heart. 

Aipaku Original Häagen-Dazs Sundae/ Aipaku Official ¥800

This is an original sundae flavour that can only be obtained from Aipaku. The ice cream is made using Häagen-Dazs vanilla ice cream with a generous layer of luxurious whipped cream. This is drizzled with a rich caramel sauce. Crispy feuillantine, which is made by smashing baked crêpe batter, accents the flavour and adds texture. Chunky slices of banana and salty vanilla-roasted peanuts are placed on top. This is a special sundae that ice cream-lovers will not be able to resist. 

These are just a few of the vast range of ice creams you could be trying. There are just so many that you will be frozen for choice. The venue is also easy to access from Sapporo station. This is a wonderful way to leave the house and enjoy a Japanese summer whilst staying refreshed. 

*Prices after tax stated above

* The ice creams at the event may differ to the images above.

Information

Ice Cream Fair Aipaku Hokkaido in Sapporo 2019

Running: August 15 ー 20, 2019

Opening Times: 11:00 ー 20:00

Venue: AKPLA, (Sapporo Kita 3-jo Plaza)

Kita 2 Jonishi, 4/ Kita 3 Jonishi 4, Chuo Ward, Sapporo, Hokkaido

Free entry. 

Takeaway: If you wish to purchase ice creams to take away, please consider purchasing a cooler bag and dry ice (保冷バッグ+ドライアイス) at the venue.

Aipaku Official Website: http://www.i-89.jp

Pikachu Outbreak 2019: Day One Report Of This Year's Event – MOSHI MOSHI NIPPON

The Pikachu army has returned again this year for Pikachu Outbreak 2019 which is running from August 6 to 12 in Minato Mirai, Yokohama. This year, the event also features an evening show which takes advantage of Minato Mirai's gorgeous nightscape and couples it with exciting lighting technology.

We visited the first day of the event with Chinese talent Etsuna and 7-year-old Yuugo-kun. Here's our report!

Upon arrival at Minato Mirai Station we were immediately met by lots of Pikachu decorations and event advertisements. And when you go through the ticket gate it plays Pikachu's cry! If you're visiting the event this year then be sure to listen out.

There are lots of Pikachu to spot after leaving the ticket gates, so be sure to try finding them all.

We alighted at Minato Mirai Station and headed straight to Rinko Park.

When we hit the park we were greeted by a huge balloon Pikachu!

There's lots of other Pokémon to catch too, such as Lapras, Psyduck, and many other popular names.

This tiny Pikachu was so cute.

There are food trucks set up by the Pokémon Cafe for the event at Rinko Park so you can get your hands on some food, drinks, and ice pops.

The Pikachu designs on the trucks are super kawaii♡

Pikachu Pineapple Ice Bar – ¥500 (Tax Included)

The ice pops they sell comes with one of four possible Pikachu facial expressions. They're given randomly.

They're so cute they seem a waste to eat!

Pikachu Orange Lemonade Soda – ¥500 (Tax Included)

The drink cups have Pikachu designs too, even the lids.

Wherever you look there's a Pikachu, so you can take pictures literally everywhere.

After we had strolled around Rinko Park, we headed to Nippon Maru Memorial Park. Usually when you visit this park they have huge boats on display but for Pikachu Outbreak, the Pikachu have swarmed the area.

There are lots of walls with various Pokémon illustrations on them around Nippon Maru Memorial Park, such as Ho-Oh's wings and a Pikachu balloon. They are scattered here and there, so make sure to find all of these too!

Below is where you can watch the Pikachu march wearing illuminating LED costumes.

Even the Ferris wheel at Yokohama Cosmo World was lit up with Pokémon motifs―the Pikachu and Poké Ball ones in particular were beautiful.

After a little while, several Pikachu arrived on a boat to greet everyone. And then…

…out came the LED Pikachu! Their synchronised pattering walk was beyond adorable. They even danced.

But the fun doesn't stop there. If you head to Queen's Square Yokohama right next to Nippon Maru Memorial Park then you'll catch the Eevee march too. Their cute pattering walks too are enough to heal your soul♡

What we've shown you is just a snippet of the fun happening this year―there are many other exciting events happening for Pikachu Outbreak 2019.

Photos: CHIHIRO (@chiicd5)

These last photos were taken at the show in Grand Mall Park at Yokohama Art Museum which makes stunning use of projection mapping. The Pikachu don their LED costumes and perform an incredible light show for the crowd.

For more details on each event check out the official website. Pikachu Outbreak is a fun day out for kids and adults alike, so enjoy this year's event and be careful not to catch heatstroke.

Information

Pikachu Outbreak 2019
Running: August 6, 2019 – August 12, 2019
Location: Minato Mirai area

Event Page: https://www.pokemon.co.jp/ex/pika_event/

Drink & Ice Shop by Pokémon Cafe

Running: August 6, 2019 – August 12, 2019

Locations:

①Yokohama Red Break Warehouse (Open 12:00-20:00)

②Rinko Park (Open 12:00-20:00)

③Yamashita Park (Open 10:00-17:00)

Best Kyoto Souvenirs to Pick Up This Summer at Daimaru Kyoto

Are you planning to shop for souvenirs in Kyoto this August? Daimaru Kyoto has the perfect lineup for the summer season, from cool and refreshing wagashi confections to sweets made with matcha grown in Kyoto and more―all packaged in gorgeous in packaging exclusive to the Kyoto branch of Daimaru. Here's our top picks for summer 2019!

Ryo no Seifuu (Contains 8) @ Sasaya Iori, Floor B1F Wagashi Marketplace – ¥2,160 (Tax Included) *Available until Mid-August

Inspired by cool springs, this tasty Japanese-style confection comes in 4 different refreshing and fruity flavours.

Kuzu Nagashi (Contains 3) @ Oimatsu, Floor B1F Wagashi Marketplace – ¥1,339 (Tax Included) *Available until Mid-August

Indulge in two different flavours of arrowroot: one made with brown sugar from the island of Hateruma and another with sweet apricot juice. The brown sugar arrowroot is also mixed with honey and the apricot with apricot honey.

Kakitsubata (Contains 6) @ Shogoin Yatsuhashi Sohoten, Floor B1F Wagashi Marketplace – ¥540 (Tax Included)

Yatsuhashi is a classic Japanese confection and is a famous souvenir sweet in Kyoto. These uncooked yatsuhashi have a faint cinnamon aroma and are formed in a way similar to dango.

Salted Lemon Pound Cake (1 Cake) @ Adachi Otoemon, Floor B1F Wagashi Marketplace – ¥2,160 (Tax Included)

Laced with tangy lemon skin, this refreshing pound cake is topped with rock salt which elevates the flavours to delicious new heights.

Raw Uji Matcha Chocolate (Contains 8) @ ATELIER de GODIVA [Kyoto Branch Only], Floor B1F Wagashi Marketplace – ¥2,916 (Tax Included) *Available until Mid-August

Luxurious, rich and melt-in-your-moth raw chocolate made lavishly with bitter Uji matcha.

Kyo Chafure (Contains 5) @ Kyoto Tsuruya, Floor B1F Wagashi Marketplace – ¥810 (Tax Included)

These soft doughy sablés made with rich Uji matcha.

Koto no Natsu @ Nomura Kyotsukidani, Floor B1F Tsukudani Marketplace – ¥1,080 (Tax Included)

If you're looking for something a little more savoury then you'll absolutely want to check out the popular chirimen sansho, dried whitebait seasoned with pepper. It comes packaged in beautiful summery Kyoto packaging.

Did you enjoy this list? Be sure to pick up as many tasty edible Kyoto souvenirs while exploring the ancient city.