Tokyo Disneyland: Write Down Your Wishes at the Tanabata Days Event
Hi, everyone. I'm Midori, part of the editorial team here at MOSHI MOSHI NIPPON.
Tanabata, also known at the Star Festival, is a traditional annual festival in Japan which celebrates the meeting of the deities Orihime and and Hikoboshi who are only able to see each other once a year. Right now at Tokyo Disneyland and Tokyo DisneySea a special Tanabata event is being held called "Tanabata Days." It began on June 6 and will run until July 7.
During the Tanabata season in Japan, people write their wishes on tanzaku, small pieces of paper, and hang them up before praying to the stars. If you head on over to Tokyo Disneyland right now you can do just that!
At the entrance to Tokyo Disneyland in the World Bazaar is the "Wishing Place" where guests are invited to jot down their wishes. You'll find it by spotting the two Tanabata decorations of Mickey and Minnie. If you look really close you'll see that the characters are holding their own washing cards too. Be sure to sneak a peek♡
You'll also find Donald and Daisy to the side of Cinderella's castle.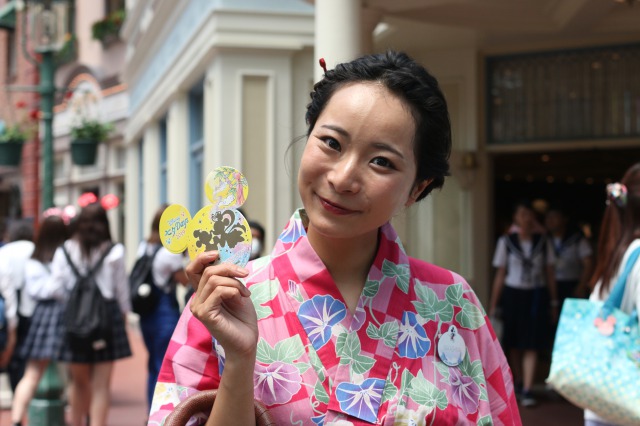 Guests can get their own wishing cards from one of the cast members dressed in yukata. The cards are yellow. The cast also have pens and desks prepared for guests too.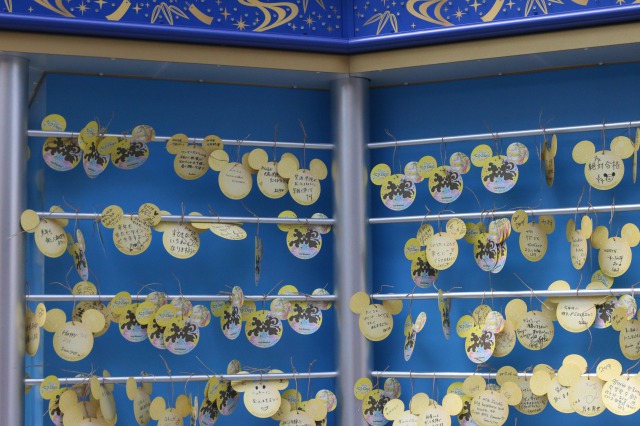 Once you've written your wish the next step is to hang it at the Wishing Place. The colours of the cards are different at Tokyo Disneyland and Tokyo DisneySea. Perhaps your wish will be granted?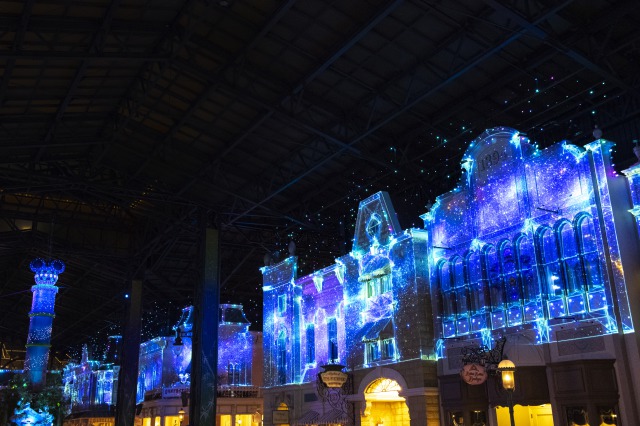 When the evening settles in the Wishing Place is lit up and renamed the Starlight Wishing Place. The illuminations represent the stars and constellations that float in the Milky Way, all references to Tanabata.
You're sure to enjoy a magical and romantic Tanabata at this event, so be sure to check it out. The visuals and lights are of course gorgeous, but the music is wonderful!
Perhaps your dream to the stars will come true at Disneyland's Wishing Place♪
© Disney
RECOMMENDED ENTRIES
Disney Store's New Merchandise Gives a Reason to Go Out in the Rain

Japan is about ready to enter its rainy season as the country transitions from spring to summer. Rain has the tendency to make people want to stay indoors, but Japan's branches of the Disney Store are here to help as they reveal their new collection of merchandise made for those times when you don't want to go out because it's raining.


Umbrellas: ¥2,700 Each (Tax Included)

At first glance, these umbrellas look plain and simple, but when you open them up they spread out into cute illustrations of various Disney characters. Your heart is sure to fill with warmth when you open these out on a cold and rainy day.

Folding Umbrellas: ¥1,728 Each (Tax Included)

These refreshing and more simple designs are catered more towards adults. They also make for a great UV protector against the sun, so you can take them out whenever.

Umbrella Pouch: ¥1,080 (Tax Included)

Keep your dry or wet umbrella inside one of these cute pouches. They are the same size as a water bottle so you can use them for a multitude of things.

Umbrella Covers: ¥648 (Tax Included)

These cute umbrella covers feature various character motifs on them. In Japan there are umbrella points at most shops and buildings where you can leave your umbrella – these covers will ensure you don't get yours mixed up!

The Disney Store collaborated with KiU, a brand that creates outdoor items for adults, to make this poncho which can be used in the rain when on a stroll, going to a festival, and more.

The Disney Store is also holding a campaign at its branches and website. If you purchase any of these items you will receive one of four possible stickers.

Have a reason to go out in the rain with this new line of rainy merch from Disney.

©Disney ©Disney. Based on the "Winnie the Pooh" works by A.A. Milne and E.H. Shepard.

©Disney/Pixar BARREL OF MONKEYS is a trademark of Hasbro used with permission. ©Hasbro. All Rights Reserved.

Mr. Potato Head & Mrs. Potato Head are trademarks of Hasbro used with permission. ©Hasbro. All Rights Reserved.

Mr. Potato Head is a trademark of Hasbro used with permission. ©Hasbro. All Rights Reserved.

Duffy's Sunny Fun Special Video Release Kicks Off Summer Fun at Tokyo DisneySea®

From Thursday 6th June, Tokyo DisneySea is hosting a special event called Duffy's Sunny Fun. As we wait in excitement for this event to start, a special video has been released! The video shows Duffy and friends having a wonderful time on the beach under the sparkling sun as the breeze gently rolls in.

Duffy and friends are having such a wonderful time talking and playing on Cape Cod beach under the blue sky of a dreamy summer's day. Everyone is having fun in their own way and eventually, the beautiful sun and refreshing breeze sweeps Duffy away to a dreamland. I wonder what it would be like to spend a summer's day with them…

Truth is, you can! At the park, Duffy and ShellieMay will meet and greet guests in their new costumes. The costumes have summery designs and you'll feel refreshed just looking at them. However, they'll only be wearing these summer costumes for a limited time!

When the characters come to greet you, you'll notice that Duffy is wearing a summer-themed cool shirt and ShellieMay will be wearing a straw hat. Make sure you go say hi!

As the start of summer approaches, whisk yourself over to DisneySea to create some wonderful summer memories.

© Disney

Tokyo Disney Resort® Launches Pink Pop Paradise Ice Cream-Themed Goods

On June 3rd, Tokyo Disney Resort®  launched "Pink Pop Paradise". This involves the release of a new line of cute goods and treats which are designed around the theme of "ice cream".

Mint Chocolate Ice Cream Mickey Plush Toy Badge:  ¥2,200 (tax included)

Strawberry Ice Cream Minnie Plush Toy Badge:  ¥2,200 (tax included)

There are 13 special goods available in the Pink Pop Paradise series, including plush toy badges where Disney characters wear ice cream-coloured costumes. Examples include the Mint Chocolate Ice Cream Mickey and the Strawberry Ice Cream Minnie Plush Toy Badges.

Uchiwa fan: ¥500 (tax included)

Uchiwa fan:  ¥500 (tax included)

An ice cream uchiwa fan that gives off the mild and sweet scent of ice cream when rubbed.

Sun Visor: ¥3,000(税込)

Tote Bag: ¥3,200 (tax included)

The lineup also includes an ice cream-themed sun visor, a clear and summery tote bag and many more goods that will make you really feel like you're at a theme park in the summer. You'll have so much fun with these cute Pop Pink Paradise goods. 

What about actual ice cream? A cute Mickey-themed biscuit and colourful chocolate toppings add rainbows of colour into this brand new soft serve ice cream. These ice creams, which are generously covered in all kinds of chocolatey sweetness, are irresistibly photogenic and are the perfect way to stay cool and have fun during the summer ♡

©Disney

Information

Special goods

Selling at: Adventureland Bazaar (Tokyo Disney Resort®), The Sleepy Whale Shoppe (Tokyo DisneySea®)

Soft serve ice cream with chocolate toppings

Price: ¥500 each (tax included)

Selling at:  Ice Cream Cones (Tokyo Disneyland®)

Pink Pop Paradise

Special edition website: https://www.tokyodisneyresort.jp/treasure/pinkpopparadise/goods/index.html

※ Please understand that the goods and ice creams may run out.

※ The prices and contents of the Pink Pop Paradise goods and ice creams are subject to change without prior notification.
RELATED ENTRIES
Review: Tokyo Disneyland's New Big Hero 6 Attraction and Minnie's Style Studio

Tokyo Disneyland® is set to open its all-new Beauty and the Beast area of the park tomorrow on September 28, 2020. It's opening in line with the new Big Hero 6 attraction, Minnie Mouse area where guests can meet Minnie, and the park's new popcorn shop.

MOSHI MOSHI NIPPON was granted early access to the news areas, so here's our review!

Check out our review of the new Beauty and the Beast area too here: https://www.moshimoshi-nippon.jp/362152

The Happy Ride with Baymax: The world's first Big Hero 6 attraction

The Happy Ride with Baymax ride has guests joining one of the personal healthcare companion robots on an exciting cart ride.

The park is limiting the number of people allowed on the attraction at once due to the pandemic. To board the attraction, guests need to download the app after entering the park.

Big Pop: Tokyo Disneyland's first popcorn shop

Tokyo Disneyland's first permanent popcorn shop opens in Tomorrowland.

This space-themed shop serves up a whole range of flavours like cookie cream, caramel and cheese, and strawberry milk. There's also four different popcorn baskets to choose form, including Big Hero 6 and Beauty and the Beast designs.

Minnie's Style Studio: Meet Minnie Mouse

This studio imagines Minnie Mouse as an international fashion designer who designs outfits, shoots photos, and more. Guests can meet Minnie Mouse at her studio if they book in advance.

©Disney

Review: Tokyo Disneyland's New Beauty and the Beast Area

Tokyo Disneyland® is set to open its all-new Beauty and the Beast area of the park tomorrow on September 28, 2020. It's opening in line with the new Big Hero 6 attraction, Minnie Mouse area where guests can meet Minnie, and the park's new popcorn shop.

MOSHI MOSHI NIPPON was granted early access to the Beauty and the Beast area – here's our review!

Check out our review of the new Big Hero 6 attraction and Minnie's Style Studio too here: https://www.moshimoshi-nippon.jp/362221

The world of Beauty and the Beast brought to life

The area connects Belle's village to Beast's castle by way of the forest. At the entrance to the village, guests will immediately spot the cottage of Maurine, Belle's father and the vilage inventor. Beyond that is Gaston's water fountain as well as a restaurant inspired by Gaston's bar. There are also other shops that Belle visits in the film, such as the bookshop. It's like stepping into the magical world itself.

When you leave the village and head through the forest, you are met by the spectacle that is Beast's castle, coloured in a cute pink. There's a large-scale attraction inside called "Enchanted Tale of Beauty and the Beast."

The Tokyo Disneyland-original attraction "Enchanted Tale of Beauty and the Beast"

The attraction, located inside the towering 30m-tall castle, features magical cups that guests board. The cups dance in rhythm to music from the film as they take guests through iconic moments seen in the Disney classic.

There are many surprises and discoveries to be found inside the castle.

The park is limiting the number of people allowed on the attraction at once due to the pandemic. To board the attraction, guests need to download the app after entering the park.

Village shops based on the movie

The Village Shops area features a line of shops inspired by those seen in Belle's town, each of which sells various items from clothing to accessories and souvenirs.

There are around 100 pieces of merchandise for fans to sift through.

The shops are also carrying out measures against COVID-19, showcasing the items in a display only so they cannot be touched when entering the store. Guests must use the sign-up system on the app beforehand if they want to enter the shop.

La Taverne de Gaston

All the little details have been captured to recreate Gaston's bar, making it like a snippet right out of the film.

Big Bite Croissant

 

Very Cheers

Sweet Gaston

The menu features a line-up dishes, drinks, and desserts, like sausage croissants with, French toasted cheese sandwiches, soft drinks made to look like beer, and more. The bar also requires booking on the app prior to visiting.

Le Fou's Churros (Apple Caramel)

Le Fou's is located next to La Taverne de Gaston where you can get your fingers on snacks like apple caramel churros.

And don't miss up on visiting the new popcorn wagon either which serves popcorn in a Beauty and the Beast bucket.

The new Beauty and the Beast area is a must-visit for any fan of the film, or for people who want to feel like a Disney princess.

©Disney

Demon Slayer: Mugen Train Tanabata Celebrations Begin in Japan

Demon Slayer: Kimetsu no Yaiba the Movie: Mugen Train is an upcoming anime film set for release on October 16, 2020. The film is a direct sequel to the 2019 anime series adapted from Koyoharu Gotouge's manga series Demon Slayer: Kimetsu no Yaiba.

In the run up to its release, the film is being promoted in collaboration with Japan's annual Tanabata festival which takes place every year on July 7. A special website opened today which features wishes written in Japanese and illustrations drawn by 31 voice actors and actresses from the anime series—as well as the main characters, including Tanjiro. It is customary on Tanabata to write a wish on tanzaku, which are small pieces of paper, and tie them to bamboo. Additionally, three special announcements have been made to celebrate Tanjiro's birthday on July 14.

The Demon Slayer: Kimetsu no Yaiba manga has sold over 80 million copies. Along with its highly successful anime adaptation from last year, the series has won the anime community the world over, earning a high reputation for its thrilling fight scenes and memorable characters. The film was announced at the end of the anime's final episode, teasing the "Mugen Train" arc of the story. Today, the day of Tanabata, marks just three months until the release of Demon Slayer: Kimetsu no Yaiba the Movie: Mugen Train.


As well as the voice cast, five of the anime's main characters have posted their own wishes over on the special Tanabata website. Tanjiro, a kind and gentle soul who is devoted to family, wrote: "I pray that everyone can live happily!" Such a wish is just like Tanjiro, who shows kindness to everyone even if they're a demon. His sister, Nezuko, who is a demon herself and who can't write, instead just tied her tanzaku paper up. You can tell she puts all of her trust in Tanjiro with whom she has a strong bond. Zenitsu simply wrote, "I wish that I can get married!!!!" Inosuke drew a picture of his favourite food, tempura, and Rengoku wrote the mantra "Daily Diligence!!"

You can check out the rest of the cast's wishes over on the official Demon Slayer Tanabata website, all of which are written in Japanese.

Finally, to celebrate Tanjiro's birthday which falls on July 14, three special things have been planned in Japan. Firstly, a special "Tanjiro Birthday Party" show will air on ABEMA on July 14 at 21:00 (JST) where the main voice cast Natsuki Hanae (voice of Tanjiro), Akari Kito (Nezuko), Hiro Shimono (Zenitsu), and Yoshitsugu Matsuoka (Inosuke) will appear. Secondly, there will be a marathon of the Demon Slayer: Kimetsu no Yaiba anime series on ABEMA on July 11 and 12. Lastly, ufotable Cafe will be collaborating with the series for Tanjiro's birthday, serving food inspired by the anime and more.

©Koyoharu Gotouge/Shueisha・Aniplex・ufotable

Information

Demon Slayer: Kimetsu no Yaiba the Movie: Mugen Train

Release Date: October 16, 2020

Distributors: Toho / Aniplex

Official Website: https://kimetsu.com

Kyoto's Famous Kifune Shrine Celebrates Tanabata With Bamboo Lamp Light-Up

Kifune Shrine, which is dedicated to the god of water Takaokami no Kami, is currently holding evening illuminations with Tanabata bamboo lamps until August 15, 2020.

About Kifune Shrine

Kifune Shrine is one of Kyoto's foremost historical shrines. Records show that the shrine was already built in 677 during the reign of Emperor Tenmu. It is located near the source of Kamo River and is dedicated to the god of water who is said protect Kyoto's water sources. The area is also known for kawadoko which is where Kibune's restaurants build platforms over the river where visitors can enjoy their meal as the water flows beneath them.

Kifune Shrine and Tanabata

Tanabata is said to originate from the Suijinsai Festival (Water God Festival), with the stars themselves as the god of water. At Kifune Shrine, which is dedicate to Takaokami no Kami—the god of water—people not only pay their respects to the blessing of water, but hold Tanabata events as well as the Kifune Water Festival.

For this year's Tanabata event, bamboo lamps will be lit up with wishes written on them by people.

Tanabata Shinto Rituals and the Kifune Water Festival

Tanabata Shinto rituals and the Kifune Water Festival will be held on July 7 where people will express their gratitude to the god who watches over Kifune's waters as well as pray for water's blessing throughout the year.

Information

Kifune Shrine Tanabata Bamboo Lamp Light-Up
Running: July 1, 2020 – August 15, 2020
Time: From sunset to 20:00
Location: Kifune Shrine, 180 Kuramakibunecho, Sakyo-ku, Kyoto
TEL: 075-741-2016

Official Website: http://kifunejinja.jp

Tanabata and Milky Way Inspired Food and Drink Arrives at PLANETARIA TOKYO

KONICA MINOLTA PLANETARIA TOKYO, a twin-dome planetarium in Tokyo's Yurakucho district, introduced a new menu at its Cafe Planetaria on July 1, 2020.

A cafe where you can taste the stars

Cafe Planetaria's concept is that customers happened upon it during a trip through the galaxy. It is the only cafe in space—one where you can delight in cocktails that shine bright like a nebula, or tuck into finger food that's like fragments of planets.

The new menu hopes to serve customers a day they won't forget after they have gaze upon the starry night sky.

How best to enjoy Cafe Planetaria

Cafe Planetaria's menu can be enjoyed at DOME 1 inside the planetarium so you can enjoy cocktails and food while watching the starlit show. It's open to those who aren't using the planetarium too, so if you're looking for a quick stop-off on your time through the galaxy and don't have time for stargazing you can enjoy the galactic delights too.

Nebula Soft Serve Ice Cream: ¥550 (Tax Included)

This purple soft serve ice cream is inspired by nebula imagery.

Moon Parfait: ¥770 (Tax Included)

A colourful parfait topped with the moon and sweet-tasting planets.

Mercury (Cocktail): ¥880 (Tax Included)

Part of the planetary cocktail series.

Observe "Tokyo's Milky Way"

PLANETARIA TOKYO has brought back its planetarium work Tokyo no Amanogawa o Wasurenai (Never Forget Tokyo's Milky Way). The show makes use of works left behind by Japanese novelist Kenji Miyazawa, poets Chūya Nakahara and Yumeji Takehisa, and others, to bring viewers back to a time when you used to be able to see the Milky Way in the city of Tokyo. When the city lights switch off for the night, the former Milky Way will shine its radiant brilliance. Viewers will be able to see the same sight that so many artists and writers saw when creating works about Tokyo's starry sky.

Make a wish upon a falling star

A popular service at PLANETARIA TOKYO that is also free is getting to see falling stars in real time with a system set up by Meteor Broadcaster. They are shown across a giant 12m long screen. On the Gregorian calendar, Tanabata is celebrated on July 7, but on the old Japanese lunisolar calendar it will fall on August 25 this year. If you're in Tokyo around that time, why not visit the planetarium and make a wish?

Online shop to enjoy the Milky Way at home

Gallery Planetaria is a concept shop in PLANETARIA TOKYO whose concept is based around being a secret shop hidden away somewhere in the galaxy. Their online shop is selling plenty of fun items that you can only get on this side of the galaxy. The service is available in Japan only, but check out their website to see what they've got in stock.

Gallery Planetaria Online Shop
https://planetaria.theshop.jp/

Starry Sky Guide: Summer – At Home Version (Narrated by Yoshimasa Hosoya)

PLANETARIA TOKYO has posted an at-home version of their summertime starry sky guide which was shown at the venue. It's narrated by Japanese voice actor and narrator Yoshimasa Hosoya and features a 360° VR experience. Check it out here.

Information

KONICA MINOLTA PLANETARIA TOKYO
Address: Yurakucho Marion 9F, 2-5-1 Yurakucho, Chiyoda Ward, Tokyo
Opening Hours: 10:30-22:00 (Reception closes 21:00)

*No Fixed Holidays

*Open until 22:30 (reception closes 21:30) on weekends and public holidays

Official Website: https://planetarium.konicaminolta.jp/planetariatokyo/

Cute and Dreamy Tanabata Inspired Confections Arrive at Q-pot CAFE. in Omotesando

Q-pot CAFE. is celebrating Japan's Tanabata festival with a limited-time menu which was introduced on June 27.

Romantic Star Plate w/Drink: ¥2,060 (Tax Included)

This starry delight is plated with a fromage blanc filled with ganache cream and peach jelly. There's star-shaped meringue macarons filled with cream, creamy blueberry and blackcurrant panna cotta, star-shaped chocolate to represent the Tanabata deities Orihime and Hikoboshi, and a luxurious Q-pot CAFE. macaron.

さらに、レモンの皮を練り込み、サクッと焼き上げた星型クッキーには短冊のようにグラサージュショコラで願い事を込めて・・・クッキーを残さず口にすれば、願いもきっと叶うはず!


Romantic Peach & Elderflower Soda: ¥750 (Tax Included)

Refresh yourself with a summery glass of this peach and elderflower soda which is filled with blue, purple, and pink transparent jelly which twinkle like a kaleidoscope.

Bottled Drinks (Takeout Only): ¥1,296 Each (Tax Included) *Limited quantity available / *¥100 off if you take your own bottle

Enjoy a takeout bottle of "Aurora Lychee Tea Soda" with its romantic pink, purple, and blue gradation. This herb tea changes colour like magic, and contains marrow cheese plant, lychee puree, and Blue Curacao. The twinkling pearl powder makes it glow like an aurora.

There is also bottled Strawberry Tea Soda, Ginger Ice Milk Tea, and Honey Lemon Vinegar Soda.

If you're in Tokyo this summer, head to Q-pot CAFE. to enjoy a round of pastel-coloured Tanabata confections and drinks.

Information

Q-pot CAFE. Omotesando
Address: 3-4-8 Jingumae, Shibuya, Tokyo
Running: June 27, 2020 – July 20, 2020
*From July 21, 2020 to September 4, 2020 the cafe will be reservation-only in line with an event, and the regular menu will not be available.
*For the time-being, reservations can be made by telephone call only. Web reservations are currently not available.

Official Website: http://www.q-pot.jp

Tokyo Disneyland and Tokyo DisneySea Release Their Own Spotify Music Playlist

Tokyo Disneyland and Tokyo DisneySea launched their first ever music playlists on all major streaming websites on Friday, including on Spotify and Apple Music.

Music from Tokyo Disneyland features everything from famous ballads and show music from the park to Tokyo Disneyland's nostalgic anniversary theme song, a "Ride Through Mix" that has you feeling like you're on the park's attractions, and more. It's a magic-filled Tokyo Disneyland musical fantasy.

Music from Tokyo DisneySea follows the same course as the Tokyo Disneyland playlist, except it also has the theme songs of the park's seven ports. It's packed full of imagination the likes of which you can only experience at Tokyo DisneySea.

New songs are set to be added from both parks each season, so you can feel like you're at Tokyo Disneyland and Tokyo DisneySea from your own home all year round!

Japan Coronavirus: Tokyo Disneyland® and DisneySea® To Close Temporarily Until March 15

Tokyo Disneyland and DisneySea will be temporarily closed until March 15 to reduce the spread of the new coronavirus. Japan's Coronavirus Countermeasures Taskforce has advised that there is a high risk of spreading the infection at large-scale sports and culture events and facilities where large numbers of people travel from across the country and congregate in one area. As many facilities and events in Tokyo are being restricted, postponed and even cancelled over the next two weeks, Tokyo Disneyland and DisneySea announced that both parks will close temporarily from February 29 – March 15, 2020.

The parks plan to reopen on March 16, 2020, however this will be decided following consultation with concerned administrative agencies and will be announced on their official website. If you have already purchased tickets which are valid during the parks' closing dates, please refer to the links below.

Baymax Themed Food Flies Into Tokyo Disneyland Ahead Of New Big Hero 6 Attraction

The world is about to get its first Big Hero 6 themed park attraction, "The Happy Ride with Baymax," at Tokyo Disneyland when it opens on April 15, 2020.

In promotion of the exciting new ride, Tokyo Disneyland has announced it will serve six different Baymax inspired menu items starting from April 8ーa week before The Happy Ride with Baymax's grand opening.

Baymax Curry – ¥1,480 @ Center Street Coffeehouse

When you think of Baymax, you think of his white, chubby round face and body. Well, that image has been brought to life in this curry dish, with Baymax's cute appearance recreated in the form of white rice. The dish takes inspiration from the spicy chicken wings made by Hiro's auntie, Cass.

Special Pancake Set – ¥1,080 @ Center Street Coffeehouse / Time Served: 13:00-18:00 (Not serving June 1, 2020 – September 2, 2020)

Like the curry, this pancake set is also sold at Center Street Coffeehouse. It comes with two thick pancakes topped with Baymax's faceーwhich is a Japanese 'manju' steamed cakeーassorted berries, strawberry sauce, and other delicious delights, mixing together Japanese and western flavours.

Sparkling Tapioca Tea (Cheese Cream & Berries) – ¥600 @ Tomorrowland Terrace / Time Served: 14:00-17:00

BB Popcorn w/Basket – ¥2,600 @ The Big Pop

There's also a dessert-style drink at Tomorrowland Terrace which is a berry flavoured ice tea packed with dollops of cheese cream, as well as popcorn which comes with a popcorn basket of Baymax riding. This will be sold at the new popcorn shop, The Big Pop, which is opening on April 15.

Tuck into some cute and delicious Baymax food at Tokyo Disneyland before The Happy Ride with Baymax opens for business.

©Disney

Tokyo Disneyland® Celebrates Opening Of New Park Area With Special Menu Line-Up

Tokyo Disneyland's new biggest area is set to open on April 15, 2020, which will house four new exciting facilities: the new Beauty and the Beast attraction, the Fantasyland Forest Theatre, the Baymax's Happy Ride attraction, and the Minnie's Style Studio.

To celebrate the new area's opening, several restaurants and eateries in Tokyo Disneyland will serve up some special menu items. Participating restaurants are calling this special menu line-up "New Dreams, More Fun!" Let's take a look.

Sparkling Drink (Mixed Fruits) – ¥450 @ Boiler Room Bites and elsewhere

Boiler Room Bites and other eateries in the park are serving these colourful sparkling drinks packed full of fresh fruit pieces. The cups have special designs of Disney characters like Mickey mouse, Minnie  Mouse, and Baymax.

Special Set – ¥990 @ Refreshment Corner

The special set being served at Refreshment Corner is inspired by Beauty and the Beast. It includes an apple cinnamon hot dog (contains nuts), a unique combination of juicy sausage, cinnamon, caramel, and nuts.

Blue Bayou Course – ¥5,200 @ Blue Bayou Restaurant

Another Beauty and the Beast-inspired dish is this special full course served at the Blue Bayou Restaurant. Buffet-style eatery Crystal Palace Restaurant will also serve up new dishes themed on each of the four new facilities of the new area starting on June 1, with a new one being introduced with each season.

©Disney

Tokyo Disney Resort® Celebrates Toy Story's Hamm With Pig Pink Merchandise

Tokyo Disney Resort is set to show some love to Hamm, everybody's favourite piggy bank from the Disney/Pixar animated film series Toy Story, from February 28 with the arrival of some exclusive Hamm merchandise. This includes fashion items with pink woven into it amongst other accessories and miscellaneous pig picks.

*All Hamm merchandise will be sold from March 2 with the exception of sling bags, which will be sold from March 23.

Dress up with Hamm

Short Sleeve T-Shirt: ¥3,900

T-Shirt: ¥3,900

The unisex t-shirts include one design with a print of Hamm's adorable face, and another more stylish t-shirt with a retro design.

Cap: ¥2,900

Body Bag: ¥2,900

Coins aren't the only thing Hamm can carry for you – with the new body bag, you can entrust your personal belongings to him, like your phone, card, coins, and so on, all while looking stylishly pink.

Pass Case: ¥1,900

Headband: ¥1,700

Other items include a pass case of Hamm's face, as well as a cute pig ear headband. There are lots of other items in the collection too.

Pink life dining

Tumbler: ¥1,100

Plate: ¥1,100

Fill the piggy bank that is your belly with food together with the pink tumbler and plate featuring designs that are actually used at restaurants throughout Tokyo Disneyland and Tokyo DisneySea.

Mini Towel: ¥680

Hand Cream & Lip Balm: ¥2,200

The mini towel, hand cream and lip balm set, and other items are all pocket-size, so you can take them anywhere with you.

This is just a small look at the pink range that's set to beckon spring early. Don't miss out on these exclusive items.

*Product designs and designs are subject to change without notice

*Available while supplies last

*Photos are for illustrative purposes only

©Disney©Disney/Pixar 

Tokyo Disneyland Reveals The First Image of Its New Baymax Attraction

On April 15, 2020, Tokyo Disneyland's largest renovation project will unleash its large number of new facilities and attractions to the public all in one go. On that day, Tomorrowland will be unveiling its new Big Hero 6 attraction 'The Happy Ride with Baymax'. Tokyo Disneyland is the only Disneyland in the world to have one. The first ever images of the ride have been unveiled. 

But hold on – is that Baymax is riding shotgun? The perfect form of our favourite white personal healthcare companion has been replicated 22 times. Each Baymax is committed to caring for each passenger's health and happiness. 

As the ride takes off, the 22 Baymaxes get to work, each steering a car unpredictably to send you on an unimaginably exciting journey. The upbeat music will add an extra layer of thrill to your adventure.  Leave yourself in the care of Baymax, who will steer you on an unforgettable and unpredictable ride which is sure to put a smile on your face.

If you're a Big Hero 6 fan, you just have to check out the new Baymax-themed ride at Tokyo Disneyland. 

* The image in this article is an illustration
©Disney