Review: Tokyo Disneyland's New Big Hero 6 Attraction and Minnie's Style Studio
Tokyo Disneyland® is set to open its all-new Beauty and the Beast area of the park tomorrow on September 28, 2020. It's opening in line with the new Big Hero 6 attraction, Minnie Mouse area where guests can meet Minnie, and the park's new popcorn shop.
MOSHI MOSHI NIPPON was granted early access to the news areas, so here's our review!
Check out our review of the new Beauty and the Beast area too here: https://www.moshimoshi-nippon.jp/362152
The Happy Ride with Baymax: The world's first Big Hero 6 attraction
The Happy Ride with Baymax ride has guests joining one of the personal healthcare companion robots on an exciting cart ride.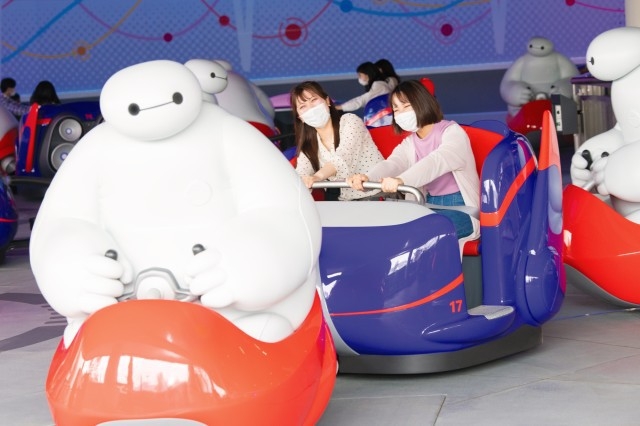 The park is limiting the number of people allowed on the attraction at once due to the pandemic. To board the attraction, guests need to download the app after entering the park.
Big Pop: Tokyo Disneyland's first popcorn shop
Tokyo Disneyland's first permanent popcorn shop opens in Tomorrowland.
This space-themed shop serves up a whole range of flavours like cookie cream, caramel and cheese, and strawberry milk. There's also four different popcorn baskets to choose form, including Big Hero 6 and Beauty and the Beast designs.
Minnie's Style Studio: Meet Minnie Mouse
This studio imagines Minnie Mouse as an international fashion designer who designs outfits, shoots photos, and more. Guests can meet Minnie Mouse at her studio if they book in advance.
©Disney
RECOMMENDED ENTRIES
Baymax Themed Food Flies Into Tokyo Disneyland Ahead Of New Big Hero 6 Attraction

The world is about to get its first Big Hero 6 themed park attraction, "The Happy Ride with Baymax," at Tokyo Disneyland when it opens on April 15, 2020.

In promotion of the exciting new ride, Tokyo Disneyland has announced it will serve six different Baymax inspired menu items starting from April 8ーa week before The Happy Ride with Baymax's grand opening.

Baymax Curry – ¥1,480 @ Center Street Coffeehouse

When you think of Baymax, you think of his white, chubby round face and body. Well, that image has been brought to life in this curry dish, with Baymax's cute appearance recreated in the form of white rice. The dish takes inspiration from the spicy chicken wings made by Hiro's auntie, Cass.

Special Pancake Set – ¥1,080 @ Center Street Coffeehouse / Time Served: 13:00-18:00 (Not serving June 1, 2020 – September 2, 2020)

Like the curry, this pancake set is also sold at Center Street Coffeehouse. It comes with two thick pancakes topped with Baymax's faceーwhich is a Japanese 'manju' steamed cakeーassorted berries, strawberry sauce, and other delicious delights, mixing together Japanese and western flavours.

Sparkling Tapioca Tea (Cheese Cream & Berries) – ¥600 @ Tomorrowland Terrace / Time Served: 14:00-17:00

BB Popcorn w/Basket – ¥2,600 @ The Big Pop

There's also a dessert-style drink at Tomorrowland Terrace which is a berry flavoured ice tea packed with dollops of cheese cream, as well as popcorn which comes with a popcorn basket of Baymax riding. This will be sold at the new popcorn shop, The Big Pop, which is opening on April 15.

Tuck into some cute and delicious Baymax food at Tokyo Disneyland before The Happy Ride with Baymax opens for business.

©Disney

Tokyo Disneyland Reveals The First Image of Its New Baymax Attraction

On April 15, 2020, Tokyo Disneyland's largest renovation project will unleash its large number of new facilities and attractions to the public all in one go. On that day, Tomorrowland will be unveiling its new Big Hero 6 attraction 'The Happy Ride with Baymax'. Tokyo Disneyland is the only Disneyland in the world to have one. The first ever images of the ride have been unveiled. 

But hold on – is that Baymax is riding shotgun? The perfect form of our favourite white personal healthcare companion has been replicated 22 times. Each Baymax is committed to caring for each passenger's health and happiness. 

As the ride takes off, the 22 Baymaxes get to work, each steering a car unpredictably to send you on an unimaginably exciting journey. The upbeat music will add an extra layer of thrill to your adventure.  Leave yourself in the care of Baymax, who will steer you on an unforgettable and unpredictable ride which is sure to put a smile on your face.

If you're a Big Hero 6 fan, you just have to check out the new Baymax-themed ride at Tokyo Disneyland. 

* The image in this article is an illustration
©Disney
RELATED ENTRIES
Disney's Lilo & Stitch and Donald Duck Recipe Kits Revealed

Japanese online supermarket Oisix released its "Donald Duck Summer Nasi Goreng Mountain" meal kit on July 15, and will release the new "Lilo & Stitch Hawaiian Loco Moco" version on July 29. Both are part of the "Kit Oisix" series of recipe kits which lets people cook up a meal inspired by characters.

Kit Oisix Donald Duck Summer Nasi Goreng Mountain

Kit Oisix Lilo & Stitch Hawaiian Loco Moco

Recipe book contents page

Recipe book step example

Summer Challenge from Donald section

Summer Challenge from Donald work sheet

A child taking on Donald's summer cooking challenge

The ingredients and recipe book delivered with the Donald Duck Kit Oisix

Lunch Mat

The ingredients and recipe book delivered with the Lilo & Stitch Kit Oisix

Lunch Mat

Both meal kits arrive with all the necessary ingredients and condiments needs to make delicious themed meals. They also come with a recipe book which features step-by-step breakdowns of how to prepare the meal as well as other fun bits such as a work sheet. The kits are aimed at parents and children and fostering their relationship, but if you love Disney, anyone can enjoy these cooking experiences.

Toy Story Inspired Ice Cream Cakes Release at Baskin-Robbins Japan

Baskin Robbins released a new collection of ice cream cakes inspired by the characters from the Pixar film Toy Story. There are 15 delicious flavours to enjoy, so let's take a look.

Buzz Lightyear

Popping Candy / Chocolate Chips / Strawberry / White Sponge

Ham 

Love Potion / Chocolate / Chocolate Sponge
 

Rex

Matcha Cookie / Vanilla / Chocolate Sponge

Ducky & Bunny

Very Berry Strawberry / Chocolate Chips / White Sponge

Forky

Dark Chocolate / Chocolate Bits / Milk Chocolate / Chocolate Sponge

Little Green Men

Popping Candy / Melon / White Sponge

Bo Peep

Strawberry Cheesecake / Strawberry / White Sponge

Woody

Caramel Ribbon / Chopped Chocolate / Chocolate Sponge

Pick

Mat

The ice cream cakes include designs based on everyone's favourite toys such as Woody and Buzz, as well as their new friends Forky, Ducky, and Bunny.

Information

Baskin-Robbins Japan's Toy Story/Palette 8

Released: July 9, 2021 (Available all year)

Price: ¥4,200 (Tax Included)

*Price different by branch

Size: 18.5cm x 5cm

Baskin-Robbins Japan Official Website: https://www.31ice.co.jp/

Star Wars: Visions First Look and Release Date Revealed

Lucasfilm and Disney+ have unveiled the first look at their new anime anthology series Star Wars: Visions and revealed that all nine episodes will be released on September 22, 2021.

The announcement was shared during Anime Expo Lite 2021, the digital version of the annual Anime Expo in the US, where it was revealed that the anthology of animated short films is being created by seven Japanese anime studios that will use "their signature animation and storytelling styles to realize their own visions of the galaxy far, far away."

George Lucas has publicly expressed how Japanese folktales and the films of Akira Kurosawa have had and continue to have an influence on his work, including Star Wars, which has been poured into its themes, stories, and characters. Now things are being flipped around as Japan's animation studios create their take on the franchise.


Below is the list of studios and the titles of their upcoming animated shorts:

Kamikaze Douga – The Duel

Geno Studio (Twin Engine) – Lop and Ochō

Studio Colorido (Twin Engine) – Tatooine Rhapsody

Trigger – The Twins

Trigger – The Elder

Kinema Citrus – The Village Bride

Science Saru – Akakiri

Science Saru – T0-B1

Production IG – The Ninth Jedi

 

Check out a special look of the series below which was posted on the official Star Wars YouTube channel.





The video features some of the Japanese anime industry's top creators each expressing their love for Star Wars. It also looks at how the unique style of Japanese anime is a perfect lens for expressing the franchise.

Star Wars: Visions will release on Disney+ on September 22, 2021.

©2021 TM & c Lucasfilm Ltd. All Rights Reserved.

Art and Illuminations Fuse at Chiba Park For Nighttime Entertainment

YohaS is set to collide the real and digital worlds at Chiba Park with an event titled YohaS 2021 Night Park Gallery which will run from July 6 to 10.

Lightning artwork (*For illustrative purposes only, art will be different for the event)

The event held back in 2019

YohaS is a collaborative project between Chiba City and Tsubakimori Komuna. It was launched to boost and develop the nighttime economy of Chiba, with its first event having taken place as the evening portion of the Ooga Hasu Flower Festival held in Chiba back in 2018. YohaS was unable to be held last year due to the pandemic and so an event was held online. This year sees its return with an event taking on the theme of "Silent Lips" which refers to the current situation with COVID-19 and how we cannot see peoples' smiles or lips due to them wearing face masks.

The title of the YohaS 2021 event is "Night Park Gallery" which will turn Chiba Park into an art gallery and fuse it with breathtaking lighting and illuminations by Sun Effects. There will be six stages produced by Hiroaki Kumagai, a former member of Cirque du Soleil, each of which will offer equally incredible performances with their own stories from July 6-9. Visitors can also purchase YohaS wristbands, t-shirts, anti-bacterial sprays, and more.

For those still unable to attend in person, YohaS will also open an online version of the event called Virtual YohaS in Chiba Park which can be accessed via a PC or smart device.

Information

YohaS 2021 Night Park Gallery

Running: July 6, 2021 – July 10, 2021
Opening Hours: 17:00-21:00
Location: Chiba Park

Address: 3 Chome-1-1 Benten, Chuo Ward, Chiba, 260-0045, Japan

Entry: Free
YohaS Official Website: https://www.yohas.fun/

Disney's Alice in Wonderland 70th Anniversary Celebrated With Luxury Maison de FLEUR Collection

In celebration of Disney's Alice in Wonderland hitting its 70th anniversary, Japanese fashion brand Maison de FLEUR released a new bag and accessory collection on June 17.

The Line-Up

Alice Square Frill Handle Tote Bag | ¥5,489 (Tax Included)

Alice Frill Handle Tote Bag | ¥5,049 (Tax Included)

Alice Ribbon Pouch | ¥4,389 (Tax Included)

Alice Tissue Case | ¥3,619 (Tax Included)

Alice Ribbon Charm | ¥2,629 (Tax Included)

The insides of each item

The collection is made up of five items including Maison de FLEUR's iconic frilly handle bags. Each item captures the wonderful and mysterious world of Alice and Wonderland, including the square tote bag which features Alice when she grows in size, the ribbon charm which includes gold leaf prints of the titular character, roses, and teapots, the frill handle tote bag which depicts Alice singing with the flowers, and the ribbon pouch which captures the scene of Alice falling into Wonderland.


Disney's Pride Collection Arrives in Tokyo For Shibuya Pride Month

SHIBUYA109 Entertainment is set to release The Walt Disney Company's Pride Collection at SHIBUYA109 and MAGNET by SHIBUYA109 as part of Shibuya Pride Month. The collection will be available from June 18 to July 1.

The Walt Disney Company's Pride Collection

The Walt Disney Company's Pride Collection/SHIBUYA109

Free multipurpose case for buyers

SHIBUYA109's ethos is about making today's dreamers shine. Their collaboration with Shibuya Pride Month is to spread the positive message of creating a society where people can live however they want to live.

The Walt Disney Company's Pride Collection is a unisex line-up of original items by five popular brands at SHIBUYA109 and MAGNET by SHIBUYA109 with Disney, Pixar, Marvel, and Star Wars logos and character designs featuring rainbow colours.

A digital catalogue by creative director Wataru LINDA Igarashi was released showcasing each item in the collection. Special online events by SHIBUYA109 will also take place as part of the Pride celebration. Igarashi also created a collection of bucket hats, hoodies, sweaters, bandanas, stickers, and more as part of The Walt Disney Company's Pride Collection.

Information

SHIBUYA PRIDE MONTH
Running: June 18, 2021 – July 1, 2021

Locations: Shibuya109 (2-29-1 Dogenzaka, Shibuya, Tokyo) / MAGNET by SHIBUYA109 (1-23-10 Jinnan, Shibuya, Tokyo)
Official Page: https://www.shibuya109.jp/blog/?pi3=257211

The Walt Disney Company's Pride Collection

Release Date: June 18, 2021 (Available while supplies last)

Participating Brands:

<Shibuya109> GYDA (Floor 5F) / SPIRALGIRL (Floor 5F) / dazzlin (Floor 6F)

<MAGNET by SHIBUYA109> PONEYCOMB (Floor 2F) / A'GEM/9 (Floor 4F)

SHIBUYA109 Online Store: https://www.shibuya109.jp/onlinestore/

Disney's Mickey & Friends Teams Up With Tokyo's Souvenir Sweet Tokyo Banana

Disney SWEETS COLLECTION by Tokyo Banana, a joint confectionery shop between GRAPESTONE and Tokyo Banana, released its new Mickey & Friends collection on Thursday.

Tokyo Banana Mickey & Friends Collection | ¥1,300 (Tax Included)

Mickey, Minnie, Donald, Daisy, Goofy, and Pluto join hands in a heart-warming new collection of Tokyo Banana, a cream-filled sponge cake and the official souvenir sweet of Tokyo's official souvenir sweet: Tokyo Banana.

 

Mickey & Friends arrive in all the colours of the rainbow

The colourful packaging features the Disney group of best friends including Mickey, who loves his friends, his girlfriend Minnie, the anger-prone Donald, stylish Daisy, silly Goofy, and trusty Pluto.

Six cute patterns decorate the sponge cakes

There are six super cute Mickey & Friends designs you could get in your Tokyo Banana, and each one is random. They are filled with chocolate banana-flavoured custard cream.

Collect all the postcards

All boxes of these treats come with two of eight possible postcard designs which you can use for sending to someone or even as room decoration.

 © Disney

These Disney Ceramic Teacups and Plates Are Traditional Kiyomizu Wares From Kyoto

Asahido is now selling a collection of Disney-inspired ceramics made using a traditional Japanese pottery technique known as Kiyomizu which originated in Kyoto.

Winnie the Pooh Hundred Acre Wood Teacup

This collection of teacups features hand drawn designs of Winnie the Pooh and his friends relaxing in their home of the Hundred Acre Wood. They are dyed indigo using a traditional dyeing technique known as gosu which makes the colour run deep into the design. There are cups to pick from, one big and one small and both with different designs. More details here (in Japanese).

Mickey & Minnie Traditional Dyed Pattern Mugs

These smiley teacups are made using the same dyeing technique and feature Mickey and Minnie made from collages of traditional Japanese patterns that have long been used in Kyoto.

Disney Princess Plates

Seven Disney Princesses have been feauted in this hand-painted Kiyomizu ware plate collection, all of which are lined with gorgeous colours including gold. They make for beautiful decorations for any Disney fan's room.

Mickey & Minnie Kiyomizu Dolls

"Rakuyaki" is the name of the hand-mouldered pottery technique used to crafts these Mickey and Minnie Mouse dolls, one which has been used since the Taisho Period. Compared to the other ceramics on this list, these dolls are baked at a lower temperature, giving the colours a softer look. Red and black are classic colour combinations used in this technique, so Mickey and Minnie were the perfect candidates. Only 100 of each will be sold.

Make a Winnie the Pooh Themed Disney Dinner With This Meal Kit

Japanese organic food delivery service Oisix released a cute new Winnie the Pooh tomato curry meal kit on Thursday.

 

Kit Oisix "Winnie the Pooh" Tomato Curry

Make Pooh's face easily with a stencil sheet

Message cards come with the kit

The packaging

Lunch mats and pick

The story of Winnie the Pooh follows the titular character who lives in the Hundred Acre Wood and his adventures to find honey. The meal kit was designed with friendship and bonds in mind: in a time when we can't travel as often to see the people we love, Pooh is the perfect comrade and the embodiment of friendship perfect .

Pooh's yellow face is made from rice seasoned simply with saffron-infused sofrito. His face, which would be a lot of effort to try and create from scratch, can be made easily with the stencil sheet and paprika powder provided.

The meal kit is made to capture the feeling that your friends and loved ones are always with you. In the kit, you'll find a recipe card detailing how to make the food, a lunch mat with an illustration of Pooh and his friends on it, and a message card which you can mail to someone special.

To promote the kit, Oisix is holding a social media campaign. If you tweet a photo of your completed meal on Twitter or Instagram to someone you love with the Japanese hashtag #いつも一緒だよ you'll receive a free virtual background you can use on Zoom and other services.

Information

 Kit Oisix "Winnie the Pooh" Tomato Curry

Order Window: June 3, 2021 – June 17, 2021

Price: ¥2,950 (Tax Included)

Ages: 4+

Product Page: https://www.oisix.com/winniethepooh/press/

#いつも一緒だよ Social Media Campaign

Running: June 3, 2021 – June 24, 2021

How to Participate
Step 1: Post a photo related to the curry along with a message to someone you love (the photo can be the completed meal, a photo of you cooking it, the message cards, and so on)

Step 2: Add the following hashtags to your post on Twitter or Instagram: #いつも一緒だよキャンペーン #プーさん #tablefortomorrow

Disney's The Little Mermaid Gets Cute Cupcake Release by Ginza Cozy Corner

Ginza Cozy Corner is releasing a new collection of cupcakes and confections at its stores on June 11 in collaboration with the Disney classic The Little Mermaid. The cupcakes feature designs that will be familiar to any fan of the animated film, from Ariel to Flounder, King Triton's Trident, and others that capture the wonderful underwater world of Atlantica.

Some of the Disney delights include the Mermaid Ariel Apple & Strawberry Whipped Cream Tart, Princess Ariel Raspberry Jam & Strawberry Mousse Cake, Ursula Blueberry Jam & Blueberry Whipped Cream Cocoa Tart, Eric's Cheese Mousse & Berry Jam Cake, and more.

The Little Mermaid Collection | Includes 9 | ¥2,700 (Tax Included)

The cakes come in a gorgeous box

Information

The Little Mermaid Collection

Running: June 11, 2021 – July 29, 2021

Order Start Dates

[In-Store] June 1, 2021 until all sell out

[Online] June 7, 2021 – July 24, 2021

Pick-Up Dates

June 12, 2021 – July 29, 2021 (Except June 18-20)

Ginza Cozy Corner Official Website: http://www.cozycorner.jp/

Saori Kimura Produces Disney Volleyball T-Shirt

Japanese former professional volleyball player Saori Kimura has teamed up with HER7 to release two special volleyball-themed t-shirts in collaboration with Mickey & Friends. The tees released on HER ONLINE STORE on May 26.

"I've loved Mickey since I was a kid," explains Kimura, "and even now, after becoming an adult, I frequent the Disney Store, so it has been a great honour and made me really happy to produce this."

She continues: "The theme is Mickey and volleyball, so I ummed and ahhed about various things. One thing I really wanted to express was the teamwork that goes into volleyball, so I was able to have an illustration of the Friends on there. The picture is taken to look like everyone getting together to snap a photo after a fun volleyball game."

"Another thing I wanted was for Mickey Mouse to be playing volleyball. He's someone loved by people around the world. He's doing a blocking pose. (He looks happy, like he's saying, 'I did it!')."

"Both types capture the fun you can have in volleyball, so I really like them!"

Both t-shirts feature an apple logo specially designed by Kimura.

The Mickey & Friends design comes in two colours – khaki and sand beige. They are available in six sizes: M, L, and XL for adults and 110, 130, and 150 for kids.

The Mickey design comes in two colours – charcoal and grey. They are available in seven sizes: S, M, L, and XL for adults and 110, 130, and 150 for kids.

Both tees are oversized as designed by Kimura.

Disney's Fantasia Adds Exclusive Bag to Tokyo Banana Biscuit Collection

GRAPESTONE released a new tin of Fantasia themed chocolate biscuits last Wednesday as part of the 'Disney SWEETS COLLECTION by Tokyo Banana.'

Disney Fantasia Chocolate biscuits | ¥5,500 (Tax Included)

The biscuits arrive in a limited-edition tin!

Disney SWEETS COLLECTION by Tokyo Banana opened on the JR Line side of Tokyo Station in November 2019. The shop is a joint-collaboration with Tokyo Banana—the official souvenir sweet of Tokyo—and Disney. This is the first release to be themed on Disney's Fantasia which will mark its 80th anniversary this year on July 21. The tin is limited-edition and so stock is limited.

The special tin celebrates the 80th anniversary of Disney's Fantasia

The tin's gorgeous design captures the magical and mysterious world of Fantasia. It features Mickey Mouse as the Sorcerer's Apprentice commanding the sparkling stars in the dreamy night sky.

 Receive an original navy blue bag


All tins come with a cute exclusive bag which once again features Mickey and the iconic scene of him casting magic on the wizard's brooms. Each motif on the bag is embroidered, giving it a beautiful, high-quality finish. Now you too, like the brooms, can go everywhere with Mickey Mouse.

Was it a trick? The chocolate biscuits came out like this!

The cat tongue biscuits feature a fun design as if someone has played a prank. They are banana milkshake and chocolate flavoured, light, and crunchy. They are also nice and big so you don't need to eat them all at once, each featuring different designs including Mickey Mouse, the wizard's hat, and one of the brooms.

Don't miss out on a chance to get the exclusive Fantasia bag by Tokyo Banana.