Run the Olympic Torch Relay at Tokyo 2020 With Aquarius Summer Campaign
The Coca-Cola System has announced a summer campaign with the sports drink brand Aquarius which is set to begin in Japan on June 17, 2019.
The campaign is recruiting groups of runners to join the Olympic torch relay at the Tokyo 2020 Olympics. It is being promoted across Japan through TV advertisements which feature notable names including Japanese professional footballer Ritsu Doan and long-distance runner Suguru Osako.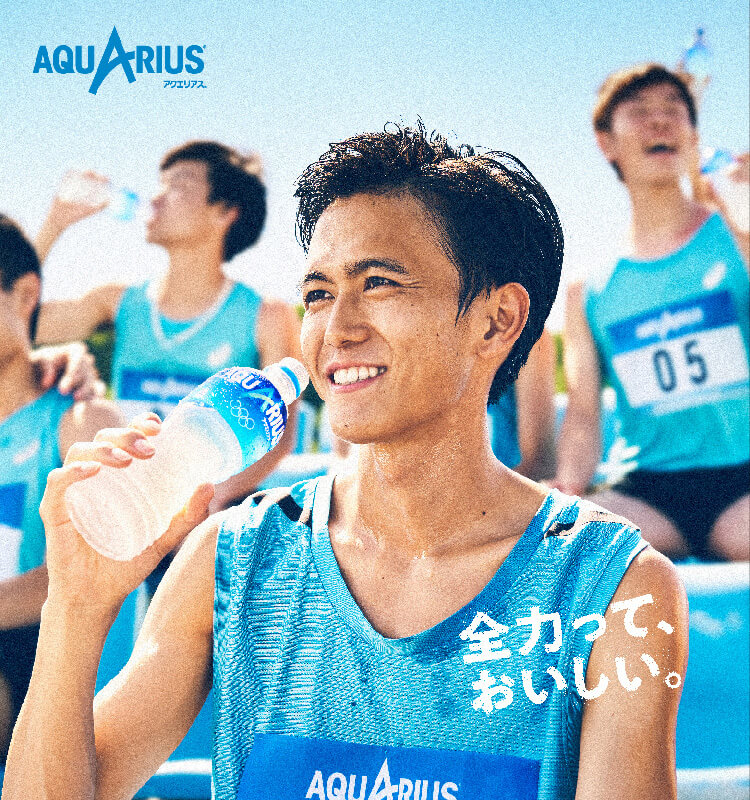 With the Olympics right around the corner, more and more people are expressing their desire to join the Games and compete together with their friends.
Full details are to be announced over on the campaign's official website on June 17.
The details of 33 challenges based around the 33 Tokyo Olympic Games will be released. Participants will select their favourite challenge and compete in teams of over 10 people and film the session. They must then post the video to Twitter with the hashtag #アクエリチャレンジ ("Aquarius Challenge") and the place in Japan written in Japanese that they want to run the torch relay such as #東京 ("Tokyo"). Runners for this Aquarius Challenge will be selected by the Tokyo Organising Committee of the Olympic and Paralympic Games. The campaign will run until August 31.
RELATED ENTRIES
Mario & Sonic at the Olympic Games Tokyo 2020 Unveils 5 Sports in the Game

As excitement is on the rise worldwide in anticipation for the Tokyo 2020 Games, the world just cannot wait for the release of the iconic Nintendo Switch™ game Mario & Sonic at the Olympic Games Tokyo 2020, which is due to be released very soon. Sega has just unveiled a small snippet of information on five events that are going to be included in the game which we are sharing with you today.

Tokyo 2020 100m

Aim for nothing but first place in the Tokyo 2020 100m. Increase your speed with the rapid push of a button. By building up your speed before the race starts and releasing it at the correct moment, you will get off to a dashing start. The "special dash" is a way to rapidly cut down on your time. 

Tokyo 2020 Rugby Sevens

This game will plunge you straight into the action. Work with your team of seven and use a range of tactics such as passes, strong tackles and kicks to get the upper hand. Carry the ball to the goalline to watch those points roll in. When your special gauge reaches its max power, you will be able to use a "super dash" ability to get the ball to the goalline if on the offense. If on defence, your special ability is the "special tackle", which will provide you with the power to whip the ball away from your opponent. These special abilities have the power to drastically turn the tables and are not to be taken lightly. This game features guest character Diddy Kong!

Tokyo 2020 Canoeing

Get your heart pumping with the thrill of competition while staying synchronised with your partner in a canoeing race. If your timing is perfect, you will pick up speed straight away. Team up with your friend and dive right into the fun. If you are falling behind, don't let your heart sink in despair. Paddle as much as you can and you will be able to catch up with the others in no time!

Toyko 2020 Equestrian Jumping

Let no hurdle taint your gracefulness as you soar through the sky and clear each one. You can take part in Equestrian Jumping individually or as part of a team. Be careful of sharp turns and hurdles! When you increase your speed, your stamina will drop, however, you will recover lost stamina with every hurdle you successfully clear. If you manage to clear lots of hurdles in succession, you will gain enormous amounts of speed and will be on your way to a record-breaking winner. You can also use a special dash once in this game. If you manage to use it while successfully striking a difficult pose, you will continue to zoom off to the finish line at high speed. This game features Larry Koopa as a special guest!

Tokyo 2020 Table Tennis

Face off in a singles match or team up with your friend for a doubles match. Your avatar will move automatically, allowing you to fully dedicate your brain power to using a range of techniques. Build up your power to change the speed and spin of the ball.Zazz has infiltrated this game to take part as a guest character!

Join in the Tokyo 2020 celebration fun with these new epic games!

TM IOC/TOKYO2020/USOC 36USC220506. © 2019 IOC. All

Rights Reserved. © NINTENDO. ©SEGA.

Information

Mario & Sonic at the Olympic Games Tokyo 2020™

Platform: Nintendo Switch™

Initial Release Date: November 1, 2019

Price: ¥5,990 (before tax)

Genres: Sports, action

Players: 1 – 4

* Play with up to 8 people when you play online.

*Nintendo Switch™ supports 2 – 4 local players.

Official Website: https://www.olympicvideogames.com/marioandsonic/jp/

Mario & Sonic at the Olympic Games Tokyo 2020 Release Date & Details Revealed

Sega has announced that Mario & Sonic at the Olympic Games Tokyo 2020 will be released on Nintendo Switch™ on November 1, 2019.

The upcoming sports video game is a crossover between Nintendo's Super Mario and Sega's Sonic the Hedgehog franchises which makes full use of the Joy-Con™ on the Nintendo Switch.

The latest trailer which dropped on Tuesday revealed that players will also be sent back in time to the Tokyo 1964 Olympics with a set of 10 games with classic 2D graphics. The game will also feature a Story Mode where players can compete in the Olympics and play a variety of mini games.

The game is now available for pre-order on the Nintendo eShop. If you pre-order the game you will be able to play the game immediately at midnight when it drops on November 1.

TM IOC/TOKYO2020/USOC 36USC220506. © 2019 IOC. All Rights Reserved. © NINTENDO. ©SEGA.

Team of Globally Sensational Artists Chosen to Design Official Art Posters for Tokyo 2020 Games

The Tokyo Organising Committee of the Olympic and Paralympic Games has launched a project the Tokyo 2020 Official Art Poster Project to bring together domestic and international artists. This is a project that was stated as a requirement in the Host City Contract 2020*. Extraordinary artists from Japan and overseas have been carefully chosen to take part in the project. The selected artists have finally been announced. 

*Following the selection of Tokyo as the Host city for the 2020 games at the International Olympic Committee session in September 2013, the Tokyo Metropolitan Government (TMG), International Olympic Committee (IOC) and Japanese Olympic Committee (JOC)  signed the Host City Contract 2020 which details the preparations and running of events related to the 2020 games.

The official poster designs are intended to be artistic pieces that are themed on the Olympics and Paralympics. As official Tokyo 2020 posters, their intended purpose is to raise spirits, excitement and anticipation as well as to inspire.

The artists were chosen after endless discussions between the Culture and Olympic Heritage Commission, which manages the project, and the Artist Selection Committee.

Naoki Urasawa

Shinro Ohtake

Daijiro Ohara

Shoko Kanazawa ©sho

The Japanese artists who have been chosen to create the Olympic-themed designs include Naoki Urasawa, who wrote the famous manga YAWARA!, Shinro Ohtake, who works on a global scale, graphic designer Daijiro Ohara and calligrapher Shoko Kanazawa. 

Theseus Chan

11 non-Japanese artists were selected to contribute to the designing of the Olympic posters including art director Theseus Chan and photographer Viviane Sassen.

The eight artists who were chosen to design the Paralympic posters include Hirohiko Araki, who wrote and illustrated JoJo's Bizarre Adventure, and Mika Ninagawa, who is a sensational photographer and movie Director.

Many more famous artists have been specially chosen to take part in this project. Anticipation levels are high as we wait to see what these phenomenal artists produce.

New Trailer Release For the Tokyo 2020 Official Video Game On PS4® & Nintendo Switch™

A new trailer has dropped for the forthcoming PlayStation4® and Nintendo Switch™ game Tokyo Olympics 2020 Official Video Game detailing more information regarding online matchmaking and the games we can expect.

Ranked Games: Aim for gold online

Ranked Games will pit you against other players online where you will compete to get the highest worldwide rank. The rank system ranges from C- to A+. Matches in this mode are carried out with a timetable just like the real Olympic Games. The athletic events will change every 30-minutes within which you are free to retry as many times as you like. The match time limit will be chosen according to your rank, and players will be given an opponent with a close rank to themselves. Players will receive a "Rank Score" when they play. As their Rank Score increases so does their rank. If their rank goes high enough they will be able to participate in special ranking matches.

Boxing

Players will go head to head against each other 1 on 1 in a boxing ring and control each fist with the left and stick analogue sticks respectively. Even inexperienced players to boxing games have a chance at winning these matches as they continue to roll out the punches. Players can also side step and guard to block incoming attacks. If they fill up the three-bar gauge fully they can throw out a "Special Blow" and deal high damage.

Hammer Throw

In the Hammer Throw game, players will need to swing their hammers with the analogue stick with increasing speed to reach the furthest distance. If players continue rotating the analogue stick after the hammer has been thrown their character will let out a war cry which can make the hammer fly even further.

Participate in the Olympics from your own home by picking up a copy of the official video game dropping in Japan on July 24, 2019.

TM IOC/TOKYO2020/USOC 36USC220506. © 2019 IOC. All Rights Reserved. ©SEGA.

Be Part Of the Tokyo 2020 Olympics With the New PS4® & Nintendo Switch™ Video Game

This year, Sega Games Co., Ltd. is celebrating the 2020 Olympics with the release of the new Tokyo 2020 Olympics: The Official Video Game™ on Wednesday 24th July 2019! The game will be available on PlayStation®4 and Nintendo Switch™.

Tokyo 2020 Olympics: The Official Video Game™ includes 16 varieties of games, allowing sports fans from across the world to enjoy some full-blown sports action!

This official sports game allows you to create an avatar that looks like you to take part in the games, allowing anyone to take part in and personally experience the Tokyo 2020 Olympic games! Nothing can compare!

There is a game promotion video on YouTube which introduces the variety of games you can compete in, the realistic stadium areas and the large variety of options when customising your avatar!

Tokyo 2020 Olympics: The Official Video Game™ promotion video:

The promotion ambassador for the game is retired Japanese Olympic swimmer Takeshi Matsuda, who participated in the Olympics in Athens, Beijing, London and Rio and won four gold medals. Matsuda will be appearing in many events and videos from here on out, so don't be shy! Come join in the celebration and get gaming!

This Olympics-themed game is adding a splash of fun to the world and anyone can join in!

TM IOC/TOKYO2020/USOC 36USC220506. © 2019 IOC. All Rights Reserved. ©SEGA.

Information

Tokyo 2020 Olympics: The Official Video Game™

Release date: Wednesday 24th July 2019 (subject to change)

Price: Packaged version/ downloadable version: ¥4,990 (+ tax)

Official website: http://www.olympicvideogames.com/