Concert Review: RADWIMPS Open Japan Tour With 2 Nights in Chiba to Crowd of 70,000
RADWIMPS played at ZOZO Marine Stadium in Chiba on June 22 and 23. Across the two days they performed in front of 70,000 people.
The three-piece rock band began their 2018 "ANTI ANTI GENERATION TOUR" in Nagano on June 8. The tour is still ongoing and so full details on the full set-list are being kept under wraps, but this is a review of the band's first night in Chiba.
The introductory background music sounded throughout the outdoor stadium ten minutes after the scheduled start time of 6PM. The entire area rung with the sound of 37,000 howling voices as the members stepped onto the stage. The crowd clapped along to the dynamic beats of the song as they sung while colourful motion graphics were projected onto the stage's huge LED screen.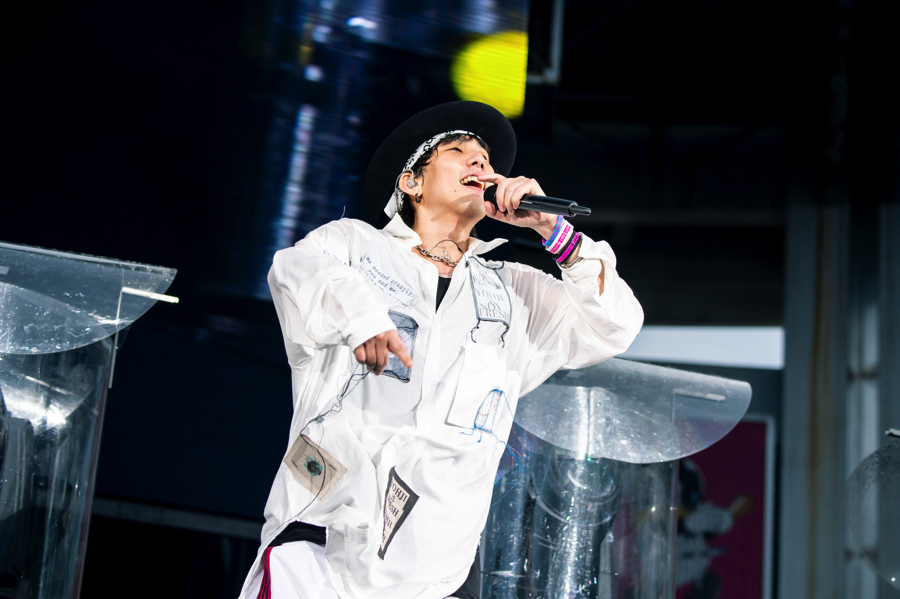 Yojiro Noda (Vocals/Guitar/Piano) screamed at the crowd, "Are you ready!?" after which support members Mori Mizuki and Toshiki Hata, both on drums, switched the gear into overdrive. Guitarist Akira Kuwahara and bassist Yusuke Takeda joined Noda in walking up and down the stage freely, aggressively shredding their instruments to stir up the crowd's excitement.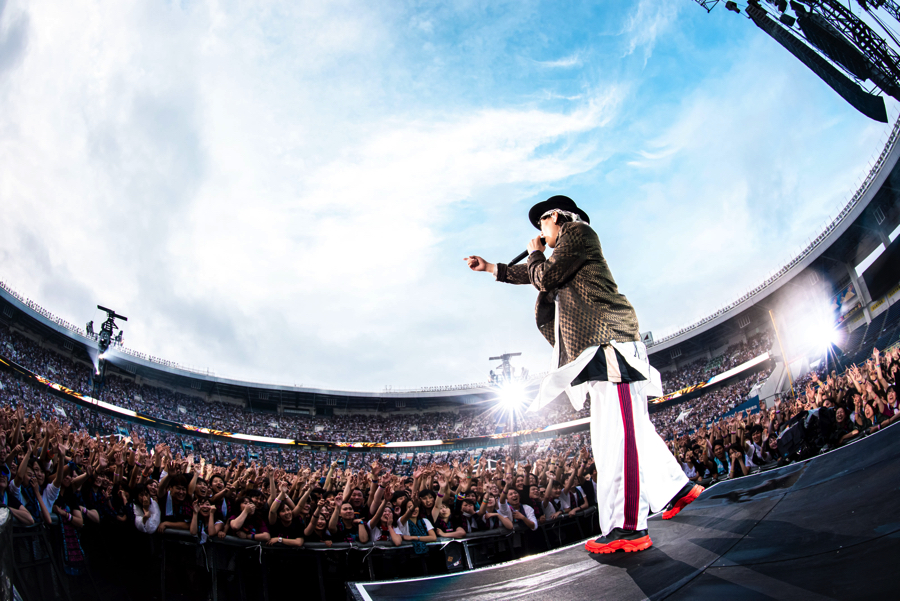 Noda was the first to give an MC: "This is our first headline stadium show. Thank you for selling it out! Seems like something big is happening today, am I right!?"
Surely enough this was the first headline show at a stadium for RADWIMPS, and that fact laced a special mood and atmosphere throughout the entire concert. Their performance was proof of their unrivalled musicianship which was imbued with a scale fitting for stadium level.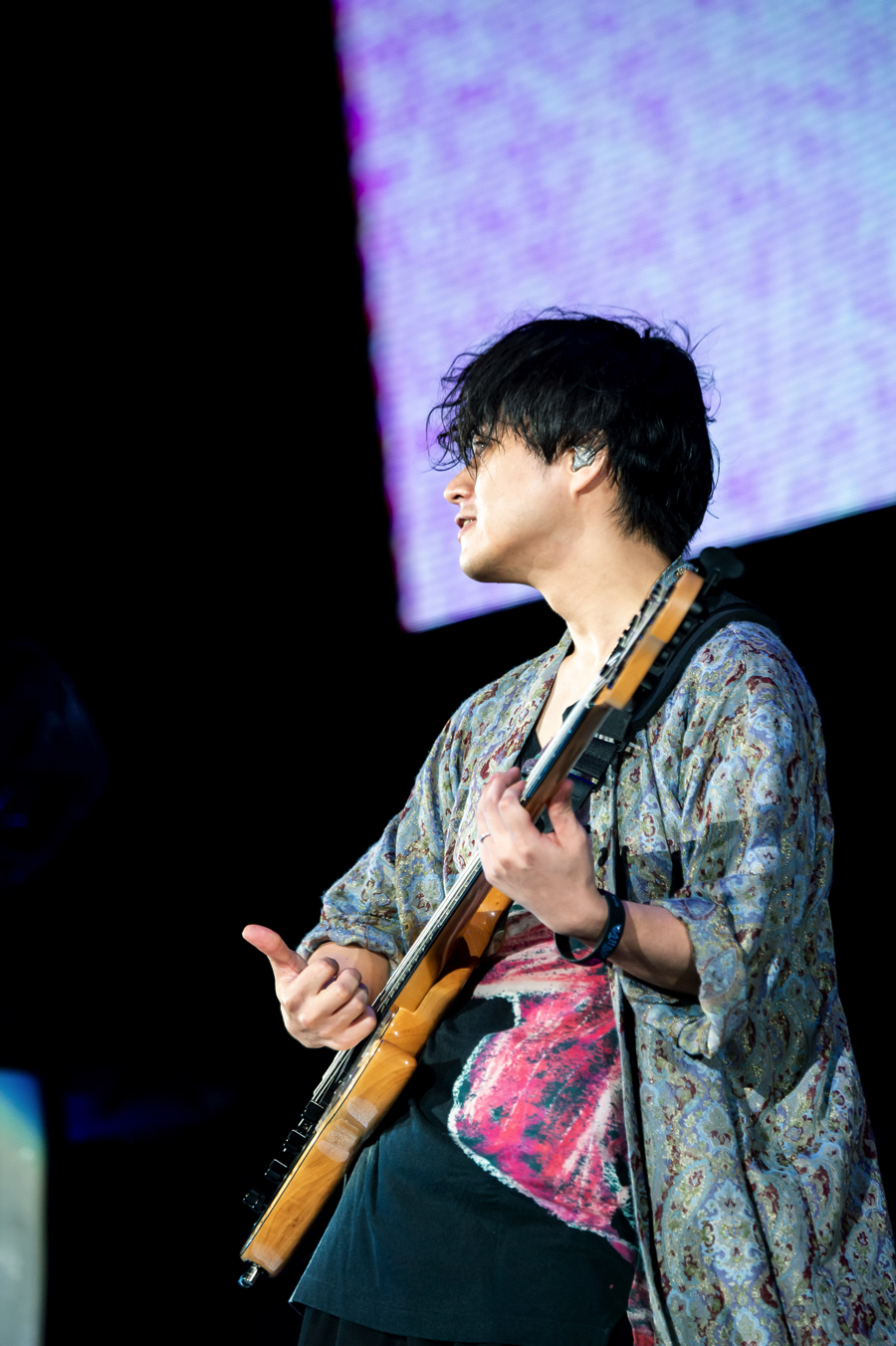 During Banzai Sensho, both the band members and the fans came together to sing together powerfully and in unison. They livened things up with PAPARAZZI, a song that has dark aspects but is also sensational. They also performed the familiar Oshamashama which reverberated even more than usual as Yoda introduced each member who battled it out with their own solos.
Yoda also said the following: "The rain has stopped, hasn't it? I guess we really are weathering with you!"
This was of course a reference to Weathering with You, the newest animated film from Makoto Shinkai which RADWIMPS wrote the soundtrack for. They also wrote the soundtrack for Your Name. also by Shinkai. The weather and set list lined up perfectly as the band went on to perform one of the main themes from the upcoming movie, Ai ni Dekiru Koto wa Mada Aru Kai.
The song wove together gentleness and intensity into one. It is a ballad that is human yet mystical throughout. At the end of the performance, the band also announced details on the film's soundtrack as well as details surrounding the film which is set for release on July 19, 2019.
RADWIMPS's tour will wrap up with two final shows at Marine Messe in Fukuoka on August 13 and 14.
Text: Shoichi Miyake
Photo: Takeshi Yao
Translation: Joshua Kitosi-Isanga
Information
"Tenki no Ko" (Weathering with You Soundtrack)
Release Date: July 19, 2019
Price: ¥3,000 (Before Tax) [UPCH-20520]
RADWIMPS Official Website: http://radwimps.jp/
Weathering with You
Release Date: July 19, 2019
Writer/Director/Screenwriter: Makoto Shinkai
Music: RADWIMPS
Production: "Weathering with You" Production Committee / STORY inc.
Production Company: CoMix Wave Films
Distributor: Toho
Official Website: https://www.tenkinoko.com/
ANTI ANTI GENERATION TOUR 2019
6/29 @ Okinawa Convention Center, Okinawa
6/30 @ Okinawa Convention Center, Okinawa
7/5 @ Wakayama Big Whale, Wakayama
7/9 @ Osaka-Jo Hall, Osaka
7/10 @ Osaka-Jo Hall, Osaka
7/20 @ Makomanai Ice Arena, Hokkaido
7/27 @ Sekisui Heim Super Arena (Grande 21), Miyagi
7/28 @ Sekisui Heim Super Arena (Grande 21), Miyagi
8/2 @ CONVEX Okayama, Okayama
8/3 @ CONVEX Okayama, Okayama
8/13 @ Marine Messe Fukuoka, Fukuoka
8/14 @ Marine Messe Fukuoka, Fukuoka
RELATED ENTRIES
RADWIMPS Release New Album in Commemoration of the Great East Japan Earthquake's 10th Anniversary

When the Great East Japan Earthquake struck Japan back on March 11, 2011, RADWIMPS immediately set up a donation project called Itoshiki. The band offered support to the relief effort in collaboration with other fellow musicians, creators, and actors. Almost every year since then, on March 11, the band has written and released a new song to show support to areas that were devastated by the disaster together with a music video made by Japanese videographer Daisuke Shimada.

On this year's March 11, the 10th anniversary of the disaster, RADWIMPS dropped a new almost entitled 2+0+2+1+3+1+1= 10 years 10 songs.

RADWIMPS – "Aitai"

The album includes eight songs the band has already put out there to date as well as two other songs: Kakurenbo which serves as the main theme for the Japanese drama special Anata no Soba de Ashita ga Warau which covers the 10th anniversary of the earthquake, and Aitai, a new song that RADWIMPS released a video for on their YouTube channel.

The new album will be released in three editions, two of which are coupled with a DVD and Blu-ray respectively which include the video projects RADWIMPS made together with Shimada.

Proceeds made from the album will be donated towards further relief effort across Japan including the Japanese Red Cross Society, local governments, and more.

RADWIMPS Announce Official Book Release Covering Band's Career

RADWIMPS have announced the release of their first-ever non-fiction book Antoki no RADWIMPS "Jinsei Deai" Hen which will hit shelves in Japan on February 15, 2021.

The book's author is Masatoshi Watanabe who has been in charge of RADWIMPS at their record company from their major debut to today. Their first major album released was Radwimps 3: Mujintō ni Motte Ikiwasureta Ichimai back in February 2006 which was followed shortly by Radwimps 4: Okazu no Gohan in December of the same year. These two records served to shoot RADWIMPS into the stratosphere where their countless new fans awaited. Since then, the band have gone on to release hit after hit, causing a blaze of excitement in the industry with each new record.

The band's new book covers the band's career, from their struggles to their achievements, along with plenty of photos including some never before seen. It also includes a special contribution by band lead vocalist and songwriter Yojiro Noda.

RADWIMPS Release App For Role-Playing Music Themed Virtual Experience 'SHIN SEKAI'

RADWIMPS launched their free 'SHIN SEKAI' app on Wednesday (December 23) which will allow fans in 40 countries worldwide to watch the band perform live in a new and unique virtual experience.

'SHIN SEKAI' is a virtual live music experience that uses the virtual park system VARP which was developed by the Japanese creative collective PARTY. The concept of the project is "ROLE-PLAYING MUSIC" which will see RADWIMPS embarking to new territory in their career to deliver a unique experience to fans.

RADWIMPS fans across the globe will come together to enjoy the band's music inside a virtual world. Check the info below to see if the app is available in your country.

Information

SHIN SEKAI
Dates (JST)
2020/12/29 @ 11:00〜 16:00〜 22:00〜
2020/12/30 @ 11:00〜 16:00〜 22:00〜

Official Website: https://rad.varp.jp/

iOS|13 and up (iPhone 8 and up)
Android|9.0 and up
Download: https://rad.varp.jp/download.html
Official Website: https://rad.varp.jp/

Languages: Japanese / English
Available: Ireland, US, Argentina, UK, Italy, India, Indonesia, Australia, Austria, Netherlands, Canada, Columbia, Saudi Arabia, Singapore, Switzerland, Sweden, Spain, Thailand, Chile, Denmark, Germany, New Zealand, Norway, Hungary, Philippines, Finland, Brazil, France, Vietnam, Peru, Belgium, Poland, Portugal, Macao, Malaysia, Mexico, Russia, South Korea, Hong Kong, Taiwan, Japan

RADWIMPS Announce Role-Playing Music Themed Virtual Experience 'SHIN SEKAI'

RADWIMPS have announced that they are launching a virtual live music experience by the name of 'SHIN SEKAI' on the virtual park system VARP which was developed by the Japanese creative collective PARTY. The concept of the project is "ROLE-PLAYING MUSIC" which will see RADWIMPS embarking to new territory in their career to deliver a unique experience to fans.

RADWIMPS made the difficult decision to cancel and postpone their Japan tour and world tour as a result of the COVID-19 pandemic. The SHIN SEKAI project comes not because of tour cancellations and therefore to replace real live shows with virtual ones, but to instead embrace and explore what is possible for the band in terms of a virtual concert either way. It will offer fans a new way to enjoy RADWIMPS music.

"SHIN SEKAI" RADWIMPS ROLE-PLAYING MUSIC teaser

Message from RADWIMPS

I had a tremendous dream a little before we went into discussions about VARP. There was a huge waterfall, and I saw buildings in ruin. I went through it all and saw groups of thousands of people. I've never had a dream like that before, and it left a real impression on me, and then I got the call [for this project]. I felt like it was far from a coincidence. I thought all of us going into this virtual space would give us a hint as to our futures, and so we set out on this journey together with everyone at PARTY.

We still don't know what lies ahead of us for the future, but I pray that by coming together closer than before by being inside the world of VARP we can share each others' feelings. I would be happy to embark on this journey with all of you.

ー Yojiro Noda, RADWIMPS

(Translated from Japanese by MMN)

Information

SHIN SEKAI
Running: December 29, 2020 – December 30, 2020
Official Website: https://rad.varp.jp/
How to Join: App TBA

Platforms: iOS/Android

Languages: Japanese/English

*Available to the people of the world including the US, Europe, Asia, and elsewhere

RADWIMPS Announce Special Online 15th Anniversary For November

It will have been 15 years since RADWIMPS made their debut this November, and to celebrate, the band will perform at Yokohama Arena on November 22 and 23 this year which will be streamed live in real time. And it's not exclusive to online either – fan will be able to attend the concert for real too as the show will be held in accordance with government guidelines against COVID-19.

If you're wanting tickets to watch the livestream outside Japan then you can buy them here. Don't miss out on what is to be a very special performance by RADWIMPS as they commemorate their 15th anniversary.

Information

RADWIMPS – 15th Anniversary Special Concert
November 21, 2020 | Start – 19:00 (JST) @ Yokohama Arena (Rehearsal. Won't be streamed online.)

November 22, 2020 | Start – 19:00 (JST) @ Yokohama Arena

November 23, 2020 | Start – 19:00 (JST) @ Yokohama Arena

Online Live Streaming
November 22, 2020 | Site Opens – 18:00 (JST), Show Starts 19:00 (JST)
November 23, 2020 | Site Opens – 18:00 (JST), Show Starts 19:00 (JST)
*Both concerts will be archived from November 24, 2020 at midnight (JST) to November 26, 2020 at 23:59 (JST)

Online Live Streaming Tickets

Watching Outside Japan: https://store.livefrom.events/collections/radwimps/products/radwimps-livestream

Watching Inside Japan: https://radwimps.jp/15th/

Seat Tickets for Yokohama Arena

November 21, 2020 | Doors 17:30 (JST), Start – 19:00 (JST) @ Yokohama Arena (Rehearsal. Won't be streamed online.)

November 22, 2020 | Doors 17:30 (JST), Start – 19:00 (JST) @ Yokohama Arena

November 23, 2020 | Doors 17:30 (JST), Start – 19:00 (JST) @ Yokohama Arena

15th Anniversary Special Concert Website: https://radwimps.jp/15th/

RADWIMPS Release 'Natsu no Sei' Music Video From New EP

01.September.2020 | MUSIC

RADWIMPS released their new music video for Natsu no Sei on their official YouTube channel. The song is the title track for their upcoming EP which is set to drop tomorrow (September 2).

The bright and sunny music video was directed by Kento Yamada and stars actress Anna Yamada.

RADWIMPS – "Natsu no Sei" Music Video

To celebrate the launch of the new song, RADWIMPS are holding a summer-themed social media project. Over on their official website, fans can use a digital photo frame which they are encouraged to post along with the hashtag #RADsummer2020.

Despite the effects of COVID-19 this year, RADWIMPS aren't backing down with their releases, with the announcement of their Natsu no Sei EP their first new material in just 3 months. The record will include the title track which was originally released exclusively on Apple Music and was used in a Japanese commercial, Light The Light which was used to cheer people up during the pandemic, Neko Jarashi which was used in a commercial for tea by Kirin, Shinsekai which was written for their performance on the TV Asahi show Music Station, and Kokoro no Naka (Complete ver.) which was used for promotion of "KIBO RELAY OVER THE EARTH."

Information

Natsu no Sei EP
Release Date: September 2, 2020
First Press Limited Edition A (CD+Blu-ray): ¥3,100 (Before Tax) [ UPCH-29372]
First Press Limited Edition B (CD+DVD): ¥3,000 (Before Tax) [ UPCH-29373]
Regular Edition (CD-Only): ¥1,600 (Before Tax) [UPCH-20558]

*First Press Limited Edition A and B copies come with a special 32-page booklet covering the recording of the Natsu no Sei music video
RADWIMPS Official Website: http://radwimps.jp/

RADWIMPS Announce New EP 'Natsu no Sei'

RADWIMPS have announced the release of their first EP, Natsu no Sei, which will drop on September 2, 2020.

Despite the effects of COVID-19 this year, RADWIMPS aren't backing down with their releases, with the announcement of Natsu no Sei their first new material in just 3 months. The record will include the title track which was originally released exclusively on Apple Music and was used in a Japanese commercial, Light The Light which was used to cheer people up during the pandemic, Neko Jarashi which was used in a commercial for tea by Kirin, Shinsekai which was written for their performance on the TV Asahi show Music Station, and Kokoro no Naka (Complete ver.) which was used for promotion of "KIBO RELAY OVER THE EARTH."

RADWIMPS will perform their new summer song Natsu no Sei on Japanese TV tonight. Full details below.

Information

Natsu no Sei EP
Release Date: September 2, 2020
First Press Limited Edition A (CD+Blu-ray): ¥3,100 (Before Tax) [ UPCH-29372]
First Press Limited Edition B (CD+DVD): ¥3,000 (Before Tax) [ UPCH-29373]
Regular Edition (CD-Only): ¥1,600 (Before Tax) [UPCH-20558]

*First Press Limited Edition A and B copies come with a special 32-page booklet covering the recording of the Natsu no Sei music video
RADWIMPS Official Website: http://radwimps.jp/

Fuji TV – "Kayousai Natsu" (Japanese Title: フジテレビ系列「FNS 歌謡祭 夏」)
Broadcasting: August 26, 2020 at 18:30 (JST)
Official Website: https://www.fujitv.co.jp/FNS/s/

RADWIMPS Releases New Song 'cocorononaca' On Spotify and Other Streaming Services

RADWIMPS released a new song entitled cocorononaca today on Spotify, Apple Music, Amazon Music, and YouTube Music.

The song was recently revealed on the band's social media together with a video and received much excitement from fans, prompting the band to drop the track digitally today.

On the song, band vocalist and lead guitarist Yojiro Noda said: "I pray for each and every heart that was headed towards it goal, the hearts that have tasted hope, that they can once again move towards those goals in the future. I hope that this song serves as hope for people, even if just a little."

This is a track to check out when you're wanting a bit of positivity. Listen to cocorononaca now at the links below.

RADWIMPS Release Music Video For 'Nekojarashi' Orchestral Version

RADWIMPS have dropped a music video for their song Nekojarashi (Orchestra ver.).

The music video was shot and made by staff who have been involved with many other RADWIMPS music videos. The video is a snapshot of an ordinary day, something which comes as a welcome during these chaotic times. It looks at what lies beyond in the future—a message of hope.

RADWIMPS recently released a music video for the normal version of Nekojarashi featuring a compilation of photos the band wanted fans to send in which showcase the little things in life that make them happy. Now fans can enjoy that alongside the video for the orchestral version.

RADWIMPS – "Nekojarashi (Orchestra ver.) Music Video

Weathering with You Anime Film's Official Art Book Limited Edition Bonuses Revealed

The official Weathering with You art book is set for release in Japan on May 27, 2020. The book will include a limited edition version, and depending on where you purchase it from you will receive a different bonus item.

KADOKAWA announced the release of the art earlier this month. The hit anime film directed by Makoto Shinkai (Your Name, The Garden of Words) was released in July last year to critical acclaim, earning the title of Best International Feature Film at the 92nd Academy Awards.

The art book is to feature over 240 gorgeous pieces of background art which of course includes image of Tokyo's sky changed by the weather in the film. It will also include an interview with the director Makoto Shinkai, comments by the art director Hiroshi Takiguchi, and plenty more for a detailed, behind-the-scenes look into the movie.

Let's check out the different stores offering their exclusive bonus items.

Animate

IC Card/Smartphone/Tablet Stickers (Sticker Set A)

Books Kinokuniya

IC Card/Smartphone/Tablet Stickers (Sticker Set B)

MARUZEN & JUNKUDO

IC Card/Smartphone/Tablet Stickers (Sticker Set C)

*Stickers are available at select branches only. Please enquire in-branch for more information.

The three different sticker sets feature breathtaking background art from Weathering with You, and can be used on IC cards, smartphones, or tablets.

Amazon

PC Wallpapers (3 Designs/3 Sizes) – these can be used as backgrounds for online calls too

Smartphone Wallpaper (1 Design)

If bought on Amazon, you'll get some PC wallpapers and a smartphone wallpaper.

*Wallpaper designs subject to change without notice. The wallpapers are exclusive to customers who buy the book by July 31, 2020 at 23:59 (JST). Wallpapers can be downloaded until October 29, 2020 at 23:59 (JST).

©2019 "Weathering with You" Production Committee

Information

Weathering with You Official Art Book (Japanese Title: 新海誠監督作品『天気の子』美術画集)
Release Date: May 27, 2020

Price: ¥2,700
Size: B5 (224 pages, comes with sleeve)
ISBN: 978-4-04-604698-7
Publisher: KADOKAWA
Rolling out on Amazon Japan and Japanese book retailers

KADOKAWA Official Webpage: https://www.kadokawa.co.jp/product/321911000087/

RADWIMPS Release Entire Discography on Spotify & Other Streaming Services

RADWIMPS release their entire discography today on Spotify, Apple Music, and other music streaming services—everything since their 2005 major debut.

That's 195 songs, beginning with their major debut single 25 Kome no Senshokutai to to their digital-only release Nekojarashi and their latest song Shinsekai. This is the perfect opportunity for fans to walk back through this musical history, and for those who are unfamiliar with RADWIMPS to learn about everything they have to offerーthis being the band known for writing the soundtracks for the hit anime films Your Name and Weathering with You.

The band also released a music video for Nekojarashi. The warm video is a compilation of photos the band wanted fans to send in which showcase the little things in life that make them happy.

RADWIMPS – "Nekojarashi" Music Video (#RADnekojarashi ver.)

RADWIMPS are also holding a campaign on social media which invites people to make a playlist of their 5 favourite RADWIMPS songs and then post it on social media with the hashtag #僕の私のRADWIMPSど真ん中5曲.

RADWIMPS Release New Song 'SHINSEKAI' on Streaming and Digital Music Platforms

RADWIMPS dropped their new song SHINSEKAI ("New World") on digital music and streaming platforms, including iTunes and Spotify, on May 9, 2020.

The track was written was completed only just recently for the band's performance on the TV Asahi show Music Station on May 8 where they played the song for the first time.

Lead vocalist, guitarist and songwriter for the band Yojiro Noda said: "When we first had talks about making a song, we thought to make one that would help people to look forward, so we started writing. But we gradually began to feel that it wouldn't be enough. COVID-19 has snatched away much from usーand at the same time it has helped us realise a lot of things. When things return to normal, I think we'll be living in a different world to what we knew. The way we run businesses and companies, how we are in the classroom or in politics. What kind of world will we live in from now? This song is one to imagine and start forming that time."