Beautiful National Park Projection Mapping to Illuminate Shiraito Falls This Summer
For eight years now, Shiraito Highland Way, Karuizawa has been showing its gratitude to its summertime visitors with a special nighttime illumination display. This year, that time has come yet again. 
The illumination event will take place at Shiraito Falls (白糸の滝, Shiraito no Taki), which is a special area of conservation located in Joshin'etsu-kogen National Park. Abiding by the rules set by the Ministry of the Environment and after a careful study of the wildlife, ecosystem and natural surroundings, preparations have been made in order to hold a successful show without any negative environmental effects. This will be the first ever projection mapping event to be held in a national park in Japan amongst the nature.
The 2019 event will be filled with a rich variety of beautiful animation to highlight the beauty of Karuizawa's natural undertones and will also celebrate the new Reiwa era. The theme of the projection mapping will be "the birth of the earth and our prayers for the Reiwa period".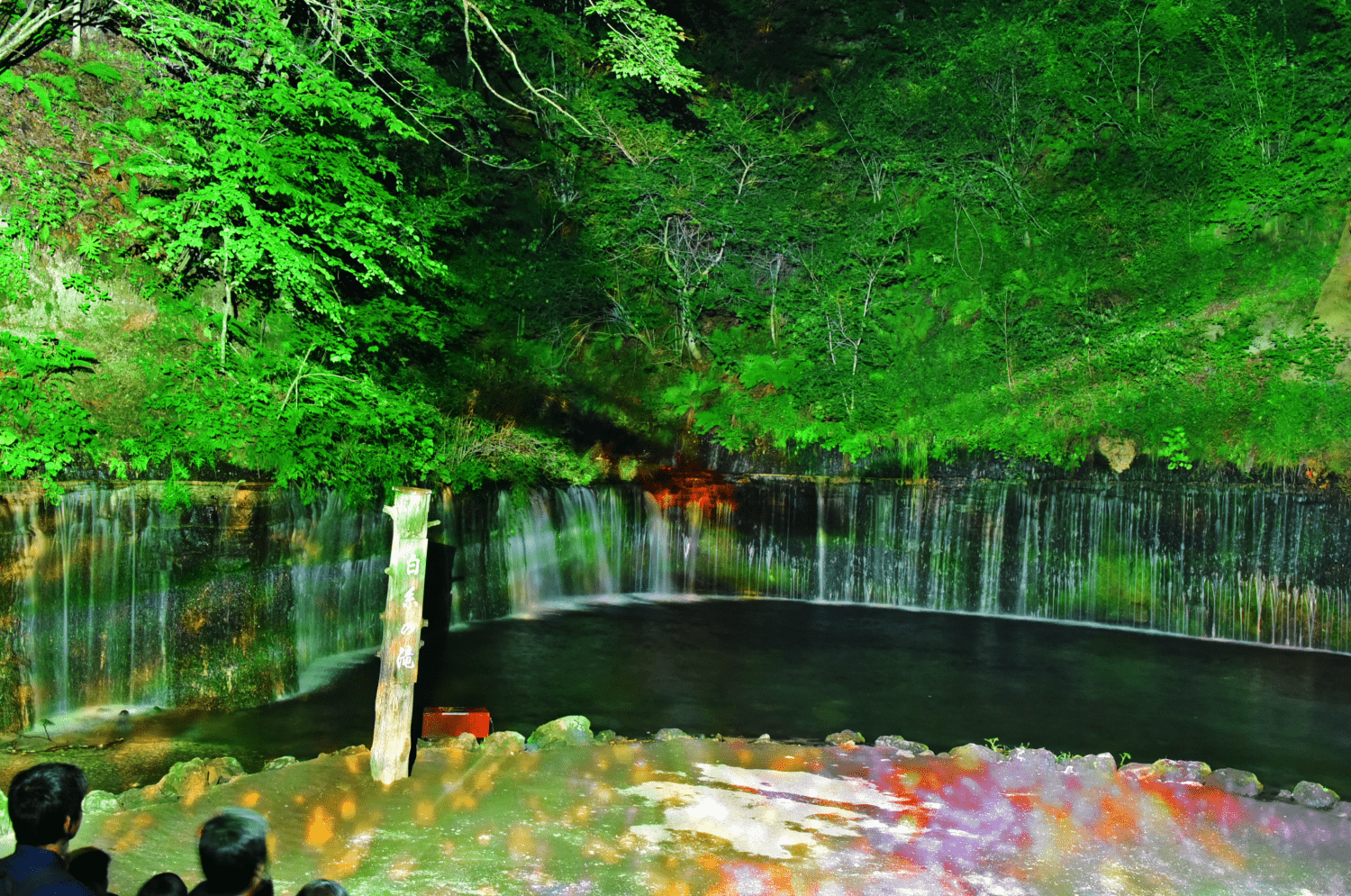 This has been recognised as one of Japan's Nightscape Heritage sites, so please come witness it for yourself.
Information
2019 Shiraito Falls Projection Mapping, Karuizawa
Running: Friday ー Sunday from July 26 ー August 25, 2019
※ Running every day from August 12 ー August 15 
Show Times: 19:00 ー 21:00
※ For safety reasons, the illumination will be prepared from 18:30
※ The projection mapping show will run 9 times on each day in 15 minute intervals starting from 19:00) 
※ In times of overcrowding, there will be an entry limit.
※ To confirm whether the event will be postponed due to bad weather, please check the website below. 
※ On August 13 and 14 only, the first 200 visitors will be presented with Karuizawa Chocolate Factory sweets 
Official Website: http://www.karuizawa-shw.com/
RECOMMENDED ENTRIES
Enjoy a dolphin show and projection mapping at Maxell Aqua Park, Shinagawa!

Maxell Aqua Park, Shinagawa will be running a special event called FLOWER AQUARIUM Directed BY NAKED ーBrand New Sea- from Saturday 27th April ー Sunday 7th July 2019.

 The main attraction of the event is the dolphin performances, which will be even more incredible as a new water fountain is going to be installed at the park. There will be different collaborations running during the day and night, creating an even more spectacular dolphin programme which crosses the boundaries of art!

During the day, there will be a collaboration with female vocal group Little Glee Monster, whose powerful and beautiful vocals and harmonies are worthy of note. The dolphin show will really come alive with the power of their music! The nighttime version features a collaboration with one of Japan's most creative companies called NAKED Inc., who will also be managing the water tank exhibition areas. Enjoy a show of multicoloured flowers blooming and sunlight glimmering through the trees with the 360-degree projection mapping show. The projection mapping is a fantastic representation of spring, and is further enhanced with the dolphins!

There will also be an exhibition zone dedicated to the water tanks, artwork and colourful projection mapping area. Allow yourself to be completely surrounded by butterflyfish, fluttering like butterflies through the water. Spot the colourful light reflecting off the jellyfish which look like beautiful flowers. Enjoy the relaxing view of a countless number of flowers as the picturesque view of the beginning of summer unfolds.

You can also grab a bite to eat at the cafe bar, which is serving up an original menu with a FLOWER AQUARIUM theme. Come enjoy a moment to yourself regardless of the weather. The cafe is indoors and is the perfect environment for you to enjoy the refreshing taste of the start of summer!

Other event contents include a penguin performance and a jellyfish exhibition which also uses projection mapping over a large area! As we're approaching the holidays, this is your chance to enjoy a magnificent world through the latest technology, so come on down to Maxell Aqua Park, Shinagawa!

Information

Dolphin performance

Times: 10:00 am onwards, (5 ー 6 shows, each lasting approx. 15 mins)
※ The schedule of events running during this event period is subject to change.

 

Maxell Aqua Park, Shinagawa.  

Address: 4 Chome-10-30 Takanawa, Minato City, Tokyo (Inside Shinagawa Prince Hotel)

Entry prices:

Individual:¥2,200 (adults/ high school students+), ¥1,200 (elementary/middle school students), ¥700 (kindergarten)

Year-long passport ¥4,200 (adults/ high school students+), ¥2,300 (elementary/middle school students), ¥1,300 (kindergarten) 

※ There are two event attractions. Each costs ¥500 to attend once. 

 

Event period: Saturday 27th April ー Sunday 7th July 2019.
Saturday 27th April ー Monday 6th May (8:30 ー 22:00)
Tuesday 7th May ー ー Sunday 7th July (10:00 ー 22:00)
※ Last entries accepted up to 1 hour before closing time.

TEL:03-5421-1111 (directory) 

 

Maxell Aqua Park, Shinagawa official website: www.aqua-park.jp

teamLab Open 'The Life of Animals in Japanese Art' Exhibition at National Gallery of Art in Washington D.C.

teamLab are currently holding an exhibition entitled "The Life of Animals in Japanese Art" at the National Gallery of Art in Washington D.C. until August 18.

The exhibition serves as the first devoted to artworks that represent animals―whether real, imaginary or religious. A selection of over 300 pieces are on display from artists back in the 5th century to today. The showcasing includes artirange from Sesson Shūkei, Itō Jakuchū, Soga Shōhaku, Katsushika Hokusai, Utagawa Kuniyoshi, to Okamoto Tarō, Kusama Yayoi, Issey Miyake, Nara Yoshitomo, and Murakami Takashi.

United, Fragmented, Repeated and Impermanent World / teamLab, 2013, Interactive Digital Work, Endless, 8 channels, Sound: Hideaki Takahashi

Itō Jakuchū was a Japanese painter of the early modern period who was active during Edo times in Kyoto. He is known for his unique painting method called masumega which sees his works built up of tens of thousands of squares which are all painted individually. One of these pieces is the above-pictured famous Birds and Animals in the Flower Garden.

The exhibition will feature a range of mediums including sculptures, paintings, textiles, ceramics, metalwork and more.

A Digital World Where Art Meets Nature: Don't Miss teamLab's Immersive Exhibition in Kanazawa

teamLab is a creative group of professionals and artists that creates collaborative digital art projects and exhibits them to the public. Visitors have the opportunity to fully immerse their bodies in the exhibition and become part of the art. Now, teamLab is heading to the 21st Century Museum of Contemporary Art, Kanazawa (Ishikawa).

From Friday 9th August to Sunday 1st September, the exhibition Impermanent Flowers Floating in a Continuous Sea will take place in the museum. Tickets can be purchased from Seven Ticket (Seven-Eleven convenience stores) or from event's official website.

Continuous Life and Death at the Now of Eternity, Cannot be Controlled but Live Together
teamLab, 2019, Interactive Digital Installation, Endless, Sound: Hideaki Takahashi

Learn more: https://www.teamlab.art/w/continuous_life_and_death/

Reversible Rotation – Black in White
teamLab, 2018, Digital Installation, Sound: Hideaki Takahashi

Learn more: https://www.teamlab.art/jp/w/reversible-blackinwhite/

The main exhibition features one continuous wave produced by one installation. The concept is; Black Waves: Lost, Immersed and Reborn. The movement of the patterns in the exhibition are influenced by the movements of the visitors. The exhibition aims to show people that the continuous cycle of life and death exists in a moment that lasts forever. You cannot control it, but you can learn to live alongside it. 

 Black in White is another immersive exhibition. Here, you stand in the exhibition space and watch Japanese sho (calligraphy) being drawn all around you in 3D. The Graffiti Flowers Bombing exhibition is where visitors can draw their own flowers which then grow and bloom on the walls and spread all over the exhibition space.

Graffiti Flowers Bombing
teamLab, 2018, Interactive Digital Installation, Endless, Sound: Hideaki Takahashi

Learn more: https://www.teamlab.art/w/graffiti-flowers-bombing/

All visitors are invited to become one with the art together. As your body intwines with the art, the borders between people and the exhibition disappear, creating a new borderless relationship with the world.  This is a chance for anyone to experience the latest technology to their heart's content.
RELATED ENTRIES
Karuizawa's New Apple Farm Opens in Collaboration With Hoshino Resorts and Local Farmers

The Karuizawa-based hotel and hot spring complex Hoshino Onsen Tombo-no-yu joined hands with local apple farmers last year to help support apple cultivation for their apple hot springs. This is now being taken to the next level with the opening of Ringo Tsuchi, an apple farm that Tombo-no-yu staff helped to build. The farm opened on March 19, and locals will be able to visit part of the farm for free starting on April 26.

The project ties in with the global Sustainable Development Goals (SDGs) initiative, specifically the 12th goal: "Responsible Consumption and Production," which looks to ensure sustainable consumption and production patterns. Karuizawa is located in Nagano Prefecture which is ranked as the 2nd biggest producer of apples in Japan. When growing apples, those fruits which incur any kind of damage or grazing isn't shipped to the country's supermarkets or stores. It's these not-so-perfect apples that Tombo-no-yu uses for its apple hot spring experience. Though it may just be a small step towards that goes, it still goes a small incremental way towards achieving it.

Free entry to Ringo Tsuchi

The main raw materials at Ringo Tsuchi ("Apple Earth") are the apples used in the apple hot springs and fallen leaves from around the Hoshino area. In addition to compost and water, the materials are fermented, which adds the necessary nutrients to growing apples and creates soft and breathable soil. And since compost is added, it creates an environment where gardening tools can be used in the earth without any prior preparation.

The completion of Ringo Tsuchi

In the mid-October last year, work was carried out at Nomoto Kajuen Orchards in Mimakigahara Okubo, Nagano, to carefully select picked apples and not-so-perfect apples. These apples were used for the apple hot springs at Tombo-no-yu over a three day period from October 23 to 25. The apples are placed in both the male and female hot springs to float on the water.

After that three-day period, the apples were collected, washed, and cut to be used for compost. Since fermentation removes water content, the staff also had to add water twice a month to manage the compost.

Working with the locals

Katsuya Nomoto is a representative of Nomoto Kajuen Orchards, a farm that grows apples, prunes, and more. The farm takes advantage of the area's high altitude and takes pride in its work to cultivate produce that is healthy to the body and environment using soil microbes as an organic fertiliser. It's also officially recognised as a farm dedicated to supporting Nagano's environment, and carries out school trips for children to visit, creating ties with the local community.

Karuizawa Shiraito Falls Midwinter Light Up Arrives For 2020-2021

Shiraito Highland Way has announced that this year's Karuizawa Shiraito Falls Midwinter Light Up will run from December 19, 2020 to February 14, 2021.

The illumination event will take place at Karuizawa Shiraito Falls, a 3-meter tall waterfall that spans 70-meters in length. The lights will add a warmth to the cool evening and glow under a starry night sky.

The event creates a different atmosphere from the summer light-up, allowing visitors to enjoy the enveloping nature in a way that they normally can't and see beauty they may not have noticed in the area before. The waterfall is located in Jōshin'etsu-kōgen National Park, a protected area which means the lights will be set up in a way that's considerate to the park.

If you're in Japan this winter then don't miss out on this year's Karuizawa Shiraito Falls Midwinter Light Up which will be split into three sessions: the Christmas Session, New Year Session, and St. Valentine Session. More details below.

Information

Karuizawa Shiraito Falls Midwinter Light Up
Location: Karuizawa Shiraito Falls
Running: December 19, 2020 – February 14, 2021
・Christmas Session: December 19th-20th, 24th-27th (17:00-19:00)
・New Year Session: January 2nd-3rd,  8th-11th (17:00-19:00)
・St.Valentine Session: February 11th-14th (17:30-19:30)

Access: https://karuizawa-shw.com/access/
*Please see the website for the latest information

*Entry restrictions may be made depending on the number of visitors

Official Website: https://karuizawa-shw.com/

Kyukaruizawa Kikyo, Curio Collection by Hilton Ranks On Tripadvisor's Best Hotels List

Kyukaruizawa Kikyo, Curio Collection by Hilton, a hotel in Karuizawa, Nagano that is managed by Tokyu Resort Service Co., Ltd. made it onto Tripadvisor's 2020 Travellers' Choice Best of the Best and also ranked on the website's Top 20 best hotels in Japan for high quality service.

Travellers' Choice Best of the Best is Tripadvisor's highest recognition, presented annually to the top 1% of businesses across select categories.

Kyukaruizawa Kikyo hails as Hilton's first "Curio Collection by Hilton" in Japan. First open in 2018, the hotel's name "Kiyko" is a reference to both the flower of the same name and the Japanese word kikyo which means "to return to one's home" or "homecoming." The hotel is active alongside the community in working towards the Sustainable Development Goals and is committed to the Hilton CleanStay initiative to ensure the cleanest possible stay for guests.

Hilton's first Curio Collection hotel in Japan

Curio Collection by Hilton is an upscale hotel brand first established by Hilton in 2014. To date, the brand has around 70 establishments worldwide, supporting guests who are looking for unique and authentic hotel experiences.

Get away from the hustle and bustle of the city

Karuizawa is a popular resort area that's easily accessible from Tokyo. It's loved by some of the biggest names in the political, financial, and celebrity worlds. Guests can enjoy a free rides in a Mercedes-Benz from Karuizawa Station to the hotel.

Enjoy the sights while shopping and soaking up nature

The hotel is just a 5-minute walk from Old Karuizawa Ginza Street with shops offering all things Karuizawa. It's also the perfect spot to enjoy walking and cycling while taking in the sights of nature.

Information

Kyukaruizawa Kikyo, Curio Collection by Hilton
Address: Kyūkaruizawa-491-5 KaruizawaKitasaku-gun, Nagano
Access: 1 hour by Shinkansen from Tokyo Station

Official Website: https://www.kyukaruizawa-kikyo.com/

Experience a Crisp Japanese Autumn While Ice Skating in Karuizawa

This autumn, Karuizawa Hoshino Area is opening up the Kera-Ike Skate Rink for a limited time from October 16 where visitors can skate around the ice while soaking up the reds and yellows of the surrounding forest.

Karuizawa Hoshino Area is a resort managed by Hoshino Resorts. The middle of October is when Karuizawa's red maple trees blossom, while the beginning of November marks the incoming yellow karamatsu Japanese larches.

An ice skating rink enveloped in a forest

Kera-Ike Skate Rink is a frozen lake in the middle of a forest in Karuizawa. It's located ride by Karuizawa Wild Bird Sanctuary, so Hoshino Resorts had the idea to turn it into an ice rink so that people can enjoy the local wildlife while skating. For this year's opening of the ice rink, Hoshino Resorts has a range of art content related to Japanese autumn for people to enjoy too.

Reds, Yellows, and White

Karuizawa sits 1,000 meters above sea level, and so the autumn leaves begin showing from the middle of October. This is when the urushi Japanese lacquer trees and momiji maples dye the forest a bright-red. Following shortly after are the karamatsu Japanese larches which add a bright yellow to the red hues. Visitors can soak up the kaleidoscope of colours while skating across the pure white ice rink.

Beautiful autumn leaf themed content

The ice skating chairs are a popular item at Kera-Ike Skate Rink and are a great way for beginners and children to enjoy being on the ice. This year, the chairs have been pained in the same colours at the autumnal leaves.

Autumn leaf decorations on the windows

The rink-side cafe has six giant glass windows spanning 2.5 meters across. Each window has its own unique autumn leaf design on it.

Autumn Leaf Latte

The cafe will serve the perfect autumn-time beverage, a latte topped with momiji and kaede maple leaves designs made from pumpkin powder—a fitting flavour for the season.

Information

Kera-Ike Skate Rink
Running: October 16, 2020 – November 10, 2020
*Run period subject to change depending on the autumn leaves.
*The 2020-21 skate rink opening period runs until March 7, 2021. Closed November 26, 2020 and January 19-21, 2021.
Opening Hours: 10:00-16:00

Official Website: http://www.hoshino-area.jp/archives/area/skate

Take a Summer Trip to Karuizawa in Style at Hoshino Resorts BEB Karuizawa

"BEB" is a brand of hotel established by Hoshino Resorts which aims to support young people travelling by being cost-effective as well as make travelling more fun for the younger generation. This year, BEB5 Karuizawa is promoting a spending a fun and stylish summertime.

Enjoy the outdoors in a wide, open space

The indoor "Yagura Room" is fitted with spacious sofas and bed spaces where people can chat together, read a book, and enjoy their free time. There's also "TAMARIBA," a 24-hour public space with a garden, lounge, cafe, and library. A cool breeze sweeps through the tall windows, letting in cool air on a hot summer's day. Guests can kick back and enjoy some relaxation. The cafe even sells wine so guests can treat themselves to an evening drink or have a little drinking get-together with friends.

Summer resort rental items

Guests can experience the true thrill of summertime in Karuizawa with a selection of rental items including straw hats, a bug catching net, portable speakers, electric fans, and more. These can be rented from July 13, 2020 to August 31, 2020.

The lush green outdoors surrounds the hotel

BEB5 Karuizawa is located in one corner of the Karuizawa Hoshino Area which is home to a bright green forest. Located laong the bath is Harunire Terrace which is home to 16 unique shops, and there's even a hot spring which flows directly from the water source.

Hoshino Onsen Tonbo no Yu

There are plenty of things for guests to do outside, including participating in a nature tour hosted by wild flora and fauna specialists Picchio, having a picnic at the benches by the flowing water, and more.

Karuizawa is one of Japan's best places for a summer retreat. Just a one hour bullet train ride from Tokyo, it's an easy place to access from the country's capital.

Information

Hoshino Resorts BEB5 Karuizawa

Address: Hoshino, Karuizawa-machi, Kitasaku-gun, Nagano
TEL: 0570-073-022 (Hoshino Resorts Booking Centre)
Rooms: 73 (Check In 15:00 / Check Out 11:00)

Price: From ¥9,000 per night (1 room for 2 people, service charge and meal charged separately)
Official Website: https://hoshinoresorts.com/ja/hotels/beb5karuizawa/

SHISHI-IWA HOUSE in Nagano Prefecture Makes Travel + Leisure Magazine's "2020 It List"

SHISHI-IWA HOUSE, a "boutique resort" located in Karuizawa, Nagano, has made it into the "2020 It List" of American travel magazine Travel + Leisure.

Travel + Leisure is a New York-based travel magazine. "The Best New Hotels in the World (The It List)" shines a light on hotels around the world that have newly-opened or have been renovated that year.

The "2020 It List" has placed 72 establishments around the world in its ranking. Ten of these are located in Asia, with two being in Japan: SHISHI-IWA HOUSE and Aman Kyoto.

SHISHI-IWA HOUSE opened in February 2019. Described as a boutique resort, this hotel was built by internationally-acclaimed Japanese architect Shigeru Ban who won the 34th Pritzker Architecture Prize in 2014ーthe most prestigious award in modern architecture. The unique hideaway blends together nature and architecture, and is built in such a way as to strengthen the bonds between people.

The resort accommodation has two floors, and a unique structure which makes it look curved. It has ten individual rooms and three terraces. All the rooms enjoy a breathtaking view of the gardens which enjoy gorgeous scenery all year around. It's home to over 250 trees, including cherry blossoms, maples, and evergreens. You can also see Mount Asuma from all rooms.

Planning a trip to Nagano? Why not book to stay at this little hideaway?

Watch the Stars and Snow Glow at the Shiraito Falls Midwinter Light Up in Karuizawa

Throughout the year, Japanese people escape their busy city life to Karuizawa: a popular resort town hidden in the mountains near Nagano. From December 21, 2019 – February 15, 2020, Shiraito Falls located in Jōshin'etsu-kōgen National Park, Karuizawa will be holding the Shiraito Falls Midwinter Light Up, providing the perfect excuse for a soothing getaway.

The 3-metre-tall and 70-metre-wide Shiraito Falls does not freeze below freezing temperature as the water flows from a subterranean river of Mount Asama. The winter lighting will make the water glisten and the falling snow and starry night sky glow with the charm of winter. 

This light up event is a follow up from last year's illumination event. The Midwinter Light Up aims to make Shiraito Falls a beautiful tourist spot which can be enjoyed even on a winter night.

The Midwinter Light Up is one step ahead of the summer light up event which previously took place. To emphasise the beauty of nature, the illumination this time round will allows visitors to appreciate the starry night sky on a fine day and reveal the stunning natural scenery which is not visible during the daytime. 

As the Shiraito Falls light up event will take place in Jōshin'etsu-kōgen National Park, the event contents were created strictly abiding the guidelines and regulations from the Ministry of the Environment​. The quantity of light produced, its hues and even the way it is produced has been carefully considered, creating a light display that does not disrupt the natural environment. 

This breathtaking light display will give you an entirely new perspective on the breathtaking winter scenery of Shiraito Falls and would be the perfect experience to share with your family or friends. 

Information

Karuizawa Shiraito Falls Midwinter Light Up

Location: Shiraito Falls, Karuizawa

Running on 18 days between December 21, 2019 and February 15, 2020

The running period is split into the following sessions:

・Christmas Session December 21 – 24, 2019

・New Year Session January 4 – 5, 2020

・Spring Festival Session February 1 – 2, 2020, February 7 – 11, 2020, February 14 – 15, 2020

* There will be no light up event on days other than those stated above.

* The light up event on February 15 is a Valentine's Day special. This includes the display of an ice sculpture and the chance to meet Ruiza: Kauizawa's mascot. Visitors will also be given a gift.   

Openining Hours

・Christmas Session    17:00 – 19:00

・New Year Session     17:00 – 19:00

・Spring Festival Session   17:30 – 19:30

Price: There is no entry fee. However, there is a fee to cross the toll road. (The price is subject to change)

Natural Ice Area to Open at KERA-IKE Ice Rink in Karuizawa Hoshino Forest Area

The "Natural Ice" area is set to return to KERA-IKE Ice Rink, an outdoor ice skating area managed by Hoshino Resorts, again this winter, something made possible only by the cold winter weather and without cooling devices.

KERA-IKE Ice Rink is connected to the Karuizawa Wild Bird Sanctuary where countless wild birds and animals roam free. The ice rink opened for the winter season last Friday (October 18) and will run until March 8 next year.

The rink is formed of two areas: the "Man-made Area" which is made together with the cold air and the help of cooling devices, and the "Natural Area," which appears only during the coldest time of winter and sees the water freeze up naturally, allowing people to skate across 1,080 square meters of land. This Natural Area will open on December 20 and run until February 20, 2020.

Stroll across the forest's icy landscape

The freedom of skating across the natural ice is like taking a stroll through the forest. Enjoy skating around the little islands in the middle of the lake and finding the fallen leaves from the forest trees locked inside the ice.

Enjoy hot drinks with the sound of the wild birds as your soundtrack

Enjoy a coffee or hot chocolate at the neighbouring cafe. We recommend getting the Wild Bird Cafe Latte which comes with four different latte art designs of the wild birds you'll often spot around the ice rink. The drink can be enjoyed in the cafe or can be taken out so you can enjoy sipping it on the benches on top of the ice.

Wild Bird Cafe Latte – ¥600 (Tax Included)

 Coffee/Hot Chocolate – ¥500 (Tax Included)

Couples can enjoy the "Starry Sky Nighter Skate" Valentine's event

For Valentine's season, the ice rink has a special event in store for couples: the first ever "Starry Sky Nighter Skate." Not only do they get the luxury of skating after-hours, they can also bask under the radiance of Karuizawa's incredible star-filled sky. There will also be a guide providing commentary on the stars. After the event, all lights will be turned off to allow everyone to enjoy the pure light of the stars.

There will also be hot chocolate with heart-shaped marshmallows for the Valentine's event.

Starry Sky Nighter Skate

Running: February 10, 2020 – February 16, 2020

Time: 17:30-19:00 (Reception open 17:00)

Price: ¥3,500 per person (Includes skating fee, skate rental fee, drink, binoculars, and consumption tax)

Age: 18+ years

Reservations: By 17:00 the same day by telephone or online. Reservations are mandatory.

Capacity: 20 per day (Must book for at least 2 people)

Information

Kera-Ike Ice Rink Natural Area

Running: December 20, 2019 – February 20, 2020

*Man-made area running October 18, 2019 – March 8, 2020 (Except November 20, 2019, and January 7-9, 2020)

Time: 10:00-16:00

Price: General (Junior High Schol students and older) – ¥1,900 / Elementary School Students and younger – ¥1,300

Official Website: http://www.hoshino-area.jp/archives/area/skate

Autumn 2019: Maple Trees and Roses Adorn Karuizawa Lake Garden in Full Bloom

Karuizawa Lake Garden is a natural garden that displays creative harmony between humans and nature, where one can enjoy its bountiful selection of plants throughout all four seasons along with the lake across a 33,000m² area.

This year's autumn season at the garden is scheduled from October 12 to November 4 where you can enjoy the breathtaking scenery of the red and yellow leaves simultaneously alongside colourful roses.

Beautiful Japanese maple trees aren't the only thing you can enjoy during the fall season at Karuizawa Lake Garden. Soak in the sight of an abundance of autumnal plants and inhale the floral scent of the many roses. They will open across eight areas, including the main Rose Garden, by the waterside.

Welcome the autumntime this year at the incredible Karuizawa Lake Garden.

Information

Karuizawa Lake Garden Autumn Season

Running: October 12, 2019 – November 4, 2019

Address: Address: Lake New Town, Hotchi, Karuizawa, Kitasaku District, Nagano Prefectur

Autumn Season Opening Hours: 9:00-16:00 (Last Entries 15:30)

Official Website (Japanese): http://www.karuizawa-lakegarden.jp/

Warm The Cockles Of Your Heart This Christmas at HOSHINO Karuizawa Area

This holiday season, Hoshino Resorts is set to hold a Christmas event at HOSHINO Karuizawa Area, a place managed by the company which brings together people who love culture and nature. It will run from November 16 to December 25.

The event's theme is "A Town Where Happiness Shines." From mistletoe illuminations to xmas desserts and more, you're sure to have the cockles of your heart warmed this year at this happiness-filled festival.

Mistletoe Illuminations

At Harunire Terrace, where 16 shops line the cosy wooden terrace, the columns and overhangs will be adorned in Christmas garlands, and mistletoe-shaped illuminations will dangle from tree branches.

You can spot a lot of mistletoe in Karuizawa Wild Bird Sanctuary. Even in wintertime the plant does not wither, instead keeping its green leaves, which in folklore has led it to be viewed as a symbol of immortality.

Mistletoe is known in many cultures as a symbol of happiness. In the Western world, lovers who stand under mistletoe are expected to kiss. The warm illuminations are set to light a warm and romantic atmosphere to all those who attend.

Mistletoe Lanterns

As well as the illuminations, there will also be mistletoe lanterns hiding in the trees to celebrate romantic love this Christmas. Get ready to count down with everybody at the event as when you reach zero, all of the lanterns will turn on at the same time. There will even be mini live performances where you can sing along to Christmas songs.

Christmas Sweets at Hoshino Resorts Karuizawa Hotel Bleston Court

Order the "Episode de Noel" at Hoshino Resorts Karuizawa Hotel Bleston Court for a delicious Christmas sweets dessert course of 4 treats.

This is just a peek inside the stocking of what's to come at the festival. There will be a hot chocolate bar, fresh s'mores, kids events, photo spots, a Christmas market, and more. Ride your sleigh into HOSHINO Karuizawa Area this winter.

Information

HOSHINO Karuizawa Area Christmas 2019

Running: November 16, 2019 – December 25, 2019

Time: 16:00-23:00 (Times differ for certain events)

Location: HOSHINO Karuizawa Area

Entry: Free

TEL: 0267-45-5853

Mistletoe Illuminations

Location: Harunire Terrace

Running: November 16, 2019 – December 25, 2019

Time: 16:00-23:00

Mistletoe Lanterns

Location: Harunire Terrace, Woods

Running: December 7th, 8th, 14th, 15th, 21st-25th

Time: 16:50-17:10

Price: Free

Dessert Course

Running: December 13, 2019 – December 25, 2019

Time: 10:00-16:00

Price: ¥3,500 (pre-tax and service charge)

HOSHINO Karuizawa Area

Address: Hoshino Nagakura, Karuizawa, Kitasaku District, Nagano Prefecture

TEL: 0267-45-5853

Access: 15-minutes by car from Karuizawa Station (via JR Hokuriku Shinkansen)

Official Website (English): http://www.hoshino-area.jp/en

Don't Miss The Beautiful Blooming of Karuizawa Lake Garden This Summer

Over the summer, Karuizawa Lake Garden is holding a range of events for parents and children to immerse themselves in the beautiful nature, smell the fragrant lilies, and experience the popular false anemone, water lilies and many more gorgeous flowers. Approximately 33,000m2 of space is covered with the Karuizawa's most beautiful plants and even a lake.  

At Karuizawa, roses are particularly beautiful during the summer O-Bon festival season, flourishing more than ever in Karuizawa's unique climate. As the roses bloom for the second time in the year during mid august, this is a particularly beautiful sight. ♪

The entire garden consists of eight areas where you can enjoy different sceneries. The rose garden, for example, consists of roses and a whole range of plants that flower at different times of the year, so you can enjoy the variation in appearance of the garden throughout the year. Different flowering plants and roses surround a waterfront in the rose garden. You must come witness just how beautiful it looks during the summer. 

Information

Lake Garden

Address: Lake New Town, Karuizawa-machi, Kitasaku District, Nagano 

Opening hours: 9am ー 5 pm (Last entries: 4:30pm)

※ The opening hours of the garden vary according to the season, so please confirm these times by visiting the garden's official website. 

※ The garden will close one hour earlier than the usual time on Wednesdays for maintenance. 

Entry fees: Vary depending on the season.

Website: http://www.karuizawa-lakegarden.jp/ 

Relax This Summer in Japan at the Hammock & Art Forest in Karuizawa

Karuizawa Prince Hotel is lifting the veil on its new relaxing spot this summer: the Hammock & Art Forest, which will be open for a limited time this year from July 13 to August 31.

Wind down gently suspended in one of the many hammocks strung up at the hotel's maple trees, or get some shade underneath the giant hammock dome. Zone out to the sound of the rustling trees and chirping birds of of Karuizawa.

When you're not quite ready to lay down yet, or have already had your fill of snooze, then why not get involved in one of the weekend art workshops, or check out what film they're screening on the giant television. Laced around the area will also be ribbon art created by Nagano-born Japanese local and contemporary artist Chihiro Koshi.

Information

Hammock & Art Forest

Running: September 13, 2019 – August 31, 2019

Location: Karuizawa Prince Hotel's "Momijiyama" area (Karuizawa, Kitasaku District, Nagano Prefecture)

Official Website: https://www.princehotels.co.jp/karuizawa-west/