Visuals Release For Tatsushi Ōmori-Directed Film 'Tarō no Baka no Baka'
Tarō no Baka ("Taro the Fool") is an upcoming film directed by Tatsushi Ōmori (Everyday A Good Day; Setoutsumi; The Ravine of Goodbye) set for release in Japan on September 6, 2019. The film stars YOSHI, Masaki Suda and Taiga who play Taro, Eji and Sugio respectively. New scenes from the film have just been released to the public.
Taro (YOSHI) is a nameless individual who is at the height of youth and puberty. He claims that people with no name go by the name Taro. He isn't in the family register and hasn't been to school even once.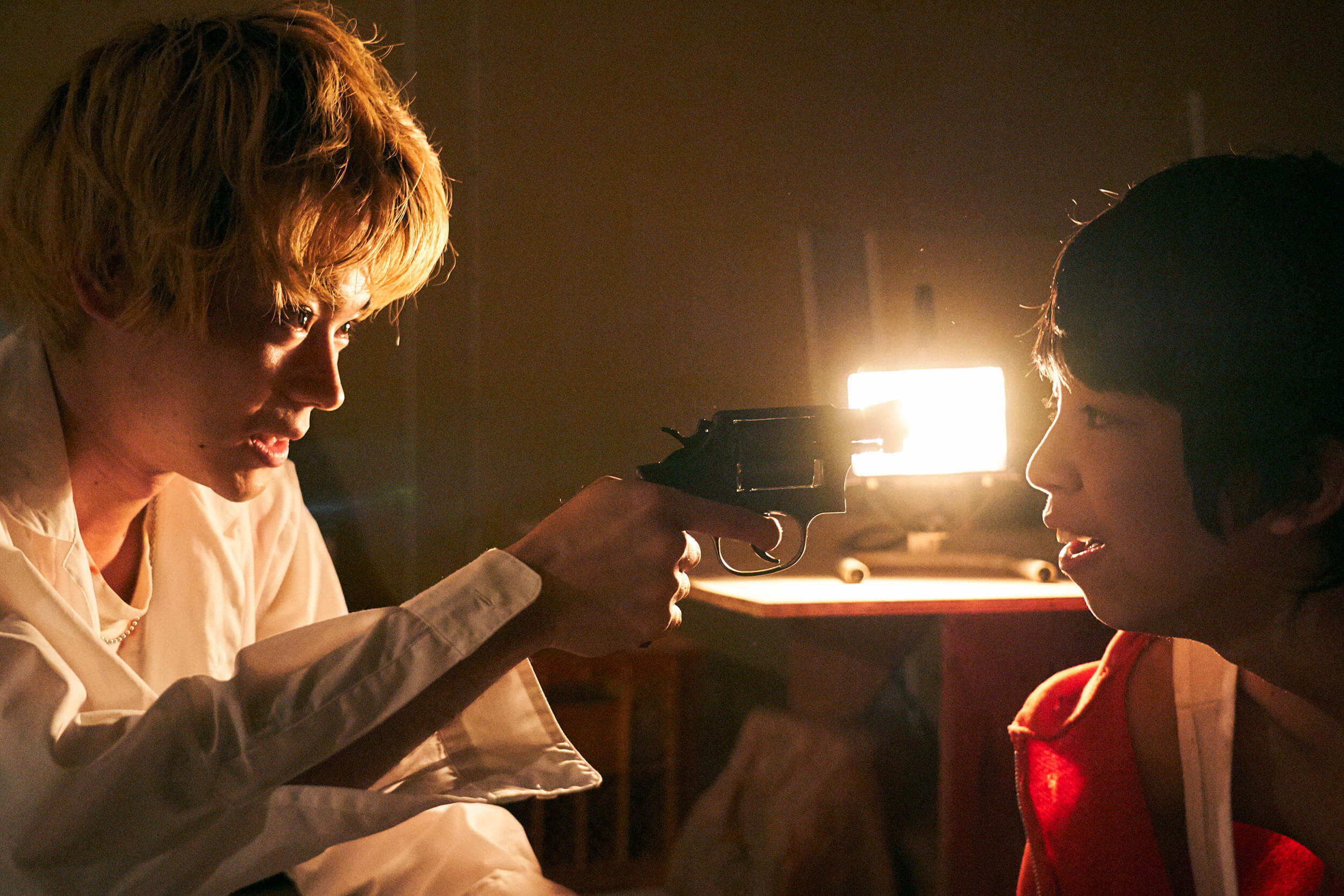 Taro meets high school students Eji (Masaki Suda) and Sugio (Taiga), two more nobodies, with whom he lives out his days wild and uninhibited. But after the three of them get their hands on a single pistol, they are forced to the reality of their individual lives which they have until then averted their eyes from.
Six shots of six different scenes were released, including one with Taro messing around with the gun with Eji, another where the three characters get revenge on their enemy Yoshioka (Eita Okuno) with violence, and another where we see Yoko (Sasha Ueda) playing the piano after school, someone who Sugio has a secret affection for.
Taro does not care for societal rules or morals – he lives and moves on impulse and instinct. While he may have his troubles and worries, when he is together with Eji and Sugio, his heart is freed from those things.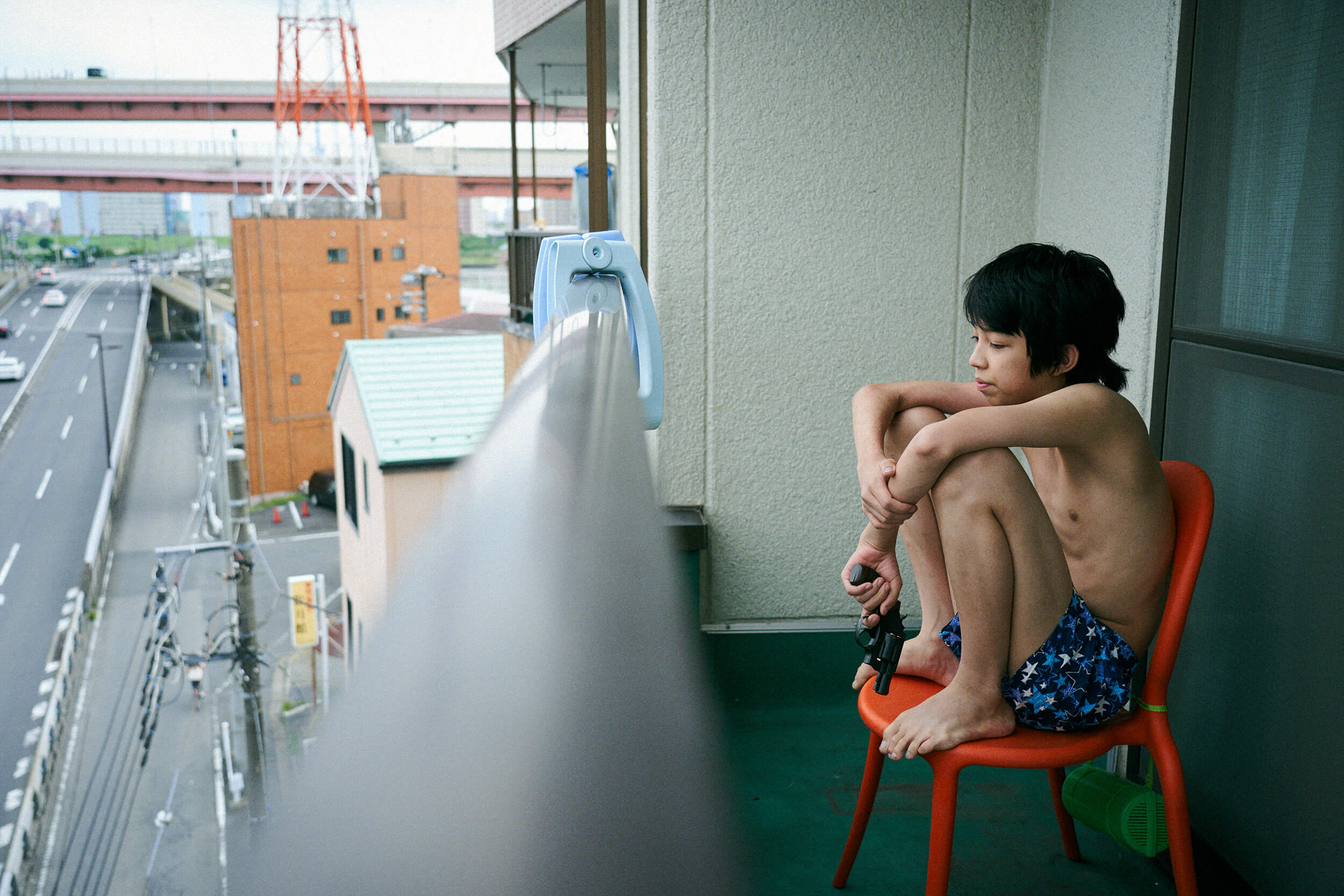 Tarō no Baka is told like an allegory and is laced with a realism and thrill that will make viewers forget they are watching something fictional. Tatsushi Ōmori has been writing original scripts for 20 years, so excitement continues to grow for his latest release.
©️2019 "Tarō no Baka" Production Committee
Information
Tarō no Baka
Release Date: September 6, 2019
Director/Writer/Editor: Tatsushi Ōmori
Cast: YOSHI, Masaki Suda, Taiga, Eita Okuno, Sasha Ueda, Ellie Toyota, Jun Kunimura
Official Website: http://www.taro-baka.jp/
RELATED ENTRIES
Masaki Suda to Premiere His First Short Film 'Clover'

Japanese musician Masaki Suda announced on his "All Night Nippon" radio show that he will premiere and host a talk on Clover, the first ever short film he has directed, on July 10. The film is to be included on First Press Limited Edition copies of his new album LOVE which will be released on the same day.

The film uses the album track Clover as its main theme which was written and composed by Huwie Ishizaki. It stars Japanese actor Taiga and is littered with messages covered in Suda's album laced into a 47-minute original story which took half a year to film from its conception.

Information

Masaki Suda "LOVE" Special Screening & Talk
Date: July 10, 2019

Time: 17:45 (Scheduled to finish at 19:00)
Venue: TOHO Cinemas Roppongi Hills

Tickets: Available only via TOP COAT LAND

Ticket Window: June 20, 2019 at 12:00 – June 25, 2019 at 23:59

Ticket Winners: TBA via Masaki Suda's official website on June 28, 2019 at 15:00

"Clover" Short Film
Cast: Taiga, Shugo Nagashima, Huwie Ishizaki, Masaki Suda
Director/Producer: Masaki Suda
Co-Director: Kento Yamada
Costume Design: Daisuke Iga
Theme Song: Clover by Masaki Suda (Written/Composed by Huwie Ishizaki)

LOVE

Release Date: July 10, 2019

Limited Pressing Edition (CD+Photo Book): ¥5,000 (Before Tax) [ESCL-5248-9]

First Press Limited Edition (CD+DVD): ¥3,611 (Before Tax) [ESCL-5250-1]

Regular Edition (CD-Only): ¥2,963 (Before Tax) [ESCL-5252]

Masaki Suda Official Website: https://sudamasaki-music.com/

Masaki Suda Releases New Song 'Machigai Sagashi' Written & Produced by Kenshi Yonezu

Masaki Suda just released his new song Machigai Sagashi digitally on May 14, 2019.

The CD cover for the digital single has also been released.

Japanese singer-songwriter and record producer Kenshi Yonezu wrote the lyrics for, arranged and produced the track. The song is used as the main theme song for the Kansai Telecasting Corporation and Fuji TV drama series Perfect World.

The song and the drama series have enjoyed huge popularity on Japanese social media with related words having trended on Twitter.

Masaki Suda's New Song 'Machigai Sagashi' to be Released Digitally on May 14

It was announced on Masaki Suda's All Night Nippon on April 22 that Masaki Suda's long-awaited new song Machigai Sagashi will be released digitally on May 14.

Japanese singer-songwriter and record producer Kenshi Yonezu wrote the lyrics for, arranged and produced the track. He appeared as a guest alongside Suda on the television program where both artists spoke about the track. The song was also played in full for the first time.

The song is being used as the main theme for the ongoing Kansai Telecasting Corporation and Fuji TV drama series Perfect World which began airing on April 16.

Both the series and song have received huge attention in Japan where they have been trending on Twitter.

Masaki Suda's New Song 'Machigai Sagashi' to Feature as TV Drama 'Perfect World' Theme Song

It has been announced that Masaki Suda's new song Machigai Sagashi will be used as the theme song for the upcoming Kansai Telecasting Corporation and Fuji TV drama series Perfect World.

Japanese singer-songwriter and record producer Kenshi Yonezu wrote the lyrics for, arranged and produced the track. Suda received a director offer from the drama's produced who expressed his desire to be used as the theme song.

Perfect World is a romance drama that follows the story of Itsuki Ayukawa (Tori Matsuzaka), an architect who injured his spinal cord playing basketball when he was 20-years-old. He meets Tsugumi Kawana (Mizuki Yamamoto) once again who graduated from the same high school as him. Their lives change as they begin to develop feelings for each other.

The theme song will debut on the first episode of the series which is set to air on April 16, 2019.

Masaki Suda released the following statement: "Firstly, Tori Matsuzaka is in the same profession as me. He's always been close by. If I stop to think about it it must be close to 10 years? When I meet with him now I greet him like family. If we're apart we only come into contact with each other when working on something as junior and senior. I'm singing a song for a drama series starring somebody like that. What's more is Kenshi Yonezu is making the song. Honestly, I didn't know how to begin preparing for something like that. I felt a little sick. I was wrong to think that something as wonderful as this could never happen. I hope that Perfect World leaves an impression on people and can give them strength, even if just a little. This is obvious, but I will of course sing the song with everything I have. I ask for your kind support."

Tori Matsuzaka also commented: "The first time I heard [the song], Suda's feelings for the series really got through in his voice. The lyrics that Yonexu wrote have a lot of references to the emotions felt by trees. I thought the song was perfect that you can easily picture what the drama is about by just letting the song roll. Me and Suda debuted during the same period, so it feels like mysterious chance and fate that we are working on the same series. It's something I could have never imagined 10 years ago. I want to shoot each scene with care while listening to this song."

Information

Machigai Sagashi

Lyrics/Arranger/Producer: Kenshi Yonezu

Release Date: TBA

Masaki Suda Official Website: http://sudamasaki-music.com

Perfect World

Airing: Every Tuesday at 21:00 from April 16, 2019

Masaki Suda's New Song 'Machigai Sagashi' Written & Produced by Kenshi Yonezu

It has been revealed that Kenshi Yonezu wrote the lyrics for, arranged and produced Masaki Suda's new song Machigai Sagashi.

Suda featured on Yonezu's song Haiiro to Ao back in 2017, the music video for which recently hit 100 million views on YouTube. Details surrounding the release date of the new song have yet to be announced.

Speaking about the new collaboration, Masaki Suda says: "I was sat in a room that had 4.5 tatami mats and thought to myself, 'I might have been born into the wrong picture, one where I'm searching for mistakes. But it's precisely because of that that I have met the people I have.' When Kenshi heard about the intentions behind this song, I felt he was able to give those uneasy feelings I that I live with―feelings that only I could understand―a name […] Each person has their own individual circumstances, and that's why I believe it's necessary for those people to have difficulties that only they understand. Those feelings are one in their own. They come in different forms, but they are something everybody has. Having a target group like that enables me to affirm my own existence. I sang this song with value using that warmth as my pivot. We are a collective without help and without prayer. I am happy to have met Machigai Sagashi."

Kenshi Yonezu also comments: "Ever since Haiiro to Ao, every time [me and Suda] met we would always say we wanted to do something together. This is the song we completed. Whenever I hear his songs, I am shaken by his powerful voice every time. I want it to be heard by lots of people already. They are sure to think about it the same as I do."

Masaki Suda Photo Exhibition Celebrates Release of Live Concert DVD/Blu-ray

Masaki Suda will drop his first ever concert DVD & Blu-ray release SUDA MASAKI LIVE@LIQUIDROOM 2018.11.15 on March 6, 2019. To celebrate, an exhibition of photos from the live show will be held at Tower Records Shibuya and Tower Records Umeda NU Chayamachi. The display will also include never-before-seen cuts.

"SUDA MASAKI LIVE@LIQUIDROOM 2018.11.15" Song Trailer

The DVD & Blu-ray features the full footage of Suda's concert at Ebisu LIQUIDROOM in Tokyo on November 15, 2018, a special one-night-only premium concert.

Songs include Sayonara Elergy which ranked No. 1 on LINE MUSIC's 2018 music rankings, his debut single Mita Koto mo Nai Keshiki, his latest single Long Hope Philia, as well as covers of other artists' songs whom he is friends with including Period by Huwie Ishizaki, Futari no Sekai by Aimyon, and Kenshi Yonezu's Haiiro to Ao which Suda features on. It also includes the encore where he performs his new song Clover which has no release date yet.

Information

Masaki Suda Concert Photograph Panel Exhibition

Running: March 5, 2019 – March 11, 2019

Tower Records Shibuya Floor 1F (Opening Hours: 10:00-23:00)

Tower Records Umeda NU Chayamachi (Opening Hours: 11:00-23:00)

SUDA MASAKI LIVE@LIQUIDROOM 2018.11.15

Blu-ray: ¥6,000 (Before Tax) [ESXL-167]

DVD: ¥5,000 (Before Tax) [ESBL-2557]

*Both come packaged in a slipcase.

CD Shop Bonus

Select stores selling SUDA MASAKI LIVE@LIQUIDROOM 2018.11.15 will also hand out replicas of the backstage pass from the concert. These are available in limited quantities. Information on which stores provide these can be found on Masaki Suda's Official Website.

Masaki Suda Official Website: http://sudamasaki-music.com

Actors Masaki Suda and Nana Komatsu to continue as ambassadors for Japanese fashion brand "niko and …" 

Japanese fashion brand "niko and …" have announced that singer and actor Masaki Suda, and actress and model Nana Komatsu will continue to be their fashion brand ambassadors throughout 2019.

To kick off 2019 promotions, "niko and…" are releasing a movie clip created around their concept "Deau Niau", which aims to commemorate the first time we meet new people (deau), and how that first meeting turns into something special (niau). The movie clip, which will be entitled "Ah, Haru" (Spring is coming soon) features Suda and Komatsu and will be released on Friday 8th March. However, a teaser illustration and website will be released in advance on Friday 8th February.

Art director Chie Morimoto directed the movie and designed the teaser illustration.

■ An interview with Art Director Chie Morimoto

Q. What is the concept of this web movie? What did you focus on in particular? 

Chie Morimoto: The concept is that nature does not bring us spring, but rather, spring arrives when we feel it arrive in us. This web movie aims to encourage viewers to open up to their feelings and enjoy the coming of a new season.

Q. What feelings did you put into designing the teaser illustration? 

Chie Morimoto: The opening up of a heart to its playful side in a "come on spring! Hurry up!" kind of way. Just like the concept of "Deau Niau" I felt my heart open up once again to allow it to be shaken by emotions as spring occurs again when I was creating the illustration.

Q. What is your impression of "niko and…" brand ambassadors Suda and Komatsu who will be starring in the web movie?

Chie Morimoto: Both Suda and Komatsu are splendid. Just watching their previous works is enough to give anyone goosebumps. Those two are capable of pulling off anything in a perfectly natural way. Just like everyone else, I am also a fan of "niko and…". When the movie is released, I am looking forward to seeing their expressions portray the feeling of "discovering something new".

Please keep an eye out for "niko and …" and their new spring creations!

My Hero Academia Creditless Ending Theme Video Released

The creditless ending video for the latest season of My Hero Academia has been released officially.

The ending theme song is titled Long Hope Philia (TV Limited), a specially arranged version of Masaki Suda's new single Long Hope Philia which is included on the limited pressing edition which was released on August 1.

The song will be used as the main theme song for the forthcoming movie My Hero Academia: Two Heroes which will hit Japanese theatres on August 3. It's an acoustic arrangement that has a completely different feel from the original. It garnered much attention from fans who haired the song for the first time in the movie trailer.

The creditless ending video can be viewed on the anime's website and the TOHOanimation YouTube channel. It features series protagonist Deku who is looking out far across the ocean while walking on a sandy beach. The sight of him running with his friends offers a breather from the main show's developing drama.

■Information

Long Hope Philia

On Sale: August 1, 2018

First Press Limited Edition (CD+DVD) – ¥1,900 (Pre-Tax)

*DVD includes Masaki Suda's performance at Shibuya WWW X on February 23 as part of his Premium 1st TOUR.

Regular Edition (CD-Only) – ¥1,000 (Pre-Tax)

Limited Pressing Edition (CD) – ¥1,300 (Pre-Tax)

Masaki Suda Official Website: http://sudamasaki-music.com

My Hero Academia: Two Heroes 'Long Hope Philia' Anime Music Video Released

A compilation video was released in collaboration with Masaki Suda of clips from the upcoming My Hero Academia: Two Heroes movie. The video features the song Long Hope Philia by the singer which serves as the opening theme.

The video has prompted fans to leave heartfelt comments talking about My Hero Academia's has influenced them.

Long Hope Philia was written and composed by Hiromu Akita (amazarashi) and ties in perfectly with the movie's theme of friendship Be sure to check it out in the newly released collaboration video.

My Hero Academia: Two Heroes x Masaki Suda Online Photo Campaign

My Hero Academia: Two Heroes had its world premiere at Anime Expo in LA earlier this month, and the movie is set to hit theatres in Japan on August 3. In line with the Japanese release, a collaboration is being held with Masaki Suda, who performs the theme song of the movie Long Hope Philia which also served as the series' fifth ending theme.

The song was written and composed by Hiromu Akita of amazarashi.

'Philia' is a Greek word that expresses loving relationships with friends. For the collaborative campaign, a picture frame has been developed which features the words "You Are MY HERO" together with the CD cover design of Long Hope Philia. If you upload a photo of your hero using this photo frame to the campaign website and post it on Twitter or Instagram with the Japanese hashtag #きっと誰もが誰かのヒーロー ('everyone is a hero to someone') it may be chosen to appear in the broadcast of the anime series.

Who is your hero?

Masaki Suda to Perform My Hero Academia's Season 3 Ending Theme 'Long Hope Philia'

Masaki Suda will release his new single Long Hope Philia on August 1, and it's been announced that the track Long Hope Philia (TV Limited) will be used as the ending theme for season three of My Hero Academia from July 14.

Long Hope Philia will be used as the main theme song for the upcoming My Hero Academia: Two Heroes movie dropping on August 3.  It was composed and written by Hiromu Akita (amazarashi). This is the first time Masaki Suda has been involved with the main theme song for an anime movie. It will be released digitally on July 14 and physically on August 1.

The "TV Limited" version of Long Hope Philia is arranged in a different way to the original, with Suda's voice echoing even deeper. This version will be coupled on the Limited Pressing Edition of the single set to be released on August 1.

The CD covers and tracklist for each edition of the single have also been released. The single includes the song Soft Vinyl Figure with lyrics written by Suda himself. The First Press Limited Edition includes over 40-minutes worth of footage from his solo concert at Shibuya WWW X on February 23, 2018. This is the first time his concert footage has been compiled for release.

■Masaki Suda's Comments

"I've read Jump every week since I was young. I've also read My Hero Academia since it was first serialized, so I'm both incredibly honoured and overjoyed as a fan to be singing the ending theme. I've liked the story for a long time, how there are no humans who are able to do anything from the get go, and how anybody can become a hero if they continue to endeavour without giving up. It's a thought that belongs to the series, and I think that the outlook of both the song and story matches perfectly."

Look forward to the song dropping on My Hero Academia on July 14.

My Hero Academia: Two Heroes Movie's Trailer Previews Theme Song 'Long Hope Philia' by Masaki Suda

Masaki Suda is a Japanese actor and artist who will perform the main theme song Long Hope Philia for the forthcoming My Hero Academia: Two Heroes movie set to air on August 3.

The song was produced specifically for the movie. It was composed and written by Hiromu Akita (amazarashi). This is the first time Masaki Suda has been involved with the main theme song for an anime movie. It will be released digitally on July 14 and physically on August 1.

The new trailer features the new song and showcases new characters.

■Masaki Suda's Comments

Q: Regarding the new single 'Long Hope Philia' releasing on August 1.

A: "My goal for making the main theme song to My Hero Academia's first movie was clear from the start. The heroes are of course children. I think anyone has a hero living inside them, even adults, but what makes a hero is justice and being able to feel love. When I thought to myself I wanted to offer up such a hero in the form of a song to lots of people, regardless of their age or gender, I asked Hiromu Akita of amazarashi to help out, who was involved with my own album PLAY that came out in March this year. 'Philia' is a Greek word and expresses your affection to the one you love and your loving friendships. This song talks about the hope for an everlasting friendship with someone. When I'm singing, I'm letting out my own feelings of encouragement. I think I've been able to produce a song filled with the strong hope of working hard together with someone you treasure, regardless of their age."

Q: Regarding the new single being the main theme song for 'My Hero Academia: Two Heroes.'

A: "The film adaptation of My Hero Academia reveals the past of All Might, the greatest hero. I heard from [Hiromu] Akita that the lyrics are closer to the point of view of him rather than the protagonist Deku. The more I sing it, the more I feel linked to these two heroes and their story. The song is warm and has strength. I really feel it has hope. Long Hope Philia ties in close with this movie, and I hope it reaches a lot of people. I would be very happy if the song and movie gives someone encouragement of makes people want to encourage others."

■Information
Long Hope Philia

Written & Composed by Hiromu Akita (amazarashi)

Digital Release – July 14

CD Single Release – August 17

Masaki Suda Music Official Website: http://sudamasaki-music.com/

My Hero Academia: Two Heroes

Airing: August 3, 2018

Official Website: http://heroaca-movie.com/