MAN WITH A MISSION To Embark on First North American Solo Tour in 5 Years
MAN WITH A MISSION has announced that they will be embarking on a solo tour in North America.
Their last appearance in North America was in autumn 2017 when they performed at a concert which also featured Jimmy Eat World and Stone Sour. It has been five years since their last solo tour in North America, which took place in June 2014.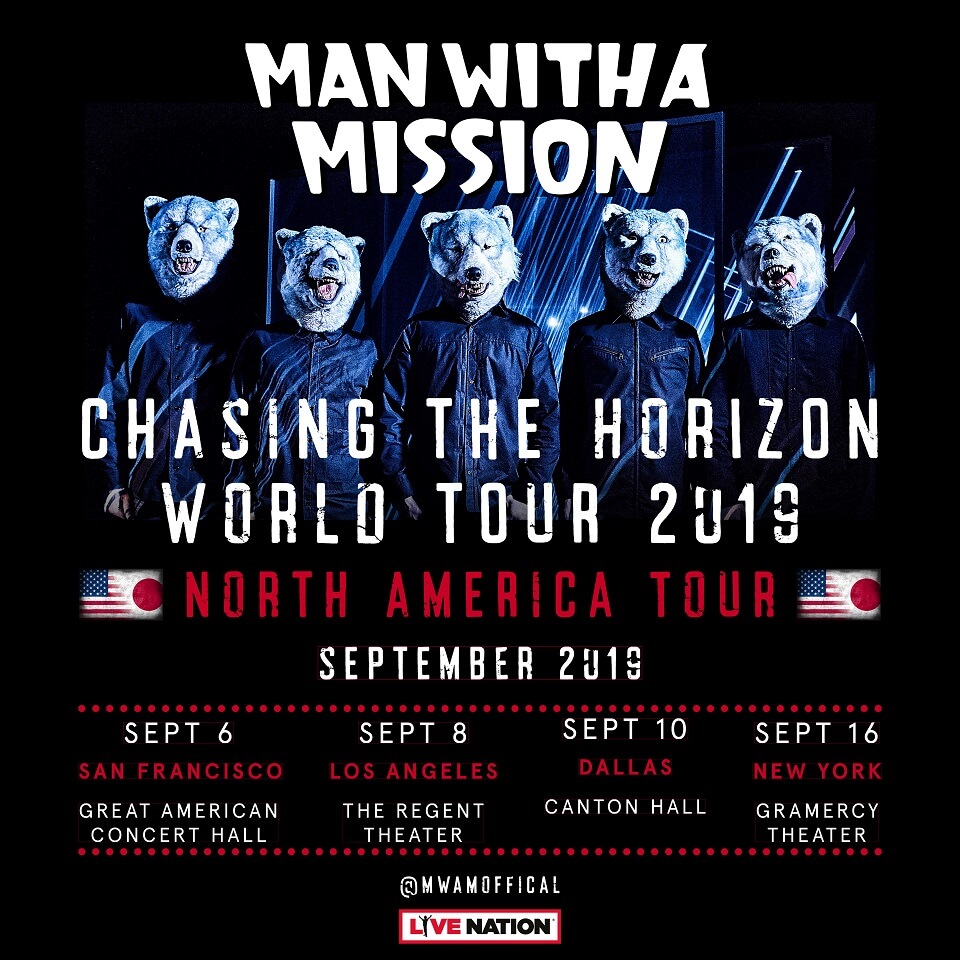 More information on the cities in which they will perform will be released on a later date. Tickets will go on sale on July 2 at 3 am (Japan time). More information on tickets will be announced in the near future on MAN WITH A MISSION's official website.
Information
MAN WITH A MISSION presents Chasing the Horizon World Tour 2018/2019 -North American Tour-
Fri 6th Sept 2019: Great American Music Hall, San Francisco 
Sun 8th Sept 2019: The Regent Theater, Los Angeles
Tues 10th Sept 2019: Canton Hall, Dallas
Mon 16th Sept 2019:  Gramercy Theatre, New York
MAN WITH A MISSION Official Website: https://www.mwamjapan.info/
RELATED ENTRIES
MAN WITH A MISSION's Famous Track 'Emotions' Used as Theme for Horse Racing Festival

03.September.2022 | MUSIC

Emotions, one of the most iconic songs by MAN WITH A MISSION, recently appeared in a special promotional video for JBC 2022, known as the festival of dirt horse racing.


The video, produced by the National Association of Racing, has been posted on the NAR official YouTube channel and is being broadcast at horse racing facilities nationwide. It has also been shown on television.

JBC 2022 Special Promotional Video (60-second ver.): https://youtu.be/WSmgBrB-sdM


Emotions, the second single from MAN WITH A MISSION, was released in 2013 and became an instant hit, often played during concerts. At the time of its release, it was featured on Music Station and was used as the theme song for the film HK: Forbidden Super Hero.

 

Be sure to check out the video above and get ready for some serious horse racing!

Information

Emotions – MAN WITH A MISSION
Released: February 20, 2013
Price: ¥1,257 (Tax Included)

MAN WITH A MISSION Releases Music Video for 'GUNDAM Iron Blooded Orphans Special Edition' Theme Song

Rock band MAN WITH A MISSION is getting ready to release a new album, Break and Cross the Walls II, on May 25. Ahead of this exciting date, the group has revealed the music video for Blaze on YouTube!

Blaze has been featured as the opening theme for Mobile Suit GUNDAM Iron Blooded Orphans Special Edition, the nine-episode digest edition of the 2015-2017 anime series, since April. The clip is packed with the anime's memorable scenes, so be sure to check it out! 

The theme song is also available on all popular music streaming sites.

Blaze – MAN WITH A MISSION (GUNDAM Iron Blooded Orphans Special Edition Anime Music Video)
https://youtu.be/rTamYmhLOaw

MAN WITH A MISSION will start a nationwide tour, MAN WITH A MISSION Presents Break and Cross the Walls Tour 2022, on June 16.

MAN WITH A MISSION Unveils Track List and Artwork for First Album in Over Three Years

Japanese rock band MAN WITH A MISSION will release their new original album Break and Cross the Walls I on November 24, 2021. The group's first new album in three and a half years, the tracklist and artwork have just been revealed to the delight of anxious fans. 

Break and Cross the Walls I Limited Edition

Break and Cross the Walls I Regular Edition

The album will be the band's sixth original album. Originally conceived as a two-disc set, MAN WITH A MISSION decided to instead release two consecutive albums to give fans new music as soon as possible. With so much delayed or canceled due to the pandemic, it was the group's way of giving back to those who have supported them through the continuing crisis. The sequel,  Break and Cross the Walls II, is scheduled to be released in spring 2022. 

Break and Cross the Walls I will include seven previously released tracks, including Merry-Go-Round, the opening theme song for the popular anime series My Hero Academia and INTO THE DEEP, the theme for the Japanese release of the film Godzilla vs.Kong. The newly-released jacket art shows five wolves standing symbolically atop a chessboard. The December 2021 issue of ROCKIN'ON JAPAN magazine will feature these five animals on the front cover, along with an exclusive interview with the band. 

MAN WITH A MISSION Presents Merry-Go-Round Tour 2021, the band's first arena tour in two years, will start on November 30 at Yokohama Arena. The first day of the two-day event is titled 'Day 1: Songs of Innocence,' and will feature songs released between 2010 and 2013. The second day, 'Day 2: Songs of Experience,' will cover songs post-2013. 

MAN WITH A MISSION Announces Two Consecutive New Albums

After three and half years, rock band MAN WITH A MISSION is back! The group's new album, Break and Cross the Walls I, is set to release on November 24, 2021. 

This will be the band's sixth original album and is the first album since Chasing the Horizon was released on June 6, 2018. Fans have been anticipating a new drop from the group, and this ambitious work, conceived originally as a two-disc set, won't disappoint. Instead of waiting until all tracks were complete, MAN WITH A MISSION has decided to release two consecutive albums instead. In an interview, the band stated that with people still suffering the effects of the pandemic, it was vital to provide fans with new music to raise their spirits as soon as possible. The second album, Break and Cross the Walls II, is scheduled to release next spring. 

Break and Cross the Walls I will include 14 songs, including the popular track Merry-Go-Round which serves as the theme song for the anime series My Hero Academia. Fans will also recognize INTO THE DEEP, the theme for the Japanese release of the film Godzilla vs.Kong. Those buying the new album at specific stores will receive special bonus goods while supplies last.  

MAN WITH A MISSION Presents Merry-Go-Round Tour 2021, the band's first arena tour in two years, will start on November 30. The first day of the two-day event is titled 'Day 1: Songs of Innocence,' and will feature songs released between 2010 and 2013. The second day, 'Day 2: Songs of Experience,' will cover songs post-2013. A guest artist will also be performing an opening act, so be sure to stay up-to-date with more tour news to come!

MAN WITH A MISSION Perform My Hero Academia Opening Theme, MV Premieres On YouTube

The music video for MAN WITH A MISSION's new single Merry-Go-Round will be premiering on their official YouTube channel at 18:00 on August 21.

Premieres August 21, 18:00~


 

The song is being used as the opening theme for the second cour of anime My Hero Academia's 5th season, which is currently airing on YTV and NTV.

Merry-Go-Round First Edition

My Hero Academia THE MOVIE: World Heroes was a huge hit, showing in 321 cinemas nationwide and overtaking all previous My Hero Academia box office records by exceeding ¥940 million in just four days.

Merry-Go-Round Regular Edition

The anime is extremely popular overseas, while MAN WITH A MISSION have been focusing both within Japan and abroad, adding to the excitement for the new single.

It has been announced that on the day of the premiere, the members will be chatting with the fans in real-time. You can set a reminder to watch the stream using the official URL. If you're a fan then don't miss this!

©堀越耕平/集英社・僕のヒーローアカデミア製作委員会

Information

Merry-Go-Round

Release: September 9, 2021

<Limited First Edition> (CD+DVD) SRCL-11872~11873 Price: ¥1,500 / Tax Incl: ¥1,650

<Regular Edition> (CD+DVD) SRCL-11872~11874 Price: ¥1,000 / Tax Incl: ¥1,100

<Limited Edition> (CD+DVD) SRCL-11875~11876 Price: ¥1,500 / Tax Incl: ¥1,650

New TV Anime My Hero Academia

Official site: https://www.mwamjapan.info/

Zebrahead to Perform at MAN WITH A MISSION's Music Festival 'THE MISSION'

American punk rock band Zebrahead are set to perform solo in Japan for the first time this June as part of their tour. But their time in Japan won't be finished after that, as it has been announced that they will perform on the Saturday of MAN WITH A MISSION's upcoming outdoor festival, set to take place at Naeba Ski Resort in Niigata on Saturday August 29 and Sunday August 30.

The wolf pack rock band MAN WITH A MISSION turned 10 years old on February 9, 2020. To celebrate this milestone, the  band announced a 10th anniversary project entitled MAN WITH A "10th" MISSION for which they have lots of exciting things planned for fans. "THE MISSION" is part of this, the first ever outdoor music festival created by the band. Artists from around the world who are close to the band will make up the line-up.

The main stage of the festival will be the Green Stage of Fuji Rock Festival 2020 which will take place one week prior to THE MISSION.

MAN WITH A MISSION and Zebrahead performed together at Download Festival and Summer Sonic last year, and the two bands collaborated on the song Out of Control.

In a statement released on their official Twitter page in Japanese, Zebrahead explained that they have had their full attention on writing music so they can put out great music. They said they are "stoked" to be performing in Japan.

Information

MAN WITH A MISSION – "THE MISSION" Festival
Dates: August 29, 2020 / August 30, 2020 (Zebrahead to perform on August 29)
Venue: Naeba Ski Resort, Niigata

Official Website: https://themission.mwam10th.com/

MAN WITH A MISSION Just Dropped The Trailer For Their First Ever Music Documentary

MAN WITH A MISSION unveiled the trailer for their first ever music documentary MAN WITH A MISSION THE MOVIE -TRACE the HISTORY.

The body of a human, the head of a wolf, and shrouded in mystery. The five-piece Japanese rock band took to the music scene in 2010 and are soaking in global fame today. The documentary unfolds from the perspective of American journalist Carl Cooper, who has been following MAN WITH A MISSION since 2010. The trailer reveals snippets of interviews with the band and staff, recording scenes, live performances and much more exciting footage that was collected over the years since Cooper's arrival in Japan in 2010.

MAN WITH A MISSION Music Documentary Trailer

The 30-second trailer is jam-packed with exciting live scenes flooded with fans waving towels and the exceptionally talented five band members who have captured the hearts of the nation. As the trailer flicks rapidly through the story of their lives, the amount of unseen footage reveals a completely new side to the band members that fans will be thrilled to discover more about.

©2020 "TRACE the HISTORY" FILM PARTNERS

MAN WITH A MISSION Unveils The Main Visuals For Their First Music Documentary

MAN WITH A MISSION has unveiled the main visuals for their first ever music documentary MAN WITH A MISSION THE MOVIE -TRACE the HISTORY. The documentary is set to release on February 14, 2020. Movie tickets that come with limited edition bonuses will be sold in theatres across Japan from January 17, 2020.

Purchase movie tickets from cinemas or theatres for an original sticker*. If you purchase movie tickets online, you will receive a smartphone wallpaper (two designs available). 

 *In limited supply, first come, first served, one sticker given per purchase of one movie ticket. 

If you purchase tickets directly from the cinema or theatre counter, you will receive an advanced ticket that will allow you to reserve seats online. If you purchase your movie tickets online, you will receive a digital ticket.

Please check the movie documentary's official website for more information on ticket bonuses and screening. 

©2020 "TRACE the HISTORY" FILM PARTNERS

MAN WITH A MISSION Announces 10th Anniversary Project MAN WITH A "10th" MISSION

The wolf pack rock band MAN WITH A MISSION will officially turn 10 years old on February 9, 2020. To celebrate this milestone, they have announced a 10th anniversary project entitled MAN WITH A "10th" MISSION for which they have lots of exciting things planned for fans.

First up is a special concert on the day of the anniversary, February 9, 2020, which will take place at the famous Zepp Tokyo. As well as a live performance, the band will hold a talk session, as well as showcase a snippet of the upcoming film MAN WITH A MISSION THE MOVIE -TRACE the HISTORY-. The concert itself will also be screened live across Japan.

The official release date for MAN WITH A MISSION THE MOVIE -TRACE the HISTORY- has been announced as February 14, 2020. This documentary will cover MWAM's entire 10-year history as a band. It will run for two weeks until February 27 at select theatres in Japan.

2020 is looking to be the year of the wolves. Stay tuned for updates on MAN WITH A MISSION and their anniversary project. Here's 10 more years!

Information

MAN WITH A "10th" MISSION Bakutansai ~TRACE the HISTORY Kouen Chokuzen SP~

Date: February 9, 2020

Time: Doors 16:00 / Start 17:00

Venue: Zepp Tokyo (1-3-11 Aomi, Koto Ward, Tokyo)

Price: Advance ¥2,929 (Separate mandatory fee for one drink will be charged upon entry)

Details (Japanese):  https://www.mwamjapan.info/contents/285766

Live Screening

Price: Advance ¥2,900

*Full details on purchasing the tickets and what cinemas will screen the Zepp Tokyo concert will be announced on January 10, 2020 at 10:00 A.M. (JST)

Fan club pre-sale tickets for the Zepp Tokyo concert are on sale from December 19, 2019 at 22:00 (JST) until December 23, 2019 at 23:59 (JST)

Details (Japanese): https://fwam.jp/contents/285769

MAN WITH A MISSION THE MOVIE -TRACE the HISTORY-

Screening: February 14, 2020 – February 27, 2020 (limited 2-week screening)

Director: Tsuka Chenko

Production: Toho/FYD/Sony Music Labels/Tristone Holdings/WOWOW/Space Shower Network

©2020 "TRACE the HISTORY" FILM PARTNERS

Film Website: https://mwam-movie.com/

MAN WITH A MISSION Official Website: https://www.mwamjapan.info/

MAN WITH A MISSION Drop 'Dark Crow' Music Video & Announce Music Documentary

5-piece wolf rock band MAN WITH A MISSION will release their new single Dark Crow on CD on October 23. In the run up to its release, the title track has released an early digital release today, in addition to a music video which you can see below.

The band recently began embarking on their Remember Me Tour which began at Kumamoto-Jo Hall on October 13. This show was held as part of GAMADASE KUMAMOTO, a festival created by the band in collaboration with Kumamoto to help raise money for the city. It was held originally back in 2018.

At the end of every MWAM show they will showcase a video during the encore with details of a big announcement. This time it was the announcement of the band's first-ever music documentary MAN WITH A MISSION THE MOVIE -TRACE the HISTORY- which is set for release next year. Check out the teaser below.

Information

Dark Crow

Release Date: October 23, 2019

First Press Limited Edition (CD+DVD): ¥1,800 (Before Tax) [SRCL-11320~11321]

Regular Edition (CD): ¥1,200 (Before Tax) [SRCL-11322]

Anime Edition (CD+DVD): ¥1,800 (Before Tax) [SRCL11323~11324]

MAN WITH A MISSION THE MOVIE -TRACE the HISTORY-

・Starring: MAN WITH A MISSION (Tokyo Tanaka, Jean-Ken Johnny, Kamikaze Boy, DJ Santa Monica, Spear Rib)

・Director: Tsuka Chenko

・Publisher: TOHO

・Release Date: 2020

・Copyright: ©2020 "TRACE the HISTORY" FILM PARTNERS

・Film Official Website: http://mwam-movie.com/

MAN WITH A MISSION Official Homepage: https://www.mwamjapan.info/

MAN WITH A MISSION Unveil Vinland Saga Anime Opening Theme CD Covers

Wolf pack band MAN WITH A MISSION will begin their nationwide tour of Japan this week with their first show at Kumamoto-Jo Hall on October 13.

The band are set to release their new single Dark Crow on October 23. In the run up to its release, they have just dropped the cover art for each edition of the record. The First Press Limited Edition and Regular Edition feature band drummer Spear Rib holding a crow, while the Anime Edition features an original illustration of the anime series Vinland Saga.

The song is used as the opening theme for the anime series and first hit the show yesterday (October 6).

Information

"Dark Crow"

Release Date: October 23, 2019

First Press Limited Edition (CD+DVD): ¥1,800 (Before Tax) [SRCL-11320~11321]

Regular Edition (CD): ¥1,200 (Before Tax) [SRCL-11322]

Anime Edition (CD+DVD): ¥1,800 (Before Tax) [SRCL11323~11324]

MAN WITH A MISSION Official Homepage: https://www.mwamjapan.info/

Vinland Saga

Official Website: https://vinlandsaga.jp/

MAN WITH A MISSION Digitally Release '86 Missed Calls' Feat. Patrick Stump

20.September.2019 | MUSIC

Wolf pack rock band MAN WITH A MISSION now knee-deep in their first solo US tour in 5 years, which also includes their first-ever shows in Canada and Mexico.

It was revealed back in July that the band had written a new song entitled 86 Missed Calls feat. Patrick Stump as the main theme song for the Japanese film Three Nobunagas which hit theatres in Japan today (September 20). To celebrate its release, the song has just been released digitally ahead of the release of their new single Dark Crow, which is to hit shelves on October 23 and will include 86 Missed Calls.

The song features guest vocals from Patrick Stump who is known as the lead singer of American rock band Fall Out Boy whose 2018 album Mania was nominated for the category of Best Rock Album at the 61st Annual Grammy Awards.

Stump surprised the crowd at Summer Sonic Tokyo on August 17 when he joined MWAM on stage as a surprise guest on their set to perform the song live for the very first time. Since then, fans have been anticipating the song's release.

When purchased at select music stores, MWAW's new single Dark Crow will be coupled with the above-pictured "reflective stickers." When you take a picture of the stickers with the flash on, you'll see the members in completely different poses.

Information

New Single "Dark Crow"

Release Date: October 23, 2019

First Press Limited Edition (CD+DVD): ¥1,800 (Before Tax) [SRCL-11320~11321]

Regular Edition (CD): ¥1,200 (Before Tax) [SRCL-11322]

Anime Edition (CD+DVD): ¥1,800 (Before Tax) [SRCL11323~11324]

■Dark Crow Store Exclusive Bonus

When purchasing the single at Amazon.co.jp, TSUTAYA RECORDS, Tower Records, HMV, or Sony Music, you will receive one of 5 possible MWAM reflective stickers (pictured above).

▼Sony Music (DJ Santa Monica Sticker): http://www.sonymusic.co.jp/Music/Info/manwithamission/shoplist/191023/

▼Tower Records (Spear Rib Sticker): https://tower.jp/artist/1816427/MAN-WITH-A-MISSION

▼HMV (Jean-Ken Johnny Sticker): https://www.hmv.co.jp/artist_MAN-WITH-A-MISSION_000000000445698/

▼TSUTAYA (Tokyo Tanaka Sticker): http://urx2.nu/ZD7L

▼Amazon.co.jp (Kamikaze Boy Sticker):  http://urx2.nu/B1Mw

Digital Single "86 Missed Calls feat. Patrick Stump"

Released: September 20, 2019

Download/Stream: https://mwam.lnk.to/86MissedCallsWN

MAN WITH A MISSION Official Homepage: https://www.mwamjapan.info/