Help Save the Ocean With Hello Kitty's Paper Straws
In an effort to aid in the reduction of plastic waste, Sanrio has announced it will begin selling Hello Kitty straws at stores in Japan and on its online shop on July 3. Several restaurants at Sanrio Puroland and Harmony Land have already adopted them.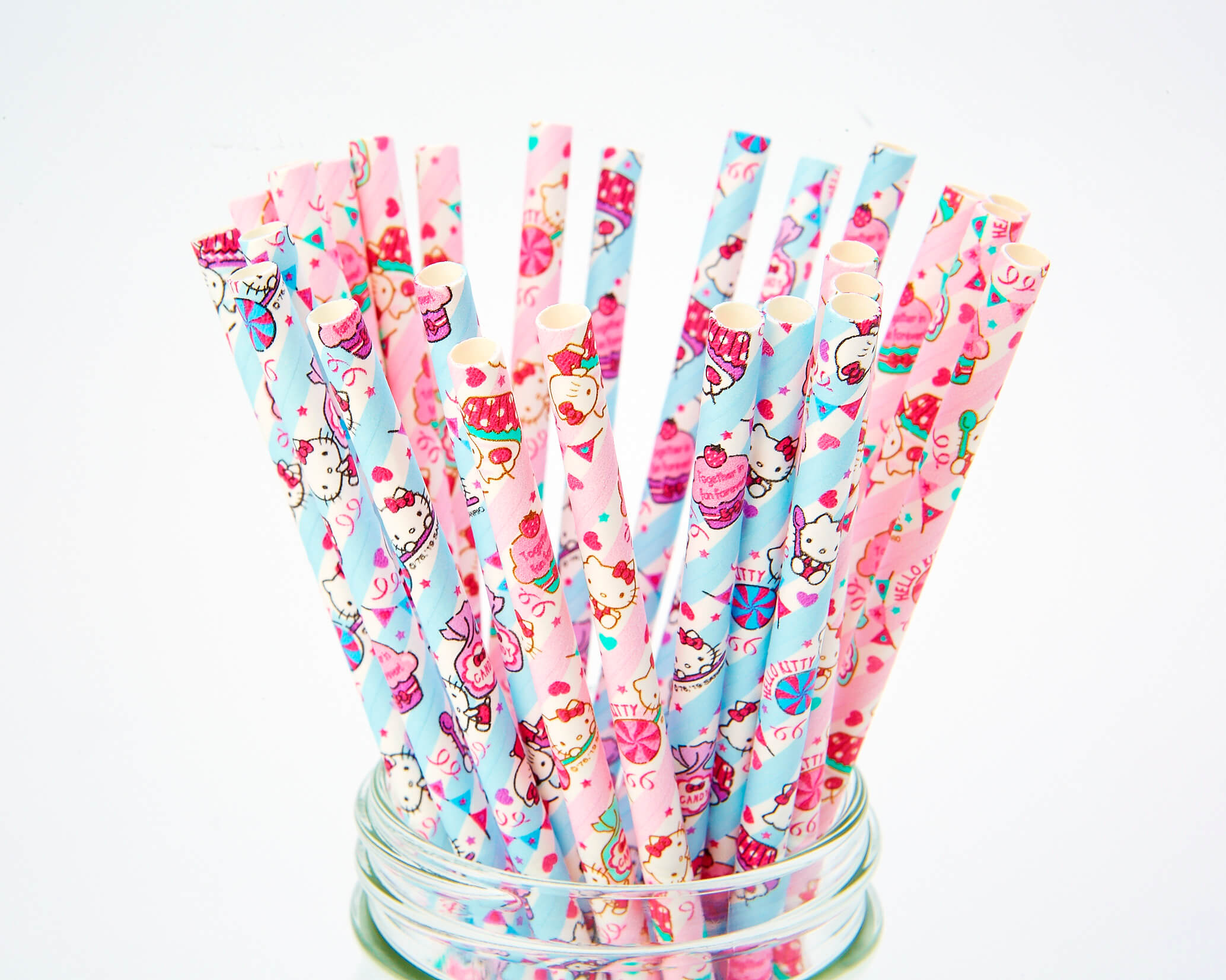 30 Hello Kitty Paper Straws (15 Blue/15 Pink): ¥216 (Tax Included)
Microplastics are a very real concern for our oceans right now. These plastics find they way into ecosystems via a plethora of sources, from clothing to cosmetics and beyond. Recently, many major food chains have withdrawn their plastic straws and opted for paper straws in an attempt to help eliminate the entering of microplastics into the ocean. People are also encouraged to purchase their own metallic straws to take around with them.
The Sustainable Development Goals (SDGs) are a set of 17 global goals established by the United Nations General Assembly in 2015 to be reached by the year 2030. This includes "No Poverty," "Zero Hunger," "Climate Action" and so on. The 14th goal is "Life Below Water" in which nations are to "conserve and sustainably use the oceans, seas and marine resources for sustainable development."
Sanrio have gotten on board with these international efforts by using Hello Kitty as promotion for the SDGs over on the official Hello Kitty YouTube channel. As part of the efforts for Life Below Water, Sanrio will release colourful paper straws that both children and adults are encouraged use at home.
Join Hello Kitty and the rest of the world to help save our ocean.
©1976,2019 SANRIO CO., LTD.
RELATED ENTRIES
Win Hello Kitty & Chibi Maruko-chan Prizes With Sanrio's Lottery Draw

To celebrate the 30th anniversary of the Chibi Maruko-chan anime adaptation, the franchise is teaming up with Sanrio's internationally beloved character Hello Kitty.

For the collaboration, cute and original artwork has been created featuring Hello Kitty and Maruko-chan hanging out together in their everyday lives, a scene that's sure to incite a sense of nostalgia to both kid and adult fans of the longtime anime series.

We see Maruko-chan wearing Hello Kitty's iconic red ribbon, as well as Maruko's grandpa Tomozo Sakura donning a hat inspired by Hello Kitty.

There's also an illustration of the two friends drinking milk bottles together which they bought from Mitsuya in the background, a candy shop that appears in the Chibi Maruko-chan seires.  If you look closely you can see Noguchi peeking her head from behind the shop.

A special lottery draw is set to roll out in Japan at Sanrio stores, department stores stocking Sanrio products, Lawson, MiniStop, Daily Yamazaki, bookstores, and elsewhere from early June 2020. Fans are guaranteed to win a prize, which includes a line-up of nine items as well as a special top prize. Merchandise includes a takoyaki machine, hot plate, bath towel, and more.

Following the lottery draw, more exciting things are set to take place as part of the collaboration.

ⓒ Sakura Production / Nippon Animation

ⓒ 1976, 2020 SANRIO CO.,LTD. TOKYO,JAPAN  著作:株式会社サンリオ

Information

Chibi Maruko-chan x Hello Kitty – Sanrio Lottery

Price: ¥700 (Tax Included) per go

Start Date: Rolling out early June 2020 (Start date differs between stores)

Available: Sanrio products, Lawson, MiniStop, Daily Yamazaki, bookstores, and elsewhere (*Select branches not participating)

Epic Hello Kitty Gundam Figures Revealed For Summer 2020 Worldwide Release

Two new figurines have been revealed by BANDAI SPIRITS, which sees the worlds of Hello Kitty and Gundam come together as part of the longtime selling brand Chogokin ("Super Alloy") which has been selling since 1974. The figures will go on sale in Japan and 22 countries around the world in July 2020.

In April 2019, a projected began entitled Gundam vs Hello Kitty, which we covered throughout its run in detail. In the end, Gundam came out victorious, but both competitors made peace and began a new project named "Gundam x Hello Kitty Love & Peace." The two figurines are the first realisation of that new project.

In 2014, Chogokin celebrated its 40th anniversary, the year in which Hello Kitty celebrated her own 40th anniversary too, from which the incredibly popular "Chogokin Hello Kitty" was released. Last year, Mobile Suit Gundam commemorated its own 40 years since its release. The two figures are based on Amuro Ray's RX-78-2 Gundam and Char Aznable's MS-06S Zaku II which appear in the original series.

Over on the product website, you can watch a short animation showcasing the two figures, so be sure to check it out.

©Sotsu Co., Ltd. ・Sunrise ©1976, 2020 SANRIO CO., LTD.

Information

Chogokin Gundam★Hello Kitty

Price: ¥7,480 (Tax Included)

Release Date: July 2020

Chogokin Char Zaku II★Hello Kitty

Price: ¥7,480 (Tax Included)

Release Date: July 2020

Japan Release: Available at hobby shops, toy shops, internet shops, Sanrio's online shop, select Sanrio stores, and elsewhere

Product Website: https://tamashii.jp/special/sanrio/

Hello Kitty Collaborates With Japanese Biscuit Brand Tabekko Doubutsu

Sanrio is teaming up with Japan's longtime loved snack maker Ginbis to release a new line of 11 products featuring Hello Kitty. They will go on sale from February 6, 2020 at Sanrio shops across Japan, the online store, and select stores stocking Sanrio products. The collaboration combines the deliciousness of their biscuits, which are a nostalgic snack for Japanese people, with the cuteness of Hello Kitty.

The snack in question is the butter flavour of the popular longtime selling biscuit Tabekko Doubutsu, which are light to eat and come in cute animal shapes with the name of the animal written on them. Hello Kitty is a character known the world over, who celebrated her 45th anniversary last year. But the collaborative product line doesn't just include the biscuits – it includes merchandise too which will be sold as gift sets.

Plastic Mug (2 Designs) & Tabekko Doubutsu Biscuits – ¥700 Each

Two exclusive designs were created for the plastic mugs, including one with Hello Kitty flying an aeroplane over the animals, and the other with her face mixed in with the biscuit shapes.

*Please note that the biscuit packs do not come with biscuits of Hello Kitty's face

Mascot Holder & Tabekko Doubutsu Biscuits – ¥1,650

Mini Handbags (2 Designs) & Tabekko Doubutsu Biscuits – ¥1,100 Each

The mascot holder features Hello Kitty covered in biscuits, and the mini handbags come in the same designs as the plastic mugs. There are also pouches, mini purses, and more, for a total of 11 different items.

Treat yourself or your Valentine's Day sweetheart to an item in this kawaii new collaboration from Sanrio and Ginbis.

©️'76,'20SANRIO ©️Ginbis

*All listed prices include tax

Sanrio Gift's New Shop in Ueno Welcomes Hello Kitty Panda Merchandise & More

Sanrio opened a new gift shop called Sanrio Gift Gate in Ueno on January 24, 2020. This is the 107th branch of the gift shop to open in Japan, following the openning of the Asakusa branch which opened in Asakusa last year. Aimed at tourists both Japanese and foreign, it sells merchandise of Sanrio's popular cast of characters.

You can't miss the shop as a giant Pompompurin embracing a panda suit-clad Hello Kitty are waiting to greet you at the entrance. The panda is a symbol of Ueno due to Ueno Zoo housing giant pandas.

The souvenir shop features a range of Ueno exclusives, including a line-up of six popular Sanrio characters wearing panda outfits.

Plush Toys (6 Designs) – ¥2,200 Each / Small Plush Toys (6 Designs) – ¥1,760 Each

Who could resist one of these cute toys? The bigger ones at 16cm tall and the small ones 11cm. The line-up includes fan favourites Hello Kitty, Pompompurin, Cinnamoroll, My Melody, Kuromi, and Pochacco.

There's also pop-up cards with a variety of designs, including one that opens up into Ameya-Yokochō open-air market, another that turns into Hello Kitty and a panda sat down, and more.

Edo-Tamagawaya x Hello Kitty Pink Tonkotsu Ramen – ¥390

Budoonoki Sanrio Character Baumkuchen – ¥594 Each (Hello Kitty/My Melody/Pompompurin/Cinnamoroll)

The Salt Industry Center of Japan x Hello Kitty Table Salt – ¥248

There's also food and snacks amongst a whole range of other goodies, all perfect as gifts and souvenirs.

Be sure to stop by Sanrio Gift Plaza the next time you're in Ueno.

ⓒ 1976, 1996, 2020 SANRIO CO.,LTD. TOKYO, JAPAN  Original Text: SANRIO CO.,LTD.

*All listed prices include tax. Sold items receive stock turnovers.

Information

Sanrio Gift Gate Ueno
Address: Plaza U Bldg. 1F, 4-8-6 Ueno, Taito Ward, Tokyo

Business Hours: 11:00-20:00 (subject to change – please check website for latest info))

Other: Duty-Free/Payment possible with Alipay and WechatPay.
Shop Information: https://www.sanrio.co.jp/shop/sh8122100/

Hello Kitty, Cinnamoroll & Pompompurin Japanese Wagashi Confections Releasing at Lawson Convenience Stores.

Hello Kitty, Cinnamoroll and Pompompurin are the latest to be picked up by character-inspired Japanese confectionery series Tabemas. These wagashi sweets will go on sale at Lawson convenience stores across Japan (excluding Lawson Store 100 branches) on January 21, 2020.

The character line-up is based on the top three winners of the 2019 Sanrio Character Awards which we covered last summer. Hello Kitty came first place at the awards, and so she has gotten a special limited edition design for the sweets series. Cinnamoroll was second on the award list, and this is his first time joining Tabemas. Third place was Pompompurin who appears once again with Tabemas due to his popularity.

The 'Tabemas' brand name is an abbreviation of the Japanese words taberareru masukotto, meaning 'mascots that you can eat.' It is a Japanese confectionery series that combines well-known characters and Japanese sweets made from ingredients like red bean paste, sugar and rice flour. The sweets are also made with a dough called "nerikiri" which is used in making traditional Japanese wagashi sweets.

In line with the Year of the Rat in the Chinese zodiac, Hello Kitty is donning a kawaii rat outfit. Cinnamoroll's charm point is his big ears and pink cheeks.

Each confection is filled with a different flavour bean paste: Hello Kitty is cheese, Cinamoroll is milk, and Pompompurin is of course Japanese custard pudding, or 'purin,' flavoured. They maintain that delicate flavour of traditional Japanese wagashi while having cute contemporary designs. You'll be happy to know that all of the colouring is natural tooーno synthetic colours were added.

Perfect as a delicious treat, but don't forget to snap a photo for Instagram first! Each of them is also limited in stock, so don't miss your chance to grab one at the nearest Lawson store to you while in Japan.

© '76,'96,'01,'20 SANRIO APPR.NO.S604062

Information

Tabemas Hello Kitty 2020 / Tabemas Cinnamoroll / Tabemas Pompompurin 2020

Price: ¥280 Each (Tax Included)

Release Date: January 21, 2020

Available: At chilled desserts section of Lawson convenience stores across Japan

*Not available at Natural Lawson or Lawson Store 100

*Available while supplies last

Product Page: https://www.bandai.co.jp/candy/tabemas/sanrio3/

Gundam vs. Hello Kitty Collaboration Releases Final Promotional Video

The Gundam vs. Hello Kitty project began in April 2019, with Gundam recently being announced as the winner between the two. The two franchises have now come together to announce a new project for 2020 entitled "Gundam x Hello Kitty Love & Peace."

The project sees Hello Kitty and Gundam looking past their differences to instead pray for a world with peace and no war. It will go on to collaborate with various shops and creators.

The third and final promotional video for the project entitled "Love & Peace" was released on YouTube, following on from the first two episodes which collectively have over 2 million views. Check it out below.

Fans can expect a whole new batch of merchandise to come with the following new cute designs which combine the worlds of Gundam and Hello Kitty.

More information on the project will be released in the coming months on the project's official website and Twitter account.

Speaking about the latest in the project, Amuro from Gundam commented: "We had our showdown in 2019. We have the support of all of you and have been able to come to an understanding with Hello Kitty. We have numerous things planned for 2020 which we are putting our all into with Hello Kitty, so please be sure to keep watching over us."

Hello Kitty said: "I competed in 2019, and thanks to everyone who supported me, I have been able to win over Amuro and we now understand each other. We're working well together. We have lots in store for you to enjoy, so look forward to it."

©Sotsu・Sunrise ©'76,'20 SANRIO

Akihabara's popular maid Café @Home Cafe Teams up with Hello Kitty

Akihabara's popular maid café @Home Cafe is partnering up with the world's favourite Sanrio character Hello Kitty, creating a beautiful collaboration café that will open on January 21 and run for a limited time. The new café will see a new original menu, café-limited goods and much more.

@Home Cafe collaborated with Sanrio characters My Melody and Cinnamoroll in 2018, and with Pompompurin in 2019. Each year, the collaboration café was very popular. As 2020 marks the year of the Tokyo 2020 Games, Sanrio has stepped up their game, sending in their legendary Hello Kitty to the café to ensure that 2020 is celebrated to the max.

The collaboration café features illustrations of Hello Kitty and her twin sister Mimmy dressed as maids and serving customers in the café. The collaboration café will see the walls dressed in pink and yellow gingham checkered patterns and lots of sweet and cute illustrations.

Hello Kitty's KAWAII ♡ Pink Curry (Comes with Certificate Card): ¥1,400


Hello Kitty and Mimmy's Moe Moe Ribbon Pasta Plate: ¥1,300


Hello Kitty's Lovely Sandwich with Sweet and Sour Soup: ¥1,300

Hello Kitty's Moe Moe Parfait: ¥1,000 Mimmy's Kyun Kyun Parfait: ¥1,000

Bright Red Apple Okyumuka Cake: ¥1,000

As the café's main theme is "moe" (feeling of strong affection),  Hello Kitty and Mimmy are sure to enhance your moe experience to the max.

Masters and mistresses who visit the café will also be presented with one of two designs of free collaboration placemat.

There are three varieties of original drink coasters at the café too. Masters and mistresses who order a drink will be given one for free.

Lunch Tote Bag: ¥1,500

Acrylic Keyings (Three Varieties): ¥600 Each

The café is also full of a wide range of collaboration merchandise so make sure to check them out after filling up on some delicious kawaii food.

The maids at the café will also be wearing original Hello Kitty and Mimmy-themed maid outfits that you just cannot miss if you are a Hello Kitty fan.

*All prices stated above are prices before tax.

*The English names of the dishes and merchandise mentioned above have been translated.

©1976,2020 SANRIO CO., LTD. APPROVAL NO.S603899

Information

@Home Cafe and Hello Kitty Collaboration Café 

Running: January 21, 2020 – March 29, 2020 

Location: @Home Cafe, Floor 5 Mitsuwa Building, 1-11-4, Sotokanda, Chiyoda, Tokyo

Opening Hours

Weekdays: 11:00 – 22:00

Weekends and National Holidays: 10:00 – 22:00

*Last Orders: 21:20

*Open from 10:00 on Weekdays, Weekends and National Holidays in March

No Regular Holidays

*Opening hours are subject to change. Please refer to @Home Cafe's official website for the latest updates.

@Home Cafe Official Website: http://www.cafe-athome.com/

Doraemon and Hello Kitty Collaborate in New Kawaii Merchandise Line

Sanrio has announced a new Doraemon and Hello Kitty design series which is set to be released on December 26 at Sanrio stores across Japan, as well as department stores stocking Sanrio goods and the Sanrio online shop.

The Doraemon x Hello Kitty collaboration project began in 2015. Both characters have come to be symbols of Japan adored by all generations, with the Doraemon manga series set to celebrate its 50th anniversary next year, and Hello Kitty having celebrated hers this year. The project is now expanding its range for all the grown-ups that were raised on both franchises.

Hello Kitty Mascot Holder – ¥1,980

Doraemon Mascot Holder – ¥1,980

This marks the 4th Doraemon and Hello Kitty collaborative design series developed by the Sanrio shop. All the merchandise incorporates fun and instantly-recognisable motifs from the characters, like Doraemon's secret gadgets and Hello Kitty's ribbon.

Reversible Cushion – ¥3,080

Handbag – ¥2,200

A5 Notebook – ¥605

The cute mascot holders see Hello Kitty borrowing Doraemon's bell and takecopter and Doraemon with Kitty's ribbon. This adorable feature follows into the designs of the other items too, like the reversible cushion which turns inside out into either the Doraemon or Hello Kitty design. There's lots of items in the line-up besides that shown here too, including pens and more.

Don't miss out on this sweet collection.

*All prices include tax

©️Fujiko-Pro ©️'76, '19 SANRIO

Hello Kitty Greets Fans with Song and Dance Every Day at the HELLO KITTY SHOW BOX

The official Hello Kitty theatre and restaurant HELLO KITTY SHOW BOX on Awaji Island saw a grand opening full of excitement and emotion in August 2019. Hello Kitty is now greeting fans with song and dance every day at the new event HELLO KITTY GREETING SHOW which started on December 1. 

Hello Kitty, who realised her dream of becoming a pianist, will perform on stage, showing off her beautiful voice and flawless dancing. The show is interactive and invites the audience to join her fun world. 

After the show, there is the chance to have your photo taken with the star herself in the greeting event.

If you're a fan, you won't want to miss this opportunity to get closer to Hello Kitty.

© 1976, 2019 SANRIO CO., LTD. APPROVAL NO. G603369

Information

HELLO KITTY GREETING SHOW

Opening Hours:

11:00-20:00 (Up to three performances per day)

①From 11:00 (Lunch), ② From 1500 (Cafe), ③ From 18:00 (Dinner)

* Last Entries

Lunch/ Dinner: Up to 1 hour after opening

Cafe: Up to 30 minutes after opening

Closed: Wednesdays

Reservations

①Reservations can be made via the homepage here (*Discount applied to all advanced reservations)

②Reservations can also be made at the restaurant on the day depending on the number of available tables

Allotted Time: Approx. 1.5 – 2 hours.

HELLO KITTY SHOW BOX

Address: 177-5 Nojimahirabayashi, Awaji, Hyogo Prefecture

Website: https://awajiresort.com/hellokittyshowbox/#

Japan Shopping Festival: Hello Kitty Supports Huge Shopping Event Aimed at Foreigners

一The Japan Shopping Tourism Organization (JSTO) has announced that it will hold an event titled "Japan Shopping Festival" aimed at foreign tourists in Japan from December 1, 2019 to February 29, 2020.

①Questionnaire Campaign

A questionnaire will be carried out for non-Japanese travellers to win round-trip tickets to Japan. Travellers will be selected randomly from a lucky draw.

②Instagram Photo Contest

Follow Japan Shopping Festival on Instagram and post photos related to the designated themes with the hashtag #jsfphoto. The themes are: ①Memories of what you bought and experienced in Japan, ②Your favourite fruits in Japan, and ③Good things about Japan you want to boast.

③Coupons, Goods & Experiences

Japan Shopping Now is one of Japan's biggest online shopping portal sites, and they are now promoting information on Japanese shopping overseas in English, Traditional Chinese, Simplified Chinese, and Korean. This includes coupons, sales, and more at almost 1,000 participating stores.

④Special Events

・Japan Shopping Festival Tohoku (December 1, 2019 – February 29, 2020)

This shopping festival will take place at 6 prefectures across Tohoku. Discover Japanese confectioneries, fashion, sake, fruit and more, including a tie-up with JR EAST PASS.

Official Website:  http://tohoku.japanshopping.org/

・Matsuyama Shopping Festival (December 1, 2019 – March 31, 2020)

From Okaido Shopping Street to Matsuyama Gintengai Shopping Arcade, Matsuchika Town, and more, look forward to end-of-year lucky draws, food events, shopping, and so on.

Official Website:  http://matsuyama.japanshopping.org/

Discover the wonders of shopping in Japan and learn more about the country with the Japan Shopping Festival.

These Hello Kitty Kintsuba Japanese Confections are the Perfect Souvenir From Japan

Confectionery company Nakataya has teamed up with Sanrio to release the Hello Kitty Kintsuba.

Kintsuba is a type of traditional Japanese confection of sweet beans wrapped in wheat-flour dough. Nakataya is famous for their kintsuba, which are made with large-grained beans and red bean paste. They have maintained the flavour and quality of these confections, each of which is made with the utmost precision, and all individually.

This year marks the 85th anniversary since Nakataya opened. The long-standing store hopes to bring in more foreign and younger customers by collaborating with Hello Kitty.

They have crafted several flavours. Pictured above is the apple pie flavour, Hello Kitty's favourite. It's made with fuji apples from Aomori Prefecture which is known for its incredible apples. It's mixed with white bean paste and is lightly flavoured with cinnamon.

The mixed berry flavour is a fruity sweet and sour mix of strawberries, raspberries and blueberries which have been mashed together with white bean paste.

The confection comes in two kinds of packaging: one designed by Nakataya's founder Nakata (中田憲龍), and a Hello Kitty version where she is dressed as a dragonーa symbol of the shop. This is a completely original Hello Kitty design made specially for the collaboration.

The outer packaging is made with a wrapping cloth to both pass down an aspect of traditional Japanese culture while also catering to the eco-friendly lifestyle of the modern age. It's made from amuzen fabric and can be reused. The inner packaging is a simple paper tray so can be recycled. And if you take the wrapping cloth back to the store, they can refill it with the three Hello Kitty kintsuba confections at a discounted price.

Information

Hello Kitty Kintsuba

Released: November 1, 2019

Contains: One box of 6 (x3 mixed berry/x3 apple pie)

Price: Hello Kitty Kintsuba – ¥2,500 (Before Tax) *Comes with wrapping cloth

Hello Kitty Kintsuba Refill – ¥1,800 (Before Tax)

*The refill is only available to those with a wrapping cloth

Available: At participating Nakataya branches and the online shop

Official Website: www.kintuba.co.jp

Keio Plaza Hotel Tama's Hello Kitty & Sanrio Rooms Celebrate 5th Anniversary

To celebrate 5 years since the grand opening of the Hello Kitty Room at Keio Plaza Hotel Tama, guests are being treated to a very special present.

Friday November 1 marked the 45th anniversary of Hello Kitty. Together with the 5th anniversary of the hotel room, all guests who stay in any of the Sanrio character-themed hotels at Keio Plaza Hotel from now until February 29 next year will receive an application paper. Once they fill it out and then post it in the box in the lobby on the second floor they will be entered for a chance to win a one-night ticket to one of the three Sanrio character rooms. Exclusive merchandise will also be sold to commemorate the 5-year milestone.

The hotel poster promotional videos for the three rooms over on their homepage. This includes the revamped Hello Kitty Room, the My Melody Room which opened back in June, and the Little Twin Stars Room.

Information

Sanrio Character Room Ticket Campaign

Running: November 1, 2019 – February 29, 2020

Keio Plaza Hotel Tama

Address: 1-43 Ochiai, Tama, Tokyo

Official Website: https://www.keioplaza.com/tama/index.html