Dororo Anime Soundtrack Album Illustration By Original Illustrator Hiroyuki Asada Revealed
Manga Dororo by Osamu Tezuka was made into an anime 50 years ago. This continual sensation is getting an official soundtrack which will be released on August 14. The CD will be titled TV Anime Dororo Music Collection Tamashi no Kodou. Hiroyuki Asada, who creates the original character design drafts, designed the illustration for the CD jacket, which has just been unveiled to the public.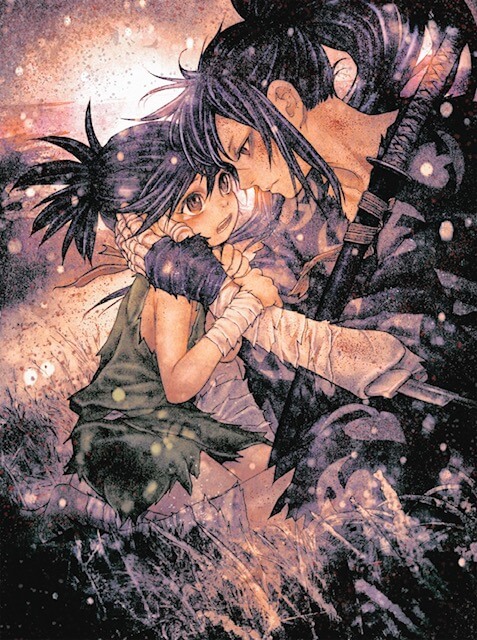 First-Press Limited Edition Version
The whimsical illustration shows Dororo and Hyakkimaru snuggling together, alone in a vast barren desert. The first-press limited edition soundtrack version comes in a luxurious tall-size DigiPak sleeve and consists of three CDs. The regular edition contains a two-disk dual case. 
Regular Version
The booklet will contain statements by illustrator Hiroyuki Asada and Yoshihiro Ike, who was in charge of the music. As a bonus, the CD jacket illustration has been adopted for use on an A2 poster, which will be sold at Animate stores countrywide. The design will also feature on clear files which will be sold on Amazon. Please check them out.
You can also view this illustration in advance at the TV Anime Dororo Original Art Exhibition Tamashi no Kodou, which is currently taking place. Please stop by to admire the illustration with your very own eyes. 
Dororo © Tezuka Productions Co., Ltd./TWIN ENGINE Inc.
Information
TV Anime Dororo Music Collection Tamashi no Kodou 
(TVアニメ「どろろ」音楽集-魂の鼓動-)
Release: August 14, 2019
First-Press Limited Edition 2 CDs + Blu-ray: ¥3,800 (before tax)  AICL-3745~7
Regular Edition: 2CDs: ¥2,800 (before tax) AICL-3748~10
TV Anime Dororo Original Art Exhibition Tamashi no Kodou
Running: May 31, July 15, 2019 (July 15th is a national holiday)
Opening Hours: 12:00 ー 20:00 (※Last entries accepted: 19:45) 
Closed: Tuesdays, Wednesdays, Thursdays 
Venue: space caiman (Kadokura building B1, 4-5-15, Nihonbashihongokucho, Chuo Ward, Tokyo)
Official Website: https://www.wani.com/special/dororo
Dororo
RNB (Nankai Broadcasting) : June 28, 2019 (Friday)  2:00 am (subject to change)
MBC (Minaminihon Broadcasting): August 2, 2019 (Friday) 1:45 am 
Jidaigeki Senmon Channel: November 2, 2019 (Saturday) 2:00 am
Amazon Prime Video (Available in Japan and overseas) 
Official Website: https://dororo-anime.com
RELATED ENTRIES
Rakudai Majo Anime Series by Production I.G. Gets First Teaser Trailer

Rakudai Majo (Failure Witch) is a popular children's book series in Japan, and Production I.G. is transforming it into an animated film! The first teaser trailer shows off the main character, Fuuka, and a magical land filled with wonder and adventure. 

Rakudai Majo Teaser Trailer #1

The film is based on Satoko Narita's book series which began with the release of the first volume in 2006. Takayuki Hamana will serve as director, and the film's script will be penned by Kiyoko Yoshimura. Marumi Sugita is in charge of character design.

More news regarding the project is expected to be announced soon, so keep an eye out for more ahead of the film's premiere! 

Ⓒ成田サトコ・千野えなが・ポプラ社/アニメ「らくだい魔女」製作委員会

Attack on Titan Song 'ətˈæk 0N tάɪtn<TFSv>' Gets Anime Music Video

An animated music video for the track ətˈæk 0N tάɪtn<TFSv> from Attack on Titan The Final Season has been uploaded to YouTube. The song will be featured on the upcoming second soundtrack, scheduled to be released on June 22 and composed by Hiroyuki Sawano. The track itself was played during a crucial moment in Episode 87. 

The music video features footage from The Final Season Part 2, which aired from January to April.

ətˈæk 0N tάɪtn<TFSv> – Attack on Titan The Final Season OST (Official Music Video)

The soundtrack will include 15 tracks including Ashes on the Fire -PTV- and Footsteps of Doom. Fans of the series won't want to miss picking it up, and it will also be available to stream on all major streaming services this week.

The final episodes of Attack on Titan The Final Season will air on NHK General in 2023.

©諫山創・講談社/「進撃の巨人」The Final Season製作委員会

CulZone in Akihabara Begins Limited-Time Anime T-Shirt Festival

CulZone, inside ACZ and operated by Ichigo Animation, has expanded and reopened! To commemorate, the Anime T-Shirt Festival will be running from June 17 until July 10. Dozens of shirts will be on sale featuring both new and old anime titles. 

Lineup

©Negi Haruba, Kodansha /The Quintessential Quintuplets ∬ Production Team ®KODANSHA

 

©Koyoharu Gotouge / Shueisha・Aniplex・ufotable

©2016 Natsume Akatsuki, Kurone Mishima / KADOKAWA / Konosuba Production Committee

 

©BANDAI NAMCO Entertainment Inc.

©Tappei Nagatsuki, KADOKAWA / Re: Zero Production Committee

©Sotsu / Sunrise

 

©1995 Masamune Shirow / Kodansha, Bandai Visual, MANGA ENTERTAINMENT



Character shirts and logo shirts will be available and every fan will find something perfect! Items will be changed regularly throughout the event, so be sure to stop by and find something perfect for your summer wardrobe.

Information

Anime T-Shirt Festival
Running: June 17 – July 10, 2022
Venue: AKIBA Cultures ZONE 4F 'CulZone'

Official Site: https://www.ichigo.gr.jp/

Sailor Moon Museum Reveals Collection of Original Drawings Made for Current Exhibition

The Sailor Moon franchise's 30th-anniversary museum will run from July 1 to December 30 at Tokyo's Roppongi Museum. The series became a global phenomenon in the 1990s and remains popular to this day.


The exhibition will feature the largest-ever collection of original illustrations by Sailor Moon's creator Naoko Takeuchi. Rare original color drawings and some never-before-scene creations will be on display. The museum will have three phases: volume 1 (July 1 – September 4), volume 2 (September 10 – November 6), and volume 3 (November 12 – December 30), and during each phase, new works will be available for guests to peruse.


The event will also include an 'immersive experience theater,' which will display colored images on a massive 4.5 x 8-meter screen with special effects. Fans can also enjoy a 'hologram manuscript exhibit,' which will display the Sailor Scouts' famous dialogue. Anime materials and a selection of classic merchandise from the 90s to the modern-day will be available to peruse, as well as outfits from the musicals.

Prior to the start of the exhibition, three new original drawings have been created by original author Naoko Takeuchi. These exclusive images will be on display throughout the event!

© Naoko Takeuchi

Information

Sailor Moon Museum

Running: July 1 – December 30, 2022

Vol.1: July 1 – September 4, 2022
Vol.2: September 10 – November 6, 2022

Vol.3: November 12 – December 30, 2022
*Closed September 5-9, November 7-11
Hours: 10:00-18:00 (Last entry at 17:30)

Venue: Roppongi Museum (5-6-20 Roppongi, Minato-ku, Tokyo)

Official Site: www.sailormoon-museum.com

Attack on Titan Song 'Ashes on the Fire -PTV' Gets Animated Music Video

An animated music video for Ashes on the Fire -PTV- from Attack on Titan The Final Season has been released! Featuring music by Kohta Yamamoto, the upcoming second soundtrack, set to be released on June 22, is already becoming a hot topic online. It will also include the full version of Footsteps of Doom, which played during a vital scene in episode 80. The song has over 4 million plays on YouTube, an incredible feat for a song from an anime soundtrack. The final episodes of Attack on Titan The Final Season will air on NHK General in 2023. 

Ashes on The Fire -PTV- / Attack on Titan The Final Season OST

Footsteps of Doom / Attack on Titan The Final Season OST 

Attack on Titan The Final Season OST 02 Announcement Trailer

The soundtrack will include 15 tracks including the popular song the ətˈæk 0N tάɪtn<TFSv>. Be sure to give it a listen whenever you're feeling nostalgic for this incredible series!

Engage Kiss Anime Series Reveals Second Key Visual, Second Trailer with Ending Theme

The second key visual and second trailer for the Aniplex/A-1 Pictures series Engage Kiss have been revealed! The series will begin airing on July 2 in Japan. 

The trailer features the first appearance of the ending theme Renai-Nou performed by Akari Nanawo. Six new voice actors have also joined the cast: Akeno Watanabe as Akino Yugiri, Kenichiro Matsuda as Miles Morgan, Yoshiaki Hasegawa as Tetsuya Mikami, Aya Uchida as Shenhua Hachisuka, Saori Onishi as Linhua Hachisuka, and Ryota Osaka as Mihail Hachisuka. 

An advanced screening of the series will take place at Shinjuku Wald 9 on June 22, with more information now available. Engage Kiss will be accompanied by the Square Enix mobile game Engage Kill, which will begin pre-registration this summer.

Comment from Akari Nanawo

"I'm Akari Nanawo, and I've been put in charge of the ending theme for the anime series Engage Kiss.
The first thing I thought about while preparing for my work was the pink-haired yandere heroine! That's my favorite!!! And the guy is poor and totally dependent on her! Yikes!!!"
Engage Kiss has so many highlights, from the moments plucked from daily life to the battle scenes. The ending theme, Renai-Nou (Love Brain), will hopefully help the viewers connect with the character's emotions–especially the heroines, who are at the hero's mercy somewhat.
I hope everyone enjoys it, along with the fast-paced opening theme Everyone, Scramble by Halca!"

©BCE/Project Engage

Information

Engage Kiss

Broadcast Information

TOKYO MX: Saturdays at 24:30 starting July 2
Tochigi TV: Saturdays at 24:30 starting July 2 
Gunma TV: Saturdays at 24:30 starting July 2
BS11: Saturdays at 24:30 starting July 2
ABC TV: Saturdays at 26:30 starting July 2 
Nagoya TV: Saturdays at 26:30 starting July 2
*Broadcast dates and times are subject to change.

Streaming Information

dAnime Store will broadcast the series each Saturday starting July 2.
Other streaming sites will broadcast the series starting July 5.

Official Site: engage-kiss.com 

'Oni: The Thunder Gods Tale,' an Animated Netflix Series Inspired by Japanese Folklore, to Stream Worldwide

Oni: The Thunder Gods Tale, a new stop-motion-inspired animated series, will premiere on Netflix worldwide!

The series will be directed by Daisuke Tsutsumi, who co-directed the 2014 Academy-Award nominated short film The Dam Keeper. Animation studio Tonko House, founded in 2014 by former Pixar art directors Tsutsumi and Robert Kondo, is producing the show. Writer Mari Okada, known for Anohana and The Anthem of the Heart, is also on board.

The first trailer for the 4-episode series has been revealed ahead of its release. Set in a world filled with strange gods and monsters inspired by traditional Japanese mythology, viewers will enter the world of a brave girl named Onari fighting to protect her peaceful village.

 

Onari is determined to follow in the footsteps of the mighty heroes of lore, but her unique powers are yet to be revealed and her father won't teach her a thing. Does she have what it takes to fight to protect her peaceful village from the encroaching threat of the gods' mysterious enemies, the Oni?

The impressive teaser trailer shows off an encounter with the mysterious enemy. Those familiar with Japanese folklore will recognize the tengu, kappa, and dharma running through the mountains.

 

Oni: The Thunder Gods Tale Trailer #1


Tsutsumi is incredibly proud of the new work. "The story of this girl living between two worlds began as a story inspired by my own life. As production progressed, however, many of the staff members began sharing their own personal stories and passion for this story."


The cast includes Momona Tamada, Archie Yates, Craig Robinson, Tantoo Cardinal, Brittany Ishibashi, Omar Miller, Anna Akana, Charlet Takahashi Chung, Yuki Matsuzaki, Seth Carr, Robert Kondo, and George Takei. Miyuki Sawashiro, known for her work as Kurapika in HUNTERxHUNTER and Daki in Demon Slayer: Kimetsu no Yaiba, will also star in the series.

"This series features my absolute dream cast," said Tsutsumi. "All of these incredible talents accepted our proposal with such passion and empathy for the story and collaborating with them has been equally humbling and inspiring. They've given souls to our characters and unparalleled performances for our animators."

Netflixシリーズ「ONI:神々山のオナリ」全世界独占配信

Second Attack on Titan The Final Season Soundtrack to be Released, Featuring 'Footsteps of Doom'

A second soundtrack for Attack on Titan The Final Season will be released on streaming services on June 22, 2022.

Attack on Titan The Final Season Part 2 aired from January to April of 2022. The new soundtrack will include the full version of Footsteps of Doom, written by Kohta Yamamoto and played during episode 80. The song has over 4 million plays on YouTube, an incredible feat for a song from an anime soundtrack. 

The album will also include a new version of Ashes on the Fire and the track ətˈæk 0N tάɪtn<TFSv>.

Attack on Titan The Final Season Original Soundtrack – Footsteps of Doom Sample Video

The album jacket features a new illustration of Eren Jaeger drawn by animator Takashi Kojima, who was in charge of the opening animation for Attack on Titan The Final Season Part 2.

The final episodes of Attack on Titan The Final Season will air on NHK General in 2023. 

©諫山創・講談社/「進撃の巨人」The Final Season製作委員会

Upcoming Anime Series 'Tokyo Mew Mew New' Reveals Second Trailer

The 2002 anime series Tokyo Mew Mew is about to be reborn! Tokyo Mew Mew New will begin airing on July 5, and more information was revealed at an advanced screening attended by voice actors Yuma Uchida (Masaya Aoyama), Yuichi Nakamura (Ryou Shirogane), and Yusuke Shirai (Keiichirou Akasaka). 

The second trailer includes footage of the transformation sequences and special attacks of the five main characters. Longtime fans must be over-the-top excited!

A new character also makes an appearance in the trailer! Nobuhiko Okamoto will voice Quiche, an alien with feelings for Ichigo. Don't be fooled, however–he wants to take over the Earth. 

Tokyo Mew Mew New Second Trailer

The new series will premiere on July 5 at 24:00 on TV Tokyo on July 6 at 24:30 on BS TV Tokyo. The theme song Cat!! shite SuperGirls by Smewthie can be heard in the second trailer and will be available to stream ahead of the broadcast. The ending theme, Tokimeki Ichigo Ichie, will also be streaming soon.

 

Tickets for an advanced screening are on sale until June 3 and will include highlights of the first three episodes. The screening will also include a cast talk with Yuma Uchida, Yuichi Nakamura, and Yusuke Shirai, as well as commentary by Nobuhiko Okamoto about his character Quiche.

 

The Tokyo Mew Mew New Visual Book will be released on June 13, 2022. Filled with cast and staff interviews, fans won't want to miss it! Be sure to tune into the series when it starts in July.

The Rose of Versailles Celebrates 50th Anniversary with Exhibition at Tokyo City View

Tokyo City View in Roppongi Hills will hold The Rose of Versailles 50th Anniversary Exhibition -The Rose of Versailles Forever- from September 17 until November 20, 2022. 

Riyoko Ikeda's historical romance manga was first serialized in Shueisha's Weekly Margaret manga magazine from April 1972 to December 1973. The epic historical drama set in the French Revolution-era overturned the common perception at the time that historical stories were not appropriate for girls' manga, and the series was a huge hit, winning the hearts of girls from the start. It became so popular that it received tens of thousands of fan letters per month, and became an immortal masterpiece that changed the history of shoujo manga.

The Rose of Versailles tells a story over 2,000 pages long, but this exhibition focuses specifically on Marie Antoinette and Oscar François de Jarjayes, the two main characters of the story. Guests will be able to see rare original drawings, along with Ikeda's thoughts and words at the time. Ikeda was only 24 years old at the time when she drew some of these incredible pieces, and she continued studying painting during the series' serialization. 

Even after serialization ended in 1973, the series only continued to grow in popularity. Adapted for the stage by the Takarazuka Revue in 1974, it became a social phenomenon, and an anime series followed in 1979.

In the Takarazuka Revue section of the exhibition, Oscar's room from the play will be recreated, and stage costumes and props will be on display.

Come enter the dreamlike world of The Rose of Versailles while enjoying a spectacular view of Tokyo from 250 meters up!

©池田理代子プロダクション

©池田理代子プロダクション/集英社

©大野愛子

Information

The Rose of Versailles 50th Anniversary Exhibition – The Rose of Versailles Forever –

Running: September 17 – November 20, 2022
Venue: Tokyo City View
Official Site: https://verbaraten.com/



Jeddah Season 2022 in Saudi Arabia Announces the Launch of "Anime Village"

The seaside town of Jeddah in Saudi Arabia began Jeddah Season 2022 on May 2. The weeks-long entertainment and cultural festival has announced the "Anime Village," an interactive event filled with popular Japanese IPs produced by Avex. The family-friendly area will be open until July 2. 

*Avex has partnered with Sera, a leading event management company with operations around the world, to produce "Anime Village."


Jeddah Season 2022 is part of a new initiative in Saudi Arabia called Saudi Seasons. The plan was launched to enrich the lives of both Saudi citizens and visitors and to showcase the country as an important global tourism destination. After a two-year hiatus due to the pandemic, Jeddah Season has now returned for the second time.

The "Anime Village" is located in the City Walk area of the event space and includes a ton of popular Japanese properties including Gundam, Demon Slayer, Captain Tsubasa, Ghost in the Shell, Godzilla, Jujutsu Kaisen, Attack on Titan, Naruto, Pac-Man, HUNTERxHUNTER, BLEACH, My Hero Academia, and more. Guests can also purchase goods at the Animate Shop and the Sanrio Shop. 

For the first time in the Middle East, a giant Gundam diorama measuring approximately 6 meters was put on display, and a Hello Kitty fan meetup will be held. At the Captain Tsubasa booth, visitors can play a VR game that will pull them into the world of the anime series. 

We love to see Japanese pop culture continuing to spread around the globe!

Information

Jeddah Season 2022 Anime Village

Running: May 19 – July 2, 2022

Hours: 18:00-25:30

Venue: Jeddah Season 2022 City Walk Area

Official Site: https://jeddahseason.sa/index-en.html

Smile of the Arsnotoria RPG to Get Anime Adaptation in July

An anime adaptation of the Nitroplus, Good Smile Company, and NextNinja mobile RPG Smile of the Arsnotoria will premiere on July 6 on TOKYO MX and BS Nippon TV.

The main cast will include Misaki Kuno as Arsnotoria, Miharu Hanai as Mel, Miyu Tomita as Petit Albert, Eri Yukimura as Picatrix, and Eriko Matsui as Abramelin. The teaser visual also features original characters made specifically for the anime adaptation. More information will be released in June, so stay tuned!

Teaser Trailer


The RPG will also receive a manga adaptation in Kadokawa's Monthly Dragon Age magazine starting June 9. Drawn by Hattori Masaki, the series will follow the events of the anime. 

The series will also receive a spin-off story centered on a character original to the anime. Details surrounding this still remain a mystery.

Be sure to tune in when the anime premieres in July!


Summary


"Welcome to our secret academy." 

In the magical boarding school city of Ashram, girls known as Pentagramas live their lives and study to become "real ladies." It's time for you to experience the friendly, fun, and fascinating atmosphere of the campus while living alongside these girls in the school dorm!

©NITRO PLUS/GOOD SMILE COMPANY, Inc.
©Smile of the Arsnotoria the Animation Partners

Information

Smile of the Arsnotoria!
Premiering July 7, 2022
TOKYO MX: Wednesdays at 23:00 / BS Nippon: Wednesdays at 24:00
Official Site: arsnotoria-anime.com



Manga Adaptation / Novelization Information
Manga to begin serialization in Monthly Dragon Age starting June 9
Novel to be published by Famitsu Bunko
Official Site:https://arsnotoria.jp/