Visit 16 Cities Around Japan as a Student Ambassador With Jetstar Japan
Jetstar Japan has launched a new campaign for students to become ambassadors and visit 16 countries around Japan. Applications opened students on July 11.
The campaign serves to show more students how easy it is to get on a plane and travel. As an ambassador, students will be encouraged to promote the fruits of their travels.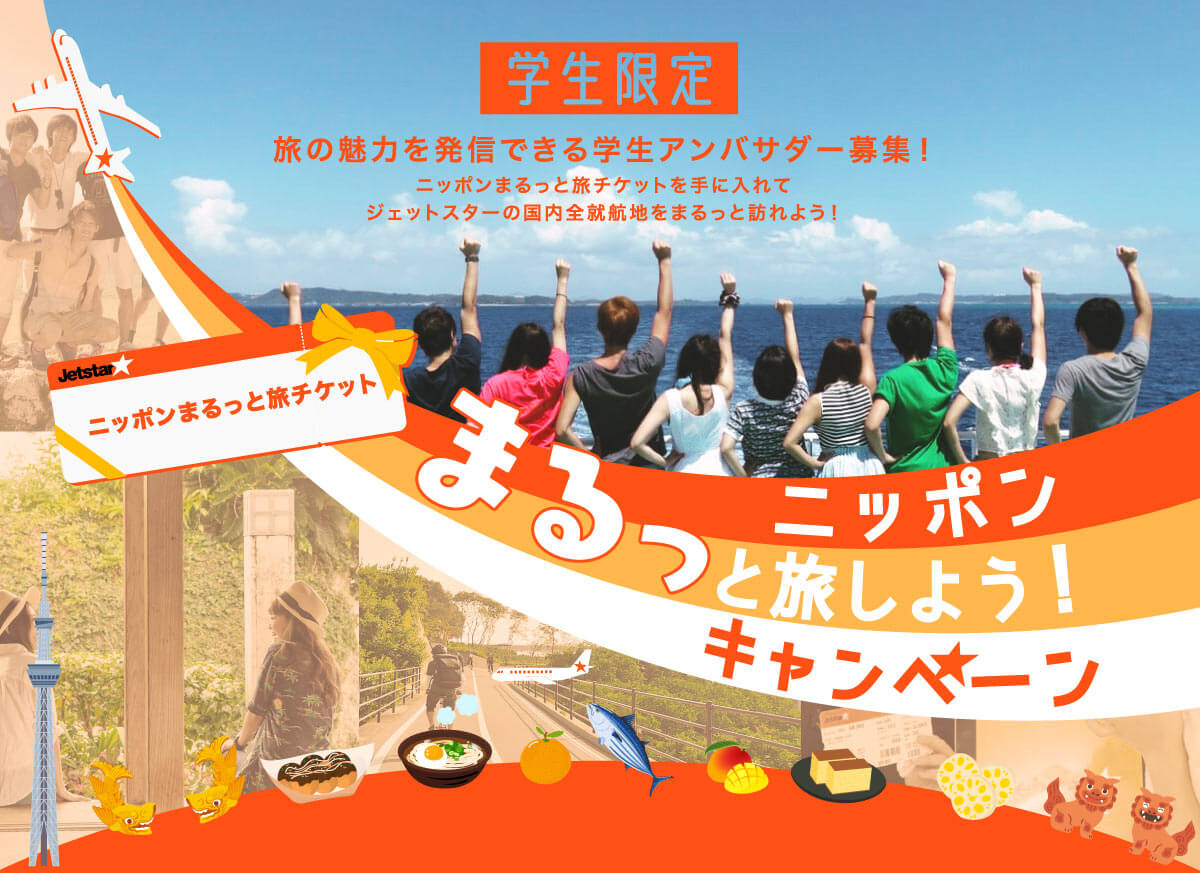 For a chance to join the campaign as an ambassador, students must post their own travel photo of choice on Instagram with the relevant hashtags between July 11 to August 8 this year. Winners will receive a special plane ticket that lets them travel on all the Jetstar Japan lines within the country. They must visit each location within a year and post about them on their social media places.
Full details can be found below. If you're living or studying abroad in Japan and want to see more of the beautiful sights the country has to offer, then don't miss out on this super special opportunity.
Information
Jetstar Student Ambassador Campaign
Running: July 11, 2019 at 11:00 (JST) – August 8, 2019 at 16:00 (JST)
*The campaign period is subject to extension
Requirements: Must be living in Japan and be a undergraduate, postgraduate or vocational school student between the period October 1, 2019 – March 31, 2021
*Minors must receive permission from their parents or guardian before applying
Prize: Special Jetstar ticket and promotion to Jetstar Student Ambassador to promote the places of travel
*Please note that the campaign is subject to changes or cancellation without notice. There are other conditions and requirements for the campaign which must be agreed to and can be found on the official website
How to Apply
①Follow Jetstar Japan on Instagram @jetstar_japan
②Post your own photo of a trip you went on that showcases your experience at the location. Please include a comment that describes the trip and location that would make other people want to visit there. Please also include the following 4 hashtags:
① #ジェットスター
② #ジェットスター旅部
③ #学生ニッポンまるっと旅
④ @jetstar_japan
Cautions When Applying
*Each person applying can post multiple times
*Your application is invalid if you are not following @jetstar_japan
*Make sure your photo is set to "Public" so that Jetstar Japan can review the post. Please also note that your application is invalid if you forget or misspell the hashtags.
Campaign Page: https://campaign.jetstar.com/gakusei/
RECOMMENDED ENTRIES
【Tokyo Stroll】Kill some time at tourist spots around Narita Airport during your flight layover

Many people find themselves with a lot of free time when at Narita Airport, whether in transit or going back home, and must find things to fill the time with. In this edition of Tokyo Stroll, we take a look at some of the best tourist spots around Narita Airport to fill your time with if you find yourself in this situation.

From visiting temples to buying souvenirs, the surroundings of Narita offer a range of exciting things to make those long hours fly by! Let's take a stroll together with Yuna Yabe and Eri to see some of the wonderful sights.

Visit "Naritasan Shinshoji Temple" just 10-minutes from the airport by train

If you have a spare 2 or so hours to kill then Naritasan Shinshoji Temple is a great location to stop by. Simply board the Limited Express train from Narita Airport via the Keisei Main Line and get off at Keisei Narita Station. The journey is just 10 minutes. What greets you as you approach the shrine is a 15 meter high gate constructed from keyaki wood. Many people enter through this gate to go and worship at the main building.

As Yuna and Eri walked toward the main building through the Niomon Gate they came to the Nioike Pond where turtle-shaped rocks were poking out of the water. There were lots of turtles sunbathing on top of the rocks. Legend says that if you throw a coin onto one of the rocks and a turtle goes onto the same rock your wish will be granted. You can see lots of coins on the rocks.

Once you pass the pond and climb the stairs you will arrive at Naritasan Shinshoji Temple's main building.

The Goma Ceremony has been practiced at the temple every single day since its founding. People's prayers are offered to Fudomyoo in front of a fire to fulfill people's worries and wishes. After praying, Yuna and Eri received a temple seal for their goshuincho temple seal notebook.

They also got their hands on an omikuji each. They opened it up, and… both of them received "Great Blessing," the best fortune you can receive from an omikuji! The omikuji have English written on the back too, so be sure to flip yours over if you can't read Japanese.

Naritasan Shinshoji Temple also has a number of designated important cultural properties, so there's plenty of amazing architecture to see if you visit. If you've got some spare time while in transit, then how about taking some time to learn some Japanese history?

■Information

Naritasan Shinshoji Temple

Address: 1 Narita, Narita, Chiba

Access: 10-minutes' walk from Keisei Narita Station via the Keisei Main Line

Website: http://www.naritasan.or.jp/

Get souvenirs at the AEON Mall only available in Japan!

While you can get your hands on souvenirs at the airport, it wouldn't be wrong to assume that most people want something sold only in Japan such as snacks or other little trinkets. The next spot we're taking a look at is the Narita branch of the AEON Mall. You can get a direct bus there from Narita Airport. Buses also leave from Keisei Narita Station, the closest station to Naritasan Shinshoji Temple.

The AEON Mall has it all – clothes shops, entertainment facilities, sundries, food and more. It's perfect for shopping with friends or having fun together with your family at the entertainment services. It's equipped with just about anything for anyone to enjoy.

We recommend doing your souvenir shopping at AEON Mall. And what better to spend your money on that Japanese snacks!

Yuna's Recommended Snack

The most popular snack bought by travelers is the baumkuchen cake. It's packed with just the right amount of sweetness. You can get a full, uncut cake in its distinct round shape, or you can get individual cut pieces in bags.

Eri's Recommended Snack:

One of the big snacks to buy from Japan is matcha flavoured Kit Kat. You can get this and many other flavours of Kit Kat at the AEON Mall. There are even limited edition seasonal flavours that are sold with the changing seasons, so make sure to be on the look out.

Besides snacks, cosmetics are another popular item. The AEON Mall is lined with a string of different brands who also offer testers of their products. There are plenty of affordable items to find in the line-up perfect as a gift to a friend. The best way to find something you like is to just get in there.

People from all over the world visit the AEON Mall in Narita so there are duty free counters. It's possible to get tax exemption from items purchased in the mall. There's a counter near the 1st floor beauty products corner so make sure to head there once you've bought something.

After a long day of sightseeing and shopping, we're back at Narita Airport. Did you enjoy seeing some of the tourist spots around the airport?

Narita Airport also offers the Transit & Stay Program for people who have long layovers, so be sure to check it out and make the most of your time there.

Models:Yuna Yabe / Eri

Photos:Kayo Sekiguchi

Writer:Sayuri Mizuno (ASOBISYSTEM)

Translator:Joshua Kitosi-Isanga

Cute Mercedes-Benz Collection Polar Bear Krispy Kreme Doughnuts Selling at Haneda Airport

Krispy Kreme Doughnuts Japan released their Mercedes me Tokyo HANEDA-limited Polar Bear Mango doughnut on July 1, 2019. This original doughnut features the popular bear character from the Mercedes-Benz collection as a motif. The doughnut contains mango flavoured cream and is coated with milky white chocolate. As you can see, the doughnut looks like a polar bear. 

Polar Bear Mango: ¥300 (before tax )

The doughnut is decorated with white chocolate ears and the face is drawn on with mint and bitter chocolate. This doughnut, which is only available for a limited-time only, has a fresh, tropical taste. The white and sky-coloured theme is refreshing to look at, not to mention perfect for those summer vibes. 

Mercedes me Tokyo HANEDA is different to your regular Krispy Kreme Japan store. Visit this branch for boxes and cups with store-limited designs. Customers who eat in are served their their doughnuts on an original design plate. Drinks are also served in original mugs and glasses. For those who decide to take out, there are original boxes designs for three and six doughnuts. 

When you find yourself waiting around at Haneda airport, how about popping by Mercedes me Tokyo HANEDA for some store-limited Krispy Kreme treats? ♪

Information

Polar Bear Mango

Shop: Mercedes me Tokyo HANEDA, Haneda Airport, 3-4-2 (Passenger Terminal 2, Marketplace, basement floor 1).

Sales Period: July 7 ー End of September, 2019 (subject to change).

Opening Hours: 7:30 ー 21:30

Telephone no: 03-6428-9090

Website: https://www.mercedes-benz.com/jp/mercedes-me/store/

Freshly Made Limited Edition Roasted Marshmallow Tart S'mores at Narita Airport

ANA FESTA, Narita Airport, is releasing a premium chocolate version of their Toasted Marshmallow Tart S'more which will only be available for a limited period. On basement floor 1 of ANA FESTA in Narita Airport, there is a shop adjoined to a small bakery where the s'mores are freshly made.

Roasted Marshmallow Tart S'more W Chocolate Pack of 4: ¥800 / Pack of 8: ¥1,600 (prices before tax)

The Toasted Marshmallow Tart S'more is a camping treat invented by America consisting of a roasted marshmallow sandwiched between two graham crackers with chocolate. Over a period of 8 months, ANA FESTA has taken this popular American treat and developed a new style of S'more. When ANA FESTA started selling their S'mores back in March 2017, they became an instant sensation, becoming a popular appearance on social media and in magazines. Now, these S'mores are known as the new Tokyo souvenir and is the most popular souvenir sold at ANA FESTA in Narita airport.

The making of the brand new premium flavour called W chocolate involved the participation of ANA FESTA bakers. After extensive trial and error, they created an exquisite masterpiece full of delicate detail down to the packaging.

On basement floor one of ANA FESTA, Narita Airport, there is a combined kitchen area where the tart s'mores are made. You can see the mixer and conveyor toaster and witness your marshmallow being placed on the tart as it is roasted to perfection. The soft, fluffy marshmallow lying on a crispy tart base is a wonderful sensation for your tastebuds.

After your Tokyo travels, pop by an ANA FESTA in Narita Airport for a wonderful souvenir!

Information

Roasted Marshmallow Tart S'mores W Chocolate

Available at: All ANA FESTA shops, Narita Airport

Freshly Made Roasted Marshmallow Tart S'mores

Shop: ANA FESTA, Narita Airport, B1 Giftshop

※ Freshly made Roasted Marshmallow Tart S'mores W Chocolate are not available.

Official Website: https://roasted-marshmallow-smore.com
RELATED ENTRIES
KYARY PAMYU PAMYU meets IMABARI: A Visit to the Historical Sea Route

Imabari is a city in Ehime Prefecture that faces the Seto Inland Sea. Since olden times, it has flourished as an important location for marine traffic. It's home to a bounty of recognised national treasures and historical heritage sights, and is also famous for its production of citrus fruits such as mikan. Japanese pop star, model, and icon Kyary Pamyu Pamyu took a trip to this ancient city to discover its wonder and beauty.

A Visit to the Historical Sea Route

Oyamazumi Shrine

A 'power spot' revered by prominent people

Oyamazumi Shrine has been revered by prominent figures throughout history as a place dedicated to the god of the mountain, god of the ocean, and the god of war. It's home to numerous Important Cultural Properties which are available for viewing by the public such as the armour worn by the military commander Minamoto no Yoshitsune when the Minamoto clan won the Genpei War (1180-1185), armour worn by women, and more. The shrine is also a notable power spot for the ancient tree that has stood there for 2,600 years and is now recognised as a natural monument of Japan. Power spots are places in Japan where the spiritually-inclined draw energy from.

Information

Oyamazumi Shrine

Address: 3327 Omishimacho Miyaura, Imabari, Ehime 794-1393, Japan

TEL: 0897-82-0032

Opening Hours: Sunrise to 17:00

National Treasure Building: 8:30-17:00 (Last Entries 16:30)

Official Website: https://oomishimagu.jp/

Kurushima Kaikyo Service Area

Lip-smacking food aplenty

If you're one for great views, then the Kurushima Kaikyo service area is a must-visit, offering a panoramic look at the Kurushima Strait of the Seto Inland Sea. The service area is very well know particularly for the Jaguchi Mikan Juice, something of a city legend in Ehime where you can enjoy fresh mikan juice straight from a tap. You can also tuck a rice bowl dish made with tachiuo hairtail caught in the Seto Inland Sea that's made to look like Kurushima Kaikyō Bridge, or try Imabari's soul food dish: the Imabari Yakibuta Tamago Meshi, a pork, egg, and rice bowl. Don't pass up the chance to snap a photo at the designated photo spot with the Seto Inland Sea in the back either like Kyary above.

Information

Kurushima Kaikyo Service Area

Address: 3-9-68 Ohamacho, Imabari, Ehime, 794-0002, Japan

Food Court: [Weekdays] 8:00-21:00 / [Weekends & Holidays] 7:00-22:00

Shops: [Weekdays] 8:00-21:00 / [Weekends & Holidays] 7:00-22:00

Outside Shopping Area & Cafes: [Weekdays] 9:00-17:00 / [Weekends & Holidays] 9:00-18:00

Official Website: https://www.jb-highway.co.jp/sapa/kurushima.php

Murakami Suigun Museum

Dedicated to the Imabari heroes who protected the ocean




Murakami Suigun Museum is dedicated to kaizoku—pirates, or lords of the sea—something which conjures to mind villainy or bad guys, but the Murakami pirates were also considered heroes who helped maintain order and protect the sea during the Sengoku warring period of Japan. The museum features many displays of Murakami family treasures including the battle surcoat which the pirate leader wore over his armour, proudly bearing the Murakami family crest. Visitors can wear replicas of this coat, which Kyary tired herself: "Now I'm sorta like a military commander too," she said.

Information 

Murakami Suigun Museum

Address: 1285 Miyakubocho Miyakubo, Imabari, Ehime 794-2203, Japan
TEL: 0897-74-1065

Opening Hours: 9:00-17:00

Closed: Mondays (or Tuesday if the Monday falls on a public holiday) / New Year Holidays (Dec 29-Jan 3)

Official Website: https://www.city.imabari.ehime.jp/museum/suigun/

Roadside Station Yoshiumi Iki-iki-kan

A bundle of fun and entertainment in one place

Roll on up to Roadside Station Yoshiumi Iki-iki-kan to enjoy a shichirin BBQ feast with fresh seafood caught in the Seto Inland Sea while gazing out across Kurushima Kaikyo. This building complex serves as a resting spot and is also the perfect place to purchase local souvenirs including Ehime specialty products. It's also famous for its offering the chance to board a boat to ride around Kurushima Kaikyo, renting out bicycles, and more. You'll also be able to meet Koro-chan, a popular fish who has lived there for 30 years.

Information

Roadside Station Yoshiumi Iki-iki-kan

Address: 4520-2 Yoshiumichomyo, Imabari, Ehime 794-2114, Japan

TEL: 0897-84-3710

Opening Hours: 9:00-17:00

Restaurant: 10:00-16:00 (Last Orders 15:00)

Closed: New Year's Day (and certain days in winter)

Official Website: http://www.imabari-shimanami.jp/ikiiki/

Dolphin Farm Shimanami

Meet the cute and friendly dolphins

Dolphin Farm Shimanami, which is connected to Hakata Beach, is the best and biggest place in Japan to interact with dolphins. Visitors can get close to them and the dolphins will show off their tricks and skills. There's even a car camping area you can stay at.

Information

Dolphin Farm Shimanami

Address: 1673 Hakatacho Kanoura, Imabari, Ehime 794-2302, Japan

TEL: 0897-72-8787

Opening Hours: 9:00-17:00

Closed: On days with bad weath

Official Website: https://www.df-shimanami.com/

Hakata Beach

A white sandy beach rolling out 200-meters 

Hakata Beach is located at the base of Oshima Bridge in Hakata. The beach is famous for its salt which is best tried on their popular sweet-tasting sea salt ice cream.

Information

Hakata Beach

Address: 1668-1 Hakatacho Kanoura, Imabari, Ehime 794-2302, Japan

Sea Bathing: Early July – Late August

Official Website: https://www.city.imabari.ehime.jp/kanko/spot/?a=198

Imabari Towels

High quality towels woven with tradition and technique

Imabari is the biggest producer of towels in Japan. Even their white towels alone have countless types you can choose from, allowing you to pick which level of softness and comfort you want. The iconic brand logo is also impactful, capturing the quality, production, and enthusiasm that the makes have for the product. Kyary herself uses them all the time!

Information 

Imabari Towel

Official Website: https://www.imabaritowel.jp/

Sunrise Itoyama

Need a bike?

Sunrise Itoyama, located in the Imabari Central Cycling Terminal, is a rental bicycle service that has bikes and helmets for everyone's needs. Rent out a bike and ride the Shimanami Sea Route which connects Ehime and Hiroshima with a series of bridges that hop across the islands of the Seto Inland Sea.

Information 

Sunrise Itoyama

Address: 2-8-1 Sunabacho, Imabari, Ehime 794-0001, Japan

TEL: 0898-41-3196

Rent-a-Cycle Details: https://www.sunrise-itoyama.jp/archives/rentacycle/

Official Website: https://www.sunrise-itoyama.jp/

Marutomi

The famous restaurant known to every local

If you want the real experience of Imabari's yakitori soul food, you should visit Marutomi, a yakitori eatery. Imabari yakitori is different from the usual Japanese yakitori as it doesn't come skewered. Instead, the chicken is cut into small pieces and fried that way. One of the most popular ways to have it is with the skin on so the outside is crunchy and the inside succulent. It goes perfect with a cup of sake too.

Information 

Marutomi

2-3-6 Katayama, Imabari, Ehime 794-0063, Japan

TEL: 0898-23-2740

Opening Hours: 17:30-22:00

Closed: Wednesdays

Official Website: https://maru-marutomi.jp/

Imabari Castle

A castle by the sea

Imabari Castle, built by the daimyo Tōdō Takatora, is known famously as one of Japan's three "Castles on the Sea" and was also listed in Japan's Top 100 Castles. When it was first constructed, boats could enter the moat from the ocean. It's a site that breathes the prosperity that Imabari has enjoyed as a significant location for maritime traffic, the same Imabari that the Murakami pirates sought to protect. Head on up to the top of the castle to stand on the observation deck and gaze at an unbroken view of the city.

Information

Imabari Castle

Address: 3-1-3 Toricho, Imabari, Ehime, 794-0036, Japan

TEL: 0898-31-9233

Opening Hours: 9:00-17:00

Closed: December 29 – December 31

Official Website: https://www.city.imabari.ehime.jp/museum/imabarijo/

Kirosan Observatory Park

A breathtaking spectacle to remember

Kirosan Observatory Park is officially recognised by Setonaikai National Park. Standing atop the observation deck fills the eyes with wonder as they gaze upon a panoramic stretch of Imabari, the Seto Inland Sea, and Kurushima Kaikyo all at once. Kyary wrapped up her time in Imabari here as the sunset coloured the sky and sea in warm evening hues.

Information 

Kirosan Observatory Park

Address: 487-4 Yoshiumicho Minamiura, Imabari, Ehime 794-2115, Japan

No Fixed Holidays

Open 24-hours a day

Official Website: https://www.city.imabari.ehime.jp/kanko/spot/?a=182

Imabari Tourism Information: https://www.city.imabari.ehime.jp/kanko/

We hope you enjoyed joining Kyary on her adventures across Imabari, and perhaps she even got you a little curious in wanting to visit the city yourself. It's a treasure trove filled with vistas by the sea, in nature, and in the city itself with its Important Cultural Properties. Food is also a big part of travel for many people, so you can rest assured that your belly will be satisfied in Imabari as you try their speciality mikan, fresh seafood fished in the Seto Inland Sea, and more.

Solo Sauna Tune: Tokyo's New Privacy Guaranteed Finnish-Style Sauna

Solo Sauna Tune is a new sauna that offers "total privacy" which is set to open its first branch inside UNPLAN Kagurazaka in Tokyo this November.


Most sauna facilities in Japan cater to groups, but at Solo Sauna Tune, all guests are given their own space where they can undress, bathe, and relax in their own private room. This is especially desirable during the current pandemic where social distancing is paramount, and is a great opportunity for people not wanting to travel in groups.

The solo saunas are heated using sauna stoves imported from Finland. Adding water to the sauna stones lets guests control the amount of steam in the room so they can adjust as they like. There is also a Japanese white birch aroma provided to the löyly (Finnish for 'steam').

Guests can also cool off in cold water. The Chiller provides water at 15℃. There are also overhead showers for cooling down, and the showerheads can be adjusted to make the water come out like mist.

The relaxation area is coloured in a stylish black where guests can kick back for a while.


After using the sauna, guests can visit the powder room where there are a varieties of free amenities. There's also a café which serves craft beers, food, and other treats.

Information

Solo Sauna Tune
Address: UNPLAN Kagurazaka, 23-1 Tenjincho, Shinjuku-ku, Tokyo
Grand Opening November 2020

Opening Hours: TBA

Prices: TBA
Access: 3-minutes on foot from Kagurazaka Station / 7-minutes on foot from Edogawabashi Station / 9-minutes on foot from Ushigome-Kagurazaka Station

Official Website: https://www.solosauna-tune.com/

Fufu Nara: The First Luxury Hotel Set to Open in Nara Park is Designed by Kengo Kuma

Fufu Nara is set to be the first luxury hotel to open inside Nara Park on June 5, 2020. Designed by industry-leading Japanese architect Kengo Kuma, the hotel promises a unique dining experience with food served using herbal medicines that can only be tasted here, and guest rooms that are covered in art made by Nara-based artists who use traditional techniques. Both the dining and accommodation experiences aim to immerse guests in the culture of Nara.

Witness the handiwork of Nara's artists

Nara is a city steeped with beautiful history and culture. This has been captured by the artists who have collaborated with Fufu Nara in the form of paintings, crafts, entrance decorations, and more. A stay at Fufu Nara is an opportunity to witness first hand the deep traditions and techniques of Nara's art world.

There are 30 rooms in total which are split into five different types. For example, one room type is designed around the old Japanese style of sitting on the floor. Inks and woods are used in the room to enhance that feeling that you're in Nara, and the colour tones too are chosen to bring to mind the ancient city.

Fufu Nara's dining concept

Nara Prefecture is closely tied to herbal medicines. Herbal medicine came about in the year 611 during the monarch of Empress Suiko. It is written in the Nihon Shoki that the use of herbal medicine had already been adopted by the time Prince Shōtoku was serving under the Empress. Many different traditional herbal medicines are still used in Nara today, including Angelica root, shakuyaku peonies, fennel, and so on. Traditional herbal medicines have become popular again in the prefecture in recent years.

The food prepared at Nara Fufu makes use of ingredients grown and produced in Nara, from vegetables to herbs and beyond. Breakfast, lunch, and dinner all incorporate Japanese and Chinese herbal ingredients.

Spa by sisley

The hotel also has a spa made in collaboration with French luxury skin care brand Sisley. There, guests can enjoy Fufu Nara's medicated baths.

Information

Fufu Nara
Address: 1184-1 Takabatakecho, Nara, Nara Prefecture
Grand Opening: June 5, 2020
Price: From ¥77,000 (for 1 night and 2 meals for 2 guests in 1 room) *Tax and service charge included; spa charged separately
TEL: 0557-52-6606
Official Website: https://fufunara.jp

Join Kawaii Virtual Traveller Emma on Her Global Sightseeing Tour

While the world is on lockdown, embark on a global adventure from the comfort of your own home with kawaii virtual character Emma.


The newly-launched EMMA Travel project follows the adventures of Emma as she travels from country to country, discovering and learning new things.

Satisfying your thirst for adventure couldn't have been easier. Emma will be uploading pictures of her adventures to Instagram so you can enjoy travelling without leaving your house. All her travels will be documented in English to cater to foreigners who are eagerly awaiting the chance to visit Japan.

While global lockdown measures are still in place, join Emma as she takes you on a virtual tour of must-visit sightseeing locations.

1→10, Inc. Brings Magical Shores Interactive Land Art to Siloso Beach in Singapore

Japanese creative studio 1→10, Inc. opened up Singapore's first ever permanent interactive land art exhibition "Magical Shores" on January 23 this year together with Lighting Planners Associates (LPA), a lighting company based in both Tokyo and Singapore.

Magical Shores spans 400 meters of Sentosa's Siloso Beach, turning it into an immersive, multi-sensory experience of AI-operated lights and sounds which elevate the beauty of the surrounding natural environment.

Guide To Magical Shores | Siloso Beach, Sentosa:

AI technology responds to visitors on the beach, giving them a breathtaking and unique performance. Sensors are dotted around the area which use sensing data to react based on people's movement around the beach. The AI is constantly developing as it collects big data about the temperature and climate of Siloso Beach as well as that of people's movements.


In two of the interactive areas, people can witness the "Circle of Life" beginning with the big bang. After that there is magma, followed by heavy rainfall and eventually flowing water which gives birth to life. Cells divide as plants begin to sprout, fish swim in the sea, and birds and insects sing in the mountains. At the end, life falls, and the process begins again.


Japanese musician Masakatsu Takagi was put in charge of the music and sound design of the exhibition. Takagi is known for having written the music for Wolf Children and The Boy and the Beast. He took inspiration from his music project "Marginalia," a sound diary where he would record the sounds of birds, insects, the wind, rain, and so on from his studio window. Takagi did field recording on the beach to capture the sounds of nature to use for the art exhibition.

Kuniyuki Takahashi also offered his musicianship to the exhibition. Based in Sapporo, he is an internationally-recognised composer. He also recorded the sounds of Siloso Beach, and together with Takagi, created the perfect soundtrack for Magical Shores.

Magical Shores is currently temporarily closed as a result of the coronavirus but will resume once more as soon as the situation allows it.

Yowamushi Pedal Anime's 'Five Bridges of Amakusa' Ranks Number One in Places People Want to Visit Most

Seikatsu Guide, and online website that helps support and promote local regions around Japan, has announced its Top 10 selection for "Places I Most Want To Go And See (Western Japan)" as voted for by people.

Right now, most of us are under lockdown and are prohibited from making trips deemed unnecessary. So why not make a list of places you want to visit for when we can next travel? One of those places should be the Five Bridges of Amakusa in Kumamoto Prefecture.

"Yowamushi Pedal" Anime | Five Bridges of Amakusa in Kumamoto


Taking the number one spot on the list is Five Bridges of Amakusa which is located in Kamiamakusa, Kumamoto. As the name suggests, five bridges make up the landmark, all of which stretch from Misumimachi and connect to Oyano Island, Nagaura Island, Oike Island, and Maejima Island. The bridges are a famous sightseeing spot and have been chosen as one of Japan's "100 Best Evening Spots" and "100 Best Roads."


One woman in her 30's said, "I've been there on numerous occasions. It's a really beautiful place." A man in his 30's also commented, "I love the [Yowamushi Pedal] manga. If you're going as a fan, that scene is really exciting, so I went there on my bike."

Comment from the person in charge of the Kamiamakusa Planning Committee

"Thank you for honouring us with 1st place in this […] ranking. Five Bridges of Amakusa features as the location for the race in the Yowamushi Pedal movie. It gets its name from its five bridges which connect the islands along National Route 266. The area is also nicknamed 'Amakusa Pearl Line' for the abundance of pearls that can be found here. It was also selected as one of Japan's 100 Roads. It's a truly beautiful bridge which is also an example of Japan's fine bridge building craftsmanship."

They continue: "Amakusa is surrounded by the beautiful ocean and spectacular mountains. Most of the city is located in Unzen-Amakusa National Park. There are islands that sit atop the glistening sea, and there's the Amakusa Alps which offer a spectacular view. It hails as one of Japan's best places for nature! There are many fun outdoor activities to experience, like dolphin watching, kayaking, cycling, and more. We have incredible food like kuruma prawns, which are a speciality food here, as well as free range local chickens. You can relax your mind and body with a dip in the hot springs while gazing at the ocean. Please be sure to drop by Kamiamakusa to enjoy everything it has to offer."

Other places that ranked on the list include the following.

2nd Place – "Manpuku" TV Drama | Porto Europe, Wakayama

3rd Place – STU48 Promotional Video | Chichibugahama Beach, Kagawa

4th Place – "Yatsuhakamura" Movie | Makido Cave, Okayama

5th Place – "Segodon" TV Drama | Tatsumonjizaka Trail (Ryumonjizaka), Kagoshima

Kanucha Resort in Okinawa Announces Spring and Summer Activity Program for 2020

Located in the city of Nago in Okinawa lies Kanucha Resort, a hotel resort which boasts 2.6 million square meters of land. The resort has revealed its spring and summer program which invites guests to enjoy everything Okinawa has to offerーnot just its breathtaking oceans.

What is Kanucha Resort?

Kanucha Resort sits on the east coast of Nago on the northern part of the Okinawa mainland. It's surrounded by the vast rolling sea and mother nature, and also faces Oura Bay, which is known for its coral reefs, which includes blue coral. Guest rooms come in nine styles, all of which incorporate gorgeous wooden decor. The resort has a bounty of restaurants, its own golf course, the beach, and over 70 activities to choose from, all of which makes Kanucha Resort a little town of its own. In the past winter months just gone, it also celebrate the 20th anniversary of Okinawa's largest illumination event, Stardust Fantasia.

Buggy Ride Tours & Buggy Adventure Tours

Experience a different side of Okinawa away from the beaches with an off-road ride through Yanbaru no Mori Forest on a quad bike.


Running: All Year

Time: 9:00-17:00

Meeting Locations: Buggy Ride Tour @ Dokidoki Yambarunture / Buggy Adventure Tour @ Matayoshi Coffee Farm

Ages: 4 years and older

Coral Snorkeling Tour in Banana Boats

Witness the tropical fish swimming around you, and gaze upon the gorgeous coral reefs, as you explore the waters below when you climb off the banana boat.

Running: July 23, 2020 – August 31, 2020

Time: 60 minutes

Ages: 5 to 65 years

Mangrove Kayak Tour Along the Kesaji River

The Okinawan mainland is home to many mangroves. See them together with the expand of Yanbaru's nature with a kayak ride along the Kesaji River.

Running: All Year

Time: Subject to change each day depending on how busy it is – please enquire directly

Courses: 150 Minutes (5 years and older) / 90 Minutes (3 years and older)

Star Sommelier to Space Walk

Hear about the moon and space with talks from Hoshi no Somurie® ("Star Sommeliers") and use a telescope to observe the stars at the planetarium.

Running: Monday-Thursday

Time: 20:00-20:50

Meeting Point: Leisure Counter

Oura Mangrove Kayak

Enjoy a round trip kayak ride around the Oura Mangrove which has been designated as an Important Cultural Property of Nago.

 

Running: All Year Round

Time: Please enquire directly

Ages: 3 years old and above (*For guests only)

Meeting Point: Wansaka Oura Park

For more details on the activities available at Kanucha Resort, visit their website here.

Information

Kanucha Resort

Address: 156-2 AbuNago, Okinawa

TEL: 0980-55-8880

FAX: 0980-55-8693
Reservations: 0980-55-8484 (9:00-18:00)

Access: 1 and a half hours by car from Naha Airport

Official Website: https://www.kanucha.jp/en/

5 Best Cherry Blossom Spots in Hokkaido | 2020 Edition – MOSHI MOSHI NIPPON

Sapporo, Asahikawa, Abashiriーthe list goes on when it comes to incredible places to see the cherry blossoms in Hokkaido. And the best time to see them in Japan's northernmost main island is May.

Today, we are joined by Mirina, an Instagrammer who posts photos of tourist and sightseeing spots in Hokkaido that are rich in nature. She has shared her photos with us along with details of 5 must-visit famous cherry blossom sites in Hokkaido. Let's take a look.

Tokiwa Park


Tokiwa Park is located in the city of Asahikawa, and is home to around 200 individual cherry trees of various kinds including the Yoshino cherry and ezo yamazakura. Weeping cherries also dangle their graceful branches around the lake, which you can sail through on a boat for an even more memorable cherry blossom experience. Tokiwa Park is also listed as one of Japan's "100 City Parks," so it's one that needs to go on your list of sightseeing spots if you're travelling to Hokkaido.

Tokiwa Park


Address: Tokiwakoen, Asahikawa, Hokkaido

Access: 25-minutes on foot from Asahikawa Station (via JR Line). Alternatively, board the Tohoku Bus and get off at Tokiwa Park (常磐公園).

Official Website: http://www.asahikawa-park.or.jp/

Twin Harp Bridge

This spot is also located in Asahikawa. It gets its name from how the bridge looks like two harps lined up next to each other. Twin Harp Bridge is also a popular place with the locals for celebrating Hanami in the spring season as cherry blossoms bloom in the vicinity of the bridge.

Twin Harp Bridge

Address: 4 Chome Toko 18 Jo, Asahikawa, Hokkaido to 5 Chome Kyokushin 1 Jo, Asahikawa, Hokkaido

Access: 20-minutes by car from Asahikawa Airport / 15-minutes by car from Asahikawa Station

Official Website: http://www.city.asahikawa.hokkaido.jp/files/tosi_kei/index.htm

Kitoushi Forest Park – Family Village

Located southeast of Asahikawa, Kitoushi Forest Park – Family Village offers views of ezo yamazakura as well as shibazakura moss phlox. Visitors can also have barbeques at the facility for an even better outdoor experience combining great food with cherry blossom viewing.

Kitoushi Forest Park – Family Village (Kitoushi Shinrin Koen Kazokuryokomura)

Address: 5 Gokita-44 Nishi, Higashikawa, Kamikawa-gun, Hokkaido

Access: 40-minutes by car from Asahikawa Station

Official Website: http://www.kazokuryokoumura.jp/

More Information (English): http://www.asahikawa-tourism.com/asahikawa/asahikawa_sites/higashikawa/higashikawa_en.html

Maruyama Park


Maruyama Park is another famous cherry blossom site where Yoshino cherry trees and ezo yamazakura bloom. Compared to Asahikawa, the cherry blossoms here bloom a little earlier during spring. You'll catch them from late April to early May. During the cherry blossom season, there is a place where fires can be lit, so you'll catch people cooking up jingisukan, a type of Japanese mutton dish.

Maruyama Park

Address: Miyagaoka, Chuo Ward, Sapporo, Hokkaido

Access: 5-minutes on foot from Maruyama-Kōen Station

Official Website: http://www.sapporo.travel/find/nature-and-parks/maruyama_park/

Higashimokoto Shibazakura Park


Higashimokoto Shibazakura Park's rolling hills offer a breathtaking view of shibazakura moss phlox cherry blossoms. The hills themselves aren't steep, so the spectacle can be enjoyed from both the top and bottom of them. The Shibazakura Festival is also held between May and June.

Higashimokoto Shibazakura Park

Address: 393 Higashimokotosuehiro, Ozora, Abashiri-gun, Hokkaido

Access: 30-minutes by cat from Abashiri Station. Alternatively, board the transit bus from Abashiri Station, get off at Higashimokotocho (東藻琴町). The park is a 5-mintue drive from here.

Official Website: http://www.shibazakura.net/

 

Photo:Mirina has visited many sightseeing spots in Hokkaido, so if you're looking for more places to visit be sure to follow her on Instagram.

Photos: Mirina Nishio

Travel Virtually to Japan's City of Komoro in Nagano to See Cherry Blossoms, Soak in the Onsen & More

Komoro Tourism Bureau has developed the new "Komoro Tourism Channel" using Voicy, a news and media site which reports spoken information online. The channel focuses on the latest information with regards to tourism in Komoro, and focuses on the city's many different hot springs.

About Komoro

Komoro is a city in Nagano Prefecture. Komoro Castle is home to Kaikoen Park, which was chosen as the 100 best cherry blossom spots in Japan. The city also boasts a wide variety of onsen (hot springs) which offer amazing views and numerous different bathing experiences. Komoro Tourism Channel covers all of this and more.

Komoro is about 2-hours by car via the Nerima Interchange on Kan-etsu Expressway. It's also accessible from Tokyo via car. You can also reach it in around 24 minutes from Karuizawa Station via Shinano Railway.

Delivering the sounds of the relaxing onsen from Komoro

Komoro has eight water sources which provide water to its hot springs. The city sits 1,400 meters above sea level, from which each of its hot springs offer breathtaking views. The podcast on the hot springs, which is in Japanese, lets you feel like you're experiencing them from your very own home. More podcasts on Komoro are planned to be released in the future, and QR codes will be implemented are various hotels and tourist facilities in Komoro which when scanned will offer voice guides to those places.

Komoro Tourism Channel: https://voicy.jp/channel/1074

The Komoro Tourism Bureau is coming up with measures to continue promoting the city during the ongoing coronavirus pandemic. As well as Komoro Tourism Channel, it is also releasing information on its website, Twitter page, and elsewhere.

Kaikoen Park at Komoro Castle

Kaikoen Park at Komoro Castle is a tourist hot spot in Komoro. The castle itself was chosen as one of Japan's 100 most famous castle sites. It is also famous for the castle itself being situated lower than the town around the castle. Kaikoen Park was selected as one of Japan's 100 best cherry blossom spots, where around 500 trees bloom Yoshino cherries, shidare-zakura, higan-zakura, and more through April every year. The "Komoro-yae-beni-share" tree is an endemic species of cherry tree to Komoro and has a deep pink colour. The park also has towering stone walls and is home to the the front castle gate.

Komoro Castle Official Website (Japanese): https://www.komoro-tour.jp/castle/

Komoro Castle Official Website (English): https://www.komoro-tour.jp/lg_en/

Learn About Ito City in Shizuoka Prefecture in This Breathtaking 8K PR Video

A new PR video for Ito City in Shizuoka Prefecture was posted on the city's official YouTube channel on March 2, 2020 as part of Ito City's digital marketing efforts for 2020, and it's already garnered over 21 million views in just over two weeks.

Mount Omuro

Jogasaki Coast

The video was directed and editor Yuki Eikawa who has gained much attention across Japan for his touristic PR video work. It captures the most famous sights across Ito including Mount Omuro and Jogasaki Coast, and showcases the city's food, culture, and incredible natural environments. Check it out below.

ITO City, Shizuoka, Japan in 8K HDR

Learn more about Ito on the city's official website which has a bounty of useful information for exploring everything Ito has to offer.

See 3,000 Rhododendrons in Full Bloom at the Tsutsuji Garden by Lake Ashi in Hakone

May is the most colourful time of the year at Hotel de Yama near Lake Ashi in Hakone, when a total of 3,000 rhododendronsーcomprised of 30 different typesーbloom their beautiful flowers in the large Tsutsuji Garden, where one can enjoy a great view of Mount Fuji and Lake Ashi.

Tsutsuji Garden at Hotel de Yama

"Tsutsuji" is the Japanese word for rhododendron. The Tsutsuji Garden at Hotel de Yama was once the villa of Koyata Iwasaki, "the fourth and last president of a unified Mitsubishi." During that time, numerous varieties of rhododendrons were planted in the garden, which have since been maintained. There are plants amongst them that are over 100-years-old, ones that tower over the human stature, and more; with petals that bloom pink, red, purple, and white.

A combined view of the kaleidoscopic rhododendrons and Mount Fuji

The staff who are experts on the garden have set up two photo frame stands in two of the best spots in the garden for taking picturesque photos. Snap some Instagrammable and memories with the colourful rhododendrons and Mount Fuji together.

Rhododendron Desserts: Saison a colorier – ¥1,634 / Tea Set – ¥2,360 (Before Tax)

Salon de thé Rosage, the dessert restaurant that sits in front of the hotel, is serving up a new special dessert called "Saison a colorier" in line with the full bloom of the rhododendrons. It captures the colourful pink, red, white, and purple appearance of the flowers, and looks like a mini version of the hotel's garden on your plate. The main part of the dessert is the tea mousse, which has a bright red colour as it is coated beautifully in a strawberry puree nappage. The tea used in the mouse is an original rhododendron blend exclusive to the restaurant.


The white rhododendron dessert is a macaron that's filled with raspberry sorbet. The red which contrasts with the white is a rhododendron milk tea cream and fresh raspberries. The rest of the plate is adorned with pink jelly and edible flowers. The perfect afternoon tea to finish off your time at Tsutsuji Garden.

Coronavirus in Japan: Kaname Inn Tatemachi in Kanazawa Offers Free Accommodation to Foreigners Who Can't Get Home

Kaname Inn Tatemachi, a hotel in Kanazawa, Ishikawa, has announced a project named "Room for rescue" which will offer free accommodation to foreigners unable to travel back to their home countries from Japan due to lockdowns and restrictions from going outside as a result of the ongoing COVID-19 pandemic

With flights cancelled around the world, there is no way for foreigners to return home from Japan, resulting in them being forced to change their plans and extend their stay. They are living their days in constant worry, both financially and mentally. To ensure that foreign travellers don't feel like their trip to Japan was a bad experience, free accommodation is becoming available to those who meet certain prescribed conditions.

In response to the decreasing number of tourists, Kaname Inn Tatemachi opened its doors to Japanese citizens through Facebook for free accommodation to help support businesses like local restaurants that could no longer make a living. They received a lot of guests, as well as a request from a friend who asked if someone from the Netherlands could stay there because they couldn't get back to their country. This sparked the "Room for rescue" project for stranded foreign tourists to stay at Kaname Inn Tatemachi for free too.

 

Kaname Inn Tatemachi is using its own funds to pay for the project and allow free stay. However, doing this long term will put strain on the business, so to help pay for hotel use and staff's wages, the hotel has opened up a crowd funding page which you can find here.

Information

Room for rescue

Aimed at: Foreign travellers who cannot return home

How to Apply

Send the following details to the e-mail address r4r@kaname-japan.com

①Write "Room 4 Rescue" as the subject of your e-mail

②Include which country you are from

③Write the names of all the people who wish to stay at the hotel

④Write the number of adults

⑤Write the number of children

⑥Write your check-in time and date

⑦Write your check-out time and date

⑧Attach a screenshot or photo of your cancelled flight details

Application Deadline: March 28, 2020 at 23:59 (JST)

Free Accommodation Stay Time: Until April 15, 2020