SCANDAL Wrap Up 'Fuzzy Summer Mood' Japan Tour & Announce November Shows
SCANDAL just concluded their Fuzzy Summer Mood tour with the finale being held at Zepp Tokyo on Thursday. The tour took the band to 12 cities across Japan for 15 shows.
For this tour, SCANDAL changed things up by having every show featuring a completely different set list. After each show they posted those set lists onto Spotify so that both fans that attended the show and those who could not could relive the experience.
At the Zepp Tokyo show, Haruna, Mami, Tomomi and Rina were welcomed onto the stage with excited cheers from fans. The night begin with the band performing Masterpiece, their latest single released back in March. Without taking a breather, they followed it up with Take Me Out, LOVE SURVIVE and other upbeat tracks. In the middle of the set they played the city pop number Mabataki for the first time for which the crowd stood intently to listen.
In the second half of the show SCANDAL performed an unreleased new track entitled Fuzzy. Fans shifted from fist pumping to intent listening as the song went from a fast-paced melody to bittersweet lyrics.
This was followed up by Shunkan Sentimental, Awanai Tsumori no, Genki Desu ne and Image amongst a host of others. The last song of the encore was SCANDAL BABY which saw the crowd come together to sing at the top of their lungs.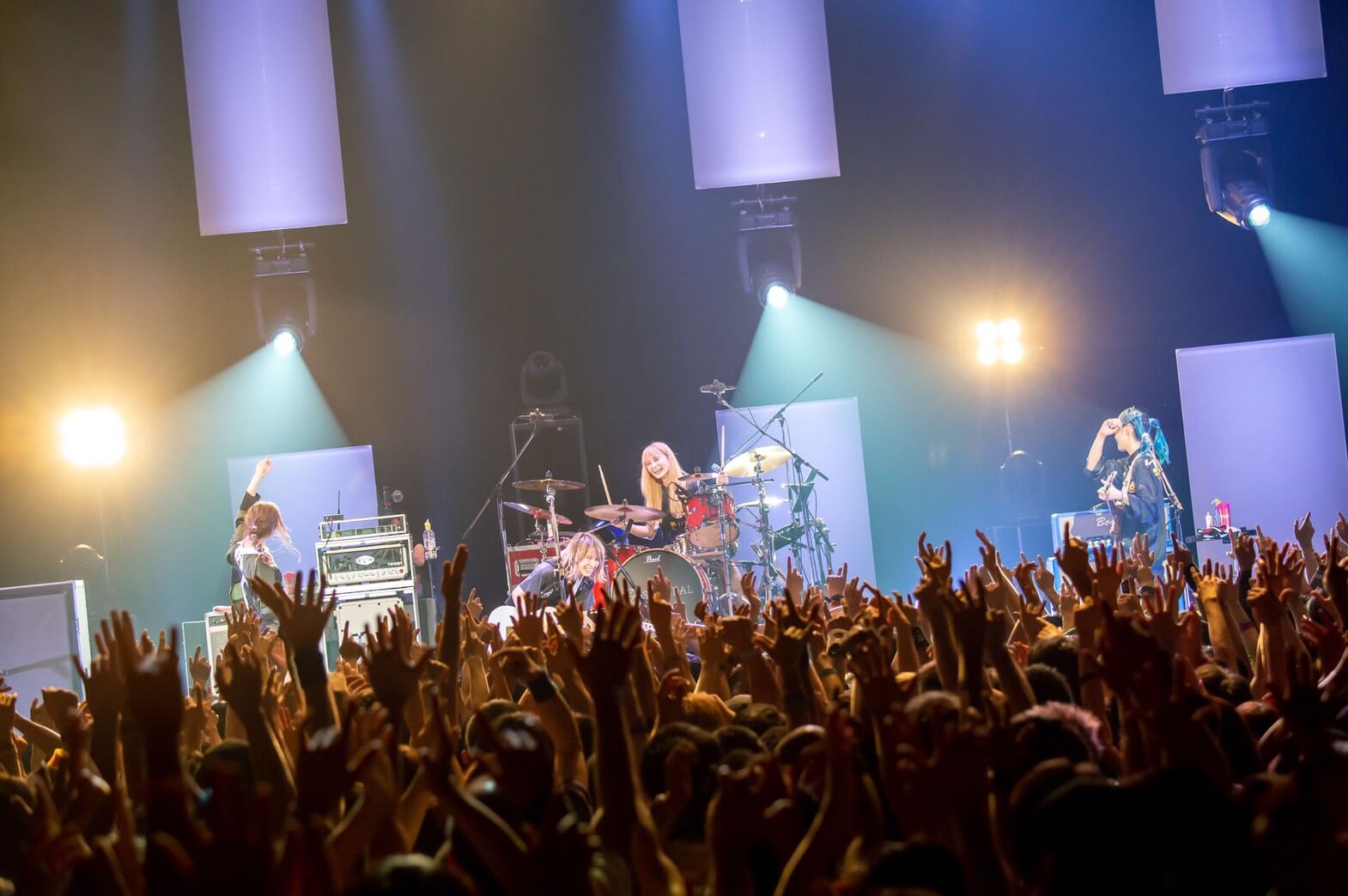 At the end of the night SCANDAL announced that they will perform again in Tokyo and Osaka this November for a taiban (battle-of-the-bands) tour where they will be joined by fellow artists. This marks their first taiban tour since 2017 when they were joined by UNISON SQUARE GARDEN in Tokyo, 04 Limited Sazabys in Nagoya, and BLUE ENCOUNT in Osaka.
Cameraman: Takeshi Yao
RELATED ENTRIES
SCANDAL to Release SCANDAL WORLD TOUR 2020 "Kiss from the darkness" Livestream On DVD & Blu-ray

02.September.2020 | MUSIC

SCANDAL has announced that they will release their SCANDAL WORLD TOUR 2020 "Kiss from the darkness" Livestream on DVD and Blu-ray on November 18, 2020. This will be the J-rock band's first DVD and Blu-ray release in four years since SCANDAL 10th ANNIVERSARY FESTIVAL: 2006-2016.

SCANDAL's world tour, which was to be held in promotion of their latest album Kiss from the darkness which was released from their private music label 'her' in February, was unfortunately cancelled in response to COVID-19. As a result, shows in Asia, Europe, and the US have been postponed.

SCANDAL decided to hold a special livestream concert on August 21, 2020—the date of the band's 14th anniversary—for fans around the world as a result, which was broadcast to 53 countries.

First Press Limited Edition copies will include an additional CD featuring the full 21-track set list, a special photo book compiled of photos taken by Japanese photographer Takeshi Yao at the livestreamed show, and unique packaging.

Select music stores in Japan are handing out free stickers and pictures along with copies of the album.

Information

SCANDAL WORLD TOUR 2020 "Kiss from the darkness" Livestream
First Press Limited Edition (Blu-ray+CD+Photobook): ¥7,500 (Before Tax) [VIZL-1808]
Regular Edition (Blu-ray): ¥6,000 (Before Tax) [VIXL-325]
First Press Limited Edition (2 DVDs+CD+Photobook): ¥7,500 (Before Tax) [VIZL-1809]
Regular Edition (2 DVDs): ¥6,000 (Before Tax) [VIBL-1004]

Official Website: https://www.scandal-4.com/

SCANDAL Postpone US Tour Leg and Announce Special Live Stream Concert

SCANDAL have announced that the North American leg of their world tour SCANDAL WORLD TOUR 2020 "Kiss from the darkness" has been postponed due to the situation surrounding the COVID-19 pandemic. The news comes after the postponement of the band's Asian and European legs. Information on rescheduled dates will be announce at a later time.

In response to the news, SCANDAL have announced that they will host a special live stream concert on August 21, 2020—the date of the band's 14th anniversary—for fans around the world. The show will also be archived, so if you're unable to tune in live, you can catch up afterwards.

Tickets for overseas fans go on sale tomorrow (July 30) at 10:00 (JST).

Information

SCANDAL WORLD TOUR 2020 "Kiss from the darkness" Livestream

Japan

Date: August 21, 2020

Time: 19:00 (JST) *Subject to change
Price: ¥3,000
Buy Ticket: https://eplus.jp/821/scandal/

Overseas
Date: August 21, 2020
Time: 19:00 (JST) / 3:00 (PDT) / 6:00 (EDT) / 11:00 (UK)
Ticket Price: $30
Ticket Release Date: July 30, 2020 at 10:00 (JST)
Buy Ticket: https://livefrom.events/scandal

*This livestream will be archived

SCANDAL Official Website: https://www.scandal-4.com/

SCANDAL Release New Song 'SPICE' & Short Anime 'XPICE'

Japanese pop-rock band SCANDAL released their new single SPICE on music streaming and download services today (July 15). The song will be used as the theme song for the original anime short XPICE which is set to premiere on YouTube today at 19:00 (JST).

XPICE is the first entry to XFLAG's™ cross creative project series which was launched to collaborate with and harness the talents and strengths of creators and artists both inside and outside XFLAG to create unique works.

Fans located in Tokyo between July 23 and August 31 should head to FEEDBACK Shibuya, an apparel brand shop produced by SCANDAL, where they can win a selection of gacha prizes as pictured above including an XFLAG x XPICE poster. Some of the posters will be signed by the band members.

SCANDAL will hold a special live stream on August 21, 2020—the date of the bands 14th anniversary. They are scheduled to perform their new song SPICE, so make sure to tune in. More details here.

SCANDAL | Comment

"This animation doesn't have any talking in it, so we made sure to emphasise parts of the song and its message in our lyrics and the melody when writing it. We hope the people of the world enjoy it together with the animation!" *Translated from Japanese by MMN

Information

SPICE
Release Date: July 15, 2020

*Available on the following digital music services: Apple Music, LINE MUSIC, Amazon Music Unlimited, AWA, KKBOX, Rakuten Music, RecMusic, Spotify, YouTube Music

Commemoration Talk Show Livestream

Date and Time: July 15, 2020 from 6:30pm (JST)

YouTube Link: https://youtu.be/4AY5DYaTx3k
*The livestream will take place on SCANDAL's official YouTube channel

SCANDAL Official Website: https://www.scandal-4.com/

XPICE
Special Edition Website: https://xpice-project.com/

SCANDAL WORLD TOUR 2020 "Kiss from the darkness" Livestream

Date: August 21, 2020

Time: From 19:00 (JST) (Subject to change)

Ticket Price: ¥3,000

Ticket Release Date: From May 27, 2020 at 22:00 (JST)

Buy Tickets: https://eplus.jp/821/scandal/

SCANDAL To Celebrate XSPICE Anime Project Release with a Livestream Talk Show

Japanese rock band SCANDAL, is set to release their new song SPICE as a digital single on July 15, 2020. The release of the song is going to be commemorated on a special talk show.

The song was written for XFLAG's™ cross creative project series. The first project, which is called XPICE, is an original short animation that will be posted on the official YouTube channel of XFLAG ANIME at 7pm on July 15, 2020. From 6:30pm just before the video goes live, SCANDAL will livestream a commemoration talk show on their official YouTube channel.

The live talk show will see SCANDAL explaining what SPICE is all about. The audience will be taken behind the scenes to find out how the themes, setting and characters were created. SCANDAL will also be joined by special guests Hiroaki Kato and Tsubasa Nakai, who are key figures on the animation side of the project. Hiroaki Kato from mixi, Inc. is both the producer and creative director of the project while Tsubasa Nakai from Marza Animation Planet Inc. worked on the staging and animation, pulling together all the small details and directing the outstanding CG animation graphics.

The talk show is an exciting opportunity to see how SCANDAL's song collided with XSPICE to create a breathtaking audio and visual experience.

Information

SPICE
Release Date: July 15, 2020

*Available on the following digital music services: Apple Music, LINE MUSIC, Amazon Music Unlimited, AWA, KKBOX, Rakuten Music, RecMusic, Spotify, YouTube Music

Commemoration Talk Show Livestream

Date and Time: July 15, 2020 from 6:30pm (JST)

YouTube Link: https://youtu.be/4AY5DYaTx3k
*The livestream will take place on SCANDAL's official YouTube channel

SCANDAL Official Website: https://www.scandal-4.com/

XPICE
Special Edition Website: https://xpice-project.com/

SCANDAL Write New Song 'SPICE' For XFLAG's Short Anime XPICE

The first entry to XFLAG's™ cross creative project series has been announced as XPICE, an original short animation that will be posted on the official YouTube channel of XFLAG ANIME.

The project was launched to collaborate with and harness the talents and strengths of creators and artists both inside and outside XFLAG to create unique works.

The first work to be released for the project is the short anime XPICE which was made in collaboration with the four-piece Japanese rock band SCANDAL who wrote the song SPICE for it. Courage and understanding, as well as fighting together, are themes of the anime short in which we see the heroes protecting the city from the throttle of the villains. We will get to witness the heroes in action and see them grow as individuals.

The animation was handled by Japan-based CG animation studio Marza Animation Planet who is known for working on the 2020 Sonic the Hedgehog film. Spooky Graphic are the creative team behind the concept art and character designs. The anime was also made using Unity, a popular developer tool used for making many different games.

The full anime will be posted on XFLAG ANIME's official YouTube channel on July 15. In the meantime, you can check out the teaser posted today below.

Information

XPICE
Official Website: https://xpice-project.com/

SPICE

Release Date: July 15, 2020

Lyrics: RINA / Composition: MAMI / Arrangement: Keita Kawaguchi
*Will be released on all major music download and streaming services including Spotify, iTunes Store, Apple Music, YouTube Music, etc.

SCANDAL Premieres Remote Video Filmed at Home On YouTube For New Song 'Living in the city'

SCANDAL released their new single Living in the city digitally on June 3, 2020. It is the first ever song to be recorded by the band at home.

The song was originally written and composed by SCANDAL bassist TOMOMI during the writing of their latest album Kiss from the darkness which dropped back in February. It's a mellow track that captures an ordinary day in Tokyo. TOMOMI commented that she feels the song will have bigger implications now during the lockdown to when the band wrote the track.

SCANDAL premiered a new remote video for Living in the city which showcases their lives at home during the lockdown.リ

SCANDAL – "Living in the city" Remote Video (Short ver.)

Tickets are also now available for SCANDAL's upcoming livestream performance set for August 21, 2020. The livestream comes in response to the cancellation of all dates of SCANDAL WORLD TOUR 2020 "Kiss from the darkness".

 

TOMOMI | Comment

This song is about an ordinary day living in Tokyo. Tokyo is a city where it feels like if all the switches are always turned off, you'll end up swallowed by a sense of isolation. It's become a place where after 10 years of moving here, I want to say, "I'm home" [when I return]. A lot of the things that have made me who I am today can be found in the ordinary days spend living here. When I realised that, I found myself fallen in love with the place, and I got set to work in encasing those feelings into a song.

When I wrote this song, I never imagined we'd be releasing it at a time like this, but I feel like that now we've begun living a new lifestyle staying at home, this song will have different and much bigger implications to when I wrote it. It helps us rethink how much we really loved those days we took for granted.

We decided to release the song during the midst of our new stay-at-home lives, and so for the first time ever we recorded it all at our homes, and made a remote video to go with it. I hope you enjoy the song as well as seeing the band members in their homes.

SCANDAL Announce 'Kiss from the darkness' Live Stream as World Tour is Cancelled

All planned dates of SCANDAL's world tour SCANDAL WORLD TOUR 2020 "Kiss from the darkness" have unfortunately been cancelled in response to the novel coronavirus (COVID-19).

The band and staff had previously considered postponing the tour, but due to new announcements being released everyday on lockdown measures, as well as restrictions being placed on indoor events, it became difficult to predict how everything would unfold throughout the year, and so it was decided that the tour be cancelled. Information on ticket refunds till be announced at a later date.

However, not all is lost as SCANDAL has announced that they will perform on a special live stream on August 21, 2020—the date of the bands 14th anniversary. Check the details below and SCANDAL's official website for more information.

Information

SCANDAL WORLD TOUR 2020 "Kiss from the darkness" Livestream

Date: August 21, 2020

Time: From 19:00 (JST) (Subject to change)

Ticket Price: ¥3,000

Ticket Release Date: From May 27, 2020 at 22:00 (JST)

Buy Tickets: https://eplus.jp/821/scandal/

SCANDAL Official Website: https://www.scandal-4.com/

SCANDAL Record New Song 'Living in the city' at Home With TOMOMI On Vocals

SCANDAL have announced that their new song Living in the city will be released digitally on June 3, 2020.

The song was originally written and composed by SCANDAL bassist TOMOMI during the writing of their latest album Kiss from the darkness which dropped back in February. It's a mellow track that captures an ordinary day in Tokyo. It's the first song by SCANDAL to be recorded at home and aims to bring "new implications" to those who listen to it.

SCANDAL – "Living in the city" Official Audio

A short version of the track can be heard on SCANDAL's official YouTube channel ahead of the full release.

Information

Living in the city
Release Date: June 3, 2020

*Will be released on all major music download and streaming services including iTunes, Spotify, Apple Music, and elsewhere.

SCANDAL WORLD TOUR 2020 "Kiss from the darkness"
2020/9/4 @ YOYO – Palais de Tokyo, Paris
2020/9/6 @ O2 Academy Islington, London
2020/9/9 @ Musik & Frieden, Berlin
2020/9/17 @ HOUSE OF BLUES, Anaheim
2020/9/19 @ Canton Hall, Dallas
2020/9/21 @ The Masquerade, Atlanta
2020/9/23 @ Queen Elizabeth Theater, Toronto

and more TBA

SCANDAL Official Website: http://www.scandal-4.com/

SCANDAL is set to host an all-new regular show entitled SCANDAL Catch up supported by Meiji Apollo which will begin airing on Spotify Podcasts and JFN PARK every Monday from March 9, 2020.

During the show, the members will talk about the band, their musicianship, private episodes, and more. It's a chance for fans, both longtime and new, to get to know the band even more like an "A to Z." The first episode will be a free talk in which the members decide what kinds of things they want to talk about in future episodes. Confirmed themes and topics include the members talking about their most recent favourite music playlists, as well as a radio drama from the band.

SCANDAL plan to answer lots of messages from listeners during the show too, so be sure to send yours via Spotify or JFN PARK.

Speaking about the show, SCANDAL lead vocalist and rhythm guitarist Haruna said: "Since about a year ago we've all expressed our desire for the four of us to do radio again, since it's been a while, and now we finally get to do it. The [broadcast] will change each week, but since it's on Spotify and the app, you can listen to it whenever you like, so we hope to intrude on people's day a little with it. Be sure to tune in every week!"

SCANDAL Drops New Song 'A.M.D.K.J.' Digitally Along with Music Video

On February 12, 2020, SCANDAL will drop their first ever album via their private label her. The upcoming album entitled Kiss from the darkness includes their new song A.M.D.K.J., which was just dropped on streaming services on January 8. A.M.D.K.J. is also the ending theme song for the Fuji TV anime GeGeGe no Kitarō. The lyrics for this catchy and upbeat song were written by RINA (Dr, Vo) and the music was composed by MAMI (Gt, Vo).

The official music video for the song was dropped at the same time as the song's digital release. The music video was directed by Hiroshi Usui, who is known for his work with a number of big artists. As lights flicker to the rhythm of swaying strips of cloth, the music video unfolds to reveal its cold and dark world, creating the perfect stage for SCANDAL's impactful performance. The choice of colours and lighting is very intriguing and highlights SCANDAL and their expressions in such an amusing way.

'A.M.D.K.J.' Music Video

You will receive a SCANDAL clear file wherever you choose to pre-order your Kiss from the darkness album from. The deadline to pre-order is January 8, 2020 at 23:59. There are many other original pre-order bonus goods out there so if a clear file isn't your thing, there might be something better out there for you.

The album also includes the song Tonight which is the theme song for the TV Tokyo Paravi Drama Series Raise de wa Chanto Shimasu, which is set to air at 1:35 am on January 8. Check it out! 

A Statement by Hiroshi Usui

Although the first line of our project proposal included a silly pun, we managed to pull off something amazing. It must be because the video and the four band members fit so perfectly together. When we were filming the band members individually, they did everything so perfectly. I just wanted to repeatedly call out "nice!" after every single shot.

Information

A.M.D.K.J.
*Available on a number of streaming services, the iTunes Store, Rekchok, mora and other popular music downloading services.

*Available for streaming on Apple Music, LINE MUSIC, Amazon Music Unlimited, AWA, KKBOX, Rakuten Music, RecMusic, Spotify and YouTube Music

Kiss from the darkness

Release Date: February 12, 2020

Regular Edition: CD   VICL-65310, 3,000 + tax

First Press Limited Edition A: CD + DVD   VIZL-1706, 4,000 + tax

First Press Limited Edition A: CD + Magazine   VIZL-1707, 3,800 + tax

Limited Pressing Edition:CD+DVD+GOODS * Comes in a beautiful box   VIZL-1708, 8,500 + tax

SCANDAL Official Website: http://www.scandal-4.com/

SCANDAL's New Song 'A.M.D.K.J. ' to be Used as ED Theme For TV Anime 'GeGeGe no Kitaro'

SCANDAL performed as a headline act on the first day of C3 Anime Festival Asia Singapore 2019ーone of the biggest J-pop events in Asia which took place from November 29 to December 1.

The band performed their single Masterpiece which they dropped back in March, several songs which they wrote for movie and anime series, as well as classic hits that are popular overseas like Shunkan Sentimental, Shojo S, and Yoake no Ryuuseigun.

They also debuted a new track entitled A.M.D.K.J. from their forthcoming album Kiss from the darkness, which will release from their private label her on February 12, 2020. The band announced that the song will be used as the ending theme for the TV anime series GeGeGe no Kitaro which is set to begin airing on January 5, 2020.

Drummer and vocalist RINA wrote the lyrics for A.M.D.K.J., while guitarist and vocalist MAMI composed the music. It's described as an upbeat track with a liberating feel.

Towards the end of the concert, the band performed their latest single Saishuheiki Kimi which dropped just last month as well as their danceable rock number Take Me Out.

SCANDAL are kicking off their 2020 "Kiss from the darkness" tour in March, for which overseas dates are to be added to make it a world tour. More details will be posted via the band's social media and official website in the coming months.

©️Mizuki Pro・Fuji TV・Toei Animation

Information

Kiss from the darkness

Release Date: February 12, 2020

Regular Edition (CD): ¥3,000 (Before Tax) [VICL-65310]

First Press Limited Edition A (CD+DVD): ¥4,000 (Before Tax) [VIZL-1706]

First Press Limited Edition B (CD+Magazine): ¥3,800 (Before Tax) [VIZL-1707]

Limited Pressing Edition (CD+DVD+GOODS+BOX): ¥8,500 (Before Tax) [VIZL-1708]

*To be made available on all major music download services including iTunes Store, Recochoku and mora, as well as streaming services including Spotify, Apple Music, YouTube Music, LINE MUSIC, Amazon Music Unlimited, AWA, KKBOX, Rakuten Music, and RecMusic

☆HMV Exclusive Drinking Tumbler Set

・<HMV Exclusive> Kiss from the darkness – First Press Limited Edition A (CD+DVD) & Tumbler Set: ¥4,800 (Before Tax)

・<HMV Exclusive> Kiss from the darkness – First Press Limited Edition B (CD+Magazine) & Tumbler Set: ¥4,600 (Before Tax)

・<HMV Exclusive> Kiss from the darkness – Limited Pressing Edition (CD+DVD+GOODS+BOX) & Tumbler Set: ¥9,300 (Before Tax)

・<HMV Exclusive> Kiss from the darkness – Regular Edition (CD) & Tumbler Set: ¥3,800 (Before Tax)

Early Bonus: https://www.jvcmusic.co.jp/-/News/A026399.html

Store Bonuses: https://www.jvcmusic.co.jp/-/News/A026399.html

SCANDAL TOUR 2020 "Kiss from the darkness"

2020/3/7 @ Atsugi City Cultural Hall, Kanagawa

2020/3/14 @ Sapporo Kanamoto Hall, Hokkaido

2020/3/21 @ Alios Iwaki Performing Arts Center (Large Hall), Fukushima

2020/3/22 @ Talk Net Hall Sendai (Large Hall), Miyagi

2020/3/28 @ Nagoya Congress Center (Century Hall), Aichi

2020/3/29 @ Konan City Community Hall, Aichi日

2020/4/4 @ Hondanomori Hall, Iwasaki

2020/4/5 @ Niigata TERRSA, Niigata

2020/4/10 @ ROHM Theatre Kyoto (Main Hall), Kyoto

2020/4/11 @ Uenogakuen Hall, Hiroshima

2020/4/17 @ Fukuoka Civic Hall, Fukuoka

2020/4/18 @ Kumamoto Prefectural Theater (Engeki Hall), Kumamoto

2020/4/25 @ NHK Hall, Tokyo

2020/4/26 @ NHK Hall, Tokyo

2020/4/29 @ Beisia Culture Hall (Large Hall), Gunma

2020/5/2 @ Yonago Public Hall, Tottori

2020/5/3 @ Okayama Civic Hall, Okayama

2020/5/5 @ Orix Theater, Osaka

2020/5/6 @ Orix Theater, Osaka

2020/5/23 @ WEST BRIDGE LIVEHALL, Seoul

2020/5/30 @ The ColiseumTM, Hard Rock Hotel Singapore, Resorts WorldTM Sentosa, Singapore

2020/6/06 @ New Frontier Theater, Manila

2020/6/13 @ Lido Connect (Hall 2), Bangkok

and overseas…

*Tickets and details available on SCANDAL's official website

Official Website: http://www.scandal-4.com/

GeGeGe no Kitaro

Initial Broadcast: January 5, 2020

Official Website: http://www.toei-anim.co.jp/kitaro/

SCANDAL Announce New Album 'Kiss from the darkness' Releasing From Their Label her

SCANDAL have announced that they will release their first-ever full length album from their private label her, entitled Kiss from the darkness, on February 12, 2020. This marks the band's ninth album in total and two years since the release of their last, HONEY. They will promote the album with a 19-date hall tour in March.

Regular Edition CD Cover

The new record from Japan's biggest all-female rock band contains 11 songs in total, including all the singles they have released from their private label her: Masterpiece, Mabataki, Fuzzy, and Saishuheiki Kimi.

Speaking about the new album, vocalist HARUNA commented: "I believe people have perceived our new songs as us having challenged ourselves to new things and having experimental parts, but that's not really it. I can say with full confidence that this is seriously our best material yet. The creative energy from the four of us is just bursting at the seams."

RINA, the band's drummer and the member who has written a lot of the song lyrics, commented on the theme of the record: "The ups and downs in our hearts, our strengths, and our weaknesses all serve as seeds to our music and turn into songs. 'No matter what, everything will be okay. Things will work out.' That's the kind of message we put into the title Kiss from the darkness.'

Limited Pressing Edition CD Cover

The album's cover art was designed by collage artist Q-TA who also worked on the band's CD artwork for their March single Masterpiece/Mabataki. Speaking about the new pieces, Q-TA commented: "I added a sense of the girls' innocence which is hidden away inside all of the aggression. I wanted to express not only what's on the outside, but the inside too."

First Press Limited Edition A CD Cover

First Press Limited Edition B CD Cover

The album will be released in four editions: the Regular Edition, First Press Limited Edition A & B, and Limited Pressing Edition. Limited Edition A copies include a DVD featuring a documentary covering the band's journey over the past year since establishing their private label her. B copies include volume 2 of the "her Magazine," the first of which was included with their Masterpiece/Mabataki single and was thoroughly enjoyed by fans.

Limited Pressing Edition copies include a DVD featuring a collection of the band's music videos and a t-shirt featuring the cover artworkーall packaged in a beautiful box. If you pre-order the album in Japan now, you can also get an original folder; and depending where you order from, each store has their own individual bonus items you can get your hands on.

SCANDAL will kick off their 19-date tour at Atsugi City Cultural Hall in Kanagawa on March 7, 2020. They will wrap it up with two shows at the Orix Theater in Osaka on March 5 and 6. More details below and on the band's official website.

Information

Kiss from the darkness

Release Date: February 12, 2020

Regular Edition (CD): ¥3,000 (Before Tax) [VICL-65310]

First Press Limited Edition A (CD+DVD): ¥4,000 (Before Tax) [VIZL-1706]

First Press Limited Edition B (CD+Magazine): ¥3,800 (Before Tax) [VIZL-1707]

Limited Pressing Edition (CD+DVD+GOODS+BOX): ¥8,500 (Before Tax) [VIZL-1708]

*To be made available on all major music download services including iTunes Store, Recochoku and mora, as well as streaming services including Spotify, Apple Music, YouTube Music, LINE MUSIC, Amazon Music Unlimited, AWA, KKBOX, Rakuten Music, and RecMusic

Early Bonus: https://www.jvcmusic.co.jp/-/News/A026399.html

Store Bonuses: https://www.jvcmusic.co.jp/-/News/A026399.html

SCANDAL TOUR 2020 "Kiss from the darkness"

2020/3/7 @ Atsugi City Cultural Hall, Kanagawa

2020/3/14 @ Sapporo Kanamoto Hall, Hokkaido

2020/3/21 @ Alios Iwaki Performing Arts Center (Large Hall), Fukushima

2020/3/22 @ Talk Net Hall Sendai (Large Hall), Miyagi

2020/3/28 @ Nagoya Congress Center (Century Hall), Aichi

2020/3/29 @ Konan City Community Hall, Aichi日

2020/4/4 @ Hondanomori Hall, Iwasaki

2020/4/5 @ Niigata TERRSA, Niigata

2020/4/10 @ ROHM Theatre Kyoto (Main Hall), Kyoto

2020/4/11 @ Uenogakuen Hall, Hiroshima

2020/4/17 @ Fukuoka Civic Hall, Fukuoka

2020/4/18 @ Kumamoto Prefectural Theater (Engeki Hall), Kumamoto

2020/4/25 @ NHK Hall, Tokyo

2020/4/26 @ NHK Hall, Tokyo

2020/4/29 @ Beisia Culture Hall (Large Hall), Gunma

2020/5/2 @ Yonago Public Hall, Tottori

2020/5/3 @ Okayama Civic Hall, Okayama

2020/5/5 @ Orix Theater, Osaka

2020/5/6 @ Orix Theater, Osaka

Official Website: http://www.scandal-4.com/