Come Witness The Hello Kitty X KAWAII MONSTER CAFÉ HARAJUKU Collaboration
Sanrio and Harajuku's KAWAII MONSTER CAFÉ have set out on a two-month collaboration which will run until September 1. Sitting at the heart of Harajuku, which is the home of kawaii culture, the KAWAII MONSTER CAFÉ is topping up its kawaii powers with the release of Hello Kitty collaboration meals and merchandise that you cannot obtain from anywhere else.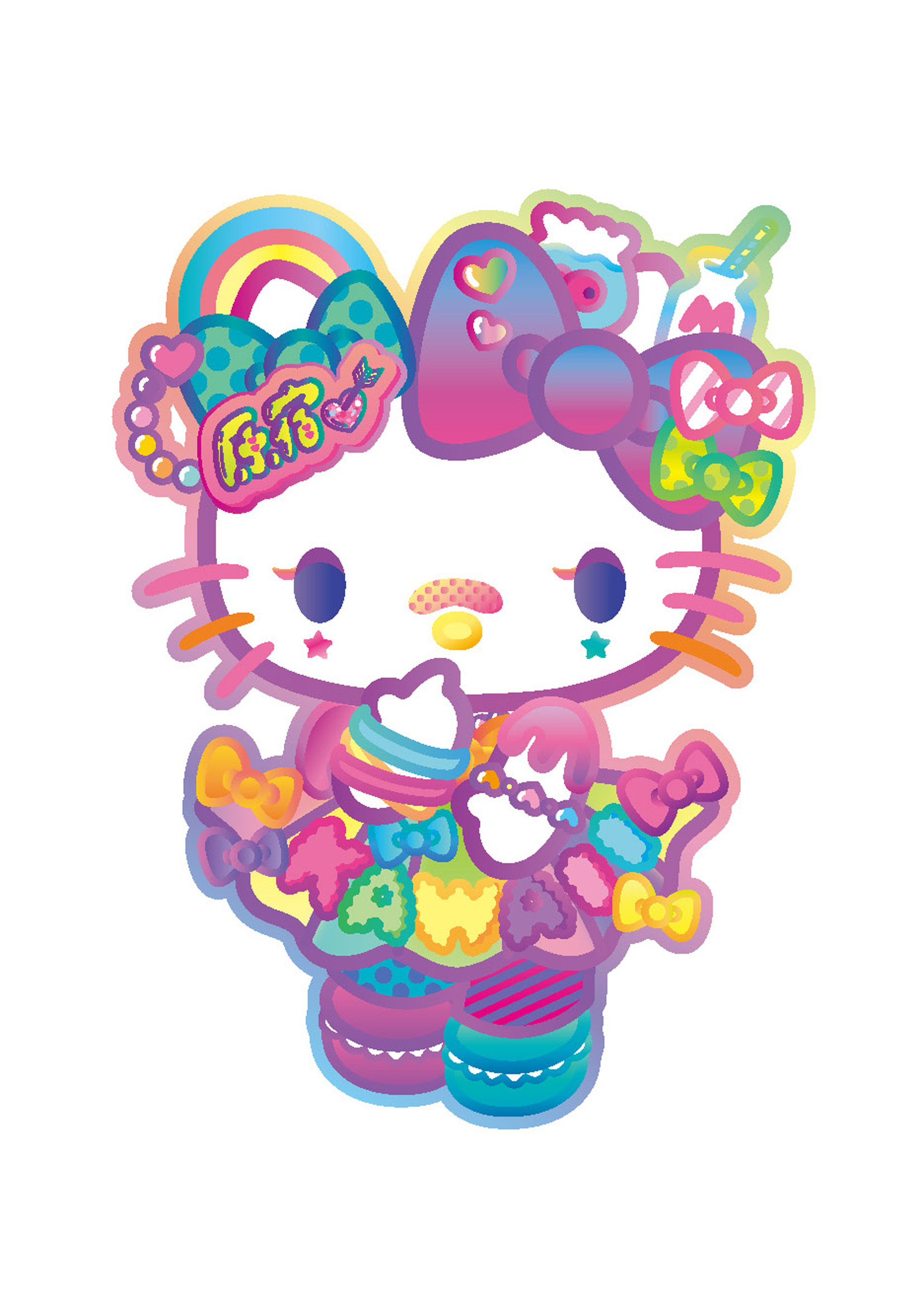 For the collaboration, Hello Kitty has transformed her look, turning into a kawaii Harajuku girl. 
Once you enter the café, you will immediately notice the giant cake-shaped merry-go-round called the SWEETS GO ROUND. This time, you will notice that Hello Kitty's head garnishes the top of the cake.
Make your way through the cafe and you will eventually come across the Mel-Tea Hello Kitty Room, which is a special room that must be reserved in order to experience. On pink tatami flooring sits multiple low tea tables, representing the traditional culture of Japan in a colouful pop style. Foreigners would  just love to spend some time in this room. Looking around the room, the macarons and strawberries remain in their usual places. 
You will notice Hello Kitty's ribbon and even many Hello Kitty stuffed toys also decorating the room. This entire new kawaii world locked in this room was created by Sebastian Masuda. Surrounded by a world of pastel colours and kawaii decorations, you just have to take photos. 
Reservations
If you wish to book the Mel-Tea Hello Kitty Room, please talk to a member of staff. 
Tel: 03−5413−6142
Reservation Times
Weekdays: 11:00, 13:00, 15:00
Sundays/ Weekends: 11:00, 13:00, 15:00, 17:00, 19:00
※ Two-hour time slots ※ Number of seats is limited
This is a unique opportunity to taste only the most kawaii of menus as Hello Kitty teams up with the KAWAII MONSTER CAFÉ. Let's check out the menu!
Colourful Pop Hello Kitty Burger: ¥1,680 (before tax) 
Hello Kitty Harajuku Rainbow Curry: ¥1,580 (before tax)
Harajuku X KAWAII X Hello Kitty SWEETS GO ROUND Cake: ¥1,480 (before tax)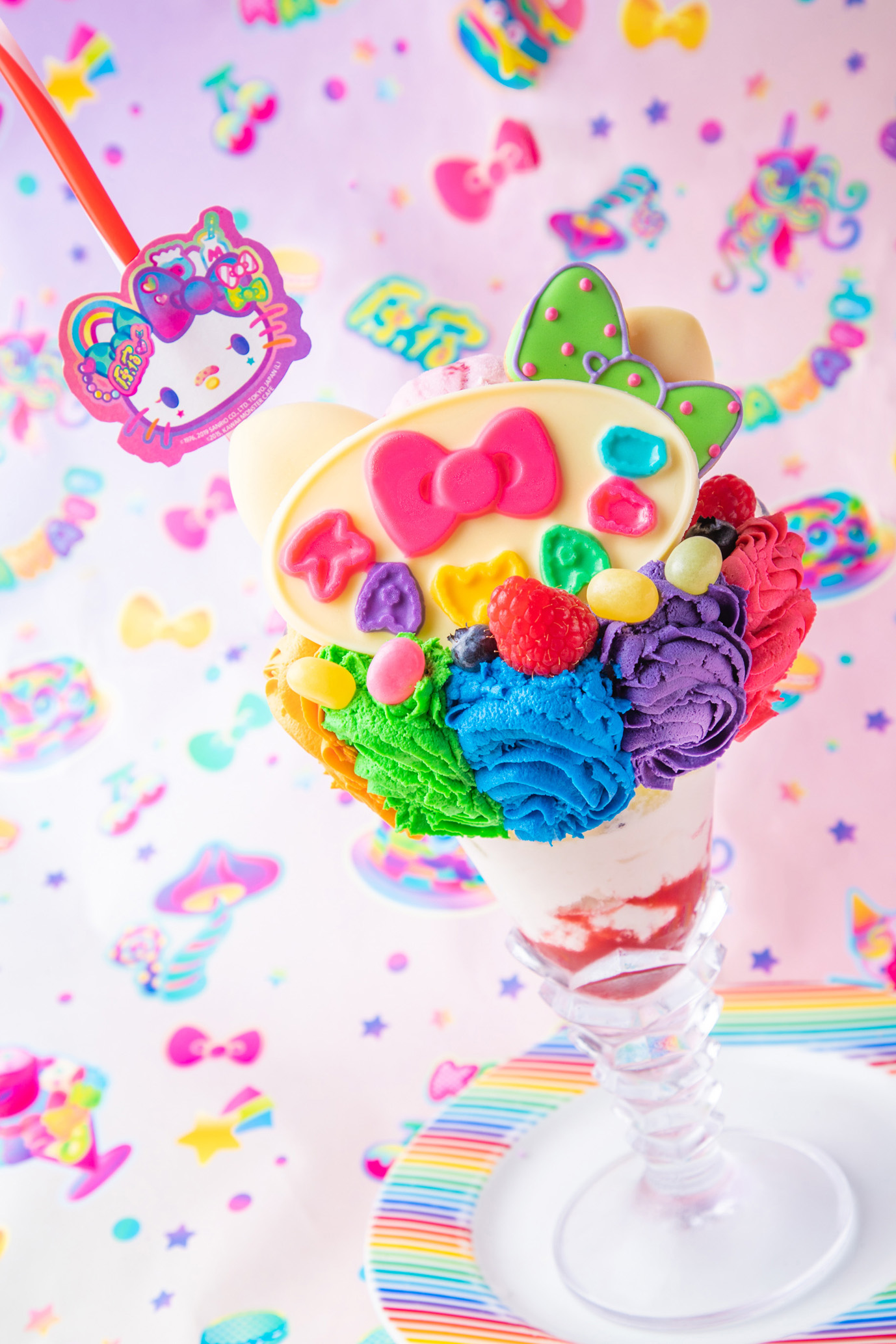 Harajuku KAWAII 原宿 KAWAII Poison Parfait: ¥2,480 (before tax )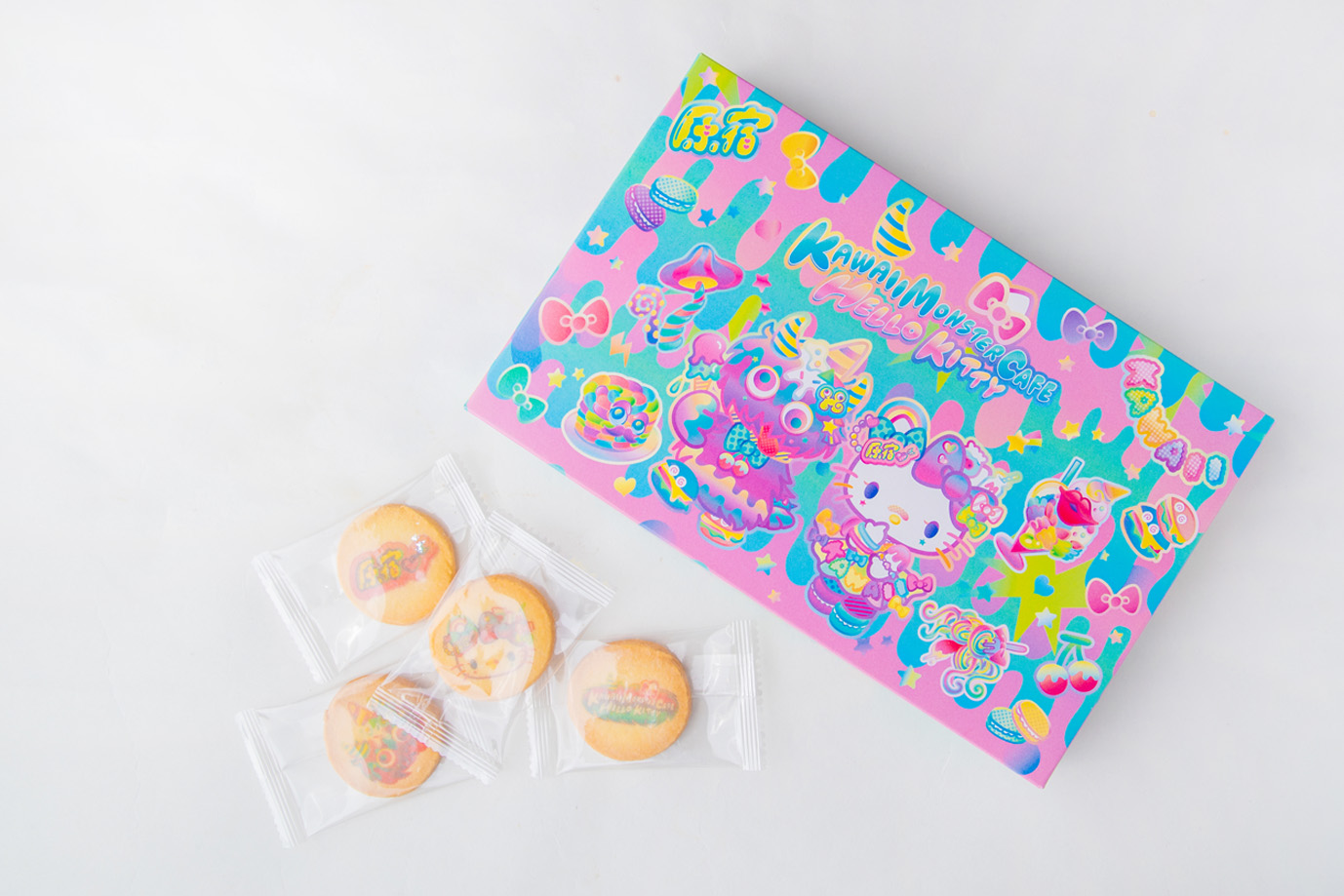 There are also many Harajuku-style Hello Kitty goods that you should check out. The biscuits and stickers would make the perfect souvenirs.
Not only has the food been given a Hello Kitty upgrade, but the MONSTER CAFÉ's iconic Monster Girls have also transformed their look for the Hello Kitty collaboration. If you are a fan of Hello Kitty or kawaii culture, you absolutely must check this out. 
If you ever find yourself in Harajuku, please consider stopping by the KAWAII MONSTER CAFÉ to witness the Hello Kitty collaboration project. 
Information
Harajuku × KAWAII × Hello Kitty
Running: July 12 ー September 1, 2019 
Access: 5-minute walk from JR Harajuku Station/1-minute walk from Meiji Jingumae Station, Chiyoda Line
TEL: 03−5413−6142
Opening Hours:
Weekdays/ Saturdays: 
Lunch: 11:30 ー 16:30 (Last entries: 15:30, last orders: 16:00,  90-minute time slots)
Dinner: 18:00 ー 22:30 (Last orders: 22:00)
Sundays/ National Holidays: 11:00 ー 20:00 (Last orders: 19:30)
※ 2-hour time slot restriction applies during peak times
No regular holidays
Official Website: http://kawaiimonster.jp/day/pc/
RECOMMENDED ENTRIES
Hello Kitty & KAWAII MONSTER CAFE Collaboration Begins July 12

The KAWAII MONSTER CAFE in Harajuku is teaming up with Sanrio bring Hello Kitty, Harajuku culture and kawaii culture to the restaurant in a collaborative event that will run from July 12 to September 1. This year marks Hello Kitty's 45th anniversary and KAWAII MONSTER CAFE's 4th anniversary making this an event not to be missed.

"Harajuku x Kawaii x Hello Kitty" Themed Menu

Eight dishes will make up the colourful menu arriving at the KAWAII MONSTER CAFE on July 12 inspired by Harajuku, kawaii culture and Hello Kitty.




Dishes include the Hello Kitty Burger packed with colourful melted cheese sauce, the Hello Kitty Harajuku Rainbow Curry which imagines Hello Kitty looking up to a rainbow after the rain lets up, and more.

Don't forget the beautiful desserts either from a vibrant pop cake to a gorgeously layered parfait, all imbued with kawaii♡


During the event, customers who order from the collaborative menu will receive one of these original coasters featuring Hello Kitty and the restaurant's popular character Mr. Choppy.

Mel-Tea Hello Kitty Room: A Special Reservation-Only Room

Also running at the restaurant during the event will be a special reservation only "room" which can be found at the KAWAII MONSTER CAFE's popular Mel-Tea-Room area. This room will see Hello Kitty take on the theme of a Harajuku girl and be decorated in pastel colours, ribbons, strawberry cake and more. You'll wish this room was your own!

Mel-Tea Hello Kitty Room

Running: July 12, 2019 – September 1, 2019

Reservations: Once reserved please speak to the Mel-Tea Hello Kitty Room staff

Slots: [Weekdays] 11:00/13:00/15:00 [Sundays & Holidays] 11:00/13:00/15:00/17:00/19:00

*2 hours per slot, limited availability

Original merchandise and novelties will also be available to purchase and pick up at the restaurant.

The collaboration is running until the end of Japan's summer break, so if you're here this summer then be sure to plan a trip to Harajuku to eat at the KAWAII MONSTER CAFE.

Information

Harajuku x KAWAII x Hello Kitty

Location: KAWAII MONSTER CAFE HARAJUKU

Running: July 12, 2019 – September 1, 20192019年7月12日(金)から9月1日(日)

Address: YM Square Bldg. 4F, 4-31-10 Jingumae, Shibuya, Tokyo
Access: 5-minutes on foot Harajuku Station via JR / 1-minutes on foot from Meiji-Jigumae Station via Chiyoda Line and Fukutoshin Line
TEL/FAX: 03-5413-6142/03-5413-6143

Business Hours
Weekdays & Saturday:
[Lunch] 11:30-16:30 (last entry 15:30 / last orders 16:00 – 90 min stay max)
[Dinner] 18:00-22:30 (last orders 22:00)

Sundays & Holidays:
11:00-20:00 (last orders 19:30)

*During busy times, a max stay time of 2 hours may be implemented.

Official Website: http://kawaiimonster.jp

Hello Kitty Celebrates 45th Anniversary With 1970s ー 2000s Design Goods Series

To commemorate Hello Kitty's 45th anniversary, a new merchandise series will be sold at Sanrio shops, Sanrio sections of department stores across Japan and on the official online shop. The new merchandise series is themed around the concept of looking back on all that Hello Kitty has been through over the years to "find your perfect Hello Kitty". The series will be released on July 18 and there will be a mini event at the front of Sanrio stores from July 20. 

Hello Kitty recently shone in first place as the first cute character winner of the Reiwa Era at the 2019 Sanrio Character Awards. To celebrate her 45th anniversary this year, the artistic crew who raised Hello Kitty are bringing back old memories and creating new ones with a series of original Hello Kitty toys with designs to represent Hello Kitty throughout her lifetime.

The first round of goods from the Hello Kitty 45th anniversary commemoration series was released in April earlier this year. Part 1 of the series involved the release of pouches, the designs of which represented the different ages of Hello Kitty. This series was particularly popular. For the second round of the commemoration series, the Sanrio shop has developed commemoration dolls, notebooks and sweets tins with different designs to represent Hello Kitty from the 1970s to the 2000s. 

Hello Kitty 45th Anniversary Commemoration Dolls (10 designs): ¥3,456 each (after tax)

There are 10 commemoration dolls to choose from and they all come in a special box.

Hello Kitty 45th Anniversary Commemoration Doll (70's design) 

The 1970's  Hello Kitty brings back memories of how she looked in the latter half of the 1970s. 

Hello Kitty 45th Anniversary Commemoration Doll (Pink Quilt)

The quilt design was a big hit in the 1990s and is now making a comeback.

Hello Kitty 45th Anniversary Commemoration Doll (Fairy)

The fairy series was released in the year 2000 to celebrate the new millennium. This design represents a rainbow-coloured fairy. 

Hello Kitty Sweets Tin (Contains sweets) : ¥486 each (after tax)

Don't forget to check out the tinned sweets. The tins are designed with illustrations ranging from the iconic Hello Kitty times over the years from the 70s to the 2000s. Some designs will make you feel nostalgic, while others will spark excitement for their new originality. New or old? Come find one that captures your heart! Each tin contains five apple-flavoured sweets. 

Hello Kitty Notebook (make your own collection set): ¥648 each (after tax)

There are 15 different Hello Kitty notebook designs inspired by Hello Kitty throughout the years. You can choose three notebooks from this collection and one of two Hello Kitty goldleaf print cases to create your own special commemorative notebook set. 

There is a special campaign running for customers who purchase Hello Kitty 45th Anniversary goods. The campaign is running at the storefront of Sanrio shops this summer. From July 15, customers who spend more than ¥1,620 (tax included) on Mondays at the Sanrio shop will receive a 45th Anniversary monthly novelty gift! (Does not include bargain or lottery items) . 

The first monthly novelty gift will be an acrylic keyring. One of five designs will be chosen at random and presented to customers whose bill totals over ¥1,620 after tax. The monthly novelty gift campaign will be launched on July 15 and will run every Monday until October. Not only will the campaign be running on the 15 Mondays between the start and finish dates, but also on November 1, which is Hello Kitty's birthday. 

※ Please acknowledge that there is a limited number of these keyrings and therefore there is a possibility that stock runs out. You cannot choose the keyring pattern and this campaign may not be running at all Sanrio stores. 

Come say hello to Hello Kitty's retro past and join in the 45th Anniversary celebrations. 

Information

Hello Kitty 45th Anniversary Series

Release: July 18, 2019 

Available at: 

◇ Sanrio shops, Department store Sanrio sections, more (There may be some non-participating stores).

◇ Sanrio Online shop (Tinned sweets and collection notebooks are not available).

Main Store:  https://shop.sanrio.co.jp/

Rakuten Market: https://www.rakuten.co.jp/sanrio/

Yahoo! Shopping: https://shopping.geocities.jp/sanrio/

General Enquiries can be made to the Sanrio Customer Support Centre

℡: 03-3779-8148 

Open: 10am ー 5pm (Not operating on weekends or national holidays)

Hello Kitty Collaborates With Hawaiian Musical To Spread Awareness For Coastal Protection

Fantasy musical Honu by the Sea is collaborating with Hello Kitty at Sanrio Puroland on July 13th, 14th and15th.

Honu by the Sea is a fantasy-themed musical aimed at families. The story is set on a beach in Hawaii. From the appearance of a magical "Honu" (Hawaiian for "sea turtle") to the range of sea wildlife and the broadway-style singing and dancing, this is a musical that is highly praised on an international level. 

When Honu by the Sea in Sanrio Puroland took place last year in July, popular Sanrio character Hello Kitty took to the stage with the cast, performing the first ever full Japanese version of the musical. Following last year's admiration, the musical will be returning again this year. The music will take place every day of the three-day Japanese national holiday period that celebrates Marine Day. 

 At the Sanrio Puroland live performance, the actors and actresses, who were all born in Hawaii, will be singing all the songs live in Japanese. This musical aims to enforce the importance of protecting our oceans and coasts. Thanks to the collaboration, the musical also spreads the message of the importance of friendship to viewers. This is a wonderful chance to enjoy a globally-admired musical along with Hello Kitty. 

Information

HONU BY THE SEA 2019 in Sanrio Puroland

Dates: July 13, 14 & 15, 2019

Venue: Sanrio Puroland 

Performance Times:

July 13 & 14: 11:00 ー 11:30/13:25 ー 13:55

July 15 (national holiday): 11:50 ー 12:20/15:30 ー 16:00

Location: Wisdom Tree Stage, 1st floor 

 

Sanrio Puroland

Address: 1-31, 1 Chome-31 Ochiai, Tama, Tokyo

Website: https://www.puroland.jp/
RELATED ENTRIES
HARAJUKU COLLECTIVE, a Collaboration Between Hot Topic & Studio Ghibli, Gets Pop-Up Store at Shinsaibashi PARCO

Last year, the HARAJUKU COLLECTIVE collaboration appeared at AF Gallery in Harajuku from August 10 until August 28, garnering massive acclaim from fans. The collection is now being sold at Shinsaibashi PARCO until March 12, 2023.

HARAJUKU COLLECTIVE is a Studio Ghibli-inspired apparel collection by the popular American counterculture chain Hot Topic. Bringing more Japanese culture to the ongoing Studio Ghibli collaboration launched in 2014, Hot Topic stores began selling original items produced by nine Japanese creators and brands, as well as some original American items produced by Hot Topic's executive designers.

The lineup of Japan-original items includes T-shirts, tote bags, and other items featuring exclusive artwork by up-and-coming creators. These items depict beloved characters from Studio Ghibli's works, as well as logos created for the collaboration. Fans won't want to miss grabbing these unique items!

 

Details on the Previous HARAJUKU COLLECTIVE Pop-Up Store: https://www.moshimoshi-nippon.jp/ja/625747

FRUITS ZIPPER Valentine Pop-Up Shop to Open at Laforet Harajuku

Laforet Harajuku will host a pop-up shop inspired by the up-and-coming idol group FRUITS ZIPPER from February 1 until February 14! The FRUITS ZIPPER Valentine Pop-Up Shop will be found on the 5th floor MAKE THE STAGE area.

FRUITS ZIPPER debuted in April 2022 and embodies a simple concept: "From Harajuku to the World." The group's second single Watashino Ichiban Kawaiitokoro exploded in popularity on TikTok, pulling in over 600 million views. In February, the girls will embark on their first solo concert tour in Tokyo, Nagoya, and Osaka. This is the first FRUITS ZIPPER-inspired limited-time shop, and during the event, visuals of the group's members will be displayed in the show windows found on the first floor of Laforet Harajuku.

◆About the FRUITS ZIPPER Valentine Pop-Up Shop

When entering the venue, fans will be greeted by a 5-meter-wide board where visitors can write and attach their messages to the FRUITS ZIPPER members on heart-shaped cards. Costumes that the members have worn on stage will also be on display, allowing fans to see each stitch up close.

Exclusive items featuring new photos of the members will be on sale at the pop-up shop. Fans can enjoy seeing the girls in their own personal style, and these items will only be available during the event! Starting February 4, tour merch for the group's upcoming solo concert series will also be available for purchase.

◆Collaboration with Fruit Sandwich Specialty Store 'Fruits Box Daikanyama'

Last year's popular collaboration with Fruit Box Daikanyama, a well-known fruit sandwich shop, is happening again in 2023! Fans can find the Collaboration Gift Box for sale, including seven baked meringue goods each featuring one of the member's colors. The box also comes with snapshots of the members, and for a few lucky fans, these snaps might be signed! The idol group and sandwich shop have also teamed up to create the Collaborative Lucky Grab Bag Lottery, including popular FRUITS ZIPPER goods and original items from Fruits Box Daikanyama. The lucky first-prize winner will receive a special set of all available February tour merchandise in all sizes.

◆Member Appearance Planned on Valentine's Day

On February 14, the final day of the pop-up shop, the members of FRUITS ZIPPER will make an appearance! Guests will be able to participate in the first-ever hands-on event with the members, so keep an eye out for more details!

Stay up to date with the latest FRUITS ZIPPER news at the official Twitter page (@FRUITS_ZIPPER).

FRUITS ZIPPER Pop-Up Shop Exclusive Goods


Random Photo – Valentine pop-up ver. (21 varieties): ¥330 (Tax Included)


Random Pin – Valentine pop-up ver. (7 varieties): ¥500 (Tax Included)


Random Purikura Stickers – Valentine pop-up ver. (14 varieties): ¥600 (Tax Included)

Information

FRUITS ZIPPER Valentine POP-UP SHOP
Running: February 1 – February 14, 2023
Venue: Laforet Harajuku 5F MAKE THE STAGE
*Closed on February 7 and February 8

[Fruits Box Daikanyama Collaboration Goods]
Collaboration Gift Box: ¥3,500 (Tax Included)
Collaborative Lucky Grab Bag Lottery: ¥1,500 per try (Tax Included)

Check out more details about the pop-up below!
https://www.laforet.ne.jp/pop_up_shop/fruitszipper_2301/

Stay up to date:
FRUITS ZIPPER Official Twitter
https://twitter.com/FRUITS_ZIPPER/

<Tour Information>
FRUITS ZIPPER 1st LIVE TOUR 2023 WINTER

Date: February 3, 2023
Venue: ReNY limited
Time: Doors open 17:30 / Show starts 18:30
Contact: Sunday Folk Promotion (052-320-9100) *Open daily 12:00-18:00

Date: February 5, 2023
Venue: Nanba Hatch
Time: Doors open 16:30 / Show starts 17:30
Contact: Kyodo Information (0570-200-888)

FRUITS ZIPPER 1st LIVE TOUR 2023 WINTER 〜FRUITS DAY〜
Date: February 9, 2023
Venue: Shibuya WWW X
Time: Doors open 18:00 / Show starts 19:00
Contact: HOT STUFF PROMOTION (03-5720-9999) *Open weekdays 11:00-19:00

FRUITS ZIPPER 1st LIVE TOUR 2023 WINTER 〜ZIPPER DAY〜
Date: February 10, 2023
Venue: Shibuya WWW X
Time: Doors open 17:30 / Show starts 18:30
Contact: HOT STUFF PROMOTION (03-5720-9999) *Open weekdays 11:00-19:00

FRUITS ZIPPER 1st LIVE TOUR 2023 WINTER -TOUR FINAL –
Date: February 12, 2023
Venue: LINE CUBE SHIBUYA
Time: Doors open 17:00 / Show starts 18:00
Contact: Sunrise Promotion Tokyo (0570-00-3777) *Open weekdays 12:00-15:00

Buy tickets for all shows here: https://l-tike.com/artist/000000000899959/

Zipper Magazine's 2022-2023 Winter Issue on Sale Now

The Winter 2022-2023 issue of the revived fashion creator magazine Zipper went on sale on December 23.

This issue focuses on this winter's must-know trends and is packed with coordination tips, outfit plans through spring, snapshots, hair and makeup tips, and much more.

Zipper ended its 24-year history in December 2017. In March 2022, ASOBISYSTEM teamed up with DONUTS Inc. to revive the magazine as a quarterly release. The fashion magazine, popular with Gen Z, is known for sharing details aspects of Harajuku culture and will continue to share more from the creative center of Tokyo for years to come.

Standard Edition (Cover: Nagisa Saito)

Another Edition (Cover: FRUITS ZIPPER)

Information

Zipper 2022-2023 Winter Issue
Release Date: December 23, 2022
Price: ¥700
Publisher: DONUTS
Publishing Company: Shodensha

Available at bookstores nationwide and online

Amazon
・通常版
・anotehr edition

Official Site
https://www.zipper.jp/

Popular EC Brand SHEIN Opens First Permanent Brick and Mortar Store in Harajuku

The global online fashion brand SHEIN has become wildly popular, shipping goods to over 150 countries. The world's first permanent brick-and-mortar SHEIN store will open in Harajuku, Tokyo on November 13, 2022, displaying popular styles and items perfect for the Japanese market. All items on display will be available for purchase on the official SHEIN app simply by scanning the QR code on the tag. While items won't be available to purchase in-store, the location will be a place where curious customers can try things on and explore new trends. The store has two floors and carries women's and men's wear, as well as kids' wear, pet goods, and accessories. In addition to standard fitting rooms, there will also be a photo booth and SHEIN gacha machine!

This summer, the brand held its first pop-up event in Japan, traveling to five cities over two days. In October 2022, the three-month-long SHEIN POPUP OSAKA event invited customers could try on clothes and discover new styles.

 "SHEIN TOKYO is planning to hold a number of events to make the SHEIN brand more familiar to new customers. Please visit us and enjoy perusing our reasonably priced but high-quality items," an official comment reads. 

Information

SHEIN TOKYO

Open: November 13, 2022

Address: b-town Building C, 1, 2F (4-25-9 Jingumae, Shibuya-ku, Tokyo)

Hours: 11:00-19:00 (Closed during New Year's holiday)

Official Website: https://jp.shein.com

Popular Character Coji-Coji Inspires First Baby Brand COJI-COJI BABY

Momoko Sakura's popular series Chibi Maruko-chan is filled with beloved characters, and Coji-Coji has remained a fan favorite for decades. Starting in October 2022, fans will be able to grab goods from the new COJI-COJI BABY brand. 

The made-for-babies merchandise line will feature new artwork. The first theme is 'outer space,' and little ones will love the pastel colors and playful illustrations. A promo video has also been posted to the official Coji-Coji YouTube channel.

About COJI-COJI BABY

"A snooze on the moon…

From childhood to the faraway future, 

Coji-Coji is always cozy-cozy.

Such a valuable life.

Grow together with your baby.

Snuggle up with your family. 

Be there to relax with those you love. 

Spend irreplaceable time together.

After all of these desires and thoughts came together,

COJI-COJI BABY was born."

Product Release Information

Sales of COJI-COJI BABY products began on October 12, 2022 on the official Eightex Japan online store.

Coji-Coji Costume Romper: ¥9,900

COJI-COJI BABY Fair Now Open!

Starting on October 15, the COJI-COJI BABY Fair is being held at Kiddy Land Harajuku and Kiddy Land Osaka Umeda.

During the event period, those who purchase over ¥4,000 (including tax) on COJI-COJI BABY products will receive an original mini shikishi. This is a perfect frame for your baby's handprint or footprint!

Information

COJI-COJI BABY

Official Online Store: https://eightex.com/pages/cojicoji

COJI-COJI BABY Fair

Running: October 15, 2022 ~

Venue: Kiddy Land Harajuku, Kiddy Land Osaka Umeda

*Bonus goods are only available while supplies last

*COJI-COJI BABY products will be available starting October 15. 

COJI-COJI BABY Promo Video: https://youtu.be/QyGTaz8geT0

Hello Kitty Autumn Event 'Apple Halloween 2022' Running Until October 31

HELLO KITTY SHOW BOX, a theater and restaurant offering Hello Kitty-themed shows and meals on Awaji Island, and HELLO KITTY APPLE HOUSE, an apple-shaped observation theater based on the popular character's home, are both currently holding the Apple Halloween 2022 event until October 31! 

Guests can enjoy a mystery-solving event and some adorable photo spots inspired by apples and the Halloween season. By solving certain riddles, visitors will be rewarded with candy!

Come have fun this Halloween with Hello Kitty, friends, and family!

Started in October, the New Show 'HELLO KITTY THE PARTIES' Gets Rave Reviews

HELLO KITTY THE PARTIES, a new show at the theater and restaurant HELLO KITTY SHOW BOX, will run until December 30, 2022. The show features a new theme each month and currently features a jazz band.

October's theme is Happy Halloween Party, and visitors can listen to a number of famous songs while enjoying tasty and healthy dishes packed with autumn flavors. At the end of the performance, a meet and greet with Hello Kitty will be held. November's theme will be Hello Kitty's Birthday Party, while December will focus on a Christmas Party!

Information

Apple Halloween 2022

Running until October 31, 2022

Hours: 11:00-17:00

Venue: Awaji Hello Kitty Apple Land ( 177-5 Nojimahirabayashi, Awaji, Hyogo)

Official Website: https://awaji-resort.com/hellokittyshowbox/

Old-School Burger Shop Jennifer Seven Opens Location in Harajuku, Tokyo

LDFS Co. Ltd., which operates six cafes and brands in Tokyo, has opened a new location! The company currently operates THE GREAT BURGER, a gourmet burger shop in Harajuku, The Little BAKERY Tokyo, and GOOD TOWN DONUTS. Now, they've brought the old-school burger store Jennifer Seven to Harajuku!


Jennifer Seven is a combination general store and burger store that sells apparel, kitchen items, and groceries. While it may seem like a general store with a coffee stand at first glance, the back door opens to reveal a secret burger shop! The innovative location will serve simple burgers, not the hearty and massive gourmet burgers available next door at THE GREAT BURGER.

General stores are found in rural America and carry a wide range of daily necessities, much like a yorozu-ya in Japan. Jennifer Seven sells original apparel, sundries, and goods with a vintage flare, as well as tableware and other items from the U.S. In addition, guests can find unique food items like handmade jellies and jams, fresh fruits and local veggies, natural wines, small gifts, and plenty more.

 

The drive-thru coffee stand attached to the store sells GOOD TOWN COFFEE, and Chinese-American steamed buns are also available at the Harajuku location!

Each classic burger will come with simple and tasty ingredients, including the beef patty, ketchup, mustard, original burger sauce, pickles, and onions. The restaurant's simple interior features white and vintage wood with blue-grayish green accents and was designed by the owner himself, inspired by diners and school cafeterias in rural America.

Come enjoy a classic burger at this secret burger joint!

Information

Jennifer Seven

Location: Jennifer Seven

J-cube C Building 1F (6-12-6 Jingumae, Shibuya-ku, Tokyo)

Hot Topic and Studio Ghibli Collab Project HARAJUKU COLLECTIVE Gets Pop-Up Store in Harajuku

HARAJUKU COLLECTION, a Studio Ghibli-inspired apparel collection by popular American counterculture chain Hot Topic, is offering licensed Ghibli goods for fans in the U.S. and Canada. The collection opened its online store for those in Japan on August 10, and a limited time pop-up store has been opened in Harajuku to celebrate the release of this incredible apparel!

Japan Original Items

American Original Items

The store has a colorful exterior that shows Totoro and the Susuwatari playing together. Once inside, guests will be greeted by a massive rainbow Totoro! The shop blends the world of Ghibli with the style of Harajuku.

"If there were colorful and kawaii mushrooms in Totoro's forest, and if it rained acorns one day, maybe he'd need a mushroom umbrella!" This colorful Totoro was inspired by this adorable thought.

The walls are decorated with artwork drawn by the creators of the original Japanese items, and guests are able to see and purchase the products in this special space. Why not visit?

© 1988 Studio Ghibli
© 1989 Eiko Kadono – Studio Ghibli – N
© 1997 Studio Ghibli – ND
© 2001 Studio Ghibli – NDDTM
© 2004 Studio Ghibli – NDDMT

Hello Kitty and Wish Me Mell Inspire Dinner and Dessert Buffet at Keio Plaza Hotel

Starting September 3, Keio Plaza Hotel Tama will offer a special dinner and dessert buffet inspired by the Sanrio characters Hello Kitty and Wish Me Mell. The adorable event will take place at the Jurin restaurant on the 4th floor, and guests will be able to enjoy some cute dishes and desserts inspired by the character's gratitude. The event will run until October 30 and will only be held on weekends and holidays. 

The restaurant's patissier has designed a collection of sweet dishes based on the two characters, from strawberry shortcakes inspired by Wish Me Mell's outfit to pastel-colored cakes and rainbow jello. Cream-filled fruit sandwiches cut to look like Hello Kitty's face are sure to offer guests the perfect photo op! For those wanting something savory, over 15 dishes will be available, including roast beef, pasta and cheese, curry, and more.

Special seats including large stuffed animal versions of Hello Kitty and Wish Me Mell will be available, limited to two tables per day.

Come enjoy a relaxing meal with these two adorable characters!

Official Chiikawa Shops in Harajuku and Osaka to Hold 1st Anniversary Fair

Last year, Chiikawa Land, the first official Chiikawa shop, opened at the Harajuku and Osaka Umeda branches of KIDDYLAND. Both locations will celebrate the 1st anniversary of the shop's opening with a special fair on August 5, 2022.

Chiikawa is a popular character first revealed by Japanese illustrator Nagano on Twitter. In December 2020, the official online store Chiikawa Market opened, and Nagano released a book compiling the manga panels they drew and posted on Twitter. The characters have become massively popular, with the artist's social media accounts racking up over 1.1 million followers. From collaboration cafes and exhibitions to a recent anime series, the sky's the limit for these adorable characters!

Purchase Bonus

「Holographic Sticker (Not for Sale) *Designs will differ between the Harajuku and Osaka Umeda locations.

Holographic Pin (Not for Sale) / For guests spending ¥3,300 or more (including tax)

Picnic Blanket (Not for Sale) / For guests spending ¥5,500 or more (including tax)

Mug (Not for Sale) / For guests spending ¥8,800 or more (including tax)

Limited Edition Chiikawa Land Harajuku x Marion Crepes Collab

Limited Edition Chiikawa Land Harajuku x Marion Crepes Goods

Chiikawa Land Osaka Umeda Limited Edition Goods


Both the Harajuku and Osaka Chiikawa Land locations are visited by fans each day, and each store has developed unique products to celebrate the first anniversary.

 

The Chiikawa Land Harajuku location will offer products in collaboration with Marion Crepes, while the Osaka Umeda location will sell limited edition products featuring the characters in cute traditional costumes. Special bonuses will also be handed out to guests spending particular amounts, so why not come out and grab some new goods?

©nagano / chiikawa committee

Manga Series 'Eren the Southpaw' Hijacks Reebok Harajuku and Shibuya Stores

Reebok has appointed a number of popular artists in Japan and abroad to take part in their new campaign titled 'Life is Not a Spectator Sport -Move, Move!-' This collaboration started in March 2022.

 

As a part of this collaboration, Reebok is teaming up with the manga series Eren the Southpaw. Kappa's popular ensemble drama highlights a number of creators, and has a very poignant tagline: "To all those who couldn't become geniuses." Reebok's brand message matches this and is meant to be a manifesto for life, telling people to never give up, act on their own convictions, and find their own path. 

Reebok Classic Store – Harajuku Interior

Stickers / Pins

Original Scene from Eren the Southpaw 

To commemorate the release of Reebok's flagship model INSTAPUMP FURY 95 in Sax Blue, a huge piece of window art was redrawn by Kappi. The artist also provided an original manga featuring an entirely new story. Fans can find this at the Reebok Classic Store Harajuku and on the official Reebok Twitter page. The Reebok stores in Harajuku and Shibuya have also been completely taken over by Eren the Southpaw, completely decorated from top to bottom in images from the series. 

Harajuku's KAWAII MONSTER CAFE Participates in Saudi Arabia's Jeddah Season 2022 Event

Jeddah Season 2022, a cultural entertainment festival in Saudi Arabia, ran from May 2 until July 2, 2022. During the festivities, a special collaboration concert event featuring MONSTER GIRL from KAWAII MONSTER CAFE in Harajuku and RAM RIDER took place at the Anime Village area, an interactive event filled with popular Japanese IPs produced by Avex. 

This was the first overseas collaboration with musician RAM RIDER, who worked to bring the world of KAWAII MONSTER CAFE to life. The audience was thrilled by this special set that included a stunning dance performance directed by content director Harris and a DJ set by RAM RIDER that included a variety of popular anime tracks. 

KAWAII MONSTER CAFE was a popular Harajuku entertainment restaurant loved by tourists and locals alike. At Jeddah Season 2022, MONSTER GIRL's presence took the audience by storm, and the performers strolled around the venue taking photos with fans.

At the Anime Village, fans could engage with tons of popular Japanese IPs like Boruto, Captain Tsubasa, Godzilla, Pac-Man, and many more. For the first time in the Middle East, a giant Gundam diorama measuring approximately 6 meters was put on display. The entrance gate was inspired by the Kaminarimon gate in Asakusa, and visitors could enjoy Japanese food in a futuristic environment. 

The Anime Village managed to bring Japanese culture to the people of Saudi Arabia, and hopefully, this incredible event will take place again in the near future.

Produced by: KAWAII MONSTER CAFE
DJ: RAM RIDER
Performer: MONSTER GIRL (Ciel, Catherine)
Performance Director: Harris
VJ: Kohei Taki (yenter)