SEKAI NO OWARI Performed at Makuhari Messe, Asia Tour To Follow
SEKAI NO OWARI is currently on their Japan tour "The Colours". From July 24 to 25 they performed at Makuhari Messe, leaving the venue on a very high note.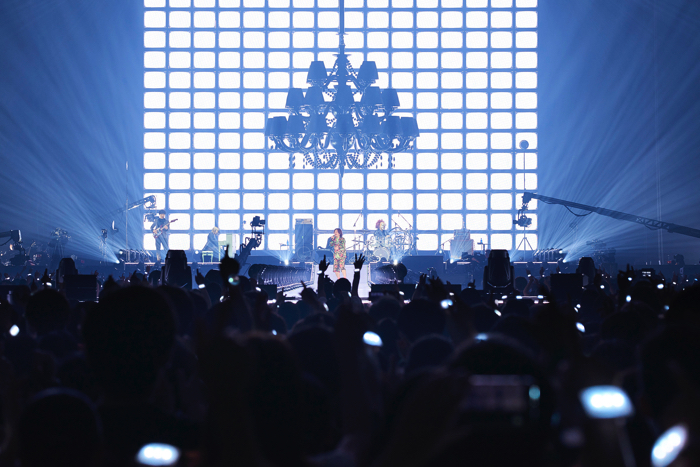 After four years since the release of Tree, they released their albums Eye and Lip on February 27, 2019. In April, they followed up on the album releases with their Japan tour The Colours, which is their biggest tour to date with 28 performances in 13 venues across the country. This autumn, they will be touring Taipei, Seoul, Hong Kong, Shanghai and Beijing under the same live tour title, and much more. This is the most jam-packed schedule from SEKAI NO OWARI that anyone has ever seen. 
Over the two days at Makuhari Messe, approximately 32,000 fans attended to watch SEKAI NO OWARI.
A statement by vocalist Fukase:
We are performing at 24 locations for this tour. After a while it suddenly hit me that this is the biggest tour SEKAI NO OWARI has ever been on. It makes me happy to think that we managed to up our game to a whole new level without even realising it. Thank you for your support. After a year or so, we will be reaching our 10th anniversary, so we are thinking of what we could do to celebrate. Thank you and please continue to support us," he said, thanking the fans. 
That leaves just four more performances of the tour left. The last performances will be held on August 24 and 25th at the Mie Prefectural Sun Arena, bringing their grand tour to a close. In total, an estimated 280,000 fans will have attended this phenomenal tour. 
Photographers: 太田好治、立脇卓、鳥居洋介
Information
SEKAI NO OWARI TOUR 2019
The Colors
August 8(Thurs)Ecopa Arena, Shizuoka 
Augst 9(Fri)Ecopa Arena, Shizuoka 
August 24(Sat)Mie Prefectural Sun Arena, Mie
August 25(Sun)Mie Prefectural Sun Arena, Mie
End of the World
The Colors Asia Tour 2019
October 11(Fri)Taipei International Convention Center
November 2(Sat)Olympic Hall, Olympic Park, South Korea
November 13(Weds)Star Hall KITEC, Hong Kong
November 16(Sat)Mercedes-Benz Arena, Shanghai
November 18(Mon)BJ-EXPO Theatre, Beijing
SEKAI NO OWARI Official Website: http://sekainoowari.jp/
End of the World Official Website: https://endoftheworld.jp/
RELATED ENTRIES
Japanese Pop Icon Kyary Pamyu Pamyu Announces Her First World Tour in Four Years

Following her storming sets at this year's Coachella Festival and the 10th anniversary of her debut album, globally celebrated Japanese Pop Icon Kyary Pamyu Pamyu will return to the UK for the first time in four years to perform at London EarTH Concert Hall on Friday 25th November. Tickets go on sale Friday 29th April at 10am via www.gigsandtours.com and www.ticketmaster.co.uk. Full European tour dates here.

The new UK show not only in celebration of the 10th anniversary of her debut album but will also see her perform tracks off her fifth album Candy Racer. The show also succeeds a major Japanese tour and dates across Europe.

Kyary Pamyu Pamyu began her career working as a model for a number of Harajuku-based magazines. Appearing on countless covers, her outspoken style and unique worldview have attracted global attention, with her captivating doll-like appearance inspiring many to learn more about Tokyo street fashion. Kyary made her music debut in 2011 with the mini-album Moshi Moshi Harajuku produced by Yasutaka Nakata of CAPSULE fame.

The music video for PONPONPON has been viewed over 180 million times. Her hit song Ninja Re Bang Bang was remixed by globally-renowned DJ Steve Aoki for the Nintendo Switch title Ninjala. In addition to her numerous performances around Japan, Kyary has also embarked on four successful world tours. In 2021, the artist's 10th debut anniversary, Kyary launched the new KRK LAB label.

Kyary Pamyu Pamyu continues to fascinate her fans with her free-spirit and original expressions that one would never imagine from her cute appearance. Her presence as an icon of "HARAJUKU," a combination of artist and fashion activities, has attracted attention from all over the world.

Information

KYARY PAMYU PAMYU

When: FRIDAY 25 NOVEMBER 2022

Where: UK, LONDON EARTH CONCERT HALL

TICKETS ON SALE FRIDAY 29TH APRIL AT 10AM

WWW.GIGSANDTOURS.COM / WWW.TICKETMASTER.CO.UK

 

KYARY PAMYU PAMYU IN EUROPE

http://cw.kyary.asobisystem.com

MON 14 NOV 2022 GERMANY, COLOGNE GLORIA

WED 16 NOV 2022 GERMANY, BERLIN COLUMBIA THEATER

FRI 18 NOV 2022 FRANCE, PARIS ÉLYSÉE MONTMARTRE

SUN 20 NOV 2022 SWITZERLAND, ZURICH PLAZA

BAND-MAID Announces Dates for Largest-Ever U.S. Tour

In October 2022, maid-themed rock band BAND-MAID will embark on its largest-ever U.S. tour. The girls' group has become massively popular overseas in recent years, with the total number of views on their YouTube channel surpassing 130 million. BAND-MAID's previous four world tours have all sold out, and streaming videos of their shows have been viewed by audiences in more than 60 countries around the world. 

This is the first time BAND-MAID will tour in the U.S. solo. Tickets will go on general sale tomorrow, March 3. 

The tour will start with the band's first appearance at the AFTERSHOCK Music Festival in California, which will feature many of the world's most popular artists like KISS and Slipknot. Will you be grabbing tickets?

Information

BAND-MAID US TOUR 2022


October 9 – Sacramento, CA / Aftershock Festival

October 12 – Seattle, WA / Neptune

October 14 – San Francisco, CA / August Hall

October 15 – Los Angeles, CA / House of Blues

October 19 – Phoenix, AZ / Crescent Ballroom

October 21 – Dallas, TX / Echo Music Hall

October 22 – Houston, TX / House of Blues

October 25 – Washington, DC / The Fillmore

October 26 – Philadelphia, PA / TLA

October 28 – New York, NY / Irving Plaza

October 29 – Boston, MA / Brighton Music Hall


Details: https://bandmaid.tokyo/contents/486225

Ticket Sale Schedule (JST)
March 2 / 2:00AM: Fan Club Ticket Sales Begin
March 4 / 12:00AM: General Ticket Sales Begin

AFTERSHOCK FESTIVAL

Dates: October 6 – October 9 (U.S. Local Time)
https://aftershockfestival.com/

Additional North American Dates Added to SCANDAL's World Tour

All-girl rock band SCANDAL is celebrating 15 successful years in 2021. Their ten-track 10th original album 'MIRROR' was released on January 26, 2022, and includes popular singles like eternal and ivory. 'MIRROR' includes songs written, composed, and sung by each member, and is already beloved by longtime and new fans alike.

The music video for the love balled Ai ni Naranakattanosa has also been unveiled. Written and composed by guitarist MAMI, it's a song that realistically describes the sad feelings of a woman in unrequited love. The video was directed by motherfucko, who also directed the videos for Fuzzy and one more time. It also features young actors Miyu Nakamura and So Morozumi telling the story of a woman who realizes that her feelings for her boyfriend aren't love.

Ai ni Naranakattanosa Music Video

SCANDAL has also announced additional shows for the North American leg of their 2022 World Tour, which is scheduled to start in March. There will be nine shows in total: Toronto, New York, Atlanta, Anaheim, Dallas, Boston, Chicago, Vancouver, and Seattle. The setlist will include songs from the album as well as popular songs from the group's history. 

Information

 MIRROR

Release Date: January 26, 2022

Standard Edition (CD): ¥3,300 (Tax Included)

Special Edition A (CD+DVD): ¥4,400 (Tax Included)

Special Edition B (CD+Magazine): ¥4,400 (Tax Included)

Limited Edition (CD+DVD+GOODS) *With Luxury Box: ¥11,000 (Tax Included)

SCANDAL Official Site: https://www.scandal-4.com/

Kyary Pamyu Pamyu Announces 'LOCAL POWER JAPAN Project' to Support Rural Areas

Celebrating the 10th anniversary of her major label debut, Kyary Pamyu Pamyu is back in the news. The artist will perform at this year's Coachella, one of the largest music festivals in the United States, and recently released her first full-length album in three years 'Candy Racer' in October 2021.  On January 16, Kyary embarked on the largest tour of her career, 'Kyary Pamyu Pamyu 10th ANNIVERSARY JAPAN TOUR 2022 CANDY WAVE,' which will see the singer performing 30 shows across Japan.

In conjunction with the nationwide tour, the "LOCAL POWER JAPAN Project" was launched to energize Japan through the appeal of regional towns and cities.  The 30 stops on the new tour include many that Kyary has not visited before, and were chosen based on the singer's desire to perform for fans who may not typically be able to attend one of her shows. 

This initiative aims to bring attention and support to local industries and to inspire more tourism to rural areas.

This project is a new attempt to enliven local communities by collaborating with companies that have roots in the rural locations where these concerts will be held. These company's logos have been reimagined, paying homage to the artwork associated with Kyary's previous song releases. T-shirts designed with each of these collaborative logos will be on sale for a limited time, and a portion of the proceeds will be donated to the local community for development and social contributions.

For the encore of the first live show, Kyary wore a collaboration logo T-shirt inspired by Suzuhiro Kamaboko, a company in Kanagawa Prefecture. The artist also introduced the project and its aim to the excited audience. More collaborations will be announced through July 2021.

Check out the 'LOCAL POWER JAPAN Project' website for more details!

Comment from Kyary Pamyu Pamyu

"This tour is to commemorate my tenth anniversary, and as I travel all over Japan to express my gratitude to those who have supported me over the past decade, I also want to do something for everyone else. I'm happy to support these local companies and I'd like to work with them to revitalize the entire country. We'll be engaging in all sorts of collaborations around Japan, so look forward to it!"


 

January 16, Kanagawa Performance: Suzuhiro Kamaboko

Suzuhiro Kamaboko, a long-established fish paste store in Odawara that has been in business for 156 years, has agreed to take part in the project. Their normally navy blue brand logo has received a major makeover in colorful pink, green, and purple hues. 

The T-shirts featuring the new collaboration logo on the front and the Kyary Pamyu Pamyu 10th anniversary logo and 'LOCAL POWER JAPAN Project' logo on the back are now available for purchase!

*Otono Kuni (From 4th Album 'Japamyu,' 2018)
Streaming Links: https://lnk.to/otonokuni

January 29, Gunma Performance: Oginoya Kamameshi


Oginoya, the largest Ekiben shop in Japan, was established 136 years ago in Yokokawa, Gunma Prefecture. 

Their main dish, Touge no Kamameshi,' has been sold for over 60 years and often makes appearances at events all over Japan. The company's logo has been reborn through the lens of Kyary's popular song Tsukematsukeru. A special kamameshi dish will also be prepared for the project, and will be sold in limited quantities at the Gunma concert venue on January 29, Kyary's birthday!

*Tsukematsukeru (1st Single, 2012)
Streaming Links: https://lnk.to/tsukematsukeru

May 20, Fukushima Performance: Kourakuen

Kyary will appear in commercials for Kourakuen as part of the project. The company started as a small diner in Aizuwakamatsu and is now is a national chain of ramen restaurants serving over 54 million people a year! The new logo and collaboration details will be revealed at a later date, so keep an eye out!

Kyary Pamyu Pamyu's First Performance of 'Maybe Baby' Takes Place on First Day of New Tour

Celebrating the 10th anniversary of her major label debut, Kyary Pamyu Pamyu is back in the news. The artist will perform at this year's Coachella, one of the largest music festivals in the United States, and released her first full-length album in three years 'Candy Racer' in October 2021. On January 16, Kyary embarked on the largest tour of her career, 'Kyary Pamyu Pamyu 10th ANNIVERSARY JAPAN TOUR 2022 CANDY WAVE,' which will see the singer performing 30 shows across Japan.

The first show was held at Atsugi City Cultural Hall in accordance with all local guidelines to limit the spread of the Coronavirus. Fans lined up, excited to see the artist for the first time in three years–and when Kyary took the stage clad in a bright green wig and costume, she showed her appreciation for those who have waited to see her again. 

"Long time no see! I'm sorry I made you wait," the singer said as the audience replied with massive applause. "Today, I'm starting my first tour in three years. I want to give you all a performance that will make you glad you came!" 

The artist began by performing her newest track Maybe Baby for the first time. The setlist included 21 songs total including songs from Kyary's newest album 'Candy Racer' and legendary tracks like PONPONPON and Fashion Monster. 

In conjunction with the nationwide tour, the "LOCAL POWER JAPAN Project" was launched to energize Japan through the appeal of regional towns and cities. The 30 stops on the new tour include many that Kyary has not visited before, and were chosen based on the singer's desire to perform for fans who may not typically be able to attend one of her shows. Wanting to show her gratitude, this is also a chance to inspire local industry and tourism, both of which have been hit hard by the ongoing pandemic. 

Keep an eye out for what Kyary Pamyu Pamyu does next!

BAND-MAID to Embark on 2022 U.S. Tour

Hard rock band BAND-MAID has announced their first U.S. tour in two years! After holding an acoustic online live show on Christmas Day, 2021, the band announced the 2022 U.S. tour on their official website.

BAND-MAID's Christmas live show received a flood of comments from overseas fans and was viewed from over 50 countries around the world. In 2021, the group is making its Hollywood debut in the Netflix original movie 'KATE.'

This will be the rock band's first overseas tour since 2019. Their previous four world tours managed to completely sell out. The dates for the U.S. tour and other details will be announced soon, so stay tuned for more info!

Information

BAND-MAID Official Site: 

Lovely Summer-Chan Announces Long-Awaited 'THE THIRD SUMMER OF LOVE' Release Tour

When singer-songwriter Lovely Summer-chan announced 'THE THIRD SUMMER OF LOVE' tour in Tokyo, tickets sold out on the same day. The artist has just announced that an additional performance will be held on March 3, 2022 at Tokyo LIQUIDROOM.

AH! Music Video

I Told You A Lie Music Video

This tour will celebrate the singer's third album 'THE THIRD SUMMER OF LOVE,' which was released in September 2021 and won the grand prize at the APPLE VINEGAR Music Awards 2021. It will also coincide with the LOVELY SUMMER SONIC event.



This will be the first tour in some time due to the ongoing pandemic, so look forward to it!

Live Report from RADWIMPS 'FOREVER IN THE DAZE' Tour

On November 23, 2021, RADWIMPS released their new album 'FOREVER DAZE' on the 16th anniversary of their major-label debut. A new report has been published highlighting the first day of the band's new tour on December 4 at Pia Arena MM. 

RADWIMPS Official Live Report

"It went by in the blink of an eye. Thank you so much for coming out. All I can do is say 'thank you.' There is so much more I'd love to say, but when I see all of your faces like this, all I can manage to get out is 'thank you.' Meeting each and every one of you makes this all more real. I've been waiting to be able to do this for such a long time. Thank you." 

This is how vocalist Yojiro Noda thanked the audience with all his heart and soul at the end of the show. The first day of the 'FOREVER IN THE DAZE TOUR 2021-2022' was a joyous occasion after nearly two years of the pandemic, with fans gathering to praise the band's first new album in three years 'FOREVER DAZE.' 

Day one took place on December 4 at Pia Arena MM in Kanagawa. In addition to RADWIMPS members, drummers Mizuki Mori and Masafumi Eno, as well as guitarists Taiking (Suchmos) and Mizuki Masuda (miida) joined the band for this tour only. Since the tour has just started, I won't spoil the set list and production, but the ensemble brought some incredible energy to the stage. RADWIMPS seemed to take on new life with each and every song performed, and the audience was slowly and steadily inspired by both Noda's incredible vocals and the powerful instrumentals. As Noda said in a comment regarding the new album, "No matter how hard things get, I can always make music." 

How will the new songs found on FOREVER DAZE fit in with the band's classic tracks? The performance features graphics from visual artist Kento Yamada that will wow audiences more than they could ever anticipate. The curtain has risen on this new RADWIMPS. Get ready to see them in a whole new light. 

(text: Shoichi Miyake)

The 'FOREVER IN THE DAZE TOUR 2021-2022' is coming to six locations across Japan for twelve shows total. For more information, check out the official website!

Aimyon Announces First Fan Club Tour and 14-city Arena Tour

Singer-songwriter Aimyon will hold her first fan club tour starting in January 2022, along with a 14-city arena tour beginning in April. The artist has seen an incredible amount of success since her major debut in 2016, winning Artist of the Year at the Billboard Japan Music Awards in 2019. 

The fan club tour will start on January 20, 2022, at Tachikawa Stage Garden in Tokyo before moving on to seven more locations through February. Those who want to join the fan club can visit the official website below. 

Aimyon's arena tour will start on April 16 at the World Hall in Kobe and will span 28 shows in 14 cities around Japan. This will be the singer's largest ever tour. 

On the artist's official website, a warning has been posted regarding the pandemic. Information and dates may change depending on the spread of COVID-19, so check the official tour page often. 

Information

AIMYON FANCLUB TOUR 2022 "PINKY PROMISE YOU"

January 20 – Tachikawa Stage Garden (Tokyo)

January 24, 25 – Festival Hall (Osaka)

January 27 – Sun Palace (Fukuoka)

January 31 – Sendai Sunplaza Hall (Sendai)

February 2 – Kanamoto Hall (Sapporo)

February 8 – Tokyo Garden Theater (Tokyo)

February 14 – Century Hall (Nagoya)

February 16 – Ueno Gakuen Hall (Hiroshima)

Aimyon Official Fanclub Site: https://sp.aimyong.net/aim/

AIMYON TOUR 2022

April 16, 17 – World Hall (Kobe)

April 23, 24 – Hiroshima Green Arena (Hiroshima)

April 29, 30 – Toki Messe (Niigata)

May 7, 8 – Makomanai Sekisui Heim Ice Arena (Sapporo)

May 14, 15 – Sekisui Heim Super Arena (Miyagi)

May 21, 22 – Saitama Super Arena (Saitama)

May 28, 29 – Ecopa Arena (Shizuoka)

June 4, 5 – Grandmesse Kumamoto (Kumamoto)

June 18, 19 – Okinawa Arena (Okinawa)

June 25, 26 – Ehime Prefecture Budokan (Ehime)

July 1, 2 – Yoyogi National Stadium (Tokyo)

July 5, 6 – Osaka-Jo Hall (Osaka)

July 9, 10 – Nagoya Civic General Gymnasium (Nagoya)

July 23, 24 – PIA Arena MM (Yokohama)

Aimyon Tour 2022 Site: https://www.aimyong.net/feature/livetour2022

Discover the Art of Snow and Water at the Fifth 'Oirase Ice Falls Tour' in Aomori Prefecture

The 'Inaichō General Towada-Oirase Tourism Organization,' a group striving for regional revitalization, has announced that the Oirase Gorge Ice Falls Tour will be available to tourists between December 17 2021 and March 6 2022. This will be the fifth year of the tour, which was first held in 2017. 

Winter Oirase Waterfall Night Tour© Towada-Oirase Tourism Organization

Winter Oirase Nature Guided Tour© Towada-Oirase Tourism Organization

The Oirase Gorge, which stretches for 14km between Lake Towada and Yakeyama, lies between Aomori and Akita prefecture. The gorge is located in Towada Hachimantai National Park and has been designated a protected area.

During Winter, the mountaintop waterfalls freeze over and become powerful icefalls, decorated with icicles. Time seems to stop as the river stops flowing and the area becomes still. On this bus tour you can enjoy the silvery-white Oirase scenery during the day, or be awed by the illuminated icefall and icicles at night. 

 

During the Night Tour, a dedicated light car runs alongside the bus to light up five spots along the Oirase Gorge, including the gorge icicles and the icefall itself. Each viewing spot has been carefully produced, using changing colors and lighting to set the scene.

 

Why not visit this beautiful icy scene, which can only be enjoyed in Winter? 

Information

Oirase Gorge Ice Falls Tour

Duration:

【Tour 1】

Winter Oirase Waterfall Night Tour: City/Yakeyama Pickup & Drop Off Tour

December 17 2021 ~ March 6 2022 (Thursday ~ Sunday / Holiday Service) 

 

【Tour 2】

Winter Oirase Nature Guided Tour: Shichinohe-Towada Station/City/Yakeyama Pickup & Drop Off Tour

December 18 2021 ~ February 27 2022(Weekend & Holiday Service)

※This is a daytime tour

 

【Tour 3】

Winter Oirase Waterfall Night Tour: Lake Towada Pickup & Drop Off Tour

December 17 2021 ~ February 20 2022 (Friday ~ Monday / Holiday Service)

 

【Tour 4】

Winter Lights Story Bus Daytrip

December 17 2021 ~ February 20 2022 (Friday ~ Monday / Holiday Service)

※This tour does not visit the icefall

 

Tickets & Tour Details: https://www.towada.travel/ja/oirase-ice-falls 

【LIVE REPORT】Atarashii Gakko! Tour Final: The Freshness and Bottomless Energy of a New Generation

On October 16, the four-member dance and vocal group Atarashii Gakko held a solo live "We're Still Obscure but Rocking LIVE SHOWS in Tokyo, Nagoya, Osaka and Fukuoka ~Their Weakness is PINEAPPLE!~" at TSUTAYA O-WEST in Tokyo. This marked the last day of the group's current tour, stopping in Tokyo, Nagoya, and Osaka, and on display was handmade calligraphy from the members with one important message: 'Enjoy NOW with all your heart.' The stage was simple: a screen, a DJ booth, and four backlights. The group doesn't need much more, their personalities overshadowing any excess clutter or added minutiae. For the background music, the girls chose Sabotage by the Beastie Boys, an American mainstay the four greatly respect.

The concert began with the leader Suzuka shouting the words "Tokyo! Atarashii Gakko starts now!" The first track was Sekigae Gattuso, followed by Saishujinrui, with choreography seeming more like a gymnastics meet than a live show. The girls were in incredibly high spirits, with Suzuka quickly tearing off her jacket and the four showing no signs of holding back, dancing and singing while using their entire bodies as their instruments. The concert's first half included Koibumi and Miyao, progressing into Koi no Shadanki, Ameyo no Seppun, and Okami no Uta, blending Showa-era sensibilities and sounds with Reiwa-era style and substance. The girls were, as always, funny, mixing comedy into their foolproof performances. Everything is one hundred percent: the singing, the dancing, and the acting. It's hard to understand how they have the stamina for an entire concert.

The second half of the concert began with their long-awaited new song Pineapple Kryptonite, produced by Money Mark, known for his work with The Beastie Boys in the 1990s. His experimental, lo-fi style has attracted attention over the years, still inspiring music fans in the 2010s. Perhaps his style is being passed down to the next generation through Atarashii Gakko!

The group signed with American multi-media company 88rising in December 2020, and the label is attempting to introduce more unique Asian music to the US. In November, Atarashii Gakko is scheduled to perform at the Head in the CLOUDS festival in LA, which will bring together many artists from the 88rising family together for one massive event. In the current cultural climate with Korean pop-group BTS and Marvel film Shang-Chi seeing record amounts of popularity, it seems like the perfect time to introduce more eastern music to the US scene.

During the show's climax, the girls performed NAINAINAI and Freaks, two songs that show off their hip-hop side. The greatest thing about the group's style is their complete coverage, able to swap between singing, dancing, acting, and rapping at the drop of a hat. Their talent is undeniable, and it's able to reach a wide variety of different music fans from around the world. Mayoeba Toutoushi brought the show to an end, and Que Sera Sera wowed fans during the encore. Performing 15 songs, members Suzuka, Kanon, Rin, and Mizyu proved why they belong on an international stage–they blend the old and the new, and the standard with the bizarre. There's no telling where Atarashii Gakko is heading next, but their successful career is certainly just getting started.

7ORDER Announces Details of Largest-Ever National Tour, 'Date with…….'

Up-and-coming seven-member J-pop group 7ORDER is scheduled to embark on a massive winter tour across Japan! The first performance will take place in Tokyo on November 27, 2021, and the final show will be held at Yoyogi National Stadium on February 26 and 27, 2022. The 7ORDER LIVE TOUR 2021-2022 'Date with…….' tour will be coming to thirteen locations nationwide. 

The group clearly isn't interested in taking a break any time soon, with their most recent tour wrapping in September. The 7ORDER Musha Shugyo TOUR ~NICE "TWO" MEET YOU~ eight-city tour was a massive success, with over 20,000 tickets sold. 

Check the tour dates below to see if 7ORDER is coming to your city soon!

Information

7ORDER LIVE TOUR 2021-2022 'Date with…….'

Running: November 27, 2021 – February 27, 2022

Details: https://7orderproject.com/contents/462920

Official Site: https://7orderproject.com/

<Tokyo Concert>

Location: TACHIKAWA STAGE GARDEN

Date: November 27, 2021

Contact: SOGO TOKYO, 03-3405-9999 

<Miyagi Concert>

Location: Sendai Bank Hall Izumity 21

Date: December 5, 2021

Contact: Coolmine, 022-796-8700

<Osaka Concert>

Location: Grand Cube Osaka Main Hall

Date: December 11, 2021

Location: Grand Cube Osaka Main Hall

Date: December 12, 2021

Contact: SOGO OSAKA, 06-6344-3326

<Hokkaido Concert>

Location: Kanamoto Hall (Sapporo Shimin Hall)

Date: December 19, 2021

Contact: WESS, 011-614-9999

<Hiroshima Concert>

Location: Ueno Gakuen Hall

Date: December 25, 2021

Contact: YUMEBANCHI, 082-249-3571 

<Fukuoka Concert>

Location: Fukuoka Sun Palace Hotel & Hall

Date: December 27, 2021

Contact: BEA, 092-712-4221 

<Kumamoto Concert>

Location: Kumamoto-Jo Hall, Main Hall

Date: December 29, 2021

Contact: GAKUON, 0985-20-7111  

<Aichi Concert>

Location: Nagoya Congress Center, Century Hall

Date: January 13, 2022

Location: Nagoya Congress Center, Century Hall

Date: January 14, 2022

Contact: Kyodo Tokai, 052-972-7466

<Shizuoka Concert>

Location: Act City Hamamatsu Hall

Date: January 16, 2022

Contact: Kyodo Tokai, 052-972-7466

<Osaka Concert>

Location: Orix Theater

Date: January 18, 2022

Location: Orix Theater

Date: January 19, 2022

Location: Orix Theater

Date: January 20, 2022

Contact: SOGO OSAKA, 06-6344-3326 

<Hyogo Concert>

Location: Kobe Kokusai Kaikankokusai Hall

Date: February 11, 2022

Location: Kobe Kokusai Kaikankokusai Hall

Date: February 12, 2022

Contact: SOGO OSAKA, 06-6344-3326

<Kanagawa Concert>

Location: PIA ARENA MM

Date: February 19, 2022

Location: PIA ARENA MM

Date: February 20, 2022

Contact: SOGO TOKYO, 03-3405-9999

<Tokyo Concert>

Location: Yoyogi National Stadium

Date: February 26, 2022

Location: Yoyogi National Stadium

Date: February 27, 2022

Contact: SOGO TOKYO, 03-3405-9999