Team Rocket Take Over Pokémon GO Twitter Account
Team Rocket jacked the official English and Japanese accounts for Pokémon GO from July 28 to 29. During that time they showed off their many nefarious activities.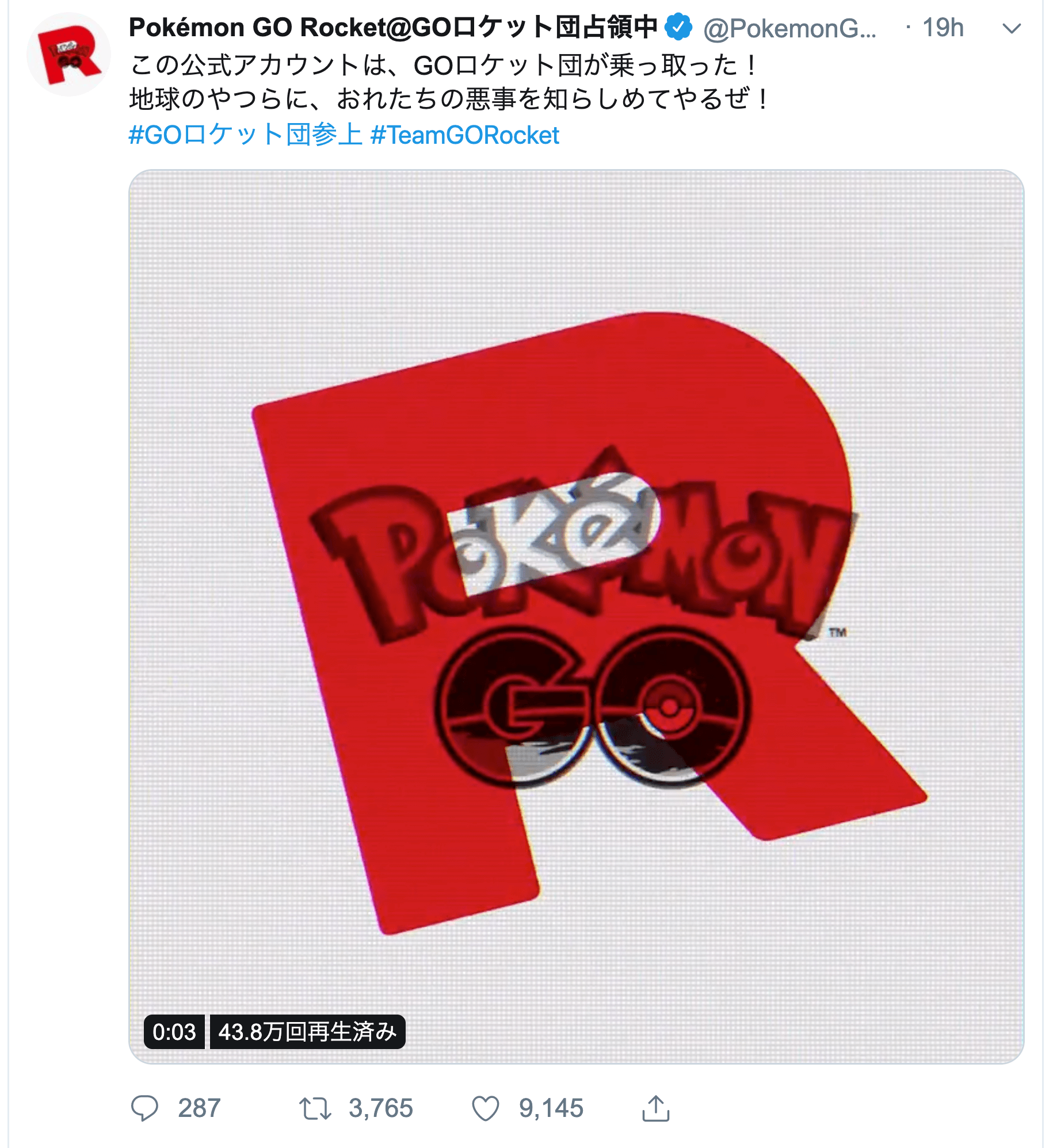 They garnered over 150,000 retweet with their posts which included everything from the rules of the organisation, the Pokémon they use, recruitment to the team and more.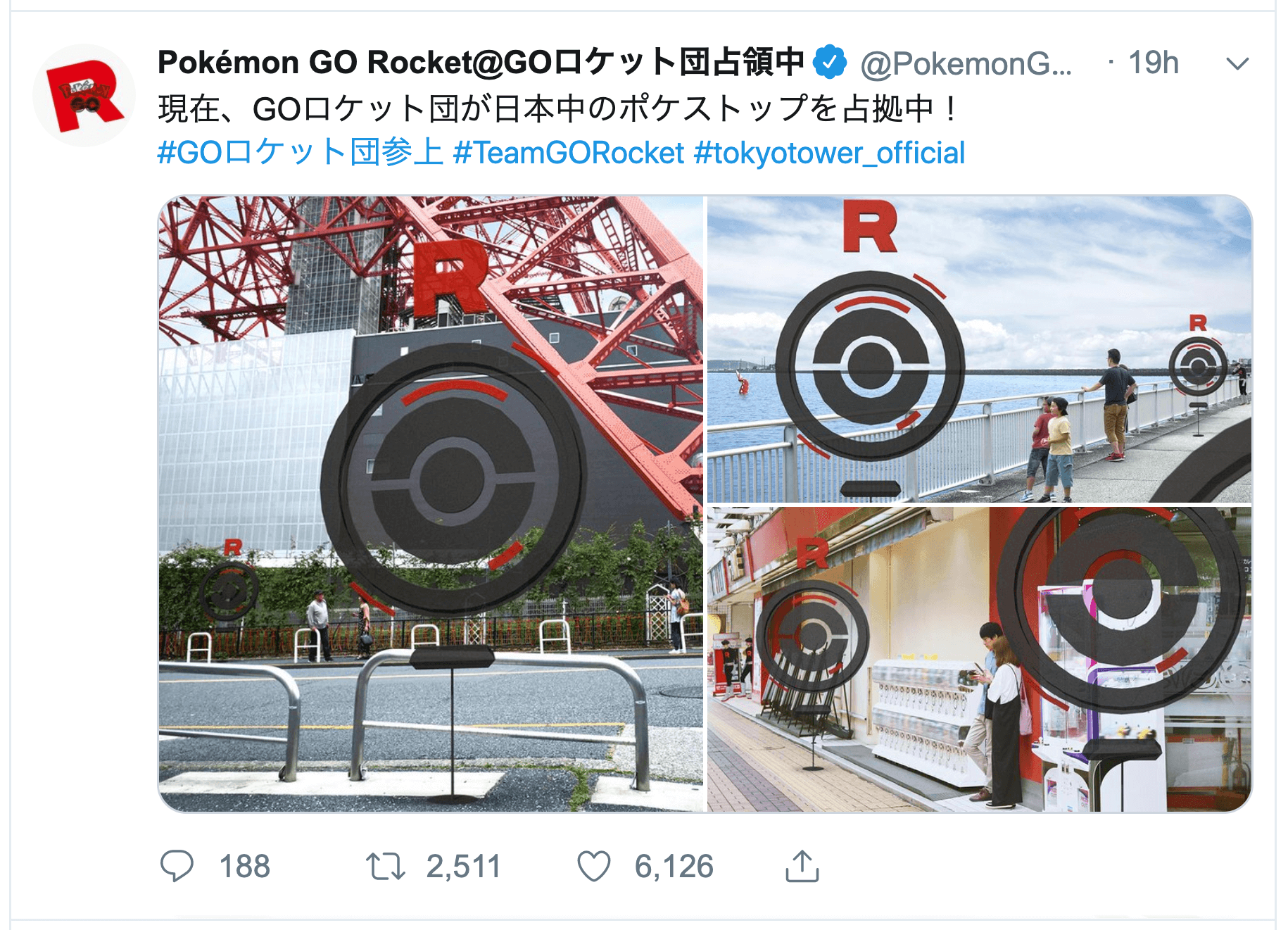 Team Rocket also occupied every Pokémon GO Pokéspot on July 28 from 4pm to 5pm local time. As of now, it seems like they are not occupying any more Pokéspots, but their activity is being investigated. According to a post believed to have been written by the Pokémon GO Rocket boss, the organisation seems to have plans to strike again in the future. Trainers are advised to be cautious when out there in the wild.
RELATED ENTRIES
Stylish Pokémon Bags and Accessory Line-Up Revealed by French Luxury Leather Goods Company Longchamp

Longchamp, a French luxury leather goods company which first opened in Paris back in 1948, is collaborating with Pikachu from the Pokémon series on a playful new collection which will be released worldwide on October 14, 2020. Pre-sales of the collection will launch in Japan on October 9, 2020 when it will be released at Longchamp in Omotesando and Ginza, as well as online.

LE PLIAGE® Collection

See Longchamp's iconic LE PLIAGE® collection turn kawaii with Pikachu designs. The line-up maintains the elegance of the brand while adding a chic touch of Japanese pop culture. The items also feature the Longchamp brand name written in an eye-popping monogram font.

LE PLIAGE® Cuir Pokémon (Limited-Edition Model)

This nylon bag features Pikachu wearing a jockey hat like Longchamp's iconic logo.

LE PLIAGE® Cuir Pokémon

Only 500 of these LE PLIAGE® Cuir Pokémon bags will be sold worldwide, each with its own unique serial number. The bags also have a Pikachu hidden on the back, and the strap too features a special logo.

"Our Le Pliage bag has become a platform where all the different aspects of Longchamp can be expressed and can also take us to unknown places," explains Sophie Delafontaine, Artistic Director at Maison Longchamp. "We hadn't explored entertainment and gaming before. It's a very inspiring world, particularly with Pokémon and its iconic mascot, Pikachu. Our two worlds, real and virtual, blend perfectly in this collaboration."

Pokémon GO players will also be able to get their hands on a Longchamp bag on the game's store to fashion up their avatars.

©2020 Pokémon. ©1995-2020 Nintendo/Creatures Inc./GAME FREAKinc.TM, ®, and character names are trademarks of Nintendo.

Information

Longchamp x Pokémon
Japan Pre-Sales: October 9, 2020 (Longchamp Omotesando/Longchamp Ginza/Online Store)

Worldwide Release: October 14, 2020

Official Website (Japan): https://www.longchamp.com/jp/ja/

Tokyo's Pokémon Café Adds Eevee Frappe to the Menu

The Pokémon Café in Ikebukuro, Tokyo, is adding an apple flavoured Eevee frappe to its ever-growing Pikachu Sweets by Pokémon Café menu. The frappe will be available from October 2 to December 4.

Eevee Apple Pie Frappe

The sweet tang of the apple combines with the caramel to create a tasty dessert drink, topped with whipped cream, crunchy piece bits, and a cute Eevee tail cookie.

Buy the separate Eevee sleeve to put on your drink to make a fully complete and adorable Eevee frappe♡

© 2020 Pokémon.©1995-2020 Nintendo/Creatures Inc./GAME FREAK inc.
Pokémon, ポケットモンスター and ポケモン are registered trademarks of Nintendo, Creatures Inc. and GAME FREAK inc.

Adorable New Pikachu 'POKÉMON AIR' Toy That You Can Ride Launches October 1

Japanese company JAM will begin pre-sales of the new "POKÉMON AIR" toy on its official website JAM STORE in Japan on October 1, 2020 at 11:00am (JST).

POKÉMON AIR | ¥7,500 (Before Tax)

The 50cm long Pikachu has many uses, whether for sitting or leaning on when you want to read or play games, hugging, or using as interior design.

Who wouldn't want this adorable Pikachu in their home with them at all times?

©Nintendo・Creatures・GAME FREAK・TV Tokyo・ShoPro・JR Kikaku (c)Pokemon

iFace's Pokémon Smartphone Cases Are the Perfect Gamer Fit For Your iPhone 11

Japanese smartphone accessory brand iFace has released a new collection of Pokémon design iFace First Class smartphone cases.

The iFace First Class series is made from polycarbonate and TPU, providing military grade protection for the iPhone 11—and in stylish designs to top it all off. The series draws a line under other cases, boasting superior and comfortable grip.

Pikachu & Friends

Eevee & Friends

Pink Design

Ghost Type Design

Familiar faces are dotted all across the cases, from Pikachu to Eevee, Mimikyu, Sylveon, Gengar, Ditto, and more, so you can carry your favourite Pokémon with you wherever you go.

©Nintendo ・Creatures ・GAME FREAK・TV Tokyo ・ShoPro ・JR Kikaku ©Pokémon

SEGA's Pikachu Plush Toy Evolves When Washed

Sega Toys is releasing a new Pikachu lpush toy this autumn as part of its "WHO are YOU?" surprise toy series which reveals what character it is after being washed.

This fluff ball is one step away to becoming your new friend

Product is still in development, design subject to change

The WHO are YOU? series has plush toys taking the form of a fluffy ball to conceal the identity of the character. It must be washed to return it to its original shape.

The new Pikachu edition comes in three different variants, and their tails are all shaped like hearts.

It comes with Pokémon food

When you wash Pikachu, it will come holding 2 or 3 random pieces of Pokémon food from a possible five ingredients. Now you can feed your toy Pikachu a treat and earn its trust even more.

©2020 Pokémon. ©1995-2020 Nintendo/Creatures Inc./GAME FREAK inc. ©2019 Moose Group ©SEGATOYS

Information

WHO are YOU? Pokémon

Price: ¥3,800 (Before Tax)

Release Date: Autumn 2020

Available: Toy shops, online, and elsewhere in Japan

WHO are YOU? Official Website: https://www.segatoys.co.jp/whoareyou/

Scrumptious and Spooky New Mousse Cakes Haunt The Pikachu Sweets by Pokémon Café Menu

Scrumptious and spooky mousse cakes are set to arrive on the Pikachu Sweets by Pokémon Café menu on September 12, 2020.

Pikachu Sweets Tomodachi Ippai Assortment: ¥2,600 (Before Tax)

The café's popular mousse cake collection is now welcoming two new friends – Gengar and Litwick. The two spooky cakes will be included in the Pikachu Sweets Tomodachi Ippai Assortment set shown above. This surely is the perfect gift for any Pokémon-lover.

Pikachu Sweets Eraberu Cake Set: ¥1,300 (Before Tax)

You can choose two cakes from the six shown above and pay just ¥1,300 to purchase them as a set.

The Pikachu Sweets by Pokémon Café menu changes from season to season. You just have to try these adorable Halloween mousse cakes.

*Names of desserts have been translated from Japanese

©2020 Pokémon. ©1995-2020 Nintendo / Creatures Inc. / GAME FREAK inc.
Pokémon, ポケットモンスター, and ポケモン are registered trademarks of Creatures Inc. and GAME FREAK inc.

Information

Pikachu Sweets by Pokémon Café 

Address: Sunshine City Specialty Shop Area Alpa Floor 2, 3-1-2 Higashiikebukuro, Toshima City, Tokyo

Running: 10:00 ー 20:00

*Opening times may vary according to the facility's opening hours.


Official site:https://www.pokemoncenter-online.com/cafe/pikachu_sweets/

Pokémon Center to Open New Store in Kanazawa

The Pokémon Company is opening a new branch of Pokémon Center, the official store for Pokémon merchandise, in Kanazawa, in late November 2020. The store will open inside Kanazawa Forus, a shopping centre located just a 1-minute walk from Kanazawa Station.

Pokémon Center Kanazawa's design captures the beauty of the Hokuriku Region of Japan. There to greet customers who enter the store is Milotic who is perhaps the most beautiful Pokémon.

Pokémon Center Kanazawa will sell a whole range of Pokémon merchandise, including items to promote the grand opening of the store.

©2020 Pokémon. ©1995-2020 Nintendo/Creatures Inc. /GAME FREAK inc.
Pokémon, ポケットモンスター and ポケモン are registered trademarks of Nintendo, Creatures Inc. and GAME FREAK inc.

Information

Pokémon Center Kanazawa
Grand Opening: Late November 2020
Address: Kanazawa Forus 5F, 3-1 Horikawashinmachi, Kanazawa, Ishikawa
*Specific opening date not yet confirmed. Opening day subject to change depending on COVID-19.

Official Website: https://www.pokemon.co.jp/

Pokémon Card Game Clothing & Merchandise Collection Released by ZOZOTOWN

LEGS COMPANY, LTD. is celebrating the release of the Pokémon Card Game V Starter Deck by releasing a range of exclusive merchandise in collaboration with the online retailer ZOZOTOWN. The collection dropped their website on August 21, 2020.

Pokémon Card Game – Type Colour Tees | ¥5,000 Each (Before Tax)


Pokémon Card Game – Pokémon Icon | ¥6,000 Each (Before Tax)


Pokémon Card Game – Energy Card Hoodies | ¥7,500 Each (Before Tax)

The line-up features a range of ZOZOTOWN original items inspired by the Pokémon Trading Card Game, from t-shirts to hoodies and more.

Pokémon Card Game Eco Bag & Folder Set | ¥3,200 (Before Tax)

The collection also features an eco-bag and folder sets.

ZOZO Image Colour Pokémon Icon – Mew/Pikachu

All items in the collection come with one free V Starter Deck and the above-pictured Mew and Pikachu icons.

©2020 Pokémon  © 1995-2020 Nintendo/Creatures Inc./GAME FREAK.inc.

Pokémon Manhole Covers Placed Around Serigaya Park in Tokyo

Machida, a city in Tokyo, is the latest location in Japan to join the Poké Lid project, following the placing of the Chansey manholes just last week. Six different manhole covers were placed inside Machida's Serigaya Park.

Machida's Poké Lid designs

The Poké Lids were placed in the park on August 21, and to celebrate, Pikachu joined as a special guest. Like all covers in the Poké Lid project, the ones in Seigaya Park feature unique designs—making them the only one in the world—each having various Pokémon and references to the city of Machida. These are the first Poké Lids to be placed in Machida and bring the entire project up to 100 lids placed.

Many of the rice fields and forests in Machida are still around from when Satoshi Tajiri was a child. Taijiri is the creator of the Pokémon franchise and co-founder and president at GameFreak. In his childhood, he would study and collect different creatures like insects. It's said that his experiences as the class's bug professor at school ties in as part of his influence in his later creation of Pokémon.

Machida's Poké Lid map

Poké Lid promotional events in Machida

・Town Hall Light-Up

To commemorate Serigaya Park's Poké Lids, the west side of the town hall will be illuminated with various green lights.

Running every Friday between August 21, 2020 – September 25, 2020 at 19:00-21:00.

・Colour in your own Poké Lids

Download and print the Poké Lid designs for free from Machida City's official website (click the download file "ポケふたぬりえ(全6種類)").

・Mini Poké Lid exhibition

Replicas of Machida's Poké Lids, Pokémon reading material, Pokémon games, and more will be exhibited for a limited time.

Running: September 1, 2020 – September 27, 2020 at 09:00-22:00

Closed: September 7, 10, and 14

Location: Machida Bungakukan Floor 1F (4-16-17 Haramachida, Machida, Tokyo)

©2020 Pokémon. ©1995-2020 Nintendo/Creatures Inc./GAME FREAK inc.
Pokémon, ポケットモンスター and ポケモン are registered trademarks of Nintendo, Creatures Inc. and GAME FREAK inc.

Pikachu Marriage Certificates Promote Pokémon the Movie: Coco in Japan

The October 2020 issue of Zexy, a wedding magazine produced by Recruit Marketing Partners, was hit shelves in Japan on August 21 and comes with a free Pikachu themed marriage certificate in collaboration with the upcoming film Pokémon the Movie: Coco which is set for release on December 25, 2020.

Zexy has released numerous themed marriage certificates in the past, and even released another Pikachu design back in 2017 to celebrate the 20th anniversary of the anime series. The new design features 90 Pikachu all of whom are happy to celebrate their Pokémon Trainer's wedding.

Zexy is also offering special Pikachu welcome boards for the wedding day which can have the bride and groom's names written on it along with the date, as well as another board that shows gratitude to the couples' parents—which ties in with Pokémon the Movie: Coco's theme of the love between parents and children. These are available in Japan by answering Zexy's quiz that they posted on Twitter—and will only be given to one lucky person. The magazine is also giving out tickets to 10 people to see the movie in Japan, also available by taking the quiz.

GU Reveals Second Pokémon Collection Releasing This August

Japanese clothing brand GU is set to release its second special collection in collaboration with the globally beloved gaming franchise Pokémon on August 21, 2020 at GU stores in Japan and online.

The concept for the second special collection is "Evolution" and focuses on the Pokémon of the Galar Region, the setting of the Pokémon Sword and Shield games. There are 33 designs in total in men's, women's, and kid's sizes.

Designs range from tie-die patterns to oversized tops, cropped T-shirts which look good with highway bottoms, and more. Everything in the collection can be incorporated easily into everyday looks.

To see the full line-up, check the official product page at the link below.

© 2020 Pokémon. © 1995 – 2020 NintendoCreatures Inc.GAME FREAK inc.

Chansey Pokémon Manhole Cover Designs Placed Around Fukushima Prefecture

As part of The Pokémon Company's ongoing Poké Lid project to place Pokémon manholes around the country, Fukushima has welcomed new Chansey design lids in nine places across the prefecture.

The first series of Poké Lids were place in the city of Ibusuki in Kagoshima Prefecture back in December 2018. They were Eevee lids, and saw designs for all of the Pokémon's evolutions. All of the Poké Lids feature completely original Pokémon designs making each individual one the only one in the world. Until now, 87 had been placed across 7 prefectures in Japan, with more set to roll out throughout 2020.

Back in March of this year, The Pokémon Company laid down Sandshrew and Alola Sandshrew manholes in Tottori Prefecture.

In February last year, Chansey was appointed as the "Fukushima Support Pokémon" for Fukushima prefecture help to support the prefecture by promoting information about it around Japan. To date, Chansey has toured the tourist and sightseeing hot spots of Fukushima, performed at events, and worked as PR across the country.

There are nine Chansey Poké Lid designs, all of which feature original artwork. There are plans to make each of them PokéStops for the mobile game Pokémon GO in the future.

©2020 Pokémon. ©1995-2020 Nintendo/Creatures Inc./GAME FREAK inc.
Pokémon, ポケットモンスター and ポケモン are registered trademarks of Nintendo, Creatures Inc. and GAME FREAK inc.