Interview with: BAND-MAID, who just completed their first world tour to huge success!
BAND-MAID's highlights of the world tour: the best shows, and… the best miso soup?!
—Congratulations on finishing your first world tour! How did it feel? Was it a fresh, new experience?
Miku Kobato ("Kobato" below): It was our first world tour overseas, so we were worried whether or not our goshujin-sama and ojou-sama (fans) would return home (attend the show) or not. But the amount of people that came exceeded my expectations, I was overjoyed. The reaction from the crowd felt even bigger than in Japan, more direct!
Akane: What impressed me most of all during the world tour was that no matter what country people were from, they sang for us in Japanese. It made me so happy that I got goosebumps! They really worked hard to learn the Japanese!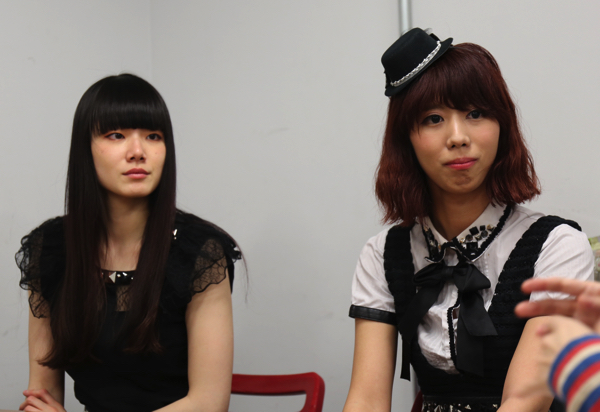 Kanami: Not just during the songs either. When talking to fans or during the MC sections of the show they would say things like "Hello" (konnichiwa), "Thank you" (arigatou), and even "I love you" (daisuki). It couldn't believe it!
Saiki: Everyone's already said everything… Basically what they said… The food in Spain was delicious! But I love Japanese food the most.
All: (bursts of laughter)
—Misa, you handle your alcohol really well, right? Did you try the drinks in each country?
Misa: I did! I celebrated my birthday while in Germany. My drink on stage was Jack Daniels, it was on top of the amp. I was very happy about that.
Kobato: Alcohol is definitely something you'd have as your stage drink. You were loving it!
Misa: It was the best! Kobato celebrated her birthday too.
Kobato: I did. I celebrated in Poland. All of the goshujin-sama and ojou-sama sang a surprise birthday song for me, it made me really happy!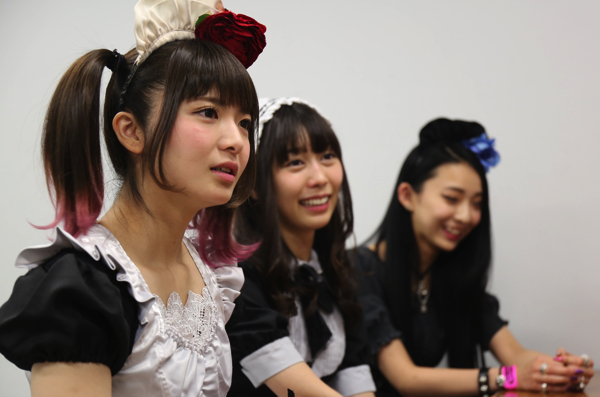 —Did you learn any of the languages of each country?
Kobato: It's usually me that does the MC parts. I made an effort to learn some simple greetings. But unsure if they understood or not… (laughs)
—Being a Japanese band, it's amazing that you're recognised internationally. Where do you see yourselves going now?
Kobato: "World domination" is our goal, so I'd like to serve other goshujin-sama and ojou-sama in the countries we haven't been to yet!
—Where do you all want to go?
Kanami: Russia!
Kobato: Holland!
Saiki: Maybe back to Japan at the end. But going to other cool places sounds good too. Like America. Places where people are asking for us. Places with people of that country. We'll most definitely take the miso soup with us.
All: (bursts of laughter)
Kanami: We all took some with us for this tour.
Akane: I was really surprised by the miso soup overseas!
Kobato: It was really tasty, wasn't it?
Saiki: I was thankful for freeze-dried miso soup.
Kobato: And there you have it, we'll arms ourselves with miso soup and embark on our world conquest! (laughs)
BAND-MAID
<Profile & News>
BAND-MAID are a 5-member rock band made up of members Miku Kobato (Gt/Vo.), Saiki (Vo.), Kanami (Gt.), Akane (Dr.), and Misa (Ba.). They made their major debut with the mini-album "Brand New MAID". They are known for their appearance as cute maids and for their music and live performances which maintain a heavy rock 'n' roll sound. Since their formation they have been very conscious of the world that is out there,  if their ambitious "world domination" desire is anything to go by; their first world tour ended in huge success. They will be playing a solo show at Akasaka BLITZ on January 9th, 2017.
BAND-MAID will be releasing their first major full album "Just Bring It" on 11th January 2017. To whet our appetites more, they have revealed the artwork that will be used on their new album cover! This CD jacket has been designed by famous illustrator eimi. At a glance, you will notice guitarist/vocalist Miku Kobato and vocalist Saiki Atsumi have been drawn in the foreground of the image with a full moon in the background, which looks cute, until you take a second look and focus on the full picture. The image of a skull has been indirectly incorporated into the design which perfectly represents BAND-MAID's cute and cool style!
Check out BAND-MAID's official website where you will be able to access previews of all songs from their new album "Just Bring It". These previews will be available until noon on 9th January 2017.
Official HP:http://bandmaid.tokyo
Official Facebook:https://www.facebook.com/bandmaid/
Miku Kobato's Twitter: @miku_bandmaid
Saiki's Twitter:  @saiki_bandmaid
Kanami's Twitter:  @kanami_bandmaid
Akane's Twitter:  @achi_bandmaid
Misa's Twitter:  @misa_bandmaid
—
■Related article:BAND-MAID's new single "YOLO" to become the theme song for popular game app "Valiant Knights"!!
■Related article:BAND-MAID, fusing a cute maid appearance with heavy rock