Lolita Singer Luna Haruna Announces Surprise Solo Live Performance at Most Recent Concert
Tokyo singer and lolita fashion model Luna Haruna finished her premium solo summer concert at SHIBUYA TAKE OFF7 on August 4. The concert title Lupa and Aries no gastronomie was named after her single Lupa to Aries which was released earlier this year in June and is so far only available on streaming services. Haruna performed once in the afternoon and once in the evening with a live band. She performed a total of 28 songs, including some brand new hits.
 She launched into her concert with her hit songs Stertear, Kimi Iro Signal, Stella Breeze and Overfly. She then performed her two new fairytale-themed songs Lupa to Aries and Kaiten Mokuba live for the first time.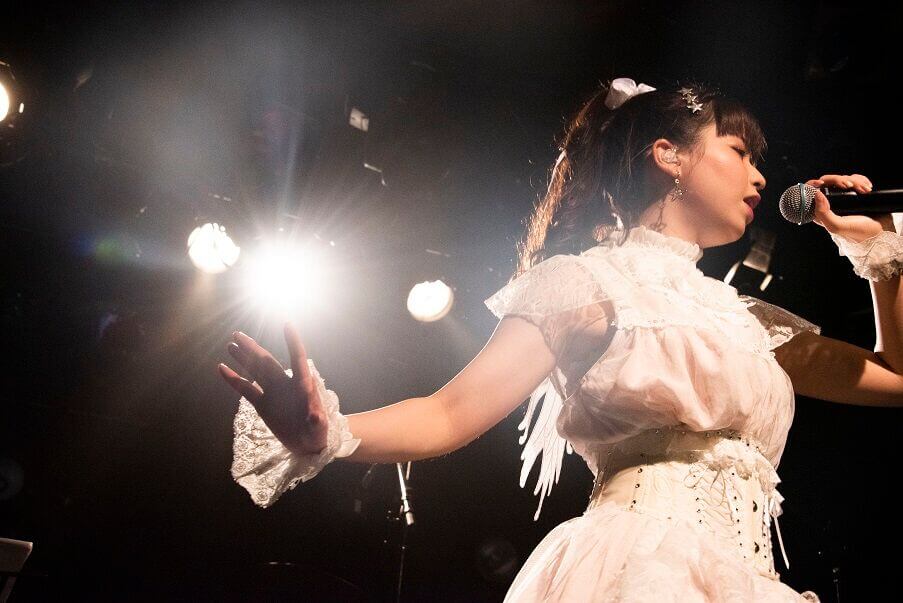 Afterwards, she turned to her fans and said:
"I challenged myself to something completely new this time. I want to show you all a side of me you have never seen before."
What the fans heard next was an unexpected surprise. 
She announced that she will be performing at Mt.RAINIER HALL SHIBUYA PLEASURE PLEASURE, Tokyo on November 16. The venue, packed with fans, could not contain their excitement, responding to the glorious news with cheers of joy that echoed throughout the entire room.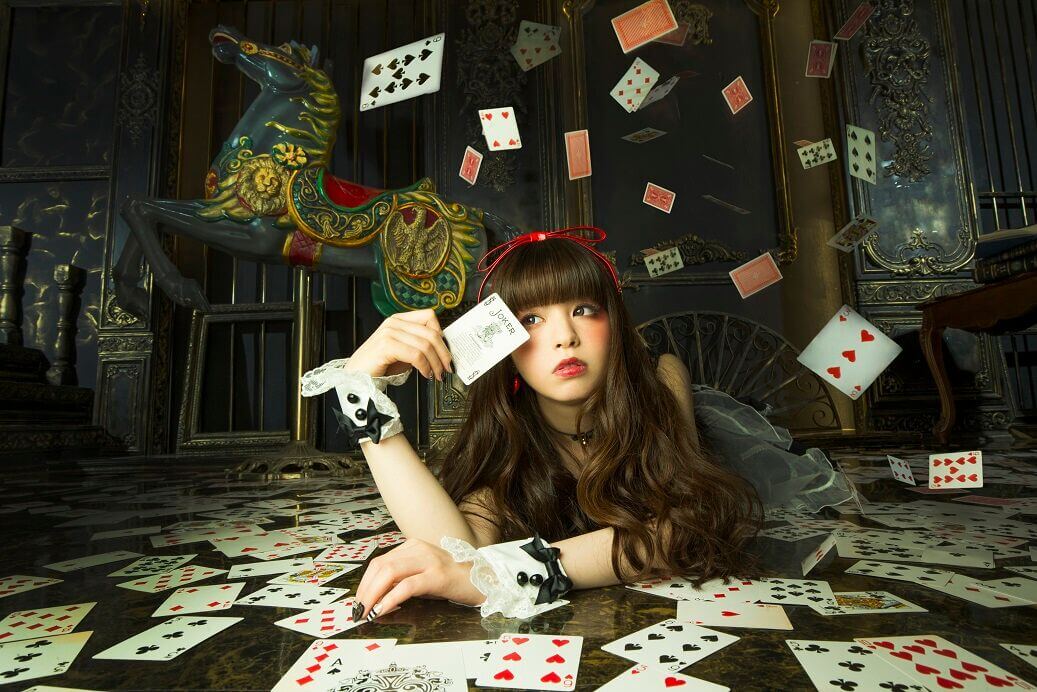 Her recent release Kaiten Mokuba follows the same fairytale theme as Lupa to Aries. The beautiful harmonies created by the strings pierce through the strong and pressing beat of the song. This gothic fairytale song is appropriately titled Kaiten Mokuba (Carousel) to further emphasise the distorted feeling of being spun around in endless circles. Luna is an artist who represents the lolita scene for lolita fans worldwide. This fairytale video is where her true self comes alive. Her new, mysterious visuals are a fusion of lolita fashion and Alice in Wonderland themes. 
Luna Haruna Music Video: Kaiten Mokuba 
The head-spinning music video shows Luna in different lolita fashion outfits. Each outfit explores the depths of a different character from Alice in Wonderland. Watch Luna spin her way through five Alice in Wonderland-themed lolita dresses including the White Rabbit, the Cheshire Cat, the Mad Hatter and of course, Alice.  
Luna will also be singing the theme song for the upcoming anime film Saekano: How to Raise a Boring Girlfriend Fine, which will premiere on October 26. This isn't the first time Luna has been involved in the Saekano anime series. She performed the theme songs Kimi Iro Signal and Stella Breeze, which were the TV anime's first and second anime openings respectively. 
The anime film opening will be written by Miku Sawai, who wrote the lyrics for the TV anime's first and second ending theme songs Colourful and Sakura Iro Diary respectively. Miku Sawai and Luna Haruna have become massive sensations in the news for their anime hits. Just what kind of chemical reaction will unfold when these two heroines collaborate on the anime film's opening theme song? Please keep your eyes peeled for future updates. 
Photos: ©美澄
Information
Luna Haruna 2019 Autumn Solo Concert (Title to be confirmed)
Date/Time: November 16, 2019 Doors Open: 16:30 Start: 17:00
Venue: Mt.RAINIER HALL SHIBUYA PLEASURE PLEASURE, 
Address: Shibuya PRIME (6th floor), 2 Chome-29-5 Dogenzaka, Shibuya City, Tokyo
http://www.pleasure-pleasure.jp/index.php
Ticket Prices: ¥6,480 (after tax, designated seating only).
* You can order a maximum of four tickets per concert.
*There is also a compulsory one drink fee that you must pay upon entry into the venue. 
* Entry is not permitted for those under school age. 
Fan Club Member-limited preorder period: August 4th (21:00) ー 19th (23:59)
Luna Haruna Official Fan Club "L-67 Luna☆Station"
・General Ticket Sales period: To be confirmed.
Queries: (Sunrise Promotion Tokyo) 0570-00-3337(10:00-18:00)
Kaiten Mokuba
Available on most streaming services:  https://harunaluna.lnk.to/OWrKt0ME
Lupa to Aries
Available on most streaming services: https://harunaluna.lnk.to/ro4yd5wD
Saekano: How to Raise a Boring Girlfriend Fine
Premiere: October 26, 2019 across Japan. 
Anime Film Website: https://saenai-movie.com
Luna Haruna Official Website:  http://www.harunaluna.jp/
RELATED ENTRIES
Saekano Anime Series Complete EP 'glory days' by Luna Haruna Release Date Announced

Luna Haruna announced on a live stream on August 21 for the upcoming anime film Saekano: How to Raise a Boring Girlfriend Fine that she will perform the film's main theme song glory days. On the stream she was joined by film and series voice actresses Kiyono Yasuno (Megumi Katō), Sayuri Yahagi (Michiru Hyōdō), and Chinatsu Akasaki (Izumi Hashima).

Speaking about the main theme, Haruna said it is full of love for the show, with the lyrics looking back over the story so far. She also revealed that this is her first time collaborating with Miku Sawai on a song. The ballad has a warm melody brought on by the string instruments and straightforward, unwavering lyrics. It can be heard in the video below.

The song will serve as the title track for a new EP set for release on October 23 which features all of the songs from the Saekano series.

The tracklist will include the season 1 opening Kimiiro Signal, season 2 opening Stella Breeze and film main theme glory days by Luna Haruna as well as the season 1 ending Colorful by Miku Sawai and season 2 ending Sakurairo Diary by Moso Calibration.

Luna Haruna will perform a solo concert at Mt.RAINIER HALL SHIBUYA PLEASURE PLEASURE in Tokyo on November 16. Pre-sale tickets are now available to purchase on her website.

Bubble Tea Gourmets THE ALLEY to Open Flagship Store in Shibuya's Dogenzaka District

Tea enthusiasts THE ALLEY are opening a flagship store in Dogenzaka, Shibuya on September 14, 2019.

THE ALLEY's main customers are women and office workers. It's custom for people to go out for a cup of coffee with friends and coworkers, but THE ALLEY hopes to bring that same idea of "grabbing a coffee" to tea with their drinks line-up. Located at the top of Dogenzaka, the new branch aims to make tea even easier to enjoy while embedding a culture of tea.

Enjoy a drink between shopping or work in one of their 73 comfy seats spread across two floors, or grab a takeaway cup to sip.

"THE ALLEY x thermo mug" 300ml Tumbler – ¥3,500 (Before Tax) / "THE ALLEY x thermo mug" 300ml Stainless Steel Bottle – ¥3,500 (Before Tax)

The cafe has also teamed up with thermo mug to create a seriously stylish tumbler and stainless steel bottle. Both are limited in availability, and if you do decide to grab one, you can get a coupon for one free drink of your voice. They are perfect for using at home, out or at the office.

THE ALLEY is known for its three tea bases: Assam, Royal No. 9, and Jasmine. But the new Dogenzaka branch will have two extra exclusives. The first is White Peach Oolong which originally appeared as a limited-time flavour and in the cafe's milk foam series. It's now a regular at the new cafe. The other is Tieguanyin, a premium oolong tea, whose sales ended in May this year. Due to high demand, they are bringing it back to THE ALLEY Dogenzaka and plan to put it on the menu of other branches in the future.

The cafe has also incorporated paper straws to help combat the use of single-use plastic straws. This includes their thick straws used for tapioca bubble tea drinks and ordinary thin straws for their regular teas.

THE ALLEY Dogenzaka marks the cafe's move from a tea stand into a full-fledged tea shop. If you're in Shibuya, be sure to pay them a visit when they open on September 14.

Information

THE ALLEY Dogenzaka

Grand Opening: September 14, 2019

Address: 1-19-11 Dogenzaka, Shibuya, Tokyo

Business Hours: 10:00-22:30

Official Website: http://www.the-alley.jp/

Hippos Arrive Under Shibuya's Inari Bridge as Part Of National Geographic Promotion

The Hostile Planet documentary series by National Geographic is set to air in Japan from August 22. To celebrate the show's airing, a promotional shoot will take place at Inari Bridge in Shibuya on August 24 and 25 where three hippos will make an appearance to help spread the word of how animals have had to adapt to the recent rapid changes in the environment in order to survive.

A Tale Of Hippo Parents & Child, Living Off Grasslands, and Rapid Environmental Changes From the Seasons

Dry seasons are becoming regular, where water is snatched away from the earth's surface by the scorching sunlight. These are especially merciless seasons for hippos and a real threat to their survival. They cannot enter the water even for a brief moment. Their only options is to walk under the fire of the blazing sun. Their homes used to be packed full of watering holes, but now all they can do is embark on an aimless search. And the severity of this―the beating of the sun and lack of water―is becoming more and more of a problem.

Three panel cutouts of hippos will be set up under Inari Bridge to tell a story of two parents and their child who who survived these harsh conditions by escaping from Katavi National Park in Tanzania and arriving in Shibuya, Tokyo.

Information

Promotional Shoot

Running: August 24, 2019 – August 25, 2019

Time: 12:00-18:00

*In the case of rain on August 24 then the dates will be postponed to August 25 and 26. In the case of rain on August 25 then the dates will be postponed to August 26 and 27. Dates TBA if it rains on August 27. The dates will be extended if there is rainfall even when it is sunny. Additionally, the shoot will run from 11:00-17:00 on August 26 if it must fall on that day.

Location: Inari Bridge (3-21-2 Shibuya, Shibuya Ward, Tokyo)

Access: Directly connected to Exit 16b of Shibuya Station via the Tōkyū Tōyoko Line, Tōkyū Den-en-toshi Line, Tokyo Metro Hanzōmon Line, and Tokyo Metro Fukutoshin Line

Hostile Planet (6 Episodes)

Showing on National Geographic

Official Homepage (Japan): https://natgeotv.jp/tv/lineup/prgmtop/index/prgm_cd/2639

Tokyo Disney Resort Reveals Its Spooky Halloween Programme and Character Costumes

Get ready for some spooky fun as Tokyo Disney Resort® transforms for the 52-day-long horrifically exciting Disney Halloween from September 10 to October 31. Head to DisneySea to be captivated by the new harbor show Festival of Mystique, or get spooked out of your skin at the Spooky "Boo!" Parade at Disneyland. Today, we will be revealing the spooky looks of both parks.

Tokyo DisneySea Festival of Mystique Costumes

Working with the main theme of a medieval European halloween, inspiration has been taken from the living creatures and waves at the port town Porto Paradiso. 

Mickey Mouse's costume inspiration comes from the the bones and scaly body of a sea creature. He will also be seen wearing a broach decorated with beautiful jewels. 

Minnie Mouse's costume resembles that of a medieval princess. You will see her in a fancy hat that bears beautiful pearls. Her costume is covered in scales on the chest and on the back which really suits her.

Tokyo Disneyland's Spooky Boo! Parade Costumes

Disney friends have joined forces with a group of spooky spirits. You just can't miss out on this rare chance to see your favourite Disney characters disguised as ghosts and skeletons. The strange and unusual atmosphere is sure to send a chilling shiver down your spine. 

Mickey and Minnie will be completely refreshing their colourful look. Mickey's necktie and Minnie's skirt are very mysterious and particularly intriguing.  Please come check them out!

Enjoy the beautiful costumes and the fun range of events this Halloween at Tokyo Disney Resort.

©️Disney

Tokyo Stroll: The Café That You Want to Visit to See Someone #11 – 'Hatoya' in Asakusa

In this edition of The Café That You Want to Visit to See Someone, I visited Hatoya which is located in Asakusa Shin-Nakamise Arcade.

The streets of Tokyo's historical district of Asakusa are packed to end with cafés. You can be spoiled for choice, but Hatoya stood out to me in particular as it's an especially old café. Business there began back in 1927 but the actual building was built back in the Taisho period, meaning its history spans more than 90 years ago!

The outside appearance of the shop is smart and chic so it's very easy to spot. I couldn't tell by looking from the outside, but the inside is full of old decorations and odds and ends which make you feel the history of the café.

One reason why I wanted to visit this place so much is because I was drawn to their logo. It's really retro-kawaii so I just couldn't resist!

You should take some photos too if you visit.

It was time to head inside. It's really comfy and cozy in there; the atmosphere was nice and relaxed.

Framed on the wall is a map of the Asakusa area during the Taisho era. Hatoya became famous back then because people could buy coffee for a mere 5 sen (a single sen is one-hundredth of a yen).

When business first began at Hatoya, because the café was opposite the stage door of a theatre, all of the famous actors and actresses would pop in. Some include famous Japanese comedian Roppa Furukawa and film actor Kiyoshi Atsumi who played Tora-san in the film series Otoko wa Tsurai yo.

I ordered the café's popular hotcakes which cost ¥600. They have been making these same hotcakes since before the war.

They were nice and fluffy and had a deliciously gorgeous brown colour. The flavour was out of this world when the butter melted from the heat of the hotcakes and mixed together with the syrup.

The portion might look like a lot but they are fluffy and have a light flavour so can be finished with no problem.

And is the café's signature milkshake (¥500).

It's so refreshing that you can knock it back all in one go. It has a simple flavour but it tasted so good!

I also ordered the ¥600 cream soda, my favourite beverage.

I've been to many cafés, and have covered many in this series, but this is the first I have dined at with such a deep history. I found myself enthralled by the stories of the owner who has continued to treasure the café and maintained it all the same since it opened. I feel like I have learned about a world I never knew about. The next time I go to Hatoya with a friend I'll be sure to let them in on its history. I encourage you to visit too!

Writer/Model: Ema Tanioku
Photographer: Haruka Yamamoto
Design: Yuko Abe (ASOBISYSTEM)

TALENT PROFILE

Ema Tanioku

"Emaeri" is the nickname for models Ema and Eri Tanioku, who are Aomoji fashion model twins. Ema and Eri Tanioku specialise in twin fashion coordination. Over the years their fanbase has increased due to their cute looks. Ema Tanioku spreads Harajuku culture within Japan as well as overseas and works as a Harajuku Tourism Ambassador. Starting off as a model, Ema has broadened her talent range from fashion magazines to TV, and from playing the lead role in dramas to movies.

STRAWBERRY MANIA: Harajuku's Cutest & Tastiest Strawberry Ice Cream | Food Review

Hey, readers. It's Midori again, from MMN's editorial team.

Summertime in Harajuku means the cafes and ice cream shops start serving up some seriously kawaii and tasty ice creams. It's always nice to grab a cone to enjoy while walking around shopping, but relaxing in a cafe to enjoy it is fun too♡

If the latter sounds like your kind of thing, then I've got a new recommendation for you. I visited STRAWBERRY MANIA recently, cafe located along Takeshita Street in Harajuku that specialises in strawberry desserts.

You'll find it right above the 7-Eleven on Takeshita Street. Look for the strawberries!

There's also a sign outside showing a few of the desserts. Go up the staircase right next to it and you'll come to the cafe entrance.

No matter where you turn while you're here, your eyes will be met with strawberries. It looks so cute♡

The shopfront showcase is shelved with lots of succulent strawberry treats. The chef whips up other desserts to order besides these too. Everything's almost too cute to eat!

For the strawberry soft serve ice cream you can pick between three flavours: milk, strawberry or mixed. I couldn't pick between them so I went for mixed.

The combination of the bright red strawberry ice cream and pure white milk ice cream makes for a beautiful colour contrast.

It's also topped with a huge fresh strawberry.

I took no time at all in taking a spoonful. The strawberry ice cream has a really rich flavour. It's sweet but has that sour kick too, like you're eating a real strawberry. The milk ice cream has a milder sweetness and a real milky taste, the kind you'd imagine if it was sold at a farm with cows.

Everything is packed snug into the cone right down to the bottom, making it a filling treat. It can be ordered for takeout if you like, and if you do that you can get your ice cream straight away so you don't have to wait for seats.

They serve other things besides soft serve too, like shaved ice and parfaits. There's so much to choose from, I think you'll be spoiled for choice! Be sure to visit if you're in Harajuku.

Tokyo Station Top Souvenir and Bento Rankings 2019

Tokyo Station is a hive of thriving shops and restaurants. If you are wondering where to start, exit the ticket barriers and head to GRANSTA Marunouchi to discover a new world of bento lunches, souvenir gifts and much more. Still stuck on where to go? Lucky for you, GRANSTA Marunouchi shoppers have voted for their favourite bento meals, sweet souvenirs and general souvenirs. We have summarised the top three winners of each category.

A total of 69 shops have risen to the challenge, submitting a total of 73 of their top items. This year, a total of 4,500 voters took part in the survey, which is 2,000 more than last year. There were 10 winners in each of the three categories of Bento Meals, Sweet Souvenirs, and General Souvenirs. Today, we are presenting you with the top three of each category. (The prices below are the prices after tax has been applied)

▶︎Bento Meals Category

1st place: Asakusa Imahan Sukiyaki (Tokyo-limited)

Asakusa Imahan was founded in the 28th year of the Meiji era (1895) and still serves delicious traditional Japanese food. The Sukiyaki Bento is filled with a range of nutritious vegetables and luxurious Japanese Black wagyu beef, which is a shop specialty. Enjoy the wonderful sukiyaki flavouring of the vegetables and meat. 

Price: ¥1,450 Shop: Asakusa Imahan (浅草今半)

2nd place: Salted Salmon Roe and Salmon Belly Bento 

*Limit of 150 sold per day.

Price: ¥1,280 Shop: Ekibenya Matsuri (駅弁屋 祭 )

Salmon belly flavoured with natural fat is fried and topped with salmon roe coated in a soy sauce dressing. This exquisite bento is full of flavours that go well together.

3rd place: Shoro Sando

*Limit of 200 sold per day 

Price: ¥648 Shop: Tsukiji Shoro (つきぢ松露 )

The faintly sweet flavour of the tamagoyaki seasoned and flavoured egg is the perfect match with the mayonaise.

▶︎ Sweet Souvenirs Top 3 

1st place: Maple Pie Sandwich Biscuit (Tokyo Station-limited)

Price: ¥1,944 (box of 8) Shop: The Maple Mania  

Maple cream is combined with maple sugar and sandwiched between two delicious and crispy pie crusts. The box takes on the appearance of a red brick, making it the perfect Tokyo Station souvenir. 

2nd place: Tokyo chocolate Sablé (Tokyo Station-limited)

Price: ¥1,080 (box of 12) Shop: Marché du Chocolat 

The packaging features a beautiful illustration of Tokyo Station. There are two chocolate sablé flavours: raspberry and hazelnut.

3rd place: My Captain Cheese Set (Tokyo Station-limited)

Price: ¥1,080 (box of 8 packets)  Shop: MY CAPTAIN CHEESE TOKYO 

Although having just opened in April 2019, this shop quickly made the rankings. From the outer packaging to the flavour, the efforts put into the making of this souvenir are clear. This brand new sweet cheese-flavoured treat is a new GRANSTA-limited souvenir.

▶︎ General Souvenirs

1st place: Karuizawa Royal Blend

Limit of 30 made per day 

Price: ¥1,122 (whole loaf)/ ¥ 561 (half loaf) Shop: BOULANGERIE ASANOYA 

The recipe used to bake this bread was deeply loved by the Kazoku; the rich and noble family class that existed during the Showa Era of Japan. This thick and fluffy loaf is made with lots of fresh cream for a rich flavour.

2nd place: Suica Penguin Mamegui Wrapping Cloth and Suica Baumkuchen cake (Tokyo Station-limited)

Prices: Mamegui Wrapping Cloth: ¥648/ Baumkuchen: ¥ 540  Shop: Mamegui (まめぐい)

The Suica penguin, who is the mascot on the Suica smart travel card, is printed on this round Baumkuchen cake. Wrap it in the hankerchief-sized tenugui cloth and it will be the perfect petit present for your friend.  

3rd place: Lemon and Shiikuwasha Lemon Vinegar (Tokyo Station-limited)

Price: ¥1,728 (250ml) Shop: Nomusu Ekisupuresu Tokyo (飲む酢エキスプレ・ス・東京)

This dessert vinegar has a refreshing lemon flavour. The slight bitterness of the Shiikuwasha vinegar makes it a wonderful dessert flavour. 

If you are overwhelmed by the vast selection of bento lunches or souvenirs, referring to these rankings is a safe option. Have fun shopping at Tokyo Station!

Experience Tasting Mount Koya's Famous Sesame Tofu at ONAKA PECO PECO in Tsukiji

ONAKA PECO PECO by Rurubu Kitchen is a cafe located in Tsukiji, a district in Chuo, Tokyo. They serve rice balls filled with locally sourced ingredients from various locations in Japan. In the evenings, the rice balls can be enjoyed with delicious sake.

If you visit the cafe right now you'll be able to try sesame tofu (goma tofu) made by the long-running restaurant Kadohama. Sesame tofu is a meibutsu―or "local speciality"―of Mount Koyo.

While it is possible to buy sesame tofu on Kadohama's online store, the only places you can eat them out at is at their restaurant on top of Mount Koya or at select branches of department stores such as Mitsukoshi or Isetan. We visited ONAKA PECO PECO by Rurubu Kitchen for a taste of this exquisite collaboration.

Mount Koya is located in the Ito district of northern Wakayama Prefecture and is home to the town of Koya. The region is encased an abundant mountainous landscape. The Japanese Buddhist monk Kūkai opened the sacred mountain around 1,200 years ago. In 2004, Mount Koya which was registered as a World Heritage Site by UNESCO in 2004 under the "Sacred Sites and Pilgrimage Routes in the Kii Mountain Range" category. It has since become a popular tourist destination with Japanese and foreign travellers alike.

Here is the heavenly menu lineup at ONAKA PECO PECO which is packed full of Kadohama's sesame tofu.

There are five items which are made with the sesame tofu: an onigiri rice ball, crab soup, cold tofu, pork shabu shabu, and a drink.

Time to tuck in and try this famous food which has been enjoyed for many years!

White Vegetables & Steamed Pork Shabu w/ Koji Sesame Tofu Sauce – ¥800

This dish is garnished with a generous serving of fresh white vegetables and succulent meat. It includes lotus root, enoki mushrooms, cauliflower, and pork. It also comes with a white sauce made with sesame tofu, shio koji, and sesame oil. The sauce has a mild flavour in which you can get the full glorious taste of the tofu. It's smooth and refreshing so is a perfect pick for the hot summer.

Sesame Tofu & Plum Cheese-Loaded Rice Ball – ¥250

This rice ball is a flavourful combination of a sesame tofu and plum paste and lots of cheese.

This fat rice ball is wrapped in paper like a hamburger. The rich taste of the tofu and cheese reduces the sourness of the plum, giving it a gentler flavour.

Sesame Tofu & Egg Crab Soup – ¥400

The soup is an amazing combination with the rice ball. It has a miso soup base filled with green onion, enoki mushrooms, and crab. The elastic-y tofu is cut into big satisfying chunks. Its rich, creamy flavour combined with the crab is to die for.

Sesame Tofu & Sweet Sake Jelly Drink – ¥350

The cute white-coloured beverage is a healthy mix of sesame tofu paste and sweet sake. It retains the pulpy texture of the tofu and the aftertaste is super refreshing.

You can order the drink for takeout so you can take a stroll around the streets of Tsukiji.

Kadohama Sesame Tofu – Eat In: ¥300 / Takeout: From ¥240

If you're looking to enjoy the sesame tofu on its own then you've got to try it with either the wasabi and soy sauce or brown sugar. You can also order this to take away too. Each box contains one piece of tofu.

The cafe is also selling exclusive merchandise as part of the collaboration. The collection includes a t-shirt, sacoche bag, and cap. Each item has a simple design making them easy to incorporate into looks.

Easy access to Kadohama's sesame tofu―which is made using traditional cooking methods that have been passed down generations at Mount Koya―can only be enjoyed at ONAKA PECO PECO by Rurubu Kitchen. If you're in Tokyo this summer, then take a trip to Tsukiji district to try this healthy and nutrient-packed tofu.

Model: Ririka Satsuki

Writer: Sayuri Mizuno (MMN Editorial Team)

Photographer: Haruka Yamamoto

Translator: Joshua Kitosi-Isanga

Information

ONAKA PECO PECO by Rurubu Kitchen

Address: 4-7-3 Tsukiji, Chuo Ward, Tokyo (Along Harumi-dori)

Opening Hours: 10:00-14:00 / 17:00-22:00 (Last orders at 22:00)

Closed: Sundays

Access: 10-minutes on foot from Ginza Station / 7-minutes on foot from Higashi-Ginza Station / 5-minutes on foot from Tsukiji Station

Official Website: http://onakapecopeco.com/

Cute LINE Penguin Character Gets Collaboration Café in Tokyo and Osaka

A collaboration café dedicated to the adorable penguin character Koupen chan will run over the summer period. The café will open on August 8 in Tokyo and September 5 in Osaka. 

The baby emperor penguin Koupen chan, who is often the go-to sticker for many Twitter and LINE users, is illustrated by the well-known RURUTEA. Many SNS users turn to the relaxing, soft and cuddly penguin to send soothing words of encouragement and a fuzzy hug to their loved ones. No wonder our adorable penguin has over 300,000 followers on Twitter. 

Yokoshima Enaga-San Burger: ¥1,490

Koupen Chan Ochazuke (Rice served with broth): ¥1,390

The first time the Koupen Chan Collaboration Café opened for a limited period was on November 2017. Now, the café is back with a refreshed image which plunges deeper into the depths of Koupen chan's affectionate world. There are even more features packed into this year's collaboration menu. No matter what you order, your table will be overflowing with adorable penguin love. 

Pink Koupen Chan Strawberry Milk Pancake: ¥1,390 (before tax)

Two Best Friends Lemon Peach Parfait: ¥1,290 (price before tax)

Don't forget to check out the drinks and desserts which are bound to melt your heart.

Acrylic Drink Coaster (random design ), 4 designs available: ¥900 (before tax) 

Bonus Gift for Café Customers: Placemat and Paper Drink Coaster (1 of 6 designs presented at random)

You won't just be served a cute meal, however. Customers have the chance to get their hands on original merchandise with cute café-themed designs. The designs, which were illustrated by RURUTEA, include Koupen chan as your personal café server, a pink-themed Koupen chan and even a light blue Koupen chan relaxing in the café.

The reservation period opened recently. Reservations are now being accepted via the official website. This café is the perfect place to escape from the blazing summer heat and humidity to get refreshed. Come relax and enjoy a moment of cute food and drinks in this comfortable atmosphere.

©RURUTEA

* The images shown in this article may differ slightly to the actual merchandise/menu items.

* English menu names above are not official translations. 

Information

Koupen Chan Café 2019 SUMMER

Tokyo: SHIBUYA BOX CAFE & SPACE (SHIBUYA BOX)

Address: Shibuya Loft 2nd floor, 21-1 Udagawacho, Shibuya City, Tokyo

Open: August 8, 2019 ー September 23, 2019 

Osaka: Shinsaibashi contact

Address: 1 Chome-6-24 Kitahorie, Nishi Ward, Osaka

Open: September 5, 2019 ー October 6, 2019

Reservations now open.

Reservation price: ¥500 (includes a complementary souvenir for making the reservation)  

A limit of 4 seats can be reserved through 1 reservation.

Night Party at Harajuku's Conveyor-Belt Dessert Cafe Ron Ron for 20 Year Olds Only

MAISON ABLE Cafe Ron Ron is a popular conveyor-belt dessert cafe in Harajuku. We visited the cafe last year when it had just dropped, so be sure to check out our cover story if you want more information.

The cafe has just announced a night party that is exclusive to those in their 20's. Titled "Cafe Ron Ron 20ty's Night Party -PINK FRIDAY- supported by MAISON ABLE," the event began yesterday and will run every night up to September 27.

Customers can enjoy all-you-can-eat unlimited snacks for just ¥500 with no time restrictions. For an additional fee, you can also pick from the food menu which features 5 dishes and order from the drinks menu which includes alcohol.

Everything on the food and drinks menu is ¥500 too, making it a delicious bargain!

Desserts are served at varying time slots from 19:00. Depending on what time you arrive or decide to start eating the menu will change which is all part of the fun!

The cafe has also teamed up with the fashion rental shop airCloset next door so customers can enjoy dining at Cafe Ron Ron while wearing a yukata.

You can even continue wearing the kimono after you've eaten so you can stroll the streets of Harajuku, go to nearby festivals and more for an exciting day out in Japan's youth and culture hub. The yukata can be rented by people of all ages – full details on the websites below.

Information

Cafe Ron Ron 20ty's Night Party -PINK FRIDAY- supported by MAISON ABLE

Location: MAISON ABLE Cafe Ron Ron (6-7-15 Jingumae, Shibuya, Tokyo)

Running: August 2, 2019 – September 27, 2019

Conditions: Restricted to those aged 20-29 years (*photo ID required upon entry)

Opening Hours: 19:00-22:00 (Last Entries 21:30)

Official Website: http://cafe-ronron.com/pinkfriday/

airCloset x ABLE

Address: 6-7-15 Jingumae, Shibuya, Tokyo

Running: July 27, 2019 – September 30, 2019

Opening Hours: Weekdays 11:00-21:00 / Weekends 11:00-19:00 (Last fittings at 17:00)

Return Periods: By 21:00 on weekdays / By 19:00 on weekends)

Closed: Tuesdays

Cautions:

・Please take a camisole or tank top that can be worn under your yukata

・Foreigners are asked to take a copy of their passport when renting

・There is a luggage storage service for those who are returning on the same day

Official Website: http://cafe-ronron.com/yukataderonron/

Vegan Bubble Tea Arrives at Harajuku's BOTANIST Tokyo Tea Stand

For the whole month of August, the BOTANIST Tokyo tea stand in Harajuku is serving two different tapioca bubble tea beverages. Just 100 of each will be sold each day.

The two delicious drink flavours include "Butterfly Pea Soy Milk Tea" and "Matcha Milk Tea." Both beverages are made with high quality tapioca pearls from bubble tea store Bull Pulu who serve up Taiwanese pop culture with their tasty menu.

Vegans shopping in Tokyo's Harajuku and Omotesando areas will be excited to try the vegan-friendly Butterfly Pea Soy Milk Tea. Both of the drinks are also sold in eco cups and come with paper straws.

Tapioca Butterfly Pea Soy Milk Tea – ¥600 (Tax Included)

The vegan-friendly option is a combination of bright and colourful butterfly pea tea and soy milk. It's laced with a tropical coconut syrup for enhanced flavour.

Tapioca Matcha Milk Tea – ¥600 (Tax Included)

The matcha milk tea is a combination of rich and smooth matcha foam and milk. It's mixed with a fragrant hazelnut syrup.

Both drinks are takeout only and are available to buy on the first floor. If you fancy a little refreshing drink while strolling through Harajuku then be sure to visit BOTANIST Tokyo.

Information

BOTANIST Tokyo

Address: 6-29-2 Jingumae, Shibuya, Tokyo (Shop – Floor 1F / Cafe – Floor 2F)
Business Hours: 11:00-20:00
Official Website: https://botanistofficial.com/shop/

5 Refreshing Shaved Ice Desserts to Try in Japan This Summer – MOSHI MOSHI NIPPON

The Japanese photo app LINE STEP is used to look up the hottest and most popular spots in your current location. The company has just revealed this summer's Top 10 must-try shaved ice desserts in Tokyo.

We're going to take a look at our 5 most recommended from the selection.

Shaved Ice Serve in an Entire Watermelon at KKOTBING

KKOTBING in Jiyūgaoka serves Korean-style shaved ice, including their very Instagrammable melon shaved ice which is served in an entire melon! The mango yoghurt flavoured shaved ice is also a tantalizing treat guaranteed to make you drool with its refreshing combination of fresh mango pieces and light yoghurt. The store even has photo spots where you can set down your shaved ice and snap tempting photos to show off online.

LINE STEP Page: https://m.linestep.io/review/1293001925947556534

▼KKOTBING

Address: Jiyūgaoka Masumoto Bldg. 1F, 1-26-3 Jiyūgaoka, Meguro Ward, Tokyo

Business Hours: Weekdays 12:00-23:00 / Weekends 11:30-22:30 (Food & Drink Last Orders 22:00)

No Fixed Holidays

Official Website: https://kkotbing-japan.com/

Super Fluffy Shaved Ice Made With Natural Ice at Shigeyoshi


Everybody knows about Shigeyoshi in the northern part of Senju. Every year without fail, you could be waiting up to 2 hours during shaved ice season at this hugely popular store. The unmissable menu choice this year is their cute strawberry flavoured bear shaved ice. This succulent strawberry selection is swimming in strawberry sauce. And don't worry, the ears won't melt or slide off while you're taking your photo!

LINE STEP Page: https://m.linestep.io/review/1293003652490855077

▼Shigeyoshi

Address: 1-24-8 Senju, Adachi City, Tokyo

Business Hours: 11:00-18:00 (*Summer season hours)

Closed: Mondays & Tuesdays (Subject to change

Official Twitter Page: https://twitter.com/shige_2017

Cute, Crunchy & Fluffy Shaved Ice at foru cafe

Out shopping or taking purikura pictures in Harajuku? Then make sure you drop by foru cafe which is famous for its brulee French toast. This summer, the cafe has whipped up a very special strawberry milk pavlova shaved ice dessert. The creamy and refreshing taste of the milk mixes lovingly with the sweetness of the strawberries. It's all crowned with a crunchy meringue too which makes a delicious pairing with the shaved ice. Oh, and there's a lemon pavlova version too which is super refreshing!

LINE STEP Page: https://m.linestep.io/review/1292991141230150422

▼foru cafe

Address: WeWork Iceberg 1F, 6-12-18 Jingumae, Shibuya, Tokyo

Business Hours: 9:00-19:00 (Food Last Orders 18:00 / Drink Last Orders 18:30)

Official Website: https://forucafe.com/

Make Your Own Shaved Ice at #gram factory

If you'd like a little serving of self-customisation with your shaved ice then you'll want to head to#gram factory where you are free to choose your own toppings to make your own personalised dessert. Their milk flavoured shaved ice is made only with milk and condensed milk for a smooth and fluffy texture. Their popular choices include "SNOW QUEEN" where you can pick from various cute cookies like a flamingo or shell, and #OREOgram which is piled full of crunchy Oreo cookies. Delicious AND Instagram-worthy!

LINE STEP Page: https://m.linestep.io/review/1293361333047132186

▼#gram factory

Address: 2-15-1 Kitazawa, Setagaya Ward, Tokyo

Business Hours: 11:00-20:00

No Fixed Holidays

Official Instagram Page: https://www.instagram.com/gram_factory/

 

Combinations and Toppings You Have Never Seen Before at Ichou no Ki

Last on our list is Ichou no Ki where you can experience their beautiful hydrangea shaved ice. The littering of purple and light blue petal toppings are made from agar-agar to look like a hydrangea. Hiding underneath the white shaved ice is matcha cream, mint powder, houjicha tea syrup, and cornflakes, making for a kaleidoscope of colours and textures.

LINE STEP Page: https://m.linestep.io/review/1293370743358226467

▼Ichou no Ki

Address: 1-28-14 Kita-Shinagawa, Shinagawa, Tokyo

Business Hours:

[July-September] 11:30 until all reservations are made

[October-June] 11:30-17:00

*Group bookings can only be made for groups of 4 and under

Closed: Thursdays (and select days which can be found on the shop's official blog)

Official Blog: http://s.ameblo.jp/ichounoki1979/

Nothing beats shaved ice when the weather's hot, so eat as much of it as you can this summer while in Tokyo.