Lolita Singer Luna Haruna Announces Surprise Solo Live Performance at Most Recent Concert
Tokyo singer and lolita fashion model Luna Haruna finished her premium solo summer concert at SHIBUYA TAKE OFF7 on August 4. The concert title Lupa and Aries no gastronomie was named after her single Lupa to Aries which was released earlier this year in June and is so far only available on streaming services. Haruna performed once in the afternoon and once in the evening with a live band. She performed a total of 28 songs, including some brand new hits.
 She launched into her concert with her hit songs Stertear, Kimi Iro Signal, Stella Breeze and Overfly. She then performed her two new fairytale-themed songs Lupa to Aries and Kaiten Mokuba live for the first time.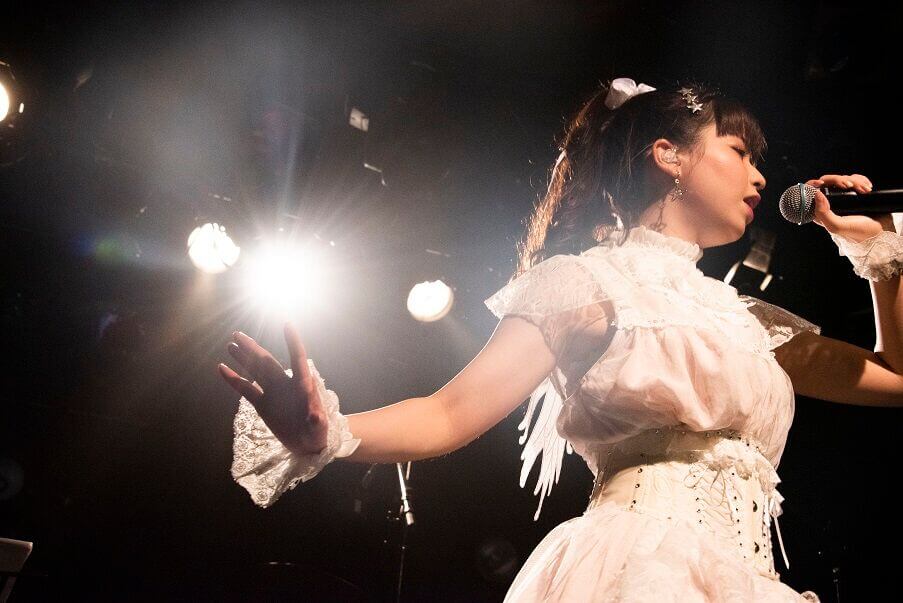 Afterwards, she turned to her fans and said:
"I challenged myself to something completely new this time. I want to show you all a side of me you have never seen before."
What the fans heard next was an unexpected surprise. 
She announced that she will be performing at Mt.RAINIER HALL SHIBUYA PLEASURE PLEASURE, Tokyo on November 16. The venue, packed with fans, could not contain their excitement, responding to the glorious news with cheers of joy that echoed throughout the entire room.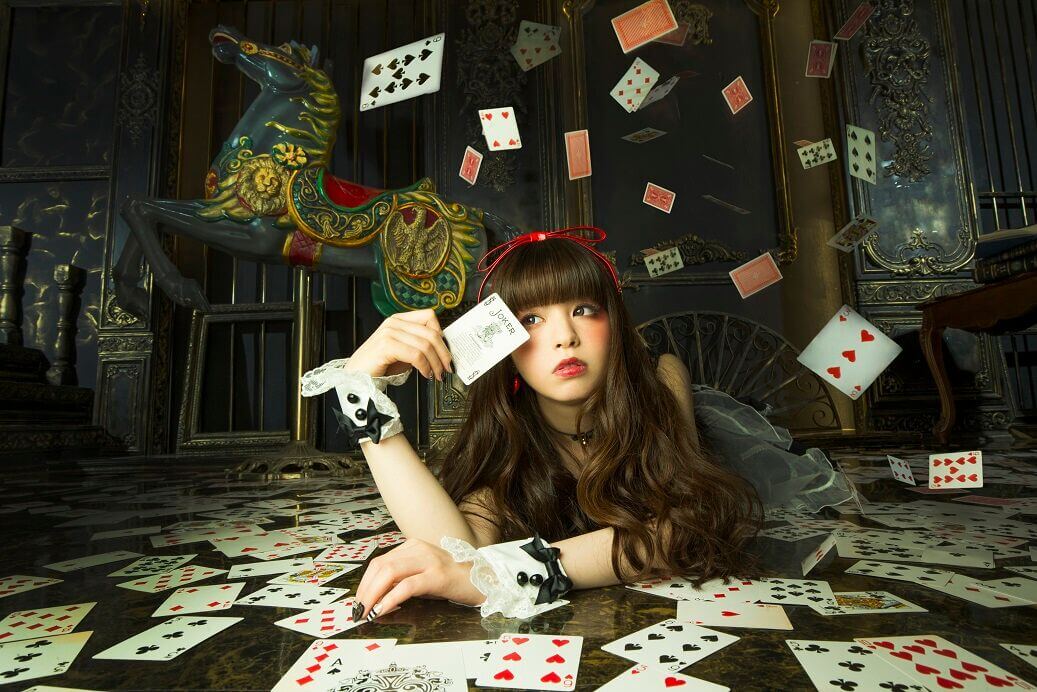 Her recent release Kaiten Mokuba follows the same fairytale theme as Lupa to Aries. The beautiful harmonies created by the strings pierce through the strong and pressing beat of the song. This gothic fairytale song is appropriately titled Kaiten Mokuba (Carousel) to further emphasise the distorted feeling of being spun around in endless circles. Luna is an artist who represents the lolita scene for lolita fans worldwide. This fairytale video is where her true self comes alive. Her new, mysterious visuals are a fusion of lolita fashion and Alice in Wonderland themes. 
Luna Haruna Music Video: Kaiten Mokuba 
The head-spinning music video shows Luna in different lolita fashion outfits. Each outfit explores the depths of a different character from Alice in Wonderland. Watch Luna spin her way through five Alice in Wonderland-themed lolita dresses including the White Rabbit, the Cheshire Cat, the Mad Hatter and of course, Alice.  
Luna will also be singing the theme song for the upcoming anime film Saekano: How to Raise a Boring Girlfriend Fine, which will premiere on October 26. This isn't the first time Luna has been involved in the Saekano anime series. She performed the theme songs Kimi Iro Signal and Stella Breeze, which were the TV anime's first and second anime openings respectively. 
The anime film opening will be written by Miku Sawai, who wrote the lyrics for the TV anime's first and second ending theme songs Colourful and Sakura Iro Diary respectively. Miku Sawai and Luna Haruna have become massive sensations in the news for their anime hits. Just what kind of chemical reaction will unfold when these two heroines collaborate on the anime film's opening theme song? Please keep your eyes peeled for future updates. 
Photos: ©美澄
Information
Luna Haruna 2019 Autumn Solo Concert (Title to be confirmed)
Date/Time: November 16, 2019 Doors Open: 16:30 Start: 17:00
Venue: Mt.RAINIER HALL SHIBUYA PLEASURE PLEASURE, 
Address: Shibuya PRIME (6th floor), 2 Chome-29-5 Dogenzaka, Shibuya City, Tokyo
http://www.pleasure-pleasure.jp/index.php
Ticket Prices: ¥6,480 (after tax, designated seating only).
* You can order a maximum of four tickets per concert.
*There is also a compulsory one drink fee that you must pay upon entry into the venue. 
* Entry is not permitted for those under school age. 
Fan Club Member-limited preorder period: August 4th (21:00) ー 19th (23:59)
Luna Haruna Official Fan Club "L-67 Luna☆Station"
・General Ticket Sales period: To be confirmed.
Queries: (Sunrise Promotion Tokyo) 0570-00-3337(10:00-18:00)
Kaiten Mokuba
Available on most streaming services:  https://harunaluna.lnk.to/OWrKt0ME
Lupa to Aries
Available on most streaming services: https://harunaluna.lnk.to/ro4yd5wD
Saekano: How to Raise a Boring Girlfriend Fine
Premiere: October 26, 2019 across Japan. 
Anime Film Website: https://saenai-movie.com
Luna Haruna Official Website:  http://www.harunaluna.jp/
RELATED ENTRIES
【Official Report】FRUITS ZIPPER Holds Live Performance Initially Scheduled to Be Performed in America

On June 4, FRUITS ZIPPER held FRUITS ZIPPER LIVE Vol. 1 and FRUITS ZIPPER Vol. 2 at Hulic Hall Tokyo. The group recently celebrated its first anniversary. The concerts were planned and held in Japan on extremely short notice, as the girls were initially meant to perform at A-kon in Dallas, Texas on June 2 and 3. Sadly, their appearance had to be canceled, but after so many rehearsals and so much preparation, the group still wanted to put on a show for its dedicated fanbase. Hopefully, this live report can give American fans a glimpse into the incredible show!

With the event being announced on June 1, only three days before FRUITS ZIPPER took the stage in Tokyo, it was uncertain how many fans would show up. Shockingly, the hall was completely full for FRUITS ZIPPER Live Vol. 1 and FRUITS ZIPPER Live Vol. 2, and the audience immediately began cheering as the members appeared on stage. The venue went dark, and mysterious sound effects began to play, setting the scene for an incredible show.

The girls began with three fan favorites: Kimino Akaruimiraiwo Oikakete, Kanpeki Shugide☆, and Happpy Chocolate. Immediately, the hall was thrown into a frenzy, and the energy was contagious.

"Welcome to Hulic Hall! We're FRUITS ZIPPER!"

Soon after, the girls prepared to introduce themselves in English. First, Suzuka Chinzei addressed the crowd. "I'm so glad that so many people are here even with such little notice–thank you so much! We'd like to perform in Yurakucho today as if we were in America. Is that okay?" The audience immediately responded, shouting "Yeah!"

One by one, each member shared a bit about themselves in English.

Yui Sakurai: "Nice to meet you♡ I'll make everyone fall in love with me in just 5 seconds♡"

Amane Tsukiashi: "How are you? I'm happy to meet you!"

Suzuka Chinzei: "I brought a quick joke as a gift from Japan today! Look at me…♪Like this~♪Lunchbox~…Don't exist!!! I hope you had a good laugh. Thank you for the big laughs!"

Karen Matsumoto: "I will do my best! Please continue to support me!"

Luna Nakagawa: "It has been my dream to perform in America, so it's a dream come true! Thank you!"

Noel Hayase: "I wanna say thank you all your guys for coming today. Even though we announced this live concert 3 days ago and there are so many people here in front of us…I'm so happy. Let's enjoy our day together, thank you!"

Mana Manaka: "I'm sorry that we couldn't go to America this time but I will do my best to improve my performance and meet you all soon! Thank you for your support!"

Among the members, Noel Hayase is trilingual, fluent in Japanese, English, and German. Speaking to the audience, she got a big reaction with her impressive pronunciation. "Here we go on the next song, okay?" Next, the group performed Roller Coaster Heart, Re→TRY & FLY, and Furefuru Summer!

During Furefuru Summer!, Luna Nakagawa called out to the members and audience alike. "Do you have this towel? Are you ready?" The venue was filled with fans waving their towels around to the beat of the seasonal classic.

"The next song is going to be harder…are you guys ready," Noel called out. "More more scream," Luna added, and soon, Going! began to play. During the group's most famous track Watashino Ichiban Kawaiitokoro, Yui Sakurai called out in English with a request for the audience–"Let's KAWAII dance~♡"

To conclude, FRUITS ZIPPER performed the NEW KAWAII-infused track RADIO GALAXY, followed by their latest song Chou Medetai Song ~Konnanni Shiawasede Iinokana?~. Applause rang out as the final notes sounded, with many fans in the audience congratulating the group on a successful show.

As is tradition, a commemorative photo was taken with the audience at the end of the show–this time, with some American flair.

"We are going to take a picture, and it's going to be used on our official Twitter, so if you don't want to be in a picture please hide your face. Hide, your, face, please," Luna said, with the last bit in over-the-top broken Japanese. The members made their classic poses with adorable expressions on their faces.

After the photo shoot, Mana Manaka shared her gratitude with the fans in the audience. "Thank you so much to everyone who came to this concert, despite the short notice. We were really encouraged by everyone planning on going to the U.S. with us and everyone who supported our trip abroad on social media. FRUITS ZIPPER will continue to expand its activities around the world, so don't be discouraged by this setback! Please continue to support us! Thank you for coming today!" The members smiled and said "See you!" as they left the stage.

FRUITS ZIPPER LIVE Vol. 1 and FRUITS ZIPPER Vol. 2 were held on very short notice after the group's upcoming U.S. appearance was canceled. Despite this, the audience's unwavering and sincere support for the girls was palpable throughout the venue. The fans raised their hands and shouted along with the group, and the performance was filled with nothing but warmth and happiness.

There's no doubt that the girls will continue their global expansion. We're looking forward to FRUITS ZIPPER's performance in the U.S. sometime in the future, and as they continue to impress audiences around the world, there's no doubt that the group will soon touch every corner of the globe.

Photo: yoshimoriyuna

Information

FRUITS ZIPPER LIVE vol1.
FRUITS ZIPPER LIVE vol.2
Date: June 4, 2023
Venue: Hulic Hall Tokyo

Chou Medetai Song ~Konnanni Shiawasede Iinokana?~
Release Date: May 4, 2023
Streaming URL: https://kawaiilab.lnk.to/CSKSI
Available on all major music download and streaming sites

Sayonara Nakano Sunplaza Music Festival (Performance Information)
Sayonara Nakano Sunplaza Music Festival
Date: June 26, 2023
Venue: Nakano Sunplaza (Tokyo)
Time: Doors open 17:30 / Show starts 18:30

Tickets
Premium Seat: ¥11,000 (Tax Included)
Reserved Seat: ¥5,500 (Tax Included)

Please see the official event site for ticket information and additional updates.
https://sayonaranakanosunplaza.com/

FRUITS ZIPPER Tour Information
FRUITS ZIPPER JAPAN TOUR 2023 AUTUMN
September 3 – Zepp Namba, Osaka
September 5 – Zepp Nagoya, Aichi
September 8 – Zepp Fukuoka, Fukuoka
September 10 – BLUE LIVE HIROSHIMA, Hiroshima
September 13 – PENNY LANE24, Hokkaido
September 16 – KT Zepp Yokohama, Kanagawa

[Tickets]
VIP Standing Ticket: ¥16,500
miniVIP Standing Ticket: ¥7,700
General Standing Ticket: ¥5,500
2F Reserved Seat: ¥5,500

*All prices include tax, drinks separate
*Tickets for Hokkaido and Hiroshima are VIP/General Standing only.

The latest information will be announced on the official FRUITS ZIPPER Twitter page
(@FRUITS_ZIPPER).

最新情報はFRUITS ZIPPER公式Twitter(@FRUITS_ZIPPER)にて随時発表。

FRUITS ZIPPER Holds First Anniversary Concert, Announce Appearance at the 'Sayonara Nakano Sunplaza Music Festival' in June

On May 4, the 7-member idol group FRUITS ZIPPER held the first Tokyo performance of their first-anniversary concert tour at Toyosu PIT.

Tickets for both the Tokyo and Osaka shows sold out immediately after they went on sale. To celebrate the first anniversary of the group's debut, the lucky fans who were able to snag tickets came together at Toyosu PIT.

In the year since their debut, FRUITS ZIPPER has skyrocketed in popularity, performing live at several idol festivals and some of Japan's largest fashion events, and successfully touring Tokyo, Nagoya, and Osaka. Their show at LINE CUBE SHIBUYA garnered incredible attention.

For the first anniversary concert, the stage was transformed by a special set and the member appeared in new never-before-seen costumes. They performed a total of 17 songs, and each member expressed their gratitude to their fans during the MC segments.

During the performance, it was announced that the group would perform at the Sayonara Nakano Sunplaza Music Festival on June 26. The venue, which has seen countless performances over its long history, will be demolished and replaced to commemorate its 50th anniversary. Fans are excited to see their favorite artists perform on this legendary stage, and many are curious to see how it will be transformed in the future.

FRUITS ZIPPER has also released the song Cho Medetai Song ~Konnani Shiawasede Iinokana? ~ (The Super Joyful Song ~Is It Okay to Be This Happy?~) on all major streaming services. The track was co-written by Sho Yamamoto, who wrote the group's hit song Watashino Ichiban Kawaiitokoro, currently with over 700 million views on TikTok, and Gento Miyano, who has written songs for numerous popular artists. The super-happy pop tune has a sound reminiscent of idol tracks from the 2000s and has been a smash hit at live shows, stirring the fans into a frenzy.

Information

<Sayonara Nakano Sunplaza Music Festival Performance Information>
Sayonara Nakano Sunplaza Music Festival
Date: June 26, 2023
Venue: Nakano Sunplaza (Tokyo)

Ticket information and additional information will be posted on the official FRUITS ZIPPER Twitter page(@FRUITS_ZIPPER)as it becomes available.

<Release Information>
FRUITS ZIPPER New Single
Cho Medetai Song ~Konna ni Shiawase de Iinokana?~
Streaming Date: May 4, 2023
Streaming URL: https://kawaiilab.lnk.to/CSKSI
Available on all major music streaming and download sites

1. Cho Medetai Song ~Konna ni Shiawase de Iinokana?~
2. Cho Medetai Song ~Konna ni Shiawase de Iinokana?~ -Instrumental-

<FRUITS ZIPPER Tour Information>
FRUITS ZIPPER Japan Tour 2023 AUTUMN
9/3 – Zepp Namba (Osaka)
9/5 – Zepp Nagoya (Aichi)
9/8 – Zepp Fukuoka (Fukuoka)
9/10 – BLUE LIVE HIROSHIMA (Hiroshima)
9/13 – PENNY LANE24 (Hokkaido)
9/16 – KT Zepp Yokohama (Kanagawa)

FRUITS ZIPPER to Embark on First National Tour in September

Idol group FRUITS ZIPPER will embark on its first nationwide tour, FRUITS ZIPPER JAPAN TOUR 2023 -AUTUMN-, this September.

FRUITS ZIPPER has been climbing to the top of the idol scene at a breakneck pace. Their first overseas solo performance in Taiwan was recently a huge success, and tickets for their first anniversary live shows at Toyosu PIT in Tokyo and Namba Hatch in Osaka in May sold out immediately after going on sale.

The tour will begin with a concert in Osaka on September 3, followed by performances in Aichi, Fukuoka, Hiroshima, Hokkaido, and Kanagawa. Tickets for the presale lottery are now on sale for members of the KAWAII LAB fan club.

FRUITS ZIPPER's single Watashino Ichiban Kawaiitokoro, released last year, has inspired over 700 million related videos on TikTok, while the music video has been viewed over 10 million times. Keep an eye on their activities in the near future!

Information

FRUITS ZIPPER JAPAN TOUR 2023 -AUTUMN-

Date: September 3, 2023
Venue: Zepp Namba / Osaka
Time: Doors open at 16:00 / Show starts at 17:00
Contact: Kyodo Information – 0570-200-888

Date: September 5, 2023
Venue: Zepp Nagoya / Aichi
Time: Doors open at 17:30 / Show starts at 18:30
Contact: Sunday Folk Promotion – 052-320-9100 (12:00~18:00)

Date: September 8, 2023
Venue: Zepp Fukuoka / Fukuoka
Time: Doors open at 17:30 / Show starts at 18:30
Contact: Kyodo West Japan – 0570-09-2424 (11:00~15:00 / Closed on Sundays and Holidays)

Date: September 10, 2023
Venue: BLUE LIVE HIROSHIMA / Hiroshima
Time: Doors open at 16:00 / Show starts at 17:00
Contact: YUMEBANCHI (Hiroshima) – 082-249-3571 (Weekdays 12:00~17:00)

Date: September 13, 2023
Venue: PENNY LANE24 / Hokkaido
Time: Doors open at 17:30 / Show starts at 18:30
Contact: Mount Alive – 011-623-6555

Date: September 16, 2023
Venue: KT Zepp Yokohama / Kanagawa
Time: Doors open at 16:00 / Show starts at 17:00
Contact: HOT STUFF PROMOTION – 050-5211-6077 (Weekdays 12:00~18:00)

[Tickets]
VIP Standing: ¥16,500 (Including Tax, excluding drinks)
miniVIP Standing: ¥7,700 (Including Tax, excluding drinks)
General Standing: ¥5,500 (Including Tax, excluding drinks)
2F Reserved Seat: ¥5,500 (Including Tax, excluding drinks)
*Available tickets for Hiroshima and Hokkaido are VIP and General Standing only

KAWAII LAB. Fan Club Presale Tickets (Lottery)
Entry Period: April 10 at 21:00 ~ April 17 at 23:59
URL: https://kawaiilab.asobisystem.com/
*Up to 2 tickets available per person per show

New information will be announced on the official FRUITS ZIPPER social media pages when available.

ZEROTOKYO and ASOBISYSTEM Collaborate on ASOBIZA Party Event

ZEROTOKYO, an entertainment mecca known for heating up Tokyo nights, is teaming up with ASOBISYSTEM to create an exciting new party! ASOBIZA, named after the origin of Kabukicho, will be held on April 28.

The lineup includes music artists as well as charismatic figures at the top of their fields in fashion, beauty, and art. Transcending musical genres and generations, this night will embody ZEROTOKYO's concept of being a true "Entertainment Junction."

Additional performers may be announced in the future.

Tokyo Diary Map #1: Actor Ryo Ogata Recommends Relaxing Spots in Tokyo

The new Tokyo Diary Map series aims to introduce readers to awesome spots in Tokyo that they might want to visit! Each entry features locations recommended by a single artist or talent, and fans will get to not only discover new places to visit in Japan's capital, but also get to learn more about the thoughts and feelings of these unique individuals.

The first participant in the Tokyo Diary Map series is Atsushi Ogata, a multi-talented TV personality and actor. Last year, he appeared as a beauty-concious man on Nippon TV's DANCING SANMA PALACE, spurring a major buzz by revealing his cosmetic routine. He's also a notable actor, having appeared in the papercraft theater company's 7th performance Sekai ga Asa wo Shiroutomo (Though the World May Know Morning), telling the story of a man and a woman, a couple of friends, and a certain woman "until morning."

 

  

-Tell us about your favorite spot in Tokyo!

"Daikanyama T SITE TSUTAYA. I feel like I can really relax there. I love being surrounded by my favorite fashion magazines, and no matter what magazine you pick up, they're all so exciting and educational. That's what I like about bookstores–you can pick up something you're not usually interested in and learn something new. It's the best."

Daikanyama T SITE TSUTAYA
16-15 Sarugakucho, Shibuya-ku, Tokyo
https://store.tsite.jp/daikanyama/

– How do you like to spend your time at Daikanyama T SITE TSUTAYA?

"I pick up a new book, find a seat, and take my time reading. I like people-watching and checking out people's fashion too. Also, there's a nice café called ivy place nearby, where I can read while having a relaxing cup of coffee."

Ivy Place

東京都渋谷区猿楽町16-15

https://www.tysons.jp/ivyplace/

 

-You studied fashion design in the United States. How did that experience influence you? How do you want to make use of that experience going forward?

 "Learning about fashion at art school was very inspiring. It was also very interesting to see how people with different ethnic backgrounds dress and to see their individual personalities. For example, I saw high school students wearing backpacks instead of using school bags. I just loved seeing people's unique fashion. It made me realize something that I still believe in to this day–that there's  nothing more beautiful than wearing what you like in your own way. I'd actually like to create my own clothing brand in the future, so I hope to put my high school fashion design studies to good use."

–Which apparel stores do you frequent?

I always peek into Dover Street Ginza!

Dover Street Ginza
Ginza Komatsu West Building (6-9-5 Ginza, Chuo-ku, Tokyo)
https://ginza.doverstreetmarket.com

-What fashion styles are you interested in lately?

"I like a lot of different genres, but lately I've been into chic styling, like pairing shirts and sweaters. I dream of dressing like Thom Browne. I want to try to buy at least one piece from his collection.

-You post a lot of illustrations on your Instagram. Do you usually like to draw? When do you lke to create? 

"I bought an iPad to draw because I really wanted something to do something new during COVID. For me, when I plan time to draw something, it never goes well, so I tend to just draw when inspiration suddenly strikes. I have no particular style, I just draw whatever I want!"

-What inspires you as someone so expressive? What has piqued your interest lately?

"I get inspiration from a wide range of different people. It could be people walking on the street, people on the train…lately, I've been meeting the most inspiring and wonderful people. Listening to their stories is what inspires me the most. Fashion inspires me, humanity inspires me, people's auras inspire me."

 

-Finally, please give a message to those who are planning on coming to Japan!

"Japan is just wonderful. It's the best. The food, the people, the scenery, all of it is incredible. Once you visit, you'll definitely want to come back. Please come and enjoy!" (Laugh)

Hisashi Eguchi's Illustration Exhibition "Tokyo Girlfriend" Coming to Tokyo Midtown Hibiya, New Works to be Exhibited for the First Time

From March 14 until April 23, 2023, Tokyo Midtown Hibiya will hold Hisashi Eguchi's Tokyo Girlfriend illustration exhibition, set to show off the artist's unique perspectives on people and cityscapes. The exhibition will feature new illustrations of the titular girlfriend standing in the streets of Hibiya drawn especially for this exhibition, as well as various other girlfriends both large and small.

GING NANG BOYZ Kimi to Boku no Dai 3ji Taisen-teki Renai Kakumei CD Jacket (2005)

A LONG VACATION – Eiichi Ohtaki 40th Tribute Illustration (2021) ©2023 Eguchi Hisashi

Hisashi Eguchi, a manga artist and illustrator, continues to convey the charm of the city and its people by vividly depicting Tokyo and the many unique happenings within. As Tokyo Midtown Hibiya celebrates its 5th anniversary along with many other nearby businesses, the Tokyo Girlfriend exhibition of illustrations by Hisashi Eguchi is being held to celebrate.

The exhibition will feature a new painting of the mysterious girlfriend standing in the streets of Hibiya, newly created for the Tokyo Midtown Hibiya exhibition. A number of original pieces using Pantone overlay, Eguchi's favorite painting medium in the 80s and 90s, will also be on display for the first time.

During the exhibition period, guests can enjoy autograph sessions, live sketches in which Eguchi himself will draw a portrait of selected subject on the spot, and workshops where he will teach tips on how to be a better illustrator.

Don't miss your chance to meet one of the greatest illustrators of the modern era!

©2023 Eguchi Hisashi

【KAWAII LAB.】New Idol Group「CANDY TUNE」Debut Concert Planned for March 14 at Spotify O-EAST

A new idol group is coming in March 2023 from KAWAII LAB. , to promote Japan's growing idol culture to the world.

So far, four members have been announced ahead of the group's debut concert. The group name and details of their debut concert have just been revealed!

Following IDOLATER and FRUITS ZIPPER, the third idol group born from KAWAII LAB. has been announced as CANDY TUNE. The name is meant to evoke the image of both kindhearted girls and catchy melodies and harmonies.KAWAII LAB. will continue to focus on its concept of promoting Harajuku culture to the world.

The four members announced so far are Mizuki Kirihara, Rino Fukuyama, Natsu Minami, and Nanako Ogawa. More members will be announced in the near future.

Clockwise from top: Mizuki Kirihara, Nanako Ogawa, Rino Fukuyama, Natsu Minami

CANDY TUNE's debut concert titled KAWAII LAB. SESSION ~CANDY TUNE~ will be held on March 14 at Spotify O-EAST! IDOLATER and FRUITS ZIPPER, both created by KAWAII LAB., will also perform, with the members of CANDY TUNE performing on the same stage as their seniors for the first time.

Information

KAWAII LAB. SESSION ~CANDY TUNE~
Venue: Spotify O-EAST
Date: March 14, 2023
Time: Doors open 17:30 / Show starts 18:30 / VIP Event Ends 22:30
Performers: IDOLATER / FRUITS ZIPPER / CANDY TUNE
https://w.pia.jp/t/candy-tune/

[Tickets]
Admission: VIP ¥5,000 / General ¥3,000 / Day-of ¥3,500
Tickets: https://w.pia.jp/t/candy-tune/
VIP Admission Lottery: February 2 at 21:00 – February 15 at 23:59
General Sales: February 18, 12:00~

■CANDY TUNE Official Social Media
Twitter:@candy_tune_
Instagram:@candy__tune
TikTok:@CANDY_TUNE

FRUITS ZIPPER Valentine Pop-Up Shop to Open at Laforet Harajuku

Laforet Harajuku will host a pop-up shop inspired by the up-and-coming idol group FRUITS ZIPPER from February 1 until February 14! The FRUITS ZIPPER Valentine Pop-Up Shop will be found on the 5th floor MAKE THE STAGE area.

FRUITS ZIPPER debuted in April 2022 and embodies a simple concept: "From Harajuku to the World." The group's second single Watashino Ichiban Kawaiitokoro exploded in popularity on TikTok, pulling in over 600 million views. In February, the girls will embark on their first solo concert tour in Tokyo, Nagoya, and Osaka. This is the first FRUITS ZIPPER-inspired limited-time shop, and during the event, visuals of the group's members will be displayed in the show windows found on the first floor of Laforet Harajuku.

◆About the FRUITS ZIPPER Valentine Pop-Up Shop

When entering the venue, fans will be greeted by a 5-meter-wide board where visitors can write and attach their messages to the FRUITS ZIPPER members on heart-shaped cards. Costumes that the members have worn on stage will also be on display, allowing fans to see each stitch up close.

Exclusive items featuring new photos of the members will be on sale at the pop-up shop. Fans can enjoy seeing the girls in their own personal style, and these items will only be available during the event! Starting February 4, tour merch for the group's upcoming solo concert series will also be available for purchase.

◆Collaboration with Fruit Sandwich Specialty Store 'Fruits Box Daikanyama'

Last year's popular collaboration with Fruit Box Daikanyama, a well-known fruit sandwich shop, is happening again in 2023! Fans can find the Collaboration Gift Box for sale, including seven baked meringue goods each featuring one of the member's colors. The box also comes with snapshots of the members, and for a few lucky fans, these snaps might be signed! The idol group and sandwich shop have also teamed up to create the Collaborative Lucky Grab Bag Lottery, including popular FRUITS ZIPPER goods and original items from Fruits Box Daikanyama. The lucky first-prize winner will receive a special set of all available February tour merchandise in all sizes.

◆Member Appearance Planned on Valentine's Day

On February 14, the final day of the pop-up shop, the members of FRUITS ZIPPER will make an appearance! Guests will be able to participate in the first-ever hands-on event with the members, so keep an eye out for more details!

Stay up to date with the latest FRUITS ZIPPER news at the official Twitter page (@FRUITS_ZIPPER).

FRUITS ZIPPER Pop-Up Shop Exclusive Goods


Random Photo – Valentine pop-up ver. (21 varieties): ¥330 (Tax Included)


Random Pin – Valentine pop-up ver. (7 varieties): ¥500 (Tax Included)


Random Purikura Stickers – Valentine pop-up ver. (14 varieties): ¥600 (Tax Included)

Information

FRUITS ZIPPER Valentine POP-UP SHOP
Running: February 1 – February 14, 2023
Venue: Laforet Harajuku 5F MAKE THE STAGE
*Closed on February 7 and February 8

[Fruits Box Daikanyama Collaboration Goods]
Collaboration Gift Box: ¥3,500 (Tax Included)
Collaborative Lucky Grab Bag Lottery: ¥1,500 per try (Tax Included)

Check out more details about the pop-up below!
https://www.laforet.ne.jp/pop_up_shop/fruitszipper_2301/

Stay up to date:
FRUITS ZIPPER Official Twitter
https://twitter.com/FRUITS_ZIPPER/

<Tour Information>
FRUITS ZIPPER 1st LIVE TOUR 2023 WINTER

Date: February 3, 2023
Venue: ReNY limited
Time: Doors open 17:30 / Show starts 18:30
Contact: Sunday Folk Promotion (052-320-9100) *Open daily 12:00-18:00

Date: February 5, 2023
Venue: Nanba Hatch
Time: Doors open 16:30 / Show starts 17:30
Contact: Kyodo Information (0570-200-888)

FRUITS ZIPPER 1st LIVE TOUR 2023 WINTER 〜FRUITS DAY〜
Date: February 9, 2023
Venue: Shibuya WWW X
Time: Doors open 18:00 / Show starts 19:00
Contact: HOT STUFF PROMOTION (03-5720-9999) *Open weekdays 11:00-19:00

FRUITS ZIPPER 1st LIVE TOUR 2023 WINTER 〜ZIPPER DAY〜
Date: February 10, 2023
Venue: Shibuya WWW X
Time: Doors open 17:30 / Show starts 18:30
Contact: HOT STUFF PROMOTION (03-5720-9999) *Open weekdays 11:00-19:00

FRUITS ZIPPER 1st LIVE TOUR 2023 WINTER -TOUR FINAL –
Date: February 12, 2023
Venue: LINE CUBE SHIBUYA
Time: Doors open 17:00 / Show starts 18:00
Contact: Sunrise Promotion Tokyo (0570-00-3777) *Open weekdays 12:00-15:00

Buy tickets for all shows here: https://l-tike.com/artist/000000000899959/

Macaroni Empitsu 10th Anniversary Exhibition Makes Triumphant Return to Tokyo

Fans of the pop rock band Macaroni Empitsu will want to head to Tokyo from February 17 to March 6, 2023 to enjoy a newly-reworked 10th-anniversary exhibition. Guests are invited to look through various macaroni holes around the exhibition hall to catch glimpses of some curious and rare items only on display for a limited time.

After being held at several locations around Japan, the exhibition will return to Ikebukuro PARCO in Tokyo next month.

Items appearing in the Macaroni Empitsu 10th Anniversary Book -Macaroni Kuronikuru- will be on display, and a short film titled Aspirations will be screened following its premiere in Shibuya.

Graphic designer Shun Sasaki served as the art director for the exhibition.

Fans won't want to miss out on the exhibition's original merchandise featuring key visuals and lyrics from the band. Come get a glimpse at the history and personal lives of Macaroni Empitsu's members while you can!

[Comment from Vocalist Hattori]
"Macaroni Empitsu's exhibition is making a triumphant return to Tokyo! New content has been added this time around, so be sure to come fall into the macaroni hole!"

Information

Macaroni Empitsu 10th Anniversary Exhibition in Tokyo
Running: February 17 – March 6, 2023
Venue: Ikebukuro PARCO 7F / PARCO FACTORY
Hours: 11:00 – 21:00 *Admission permitted up to 30 minutes prior to closing
*Closing at 18:00 on March 6
Admission: ¥500 (Tax Included) *Reservations required. For more information, check parco.art.
*Free for preschool children
Details: https://art.parco.jp/parcomuseum/detail/?id=1147
*Event details are subject to change without notice.
*Hours of operation are subject to change.

<Touring Exhibition Information>
Osaka Venue
Umeda LOFT 4F Event Space
Running: January 13 – February 5, 2023

■Release
wheel of life EP
Release Date: March 8, 2023
wheel of life EP Special Site: https://macaroniempitsu-wheeloflife.com/

■LIVE
TALTO Night 2023
March 3, 2023 / Zepp Haneda
Performers: SAKANAMON / Macaroni Empitsu / Yayuyo / WON
*Opening act planned

Official Site: http://macaroniempitsu.com/

Atarashii Gakko! to Perform Solo at Zepp Venues in Tokyo and Osaka in Spring 2023

Atarashii Gakko! will hold solo concerts at Zepp venues in Tokyo and Osaka in April and May of 2023.

These performances will be held almost a year after the girls held their solo concert at Zepp DiverCity in Tokyo last May. This year's events will be held at Zepp Osaka Bayside on April 30 and Zepp Shinjuku in Tokyo on May 2.

ATARASHII GAKKO! – HANAKO (Official Music Video)


ATARASHII GAKKO! – Pineapple Kryptonite (Official Music Video)


Information

Atarashii Gakko! at Tokyo & Osaka Zepp
-We're working on some amazing new songs and we're dying for everyone to see our newest evolution (Tentative title)-
April 30, 2023 – Zepp Osaka Bayside
May 2, 2023 – Zepp Shinjuku (Tokyo)
Fan's Presale Tickets (Starting January 1)
https://www.fansnet.jp/leaders

Vickeblanka Releases Live Video of Black Clover Anime Theme Song 'Black Catcher'

Singer Vickeblanka has released a live performance video of Black Catcher, the opening theme song for the anime series Black Clover. On January 25, 2023, the singer will release Vickeblanka presents RAINBOW ROAD -Ki- on Blu-ray and DVD.

Black Catcher – Vickeblanka (from「RAINBOW ROAD -Ki-」LIVE DVD&Blu-ray on sale January 25, 2023)

Black Catcher serves as the 10th opening theme for Black Clover. The song has been ranked in Spotify's Top 10 Most Played Japanese Songs Overseas for three consecutive years and has been streamed over 160 million times. The accompanying music video has been viewed over 50 million times.

Vickeblanka appeared in the recent Shochiku Tokyu New Year's drama series Kaden Samurai Special Stop! Chuushingura. At the start of the series, the main character Shijuro Kanenashi plays a yakuza in prison after being falsely accused of a crime. The series co-stars Kenichi Takito who was surprised by Vicke's powerful performance.

Treasure, the theme song for the regular drama series, is also being used as the theme of this special.

Vickeblanka presents RAINBOW ROAD -Ki- will be released on Blu-ray and DVD on January 25, 2023. This was the singer's first arena concert, featuring a rare 19-track setlist including encores.

The live show includes signature tracks like Masshiro, Ca Va?, and ULALA, as well as an encore performance of the song Changes. The concert release also includes a 2-CD set of live recordings from the performance. The asymmetrical stage featured a unique acoustic setup that is fully captured in this incredible set.

In addition to the standard edition, a Limited First Edition will include a 52-page photobook with rare images from the rehearsal.

Those who preorder through the French Link fan club will receive a special rubber band, and an A3-size calendar poster on a first-come, first-served basis. 55 people who preorder by midnight on January 6 will win an A3-size calendar poster autographed by Vickeblanka himself.

Information

Vickeblanka presents RAINBOW ROAD -Ki-
Release Date: January 25, 2023
Preorder: https://vickeblanka.lnk.to/RAINBOWROAD_DVDBD

●DVD+2 CDs
Limited First Edition
Sleeve with 52-page photobook
Product Number: AVBD-27616/B~C
Price: ¥8,000 (Excluding tax)

●Blu-ray Disc+2 CDs
Limited First Edition
Sleeve with 52-page photobook
Product Number: AVXD-27617/B~C
Price: ¥8,000 (Excluding tax)

●DVD+2 CDs
Product Number: AVBD-27618/B~C
Price: ¥6,000 (Excluding tax)

Official Site: https://vickeblanka.com/

Report: FRUITS ZIPPER Holds First Concert in Taiwan for New Years Event, 70,000 in Attendance

FRUITS ZIPPER will hold a solo concert at LINE CUBE SHIBUYA on February 12, 2023. The idol group's representative track Watashino Ichiban Kawaiitokoro has pulled in over 600 million plays on TikTok. 

The group debuted in April 2022 with the concept 'from Harajuku to the world.' Within their first year, FRUITS ZIPPER has attracted fans from around the world, holding their first overseas event in Thailand in October.

On December 31, the girls took to the stage in Tainan, Taiwan for the Tainan Christmas and New Year's Eve Party. Many popular Taiwanese artists, including W0LF(S), the Korean idol group EPEX, and Aaron Yan from the boy band Fahrenheit performed at the event which attracted over 100,000 people.

Aaron Yan announced FRUITS ZIPPER as they headed to the stage and the audience quickly burst into excited cheers. While many in the audience had never heard of the idol group before, their curiosity was piqued by the sound of local fans. 

After performing RADIO GALAXY, the members introduced themselves one by one in Chinese, much to the delight of the audience. 

The group then performed Sekaiwa Kimikara Hajimaru. The music video for the song was uploaded to YouTube on December 25 and has pulled in over 60,000 views to date. Soap bubbles floated and sparkled throughout the venue during the song, and to show their cool side, the girls then switched to We are Frontier, a fan favorite.

Aaron reappeared for the next MC section, interviewing the FRUITS ZIPPER members. "People in Taiwan are so incredibly kind," said Noel Hayase. "They have been so nice to me and it's made me so happy." When asked how she felt about so many people in the audience knowing the song Watashino Ichiban Kawaiitokoro, Suzuka Chinsei answered with a smile. "We're so happy that so many people love FRUITS ZIPPER and our music. You've given us so much love, and we'll keep giving that love back through our music. We want to reach the whole world, the whole universe!" She finished by saying "I love you" in Chinese. 

As expected, the girls finished their set by performing the song Watashino Ichiban Kawaiitokoro. When the familiar intro began playing, the audience erupted in cheers, and fans danced together during the chorus. Again, soap bubbles filled the venue and the audience was transformed to match FRUITS ZIPPER's kawaii style. As the song came to a close, the girls said goodbye in Chinese. 

The event was broadcast live on the Taiwanese TV channel TVBS and was streamed live on YouTube, pulling in 30,000 viewers during FRUITS ZIPPER's performance.

Only eight months following their debut, FRUITS ZIPPER performed live in front of 100,000 people, with 70,000 in attendance and 30,000 viewing virtually. Given their incredible success in Taiwan, 2023 is sure to be a big year for these budding idols!

Photo: Harry Huang

Information

■FRUITS ZIPPER 1st LIVE TOUR 2023 WINTER
Date: February 3, 2023
Venue: ReNY limited
Time: Doors open 17:30 / Show starts 18:30
Contact: Sunday Folk Promotion (052-320-9100) *Open daily 12:00-18:00

Date: February 5, 2023
Venue: Nanba Hatch
Time: Doors open 16:30 / Show starts 17:30
Contact: Kyodo Information (0570-200-888)

FRUITS ZIPPER 1st LIVE TOUR 2023 WINTER ~FRUITS DAY~
Date: February 9, 2023
Venue: Shibuya WWW X
Time: Doors open 18:00 / Show starts 19:00
Contact: HOT STUFF PROMOTION (03-5720-9999) *Open weekdays 11:00-19:00

FRUITS ZIPPER 1st LIVE TOUR 2023 WINTER ~ZIPPER DAY~
Date: February 10, 2023
Venue: Shibuya WWW X
Time: Doors open 17:30 / Show starts 18:30
Contact: HOT STUFF PROMOTION (03-5720-9999) *Open weekdays 11:00-19:00

■FRUITS ZIPPER 1st LIVE TOUR 2023 WINTER -TOUR FINAL-
Date: February 12, 2023
Venue: LINE CUBE SHIBUYA
Time: Doors open 17:00 / Show starts 18:00
Contact: Sunrise Promotion Tokyo (0570-00-3777) *Open weekdays 12:00-15:00

■Release Information

Sekaiwa Kimikara Hajimaru – FRUITS ZIPPER (Digital Single)
Streaming Date: November 11, 2022
Streaming URL: https://ssm.lnk.to/SKH