Best Kyoto Souvenirs to Pick Up This Summer at Daimaru Kyoto
Are you planning to shop for souvenirs in Kyoto this August? Daimaru Kyoto has the perfect lineup for the summer season, from cool and refreshing wagashi confections to sweets made with matcha grown in Kyoto and more―all packaged in gorgeous in packaging exclusive to the Kyoto branch of Daimaru. Here's our top picks for summer 2019!
Ryo no Seifuu (Contains 8) @ Sasaya Iori, Floor B1F Wagashi Marketplace – ¥2,160 (Tax Included) *Available until Mid-August
Inspired by cool springs, this tasty Japanese-style confection comes in 4 different refreshing and fruity flavours.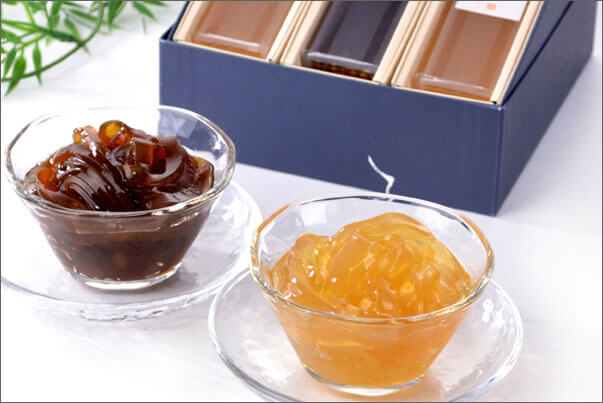 Kuzu Nagashi (Contains 3) @ Oimatsu, Floor B1F Wagashi Marketplace – ¥1,339 (Tax Included) *Available until Mid-August
Indulge in two different flavours of arrowroot: one made with brown sugar from the island of Hateruma and another with sweet apricot juice. The brown sugar arrowroot is also mixed with honey and the apricot with apricot honey.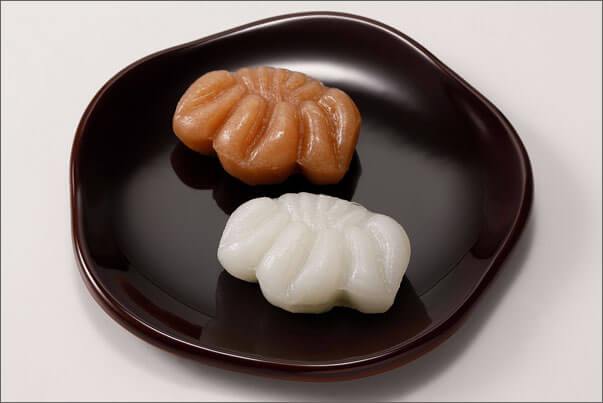 Kakitsubata (Contains 6) @ Shogoin Yatsuhashi Sohoten, Floor B1F Wagashi Marketplace – ¥540 (Tax Included)
Yatsuhashi is a classic Japanese confection and is a famous souvenir sweet in Kyoto. These uncooked yatsuhashi have a faint cinnamon aroma and are formed in a way similar to dango.
Salted Lemon Pound Cake (1 Cake) @ Adachi Otoemon, Floor B1F Wagashi Marketplace – ¥2,160 (Tax Included)
Laced with tangy lemon skin, this refreshing pound cake is topped with rock salt which elevates the flavours to delicious new heights.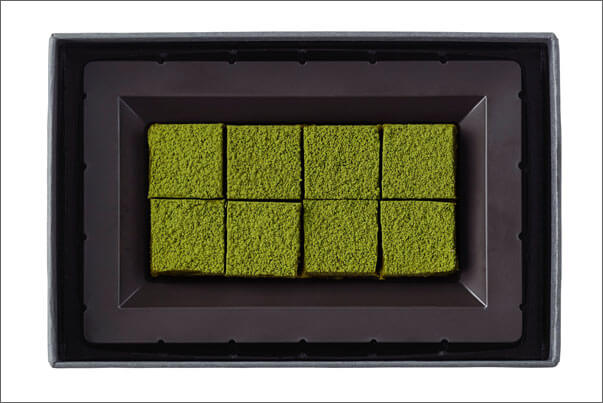 Raw Uji Matcha Chocolate (Contains 8) @ ATELIER de GODIVA [Kyoto Branch Only], Floor B1F Wagashi Marketplace – ¥2,916 (Tax Included) *Available until Mid-August
Luxurious, rich and melt-in-your-moth raw chocolate made lavishly with bitter Uji matcha.
Kyo Chafure (Contains 5) @ Kyoto Tsuruya, Floor B1F Wagashi Marketplace – ¥810 (Tax Included)
These soft doughy sablés made with rich Uji matcha.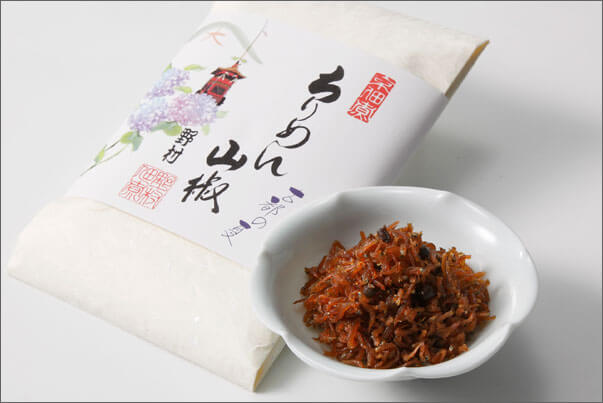 Koto no Natsu @ Nomura Kyotsukidani, Floor B1F Tsukudani Marketplace – ¥1,080 (Tax Included)
If you're looking for something a little more savoury then you'll absolutely want to check out the popular chirimen sansho, dried whitebait seasoned with pepper. It comes packaged in beautiful summery Kyoto packaging.
Did you enjoy this list? Be sure to pick up as many tasty edible Kyoto souvenirs while exploring the ancient city.
RECOMMENDED ENTRIES
Become Poop and Travel Through the Body in Kyoto's Bizarre Exhibition

The Toei Kyoto Studio Park―a theme park in Kyoto modelled after the Edo period of Japan―is set to hold an exhibition from next month titled "A Bizarrely Great Adventure Through the Body" in which you can travel through a giant model of a body to learn all about faeces.

The event is themed on the best-selling children's book series Grossology by Sylvia Branzei which gives humorous but straightforward descriptions of bodily functions and various medical conditions.

Stinky Poop (Unchi Kusai), the ninja mascot of the event, will join visitors on their adventure as they experience the gross potential of the human body: burps, farts, bodily odours, and more.

A total of fifteen attractions will make up the event where kids and adults can discover the "secrets" of the human body.

Sneeze Shutter

At the Sneeze Shutter you will learn why we sneeze by firing balls―the "foreign substance" entering the nose―into the giant nostrils which will cause it to become itchy. If you can get five balls into the nose it will let out a sneeze and blown out the balls.

The Kidney Game

At the Kidney Game you will help deliver urea, sugar, and other materials necessary for the kidney to the blood vessels to understand how the kidney functions.

Poop Fortune Telling

Sit on a real toilet and a poo character will appear on the monitor to tell you your fortune that day.

Poo Exhibition

Learn all about poo at the display board which features lots of interesting information.

Burp Kid

Why do we burp when we drink fizzy beverages? Burp Kid will explain it to you.

Take a photo with the giant poo

At the end of your trip to the event, take a commemorative photo next to the giant poo pile and butthole.

This is just a snippet of what there is to see at Kyoto's bizarre poo exhibition. Visit to learn all about something we all do but don't talk about!

Information

A Bizarrely Great Adventure Through the Body (Japanese: からだのふしぎ大冒険)

Running: September 14, 2019 – December 15, 2019

Price: General (13+ Years) ¥800 / Children (3-12 Years) ¥600

*A separate fee will be charged for entry to Toei Kyoto Studio Park

*Children aged 2-years and below are permitted free entry

Event Page (Japanese): http://www.toei-eigamura.com/event/detail/240

Tickets

Set tickets for the event and entry to Toei Kyoto Studio Park are now on sale at FamilyMart.

Adults: Park Entry ¥2,100 + Event Entry ¥800

Junior High School Students: Park Entry ¥2,000 + Event Entry ¥800

Children (3-12 Years): Park Entry ¥1,600 + Event Entry ¥600

*By buying this set you get ¥100 off what you would pay for purchasing them separately. The first 2,000 people to buy a children's ticket set will receive a plush toy

Buy: https://www.funity.jp/eigamura-event/

Toei Kyoto Studio Park

Address: 10 Uzumasa Higashihachiokachō, Ukyo Ward, Kyoto

Homepage: http://www.toei-eigamura.com

Experience Kyoto at Night: 5 Must-See Spots – MOSHI MOSHI NIPPON

The ancient city of Kyoto enjoys waves of tourists and sightseers from around the world throughout the year. It is particularly hot during the summertime because it's situated in a valley. If you've never walked around Kyoto's towns at night then we invite you to add it onto your list of sightseeing experiences.

We have compiled a list of 5 must-visit locations to best enjoy Kyoto's nightscape. We are joined by Taka, a Japanese Instagrammer who conveys the beauty of Kyoto through his picturesque photographs which has has provided us today.

Kyoto Station & Kyoto Tower

The modern architecture of Kyoto Station is a juxtaposition against the traditional image of Kyoto. There are lots of great places inside the station where you can get up high and gaze down at Kyoto's streets, but the absolutely unmissable nighttime spot are the mirrored windows. When evening sets in, you can see Kyoto Tower―which is opposite the station―reflected on the outside. Of course, you can enjoy the tower during the day too, but at night they light it up, making for a truly magical sight.

▼Kyoto Station

Address: Higashishiokoji Kamadonocho, Shimogyo Ward, Kyoto, Kyoto Prefecture

Kyoto Station Building Official Website: https://www.kyoto-station-building.co.jp/

▼Kyoto Tower

Address: 721-1 Higashishiokojicho, Shimogyo Ward, Kyoto, Kyoto Prefecture

Opening Hours: 9:00-21:00 (Last Entries 20:40)

*Opening hours subject to change without notice

Official Website: https://www.keihanhotels-resorts.co.jp/kyoto-tower/

Yasaka Shrine

Yasaka Shrine is an easy sightseeing spot to reach being just a 5-minute stroll from Gion-Shijo Station. The shrine is a power spot said to provide good luck when it comes to marriage ties. It bustles with visits from people from around the world and is in fact open 24-hours a day.

Paying a visit at night provides you with an entirely different look at Yasaka Shrine. Why not dine out along Shijō Street and take a walk to the shrine when the sky turns dark?

▼Yasaka Shrine

Address: 625 Gionmachi Kitagawa, Higashiyama Ward, Kyoto, Kyoto Prefecture

Official Website: http://www.yasaka-jinja.or.jp/

Kyoto Minamiza Theatre

Minamiza is the oldest theatre in Japan and is officially registered as a Japanese Tangible Cultural Property. Like Yasaka Shrine, the closest station to the theatre is Gion-Shijo Station. Leave through Exit 6 and it's right outside.

Minamiza has a long history spanning back to 1610 when it was founded. In May this year, Kyary Pamyu Pamyu performed a special concert there entitled Kyary Kabuki Kabuki which made use of projection mapping, fusing history and tradition with the latest cutting-edge technology to provide a concert like no other. The theatre is becoming a new sightseeing spot as it is lit up at nighttime. All of the lights are turned on until 10pm after which just the roof lights are kept on.

▼Kyoto Minamiza Theatre

Address: 198 Nakanocho, Higashiyama, Kyoto, Kyoto Prefecture

Official Website: https://www.shochiku.co.jp/play/theater/minamiza/

Ninenzaka

Ninenzaka is a long winding road that leads up to Kiyomizu-dera temple and is also a very famous tourist spot. It is registered under the Important Preservation Districts for Groups of Historic Buildings. In the daytime, the street bustles with locals and tourists dipping in and out of the souvenir shops, but the dark evenings of Ninenzaka are another kind of wonderful. The number of tourists drops significantly at night meaning you can have the street all to yourself and take plenty of photos, warm lanterns lighting your way.

▼Ninenzaka

Address: 2 Kiyomizu, Masuyacho, Higashiyama Ward, Kyoto, Kyoto Prefecture

Official Website: http://www.2nenzaka.ne.jp/

Kiyomizu-dera

Kiyomizu-dera is a 25-minute walk from Kiyomizu-Gojō Station which is reached via the Keihan Main Line. Registered as a UNESCO World Heritage Site, this ancient Buddhist temple is a very popular tourist destination. What we want those of you to see when visiting in the evening is the beautiful sunset which can be seen from the temple, colouring the streets of Kyoto a gorgeous orange.

▼Kiyomizu-dera

Address: 1-294 Kiyomizu, Higashiyama Ward, Kyoto, Kyoto Prefecture

Opening Hours: https://www.kiyomizudera.or.jp/access.php

Official Website: https://www.kiyomizudera.or.jp/

Taka has visited so many incredible locations in Kyoto, so if you're planning a trip there and need some recommendations be sure to follow him on Instagram.

Photos: Taka

Kyoto's Famous Buddhist Temple With Heart Window Holds Wind Chime Festival

The ancient city of Kyoto enjoys flurries of tourists and sightseers from around the world throughout the year. It is particularly hot during the summertime because it's located in a valley.

Shojuin is a Buddhist Temple located in a summer retreat that was erected nearly 800 years ago. Hidden at the temple is the 11-faced Buddha statue of Kannon Bosatsu which is open to the public only once every 50 years.

The temple has a long history, and today it is used as a site for yoga, copying the sutras, and other activities when booked in advance. It's enjoyed by people of all ages.

Today, we are joined by Macchan, an Instagrammer who tours the many sightseeing spots of Kyoto. They have provided photographs of the must-see parts of this ancient temple.

Shojuin is famous for its beautiful heart-shaped window located in the reception hall as well as its 160 pieces of ceiling art. The decorative window has been around for nearly 1,400 years and has survived disasters. It stands as a symbol of happiness.

From outside the heart window visitors can enjoy the different flowers through the four seasons. Right now during summer the view is a green spectacle. At nighttime the outdoor garden is lit up beautifully as shown in the photo.

Shojuin is famous for its summer Wind Chime Festival which is currently running until September 18.

2,000 colourful wind chimes gently sway around the temple with the summer breeze. The chimes are there for their sound and appearance and to elicit that sense of refreshing coolness.

Even the wind chimes are illuminated in the evenings. They are lit up on weekends only (except August 1 to 18) from 18:00-20:00.

The hypnotic ring of the wind chimes sounds they are calling the wind. If you're travelling to Kyoto this hot summer, why not plan a trip to Shojuin?

Macchan has lots of other photos on their Instagram where you can feel the vibe of Kyoto. Use it as reference when you're planning your Kyoto sightseeing.

Information

Shojuin

Address: Kawakami-149 Okuyamada, Ujitawara, Tsuzuk District, Kyoto

Access:

①Reachable by Keihan Uji Bus (Numbers 180, 182 or 184) from Uji Station and Shin-Tanabe Station. Get off at Ichumae Bus Stop (維中前)

②10 minutes by the Okayamada Community Bus or taxi

Official Website: http://shoujuin.boo.jp/

This Summer, Try These Luxurious Kyoto-Limited Uji Matcha Pancakes

Eggs 'n Things, Shijo Street, Kyoto will be selling luxurious Uji matcha pancakes from August 1, 2019. 

Eggs 'n Things Shijo Street first launched their delicious uji matcha pancakes back in February 2017. The pancakes quickly became a big hit among the locals as well as the tourists, appealing to visitors who wanted to discover more about Kyoto. This summer, Eggs 'n Things is packing their Kyoto-limited pancakes with even more Kyoto goodness.

These pancakes are luxuriously covered with rich matcha custard cream and garnished with rice flour dumplings, adzuki bean paste, chestnuts and a mini monaka wafer cake. Matcha is even kneaded into the pancake dough, maximising its mellow flavour. If you visit Kyoto, be sure to fully immerse yourself in the wonders of matcha ordering these matcha pancakes at Eggs 'n Things Shijo Street, Kyoto.

Information

Kyoto-limited Uji Matcha Pancakes 

Price: ¥1,580 (before tax)

Limited sale period start date: August 1, 2019 

Restaurant: Eggs 'n Things Shijo Street, Kyoto

 Eggs 'n Things Shijo Street, Kyoto

Address: 47-4,  Motoakuojicho, Higashinoroindori Shijo Sagaru, Shimogyo Ward, Kyoto

Opening Hours: 9:00 ー 22:00 (last orders: 21:00)
RELATED ENTRIES
Krispy Kreme Celebrates the Year of the Rat With Cute New Year's Doughnuts

Krispy Kreme Doughnuts Japan is releasing three new end-of-year doughnuts on December 26. They will be available for a limited time only.

2020 is the Year of the Rat in the Chinese zodiac, and so Krispy Kreme has taken that theme to create its own adorable rat doughnut. Lathered in caramel chocolate, this cute doughnut is filled with rock salt caramel cream. Its eyes, tail and large round ears are made of  dark chocolate while its nose is made of coffee chocolate.

The second New Year's doughnut in the series is the Lucky Strawberry Ring (¥230), which gets its deep crimson colour from the sweet and sour nappage made from strawberry puree and milky white chocolate. It's finished with sprinkles of freeze-dried strawberries and gold leaf for that festive touch.

The Snowman Chocolate (¥230) is a cute snowman shaped doughnuts filled with a rich chocolate cream and covered in a milky snow white chocolate coating. Together with the Lucky Strawberry Ring, you get a festive mix of red and white which are symbolic colours of the New Year in Japan.

The three doughnuts are also available to purchase in a box set called Good Luck Zodiac Dozen which comes with twelve doughnuts including four Original Glazed®, the chain's most popular doughnut.

Welcome the new year with some delicious and kawaii doughnuts from Krispy Kreme Japan.

Information

New Year's Doughnuts

Available: December 26, 2019 to Mid-January 2020 (subject to change)

Official Website: https://krispykreme.jp/

BAKE CHEESE TART will be baking up another fresh flavour which will be released in BAKE CHEESE TART shops across the country from November 15. The new featured flavour is of a Japanese Satsuma sourced from Shizuoka prefecture called Mikka Mikan. The brand new Mikan Cheese Tart will be sold at BAKE CHEESE TART shops countrywide. 

The Mikka Mikan Satsumas used for the cheese tart are sourced from Shizuoka, which is renowned for its deep history of producing Mikka Mikans, which are a kind of Satsuma Mandarin (Unshu Mikan). The Mikka Mikans are used to make a purée and powder which is then mixed with an original recipe cheese mousse for the tart.

This flavour first arrived at BAKE CHEESE TART's PARCHÉ branch in Shizuoka to celebrate its grand opening back in November 2018. The tart was intended to be a delicacy limited to the Shizuoka branch and to only be sold for a limited time. However, following its immense popularity, the Mikka Mikan Cheese Tart is going to be released again this winter for a limited time. 


The mild and fresh cheese mousse is perfectly balanced with the tangy sweetness of the Mikka Mikans. The subtle sweetness of the biscuit base makes for the perfect match with the soft cheese mousse which will melt in your mouth. 


BAKE CHEESE TART is also running an Instagram campaign involving the hashtag #おすそわけタルト. Those who purchase the Mikan Cheese Tart and post a photo of it on Instagram during the limited time period have the chance to enter a prize draw for a BAKE CHEESE TART coupon.

Warm up your heart with a soft and sweet, freshly-baked cheese tart and join in the campaign fun. 

Information

Mikan Cheese Tart

Price: ¥280 each (Tax Included)

Selling: November 15, 2019 – November 30, 2019

Available at: BAKE CHEESE TART shops across Japan *Not available at ASSE Hiroshima and SAN-A PARCO CITY branches.

More Information: https://cheesetart.com/en/

Instagram Campaign Information #おすそわけタルト

Running: November 15 – November 30, 2019

Prize: A coupon for 6 freshly-baked cheese tarts from BAKE CHEESE TART (20 winners)

* For more information on application requirements and how to apply, please refer to BAKE CHEESE TART's social media websites.

BAKE CHEESE TART Official Website: https://cheesetart.com/en/

Sleigh Bells Ring at Tokyo Disneyland This Year With Plenty Of Food & Merchandise to Go Around

Jolly faces are all around at Tokyo Disney Resort right now as Disney Christmas kicked off last Friday. It's set to sleigh its way up to Christmas Day this year.

The editorial team at MOSHI MOSHI NIPPON jumped ahead and got a taste of the festive fun at the parks recently, so we're going to showcase some more of the seasonal food and merry merchandise you can get your hands on this Christmas at Tokyo Disneyland.

Food that makes you want to kick back and enjoy a nice break

 

Special Set – ¥1,500 @ Grandma Sara's Kitchen

Grandma Sara's has created the perfect hot lunch for warming up cold guests this year, adorned with a clam and seafood tomato cream, cheese and white sauce. Dip your bread into the rich sauce and tuck in! For dessert, you get a cranberry cake inspired by the look of a snow-tipped Christmas tree.

Hot drinks of all kinds

'Tis the season to stay warm, and so Tokyo Disneyland has devised a line-up of tasty drinks to warm the cockles of your heart, with flavours ranging from ruby chocolate to matcha and tapioca cheese teaーa unique flavour that's all the rage right now.

We actually covered these drinks in detail last Monday, so check out our report here.



Deck the halls with these dessert & souvenir sets

Cranberry & Tea Cake With Souvenir Cup – ¥800 @ Sweetheart Cafe and elsewhere

Strawberry Dessert With Souvenir Cup – ¥800 @ Sweetheart Cafe and elsewhere

Head to the Sweetheart Cafe to enjoy some desserts which come with cute take-home souvenirs, like cups and plates. The cranberry and tea cake is a subtly sweet cake with a fragrant tea flavour and filled with sweet and sour cranberries.

The strawberry dessert is like strawberry shortcake with ascending layers of cake batter, cream, and strawberries. It's topped with holly to give it that Christmas-y finish.

Chocolate Doughnut – ¥380 @ Cleo's and elsewhere

The chocolate doughnuts at Cleo's are completely lathered in a chocolate danish-like dough and custard cream.

The doughnuts even come in this cute Mickey and Minnie packaging, who are dressed ready and for giving gifts to guests.

If you pay an extra ¥700 you can get this adorable pouch featuring Mickey, Minnie, Donald and Daisy as snowmen.

Have a merry little Christmas with these holiday season goodies

Headband – ¥1,800

Fun Cap – ¥3,000 / Plush Toy Wristband – ¥1,700

Feel happy simply by placing these Mickey & Minnie headband ears and getting into party mode. The park has also developed a Christmas version of the Pluto fun cap so he has reindeer antlers and holly attached. Both items were previously available in a pre-sale on the park app, so depending on the shop you visit, they may have none left in stock. But if you see one, be sure to grab it quick!

There's also a Mickey version of the Minnie Mouse plush toy wristband. Wear one and have your friend or loved one wear the other!

Popcorn Basket – ¥2,400 @ The Gazebo (Popcorn Wagon)

Pick up some popcorn served in a Christmas present basket decorated with cute illustrations of Mickey and company celebrating Christmas.

It comes strung with a ribbon decorated with green, red and white colouring like a candy cane.

Spend a Disney Christmas this winter at Tokyo Disneyland where you can stay warm with some comfort food and dress up!

Model: Yuna Yabe

Writer: Sayuri Mizuno (MOSHI MOSHI NIPPON)

Translator: Joshua Kitosi-Isanga

Butter Sandwich Shop PRESS BUTTER SAND Releases Uji Matcha Flavour at Tokyo Station

The butter sandwich specialists over at PRESS BUTTER SAND are bringing their famous Uji matcha flavour butter sandwiches to their Tokyo Station branch on November 13.

Known as the Uji Matcha Butter Sand, this tasty snack was developed to celebrate the grand opening of the Kyoto Station branch of PRESS BUTTER SAND. Due to high demand, they've decided to take the product to Tokyo for a limited time.

The exterior is made with butter cream and carefully selected Uji matcha. You get the full rich flavour of the matcha and delicious taste of the butter at once. The sandwich itself is filled with bitter matcha butter cream and sweet caramel butter for a sumptuously smooth combination that marries temptingly with the crunchy cookie exterior.

The sandwich biscuits come in packaging that features navy Kyoto-esque artwork inspired by the characteristic cultivation method for Uji matcha which blocks out sunlight. The sandwiches themselves are individually packaged in matcha green packets to contrast with the box.

Don't miss out on a chance to enjoy the flavours of Kyoto while in Tokyo. Available at Tokyo Station only.

Information

Uji Matcha Butter Sand

Price: Box of 5 – ¥1,150 (Tax Included) / Box of 9 – ¥2,070 (Tax Included)

Shop: PRESS BUTTER SAND Tokyo Station

Available: November 13, 2019 – November 30, 2019

Official Website: https://buttersand.com

Tokyo's Instagram-Worthy Christmas Cakes Are a Must-Grab This Holiday Season

With Halloween now out of the way, it's time to plunge ourselves into that Christmas spirit! We've compiled a list of some of the most delicious-looking and Instagrammable Christmas cakes available to buy in Tokyo this year that make for the perfect Christmas party accompaniments.

Noel Tokyo Station Hotel @ Tokyo Station

Noel – ¥6,200 (Tax Included) @ Tokyo Station Hotel

This chestnut cake is inspired by the pine pillars that supported the Tokyo Station Marunouchi station building until it was restored. It has a chestnut and sweet potato base and is layered with chestnut mousse and coffee mousse to recreate the rings of a tree which are used to tell a tree's age.

*10 served per day

*Reservation Window: November 5 – December 17, 2019

*Delivery Window: December 22-25, 2019

*Online reservations available. Exclusive to GRANSTA.

More Details: https://www.moshimoshi-nippon.jp/267999

pon pon×Chris.P @ Tokyo Solamachi

Crispy Cakes (Happy Wreath/Santa/Reindeer) – ¥508 Each @ pon pon×Chris.P (East Yard Floor 2F) [Available From November 15]

These tiny crispy cakes are another great little bite to eat. The cute Santa version is cookie and milk flavoured and has marshmallows as the fluff of his hat.

More Details: https://www.moshimoshi-nippon.jp/269015

Café Cova Milano @ GINZA SIX

Panettone Babbo Natale – ¥7,407 @ Café Cova Milano

Cova's panettone is made with a secret recipe that has been handed down since the beginning of the 19th century.

More Details: https://www.moshimoshi-nippon.jp/265169

Tokyo Disney Resort

Christmas Cake: ¥1,480 / Available at: Tokyo DisneySea (Horizon Bay Restaurant), Tokyo Disneyland (Queen of Hearts Banquet Hall)

There's lots going on at Tokyo Disney Resort this year, at both Tokyo Disneyland and Tokyo DisneySea. Don't miss out on this cute Mickey and Minnie Mouse Christmas cake!

More Details: https://www.moshimoshi-nippon.jp/266495

Which is your favourite from the list? Christmas cakes are a must-have on Christmas Day, so make sure you pick one up before the big day!

Adorable Mini Penguin and Polar Bear Confections to Arrive in Family Mart

Tabemas is a Japanese confectionery series of small, traditional sweets designed to look like characters. For the first time, Tabemas is collaborating with the popular fictional character series Sumikko Gurashi to release Shirokuma and Penguin? sweets. The new confections will be sold in the chilled desserts corner of Family Mart convenience stores across Japan from November 12, 2019.

The lovable characters who have been transformed into delicious sweets are Shirokuma: the shy polar bear who tends to get cold easily; and Penguin?, who has no confidence in their identity as a penguin. 

The series name "Tabemas" means "edible mascot" and as the name suggests, these are traditional nerikiri confections which are made from bean paste and soft mochi, creating an adorable plump appearance.  Shirokuma's body is white with pink ears whereas Penguin? has a pea-green body with a white stomach and yellow feet and beak. Both confections are kneaded with the characters' charm and stand joining their tiny hands, staring at you with their adorable round eyes. 

Both confections are filled with the mild flavour of red bean paste. To match the colour schemes of the characters, the white Shirokuma is milk-flavoured and the pale green Penguin? is apple-flavoured. The flavours of these confections are just as irresisitble as their appearance. You're bound to be taking lots of photos of them for your next social media post in no time!

As these confections are in limited supply, make sure to buy them as soon as possible if you are interested.

(C)2019 San-X Co., Ltd. All Rights Reserved.

Information

Tabemas Confectionery Series: Sumikko Gurashi

Confections: Shirokuma (Milk), Penguin? (Apple)

Recommended Retail Price: ¥369 each (Before Tax)

Release Date: November 12, 2019

Available at: The chilled desserts section of Family Mart convenience stores across Japan.

* These are in limited supply and sales will end once all stock has been depleted.

*The days on which the Tabemas Confectionery series is sold may vary from store to store.

* Some Family Marts may not sell the Tabemas series.

More Information on the Tabemas Sumikko Gurashi Series (Japanese Only):https://www.bandai.co.jp/candy/products/2019/4549660424444000.html

Chat and Eat Japanese Sweets With a Real Maiko at Hoshinoya Kyoto

Hoshinoya Kyotoーa Japanese inn in Arashiyama where all rooms offer a river viewーhas announced a new event titled "Maiko Salon" which will run next year from February 4 to March 4 which offers female guests the chance to chat with a maiko (an apprentice geisha).

Maiko Salon is a women-only get-together that offers female guests to chat casually with a real maiko. The clothes that a maiko wears, including the kanzashi ornate hairpin, kimono, obi sash, obidome sash clip, okobo footwearーeverything, from head to toeーis carefully crafted by an expert artisan. This is why maiko have been called "walking pieces of traditional craftsmanship." At the Maiko Salon, you have the opportunity to wear such craft made in Kyoto and enjoy a sophisticated womanly party.

For example, the table runners are made with Nishijin-ori, a type of fabric made in Kyoto's district of Nishijin that has a history spanning over 1,000 years. The walls will also be decorated with obi cloth art panels with Maiko motifs.

Learn all about the Hanamachi geisha district through womanly conversation

Being entertained by geisha, known in Japanese as Ozashiki Asobi, is associated with maiko and geisha serving and entertaining men, and as being very private and inaccessible without being introduced by someone else. But since 2018, Hoshinoya Kyoto has been holding this women-only occasion for women to learn more about the culture in a casual environment. It's a chance to learn more about maiko and their lifestyle through womanly topics like skincare, makeup and so on. There will also be a dance performance, after which attendees can ask about the practises of a maiko, what they think of their work, and so on.

Edible Kanzashi Ornate Hairpins

An original Japanese confection made to look like kanzashi ornate hairpins has been whipped up in 5 flavours by Kameya Yoshinaga, a long-standing Japanese confectionery maker which first opened almost 200 years ago. Enjoy together with sparkling wine during your time with the maiko.

Information

Maiko Salon

Running: February 4, 2020 – March 4, 2020 (Not running on select days)

Price: Free

Bookings: Not required

Location: Salon & Bar Kura (Hoshinoya Kyoto)

Time: 16:00-17:00 (Maiko dance held twice daily)

Includes: Conversation with maiko, maiko performance, Japanese confection, sparkling wine

For: Guests at Hoshinoya Kyoto only (Men can also participate)

Notes: Times and days subject to change on certain days. The confections are also subject to change.

Hoshinoya Kyoto Official Website: https://hoshinoya.com/en/

Starbucks to Release Two Anniversary Drinks in Kyoto and Hyogo for Only 10 Days

Starbucks Coffee Japan is commemorating 20-years since opening their Kyoto and Hyogo Prefecture branches with a 10-day-limited anniversary project which will run from November 12 to November 21. The barristers of both prefectures rose to the challenge to come up with three anniversary drinks and a vote took place to decide on a winning drink for each prefecture. The winners were announced as the Kyoto Erai Matcha Matcha Frappuccino® and the Hyogo Bari Choco Haittou Frappuccino®.  

*  Update: Starbucks Coffee Japan has just announced that the 20-year commemoration drink sales period has been postponed. The new drink launch date and limited period is yet to be announced. For more information, please follow this link (Japanese only) : https://www.starbucks.co.jp/press_release/pr2020-3224.php 

One sip of the Kyoto anniversary drink will send your taste buds on a journey to Kyoto. The ideas for the drink originated from the Kyoto Porta West branch. The barristers of Kyoto took it in their hands to interpret the culture of Kyoto in the form of a Starbucks drink by infusing the essence of Kyoto's historical temples and elegant flavours. The taste of Starbucks' popular Matcha Cream Frappuccino® can be tasted in the drink. Just seeing the green colour is enough to trigger memories of the Zen Buddhist temple Saiho-ji, which is famous for its moss garden to the extent that it is even called "Koke-dera", meaning "moss temple".

The whipped cream creates a contrast with the green matcha which will definitely spark memories of Ryoan-ji Zen temple in some keen Kyoto travellers. The drink is dusted with matcha and dark mocha powder, creating the image of green and brown leaves. The milk base fully enhances the matcha flavour. A creamy cloud of whipped cream and dusting of bitter matcha are layered to create a wonderful flavour adventure which is bound to take your taste buds on a journey off the beaten track.

Stretching from the north to the south of the Japan, Hyogo Prefecture is the largest prefecture in the Kinki region and is home to many towns which are bursting with originality. Hyogo's barristers created their drink based on the concept of increasing love for Hyogo Prefecture's unique towns. The idea for the Hyogo Bari Choco Haittou Frappuccino® came from the barristers of the Himeji Minami branch. 

The Port of Kobe opened in 1868 and has since flourished as the gateway to the world. Foreign culture including western confectionary has since spread across Japan with Kobe as its starting point. Considering Kobe's history with western culture and the cold winter days that lie ahead, chocolate was chosen as the main flavour. Chocolate chips, chocolate sauce and chocolate whipped cream decorate the drink in diversity. The drink is even topped with chocolate sauce and dark mocha powder, making the perfect luxury Frappuccino® to tempt all chocoholics. After just one sip, you will immediately fall in love with the top-class chocolatey flavour. 

If you're in Kyoto or Hyogo, make sure to stop by a Starbucks to get your fill of cultural flavours.

Information

Kyoto Erai Matcha Matcha Frappuccino®

Price:¥590 (Tall, Before Tax)

Available at 33 Starbucks Cafes across Kyoto Prefecture 

*Sales will end once stock has been fully depleted.

Hyogo Bari Choco Haittou Frappuccino®

Price:¥590 (Tall, Before Tax)

Available at 54 Starbucks Cafes across Hyogo Prefecture

*Please be aware that not all Starbucks Cafes sell the Hyogo Bari Choco Haittou Frappuccino®. Sales will end once stock has been fully depleted.

Release: Please follow this link for updates on the new sales period and start date (Japanese only):https://www.starbucks.co.jp/press_release/pr2020-3224.php

Starbucks Japan Official Website: https://www.starbucks.co.jp/en/

Masaki Aiba & Jun Matsumoto Take Over Shibuya Station Billboards in New Promo Ads

Meiji plastered up some new billboard advertisements for their Meiji Oishii Gyunyu milk and Meiji Milk Chocolate products at Shibuya Station on Monday.

Actors and singers Masaki Aiba and Jun Matsumoto were chosen to be part of the ad promos for the products respectively.

The advertisements will also feature back-to-back in the Saturday November 9 issue of Japanese newspaper Yomiuri Shimbun where they have both written columns about what they like about their chosen products.

The pictures in this photoshoot were also released as downloadable wallpapers on Tuesday. Links below!

These Hello Kitty Kintsuba Japanese Confections are the Perfect Souvenir From Japan

Confectionery company Nakataya has teamed up with Sanrio to release the Hello Kitty Kintsuba.

Kintsuba is a type of traditional Japanese confection of sweet beans wrapped in wheat-flour dough. Nakataya is famous for their kintsuba, which are made with large-grained beans and red bean paste. They have maintained the flavour and quality of these confections, each of which is made with the utmost precision, and all individually.

This year marks the 85th anniversary since Nakataya opened. The long-standing store hopes to bring in more foreign and younger customers by collaborating with Hello Kitty.

They have crafted several flavours. Pictured above is the apple pie flavour, Hello Kitty's favourite. It's made with fuji apples from Aomori Prefecture which is known for its incredible apples. It's mixed with white bean paste and is lightly flavoured with cinnamon.

The mixed berry flavour is a fruity sweet and sour mix of strawberries, raspberries and blueberries which have been mashed together with white bean paste.

The confection comes in two kinds of packaging: one designed by Nakataya's founder Nakata (中田憲龍), and a Hello Kitty version where she is dressed as a dragonーa symbol of the shop. This is a completely original Hello Kitty design made specially for the collaboration.

The outer packaging is made with a wrapping cloth to both pass down an aspect of traditional Japanese culture while also catering to the eco-friendly lifestyle of the modern age. It's made from amuzen fabric and can be reused. The inner packaging is a simple paper tray so can be recycled. And if you take the wrapping cloth back to the store, they can refill it with the three Hello Kitty kintsuba confections at a discounted price.

Information

Hello Kitty Kintsuba

Released: November 1, 2019

Contains: One box of 6 (x3 mixed berry/x3 apple pie)

Price: Hello Kitty Kintsuba – ¥2,500 (Before Tax) *Comes with wrapping cloth

Hello Kitty Kintsuba Refill – ¥1,800 (Before Tax)

*The refill is only available to those with a wrapping cloth

Available: At participating Nakataya branches and the online shop

Official Website: www.kintuba.co.jp

Kyoto Sightseeing | 4 Spots to Visit Before Autumn 2019 Ends

Autumn is a popular season in Japan, especially amongst tourists and travellers. While in spring you have the bright pink cherry blossoms, when autumntime rolls around, the trees turn into enchanting reds and yellows. People from around the world flock to see this incredible sight, with Kyoto being a very popular location.

Of course, viewing the beautiful colours of the trees and their leaves is a must during the daytime, but seeing them in the evening has become popular in recent years too. It offers you an entirely different experience and atmosphere. So if you're in the ancient capital for autumn this year, why not experience the season in an entirely new lightーat night?

Jitokuin Temple

Jitokuin Temple is located in the town of Yosano in Yosa District. Maple trees were planted almost 11 years ago with the help of locals and the chief priest to create local ties. Every autumn, the trees behind the mountain bloom in vivid hues, leading the temple to be nicknamed "Koyo-ji," or "Temple of Autumn." The locals work hard in the surrounding gardens day by day, so the sights change a little bit every year.

The maple trees are planted in a way that it looks like they take an entire side of the mountain. They are a sight to be hold during the day, but for one week in November there will be illuminations in the evenings, creating a magical scene under the night sky.

▼Jitokuin Temple

Light-Up Period: November 9, 2019 – November 16, 2019

Light-Up Time: 17:00-20:00 (Temple is open 09:00-20:00)

Autumn Foliage Peak Period: Early-Mid November

Address: 2250 Akeshi, Yosano, Yoza-gun, Kyoto

Support Fund: ¥300

Official Website: http://jitokuin.com

Nariaiji Temple

Nariaiji Temple, located in Kyoto Prefecture's city of Miyazu, is an ancient temple betwixt mountains overlooking Amanohashidate, one of Japan's "Three Scenic Views." It's home to a grand 5-storey pagoda which is surrounded by hundreds of maple trees, offering an incredible, quintessentially Japanese view during autumn.

During the day, you can snap some gorgeous photos with the Sea of Japan and Amanohashidate in the back. For two nights only, on Saturday November 9 and Sunday November 10, the entire area will be beautifully lit up with warm illuminations.

▼Nariaiji Temple

Light-Up Period: November 9, 2019 – November 10, 2019

Light-Up Time: Sunset – 21:00 (Temple is open 08:00-16:30)

Autumn Foliage Peak Period: Early-Late November

Address: 339 Nariaiji, Miyazu, Kyoto

Price: ¥500

Official Website: http://www.nariaiji.jp/

Kasagiyama Prefectural Natural Park

Kasagiyama Prefectural Natural Park: is located atop Mt. Kasagi and is also home to Kasagi-dera, a temple with a 1,300-year history. During autumn, one entire side of the park is dyed in autumnal colours.

This November, the area will be lit up for a limited period, offering a gorgeous view from the mountain peak of the trees below as well as the flowing Kizugawa river.

▼Kasagiyama Prefectural Natural Park

Light-Up Period: November 1, 2019 – November 30, 2019

Light-Up Time: 17:00-21:00 (Temple is open 09:00-16:00)

Autumn Foliage Peak Period: Early-Mid November

Address: Mt. Kasagi, Kasagi, Soraku District, Kyoto

Price: Illuminations – Free / Temple – Adults ¥300, Children ¥100

Official Website: https://www.kasagidera.or.jp

Yokokuji Temple

Normally, the Joshoin at Yokokuji Templeーalso known as Yanagidani Kannonーonly opens on the 17th of every month. But for a special autumn event, it is now open every day up until December 1. The beauty of its autumn colours have come to be enjoyed by VIPs, dating back to the pre-war period when it was designated as a place of scenic beauty. For more details on this event, click here.

▼Yanagidani Kannon Autumn Colours Week

Running: November 2, 2019 – December 1, 2019

Time: 9:00-16:00 (Joshoin open 10:00-15:00)

Location: Yanagidani Kannon, Yokokuji Temple (Dōnotani-2 Jōdodani, Nagaokakyo, Kyoto)

Entry Price: ¥300

Full Ticket: ¥1,100→¥1,100 (Includes entry to multiple areas)

Official Website: http://yanagidani.jp/

Take the time to enjoy an autumnal Kyoto this year at one of the city's seasonal events.

Sightseeing in Ise: 4 Must-Visit Souvenir Shops Near Ise Grand Shrine

The city of Ise is located in central Mie Prefecture on the eastern tip of Kii Peninsula, the largest peninsula on Japan's largest main island Honshu. Every year, the autumn season brings in a flurry of tourists and sightseers who flock to see the city's leaves expressing their vibrant hues of red and yellow. The city boasts a magnificent catalogue of sightseeing spots, but perhaps the most famous of all is Ise Grand Shrine, whose inner and outer shrine give visitors a sense of what the townscape looked like in ancient times. This can also be seen at Sarutahiko Shrine, amongst other places.

In this article, we're going to introduce you to 4 must-visit souvenir shops near the inner shrine for your Ise travel bucket list.

Amano Pearl

When talking about specialty products of Ise, the one thing that's sure to come to the minds of Japanese people are the pearls sold in the city. Amano Pearl can be found in Oharaimachi, an almost 1km long street lined with traditional shops. The owner themselves purchases and appraises the pearls while the shop staff manufacture and design gorgeous accessories to sell at an affordable price.

Accessory – ¥2,200

This rose-shaped necklace is a design favoured by women of all ages. They have plenty of other high-quality bargain picks like this too.

The shop's diverse line-up of beautifully accessories includes those perfect for combining with one pieces and dresses, as well as for parties. Prices and designs vary greatly, so there's bound to be something for everyone who steps inside this quaint store. So if you're shopping for souvenirs during your trip to Ise, then you absolutely have to pay a visit to Amano Pearl to see the city's famous pearls.

▶︎Amano Pearl – Oharaimachi Branch

Address: 45 Ujiimazaikechō, Ise, Mie

Opening Hours: 9:00-17:00

No Fixed Holidays

Official Website: https://www.amanopearl.jp/

Matsujiro Honey – Ise Oharaimachi Branch

Matsujiro Honey is a long-standing honey shop that was established back in 1912. The shop sells various varieties of honey, including flavours you won't find in supermarkets like apple honey and soba honey.

Hanabana – ¥864

Hanabana is the shop's No. 1 most popular variety of honey and it's made in Mie Prefecture. Its name in Japanese means "flowers," and as the name suggests, it includes the nectar of numerous types of flowers. It has a smooth texture and distinct full-bodied floral fragrance.

Centre: Mini Honey Soap – ¥503 / Right: Honey Soap – ¥2,200 / Left: ¥2,200 Honey Face & Body Oil (48ml) – ¥2,200

The shop even sells its own honey-imbued cosmetics, all made with natural ingredients. Their soap is made with their popular Hanabana honey, and gives off a flavoursome honey smell. Your skin is left smooth, moisturised and smelling great after using it.

Their rich honey oil too is made with 90% plant-derived oil and is free from preservatives. It's a great option for the coming dry season and is gentle on the skin.

If you visit the shop, they let you taste test their different types of honey too! Find your favourite.

▶︎Matsujiro Honey – Ise Oharaimachi Branch

Address: 7 Ujinakanokirichō, Ise, Mie

Opening Hours: 10:00-17:00

No Fixed Holidays

Official Website: https://www.matsujiro.shop/

Uoharu

Uroharu first opened its doors in 1931. Their products are sold as souvenirs to help spread the word of Ise's rich food culture.

Same No Tare – Salt Flavour / Mirin Flavour

The item you absolutely want to look out for when going into Uohara is their "Same No Tare," another Ise speciality. It was originally only eaten in Shima, Ise, but it was picked up on national television, leading it to become a food souvenir associated with Ise.

Uoharu's products are seafood based, and there's plenty to choose from. If you're looking for a food product specifically from Ise then look no further than Uoharu.

▶Uoharu

Address: 49 Ujinakanokirichō, Ise, Mie

Opening Hours: 9:00-17:00 (*Changes depending on season)

Closed: Wednesdays (Except on national holidays in which case closed on Thursdays)

Official Website: https://www.samenotare.jp/uoharu/

Henbaya – Oharaimachi Branch

Yet another speciality product of Ise comes from the much-beloved Henbaya, which first opened way back in 1775. The speciality products, also called "henbaya," can be ordered either for takeout or enjoyed in the shop.

Henbaya (Includes 2) – ¥160

Henbaya are thin, round sticky rice cakes made with top of the range domestic ingredients and packed with smooth red bean paste. Both sides of these deliciously fragrant rice cakes are browned, and when bitten into, fill and melt in your mouth with the sweet, smooth flavour of the bean paste.

At the Oharaimachi branch of Henbaya they sell various other rice cakes too, all chewy and made with high quality ingredients from Japan. Pick up a pair and enjoy the sweet taste of Ise.

▶︎Henbaya – Oharaimachi Branch

Address: 1-149-1 Ujiurata, Ise, Mie

Closed: Mondays (Except on national holidays in which case closed on Tuesdays)

Opening Hours: 9:00-17:00 (Eating in-store runs until 16:30)

*Products may sell out before 17:00

*Opening hours subject to change for January

So, if you're making a trip to the beautiful city of Ise, you now know the must-visit spots for finding souvenirs. Let us know if you visit any!