Best 7 photo taking spot in Harajuku to take a photogenic picture in Tokyo sightseeing
The Harajuku city where fashionable people come from all over the world is known as the source of fashion in Tokyo. It is the best spot for visiting that you can enjoy shopping around this area, and visit the famous sightseeing spot called Meiji-Jingu which is close to Harajuku train station.
Since this town is known as a source of fashion, there are many kinds of "Kawaii" photo taking spots. If you have chance to visit Harajuku, you should visit following 7 places and take pictures.
1 Entrance of Takeshita Street
After you go through the Takeshita gate in Harajuku station, you can get to the entrance of Takeshita Street. When you look up the gate of the entrance, you can see the LED screen sign said "TAKESHITA STREET" decorated with cute balloons. These balloons changes depending on the season, and this LED screen sometimes shows videos of people walking on this street. You definitely want to take a picture of this entrance to commemorate this occasion.
If you walk about 360 meters, there are a lot of cheap cloth stores for teenagers. Other than that, there are the stores that you can take purikura (photo booth that prints out cards and stickers of the resulting photographs), colorful cotton candy store, shopping malls such as ALTA and CUTECUBE. This street is filled with the all kinds of Harajuku pop cultures.
2 CUTECUBE
If you walk about 5 minutes from the entrance of Takeshita Street, you can get to the commercial facility called "CUTECUBE." There are fashion store called "SPINNS" which is very popular among young kids in Japan and cafés that is collaborated with some popular cartoon characters inside this facility. The thing that is standing in the central of this facility is the monument of Sebastian Masuda. This object which piles up colorful blocks and cubes is very outstanding and unique. There is also similar octopus object that has a lot of colorful blocks on the third floor.
3 MOSHI MOSHI BOX Harajuku Tourist information center
When you go through the Takeshita Street and cross the Meiji Street, you can see the vivid blue building in front of you. This is Harajuku tourist information center as known as MOSHI MOSHI BOX. Other than giving information for tourist, there are an exchange counter, free karaoke machines, the stores that sells Japanese souvenir stuff. The building itself is good for taking pictures with, but the art work called "Colorful Rebellion -WORLD TIME CLOCK-" which was made by Sebastian Masuda standing outside of this building is also good photo taking spot. This world clock which decorated with colorful toys and ribbons are representing Japanese Kawaii cultures to the world.
4 MOSHI MOSHI KIMONO Salons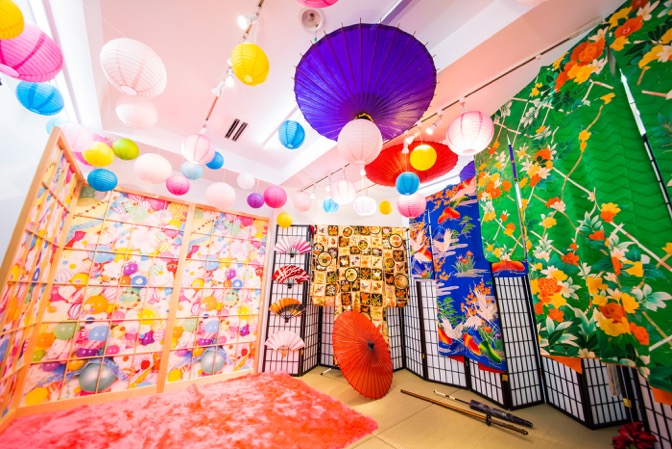 At the "MOSHI MOSHI Kimono salon" on the second floor of MOSHI MOSHI BOX building, you can not only experience wearing kimono, but also you can go out with wearing kimono. There are Harajuku style unique kimonos which have laces and frills, and they have Japanese traditional kimonos too.
If you are interested in Japanese Kawaii cultures, you should visit this MOSHI MOSHI kimono salon and find your favorite styles of kimono coordinate.
5 KAWAII MONSTER Café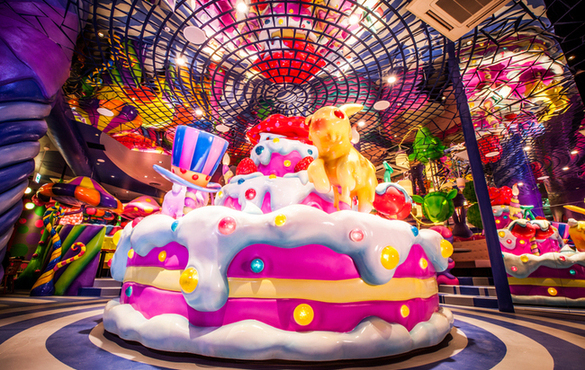 You go straight after you left the MOSHI MOSHI BOX, there is building called "YM Square." The new café called "KAWAII MONSTER Café" on the fourth floor of this building is much talked about.
When the elevator's door opens, it looks like you are in theme park. The waitress wearing cute and fashionable dress welcomes you, and after you go inside, you can see each pieces of furniture's that are decorated with cute stuffs. There is merry-go-round in the center of this café, and you can take pictures with that. This café makes you feel like you are in the world of picture books.
Don't miss the worth photo takings foods that they change every month.
6 Harajuku
When you go opposite way after leaving KAWAII MONSTER Café, there you can see the monument says "Harajuku" in Chinese characters. This is putting up in front of cloths store called "GALLARIE." It is good for showing people that you came to Harajuku. This popular store among young people has clothes that have been selected from outside of the country.
7 Illuminations in Omotesando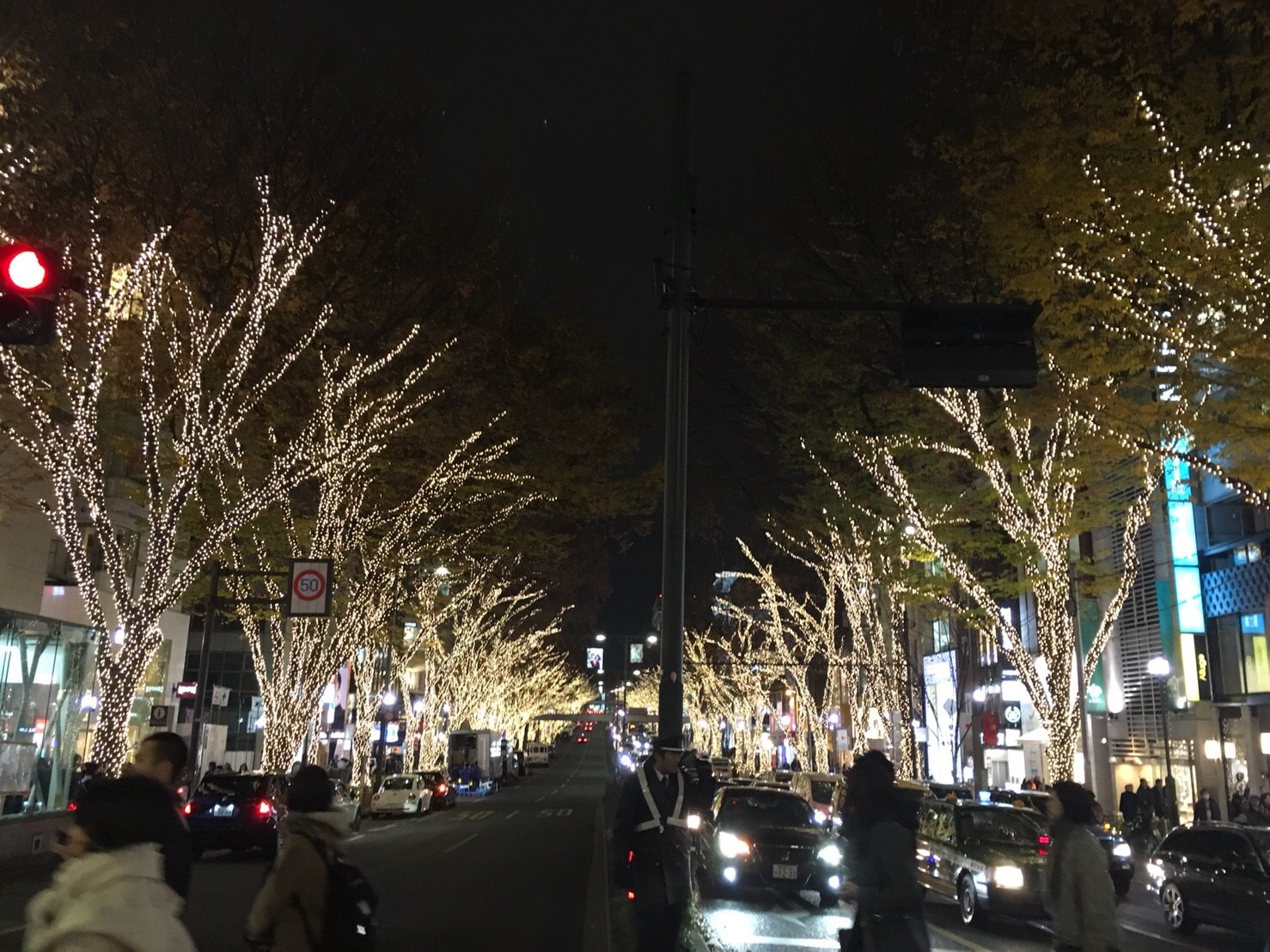 When you go straight with the GALLARIE to your back, you could see the Zelkova tree-lined in the street. They put up light-ups in every winter on this street.
This place is one of the most popular illumination spot that attaches about fifty millions LED light bulb on these trees.
The light-up starts Thursday December 1st to ends December 25th from sunset to 10:00PM. The light-up on the bushes ends on Wednesday January 4th.
Even though Harajuku is known as the place for young people, there are a lot of place that older people can enjoy visiting. Harajuku is a good place that you can enjoy in any occasion such as traveling with your family, dating, or shopping with your friends.
■Related article:7 city illuminations to visit in Japan this Christmas
RELATED ENTRIES
Go Strawberry Picking With Hello Kitty and Friends at Sanrio Puroland

Sanrio Puroland opened a special new event last Friday (January 8) called "Sweets Puro" which is themed on strawberry picking.

Characters greet guests in their strawberry-designed outfits

Guests participate in an augmented reality strawberry stamp rally

New character videos play at the illuminations

A strawberry-packed dessert menu

Limited-edition merch

Tables in the food court receive makeovers

Guests can look forward to seeing sparkly new pink-coloured illuminations, snapping sweet photos at the entrance photo spot, getting involved in the AR strawberry picking stamp rally using their smartphones, and more. They can also pay to spend one minute with the park characters who will be dressed in their strawberry outfits, and if they arrive 30 minutes before the first floor character food court opens, they can get the limited-offer morning breakfast "Strawberry Morning Bread Set." The park will even be serving up seasonal alcoholic drinks like the Sweets Puro Strawberry Peach Sour.

The first day of the event saw the characters come out to greet guests in their adorable strawberry and dessert themed costumes. This was followed by a new illumination show, Puro Sweets Party, which took place at Puro Village, and My Melody sang and danced to the music against the bright and beautiful lights. Guests enjoyed a selection of limited-time food like the Pompompurin's Croissant Doughnut Strawberry Sandwich and Hello Kitty's Sweet Strawberry Milk.

©1976, 2009 SANRIO CO., LTD. ©1975, 1976, 1990, 1996, 2001, 2004, 2005, 2010, 2017, 2021 SANRIO CO., LTD.

Information

Sanrio Puroland – "Sweet Puro"
Running: January 8, 2021 – March 9, 2021
Official Website: https://www.puroland.jp

7 Days of Strawberry Dessert Love at Isetan Shinjuku This January

Isetan Shinjuku has announced a special one-week event titled "7 Days of Loving Strawberries" which is centred around cute and delicious strawberry desserts and will run this month from January 13-19. Ten cafes and restaurants are participating with a sweet and succulent line-up including strawberry daifuku, strawberry shortcake, special parfaits and crepes, and more.

Strawberry Candle Pavlova @ mihopan popcake | Two for ¥972 (Tax Included) *Limited quantities

MIGAKI-ICHIGO Strawberry Parfait @ Ichibiko | ¥1,980 (Tax Included)

Strawberry Shake @ Ichigo-ya Sunsunen | ¥721 (Tax Included)

Crispy Strawberry Mille-Feuille Crepe @ Sorairo Crepe | ¥935 (Tax Included) *Limited quantities

Strawberry Shortcake Parfait @ Shiseido Parlour | ¥1,045 (Tax Included)

Strawberry Daifuku @ Berry UP! | ¥432 (Tax Included)

Ripe Strawberry Milk Pudding @ Kanjyuku Ichigo Kashi Kekyusho | ¥486

Whole Strawberry Sandwich @ Sajisakon | From ¥864 (Tax Included)

MIGAKI-ICHIGO Strawberry Daifuku @ Seigetsudo Hoten | ¥432 (Tax Included)

Information

7 Days of Loving Strawberries (Japanese Name: いちごに恋する七日間)
Running: January 13, 2021 – January 19, 2021
Location: Isetan Shinjuku Floor B1F
Official Website: https://mi-journey.jp/foodie/66251/

discord Yohji Yamamoto x HUNTER Pet Accessories Drop in Tokyo

discord Yohji Yamamoto, a luxury accessory brand spearheaded by Yohji Yamamoto, has launched a collaboration with German pet brand HUNTER to release a collection of dog collars, leads, and other accessories like bags and wallets.

HUNTER was established in 1980 and has gone on to mark its territory across the world as a provider of high quality pet goods, praised for for the design, functionality, and safety of its products.


Black Dog Collar & Lead

The dog collars are fitted with studs as part of the collaboration. Both the collar and lead feature the same colouring as discord Yohji Yamamoto's products, arriving in the brand's signature black as well as beige, the latter of which is often used for its bags and small leather products. They are also clipped with a signature charm which has a design symbolising the collaboration.

Beige Dog Collar & Lead

The accessories are made from elk leather which is soft and made extra durable with double layering. Having the collar and lead the same colours also adds a sophistication to the design when fitted on a dog.

The collection will be released at discord Yohji Yamamoto stores in GINZA SIX, Shibuya PARCO, and Isetain Shinjuku, as well online. More details can be found on the official website here.

discord Yohji Yamamoto Black / Beige Selection


Y BACKPACK Nylon Studs | ¥148,000


ORIGAMI Tote | ¥98,000


Triple Clutch | ¥58,000


Diagonal Bag | ¥45,000

Y SERIES Studs


Y BODYBAG Studs | ¥138,000


Y BACKPACK Studs | ¥158,000

Small Leather Goods

Card Mini Wallet | ¥17,000

Key Wallet | ¥20,000

Harajuku's BOTANIST Tokyo Reveals its Spring 2021 Menu

BOTANIST's flagship shop BOTANIST Tokyo is set to begin serving up its spring season menu for the new year at its second floor BOTANIST Cafe from January 8 to March 31.

Quinoa Teapot Salad & Potage (Vegan-Friendly) | ¥1,500 (Tax Included)

A sophisticated salad of quinoa, crunchy carrot and red onion, tomato, and more, all served in a cute teapot.

Salmon Salad & Waffles | ¥1,500 (Tax Included)

Naturally sweet vegan waffles with lime-drizzled vegetables and served with slightly salted salmon and cream cheese. Pour over the maple syrup to make the cream cheese even richer and enjoy a completely different flavour.

Cherry Blossom Jelly & Fromage Mousse (Vegan-Friendly) | ¥50 (Tax Included)

Refreshing cherry blossom flavoured jelly made with rich and velvety soy cream. The cherry blossom petal topping and sparkly appearance of the jelly makes this a luxurious looking dessert.

Cherry Blossom Chiffon Cake | ¥800 (Tax Included)

A fluffy cherry blossom chiffon cake dusted with cherry blossom powder. It's a sweet and subtly salty mix topped with fresh cream.

Left: Three Berry Smoothie, Right: Strawberry & Raspberry Sweet Sake Smoothie (Vegan-Friendly) | ¥850 Each (Before Tax)

The Three Berry Smoothie incorporates the chunky texture of strawberries, sweetness of blueberries, and tangy taste of raspberries, creating a rich but not overly-sweet beverage. The Strawberry & Raspberry Sweet Sake Smoothie is one to go for if you love amazake.

Strawberry Decoration Hot Chocolate (Collaboration Drink) | ¥800 (Tax Included)

This luxurious strawberry hot chocolate is made in collaboration with Dari K, a craft chocolate maker who uses high quality cacao beans from Indonesia.

Select items on the spring menu are available for takeout as well as via Uber Eats in Japan, perfect for enjoy an indoor hanami this year.

BOTANIST Tokyo's first floor shop will also release its spring series of products, such as the limited edition Botanical Spring Hair Perfume.

Information

BOTANIST Tokyo
Address: 6-29-2 Jingumae, Shibuya, Tokyo
TEL: Floor 1F Shop: 03-5766-3777 / Floor 2F Cafe: 03-5766-3778
Opening Hours: 11:00-19:30 (Currently operating on decreased hours)
Official Website: https://shop.botanistofficial.com/ 

Tokyo Welcomes New KISS,TOKYO Bench at Shibuya River Street

What is being dubbed as a new sightseeing spot in Shibuya, "KISS,TOKYO," an artistic bench, appeared at Shibuya River Street on Christmas Day. The street runs from SHIBUYA STREAM towards Daikanyama.

About KISS,TOKYO

"KISS,TOKYO" is a project and nod towards those who love Tokyo, taking inspiration from the "I♡NY" slogan and logo. Japan isn't a country where kisses are used as greetings like other places around the world, but the bold notion of "KISS,TOKYO" expresses the feeling of love wards the people and city. It's a mark to welcome visitors to the capital of Japan.

The bench was made in cooperation with the Shibuya City Tourism Association and Tokyu and under a crowdfunder.

Pop-Up Store

A pop-up shop is now open at WIRED SHIBUYA selling merchandise with the KISS,TOKYO logo on it. It will run until January 31, 2021.

If you're planning a trip to Shibuya, make sure you get a photo with the city's new sightseeing and tourist spot.

Information

KISS,TOKYO Bench

Location: Shibuya River Street (3-22 Shibuya, Shibuya-ku, Tokyo)

Pop-Up Store
Running: December 25, 2020 – January 31, 2021
Location: WIRED SHIBUYA (3-27-1 Shibuya, Shibuya-ku, Tokyo)

KISS,TOKYO Official Homepage: https://kiss.tokyo/

Tuck Into a Strawberry and Herb Full Fruit Course at Fruits Salon in Ginza

Fruits Salon, a cafe inside Beauty Connection Ginza that serves full courses of fruit, has introduced a new strawberry and herb course to its menu which is being served until February 1, 2021.

Fruits Salon opened in November last year and garnered much attention for its full course fruit dishes. In August, the cafe served up the "Peach Full Course" which proved super popular. Last month, they offered a menu centred on juicy and sweet grapes. For December and January, the course features four items that combine the taste of seasonal strawberries and fragrant herbs.


Strawberry & Herb Full Course | ¥4,400 (Tax Included)

1st Plate: Shortcake

The first plate is a strawberry herb shortcake which contrasts beautiful red strawberries with white cream. It contains a jam made with milk sauce and gin, resulting in a harmonious balance between sweet and sour.

2nd Plate: Soup

The second plate is a hot strawberry and elderflower soup, combined with a mix of creamy yogurt, pistachio salt, and red wine reduction.

3rd Plate: Parfait

The third plate is the main: a milk gelato parfait with sorbet and chamomile. It also contains granita and champagne. The glass is completely stuffed to the brim and overflowing with sweet treat delights.

This extravagant full course is booking-only and lasts 90 minutes. That's 90 minutes of pure indulgence.

Information

Beauty Connection Ginza Fruits Salon
Address: GINZA gCUBE 2F, 7-9-15 Ginza, Chuo-ku, Tokyo
Opening Hours: 11:00-20:00
Closed: Tuesdays
TEL: 03-6263-8392

Official Website:  https://www.beauty-connection.jp/fruits/

Roppongi Readies For 2021 New Year Celebrations at Tokyo Midtown

Tokyo Midtown in Roppongi is set to celebrate the New Year with a festival that will run from January 2 to 11 in 2021.

New Year's Feast


From Left: Miyagawacho Suiren / SILIN Fuan Long Yuen / UNION SQUARE TOKYO/Kisentei

Restaurants in Tokyo Midtown will be serving up a feast for the New Year from Japanese wagyu beef to seafood and more, all to prepare everyone for a luck-filled and positive 2021.

Running: January 2, 2021 – January 11, 2021
Participating Restaurants: Miyagawacho Suiren / SILIN Fuan Long Yuen / UNION SQUARE TOKYO/Kisentei SILIN / Philippe Mille Tokyo / Le Pain Quotidien / RIO BREWING & CO. BISTRO AND GARDEN / Pizzeria-Trattoria Napule / HAL YAMASHITA Tokyo / NIRVANA New York / Maruya / THE COUNTER Roppongi

New Year's Greeting Souvenirs

SAKE SHOP Fukumitsuya / Toraya

There will be no shortage of New Year's greetings souvenirs at Tokyo Midtown, whether it be a set of sake with a special 2021 Year of the Ox label from SAKE SHOP Fukumitsuya or a fruity and colourful confection from Toraya. The pictured confection is made up of colourful layers to represent building up the fruits of one's labour to achieve your dreams.

Shishimai Lion Dance

The traditional shishimai lion dance is an annual New Year's-must in Japan. This year's performance will see the return of taiko drumming and the fue flute, all carried out with proper social distancing measures.

Running: January 2, 2021 – January 3, 2021

Time: 4 times per day

Location: Tokyo Midtown Galleria

Information

Tokyo Midtown New Year 2021
Address: 9-7-1 Akasaka, Minato-ku, Tokyo

Running: January 2, 2021 – January 11, 2021

Official Website: https://www.tokyo-midtown.com/jp/index.html
*Opening hours different on January 2 and 3

*Opening hours subject to change or full closure – check the official website for the latest information

Japan's Kirby Cafe to Celebrate the Near Year With a Special 2021 Menu Addition

The Kirby Cafe in Tokyo has announced a seasonal dish for the new year as part of the cafe's "Sweet NEW YEAR 2021" celebration which it will begin serving from January 1, 2021.


Kirby Burger & New Year Dessert | ¥1,980 (Before Tax)

The dish comes with a miniature version of Kirby Cafe's popular burger on a teeny-tiny plate measured at just 10cm in circumference.

The mini dish looks super cute lined up next to the cafe's plush toys.


The plate that the food is served on comes as a free souvenir which you can take home with you after eating. These will be limited in stock so will be available while supplies last for the New Year.

Information

Sweet NEW YEAR 2021
Kirby Burger & New Year Dessert
Serving: January 1, 2021 – January 31, 2021
Kirby Cafe Official Website/Table Reservations: https://kirbycafe.jp

Kyary Pamyu Pamyu Unveils Shiseido Beauty Square Spring 2021 Look

Following her Winter 2020 look for Shiseido Beauty Square, Japanese pop icon Kyary Pamyu Pamyu is serving something different with the unveiling of her look for Spring 2021.

The theme of this look is "2021: A Beauty Odyssey" with her hair, makeup, and outfit fusing together space and Harajuku-style beauty. It serves a romantic future full of hopes and dreams for the present.


The look was once again made in collaboration with top Shiseido hair and makeup artist Tadashi Harada.

If you're in need of makeup ideas for the New Year, and are in Tokyo this winter, be sure to pay a visit to Shieido Beauty Square where you're sure to discover a new you.

Information

Shiseido Beauty Square

Address: WITH HARAJUKU Floor 1F, 1-14-30 Jingumae, Shibuya, Tokyo

Opening Hours: 11:00-20:00

No Fixed Holidays
TEL: 03-5413-7717

Official Website: https://beautysquare.tokyo/

*Website available in English, Japanese, and Chinese

2021 New Year's Celebration at the Tokyo National Museum: The Year of the Ox

Tokyo National Museum has announced that it will reopen after for the New Year closure on February 2021 when it was host its 2021 New Year's Celebration.

This marks the 18th run of the museum's annual New Year's event based on the Chinese zodiac. 2021 is the Year of the Ox, and so the museum will see a special collection of exhibits based around oxen. There will also be traditional Japanese celebrations for the new year such as ikebana flower arrangement, taiko drumming, shishimai lion dance, and more.

A Special Collection of Oxen Artwork

Honkan Special Gallery Rooms 1 & 2

Excellent ox, Important Culture Property of Japan

Tebako Cosmetic Box, National Treasure of Japan

Visitors will be able to learn about the history and culture surrounding ox in Japan. The exhibition is based on the Japanese proverb ushi ni hikarete zenkouji mairi which translates literally to "being pulled to the Zenkoji temple by a cow." It refers to doing or receiving something good by accident or through the invitation of somebody else.

New Year's Lucky Omen Works

Shōrin-zu byōbu, Hasegawa Tōhaku (16th Century), National Treasure of Japan

Kokin Wakashū Sheets, National Treasure of Japan

The museum will also welcome a selection of Japanese National Treasures to bring luck to the New Year.

New Year's Events

January 2, 2021

10:00/11:30 Taiko Performance
13:00/14:30 Shishimai Lion Dance

January 3, 2021
10:00/11:30 Shishimai Lion Dance
13:00/14:30 Taiko Performance

January 2, 2021 – January 11, 2021
Ikebana around the museum

Information

New Year's Celebration at the Tokyo National Museum
Start Date: January 2, 2021

Closed: January 12, 2021 (Open on January 11, a national holiday)

Opening Hours: 9:30-17:00
Official Website: https://www.tnm.jp/?lang=en

Tokyo Banana Chooses Eevee as Next Pokémon Souvenir Sweet

Tokyo Banana World has revealed that its next sweet treat in its Pokémon Tokyo Banana series will be Eevee which Pokémon Trainers can expect to catch up and down Japan from January 2, 2021, including at the store itself as well as at 7-Eleven branches.

Pokémon Tokyo Banana Welcomes Eevee as Entry #2

Tokyo's official souvenir sweets brand Tokyo Banana launched its new Pokémon Tokyo Banana series of confections in November with the first catch being Pikachu. Now Eevee is being added to the collection.


The fluffy sponge is a delicious caramel macchiato flavour and is filled with sweet banana custard cream. It can be eaten as it is, refrigerated, or even baked to create completely different flavour experiences.

6 Designs Including a Lucky Heart-Shaped Tail

The sponge cakes come in six different designs, all of which are adorable. The one to look out for though is the one with a cute heart-shaped tail.

Fluffy Eevee Design Packaging

Eevee Tokyo Banana Caramel Macchiato (Contains 2) | ¥291 (Tax Included)

The packaging features fluffy artwork of Eevee in six different designs, such as a waving Eevee and winking Eevee.

Where Can You Catch Eevee Tokyo Banana?

Eevee will roll out at 7-Eleven stores across Japan (excluding Okinawa) at the dates listed below. Each branch will have a limited stock so don't miss out.

January 2, 2021 Release
Tokyo/Kanagawa/Chiba/Saitama

January 16, 2021 Release
Hokkaido/Aomori/Iwate/Akita/Miyagi/Yamagata/Fukushima/Ibaraki/Tochigi/Gunma/Niigata/Fuji/Ishikawa/Fukui

January 23, 2021 Release
Yamanashi/Nagano/Shizuoka/Aichi/Gifu/Mie/Okayama/Hiroshima/Tottori/Yamaguchi/Tokushima/Kagawa/Ehime/Kochi

January 30, 2021
Osaka/Kyoto/Hyogo/Shiga/Nara/Wakayama/Fukuoka/Saga/Nagasaki/Oita/Kumamoyo/Miyazaki/Kagoshima

©2021 Pokémon. ©1995-2021 Nintendo/Creatures Inc. /GAME FREAK inc.
ポケットモンスター・ポケモン・Pokémonは任天堂・クリーチャーズ・ゲームフリークの登録商標です。

Strawberry Loaded Afternoon Tea and Strawberry Cocktail to Welcome the New Year at Hotel Gajoen Tokyo

Hotel Gajoen Tokyo, which is a museum and hotel fusion, is serving up a special Strawberry Afternoon Tea and Strawberry Cocktail at its restaurant New American Grill "KANADE TERRACE" from January 6 to February 11 and February 15 to March 19 next year.

Strawberry Afternoon Tea | ¥4,500, with champagne ¥6,200 (1 Person/Before Tax/Service Charge Not Included)

New American Grill "KANADE TERRACE" is known for its afternoon teas, which are made with seasonal ingredients, as well as its cocktails. Their new Strawberry Afternoon Tea will welcome in the New Year with a strawberry and rhubarb tart, strawberry fondue, strawberry and mascarpone soup, and other sweet and savoury selections.

Strawberry Cocktail | ¥1,600 (Before Tax/Service Charge Not Included)

The Strawberry Cocktail is of course made with fresh strawberries as well as mint and soda for a fusion of sweet and tangy. Those who don't enjoy alcohol can rest assured they'll enjoy this alcohol-free cocktail.

Information

Strawberry Afternoon Tea / Strawberry Cocktail
Location: New American Grill "KANADE TERRACE" (Hotel Gajoen Tokyo Floor 1F)
Serving Dates: January 6, 2020 – February 11, 2020 / February 15, 2020 – March 19, 2020)
Serving Times: Afternoon Tea 14:30-17:30 / Cocktail 11:30-21:00
*Serving times are subject to change

*The afternoon tea is available while supplies last

Official Website: https://www.hotelgajoen-tokyo.com/archives/59170