Stay Cool This Summer in Kyoto at These 4 Nature Spots
When talking about seasons in Kyoto, a lot of people are sure to point towards autumn when the leaves turn fiery red and sun yellow. But did you know that in Kyoto enjoys cool and truly beautiful summers?
If you're in the old capital this summer, or are planning to catch the sun there with a trip next year, then you'll want to add the 4 spots in this list into your schedule, each abloom with magical foliage and verdure.
We are joined by Macchan, a Japanese Instagrammer who snaps photos of sightseeing spots around Kyoto lush with greenery.
Giouji Temple
Giouji Temple is a modest thatched hut wrapped in a bamboo thicket and maple trees. The temple is detailed in the epic The Tale of the Heike in which the dancer Gio fled to the temple from her home in the capital with her mother and sister after falling out of love with Taira no Kiyomori.
A visit here ensures you can enjoy the summer with more than just your eyes as you listen to the dancing of the bamboo thicket and the cries of the cicadas.
Giouji Temple
Address: 32 Sagatoriimoto Kozakachō, Ukyo Ward, Kyoto
Official Website: http://www.giouji.or.jp/en
Adashino Nenbutsu-ji
Adashino Nenbutsu-ji is a Buddhist temple with a history spanning 1,200 years. A memorial service for those who died without kin is taking place on August 23 and 24 at the riverbed of the temple's west wing where candles will be lit in their honour. Lanterns are also lit in the surrounding area along the streets.
Adashino Nenbutsu-ji
Address: 17 Saga Toriimotoadashinocho, Ukyo Ward, Kyoto
Official Website: http://www.nenbutsuji.jp/index.html
Fushimi Port Park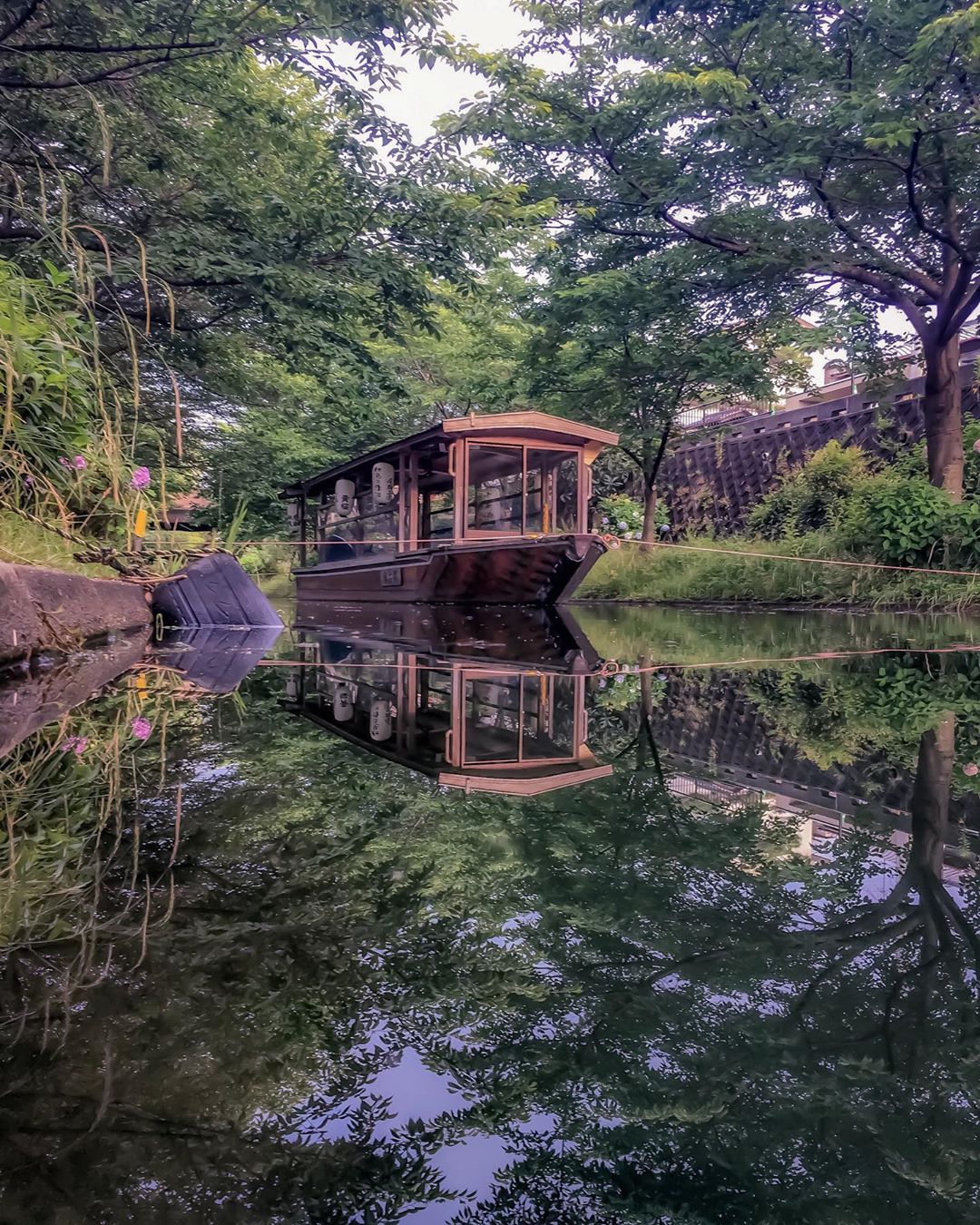 Fushimi Port Park is a huge park home to a gymnasium and sumo area. They also have a hiking course. The sea does not reach here, but there is a canal which boats go up and down, and this is where the park gets its name. It has a bounty of trees and plants, so if you're looking to enjoy a peaceful stroll in nature then be sure to visit.
Fushimi Port Park
Address: Yoshijima Kanaidocho, Fushimi Ward, Kyoto
Official Website: http://www.kyoto-park.or.jp/fushimi/
Kan'in-no-miya Residence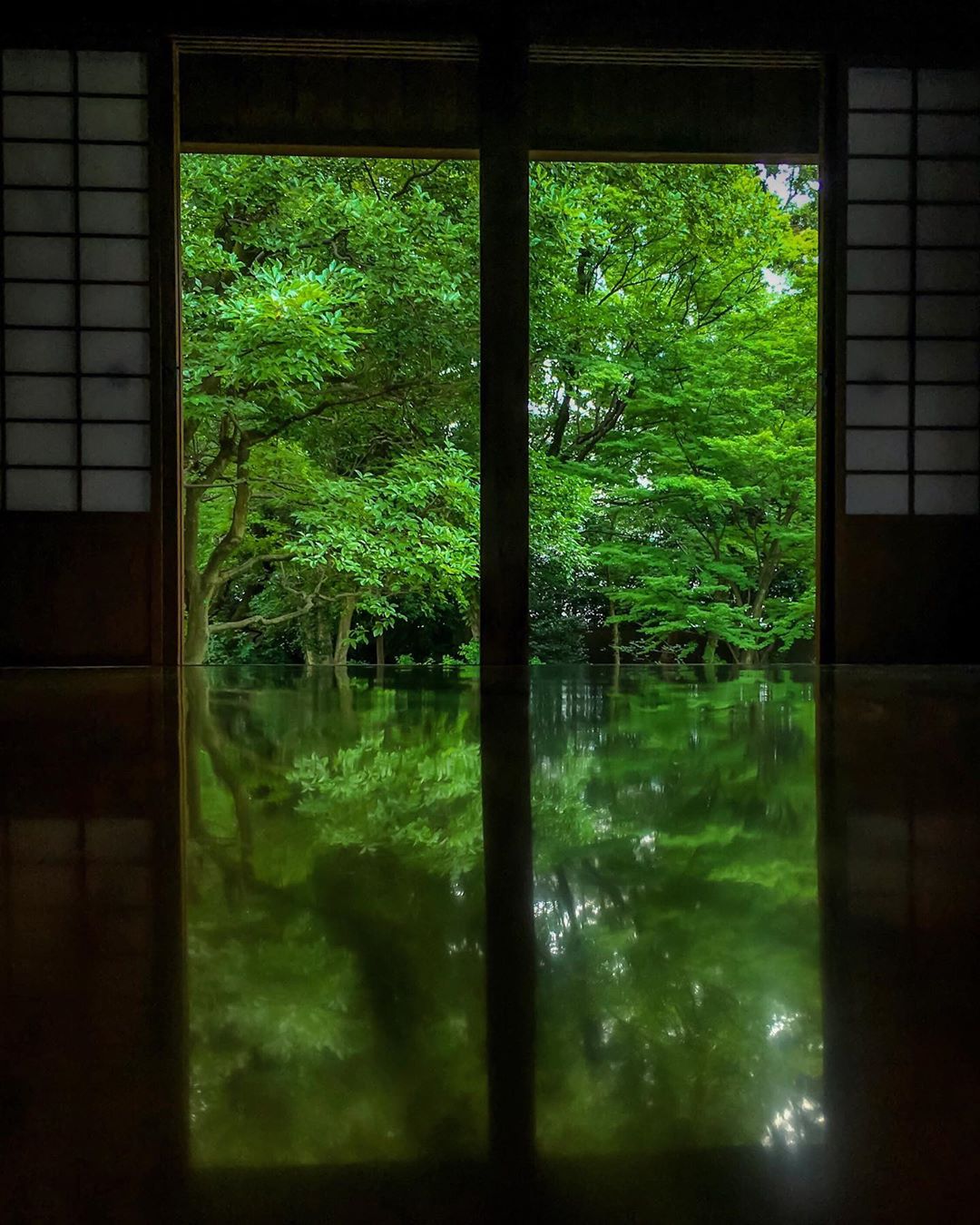 This residence was built for and used by the Kan'in-no-miya family in 1710, with Prince Naohito as its founder―the son of Emperor Higashiyama. The family lived in the house until 1877 after which they moved to Tokyo. Following the war, it was liberated and became a park, and today it is used to exhibit photography and paintings. The residence is famous for its peach trees, making it a popular spot in spring. However, in summertime, it's much quieter, adding grace to the tranquillity of the surrounding green landscape. What's more is that despite it being such a prestigious location, it's free to enter! Don't tell too many people about this secret spot.
Kan'in-no-miya Residence
Address: 3 Kyotogyoen, Kamigyo War, Kyoto, Kyoto Prefecture
Official Website: https://kan-in-nomiya-teiato.jp/eng/
Macchan has visited many incredible spots around Kyoto, so if you're in need of recommendations be sure to give them a follow.
Photos: @macchan358
RELATED ENTRIES
Handmade Christmas Chocolate Santa and Snowman Released at ATELIER de GODIVA in Kyoto

GODIVA Japan released two new chocolate products at the Daimaru Kyoto branch of ATELIER de GODIVA, a chocolate shop which combines GODIVA's skilful craftsmanship with chocolate artistry. Named "ATELIER Christmas Showpiece Santa Claus" and "ATELIER Christmas Showpiece Snowman," the two chocolate artworks were released on Wednesday and are available until December 25.

Each and every one of these chocolate sculptures are handmade in-store by the shop's chefs. They are exclusive to ATELIER de GODIVA Daimaru Kyoto and the perfect Christmas treat to adorn any Christmas party this holiday season.

These cute Christmas-exclusives not only taste delicious, but are fun to look at. Santa is sat in a chimney ready to deliver the presents while the snowman is sat next to a Christmas tree looking warm with its scarf.

Both of these are limited in stock and won't be available ever again after they sell out, so don't miss out.

Information

ATELIER Christmas Showpieces

Running: December 11, 2019 – December 25, 2019

Price: ¥1,500 Each (Before Tax) *Takeout only

Available: ATELIER de GODIVA Daimaru Kyoto (Daimaru Kyoto B1F, 79 Tachiuri Nishimachi, Shimogyo Ward, Kyoto, Kyoto Prefecture)

Opening Hours: 10:00-20:00

GODIVA Japan Official Website: https://www.godiva.co.jp

Kabuki Cat Mascot Claws Its Way into koe donuts kyoto Collaboration Set

From old shrines and temples to cuisine, Kyoto enjoys a rich arts and culture scene. The former capital is also famed for preserving Japan's traditional stage drama known as Kabuki. Every year, Minamiza Theatre located on Shijō Street in Kyoto holds a grand Kabuki performance called THE FESTIVE KAOMISE PRODUCTION to commemorate its debut. This year, the performance will run from November 30 – December 26.

To celebrate, koe donuts kyoto will be selling collaboration doughnuts themed around the official Kabuki character "Kabuki Nyantaro" during the same period.

Kabuki Nyantaro's adorable face decorates some of the doughnuts and can even be seen on the packaging too. This set is exclusive to koe donuts Kyoto.

Enjoy a traditional Kabuki performance with some delicious Kabuki Nyantaro doughnuts to complete your Kyoto experience.

©2017, 2019 SANRIO/SHOCHIKU APPROVAL NO. G603142  著作(株)サンリオ

Information

koe donuts kyoto × Kabuki Nyantaro Collaboration Doughnuts

Selling: November 30 – December 26, 2019

Selling Times: 10:00 – 21:40 (During performance intervals only)

Shop Location: Minamiza Theatre Floor 2, Shijō Street, Kyoto

Box of 6 Doughnuts: ¥1,800 (After Tax)

 

Information and updates will be posted on koe donuts' official social media websites.

koe donuts Official Instagram: (@koe_donuts) https://www.instagram.com/koe_donuts/

Japan Shopping Festival: Hello Kitty Supports Huge Shopping Event Aimed at Foreigners

一The Japan Shopping Tourism Organization (JSTO) has announced that it will hold an event titled "Japan Shopping Festival" aimed at foreign tourists in Japan from December 1, 2019 to February 29, 2020.

①Questionnaire Campaign

A questionnaire will be carried out for non-Japanese travellers to win round-trip tickets to Japan. Travellers will be selected randomly from a lucky draw.

②Instagram Photo Contest

Follow Japan Shopping Festival on Instagram and post photos related to the designated themes with the hashtag #jsfphoto. The themes are: ①Memories of what you bought and experienced in Japan, ②Your favourite fruits in Japan, and ③Good things about Japan you want to boast.

③Coupons, Goods & Experiences

Japan Shopping Now is one of Japan's biggest online shopping portal sites, and they are now promoting information on Japanese shopping overseas in English, Traditional Chinese, Simplified Chinese, and Korean. This includes coupons, sales, and more at almost 1,000 participating stores.

④Special Events

・Japan Shopping Festival Tohoku (December 1, 2019 – February 29, 2020)

This shopping festival will take place at 6 prefectures across Tohoku. Discover Japanese confectioneries, fashion, sake, fruit and more, including a tie-up with JR EAST PASS.

Official Website:  http://tohoku.japanshopping.org/

・Matsuyama Shopping Festival (December 1, 2019 – March 31, 2020)

From Okaido Shopping Street to Matsuyama Gintengai Shopping Arcade, Matsuchika Town, and more, look forward to end-of-year lucky draws, food events, shopping, and so on.

Official Website:  http://matsuyama.japanshopping.org/

Discover the wonders of shopping in Japan and learn more about the country with the Japan Shopping Festival.

Top 4 Places to Visit in Kyoto This Winter: Snow, Gourmet Food, Hot Springs & More

Kyoto is known as the ancient capital of Japan. It is said to be the place where quintessential Japanese culture started, and has charmed the world over with its incredibly rich 1,200-year history. Today, we take a look at some of the best places to visit in Kyoto this winter as covered by the November 2019 issue of Japanese magazine Mou Hitotsu no Kyoto ("The Other Kyoto").

From gourmet food to sightseeing spots, the arts and moreーif you're in Kyoto this year, you have plenty of reasons to leave your hotel room or house.

Yuki Tourou: See the snowy thatched-roof huts

Miyama Kayabuki no Sato is located in Miyamachokita, Nantan. It is home to 39 houses with thatched roofs and is a popular sightseeing spot due to its gorgeous natural scenery throughout the entire year. It was listed in Japan's Groups of Traditional Buildings in 1993.

In the New Year, snow falls on the huts, which looks beautiful when they light up the "Yuki Tourou"ーor snow lanternsーin late January every year. There are stalls that serve hot food in this little town, and they also host an event where you can make your own snow lantern.

Running: January 25, 2020 – February 1, 2020

Official Website: http://www.yukitouro.jp/

Amanohashidate: One of Japan's "Three Scenic Views"

Amanohashidate is a sandbank located in Miyazu Bay that separates the north and south inlet of the Asoumi Sea. It formed as a result of pebbles being carried by the ocean current for thousands of years. Its name comes from the way it looks like a bridge spanning across the sky. It is known as one of Japan's "Three Scenic Views"

Amanohashidate is a sight to behold at any point throughout the year, but if you can travel there in the winter, you're in for a surprise, as the entire sandbank is littered with pure white snow. On very cold days in the morning the snow even covers the tops of the pine trees, but when the sun rises and the temperature warms up the snow on the frost-tipped trees melts. This has led to it being called an "illusionary sight" due to its rarity. Make a point of getting up super early so you don't miss it!

Address: Tango-Amanohashidate-Ōeyama Quasi-National Park, Miyazu, Kyoto

Official Website: https://www.amanohashidate.jp/lang/en/

Fukuchiyama Castle: The magnificent castle of snow

Fukuchiyama Castle sits atop a tall hill in the city of Fukuchiyama. The castle was established as the new Tanba province by Akechi Mitsuhide in 1579 following the province's capture in 1576. The castle was demolished once during the Meiji Period but was restored again in 1986. It is now the only castle that remains today built by Mitsuhide.

The castle architecture has a lot of personality, and during the winter months takes on a gorgeous white as a result of the snow. Gazing across the castle land from the watchtower is an absolute must when visiting. Also, if you're visiting next year, the new Fukuchiyama Mitsuhide Museum is set to open on January 11, so be sure to check that out too.

Address: 5 Chome Naiki, Fukuchiyama, Kyoto

Opening Hours: 9:00-17:00 (Last Entries 16:30)

Closed: December 28-31, 2019 / January 4-6, 2020

Entry Price: General ¥330 / Elementary & Junior High School Students ¥110
Official Website: https://dokkoise.com/en/temple_shrine/index.html

Monjusou Shourotei: Feast on crab fondue while gazing at Amanohashidate

Monjusou Shourotei is a ryokanーa Japanese-style innーlocated along Amanohashidate, one of Japan's Three Scenic Views which we mentioned earlier on this list. All guests staying at the inn are given a window view of Amanohashidate from their rooms.

The inn offers an original salted snow crab fondue. Snow crab is particularly enjoyed for its degree of freshness. It's served with vegetables and the boiled crab itself, making for a delicious combination of flavours.

The hot springs at Amanohashidate are famous and praised as "the baths of the gods." They are also said to leave your skin looking beautiful after a dip. The inn also offers open-air baths lined with stones from Shikoku and wild grass from the mountains, offering a truly indulging experience.

Address: Amanohashidate Monjudomisaki, Miyazu, Kyoto

Official Website: https://shourotei.com/

These are just some of the incredible places you can enjoy in wintertime Kyoto. You can find more information on Kyoto Side or from one of our many articles on Kyoto.

Andy Warhol Exhibition in Kyoto: Select Major Artworks Revealed

An exhibition centred around Andy Warhol, the American artist who was at the forefront of the pop art movement, is set to roll up to the Kyocera Museum of Art in Kyoto from September 19, 2020. Around 200 pieces of art will be showcasedーover 100 of which have never been displayed in Japan beforeーas well as 15 video art pieces.

Three Marilyns (1962), Andy Warhol. The Andy Warhol Museum. *First showcasing in Japan

All of the pieces to be shown at the exhibition are the property of The Andy Warhol Museum, which is located in Pittsburgh, Pennsylvania in the US, where Warhol was born.

The Last Supper (1986), Andy Warhol. *First showcasing in Japan

Tunafish Disaster (1963), Andy Warhol. *First showcasing in Japan

Peacock (1957), Andy Warhol. *First showcasing in Japan

The line-up displays Warhol's diverse works, including his highly treasured Three Marilyns, as well as Tunafish Disaster from his Death and Disaster series, the enormous The Last Supper piece, Peacock which makes use of the Japanese style of gold leaf art, and more.

Kyoto (Kiyomizu-dera) (1956), Andy Warhol.

The exhibition will also turn its attention to Warhol's connections to Kyoto which haven't been discussed before. It will feature Warhol's sketch of Kiyomizu-dera in Kyoto which he drew during his trip around the world.

*All pieces are property of The Andy Warhol Museum

© The Andy Warhol Foundation for the Visual Arts, Inc. / Artists Rights Society (ARS), New York

TOTOCO Odawara: Kanagawa's Sea Food Theme Park Opens November 22

Gyoko no Eki TOTOCO Odawara is a new "fish theme park" set to have its grand opening on November 22, 2019 at 10:00am (JST).

The facility was established to promote further exchanges with Odawara Fishing Port which is said to be the biggest fish market in western Kanagawa Prefecture. It is the first "Fishing Port" (Gyoko no Eki*) and will sell seafood sourced locally, fishery products and more, as well as hold events to help promote Odawara.

The building has three flours. The first floor is like a marketplace where fish, fishery products, produce, and more will be sold. The second and third floors house seafood restaurants and offer a panoramic view of Sagami Bay. This view is best observed from the terrace while you enjoy your delicious meal.

*Fishing Port (in Japanese: Gyoko no Eki, or 漁港の駅) is a registered trademark of Odawara City to highlight facilities that promote exchange with Odawara Fishing Port. (Registered Trademark No.: 6163121).

Odawara Fishing Port sells fresh fish sourced from the waters of Sagami Bay, which houses a variety of fish species, as well as fish and processed marine products from around Japan. TOTOCO Odawara will sell these very same products, all delivered directly from the port, to help spread the fishing culture and economy of Odawara.

Let's take a look at some of the delicious gourmet seafood meals you can expect to tuck into at TOTOCO Odawara!

Totomaru Summit Bowl – ¥2,480

A hearty and towering dish so high that it looks like it might topple over.

Greedy Sea Urchin Eggs & Salmon Roe Bowl – ¥4,280

A dream combination you've been waiting for your entire life. Savour the richness and sweetness of both of these mouth-watering delights.

Oyster Egg Donburi Set – ¥1,680

You can't even see the rice any more for the pile of tasty oyster eggs, with their exquisitely soft texture.

Osashimi Tengoku – Odawara Kaisen GO GO

The third floor of the building is home to Osashimi Tengoku – Odawara Kaisen GO GO, a restaurant that calls itself "Sashimi Heaven" and offers a 59 minute all-you-can-eat buffet of fish, sides, desserts and more.

59 Minute All-You-Can-Eat
Adults – ¥2,590 / Children (Elementary School & Younger) – ¥1,390 / 3-Years & Younger – Free (All Prices Before Tax)

Gyoko no Eki TOTOCO Odawara is easily reachable from Tokyo and right next to the local station. If you've come to Japan looking to try the country's famous seafood, then make sure to put this place on your list.

Information

Gyoko no Eki TOTOCO Odawara

Address: 1-28 Hayakawa, Odawara, Kanagawa Prefecture (West side of of Odawara Fishing Port)
Opening Hours: 9:00-17:00 (Subject to change depending on the season)
Access: By train – 10 minutes on foot from JR Hayakawa Station / By car – 2 minutes from Seishō Bypass Hayakawa Interchange or 4 minutes from Odawara-Atsugi Road Odawara-Nishi Interchange
Official Website: https://www.totoco-odawara.com

The Perfect Souvenir: Kyoto's Famous OTABE Confections in Velvety Matcha Chocolate

If you're in Kyoto looking for a delicious elegant souvenir for your people back home then BijuuCo.,ltd. is your port of call. Their irresistible desserts vary from their well known sweet bean paste-filled Yatsuhashi to their Kyo-Baum. They will be releasing the mouthwatering Matcha Chocolate OTABE from November 20, 2019.

The rich aroma of the matcha chocolate will be the first thing to entice you. The matcha Yatsuhashi is made from specially selected water and Koshihikari rice, which is famed as Japan's best rice. The soft and chewy texture of the Yatsuhashi dough gently embraces a velvety, melt-in-the-mouth matcha chocolate ganache filling. These OTABE confections are bursting with the flavours of Kyoto and are only available to purchase for a limited period.

OTABE combined with Kyoto's famous matcha chocolate is matcha match made in heaven. If you're ever in Kyoto, you must try it.

Information

Matcha Chocolate OTABE

Selling: November 20, 2019 to the start of May, 2020

Price: Box of 10 (2 packs of 5): ¥660 Before Tax

Eat within 11 days of production.

Purchasable from souvenir shops in Kyoto and Kyoto Station. 

Official Website: http://www.otabe.kyoto.jp/

Instagram Launches #MY TOKYO IS Campaign With Tokyo Metropolitan Government

Instagram launched a campaign with the Tokyo Metropolitan Government entitled "#MY TOKYO IS" on November 11 together with three limited-time stamps that can be used on people's Instagram stories.

The campaign is a global initiative to have people capture their favourite moments in Tokyo in the form of photos, videos and stories on Instagram. Shared posts will be used to curate places and scenery in Tokyo that the Tokyo Metropolitan Government want to showcase to the people of the world. This curation will take the form of an exhibitionーwhich will take place at GINZA ATRIUM on floor 6F of GINZA SIX and GINZA TSUTAYA BOOKS in late March 2020ーas well as a website and a book.

Statistics have shown that Instagram has a significant influence on the Japanese economy in terms of tourism, and so the Tokyo Metropolitan Government hopes that this interactive campaign will help to promote the city to tourists and travellers worldwide.

The stamps created as part of the campaign only appear in the tray when you're in the city of Tokyo. When you click the stamp, the #MYTOKYOIS search result page will be displayed, allowing you to see the other photos and videos posted by the people who have used the campaign hashtag.

If you're in Tokyo, then be sure to get involved in the campaign and show the world your favourite things about the city!

Information

Enter via Feed Posts

・Follow the official Tokyo Tokyo Instagram account @tokyotokyooldmeetsnew

・Add hashtags #MYTOKYOIS and #TokyoTokyo to your post

・Add spot or location info to the photo or video you took, and post

Enter via Stories

・Follow the official Tokyo Tokyo Instagram account @tokyotokyooldmeetsnew

・Use the #MYTOKYOIS sticker or add the hashtag #MYTOKYOIS using the text tool / hashtag sticker

・Add spot or location sticker of the photo or video you took, and post

#MY TOKYO IS Campaign Website

Chat and Eat Japanese Sweets With a Real Maiko at Hoshinoya Kyoto

Hoshinoya Kyotoーa Japanese inn in Arashiyama where all rooms offer a river viewーhas announced a new event titled "Maiko Salon" which will run next year from February 4 to March 4 which offers female guests the chance to chat with a maiko (an apprentice geisha).

Maiko Salon is a women-only get-together that offers female guests to chat casually with a real maiko. The clothes that a maiko wears, including the kanzashi ornate hairpin, kimono, obi sash, obidome sash clip, okobo footwearーeverything, from head to toeーis carefully crafted by an expert artisan. This is why maiko have been called "walking pieces of traditional craftsmanship." At the Maiko Salon, you have the opportunity to wear such craft made in Kyoto and enjoy a sophisticated womanly party.

For example, the table runners are made with Nishijin-ori, a type of fabric made in Kyoto's district of Nishijin that has a history spanning over 1,000 years. The walls will also be decorated with obi cloth art panels with Maiko motifs.

Learn all about the Hanamachi geisha district through womanly conversation

Being entertained by geisha, known in Japanese as Ozashiki Asobi, is associated with maiko and geisha serving and entertaining men, and as being very private and inaccessible without being introduced by someone else. But since 2018, Hoshinoya Kyoto has been holding this women-only occasion for women to learn more about the culture in a casual environment. It's a chance to learn more about maiko and their lifestyle through womanly topics like skincare, makeup and so on. There will also be a dance performance, after which attendees can ask about the practises of a maiko, what they think of their work, and so on.

Edible Kanzashi Ornate Hairpins

An original Japanese confection made to look like kanzashi ornate hairpins has been whipped up in 5 flavours by Kameya Yoshinaga, a long-standing Japanese confectionery maker which first opened almost 200 years ago. Enjoy together with sparkling wine during your time with the maiko.

Information

Maiko Salon

Running: February 4, 2020 – March 4, 2020 (Not running on select days)

Price: Free

Bookings: Not required

Location: Salon & Bar Kura (Hoshinoya Kyoto)

Time: 16:00-17:00 (Maiko dance held twice daily)

Includes: Conversation with maiko, maiko performance, Japanese confection, sparkling wine

For: Guests at Hoshinoya Kyoto only (Men can also participate)

Notes: Times and days subject to change on certain days. The confections are also subject to change.

Hoshinoya Kyoto Official Website: https://hoshinoya.com/en/

Starbucks to Release Two Anniversary Drinks in Kyoto and Hyogo for Only 10 Days

Starbucks Coffee Japan is commemorating 20-years since opening their Kyoto and Hyogo Prefecture branches with a 10-day-limited anniversary project which will run from November 12 to November 21. The barristers of both prefectures rose to the challenge to come up with three anniversary drinks and a vote took place to decide on a winning drink for each prefecture. The winners were announced as the Kyoto Erai Matcha Matcha Frappuccino® and the Hyogo Bari Choco Haittou Frappuccino®.  

*  Update: Starbucks Coffee Japan has just announced that the 20-year commemoration drink sales period has been postponed. The new drink launch date and limited period is yet to be announced. For more information, please follow this link (Japanese only) : https://www.starbucks.co.jp/press_release/pr2020-3224.php 

One sip of the Kyoto anniversary drink will send your taste buds on a journey to Kyoto. The ideas for the drink originated from the Kyoto Porta West branch. The barristers of Kyoto took it in their hands to interpret the culture of Kyoto in the form of a Starbucks drink by infusing the essence of Kyoto's historical temples and elegant flavours. The taste of Starbucks' popular Matcha Cream Frappuccino® can be tasted in the drink. Just seeing the green colour is enough to trigger memories of the Zen Buddhist temple Saiho-ji, which is famous for its moss garden to the extent that it is even called "Koke-dera", meaning "moss temple".

The whipped cream creates a contrast with the green matcha which will definitely spark memories of Ryoan-ji Zen temple in some keen Kyoto travellers. The drink is dusted with matcha and dark mocha powder, creating the image of green and brown leaves. The milk base fully enhances the matcha flavour. A creamy cloud of whipped cream and dusting of bitter matcha are layered to create a wonderful flavour adventure which is bound to take your taste buds on a journey off the beaten track.

Stretching from the north to the south of the Japan, Hyogo Prefecture is the largest prefecture in the Kinki region and is home to many towns which are bursting with originality. Hyogo's barristers created their drink based on the concept of increasing love for Hyogo Prefecture's unique towns. The idea for the Hyogo Bari Choco Haittou Frappuccino® came from the barristers of the Himeji Minami branch. 

The Port of Kobe opened in 1868 and has since flourished as the gateway to the world. Foreign culture including western confectionary has since spread across Japan with Kobe as its starting point. Considering Kobe's history with western culture and the cold winter days that lie ahead, chocolate was chosen as the main flavour. Chocolate chips, chocolate sauce and chocolate whipped cream decorate the drink in diversity. The drink is even topped with chocolate sauce and dark mocha powder, making the perfect luxury Frappuccino® to tempt all chocoholics. After just one sip, you will immediately fall in love with the top-class chocolatey flavour. 

If you're in Kyoto or Hyogo, make sure to stop by a Starbucks to get your fill of cultural flavours.

Information

Kyoto Erai Matcha Matcha Frappuccino®

Price:¥590 (Tall, Before Tax)

Available at 33 Starbucks Cafes across Kyoto Prefecture 

*Sales will end once stock has been fully depleted.

Hyogo Bari Choco Haittou Frappuccino®

Price:¥590 (Tall, Before Tax)

Available at 54 Starbucks Cafes across Hyogo Prefecture

*Please be aware that not all Starbucks Cafes sell the Hyogo Bari Choco Haittou Frappuccino®. Sales will end once stock has been fully depleted.

Release: Please follow this link for updates on the new sales period and start date (Japanese only):https://www.starbucks.co.jp/press_release/pr2020-3224.php

Starbucks Japan Official Website: https://www.starbucks.co.jp/en/

Kyoto Sightseeing | 4 Spots to Visit Before Autumn 2019 Ends

Autumn is a popular season in Japan, especially amongst tourists and travellers. While in spring you have the bright pink cherry blossoms, when autumntime rolls around, the trees turn into enchanting reds and yellows. People from around the world flock to see this incredible sight, with Kyoto being a very popular location.

Of course, viewing the beautiful colours of the trees and their leaves is a must during the daytime, but seeing them in the evening has become popular in recent years too. It offers you an entirely different experience and atmosphere. So if you're in the ancient capital for autumn this year, why not experience the season in an entirely new lightーat night?

Jitokuin Temple

Jitokuin Temple is located in the town of Yosano in Yosa District. Maple trees were planted almost 11 years ago with the help of locals and the chief priest to create local ties. Every autumn, the trees behind the mountain bloom in vivid hues, leading the temple to be nicknamed "Koyo-ji," or "Temple of Autumn." The locals work hard in the surrounding gardens day by day, so the sights change a little bit every year.

The maple trees are planted in a way that it looks like they take an entire side of the mountain. They are a sight to be hold during the day, but for one week in November there will be illuminations in the evenings, creating a magical scene under the night sky.

▼Jitokuin Temple

Light-Up Period: November 9, 2019 – November 16, 2019

Light-Up Time: 17:00-20:00 (Temple is open 09:00-20:00)

Autumn Foliage Peak Period: Early-Mid November

Address: 2250 Akeshi, Yosano, Yoza-gun, Kyoto

Support Fund: ¥300

Official Website: http://jitokuin.com

Nariaiji Temple

Nariaiji Temple, located in Kyoto Prefecture's city of Miyazu, is an ancient temple betwixt mountains overlooking Amanohashidate, one of Japan's "Three Scenic Views." It's home to a grand 5-storey pagoda which is surrounded by hundreds of maple trees, offering an incredible, quintessentially Japanese view during autumn.

During the day, you can snap some gorgeous photos with the Sea of Japan and Amanohashidate in the back. For two nights only, on Saturday November 9 and Sunday November 10, the entire area will be beautifully lit up with warm illuminations.

▼Nariaiji Temple

Light-Up Period: November 9, 2019 – November 10, 2019

Light-Up Time: Sunset – 21:00 (Temple is open 08:00-16:30)

Autumn Foliage Peak Period: Early-Late November

Address: 339 Nariaiji, Miyazu, Kyoto

Price: ¥500

Official Website: http://www.nariaiji.jp/

Kasagiyama Prefectural Natural Park

Kasagiyama Prefectural Natural Park: is located atop Mt. Kasagi and is also home to Kasagi-dera, a temple with a 1,300-year history. During autumn, one entire side of the park is dyed in autumnal colours.

This November, the area will be lit up for a limited period, offering a gorgeous view from the mountain peak of the trees below as well as the flowing Kizugawa river.

▼Kasagiyama Prefectural Natural Park

Light-Up Period: November 1, 2019 – November 30, 2019

Light-Up Time: 17:00-21:00 (Temple is open 09:00-16:00)

Autumn Foliage Peak Period: Early-Mid November

Address: Mt. Kasagi, Kasagi, Soraku District, Kyoto

Price: Illuminations – Free / Temple – Adults ¥300, Children ¥100

Official Website: https://www.kasagidera.or.jp

Yokokuji Temple

Normally, the Joshoin at Yokokuji Templeーalso known as Yanagidani Kannonーonly opens on the 17th of every month. But for a special autumn event, it is now open every day up until December 1. The beauty of its autumn colours have come to be enjoyed by VIPs, dating back to the pre-war period when it was designated as a place of scenic beauty. For more details on this event, click here.

▼Yanagidani Kannon Autumn Colours Week

Running: November 2, 2019 – December 1, 2019

Time: 9:00-16:00 (Joshoin open 10:00-15:00)

Location: Yanagidani Kannon, Yokokuji Temple (Dōnotani-2 Jōdodani, Nagaokakyo, Kyoto)

Entry Price: ¥300

Full Ticket: ¥1,100→¥1,100 (Includes entry to multiple areas)

Official Website: http://yanagidani.jp/

Take the time to enjoy an autumnal Kyoto this year at one of the city's seasonal events.

Sightseeing in Ise: 4 Must-Visit Souvenir Shops Near Ise Grand Shrine

The city of Ise is located in central Mie Prefecture on the eastern tip of Kii Peninsula, the largest peninsula on Japan's largest main island Honshu. Every year, the autumn season brings in a flurry of tourists and sightseers who flock to see the city's leaves expressing their vibrant hues of red and yellow. The city boasts a magnificent catalogue of sightseeing spots, but perhaps the most famous of all is Ise Grand Shrine, whose inner and outer shrine give visitors a sense of what the townscape looked like in ancient times. This can also be seen at Sarutahiko Shrine, amongst other places.

In this article, we're going to introduce you to 4 must-visit souvenir shops near the inner shrine for your Ise travel bucket list.

Amano Pearl

When talking about specialty products of Ise, the one thing that's sure to come to the minds of Japanese people are the pearls sold in the city. Amano Pearl can be found in Oharaimachi, an almost 1km long street lined with traditional shops. The owner themselves purchases and appraises the pearls while the shop staff manufacture and design gorgeous accessories to sell at an affordable price.

Accessory – ¥2,200

This rose-shaped necklace is a design favoured by women of all ages. They have plenty of other high-quality bargain picks like this too.

The shop's diverse line-up of beautifully accessories includes those perfect for combining with one pieces and dresses, as well as for parties. Prices and designs vary greatly, so there's bound to be something for everyone who steps inside this quaint store. So if you're shopping for souvenirs during your trip to Ise, then you absolutely have to pay a visit to Amano Pearl to see the city's famous pearls.

▶︎Amano Pearl – Oharaimachi Branch

Address: 45 Ujiimazaikechō, Ise, Mie

Opening Hours: 9:00-17:00

No Fixed Holidays

Official Website: https://www.amanopearl.jp/

Matsujiro Honey – Ise Oharaimachi Branch

Matsujiro Honey is a long-standing honey shop that was established back in 1912. The shop sells various varieties of honey, including flavours you won't find in supermarkets like apple honey and soba honey.

Hanabana – ¥864

Hanabana is the shop's No. 1 most popular variety of honey and it's made in Mie Prefecture. Its name in Japanese means "flowers," and as the name suggests, it includes the nectar of numerous types of flowers. It has a smooth texture and distinct full-bodied floral fragrance.

Centre: Mini Honey Soap – ¥503 / Right: Honey Soap – ¥2,200 / Left: ¥2,200 Honey Face & Body Oil (48ml) – ¥2,200

The shop even sells its own honey-imbued cosmetics, all made with natural ingredients. Their soap is made with their popular Hanabana honey, and gives off a flavoursome honey smell. Your skin is left smooth, moisturised and smelling great after using it.

Their rich honey oil too is made with 90% plant-derived oil and is free from preservatives. It's a great option for the coming dry season and is gentle on the skin.

If you visit the shop, they let you taste test their different types of honey too! Find your favourite.

▶︎Matsujiro Honey – Ise Oharaimachi Branch

Address: 7 Ujinakanokirichō, Ise, Mie

Opening Hours: 10:00-17:00

No Fixed Holidays

Official Website: https://www.matsujiro.shop/

Uoharu

Uroharu first opened its doors in 1931. Their products are sold as souvenirs to help spread the word of Ise's rich food culture.

Same No Tare – Salt Flavour / Mirin Flavour

The item you absolutely want to look out for when going into Uohara is their "Same No Tare," another Ise speciality. It was originally only eaten in Shima, Ise, but it was picked up on national television, leading it to become a food souvenir associated with Ise.

Uoharu's products are seafood based, and there's plenty to choose from. If you're looking for a food product specifically from Ise then look no further than Uoharu.

▶Uoharu

Address: 49 Ujinakanokirichō, Ise, Mie

Opening Hours: 9:00-17:00 (*Changes depending on season)

Closed: Wednesdays (Except on national holidays in which case closed on Thursdays)

Official Website: https://www.samenotare.jp/uoharu/

Henbaya – Oharaimachi Branch

Yet another speciality product of Ise comes from the much-beloved Henbaya, which first opened way back in 1775. The speciality products, also called "henbaya," can be ordered either for takeout or enjoyed in the shop.

Henbaya (Includes 2) – ¥160

Henbaya are thin, round sticky rice cakes made with top of the range domestic ingredients and packed with smooth red bean paste. Both sides of these deliciously fragrant rice cakes are browned, and when bitten into, fill and melt in your mouth with the sweet, smooth flavour of the bean paste.

At the Oharaimachi branch of Henbaya they sell various other rice cakes too, all chewy and made with high quality ingredients from Japan. Pick up a pair and enjoy the sweet taste of Ise.

▶︎Henbaya – Oharaimachi Branch

Address: 1-149-1 Ujiurata, Ise, Mie

Closed: Mondays (Except on national holidays in which case closed on Tuesdays)

Opening Hours: 9:00-17:00 (Eating in-store runs until 16:30)

*Products may sell out before 17:00

*Opening hours subject to change for January

So, if you're making a trip to the beautiful city of Ise, you now know the must-visit spots for finding souvenirs. Let us know if you visit any!