Akihabara's New Samurai Rock Restaurant Offers Exciting Shows and First-Class Entertainment
SAMURAI ROCK ORCHESTRA opened its all-new Samurai Rock Restaurant at Pasela Resorts Akiba Multi Entertainment in July and went into full throttle on August 5. This 'show restaurant' offers a dining experience like no other, serving not only food but thrilling entertainment from world class artists from a wide range of backgrounds including samurai, ninja, acrobats, and many more, all of whom are rallied and ready to put on a show you will never forget.
Children and adults from around the world can look forward to experiencing what Samurai Rock Restaurant has to offer as their performances transcend language barriers, needing only to be seen to be appreciated. The restaurant has also cooked up one delicious menu with many options to pick from, including some meals inspired by something specific such as samurai.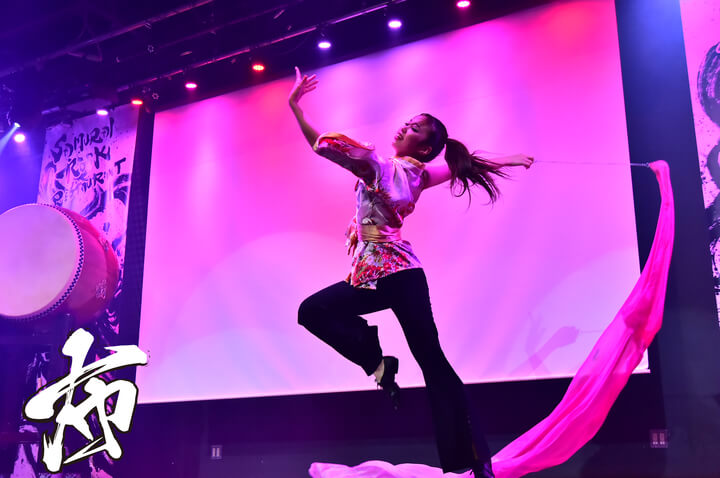 Expect to see acrobatics from the vaulting box to baton performance, rhythmic gymnastics, ropes and more, all sure to make you go "wow!"
You can even meet and speak to the performers, and maybe ask them how on earth they were able to do what they did!
Experience a new form of nightlife in Akihabara at the Samurai Rock Restaurant.
Information
Samurai Rock Restaurant
Open: Every Wednesday (Dates in August: 7th, 14th, 21st & 28th)
Time: Open 18:30 / Start 20:00 (Performance time is 50 minutes)
Location: Pasela Resorts Akiba Multi Entertainment Floor 7F (1-1-10 Sotokanda, Chiyoda Ward, Tokyo)
Capacity: 200 people
Price: ¥6,500 (Tax Included) *2 order ticket of food and drink (5 order for ¥8,000)
Official Website & Reservations: http://www.samurai-rock-restaurant.com/
RECOMMENDED ENTRIES
Hello Kitty Theatre Restaurant HELLO KITTY SHOW BOX Opens its Kawaii Doors to the Public

The official Hello Kitty theatre and restaurant HELLO KITTY SHOW BOX on Awaji Island had its grand opening on August 12.

Related Article: Stunning Hello Kitty Theatre Restaurant HELLO KITTY SHOW BOX to Open On Awaji Island

New photos have emerged giving us a peek inside the restaurant and at the menu.

The restaurant itself is situated in the farmlands of Awaji Island. Hiding on top of the building is an adorable hidden face of Hello Kitty which can't be seen from the ground.

At the back of the restaurant is a giant screen spanning 6 meters wide and 16 meters tall. The stage in front will give rise to a whole new kind of Hello Kitty entertainment with song, dance and performances.

The menu was conceived by Japanese chef Hal Yamashita and uses healthy, organic ingredients to make incredible dishes that both taste amazing and are fun to look at. As well as vegan dishes, there will be a dessert buffet which also uses healthier alternatives. Everything look delicious!

The interior is both cute and high class, offering the ultimate Hello Kitty restaurant. With its doors now open to the public, fans of Hello Kitty are set to flock to Awaji Island.

Ⓒ1976, 2019 SANRIO CO., LTD. 

Information

HELLO KITTY SHOW BOX

Grand Opening: August 12, 2019

Address: 177-5 Nojimahirabayashi, Awaji, Hyogo Prefecture
Business Hours: 11:00-20:00
Closed: Wednesdays
Weekday Hours: Lunch 11:00 / Cafe 15:00 / Dinner 18:00
Weekend Hours: Lunch 11:00 / Cafe 14:15 & 16:15 / Dinner 18:15

Reservations
①Reservations can be made via the homepage here (*Discount applied to all reservations)
②Reservations can also be made at the restaurant on the day depending on the number of available tables
Allotted Time: 2 hours max.

Official Website: https://awajiresort.com/hellokittyshowbox/

Sailor Moon Show Restaurant To Open in Azabu Juban, Tokyo

Dining on Sailor Moon-themed food while being entertained by a live Sailor Moon musical is a dream come true for many. On August 15, 2019, a show restaurant called Sailor Moon-SHINING MOON TOKYO will open in Azabu Juban, Tokyo. 

Japan has already surprised many with the release of a Sailor Moon 2.5D Musical. This is a type of modern Japanese musical theatre based on anime where the characters are brought into the real world. This new show restaurant is aiming even higher, offering a completely new form of live entertainment. 

There isn't a better place for the restaurant to open than Azabu Juban, where the Sailor Moon characters are often seen in the anime. In fact, Azabu Juban is a holy land for all Sailor Moon fans, attracting fans from all over Japan and even from overseas. Once fans heard the news of the show restaurant, excitement spread like wildfire.

There is no doubt that this original show is a fantastic opportunity to delve deep into the world of Sailor Moon. There will also be the opportunity to try meals and drinks that are based on the anime which is not sold anywhere else. Of course, there will also be an area dedicated to the sale of original goods. 

The official website was published ahead of the grand opening of the restaurant. General ticket sales will be launched at 10 am on July 21. Enjoying Sailor Moon-themed meals and drinks while being entertained by a Sailor Moon stage show is a completely unique experience that many are curious about.

©️Naoko Takeuchi

©️Naoko Takeuchi, PNP, Sailor Moon  –SHINING MOON TOKYO –

Information

Sailor Moon  –SHINING MOON TOKYO –

Location: Basement Floor 1, Joule A, 1 Chome-10-10 Azabu Juban, Minato City, Tokyo 

Grand Opening: August 15, 2019 

※ Ticket sales start at 10 am on July 21, 2019

General Ticket Enquiries: info@sailormoon-shiningmoontokyo.com 

Official Website: https://sailormoon-shiningmoontokyo.com/ 

Cute LINE Penguin Character Gets Collaboration Café in Tokyo and Osaka

A collaboration café dedicated to the adorable penguin character Koupen chan will run over the summer period. The café will open on August 8 in Tokyo and September 5 in Osaka. 

The baby emperor penguin Koupen chan, who is often the go-to sticker for many Twitter and LINE users, is illustrated by the well-known RURUTEA. Many SNS users turn to the relaxing, soft and cuddly penguin to send soothing words of encouragement and a fuzzy hug to their loved ones. No wonder our adorable penguin has over 300,000 followers on Twitter. 

Yokoshima Enaga-San Burger: ¥1,490

Koupen Chan Ochazuke (Rice served with broth): ¥1,390

The first time the Koupen Chan Collaboration Café opened for a limited period was on November 2017. Now, the café is back with a refreshed image which plunges deeper into the depths of Koupen chan's affectionate world. There are even more features packed into this year's collaboration menu. No matter what you order, your table will be overflowing with adorable penguin love. 

Pink Koupen Chan Strawberry Milk Pancake: ¥1,390 (before tax)

Two Best Friends Lemon Peach Parfait: ¥1,290 (price before tax)

Don't forget to check out the drinks and desserts which are bound to melt your heart.

Acrylic Drink Coaster (random design ), 4 designs available: ¥900 (before tax) 

Bonus Gift for Café Customers: Placemat and Paper Drink Coaster (1 of 6 designs presented at random)

You won't just be served a cute meal, however. Customers have the chance to get their hands on original merchandise with cute café-themed designs. The designs, which were illustrated by RURUTEA, include Koupen chan as your personal café server, a pink-themed Koupen chan and even a light blue Koupen chan relaxing in the café.

The reservation period opened recently. Reservations are now being accepted via the official website. This café is the perfect place to escape from the blazing summer heat and humidity to get refreshed. Come relax and enjoy a moment of cute food and drinks in this comfortable atmosphere.

©RURUTEA

* The images shown in this article may differ slightly to the actual merchandise/menu items.

* English menu names above are not official translations. 

Information

Koupen Chan Café 2019 SUMMER

Tokyo: SHIBUYA BOX CAFE & SPACE (SHIBUYA BOX)

Address: Shibuya Loft 2nd floor, 21-1 Udagawacho, Shibuya City, Tokyo

Open: August 8, 2019 ー September 23, 2019 

Osaka: Shinsaibashi contact

Address: 1 Chome-6-24 Kitahorie, Nishi Ward, Osaka

Open: September 5, 2019 ー October 6, 2019

Reservations now open.

Reservation price: ¥500 (includes a complementary souvenir for making the reservation)  

A limit of 4 seats can be reserved through 1 reservation.
RELATED ENTRIES
Akihabara Maid Cafe Idol Group Maidin! to Release Major Debut Single

One of the most popular maid cafes in Akihabara, @home cafe is celebrating 17 successful years. With eight stores in both Tokyo and Osaka, a collection of maids have come together to form a new idol group, Maidin! The girls have announced that they will make their major music debut under the Purple One Star label on December 22, 2021. 

First Edition

Regular Edition

Archived Livestream

Maidin! Debut Single – Kimi to Hareruya!




The group's first track Kimi to Hareruya is available on streaming platforms now, and the girls announced their major debut during a live stream on October 23. They also let fans know that the CD will include three songs, and a huge 51-day release event will also be taking place!

Kimi to Hareruya is a bright and cheerful song, and the music video features the members dancing in their maid outfits while showing off their skills. The First Edition single will include a Blu-ray featuring the making-of video for the music video, as well as one random trading card (17 varieties) featuring one of the members. 

Snow White with the Red Hair Celebrates 15th Anniversary with Akihabara Cafe

The popular manga series Snow White with the Red Hair is celebrating 15 years with its first-ever collaboration cafe, opening October 22, 2021. The series began serialization in 2006 and has sold over 5.4 million copies to date, also inspiring a two-season anime series released in 2015 and 2016. 

Reservations will be open on October 8 at 19:00, and visitors can expect a fully-themed menu and a number of original items only available at the cafe during the event period!

Cafe Bonuses

For each food or dessert order, guests will receive a random original postcard (3 varieties) 

15th Anniversary Snow White with the Red Hair Collaboration Cafe Original Postcard

15th Anniversary Snow White with the Red Hair Collaboration Cafe Original Postcard

15th Anniversary Snow White with the Red Hair Collaboration Cafe Original Postcard

For each drink order, guests will receive a random original coaster (5 varieties) 

15th Anniversary Snow White with the Red Hair Collaboration Cafe Original Coasters

*All bonuses will be given at random. 

*Available while supplies last. 

Menu at a Glance

Fancy Briouat: ¥650 (Tax Included) 

Meat Dumplings and Mochi Soup from Lilias: ¥1,000 (Tax Included) 

Shirayuki's Special Quiche: ¥1,000 (Tax Included) 

Lilias-style Grilled Tomatoes on Bread: ¥1,100 (Tax Included) 

Crepes from Lilias: ¥1,000 (Tax Included) 

Apple Parfait:  ¥1,000 (Tax Included) 

Delicious-looking Sweets from Lata: ¥850 (Tax Included) 

Snow White's Apple Pie: ¥1,000 (Tax Included) 

Original Merchandise

Clear Folders, Set of 2: ¥880 (Tax Included) 

Framed Magnets (5 varieties): ¥880 (Tax Included) 

Character Board: ¥6,600 (Tax Included) 

Acrylic Diorama: ¥4,400 (Tax Included) 

Postcard Set: ¥2,640 (Tax Included) 

Tapestry: ¥3,300 (Tax Included) 

Premium Art Reproductions (10 varieties): 24,200 each (Tax Included) 

©あきづき空太/白泉社

Information

15th Anniversary Snow White with the Red Hair Collaboration Cafe

Running: October 22 – December 28, 2021

First Run: October 22 – November 24, 2021

Second Run: November 25 – December 28, 2021

Address: Hakusensha Cafe, B1F (1-4-1, Kanda Awaji-cho, Chiyoda-ku, Tokyo)

Reservations for First Run Open on October 8, 2021, at 19:00. 

Where to Reserve: https://app.collabocafe.tokyo/tabs/cafe/detail/63d9d007-08d2-4311-a016-61048dd8d14f

*If open seats are available, guests without a reservation will be seated on a first-come, first-served basis.

Official Twitter: https://twitter.com/hakusensha_cafe

Official Site: https://clarines-kingdom.hakusensha-cafe.com/

Cafe Opens to Celebrate 10th Anniversary of Hatsune Miku's Song 'Senbonzakura'

Manga cafe Akihabara Nagomido will hold a limited-time collaboration cafe to celebrate the 10th anniversary of Vocaloid Hatsune Miku's popular song Senbonzakura! The event will run from September 30 until November 7, 2021. 

Menu at a Glance

Drinks (with coaster and muddler) *Muddler can be taken home. 

Senbonzakura Rice Curry: ¥1,390 (Tax Included) 

Full-Bloom Sakura Parfait: ¥1,390 (Tax Included) 

Collaboration Cafe Limited Gacha Goods

Limited-edition Pins (8 varieties): ¥400 per spin (Tax Included) 





Gacha Lottery Prize: B2 Poster

Goods

Senbonzakura Mug: ¥1,500 (Tax Included) 

Senbonzakura Bag: ¥1,500 (Tax Included) 

Senbonzakura B2 Tapestry: ¥3,000 (Tax Included) 

 

Senbonzakura Acrylic Stand: ¥1,900 (Tax Included) 

Senbonzakura Light-Up Acrylic Stand: ¥2,500 (Tax Included) 

Senbonzakura x Akihabara Nagomido Castella (Plain): ¥1,000 (Tax Included)

Senbonzakura x Akihabara Nagomido Castella (Cherry Blossom): ¥1,000 (Tax Included) 

Kurousa-P Acrylic Keychain: ¥700 (Tax Included) 

Kurousa-P Acrylic Stand: ¥800 (Tax Included)

Lacquered Chopsticks: ¥3,300 (Tax Included) 

Lacquered Bookmark: ¥770 (Tax Included) 

WAKUPITA Mask (2 varieties, Miku Crest & Butterfly and Sakura): ¥1,000 each (Tax Included)

Guests can enjoy various cherry blossom displays throughout the event space, so be sure to stop by if you're in the area!

Glamping Restaurant Malibu Farm to Open at Riviera Zushi Marina for Limited Time

Prepare for the ultimate comfy camping and dining experience! The Riviera Zushi Marina in Zushi City, Kanagawa, is opening a glamping-themed restaurant, Malibu Farm Kamakura Terrace, for a limited time only. Returning from a popular run last year, the comfy spot will be open from October 1 until February 28, 2022, with reservations now open. 

In addition to Malibu Farm's commitment to fresh, organic, and local ingredients, this year's menu will feature sustainable ingredients, with plenty of seafood and vegetables. Guests can relax in the luxurious comfort of their own private tent, enjoying a meal and the crisp sea air. 

Malibu Farm, incredibly popular with celebrities from L.A., opened its Japan location last March at the Riviera Zushi Marina Resort. Looking over the ocean, the locale offers breathtaking scenery with over 900 palm trees and a collection of luxury cruisers and yachts. 

Introduced last winter, the Kamakura Terrace is perfect for winter, with each private tent heated while not obstructing the view and giving guests a safe place to enjoy time with family and friends. This is the ideal location for birthdays and anniversaries, and watching the sunset will offer an unforgettable way to celebrate. 

Kuroko's Basketball Pop-Up Shop in Akihabara to Features New Illustrations

BANDAI NAMCO Amusement is hosting a character pop-up store for anime 'Kuroko's Basketball,' featuring new illustrations of the characters dressed in trad style. The shop will be open from September 16 2021 at the Atre Akihabara Store, stocking original goods using the new artwork.

Kuroko's Basketball Acrylic Stand trad style ver. (7 types): ¥1,980 each (Tax Incl.)

Kuroko's Basketball Can Badge trad style ver. (7 types): ¥540 each (Tax Incl.)

Kuroko's Basketball A4 Acrylic File trad style ver.: ¥550 (Tax Incl.)

Kuroko's Basketball Cloth Poster trad style ver.: ¥1,800 (Tax Incl.)

Kuroko's Basketball Spoon trad style ver. (7 types): ¥1,200 each (Tax Incl.)

Kuroko's Basketball Fork trad style ver. (7 types): ¥1,200 each (Tax Incl.)

Kuroko's Basketball Acrylic Board trad style ver. (7 types): ¥530 per lottery ticket, A Prize

Kuroko's Basketball Jacket Style Acrylic Keychain trad style ver. (7 types): ¥530 per lottery ticket, B Prize

Kuroko's Basketball Can Badge trad style ver. (7 types): ¥530 per lottery ticket, C Prize

Kuroko's Basketball Die-cut Illustration Sheet trad style ver. (7 types): ¥530 per lottery ticket, D Prize (random)

Be sure to check out this limited shop to immerse yourself in the world of Kuroko's Basketball!

©Fujimaki Tadatoshi / Shueisha, Kuroko's Basketball Production Committee 

SEGA Taiyaki Ikebukuro, Akihabara Stores Reveal Second Collaboration with Chiikawa

GENDA SEGA Entertainment's SEGA Taiyaki Ikebukuro and Akihabara stores have announced a second Chiikawa collaboration, the 'ChiiKawayaki' Taiyaki.  The series will feature a Bunny and ChiiKawa design, in addition to the reversible Tuxedo design from the first collaboration. Customers who purchase any of the 'ChiiKawayaki' products will receive a free collaboration badge! (※Random design)

 

ChiiKawayaki

Front: Bunny

Back: ChiiKawa

ChiiKawayaki: Premium Cream or Chocolate:¥600 each (Tax Incl.)

※Shown images are samples.

Novelties

Original Can Badge 2nd Series: 6 Designs (Random)

※Limited in quantity.

※Shown images are samples and may differ from the final product.

ChiiKawa is a popular manga that is serialized on Twitter by illustrator NAGANO. The comic depicts the daily life of the ChiiKawa's and has become known for its soft artwork, heartwarming story, and occasionally, some contrasting darkness.

SEGA Taiyaki stocks popular food products from the Taiyaki brand Yokohama Kuriko-An, which has 31 stores throughout the Kanto region. They also collaborate with games and characters to produce Collaboration Taiyaki.

The second ChiiKawayaki collaboration will satisfy both your eyes and your stomach!

©nagano

Miss Kobayashi's Dragon Maid to Collaborate with At Home Maid Cafe

Maid cafe At Home in Akihabara is collaborating with Kyoto Animation's new anime series Miss Kobayashi's Dragon Maid S for a limited-time crossover cafe starting September 1. Original menu items and special merch will be on sale during this month-long period.

Food Menu

I love you, Miss Kobayashi! Tohru's Omurice: ¥1,400 (Tax Included)

 

Let's play together! Mogu Mogu Lunch: ¥1,200 (Tax Included)


Eat while you game! Jet-black Sweet Curry: ¥1,200 (Tax Included)

The more we fight, the closer we get? Let's have seconds Parfait: ¥1,100 (Tax Included)

 

Magic power up?! Secret Apple Pie: ¥1,100 (Tax Included)

 

Classic Candies a la mode: ¥1,100 (Tax Included)

Special Drinks: Tohru/Kanna/Elma/Lucoa/Ilulu: ¥800 each (Tax Included)

Bonuses

Original Placemat

Coasters

 

Shop Decorations

Entrance Tapesty

Interior Tapestries

Original Collaboration Uniforms

Miss Kobayashi's Dragon Maid S Uniform (Tohru Color)

Kanna and Elma Color Uniforms

Special Merchandise

First Release: September 1, 2021

B2-size Tapestry: ¥5,500 (Tax Included)

 

Luggage Tag: ¥1,430 (Tax Included)

Second Release: September 18, 2021

 

Tote Bag: ¥4,400 (Tax Included)

At Home Cafe, celebrating its 17th anniversary this month, has been collaborating with a number of characters and properties. Kyoto Animation's Miss Kobayashi's Dragon Maid S began airing in July, and has amassed legions of fans both in Japan and abroad with its collection of adorable characters and hilarious universe.

For this new maid cafe collaboration, Kyoto Animation provided new illustrations of the show's five main characters: Tohru, Kanna, Elma, Lucoa, and Ilulu. World-famous designer Keita Maruyama designed the staff's new uniforms, inspired by the characters!

Customers who order a special food and drink set during the event period will get a limited-edition placemat. Those who order a character's drink will receive a coaster featuring that character's face. The shop will feature various tapestries and visuals from Miss Kobayashi's Dragon Maid S throughout the space.

All goods will be sold at the At Home Cafe Shop Akihabara and the At Home Web Shop. Maids at the cafe will wear one of three special uniforms each day–Tohru, Kanna, and Elma–so guests will want to come back to see them all!

(C)Coolkyousinnjya・Futabasha/Dragon Maid Production Committee

Information

At Home Cafe x Miss Kobayashi's Dragon Maid S

Running: September 1 – September 30, 2021

Location: At Home Cafe Main Store (7F)

Address: 7F Mitsuwa Building, 1-11-4 Sotokanda, Chiyoda-ku, Tokyo

Hours:

Weekdays 11:00 – 22:00

Weekends: 10:00 – 22:00 (Last orders at 21:20)

*Hours of operation are subject to change. Please check the official website for details.

Hololive x Atre Akihabara Merchandise Collection Revealed

Virtual YouTuber talent agency Hololive Production is set to release a new exclusive collection at Atre Akihabara in Tokyo on August 1.

The Line-Up

Acrylic Panel / B2 Tapestries / Acrylic Chibi Figures

Big Silhouette T-Shirts / Holostars T-Shirt / Key Visual Graphic T-Shirt

Key Visual Acrylic Panel

Chibi Character Illustration Acrylic Figures

B2 Tapestries

hololy Photo Contest

Hololive fans can get their hands on merchandise of all their favourite VTubers with this collection that will be sold exclusively at Atre Akihabara. To promote the collection, giant poster will be plastered up outside and around Atre Akihabara, with a giant one at the north entrance 3D illustrations at the south entrance. And for every ¥500 spent in a single transaction on the items, fans will receive a free character card.

Information

Hololive Summer Festival x Atre Akihabara

Running: August 1, 2021 – August 15, 2021
Locations: Atre Akihabara 1 (1-17-6 Soto-Kanda, Chiyoda-ku, Tokyo) / Atre Akihabara 2 (1-9 Kanda Hanaokucho, Chiyoda-ku, Tokyo)

Book Slot: http://hololive-summerfes.com/

Touken Ranbu -ONLINE- Themed Cafes Open in Akihabara and Osaka Nipponbashi

Two branches of Animate Cafe, Good Smile x Animate Cafe Akihabara and Good Smile x Animate Cafe Osaka Nipponbashi, are collaborating with Touken Ranbu -ONLINE- from June 23 to August 2, serving up food, drinks, and desserts inspired by the game as well as selling exclusive merchandise.

The Menu

Utage no Maku no Nai Bento | ¥1,100 (Tax Included)

Kasyuu Kiyomitsu's Stylish Tomato Stew w/Focaccia | ¥1,100 (Tax Included)

Kasen Kanesada's Elegant Sea Bream Chazuke | ¥1,100 (Tax Included)

Honmaru Elegance ~Everyday Garden~ | ¥900 (Tax Included)

Honmaru Elegance ~Spring Garden~ | ¥900 (Tax Included)

I Discovered a New Sword! | ¥800 (Tax Included)

Kebiishi Subjugation | ¥650 (Tax Included)

Special Investigation: Tenpou Edo | ¥650 (Tax Included) | Suishinshi Masahide & Kyomaro Minamoto Versions

Fully Bloomed Cherry Blossoms ~Touken Ranbu~ | ¥650 (Tax Included)

Special Investigation Jurakudai | ¥650 (Tax Included)

Freebies for ordering from the menu

Coasters (42 Designs) | Available: June 23-July 13

Coasters (43 Designs) | Available: July 14-August 2

Exclusive merchandise

Acrylic Keyrings (42 Designs) | ¥700 Each (Tax Included)

Pins (42 Designs) | ¥700 Each (Tax Included)

Acrylic Stand Keyrings (43 Designs) | ¥700 Each (Tax Included)

Pins (43 Designs) | ¥700 Each (Tax Included)

©2015 EXNOA LLC/Nitroplus

Character Chiikawa themed pop-up store at JR Akihabara station opens

The Chiikawa pop-up store, a pop-up store themed on the Japanese character Chiikawa, literally means 'something small and cute', illustrated by Nagano opens until June 21 at Japan Rail Akihabara Station Denki-Gaiguchi ticket gate.

Chiikawa POP UP STORE exclusive goods

New products 

Purchase benefit

Chiikawa manga has been serialised from 2020 on Twitter that depicts the casual everyday life of Chikawa and others. The gap between heartwarming story and adorable drawing style with occasional depiction of fear and severe reality of life is popular.

The store line-ups a selection of Chiikawa themed merchandise goods such as porch, plush doll, tableware and more. Don't miss out a wide variety of exclusive products that makes your daily life more enjoyable.  Available for purchase at official Chiikawa online store Chiikawa Market. 

©️nagano

SSSS.DYNAZENON and SSSS.GRIDMAN Pop-Up Shops Open in Akihabara and Osaka

Two pop-up shops, the SSSS.DYNAZENON @ Dash Store and SSSS.GRIDMAN @ Dash Store, are now open at Animate Akihabara and Animate Osaka Nipponbashi until June 24. The stores are themed on Tsuburaya Productions and Studio Triggers' anime series SSSS.DYNAZENON, which began airing in April, and SSSS.GRIDMAN.

SSSS.DYNAZENON @ Dash Store

SSSS.GRIDMAN @ Dash Store

Fans of the series can get their hands on a range of pre-sale and exclusive merchandise. For every ¥2,000 spent, they can get their hands on one of five possible bromide illustrations, and if they spend over ¥3,000, they'll enter for a chance to win a special poster.

Bromides (5 Designs)

Special Poster

The Line-Up

Dash Store Exclusive T-Shirts | 5 Designs | ¥7,150 Each (Tax Included)

Dash Store Exclusive Bottles | 2 Designs | ¥2,200 Each (Tax Included) (All come with one of 3 possible illustrated cards)

Dash Store Exclusive Metal Sticker Sets | 2 Designs | DYNAZENON ¥1,320 – GRIDMAN ¥880 (Tax Included)

Dash Store Exclusive T-Shirt | ¥2,750 (Tax Included)

Dash Store Exclusive Stainless Thermo Tumbler | ¥2,750 (Tax Included)

Pre-Sale Acrylic Stands | 5 Designs | ¥1,980 Each (Tax Included)

Pre-Sale Tapestries | 5 Designs | ¥3,850 Each (Tax Included)

Pre-Sale Pin Set | DYNAZENON ¥1,320 – GRIDMAN ¥880 (Tax Included)

©円谷プロ ©2021 TRIGGER・雨宮哲/「DYNAZENON」製作委員会
©円谷プロ ©2018 TRIGGER・雨宮哲/「GRIDMAN」製作委員会

Peter Luger Steak House Opens First Japanese Branch at Ebisu Garden Place

Hailing originally from Brooklyn, the 130-year-old Peter Luger Steak House has announced the opening of its first-ever Japanese branch which will welcome customers at Ebisu Garden Place in Tokyo this September with its 3-storeys of red brick.

Peter Luger is credited with spreading the mouth-watering wonder of dry-aged beef steak to the world which has made the restaurant's name globally famous. The restaurant of course wields a Michelin Star and has been featured high on the Zagat Survey for over 30 years.

The secret behind Peter Luger's signature ingredient

The restaurant's beef fillet and New York strip are signature items on the menu, both of which are made from porterhouse steak. Their steak is also made from USDA Prime beef which is dry-aged by hand to intensify the flavour and aroma.

The porterhouse is placed directly onto the broiler and seasoned solely with salt. The steak is flipped only once during the broiling process. A knob of melted butter is added to a serving platter and the steak is sliced atop it. It's then placed back into the broiler for a few minutes depending on the doneness requested by the customer. It's this process that gives Peter Luger's steaks their deliciousness. 

 

Brooklyn red brick building and theatre decor

The Japanese branch takes inspiration from the Brooklyn restaurant with its red brick exterior.

The first floor is home to the bar where customers can enjoy food and cocktails. There's also a takeout shop with gifts and other items.

The second floor is the spacious dining space which is home to Peter Ruger's first-ever open kitchen. The third floor is another seating area with balcony-like seats so you can look out over the city.

There are seven private dining rooms of varying sizes for those looking a little more intimacy and privacy. The restaurant's lighting was also designed by a New York designer.

Information

Peter Luger Steak House Tokyo

Grand Opening: September 9, 2021

Address: 4-19-19 Ebisu, Shibuya, Tokyo

Bookings: From August 2021

Peter Luger Steak House Japan Official Website: https://peterluger.co.jp/