Kingdom Manga Volume 55 Release Promoted With New Web Series 'Mingdom'
To celebrate the release of volume 55 of Yasuhisa Hara's historical adventure and fantasy manga series Kingdom on August 19, Shonen Jump TV launched a new web series entitled Mingdom on their official YouTube channel.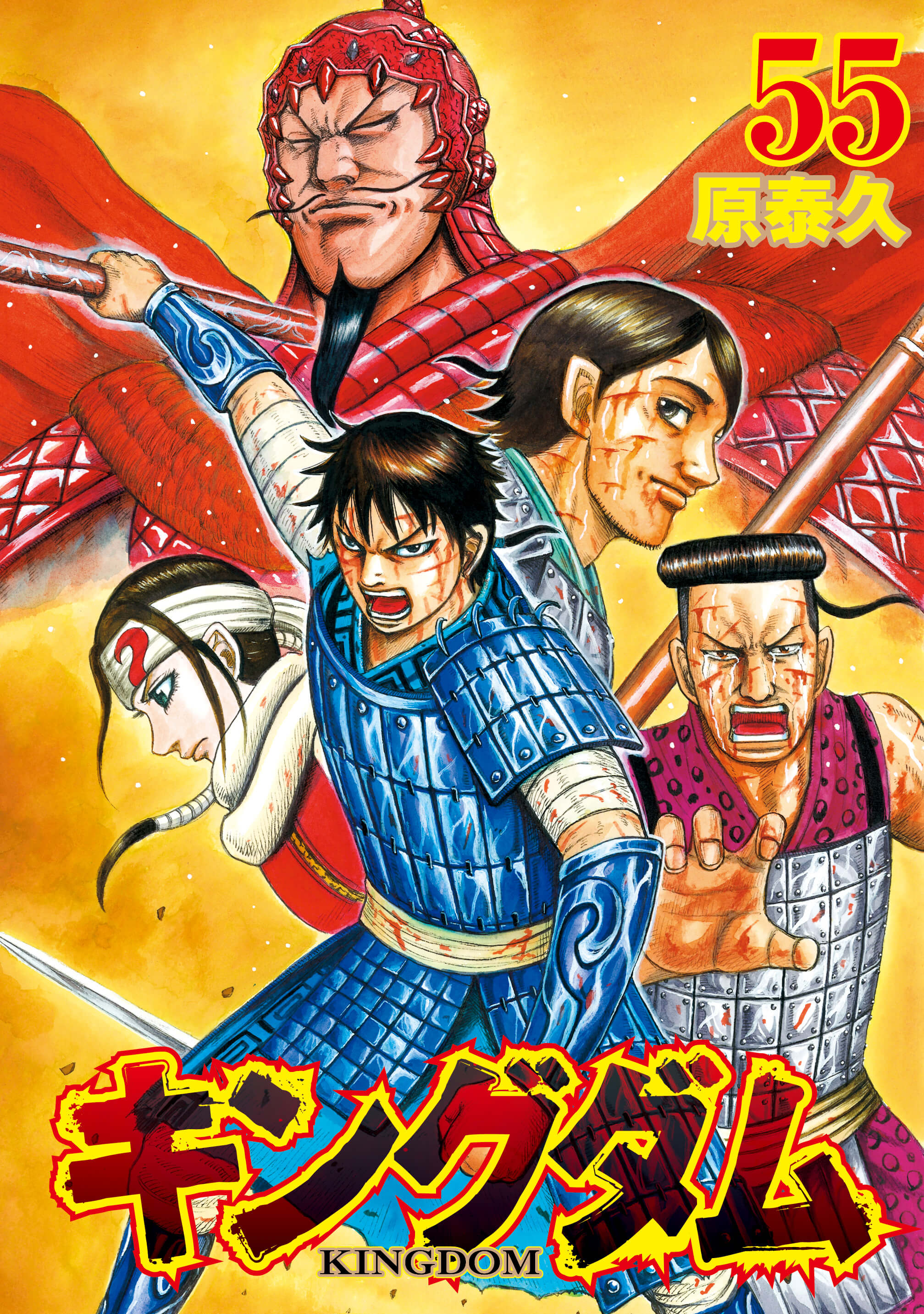 The video series brings together people who have never read the manga before and encourages them to do so and talk about it.
The first video in the series has them all read the first five volumes of the manga―and all of them end up loving it. The second episode will be released on August 21 where they will read volumes 6 to 10 and the third episode on August 23 where they will read volumes 11 to 16.
The moderators of the discussion are comedian Takashi Yoshimura, Yumi Wakatsuki of Nogizaka46, and comedian Kodai Ito, all of whom are well known for being a huge fans of Kingdom. The line-up of those reading the series for the first time in the video includes 9 well-known faces of varying ages, including Takashi of the comedy duo Trendy Angel, model and actress Kotoko Yamaga, model, singer and actor Shintaro Yamada, and professional wrestler, bodybuilder and idol Reika Saiki among others.
Have you read Kingdom yet?
©Yasuhisa Hara / Shueisha
RELATED ENTRIES
Kingdom Anime Ending Theme 'kIng' by Emiko Suzuki Now Streaming

The anime version of Emiko Suzuki's song 'kIng' is now available on streaming services. The song is currently being used as the ending theme for the second cour of the Kingdom anime series on NHK. 

The single includes the anime-sized version of the song, as well as a karaoke version. 'kIng' was written and produced by Hiroyuki Sawano, who has written scores for many popular anime series including Blue Exorcist, Attack on Titan, Kill la Kill, and 86. 

Hisashi Abe, the character designer for Kingdom, provided the jacket art of series main character Shin. 

What do you think of the track?

©Yasuhisa Hara/Shueisha・Kingdom Production Committee

BiSH Releases Kingdom Anime Opening Theme 'STACKiNG' Music Video

Japanese idol group BiSH, often called the 'punk band without instruments,' released the full music video for their new song STACKiNG on Monday. The track will feature as the second opening theme for the anime series Kingdom from July 18.

BiSH / STACKiNG [OFFiCiAL ViDEO]

The song is also available to listen to on major music streaming and download services. It will feature on their upcoming 4th album GOiNG TO DESTRUCTiON set to release on August 4.

Kingdom Anime Collaborates With Firsthand On Exclusive Merchandise

Creative and sustainable concept store Firsthand released a collection of items in collaboration on Wednesday (January 20) with the TV anime series Kingdom, which is set to begin airing its third season this April, and Japanese artist Kosuke Kawamura. The items are available to buy both online in Japan and at a pop-up store at OPEN STUDIO inside FREAK'S STORE Shibuya.

Firsthand is a Japanese brand centred on upcycling and sustainable production. Fans of the ongoing anime series can get their hands on a range of clothing items, phone cases, and more. If they head to OPEN STUDIO they'll also find an illustration exhibit, a photo spot, and more. The gallery is also selling posters signed by Kosuke Kawamura.

Will you be watching Season 3 of Kingdom this spring?

Information

Kingdom x Firsthand x Kosuke Kawamura Pop-Up Shop
Running: January 20, 2021 – January 25, 2021
Location: OPEN STUDIO, 1-31-1 Jinnan, Shibuya, Tokyo

Opening Hours: 10:00-20:00
TEL : 03-6415-7728

Where to buy the merchandise collection:
・OPEN STUDIO (Limited time January 20th-25th)
・Firsthand RAYARD MIYASHITA PARK (From January 26th)
・FREAK'S STORE ONLINE (From January 24th) @ http://www.freaksstore.com/
・ZOZOTOWN (From January 28th) @ https://zozo.jp/shop/freaksstore/

Event Details: https://firsthand.jp/news/3609/

BiSH Releases Music Video For Kingdom Anime's Opening Theme 'TOMORROW'

Japanese idol group BiSH have just released the music video for their new song TOMORROW which serves as the opening theme for the ongoing TV anime series Kingdom.

Since their 2016 debut, BiSH have been known as "the punk band without instruments," but in this music video directed by Kentaro Osawa we see the members wielding instruments in a heated performance.

BiSH – "TOMORROW" [OFFiCiAL ViDEO]

The band also unveiled a new artist photo on their official website and Twitter account. TOMORROW was released on digital music services on April 13, 2020 and comes as the first new song from the group since their 6th single KiND PEOPLE/Rhythm last November.

BiSH Release Kingdom Anime Opening Theme Along With An Exciting Video on Twitter

At midnight on April 12, 2020, Japanese "punk band without instruments" BiSH released their new song TOMORROW on a number of streaming services including Apple Music, Spotify, and iTunes. The new song serves as the anime opening theme for the episodes of Kingdom which started broadcasting in April. 

TOMORROW is their latest single since KiND PEOPLE/ Rhythm which was released last year in November. 

BiSH also unveiled a teaser video for TOMORROW on their official Twitter. The video shows all the band members engaging in a hilarious video call from their homes.

#少し意味のある動画 pic.twitter.com/nTLrm2iiST

— BiSHオフィシャル (@BiSHidol) April 12, 2020

Whether you're a BiSH fan or a Kingdom fan, you just have to check out this song. 

BiSH to Perform 'Kingdom' Anime's Opening Theme 'TOMORROW'

BiSHーthe Japanese punk band with no instrumentsーwill perform the opening theme TOMORROW for the upcoming TV anime series Kingdom which will premiere on NHK General TV on April 5, 2020.

Kingdom is a manga series written and illustrated by Yasuhisa Hara. Serialised in Weekly Shonen Jump since January 2006, it has shipped over 47 million copies and even received a hit live-action film adaptation.



The upcoming third season of the anime series will cover the manga's Alliance Arc which features what is known for having the biggest fight in Kingdom. A new promotional video was released which features the opening theme song TOMORROW by BiSH.

©Yasuhisa Hara/Shueisha・Kingdom Production Committee

BiSH member Sentochihiro Chicchi said: "We are truly honoured to be responsible for the opening theme for Kingdom, an anime series loved by the world and overflowing with charm. We as a group were energised by the growth of the characters. They are strong and noble, with no friends or allies but with rich personalities. Although the times we and they live in are different, we are warriors who rush forward recklessly in order to survive. The characters are all super cool! BiSH will sing with all we have too. Without fail."

Lipovitan D Energy Drink Collaborates With 'Kingdom' Anime Series

The Japanese energy drink Lipovitan D is collaborating with the anime series Kingdom to release a line of drinks with character illustrations on the bottles. The drinks will be available in packs of 10 and sold on Amaozn and elsewhere from March 29 to May 29.

The theme of the drink pack is Shutsujin, or "departure for war." There are 15 character designs in total spread across 3 categories each of which have 5 character designs in them. The categories for these limited edition bottles are Shutsujin, Chishou ("Resourceful General") and Daishougun ("General").

The packs also come with paper crafts to create paper versions of items that appear in the anime series.

The Shutsujin pack comes with an almost 2-meter long sword.

The Chishou pack comes with a Ka Ryo Ten helmet you can actually wear.

The Daishougun comes with a detailed Yo Tan Wa mask that can also be worn.

The collaboration's website lists different ways you can utilise these fun items. The manufacturers put their all into making them and made the following comments.

Lead Developer

"There's a lot of adversity in the office. I wondered to myself if there was something Lipovitan D could do to face this adversity… that's when we arrived on a collaboration with Kingdom. We worked hard on this so that people can pluck up the courage to face any adversity head on just like the protagonist Xin, and we made is so it can be used even in the business scene."

Developer A

"Not everybody holds the same courage and motivation to never lose like the characters in Kingdom. The helmet is the item those people need to gain the courage to take a step forward."

Developer B

"I was always a fan of Kingdom. I thought and planned long and hard to grant my dream of wanting to someday work under somebody like Yo Tan Wa. I got some laughs out of the office wearing the Yo Tan Wa mask, even out of my always-strict superiors. It changed their impression of me into something mysterious."

Information

Shutsujin! Craft Pack

Release Date: March 29, 2019

Pre-Orders: From March 18, 2019

Price: ¥1,460 (Before Tax)

Quantity: 10 Bottles (100ml each)

*Limited stock available. Product will discontinue once all have been sold.
*There is a chance that not all design labels will be included. Please check the campaign website for more details.

Product Page: https://brand.taisho.co.jp/lipovitan/lipod/campaign/kingdom2019/

©Yasuhisa Hara・Shueisha・NHK・NEP・Pierrot