Hello Kitty & Mickey and Minnie Mouse New Year Osechi Food Orders Now Open
Osechi is a Japanese term referring to special food served during the New Year holidays. The food is filled with the hopes, wishes and happiness of people. Kibun Foods began taking reservations for new Hello Kitty and Disney osechi assortments via their online shop on August 1. Reservations will also began rolling out at retail stores throughout the year.
The Hello Kitty box contains a selection of traditional osechi items including red and white kamaboko cured fish paste and datemaki sweet rolled omelette as well as more modern cuisine like smoked duck.

The cute box comes with the original 1970's Hello Kitty design to celebrate her 45th anniversary. It's exclusive to Kibun Foods and can be reused as a lunchbox.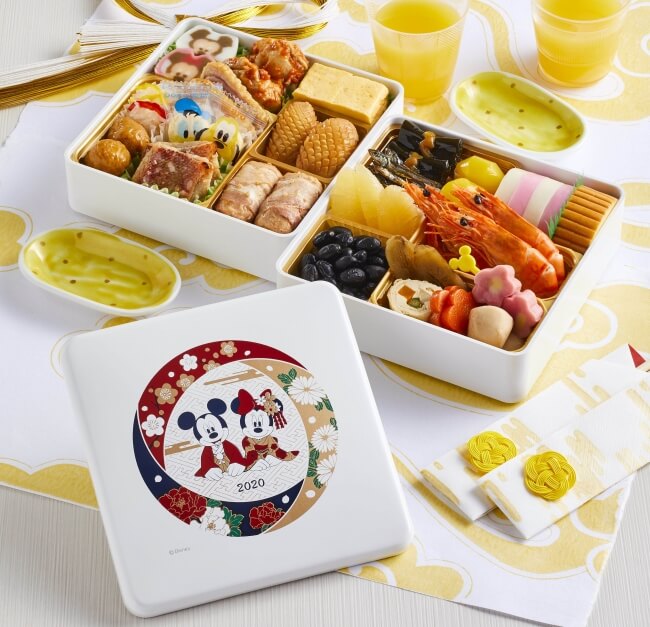 The Disney box design features Mickey and Minnie Mouse wearing traditional kimono. This box also contains traditional foods like red and white kamaboko cured fish paste and datemaki sweet rolled omelette as well as chicken in tomato sauce, smoked duck and more.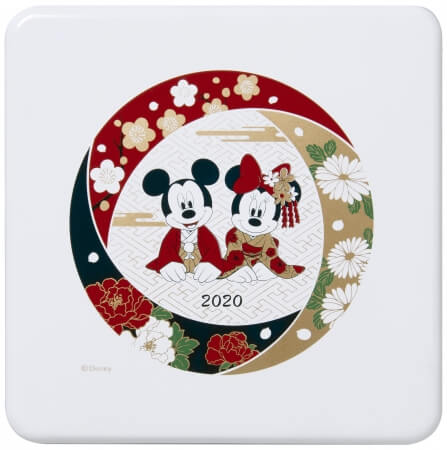 The plum blossoms and peonies give a traditional and luxurious feel to the box.
Enjoy a kawaii-charged New Year's this year with these beautiful osechi gifts.
©1976,2019 SANRIO CO., LTD. APPROVAL NO.G601662
ⒸDisney
*Photos are for illustrative purposes only
Information
Hello Kitty Osechi
Foods: 21
Price: ¥10,000 (Before Tax)
Delivery: Cold Storage
Box Size: 16.5×16.5 ×10.8cm
Disney Osechi
Foods: 25
Price: ¥11,000 (Before Tax)
Delivery: Cold Storage
Box Size: 16.5×16.5×9.7cm
Kibun Shop: https://www.kibun-shop.com
RECOMMENDED ENTRIES
Sanrio's Cinnamoroll Serving Up Drinks at the Sky Drink Stand in Harajuku

Cinnamoroll's Sky Drink Stand is finally open in Harajuku where Sanrio's adorable white puppy will be catering drinks to your taste until August 25.

The drink stand is located along Harajuku's famous Takeshita Street.

When you step inside you are taken soaring up into the clouds with its fluffy decor and decorations.

Cinnamoroll can be found all around the cafe looking adorable♡

To get a drink you first need to purchase a ticket from the ticket machine. Once you've got that, it's time to head on over to the row of Cinnamoroll plushies.

There are 27 drinks in total to choose from. You will converse with Cinnamoroll and answers his questions which will change the colour, flavour and toppings of your drink. Your specially made and unique drink will arrive bottled with a handwritten name label on the front.

As you answer the questions you will be able to see Cinnamoroll making your drink on the tablet.

After a short time your drink will arrive!

Here is my cute and sparkly drink. I wrote "MOSHI MOSHI" in Japanese (もしもし) for the name tag. Mine was a delicious fizzy summery drink with blue jelly.

If you go with friends then you can have fun comparing your different drinks too!

You can get some even cuter photos at the shop's many photo spots.

And if you want to order your drink in advance then you can use the Cinnamoroll Talk app which is compatible with Google Assistant. After you say, in Japanese, "OK Google, Cinnamoroll ni Osora Dorinku Onegai" (OK Google, please give me a Cinnamoroll Sky Drink), the order window will pop up. After you've talked with Cinnamoroll on the app you will receive an order number to collect your drink. There are also secret sentences hidden around the store for talking with Cinnamoroll, so if you find them you can have a longer chat with him!

Make your own unique summertime beverage with Cinnamoroll at the Sky Drink Stand♡

Information

Cinnamoroll Sky Drink Stand
Location: BOK Gallery Takeshita Street (Tousen Harajuku, 1-16-6 Jingumae, Shibuya, Tokyo)
Running: August 22, 2019 – August 25, 2019 (*Open to the press and invitees only on August 21)
Price: ¥700 (Tax Included) per drink
Business Hours: 11:00-20:00
*Greeting events will be held at scheduled occasions where Cinnamoroll and friends will appear at the drink stand

Cute Halloween Sweets Spook Their Way Into Tokyo's The Capitol Hotel Tokyu

For this year's Halloween season, The Capitol Hotel Tokyu in Tokyo has announced that it will serve up its Halloween Sweets Selection again this year at the hotel's pastry boutique ORIGAMI located on floor B2F. The confectionery chefs have spun some spooky fun into this collection of 10 cute treats.

Frankenstein – ¥1,760 / Phantom – ¥1,760 / Cyclops – ¥1,760

The Phantom is a popular confection every year at the hotel, but this year he's had two new freaky friends carved out for him: Frankenstein's monster and a Cyclops. These white chocolate monsters are filled with chocolate-covered almonds, macadamia nuts and other hidden delights.

Witch Hat – ¥715

Dressed in a milk chocolate mousse is ganache and a rich and bitter crème brûlée made with bitter orange. It also contains a mandarin orange liqueur for deeper flavours. The mix of orange notes is refreshing on the palate.

Cross – ¥715

The orange and black Cross is a mousse cake made from pumpkin puree beneath which lies a cinnamon flavoured crème brûlée and coffee flavoured ganache. The bitter coffee elevates the exquisite sweetness of the pumpkin for a delicious combination.

Evil Eye – ¥715

Enter at your own risk with the grotesque-looking (but delicious tasting) Evil Eye mousse cake. It's made with fragrant biscuit and caramel as well as blonde chocolate from France and inside is a smooth pear jelly.

There are lots of other Halloween treats besides these coming to the hotel too, so if you're in Tokyo this October then be sure to stop by for a Happy Halloween.

*All listed prices include tax

Indulge in Dainty and Divine Handmade Macarons in a Peaceful and Picturesque Region of Tokyo

If you are a fan of delicious and dainty desserts then DOTORI is definitely for you. DOTORI, which specialises in handmade macarons, will be opening their new branch in the peaceful picturesque Tokyo district of Daikanyama on August 23 2019.

DOTORI makes and bakes their macarons daily. The macarons here are slightly bigger than your standard ones and are filled with a thick layer of cream. Enjoy the way it melts in your mouth beautifully.

DOTORI's divine macarons are not the only blessing to fall upon Daikanyama. The shop is also fully stocked with a variety of drinks that are a perfect match with the macarons. From Milk Bubble Tea and Coffee to Cheese Tea, there is a full lineup of delicious and original DOTORI drinks to discover. 

Surrounded by the white-themed interior, customers can soak in the beautiful and liberating view of lustrous green trees outside.

To celebrate the opening of the new shop, there will be a special five-day campaign running from August 23 to 27. The first 50 customers to order a drink on each day of the campaign will receive a free drink carrier with their order. (Limit of one per customer.)

Head to Daikanyama for the divine DOTORI experience you deserve.

Information

DOTORI Daikanyama 

Address: ACN Daikanyama building Floor 1, 18-6, Daikanyamacho, Shibuya-ku, Tokyo

Opening Hours: 12:00 ー 20:00

Closed: Tuesdays

Official Website: https://www.dotori.jp

*As the macarons are handmade, a limited number will be made each day. The shop will close once all these have been sold.
RELATED ENTRIES
Hello Kitty Movie to be Directed by Jennifer Coyle and Leo Matsuda

Sanrio and Warner Bros. Japan have announced the release of the first-ever Hollywood adaptation Hello Kitty movie which will be directed by animation veterans Jennifer Coyle and Leo Matsuda. New Line Cinema and Flynn Picture Company are on board for the film which will be a hybrid fusion of live-action and animation. The film's title and release date have yet to be announced but it has been confirmed that it will be released worldwide.

Ⓒ 2021 SANRIO CO.,LTD.

Jennifer Coyle and Leo Matsuda are top-class artists and directors who bring their incredible history in and experience working with animation to the project. This marks their first collaboration, both of them beating many other directors to the job.

Jennifer Coyle

Coyle's early days are rooted in series such as King of the Hill where she was a storyboard artist. She worked as a producer for the HBO Max animated series Harley Quinn and has also directed episodes in the hit animated series Bob's Burgers, lent her penned her art for The Spectacular Spider-Man, and more.

Jennifer Coyle Photo by Andrew Marlin

Jennifer Coyle | Comment

"This is not only a rare chance to bring a beloved character to life, but also to spread the message of love, friendship and inclusivity that Hello Kitty stands for. The world so needs her brand of joy and happiness."

Leo Matsuda

Matsuda is a Brazilian director whose career began at Walt Disney Animation. He has worked on films such as Big Hero 6, Zootopia, Ralph Breaks the Internet and most recently Abominable for DreamWorks Animation. 

Leo Matsuda Photo by Peter Lefevre Photography

Leo Matsuda | Comment

"Growing up in Brazil with a Japanese family, I was surrounded by the whimsy of Hello Kitty and it served as a reminder that it's okay to be different. Along with Jen, FlynnPictureCo. and New Line, I am delighted by this incredible opportunity to work with one of the most universally beloved characters and expand their relatable Sanrio stories even further."

2021 Sanrio Character Ranking Voting Begins in April

Sanrio has finally announced news about the 36th annual Sanrio Character Ranking. This year's award event, the 2021 Sanrio Character Ranking, will open initial votes on April 9 to May 24 when fans can vote for their favourite character from Sanrio's roster. As with previous years, the 2021 run will also welcome the "Collaboration Category" of the awards which will feature 27 character entries from those who have collaborated with other companies and businesses over the past year.

Ichigo Shimbun is a monthly magazine published by Sanrio. It not only includes information about the latest character merchandise, but is also the place where the Sanrio Character Ranking first began in 1986. From Sanrio's long list of over 450 characters, just 80 are entered into the awards each year. Cinnamoroll took first place for the 3rd year in a row at the 2020 Sanrio Character Ranking which we covered in detail, including the initial first round up of winners and second round up.

Normally, the results are announced in-person at a big event. This year's announcement gathering was originally scheduled for June 8, but was cancelled due to the COVID-19 pandemic. It will now be hosted online instead, and fans will also be able to vote using the new Sanrio members service Sanrio+.

This year's 80 entrants are now being rolled out over on the official Sanrio Character Awards Twitter page.

This Year's Award Theme: "The Witness of a New World – Your Support Will Change the Future"

Every Sanrio Character Awards has a theme, and this year's is, "The Witness of a New World – Your Support Will Change the Future." The "new world" refers to the future of Sanrio—which celebrated its 60th anniversary last year—that fans will bear witness to. The key visuals for the 2021 Sanrio Character Awards have the characters holding a magnifying glass with which they are peeking into that new world.

 

New Entrants Announce Everyday On the Official Twitter Page

The Sanrio Character Rankings' official Twitter page will post the key visuals and personal messages from all 80 entrants on its official Twitter page between February 26 to March 31. Leading this year's awards ceremony are the popular characters Kuromi, Badtz-Maru, and Hangyodon. Voting opened on February 25.

 

How to Cast Your Vote

Votes for the 2021 Sanrio Character Ranking can be cast online, at Sanrio shops, and for the first time, on the new Sanrio members service Sanrio+. Votes for the Collaboration Category however can only be placed online. Last year's vote was open to all fans worldwide. It is unconfirmed whether this year will be the same, but stay tuned as we follow the event.

Online Votes (Smartphone Only) *Cannot be cast on computers or tablets

Sanrio Shops

Sanrio Online Shop

Ichigo Shimbun (May 2021 Issue, on sale April 10 / June 2021 Issue, on sale May 10).

*Ichigo Shimbun voting open from April 10

Sanrio+ Members Smile Vote (Sanrio Shops/Online Votes)

Sanrio+ Members Ticket Vote (Online Votes) *More info TBA

Other Voting Methods (TBA)

 

Vote With Sanrio+

Sanrio+ allows members to exchange 100 Smiles (the currency on the Sanrio Shop) for two voting chips. Members can exchange a maximum of 1,000 smiles for 20 chips in one go. The chips are spent at the voting box on the Sanrio Shop. One chip counts for a total of three votes.

Additionally, when members first log in to Sanrio+ on the voting website, they can used 50 Smiles to cast one vote. Members can vote with a maximum of 500 smiles in one day. One Smile vote counts for a total of two votes.

Stay tuned for the latest news and updates on the 2021 Sanrio Character Ranking.

Information

2021 Sanrio Character Ranking

Running: April 9, 2021 – May 24, 2021 (From April 10 in Ichigo Shimbun)

First Round-Up Announcements: April 14, 2021 at Noon (JST)

Second Round-Up Announcements: May 13, 2021 at Noon (JST)

Winner Announcement: June 8, 2021 (Online event, details TBA)

News Page: https://www.sanrio.co.jp/news/mx-ranking2021-20210225/

Sanrio Releases Tea Gift Set in Collaboration With World Tea Brand LUPICIA

World tea brand LUPICIA launched its 7th collaboration with Sanrio on Thursday (February 25) featuring a range of tea gift sets. Every year, LUPICIA releases a wide variety of rea-related gift sets for White Day, the spring season, Mother's Day, and more.

Four Fruit Fruity Tea With Lidded Mug

Hello Kitty LUPICIA Mug & Flavoured Tea | ¥3,300 (Tax Included)

My Melody LUPICIA Mug & Flavoured Tea | ¥3,300 (Tax Included)

Cinnamoroll LUPICIA Mug & Flavoured Tea | ¥3,300 (Tax Included)

Kuromi LUPICIA Mug & Flavoured Tea | ¥3,300 (Tax Included)

This year adds the dearly beloved Kuromi to the new collaboration which features a variety of fresh and fruity teas together with a mug that comes with a lid to keep your tea hot.

Will you be having tea with Hello Kitty, My Melody, Cinnamoroll, or Kuromi?

(c)'21 SANRIO 著作(株)サンリオ

Disney Japan Celebrates Minnie's Day With Exclusive Minnie Mouse Merchandise

Minnie's Day is set to fall in Japan on March 2, so to celebrate, Walt Disney Japan is getting in on the festivities nice and early by announcing the release of a new Minnie Mouse merchandise collection, called the "Disney ARTIST COLLECTION by Kelly Park," which will be officially released at Disney stores in Japan on February 23. Pre-sales will also roll out at select stores and Disney Japan's online store shopDisney from February 19.

©Disney

©Disney

Plushie ¥3,300 / Makeup Brush Set ¥2,640 / Tote Bag ¥2,090 / Room Fragrance ¥4,180 / iPhone Case (iPhone 11) ¥3,520 / Mirror ¥2,420 / Ballpoint Pen & Notebook Set ¥1,980 – (Prices Include Tax)

©Disney

nuiMOs Plushie ¥2,750 (Tax Included)


Kelly Park is an artist that is enjoying immense popularity in South Korea right now. Their new "Disney ARTIST COLLECTION by Kelly Park" is an exclusive release in collaboration with Disney Store.

The line-up is a celebration of all things Minnie Mouse for her big day, aptly named "Minnie's Day," on March 2. Vibrant blue is the main colour for the collection which Kelly Park has created to support fellow dreamers out there – those who have big hopes and aspirations in their everyday lives. The designs are bright, beautiful, and full of positivity, making them a perfect pick for the coming spring season. Minnie fans can feel fresh this spring season with fahsion items, accessories, stationery, a variety of lifestyle goods, and more.

Disney's popular nuiMOs plushie range will welcome an exclusive new Minnie Mouse plushie on February 26 which features the date "March 2, 2021" on it for Minnie's Day. It also comes with a pin. These plushies are limited-edition and only 320 will be sold – a number that of course aligns with March 2.

Celebrate the day of the original Disney Princess with the new Disney ARTIST COLLECTION by Kelly Park.

Gundam x Hello Kitty Collaboration Merchandise Now Available to Buy Outside Japan

Online Japanese proxy shopping service ZenPlus is now stocking items of the ongoing Gundam x Hello Kitty collaboration by the anime apparel brand R4G. This means if you're outside Japan, you can now finally get in on this unique and exciting collaboration.

Gundam x Hello Kitty

Gundam x Hello Kitty T-Shirt / Field Coat

Gundam x Hello Kitty Anime Scene T-Shirts

The Gundam x Hello Kitty collaboration began in 2019 to tie in the 40th anniversary of the popular Mobile Suit Gundam franchise and the 45th anniversary of Sanrio's most popular character Hello Kitty. Now the project is heading overseas for fans worldwide to enjoy the collaboration.

Cute Hello Kitty and Little Twin Stars Face Masks Release in Sanrio Collaboration

Japanese sneakers select shop atmos pink teamed up with Sanrio to release a cute collection of face masks on Thursday (January 28).

KIKI&LALA★atmos MASK Colours: White/Blue – ¥1,400 (Before Tax)

HELLO KITTY♡atmos MASK Colours: White/Pink – ¥1,400 (Before Tax)

The masks can be washed and are durable, fast-drying, block pollen, and cut UV. Face masks are part of everyday life now, so why not add a little fun to routine?

Disney's Mickey and Minnie Mouse Feature on Lotte's Choco Pie Chocolate Treats

Japanese confectionery company Lotte is joining white gloves with Mickey and Minnie Mouse to collaborate on their popular chocolatey Choco Pie treats. The tie-up will roll out in Japan from January 26.

Lotte Choco Pie Heartful W Strawberry

Lotte Choco Pie Heartful W Chocolate

Try and find the Mickey head on the packaging

Get your hands on one of 10 packaging designs

Line up these two to make it look like Mickey and Minnie kissing

 

Handmade Choco Pie Art

This marks Choco Pie's first collaboration with Disney's characters with Mickey and Minnie appearing in ten different designs. Each design has a hidden Mickey head to find (like in Kingdom Hearts III). Lotte is has also showcased some unique designs you can make for Valentine's Day with the Choco Pies, so get creative!

ⓒDisney

Information

Lotte Choco Pie Mickey & Minnie Design
Release Date: January 26, 2021
Official Website: https://www.lotte.co.jp/

Hello Kitty Hairbrushes Ensure Your Locks Are Kept Kawaii at All Times

Hairbrush brand WetBrush® joined hands with Sanrio to release a new collection of Hello Kitty design brushes at drug stores and variety stores across Japan on Friday (January 15).

Under My Umbrella | ¥1,540 (Before Tax)

Bubble Gum | ¥1,540 (Before Tax)

Original | ¥1,540 (Before Tax)

WetBrush® is a hairbrush brand sold in over 70 countries worldwide that can be used on damaged hair, wavy hair, thin hair, wigs, and more without causing damage to lovely locks, leaving hair detangled and silky smooth.

The Hello Kitty collection features three brushes with different designs – a must have for any fan of Sanrio's most recognisable face.

Information

WetBrush® x Hello Kitty Collaboration
Released: January 15, 2021

Available: Drug stores and variety stores in Japan (Select branches not participating)

Official Website: http://www.wetbrush.jp

D-UP x Hello Kitty Eyelash Fixer EX Launches in Japan

If you're looking to look as cute as Hello Kitty, then you'll want to pick up the new D-UP Eyelash Fixer EX, a product by D-UP released in collaboration with Sanrio on Friday (January 22) at Don Quijote stores in Japan. The product will also begin rolling out at variety shops and drug stores from March 5.

D-UP Eyelash Fixer EX is a super strong glue for false eyelashes. First released in 2000, it has gone to enjoy huge popularity in Japan where it has sold over 27 million units. It is also popular outside of Japan too.

With face masks now a norm for everyone worldwide, makeup trends are now tending towards the eyes, and so D-UP is launching its 5th collaboration with Hello Kitty, a partnership which first began in 2021.

D-UP Eyelash Fixer EX552 Hello Kitty S | ¥5,990 (Tax Included)

The packaging and product design features a retro style coloured in pastel colours and Hello Kitty.

Information

S5D-UP Eyelash Fixer EX552 Hello Kitty S
Pre-Release: January 22, 2021 @ Don Quijote
General Release: March 5, 2021
D-UP Official Website: https://d-up.co.jp/

Hello Kitty Valentine's Day Chocolates by Bicerin Are Sure to Surprise Your Lover

Café Al Bicerin released a special collection of chocolates in Japan for Valentine's Day on Wednesday (January 20) in collaboration with Hello Kitty.

Café Al Bicerin is a cafe in Torio, Italy, that first opened back in 1763. It has a long history and is a place that was enjoyed by the likes of Friedrich Nietzsche and Ernest Hemingway.

Bicerin × Hello Kitty Love Assortment | ¥2,160 (Tax Included)

Bicerin × Hello Kitty Love Assortment | ¥2,160 (Tax Included)

Valentine's Baci di Dama (Includes 5) | ¥1,350 (Tax Included)

© 2021 SANRIO CO., LTD. APPROVAL NO. L617585

Information

Bicerin x Hello Kitty Valentine's Collection
Released: January 20, 2021
Available: Bicerin Japan (Ginza SIX, Takashimaya Shinjuku, Midland Square, Hankyu Umeda, Roppongi Hills, Tokyo Midtown Hibiya)
Official Online Store: https://shop.bicerin.co.jp/
Official Website: http://www.bicerin.co.jp/

Couture Brooch Collaborates With Hello Kitty To Release Adorable Bags, Pouches and More

Ladies fashion brand Couture Brooch collaborated with Sanrio's most popular character Hello Kitty to release a new line of adorable fashion items which were released on December 11, 2010.

The new line includes a total of six different items with original designs by Couture Brooch including bags, pouches and smartphone cases. All items in the series feature Hello Kitty's signature ribbon motif. This is the perfect port of call when looking for a Christmas present for someone who loves cute designs. The ribbon afro Hello Kitty image is an original collaboration design and cannot be purchased anywhere else.


The collaboration items were released on Couture Brooch's official website on December 11. From December 16, the items will be available in shops across Japan and at selected Sanrio shops.

Make the most of a kawaii ribbon look with these adorable Hello Kitty collaboration items.

Tokyo Banana x Disney Sweets Shop to Open in Kobe Hankyu This Holiday Season

Disney SWEETS COLLECTION by Tokyo Banana is a sweets shop by Tokyo Banana in collaboration with Disney. A pop-up version will open in Kobe Hankyu from December 16 to 22 with a selection of sweets including two special treats releasing to commemorate the 80th anniversary of the Disney film Fantasia.

Fantasia 80th Anniversary Sweets

Disney Fantasia/Tokyo Banana

Disney Fantasia/Tokyo Banana (8 Included) | ¥1,300 (Tax Included)

The packaging features Mickey Mouse's iconic look as the Sorcerer's Apprentice.


The chocolate sponge cakes are filled with chocolate banana custard cream and are decorated with a moon, stars, and Mickey's head.


All boxes of these sweets come with a set of two random postcards too.

Disney Fantasia/Chocolate Sandwich


Disney Fantasia/Chocolate Sandwich (28 Included) | ¥3,024 (Tax Included)

This beautiful box of chocolate biscuit sandwiches will be limited to 80 tins per day.

The light and crunchy cookies are banana milkshake and chocolate flavoured and feature memorable scenes and references to the Sorcerer's Apprentice part of Fantasia.

The pop-up shop will be selling a variety of other collaborative treats too as part of the Disney SWEETS COLLECTION by Tokyo Banana.