Bubble Tea Gourmets THE ALLEY to Open Flagship Store in Shibuya's Dogenzaka District
Tea enthusiasts THE ALLEY are opening a flagship store in Dogenzaka, Shibuya on September 14, 2019.
THE ALLEY's main customers are women and office workers. It's custom for people to go out for a cup of coffee with friends and coworkers, but THE ALLEY hopes to bring that same idea of "grabbing a coffee" to tea with their drinks line-up. Located at the top of Dogenzaka, the new branch aims to make tea even easier to enjoy while embedding a culture of tea.
Enjoy a drink between shopping or work in one of their 73 comfy seats spread across two floors, or grab a takeaway cup to sip.
"THE ALLEY x thermo mug" 300ml Tumbler – ¥3,500 (Before Tax) / "THE ALLEY x thermo mug" 300ml Stainless Steel Bottle – ¥3,500 (Before Tax)
The cafe has also teamed up with thermo mug to create a seriously stylish tumbler and stainless steel bottle. Both are limited in availability, and if you do decide to grab one, you can get a coupon for one free drink of your voice. They are perfect for using at home, out or at the office.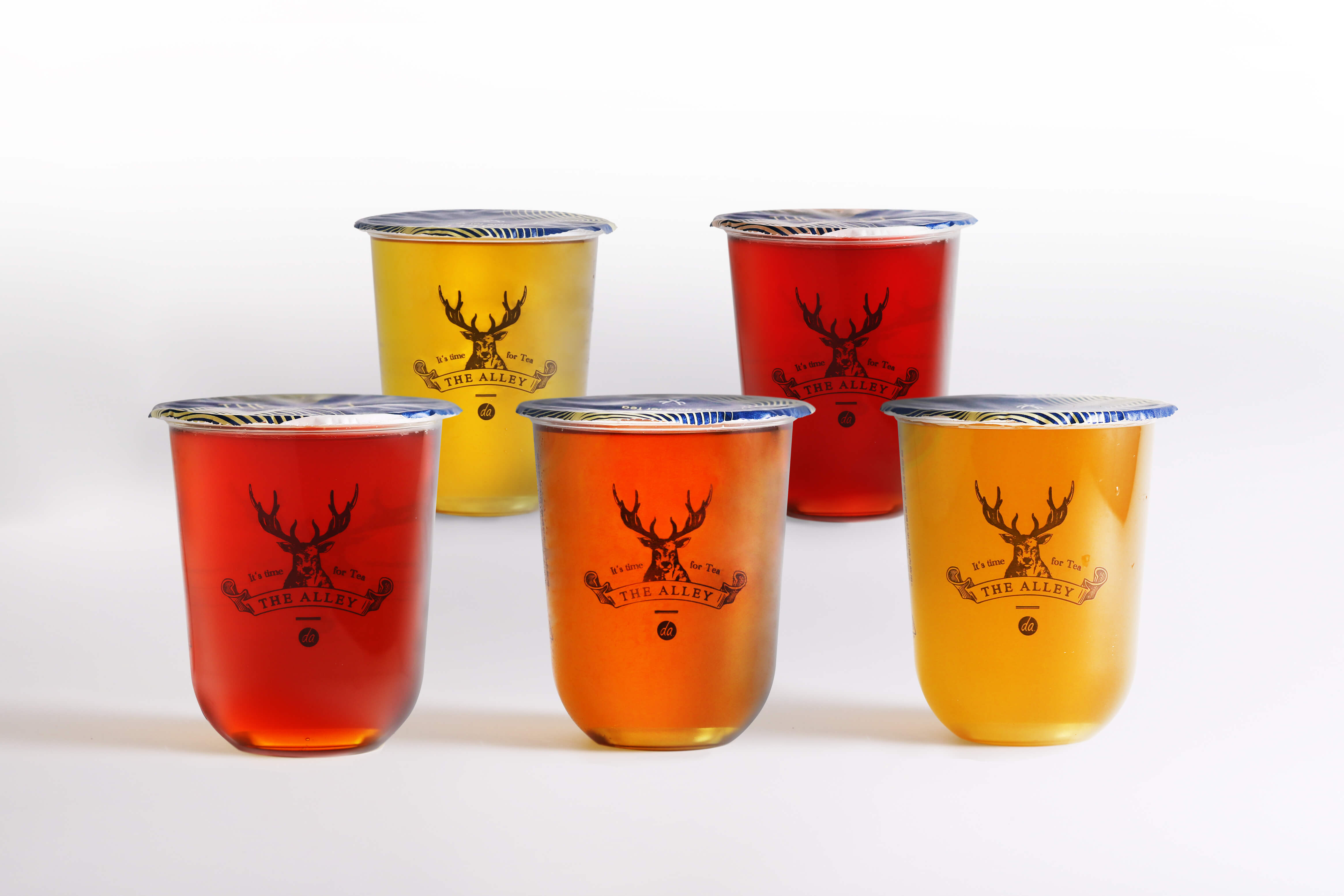 THE ALLEY is known for its three tea bases: Assam, Royal No. 9, and Jasmine. But the new Dogenzaka branch will have two extra exclusives. The first is White Peach Oolong which originally appeared as a limited-time flavour and in the cafe's milk foam series. It's now a regular at the new cafe. The other is Tieguanyin, a premium oolong tea, whose sales ended in May this year. Due to high demand, they are bringing it back to THE ALLEY Dogenzaka and plan to put it on the menu of other branches in the future.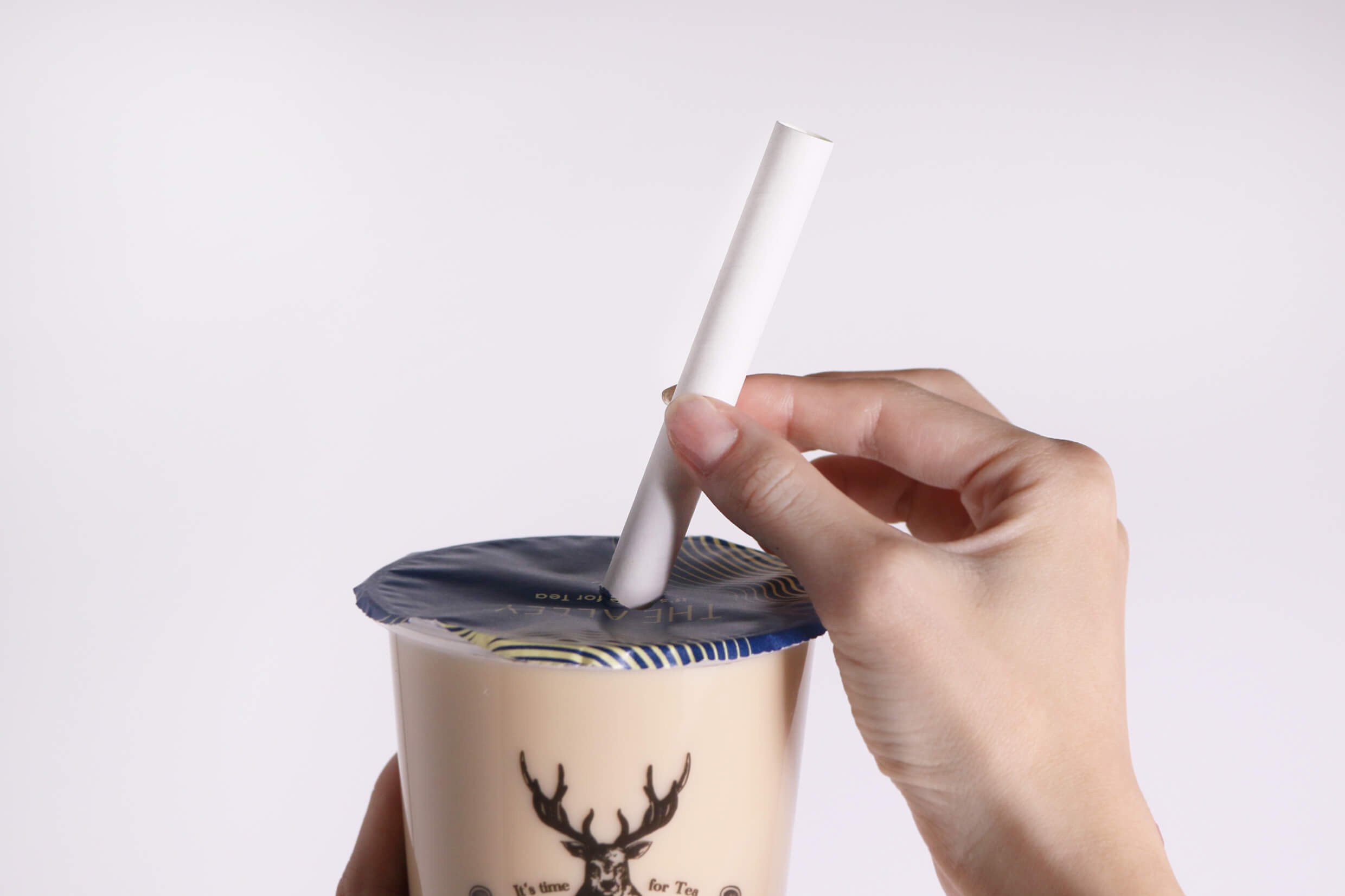 The cafe has also incorporated paper straws to help combat the use of single-use plastic straws. This includes their thick straws used for tapioca bubble tea drinks and ordinary thin straws for their regular teas.
THE ALLEY Dogenzaka marks the cafe's move from a tea stand into a full-fledged tea shop. If you're in Shibuya, be sure to pay them a visit when they open on September 14.
Information
THE ALLEY Dogenzaka
Grand Opening: September 14, 2019
Address: 1-19-11 Dogenzaka, Shibuya, Tokyo
Business Hours: 10:00-22:30
Official Website: http://www.the-alley.jp/
RECOMMENDED ENTRIES
Sanrio's Cinnamoroll Serving Up Drinks at the Sky Drink Stand in Harajuku

Cinnamoroll's Sky Drink Stand is finally open in Harajuku where Sanrio's adorable white puppy will be catering drinks to your taste until August 25.

The drink stand is located along Harajuku's famous Takeshita Street.

When you step inside you are taken soaring up into the clouds with its fluffy decor and decorations.

Cinnamoroll can be found all around the cafe looking adorable♡

To get a drink you first need to purchase a ticket from the ticket machine. Once you've got that, it's time to head on over to the row of Cinnamoroll plushies.

There are 27 drinks in total to choose from. You will converse with Cinnamoroll and answers his questions which will change the colour, flavour and toppings of your drink. Your specially made and unique drink will arrive bottled with a handwritten name label on the front.

As you answer the questions you will be able to see Cinnamoroll making your drink on the tablet.

After a short time your drink will arrive!

Here is my cute and sparkly drink. I wrote "MOSHI MOSHI" in Japanese (もしもし) for the name tag. Mine was a delicious fizzy summery drink with blue jelly.

If you go with friends then you can have fun comparing your different drinks too!

You can get some even cuter photos at the shop's many photo spots.

And if you want to order your drink in advance then you can use the Cinnamoroll Talk app which is compatible with Google Assistant. After you say, in Japanese, "OK Google, Cinnamoroll ni Osora Dorinku Onegai" (OK Google, please give me a Cinnamoroll Sky Drink), the order window will pop up. After you've talked with Cinnamoroll on the app you will receive an order number to collect your drink. There are also secret sentences hidden around the store for talking with Cinnamoroll, so if you find them you can have a longer chat with him!

Make your own unique summertime beverage with Cinnamoroll at the Sky Drink Stand♡

Information

Cinnamoroll Sky Drink Stand
Location: BOK Gallery Takeshita Street (Tousen Harajuku, 1-16-6 Jingumae, Shibuya, Tokyo)
Running: August 22, 2019 – August 25, 2019 (*Open to the press and invitees only on August 21)
Price: ¥700 (Tax Included) per drink
Business Hours: 11:00-20:00
*Greeting events will be held at scheduled occasions where Cinnamoroll and friends will appear at the drink stand

Office Lady Higashi's Nonchalant Shibuya Diary #2: "BE A GOOD NEIGHBOR COFFEE KIOSK" – Harajuku

Hey. I'm Higashi.

When I was at university I worked a salon model job which started early in the morning. Everyday after my photo shoots at the salon, I enjoyed walking back from Omotesando to Shinjuku. On that route there was a coffee stand called "BE A GOOD NEIGHBOR COFFEE KIOSK."

The friendly staff working there would call out to me with a smile: "Good morning! Where are you returning from today?" My usual course home would be to go there, order a takeout coffee, and walk back to Shinjuku while cheerfully listening to music.

But one day I became a working adult and full-fledged member of society. My new workplace was faraway from the coffee shop and so I could no longer visit it. But I would casually wonder to myself what the guys and girls who worked there and would always chat to me cheerfully and friendly were up to now.

So, yeah. I went to visit them.

BE A GOOD NEIGHBOR COFFEE KIOSK is about a 7-minute walk from Harajuku Station's Takeshita Exit.

Follow Meiji Dori street.

Make a turn at the corner of The DECK COFFEE and PIE, and you'll see the sign.

THERE IT IS!

I was greeted by a stylish looking guy who looked great with facial hair. He was so cool!

I took no time at all ordering a coffee.

I found myself remembering how much I loved the gentle atmosphere brought about by the staff here and the smell of the coffee that flows in the air.

Latte art is his forte!

Time to try it.

Oh… this was just pure bliss!!

The coffee had slight acidic notes to it which permeated my body. It was really tasty and warmed by body to the core that day because it was raining!

"Was this shop built in 2010?" I asked him.

"To be precise, a furniture company called Landscape Products was set up here in 1997. It was converted into a corporation in 2000 and made a furniture shop called Playmountain over in Jingumae. The company then moved to Sendagaya in 2002."

"Oh, so it started as a furniture shop."

"That's right. When making the company, our representative wrote a summary of all the projects that the company wishes to fulfill. Some of the projects on the list are coffee shops, publication and event planning. Based on that list, we opened a cafe called TAS YARD in Sendagaya in 2004."

"The company office and the cafe were close to each other. They were in Sendagaya along the road I would take everyday. We'd have lunch and meetings in the cafe and then work at the company office. There used to be a tobacco shop smack in the middle of the road I would come and go along. Lots of people would stand at this postbox just in front of the shop. They used it almost like a resting spot from their busy [working] days. Seeing that, our representative thought, 'Wouldn't it be good if there was a coffee shop here?' A while later the owner of the tobacco shop left that place and we immediately went to rent the building."

He carried on explaining that they researched opening the shop, but at first it wasn't a hit with the locals. They continued to explore for a solution and eventually the locals came to love the place. I never knew that this coffee shop was so earnestly in tune with the people of the town.

He continue: "I hope this becomes a place where people can take a bread, whether it's sitting on the benches outside the shop or putting their coffee on the postbox when they come to make an invoice. Our shop's name BE A GOOD NEIGHBOR comes from us wanting to become good neighbours with the locals and for us to make a comfortable and relaxing place together."

If you're looking for something new in your everyday life then please be sure to pay a visit here.

You're sure to be warmed by the delicious coffee and the face of the handsome shop owner!

Information

BE A GOOD NEIGHBOR

Address: 3-51-6, Sendagaya, Shibuya, Tokyo

Opening Hours: Monday ー Friday: 8:30 ー17:00, Weekends/ national holidays: 11:30 ー 17:00

Open all year round except for the New Year's Period

Visiting Shibuya's Candy Apple Store | Food Review

Hello everyone! This is Midori from MOSHI MOSHI NIPPON.

Candy apples are the staple food of summer festivals. A crunchy candy coating and a sweet, fruity apple is such a divine combination. It can be quite difficult to find candy apples outside of festivals. That's where Candy Apple steps in. This is a brand new shop on the block that specialises in candy apples!

This is located just a five-minute walk from Shibuya Station's west exit. If you check out their saved Instagram story, you probably won't get lost. During the weekdays and on Saturdays, this is an Italian restaurant called Buonappetito. On Sundays, when the restaurant is closed, it transforms into a candy apple shop.

The shop interior is gorgeous.

Plain: ¥600

I ordered the plain apple without wasting any time. This is much larger than what you would usually get at a festival. Although these are usually eaten by immediately sinking your teeth in and biting out a big chunk, you can cut your apple here and enjoy it at your own pace. 

After taking your first bite, you will realise just how different this is to your normal candy apple. The apple is coated in a thin layer of candy, creating a delicious crunch. The apple is fresh, juicy and sweet. Some candy apples are made with mushy apples that are not fresh, however these apples are extremely fresh and delicious right to the last bite. 

These candy apples are full of a variety of flavours.

Cinnamon Sugar: ¥600

The apple with the dusting of beige-coloured powder is cinnamon-flavoured. The sweet cinnamon scent spreads everywhere as soon as you set it on the table. The sweet flavour of the apple and the fragrant cinnamon is a match made in heaven. 

Cocoa: ¥600

The apple covered in the brown powder is cocoa-flavoured. The slightly bitter flavour of the chocolate is a perfect match for the sweet apple. The colour contrast between the brown chocolate and white apple is also beautiful. ♪

Matcha: ¥600

The apple with the green powder is matcha as you may have already guessed! The flavouring of the Uji matcha used for this apple was carefully balanced to maximise the flavour when combined with the apple. After you take your first bite, you just won't be able to stop. 

Blueberry Yoghurt: ¥600

The bright white dusting on this blueberry yoghurt-flavoured apple is beautiful. The blueberry scent is mild and is perfect with the yoghurt.

Black Cocoa: ¥600

The pitch black colour of the Black Cocoa Candy Apple is very appetizing. The black cocoa is even more bitter than the cocoa apple, which really brings out the flavour of the sweet apple even more.

You can even get chocolate fondue for your candy apple (¥400). By adding the fairly bitter chocolate to your candy apple, you can enjoy three different kinds of sweetness when it mixes with the chocolate, candy and the apple. 

You can even order your candy apple to go, making it the perfect summer souvenir. Taking it home to enjoy is also another wonderful way to make the most of your experience. 

This candy apple shop is only open on Sundays, but you can order to take away on other days. 

This is a flavour that a festival candy apple will never be capable of offering. You can tuck into your apple inside the beautiful shop, or take it home to enjoy at home at your own pace. 

Information

Candy Apple

Address: Nomura Building 1st floor, 7-12, Sakuragaocho, Shibuya, Tokyo

Opening Hours: 11:00-20:00 (Open every week on Sundays only)

*Only the Italian restaurant Buonappetito is open on weekdays.

Instagram: https://www.instagram.com/candy_apple_369/

Blind taste-winning Taiwanese Bubble Tea Jenjudan Opens In the Young and Trendy Shibuya

On June 14, popular Taiwanese bubble tea shop Jenjudan will open its first shop in Japan. The first shop will be located in the city that is known for capturing the hearts of Tokyo's young and trendy: Shibuya. More specifically, the shop will be located on the MAG 7 Food Floor (7th floor) of  MAGNET by SHIBUYA 109.

Jenjudan stands out for their skilled tea makers and carefully-selected ingredients that are used to make their high quality drinks. One of the main ingredients is 100% natural brown sugar, which is used to soak the tapioca pearls for full flavor. They also use rich Hokkaido milk. The best part is that all ingredients used here are natural and free from additives. Plenty of research went into harnessing the natural sweetness of the black sugar by determining the exact amount of time to soak the tapioca in the sugar syrup in order to extract its maximum flavour. Jenjudan managed to achieve flavourful tapioca where the flavour gradually spreads through your mouth when chewed. The softness and size of the tapioca were also carefully crafted after extensive research.

The first ever overseas branch has been set up in Singapore's famous tourist spot of Shilin Night Market. 

Jenjudan bubble tea was the winner in a blind tasting event conducted by Taiwanese lifestyle and current affairs popular smartphone app Mobile 01, so you absolutely must try it.

Photos: 宏勝商事株式会社

Information

Jenjudan Shibuya MAGNET109

Address: MAGNET by SHIBUYA109 7F (MAG7)

1 Chome-23-10 Jinnan, Shibuya City, Tokyo

Opening hours: 11:00 ー 23:00 (Closed Jan 1, closing days dependent on mall closing times)

TEL:03-6868-8477

Jenjudan Official Twitter: https://twitter.com/jx5p7ojqds0pk2y
RELATED ENTRIES
Popular Illustrator and Character Designer Mika Pikazo Holds Solo Exhibition in Shibuya

Mika Pikazo is an illustrator and character designer. The artist has designed characters for many popular titles including Fire Emblem Engage, the latest in Nintendo's Fire Emblem series, as well as book covers and CD jackets.

Starting December 10, the artist will hold his second solo exhibition in three years at the Hz event space in Shibuya.

According to a press release, the exhibition is being held to show a number of creations Pikazo has made recently, and aims to show off new animation and past illustrations to merge his past and future selves. The creator hopes to challenge himself more going forward.

The first main visual, REVENGE, can be seen on the exhibition's official website. A total of three visuals have been newly drawn for the event and will be released sequentially. In addition, a number of collaborative works with other creators will be on display, so art fans won't want to miss out.

Limited-edition merchandise featuring new illustrations will be on sale at the venue, and autograph sessions are planned to be held. For more details, check the official Twitter page!

Be sure to come to see Mika Pikazo's colorful pieces in person!

Information

Mika Pikazo Exhibition – REVENGE POP

Running: December 10 – December 29, 2022

Hours: 10:00-20:00

Venue: Hz, 1F (4-3 Udagawacho, Shibuya-ku, Tokyo)

Admission: Free

Official Website: https://revenge-pop.mikapikazo.info/

13th BT21 Cafe to Open in Tokyo, Yokohama, Nagoya, Osaka, and Sapporo

The 13th iteration of the BT21 Cafe will open at six venues in five cities around Japan. Fans in Tokyo, Yokohama, Nagoya, Osaka, and Sapporo will want to visit this exclusive event titled ~MAGICAL TIME~. The first cafe opens in Shibuya on November 3. In celebration of BT21's 5th anniversary, this special cafe is filled with joy and excitement and aims to give fans the best possible experience.

Cafe Menu

Magical Tea Time Set

Food Plate

Food Plate (7 varieties)

Dessert Plate

Dessert Plate (7 varieties)

Drinks

Magical Milk Tea

Black Tea

Iced Coffee / Hot Coffee

Original Goods

Acrylic Keychain (7 varieties, Random)

Acrylic Clip (7 varieties, Random)

Satin Sticker (7 varieties)

Clear Folder (2 varieties)

Handkerchief (7 varieties)

Tote Bag

Mug

Masking Tape / Balloon on a Stick

Dolomite Coaster (2 varieties) / Mirror (2 varieties)

[Online Store Exclusive] Acrylic Keychain (7 varieties, Random)

The cafe's new menu includes afternoon tea, perfect for warming the body and soul during the cold winter months. The colorful food items and desserts are sure to be a hit on social media, and fans will enjoy the Magical Milk Tea and other dishes inspired by the popular BT21 characters.

 

In addition to new merchandise and bonuses featuring newly-drawn art, a photo spot will welcome guests to the cafe and invite them to celebrate this five-year milestone. 


Why not take a break from everyday life to enjoy a magical time with these cute characters?

©BT21

Information

BT21 Cafe #13 ~MAGICAL TIME~

Venue/Dates


■Shibuya, Tokyo:

BOX cafe&space SHIBUYA109

Running: November 3 – December 10, 2022

Address: SHIBUYA109 B2F (2-29-1 Dogenzaka, Shibuya-ku, Tokyo)

■Oshiage, Tokyo:

BOX cafe&space Tokyo Solamachi

Running: January 13 – February 19, 2023

Address: Tokyo Skytree Town, Solamachi 1F (1-1-2 Oshiage, Sumida-ku, Tokyo)

■Yokohama, Kanagawa:

Collabo_Index Lumine Yokohama

Running: January 13 – February 5, 2023

Address: Lumine Yokohama 6F (2-16-1 Takashima, Nishi-ku, Yokohama, Kanagawa)

■Nagoya, Aichi:

BOX cafe&space Nagoya LACHIC #1

Running: December 2, 2022 – February 5, 2023

Address: LACHIC B1F (3-6-1 Sakae, Naka-ku, Nagoya, Aichi)

■Shinsaibashi, Osaka:

Shinsaibashi contact

Running: November 11 – December 18, 2022

Address: 1-6-24 Kitahorie, Nishi-ku, Osaka

■Sapporo, Hokkaido:

Cafe Interlude, Coach & Four Shinakawa

Running: November 3 – December 29, 2022

Address: 18-chome 3-jo, Kita-ku, Sapporo

Reservations: https://box-cafe.jp/



Online Shop

Open: November 3, 11:00 – December 4, 23:59
https://box-cafe.jp/online_store/

ANNA'S by Landtmann in Shibuya Scramble Square Now Offering Halloween Sweets

ANNA'S by Landtmann, a cafe located inside +Q Beauty on the 6th floor of Shibuya Scramble Square, has begun selling two Halloween cakes! These spooky sweets will be available until October 31, 2022.

Halloween Mont Blanc

Halloween Poison Apple

Guests will be able to snag the Halloween Mont Blanc and Halloween Poison Apple cakes, available for ¥580 each including tax. The Mont Blanc is filled with pumpkin custard and Chantilly cream. The Poison Apple is a sweet and sour cake featuring a blend of chocolate mousse covered in red glaze and applesauce with apple pulp.

Which of these two adorable cakes would you like to enjoy this autumn?

Home Cooking Themed Yowamushi Pedal LIMIT BREAK Collaboration Cafe to Open in Shibuya

Fans of Yowamushi Pedal won't want to miss this special collaboration! Chugai Grace Cafe, located on the seventh floor of Shibuya MODI, will be running the Yowamushi Pedal LIMIT BREAK cafe from September 22 until October 17, 2022.

Collaboration Menu

Sakamichi Onoda and Sangaku Manami's Udon & Onigiri Plate 


Yasutomo Arikita and Kuroda Yukinari's Hamburger & Salad Plate

Hayato Shinkai's Chocolate & Banana Mini Parfait

Sohoku High School Mango Whipped Cream & Calpis Drink

Hakone Academy Mint Whipped Cream & Calpis Drink

Goods

Pin (Random Holographic included, 9 varieties)

Acrylic Figure Stand (9 varieties)

Pin, Mini Character Ver. (Random Holographic included, 16 varieties)

Acrylic Stand (16 varieties)

Table Plate (9 varieties)

Shoulder Bag

Menu Order Bonus / Online Preorder Bonus

Coaster (1st Half): September 22 – October 4, 2022

Coaster (2nd Half): October 5 – October 17, 2022

The collaboration cafe focuses on dishes you may find at home, such as udon, onigiri, and even a chocolate banana mini parfait as a dessert. New original goods with exclusive illustrations will also be available for purchase!

©渡辺航(週刊少年チャンピオン)/弱虫ペダル05製作委員会

Kuroko's Basketball Cafe to Open at Chugai Grace Cafe in Shibuya

From August 26 until September 18, Chugai Grace Cafe at Shibuya MODI will hold a special collaboration cafe with the popular series Kuroko's Basketball!

Menu at a Glance

Ryota Kise's French Onion-style Carbonara

Daiki Aomine's Teriyaki Burger over Rice

Shintaro Midorima's Lucky Monaka

Tetsuya Kuroko's Vanilla Shake

Atsushi Murasakibara's Violet Blueberry Water

 

Goods

Pin (Cafe ver.)

Type A (7 varieties)

Type B (7 varieties)

Mini Acrylic Stand (Cafe ver.)

Type A (7 varieties)

Type B (7 varieties)

Nametags (Cafe ver.)

Type A (7 varieties)

Type B (7 varieties)

Mini Bromide (Cafe ver.)

Type A (7 varieties)

Type B (7 varieties)

Holographic Sticker (Cafe ver., 14 varieties)

Clear Case (Cafe ver.)

Menu Order Bonus: 1 Coaster (28 varieties, random)

Web Order Bonus: 1 Coaster 

Fans of the series will be able to sample a number of unique dishes inspired by characters from Kuroko's Basketball. Original goods featuring newly-drawn cafe-inspired illustrations will also be available, and guests will be able to enter a drawing to win a one-of-a-kind tapestry.

© 藤巻忠俊/集英社・黒子のバスケ製作委員会
©「黒子のバスケ」アニメ10周年プロジェクト

Information

Kuroko's Basketball x Chugai Grace Cafe

Running: August 26 – September 18, 2022
Venue: Chugai Grace Cafe, Shibuya MODI 7F
Reservations Now Available
Details: https://chugai-grace-cafe.jp/collaboration/kurobas/

*Priority for admission will be given to customers with reservations. Same-day seatings will be available depending on availability. See the official website for more details.

*All measures to protect guests against COVID-19 are outlined on the official website.

*Contents are subject to change without notice. We apologize for any inconvenience. 

Web Sales:
Chugaionline: https://chugai-grace-cafe.jp/collaboration/kurobas/
Order Period: September 27 – October 4 at 23:59
Shipping Date: November 2022

Official Site: http://www.kurobas.com/

Manga Series 'Eren the Southpaw' Hijacks Reebok Harajuku and Shibuya Stores

Reebok has appointed a number of popular artists in Japan and abroad to take part in their new campaign titled 'Life is Not a Spectator Sport -Move, Move!-' This collaboration started in March 2022.

 

As a part of this collaboration, Reebok is teaming up with the manga series Eren the Southpaw. Kappa's popular ensemble drama highlights a number of creators, and has a very poignant tagline: "To all those who couldn't become geniuses." Reebok's brand message matches this and is meant to be a manifesto for life, telling people to never give up, act on their own convictions, and find their own path. 

Reebok Classic Store – Harajuku Interior

Stickers / Pins

Original Scene from Eren the Southpaw 

To commemorate the release of Reebok's flagship model INSTAPUMP FURY 95 in Sax Blue, a huge piece of window art was redrawn by Kappi. The artist also provided an original manga featuring an entirely new story. Fans can find this at the Reebok Classic Store Harajuku and on the official Reebok Twitter page. The Reebok stores in Harajuku and Shibuya have also been completely taken over by Eren the Southpaw, completely decorated from top to bottom in images from the series. 

Space Brothers Manga Inspires Collaboration Event at Shibuya Scramble Square

Shibuya Scramble Square will host a special collaboration event with the manga series Space Brothers from August 5 until August 28, 2022. The event itself will take place on the SHIBUYA SKY observation deck and the 12th-floor event space Scene12.

The popular manga series Space Brothers has sold over 28 million copies since it began serialization in 2007. After 15 years, the story is approaching its climax, with the two main characters finally landing on the moon. With fans of the series anxiously awaiting the story's conclusion, the event will be the perfect place to celebrate. It will be split into two areas: the Shibuya Space School and the Space Cafe.



Shibuya Space School will take place on the SHIBUYA SKY observation deck, and is a fun and educational production that will teach visitors about space using VR and an exhibition of equipment used in space travel. Guests can also enjoy a photo spot featuring the moon over Shibuya, an astronomical observation class for both parents and children, and a talk show about the thrill of space travel.

Cafe Menu


On the 12th floor, guests can visit the Space Cafe. Inspired by a 1970s coffee shop, the location is the perfect spot for fans to mingle, read Space Brothers, or partake in some space-inspired treats exclusive to the event.

Collaboration Goods

Event

A selection of exclusive Space Brothers merchandise and collaboration goods will be available, and the editor of the manga will also be giving a talk during the event. Those who want to test their knowledge can also take part in a quiz competition, so don't miss out!

Golden Kamuy x Sanrio Characters Collaboration Cafe to Open in Shibuya

Characters from the popular anime series Golden Kamuy will team up with beloved Sanrio characters for a new collaboration cafe! Fans should visit Chugai Grace Cafe in Shibuya by July 18 to try some themed dishes and grab some exclusive merchandise.

Menu

Eat the Great North! Cream Stew Plate

Almond Pound Cake with Lingonberry Sauce

Matagi's Stump Birthday Cake

Monkichi the Monkey and Shiraishi's Banana Soda

Cola Float and Strange Juice

Goods

Pin – Cafe ver. (7 varieties, random)

Acrylic Stand (7 varieties)

Acrylic Frame Keychain (7 varieties)

Acrylic Block – Cafe ver.

Let's Go to the Cafe! Curry (2 varieties)

Pouch (10 varieties)

Genjirou Tanigaki Birthday Set

Collab Menu Order / Advanced Reservation Bonus Coaster (17 varieties)

Matagi's Stump Birthday Cake Order Bonus – Bromide

Goods Preorder Bonus Bromide (17 varieties)

The collaboration menu will include a tasty Almond Pound Cake with Lingonberry Sauce and Matagi's Stump Birthday Cake to celebrate Tanigaki's birthday! Don't miss out on these exclusive menu items and goods. 

©野田サトル/集英社・ゴールデンカムイ製作委員会
© 2022 SANRIO CO., LTD. TOKYO, JAPAN(L)

Tokyo Revengers to Hold Collaboration Event in Shibuya's RAYARD MIYASHITA PARK

From June 17 until July 10, the anime series Tokyo Revengers will inspire a number of special events at RAYARD MIYASHITA PARK in Shibuya!

The new campaign will feature photo spots, an original broadcast only viewable on-site, and a raffle to win exclusive original collaboration merchandise. 

MIYASHITA PARK PARTY, a Special Summer Bargain

Special promotions available during the event period include discounts at participating stores, lucky bags, and more, promising to make this a happy summer for fans. For more information about the MIYASHITA PARK PARTY including participating shops and bargains, check out the special campaign website.

Win Tokyo Revengers x RAYARD MIYASHITA PARK Collaboration Goods!

Guests presenting a reciept for ¥3,000 or more (tax included) during the event period will be entered to win Tokyo Revengers x RAYARD MIYASHITA PARK collaboration goods. 

A Photo Spot and Original Stream!

Guests will find three unique photo spots within RAYARD MIYASHITA PARK featuring nine characters from the series. Original broadcasts featuring Takemichi Hanagaki and Manjiro Sano will be aired on-site.

▶Photo Spot

Available: June 17 – July 10, 2022

Locations: 2F South in front of L'ÉCHOPPE (Takemichi Hanagaki, Manjiro Sano, Ken Ryuguji)

2F South in front of THE SHIBUYA SOUVENIR STORE (Chifuyu Matsuno, Keisuke Baji, Kazutora Hanamiya) / 3F South in front of MINOTAUR INST. (Takashi Mitsuya, Haruki Hayashida, Ryohei Hayashi)

▶Original Stream

Running: June 17 – July 10 (Broadcast every 30 minutes during business hours.)

Don't miss this special campaign filled with bargains, exclusive merchandise, lucky bags, and plenty more!

Pui Pui Molcar Inspires Pop-Up Store at Shibuya MODI for a Limited Time

From June 24 until July 17, fans of the adorable stop-motion series Pui Pui Molcar will be able to grab some exclusive beach party-inspired goods at Shibuya MODI! A limited-time pop-up store, 'Sparkling Beach Party -Molcar's Official Trip PARKING Shop,' will welcome guests inside the 7th-floor event space.

This is the second limited-time brick-and-mortar store inspired by the web shop "Pui Pui Molcar Parking." In this iteration, the characters are seen enjoying a beach party and have been painted in a new style! Products using those newly-drawn illustrations and a raffle for original prizes will be held for those purchasing goods. A "Potato Photo Session" is scheduled for July 9 and 16. 

The Pui Pui Molcar pop-up shop will be traveling to Osaka and Fukuoka in the future, so be sure to visit!

©見里朝希JGH・シンエイ動画/モルカーズ


Information

Sparkling Beach Party -Molcar's Official Trip PARKING Shop-

Venue: Shibuya MODI 7F Event Space

Running: June 24 – July 17, 2022

Hours: 11:00-20:00 (Closing at 19:00 on July 17)

Official Site: https://www.bnfw.co.jp/

SPYxFAMILY Collaboration Cafe Opens at in Shibuya for a Limited Time

An official SPYxFAMILY cafe will be held at the Chugai Grace Cafe on the seventh floor of the Shibuya MODI building between June 2 and June 19!

Collaboration Menu

Reconciliation Mission Omelet Rice

Anya's Favorite Nuts Pancake

Aim for Imperial Scholar Parfait

Yor's Bloody Orange Juice

Yuri's Hungarian Souvenir Wine-style Drink

Goods

Pins (Mini Character ver.)

Acrylic Stand (Mini Character ver.)

Acrylic Keychain

Bromide (Set of 2, random)

Anya Cushion

Handkerchief in Tin Case

Smartphone Ring

Menu Order Bonus/Online Reservation Bonus: Coaster

Goods Purchase Bonus: Postcard

Guests can enjoy menu items based on popular characters, such as Anya's Favorite Nuts Pancake which is made to look like the adorable pink-haired telepath. Original merchandise featuring mini-versions of the cast in cafe garb will be on sale during this period as well.

Have you been watching the anime adaptation of SPYxFAMILY?

©遠藤達哉/集英社・SPY×FAMILY製作委員会

GUCCI LOVE PARADE Experience Space and Cafe Opens at Miyashita Park in Shibuya, Tokyo

GUCCI LOVE PARADE TOKYO, an interactive event themed around the brand's latest collection GUCCI LOVE PARADE, is now open at Miyashita Park in Shibuya, Tokyo, until May 31, 2022. Guests are invited to enjoy the glamour of old Hollywood reimagined in a contemporary way with Gucci's one-of-a-kind aesthetic. Three distinct locations are open, each ready to surprise you!

The new Gucci event features a special installation celebrating the brand's collection presented last November on Hollywood Boulevard in Los Angeles. Fashionistas can wander around the decorated spaces, browsing looks embodying the free spirit of Hollywood stars. A photo spot is also available, making visitors look as though they've traveled to Hollywood Boulevard. Others feature a backstage area and a retro game room. What kinds of photos would you want to take?

On the first floor of RAYARD MIYASHITA PARK North, the GUCCI SNEAKER ROOM will be open for a limited time! The shop pays homage to Miyashita Park, the current center of street culture and fashion in Tokyo, by offering a wide variety of Gucci sneakers. The fourth floor of Hotel sequence Miyashita Park is now home to Gucci Cafe by Valley Park Stand, offering menu items inspired by a Hollywood-based Italian bar.

During the event period, visitors can participate in a special stamp rally. The only way to play is by connecting from the official Gucci LINE account. Visitors who visit the three locations and collect the appropriate stamps will receive a special GUCCI LOVE PARADE gift only available at this event. (While supplies last.)

Information

GUCCI LOVE PARADE TOKYO
Running: Everyday between April 23 – May 31
Address: Miyashita Park (6-20-10 Jingumae, Shibuya-ku, Tokyo)
Event Details: https://on.gucci.com/LoveParadeTokyo1