Interact with Animals and Watch a Traditional Performance at Tobu Zoo's Autumn Night Event
Tobu Zoo will be extending their opening hours on September 14, 15, 21 and 22 to 8pm to hold a special Autumn Night event.
Animal Dinner (A chance to feed the animals)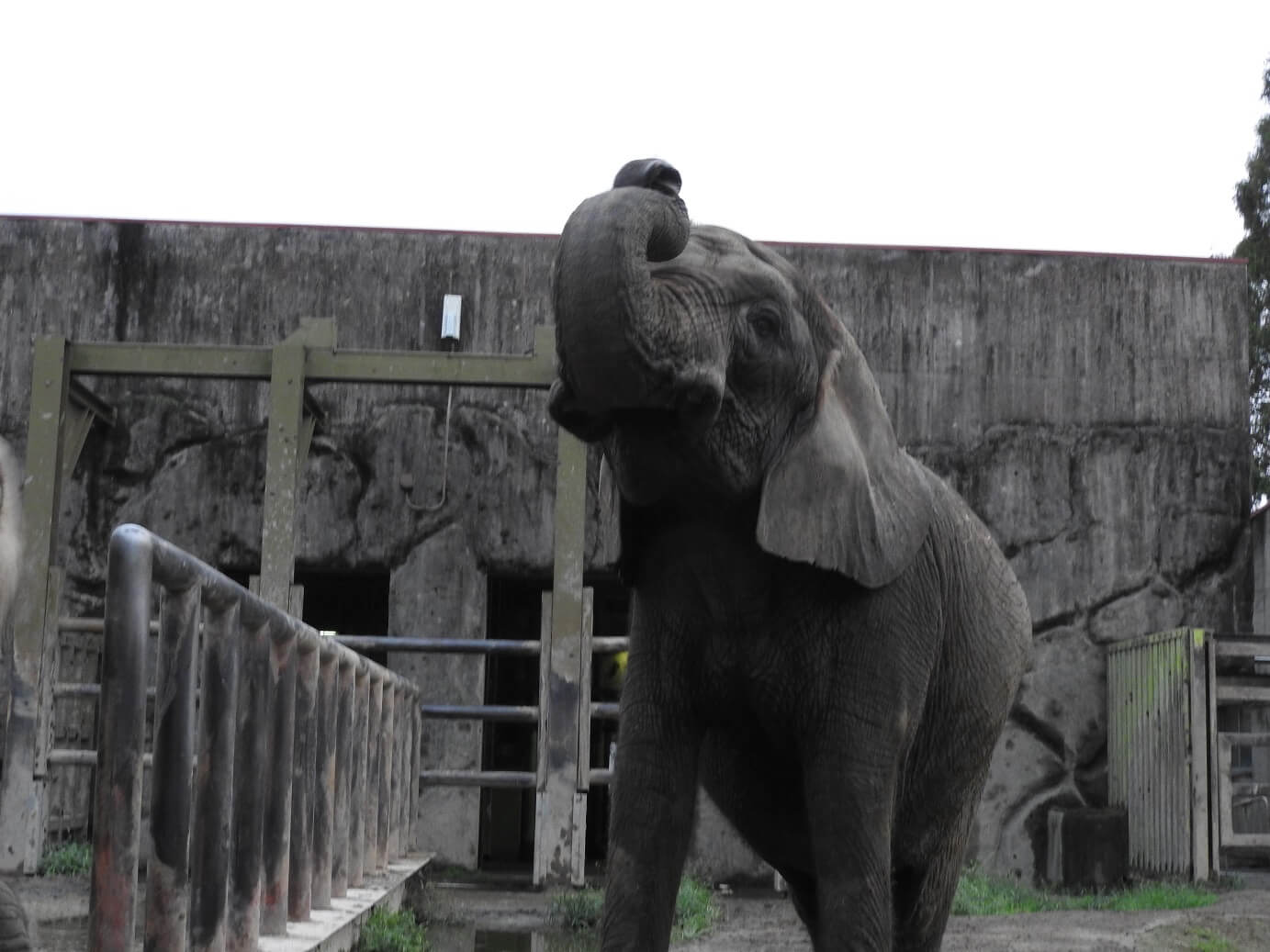 This is a wonderful opportunity to feed the penguins and elephants. 
Running: September 14, 15, 21 and 22
Penguin Dinner Time: From 5pm
Elephant Dinner Time: From 5:30pm 
Price: ¥500 per group  (maximum of 25 groups)
For both events above, the feeding time will end once 25 groups have participated. 
Animal Night Guide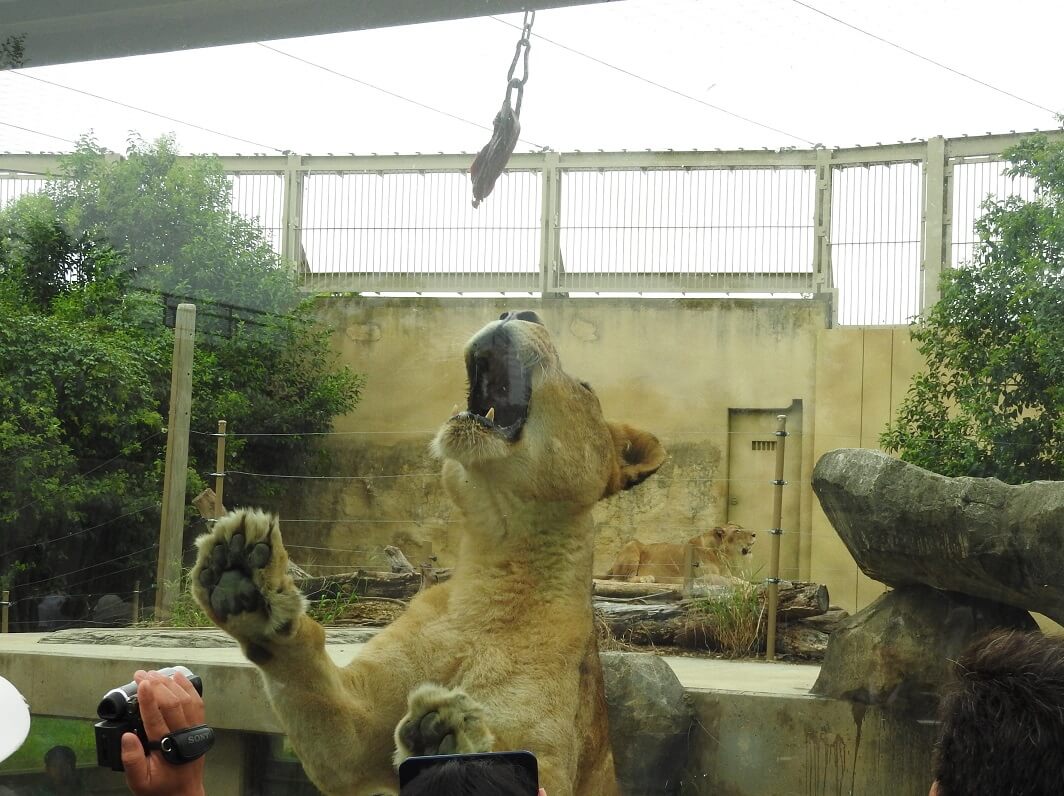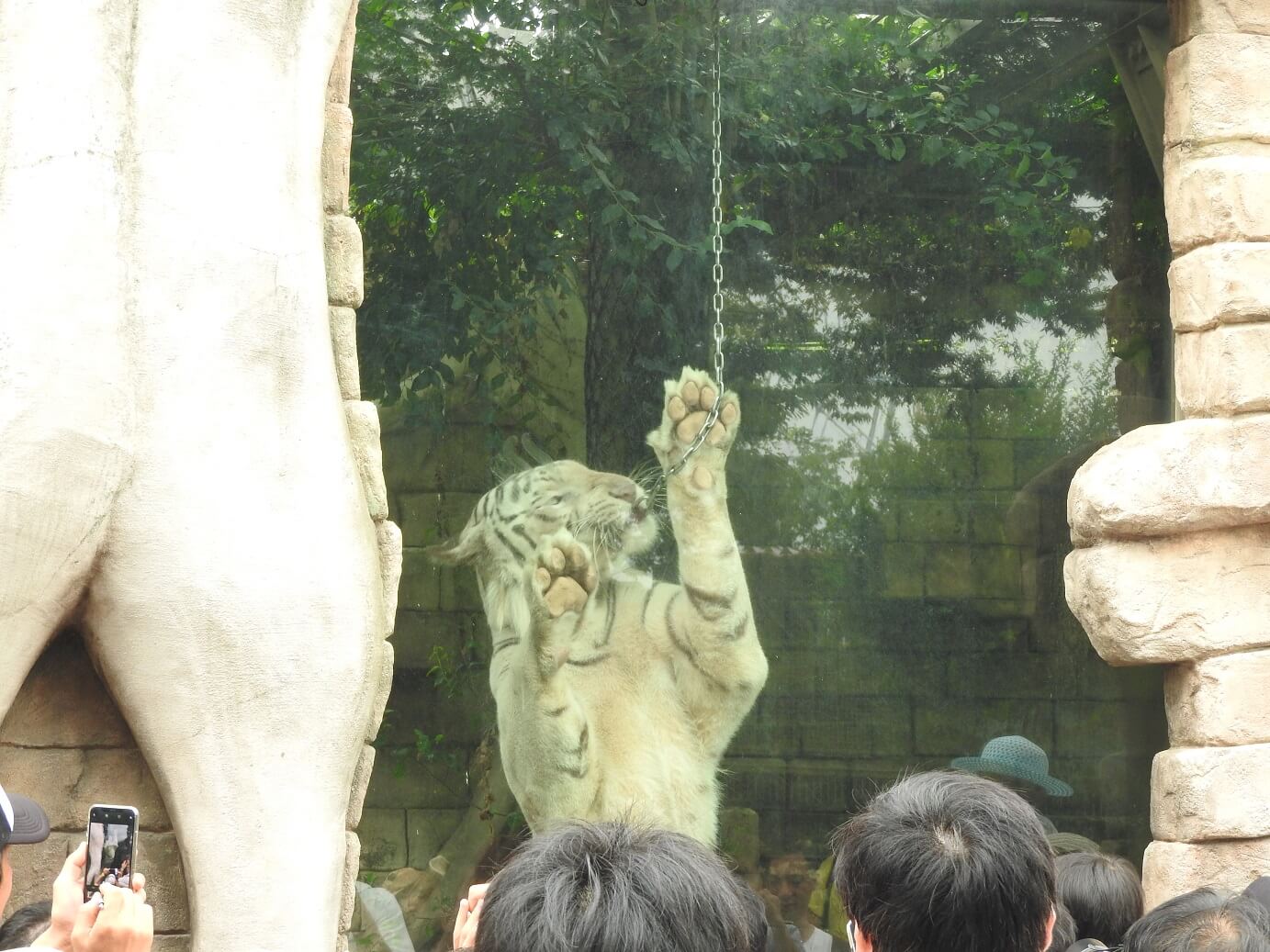 This is a chance to learn about the lifestyles and fascinating features of each species directly from the team of zookeepers that raise them.
Running: September 14, 15, 21, 22 
Monkey World Jungle Night: From 6:10pm (lasts approx. 20 mins)
Lion Night: 7:20pm (lasts approx 10 mins) 
White Tiger Night: 7:30pm (lasts approx 10 mins) 
* The nighttime lion and white tiger guides will replace the daytime guides running from 2:30pm and 2:40pm respectively.
Traditional Theatre Performance of an Animal Ghost Story
The team of zookeepers has prepared and handmade a traditional Japanese Kamishibai theatre performance. Kamishibai is a form of Japanese street theatre and storytelling which was particularly popular during the 90s. Join the zookeepers on a quiet evening as they tell an old yet terrifying ghost story. Make sure to check out the zookeeper's interesting costumes too. 
Running: September 15, 22
Times: From 7:00pm (approx. 20 mins long)
Location: Japanese Animal House (日本産動物舎)
Autumn Night ZOO Special Event: Penguin Bar
This bar is the perfect place to sip on your favourite spirits whilst enjoying the graceful view of penguins. You can also purchase merchandise here. Some of the merchandise has been designed with the inspiration of the penguins' names and even their food. 
Open: September 14, 21
Opening Hours: 5:30pm ー 8:00pm (last orders: 7:30pm)
Location: Penguin Land 
There are so many exhibits and fun attractions running until 8pm. Enjoy a refreshing Autumn night at Tobu Zoo with your family and friends.
Information
Autumn Night ZOO
Running: September 14, 15, 21, 22
Opening Hours: 9:30am  ー 8:00pm (last entries: 7:00pm)
*  Certain events may be cancelled and opening hours may change due to the weather. 
Tobu Zoo
Address: 10 Suka, Miyashiro, Minamisaitama District, Saitama
Website: http://www.tobuzoo.com/global/english/
RECOMMENDED ENTRIES
Hippos Arrive Under Shibuya's Inari Bridge as Part Of National Geographic Promotion

The Hostile Planet documentary series by National Geographic is set to air in Japan from August 22. To celebrate the show's airing, a promotional shoot will take place at Inari Bridge in Shibuya on August 24 and 25 where three hippos will make an appearance to help spread the word of how animals have had to adapt to the recent rapid changes in the environment in order to survive.

A Tale Of Hippo Parents & Child, Living Off Grasslands, and Rapid Environmental Changes From the Seasons

Dry seasons are becoming regular, where water is snatched away from the earth's surface by the scorching sunlight. These are especially merciless seasons for hippos and a real threat to their survival. They cannot enter the water even for a brief moment. Their only options is to walk under the fire of the blazing sun. Their homes used to be packed full of watering holes, but now all they can do is embark on an aimless search. And the severity of this―the beating of the sun and lack of water―is becoming more and more of a problem.

Three panel cutouts of hippos will be set up under Inari Bridge to tell a story of two parents and their child who who survived these harsh conditions by escaping from Katavi National Park in Tanzania and arriving in Shibuya, Tokyo.

Information

Promotional Shoot

Running: August 24, 2019 – August 25, 2019

Time: 12:00-18:00

*In the case of rain on August 24 then the dates will be postponed to August 25 and 26. In the case of rain on August 25 then the dates will be postponed to August 26 and 27. Dates TBA if it rains on August 27. The dates will be extended if there is rainfall even when it is sunny. Additionally, the shoot will run from 11:00-17:00 on August 26 if it must fall on that day.

Location: Inari Bridge (3-21-2 Shibuya, Shibuya Ward, Tokyo)

Access: Directly connected to Exit 16b of Shibuya Station via the Tōkyū Tōyoko Line, Tōkyū Den-en-toshi Line, Tokyo Metro Hanzōmon Line, and Tokyo Metro Fukutoshin Line

Hostile Planet (6 Episodes)

Showing on National Geographic

Official Homepage (Japan): https://natgeotv.jp/tv/lineup/prgmtop/index/prgm_cd/2639

P→★ (TEMPURA KIDZ) Animal Café Diary #1: Making Friends with Otters at HARRY Harajuku Terrace Café!

I love animals!

This is P→★ from TEMPURA KIDZ and welcome to the first entry of my brand new series. I'll be updating occasionally. What's a better way to start a series than to make friends with some otters and hedgehogs in Harajuku? Today, I went to HARRY Harajuku Terrace café to do just that!

It's not just what's inside the café, but its location is also worthy of note – it's just an 8-minute walk from JR Harajuku station and a 5-minute walk from Tokyo Metro Meiji-Jingu station, so it's easy to drop by after a busy day of being a tourist. The wow-factor of this café is the three very sociable otters. This highly successful café draws in customers that come day after day, seeking the ultimate soothing feeling of bonding with their new friends.

All their faces look the same, but you can tell them apart by looking at their tails. The otter called Miku has a thin tail, whereas San has a thick one and Kirara has a flat one. Particularly Kirara is brimming with curiosity and is the one with whom you are mostly likely to interact, if you should pop by!

Full of excitement, the otters reached through the small hole in the tank to ask for food and toys. It was overwhelmingly cute. When they want a treat, they call out with their peculiar squeal. You can purchase snacks for them within the café. If you give them food, your friendship will grow increasingly stronger.

Otter snack prices:

First-time customers: ¥330 (price including tax)

Standard price: ¥540 (price including tax)

As the café name "HARRY" implies, the café has hedgehogs (harinezumi). The hedgehogs heal the tired hearts of all the café visitors. All the hedgehogs are friendly and rarely ever raise their quills at anyone, so you can touch them safely.

Even I can handle a hedgehog!

Even though hedgehogs are rather timid, they can still open their hearts to you! I can't believe that we even touched noses to communicate! It's amazing!

The café was once a pet shop that sold rabbits and other small animals. This is it's first time running business as a café, and that's why you can not only interact with the animals here, but also buy one to keep. The staff also provide important information on how to properly care for the animals and diseases to which they are prone. If you are interested, then please feel free to ask them any kind of question.

There are many other animals in the shop. This is a large French Lop rabbit. 3 months after birth, their bodyweight can even reach up to 7kg. Their droopy ears were so cute and their fur was so fluffy! I was filled with happiness.

…and there were even chinchillas.  They have fluffy tails and look so cute!

I approached them with some grass for them to snack on, and as soon as they saw me, they ran at me full of energy – we even got a photo together! As all the animals at this café are used to people, it's easy to take pictures with them to upload on SNS websites!

The café has such a large variety of food for small animals that was quickly noticed by customers who were interested in buying a pet. You can ask the staff what type of food is appropriate for which animal.

I spent a lot of time surrounded by my favourite animals. I was particularly captured by the otters' cute behaviour! HARRY Harajuku Terrace gives you the opportunity to freely interact with small animals – something that you can't really do at a zoo or anywhere else. If you're in Harajuku, how about stopping by? You may have to wait 30 minutes to enter the café if the store is closed. The café is very popular so I recommend that you reserve in advance!

■ Information

HARRY Harajuku Terrace

Address:Jingu-mae 426 Building floor 3, Jingu-mae, Shibuya, Tokyo

Opening hours:11:00-19:00 (Last entries: 18:30)

Regular closing days: None

Access:8-min walk from JR Harajuku station, 5-min walk from Meiji-jingu station Tokyo metro line

URL:http://www.animalcafe.tokyo

Model:P→★(TEMPURA KIDZ)@0830_pika 

Writer:Ryoichi Komaba

Photographer:Haruka Yamamoto

Translator: Samantha Fernandes

P→★ Animal Café Diary #2: Making Friends with Owls & Hawks at Owl's Garden in Harajuku

P→★ from TEMPURA KIDZ loves animals. This is his featured series in which he visits animal cafés in the city.

In this second entry, he made a trip to Owl's Garden in Harajuku which houses not only owls, but hawks too!

The café can be found behind Tokyu Plaza, a very favourable location since you can stop by after shopping in Harajuku. It's a 6-minute walk from Harajuku Station or a 2-minute walk from Meiji-Jingumae Station. Today, P→★ is wearing an outfit inspired by Harry Potter!

The café interior is styled on an English garden. There are 12 owls and hawks that live there. It's full of natural light and greenery, making it a nice and comfortable place to relax.

There are several price plans. The Standard Plan is ¥1,500 which gets you 60 minutes inside. During that time, you're free to touch the birds, take photos of them and sit them on your arm as much as you like.

P→★ met with the owls first. You can gently touch the top of their head down to their back as well as their chest. This owl is a Chaco Owl.

If you want to hold the birds just ask the staff. You'll be given a glove to wear for the bird to sit on.

P→★ is now holding an American kestrel. This is the only falcon in the café. If you're careful not to move your hand it will stay relaxed on your hand.

This is a barn owl. Apparently lots of customers are captivated by its striking face.

"This one's so fluffy!" commented P→★.

P→★ was particularly interested in this Little Owl (that's the actual name of the species!) Its tiny size is enough to tug your heartstrings♡

Owls save energy and don't move around much, so they're perfect for snapping photos of. That goes for selfies too.

Next is to try out being a falconer. There's a number of cafés where you can come into contact with hawks but not that many where you can actually have one fly over to you, so some customers can spend several hours here.

You begin with your back against the wall and bring your hand up to the same height as your shoulders at the count of 3.

The hawk responded to the signal several meters way and flew right onto P→★'s hand.

It costs ¥500 for one turn which consists of two flights.

"It's like I've become a wizard!" The bird that flew to P→★ is the Harris's hawk. They are known for their intelligence. Hawks are often perceived as scary but they're actually very friendly to humans.

You can enjoy a drink at this café while playing with the owls and hawks. If you make a reservation you get a drink on the house, otherwise it's ¥100. It's better to make a reservation if you're planning to go there.

The earrings they sell there are popular. They're made from feathers that have fallen from the owls at the café. Be sure to find the feather of the bird you like there the most. They also sell a range of other merchandise including a photo collection of the owls.

P→★ was very satisfied with his experience. It was his first time coming into contact with them, and his first time having a hawk fly to him.

"After watching Harry Potter, I wanted to own my own owl. It was a lot of fun interacting with them today. My image of hawks has changed too! If I'm rich in the future I want to have my own pet owl. Until then, I'll be sure to come back here!"

P→★ sure enjoyed Owl's Garden. The café is arranged in a way that makes it easy to take photos. The natural lighting and greenery make it a great choice for Instagram. Be sure to make a reservation if you're interested.

Check out the time P→★ went to Harajuku Terrace Café in his first Animal Diary Café entry here.

■Information

Owl's Garden

Address: Ingresso 2F, 4-31-5 Jingumae, Shibuya, Tokyo

Opening Hours: 10:00am-7:00pm (Until 6:00pm on Tuesdays, Wednesday & Thursdays except on National Holidays)

No Fixed Holidays.

Access: 6-minutes on foot from Harajuku Station via JR / 2-minutes on foot from Meiji-Jingumae Station via Tokyo Metro

Website:https://owls-garden.jp

Model: P→★(TEMPURA KIDZ)@0830_pika

Photo: Kayo Sekiguchi

Text: Sayoko Ishii

Translation: Joshua Kitosi-Isanga
RELATED ENTRIES
Crayon Shin-Chan's Sengoku Period Winter Adventure Now Open at Nijigen no Mori Amusement Park

Crayon Shin-Chan's Sengoku Period Adventure, a permanent attraction at the Nijigen no Mori Amusement Park in Hyogo Prefecture, has been transformed for the cold winter months until February 27, 2022!

 

During the event, guests will have to dodge the snow-like bubbles with a 99.9% hit rate as they race towards the finish line. Do you think you could handle it?

Information

Crayon Shin-Chan's Sengoku Period Winter Adventure
Running until February 27, 2022
Location: Nijigen no Mori Amusement Park, Awaji, Hyogo Prefecture

Tickets / Official Site: https://nijigennomori.com

The Prince of Tennis 20th Anniversary Event to Open at Hakata Marui and Shinjuku Marui Annex

The second pop-up store to commemorate the 20th anniversary of The Prince of Tennis anime series will open at both Hakata Marui and Shinjuku Marui Annex!

Acrylic Figure (8 varieties): ¥1,650 (Tax Included)

Pin (Random, Holographic): ¥440 (Tax Included)

SNS-style Acrylic Keychain (8 varieties, random): ¥660 (Tax Included)



Nameplate Keychain (Rudolf & Ginka / Yamabuki): ¥660 (Tax Included)

Star Pin (Rudolf & Ginka / Yamabuki): ¥550 (Tax Included)

Acrylic Stand (Rudolf & Ginka / Yamabuki): ¥660 (Tax Included)

Fans of the series will be able to find merchandise featuring new illustrations of popular characters at both event spaces and online at the Marui Anime Online store.

© 許斐 剛/集英社・NAS・新テニスの王子様プロジェクト

Information

The Prince of Tennis 20th Anniversary OIOI POP UP SHOP

Hakata Marui
Running: January 8 – January 16, 2022
Location: Hakata Marui 5F Event Space
Hours: 10:00-21:00

Shinjuku Marui Annex
Running: January 28 – February 6, 2022
Location: Shinjuku Marui Annex 1F Event Space
Hours: 11:00-20:30 *Closing at 19:00 on February 6

Marui Anime Online
https://animeonline.0101.co.jp/
Order Period: January 8 – February 7 at 5:59
Shipping Begins in Early April 2022


Details: https://www.0101.co.jp/405/info/index.html?contents_id=0320
Official Site: http://tenipuri.jp/

'Dragon Ball Games Battle Hour 2022' Streaming Event to Tease Franchise's Future

Bandai Namco has announced an upcoming global streaming event to highlight both current and upcoming Dragon Ball titles. 'Dragon Ball Games Battle Hour 2022' will take place between February 18 and February 19 in regions around the world. Plenty of updates and announcements will be made during the stream, so you won't want to miss it!

The event was first held in February 2021 and brought together Dragon Ball fans from 23 countries around the world. This second annual event will feature even more popular content and will utilize the latest technology to bring even more excitement to fans of the series.

The world's strongest players will once again be invited to participate in an exciting battle! This year's Games Battle Hour will feature the Dragon Ball FighterZ, the Dragon Ball Super Card Game, and the smartphone title Dragon Ball Legends. Kids can also enjoy the new Super Dragon Ball Heroes digital card game!

On Dragon Ball FighterZ, the World Championship will be held to determine the world's best player among the winners of the Regional Finals, a tournament featuring the top-ranked players from Europe, Japan, and North America. In the Dragon Ball Super Card Game, the winner of the 2021 World Championship will face off against the newest top player. Dragon Ball Legends will also announce a new project. 

A Super Dragon Ball Heroes event will pit six players from Japan against each other, separated into two teams for 3v3 battles. Those who aren't interested in participating in fighting games can also enjoy a trivia competition!

The "DBXV2 Super Fashion Show" will see the top 16 fashion leaders in Dragon Ball Xenoverse 2 showcasing their most creative work. The 'Dragon Ball Art Challenge' will also invite viewers to create their favorite characters using unique mediums like balloons and Rubik's cubes.

The recently revealed multiplayer game, Dragon Ball: The Breakers, will also be part of the event with the game's producer giving an in-depth look and gameplay demonstrations for this upcoming game. 'Dokkan DATA 2022' will look back at the seven years since the launch of Dragon Ball Z Dokkan Battle and will share some data about how players have been playing the game and its exciting history.

Viewers can also take place in a workshop to learn how to best photograph their 'Dragon Stars Series' and 'S.H.Figuarts' action figures. A master of Chinese cooking will also take the stage to recreate dishes from Dragon Ball Z: Kakarot in the special program 'Kakarot Cooking.'


A master sculptor and his protegee will create figures of Goku and Vegeta live during the event as well! Will you be tuning in? 

©BIRD STUDIO/SHUEISHA, TOEI ANIMATION

©バードスタジオ/集英社・東映アニメーション ©BANDAI NAMCO Entertainment Inc.

Information

DRAGON BALL Games Battle Hour 2022
Date and Time: 

JST: February 19, 9:00-14:00 / February 20, 2:00-10:00

PST: February 18, 16:00-21:00 / February 19, 9:00-17:00

EST: February 18, 19:00-0:00 / February 19, 12:00-20:00

CET: February 19, 1:00-6:00 / February 19, 18:00-2:00
※Please note that the end time of the event is subject to change.

Japanese Site: https://dbgbh.bn-ent.net

English Site: https://dbgbh.bn-ent.net/en

*The event will be streamed worldwide (excluding some countries and regions)

Hokkaido's OMO7 Asahikawa Resort Opens Animal Sauna

Hoshino Resorts OMO7 Asahikawa has announced a new 'Animal Sauna,' inviting guests to spend time with cute animals to heal the body and soul. The sauna will be open from March 1 to May 31, 2022. 

Fans of Gashapon capsule toys know that animal sauna figures are popular among sauna enthusiasts. These figures are only about four centimeters big, but during this sauna event, they will be life-sized and placed within the sauna space! These massive figures were made with the help of Bandai. 

Sauna hats protect guests' heads and hair from the heat, and sauna ponchos prevent guests from getting too cold after emerging from the space. Now, these hats feature cute animal ears, and the sauna mats are covered in animal prints as well. These will also be available to rent or buy! 

The lounge space will also be transformed, and a drink bar with animal-themed glasses will help guests to rehydrate after time in the sauna. Yes, the lounge space also features life-sized animals, perfect for nature lovers. 

Gashapon figures will be available to purchase on the first floor, so be sure to grab one as a souvenir! 

ⒸBANDAI

Information

Animal Sauna

Running: March 1 – May 31, 2022

Hours: 15:30-24:00 (Last entry 23:30)

*Only Available to Hotel Guests

Admission: Free

Official Site: https://omo-hotels.com/asahikawa/

Tokyo Revengers Anime Special Event Visual Unveiled

A special event for the wildly popular Tokyo Revengers anime series will be held on December 18, 2021. The first visual for the event has been released!

The new image shows Takemichi, Chifuyu, Peh-yan and the founding members of the Tokyo Manji Gang taking a well-deserved break. Takuya Eguchi, who plays the role of Shuji Hanma, will make an appearance during the evening show. Along with the members of the Tokyo Manji Gang, members of Valhalla will be present too, so it's sure to be a wild time. 

Exclusive merchandise will be sold at the venue, and pamphlets featuring cast photos and special interviews will be handed out. Good luck charms will be on sale, with many seen in episode 22 of the anime series. 

Tickets went on sale December 1 and are available on a first-come, first-served basis. 

©和久井健・講談社/アニメ「東京リベンジャーズ」製作委員会

Information

Tokyo Revengers Special Event at Tachikawa Stage Garden

Date: December 18, 2021

Day Show: Opens at 13:00, Show Starts at 14:00

Evening Show: Opens at 17:00, Show Starts at 18:00

Tickets: https://special.canime.jp/tokyo-revengers-anime/ticket/

*注意事項等の詳細は受付URLからご確認ください。

VTuber Group NIJISANJI to Celebrate Four Years with 2-Day FANTASIA Event

The massive VTuber collective NIJISANJI will be holding a special 2-day event to celebrate four successful years! The NIJISANJI FANTASIA Event will be held at Pia Arena MM in Yokohama on January 22 and January 23, 2022. Female streamers will perform on Day 1, and male streamers will take the stage on Day 2. Presale tickets are now available by lottery for certain Fanclub members. 

As of October 2021, there are 107 Japanese NIJISANJI members, and a total of 156 members including the company's English, Indonesian, Korean and Chinese members. The group has over 30 million subscribers on YouTube across all members. The group has held a live event each year to celebrate these massive milestones. This year's event will be held in full-scale 3D collaborative costumes for the first time, and sixteen talents will be taking the stage total.

Who is your favorite member of NIJISANJI?

Information

NIJISANJI 4th Anniversary LIVE 'FANTASIA'

Performers: 

DAY 1: Mito Tsukino, Kaede Higuchi, Saku Sasaki, Yukia Shiina,  Uiha Aiba, Rena Yorumi, Inui Toko, Tomoe Shirayuki

DAY 2: Touya Kenmochi, Kanae, Hayato Kagami, Kakeru Yumeoi, Akina Saegusa, Kou Uzuki,  Shellin Burgundy, Kizuki Yashiro

Dates:

DAY 1: January 22, 2022 / Doors Open at 16:00, Show Starts at 17:00

DAY 2: January 23, 2022 / Doors Open at 16:00, Show Starts at 17:00

Location: Pia Arena MM (https://pia-arena-mm.jp/)

Official Site: https://event.nijisanji.app/4thanniv_fantasia

Ticket Information

Individual Member Fan Club Presale Tickets (Lottery)

NIJISANJI Fan Club (Kaede Higuchi, Saku Sasaki, Yukia Shiina, Kakeru Yumeoi) Presale Lottery Registration

Open: October 31, 2021 20:00 – November 7, 2021 23:59

URL: https://eplus.jp/nijisanji-4th-anniversary/fc/

Fan Club Site: https://fanclub.nijisanji.jp/

NIJISANJI Fan Club Presale Tickets (Lottery)

Presale Lottery Registration

Open: October 31, 2021 20:00 – November 14, 2021 23:59

URL: https://eplus.jp/nijisanji-4th-anniversary/fc/

'Reflexion' Serial Presale Tickets (Lottery)

Open: November 24, 2021 12:00 – December 5, 2021 23:59

URL: https://eplus.jp/nijisanji-4th-anniversary/sp/

*Must purchase NIJISANJI Cover Song Album 'Reflexion' 

Purchase Here: https://shop.nijisanji.jp/s/niji/item/detail/NJSJ-033?ima=0932

Boat Race Tokoname in Aichi Prefecture to Screen Popular Films at Drive-in Theater

The Boat Race track at BOATRACE Tokonome will be home to a 3-day Drive-in Theater event on November 19, 20, and 21. The vast west parking lot will welcome guests to enjoy three films from the safety and privacy of their vehicles. In past years, the Hamanako, Tokuyama, Naruto, and Mikuni locations have participated. Now, it's Tokoname's turn!

Selected Films

La La Land (with subtitles) – November 19, 2021

© 2017 Summit Entertainment, LLC. All Rights Reserved.

The Secret Life of Pets 2 (dubbed) – November 20, 2021

© 2019 Universal Studios. All Rights Reserved.

A Whisker Away – November 21, 2021

© 2020「泣きたい私は猫をかぶる」製作委員会

This lineup of films can be enjoyed by families, lovers, and friends. The final film, A Whisker Away, is a coming-of-age fantasy set in the city of Tokoname. Visitors can enjoy these films on one of the largest air screens in Japan, at 722 inches. Don't miss some additional boat race content that even beginners can enjoy!

Information

BOATRACE de DRIVE-IN THEATER in BOATRACE Tokoname

Dates: November 19, 20, 21 – Doors open at 18:00, film starts at 19:00

Address: BOATRACE Tokoname West Parking Lot (4-111 Shinkaicho, Tokoname-shi, Aichi)

Official Site: https://boatrace-driveintheater.com

Sanrio Puroland Announces Snow Globe-Themed Christmas Event

This holiday season, Sanrio Puroland will hold its Puro Christmas celebration from November 5 until December 26, 2021. The snow globe-themed event is sure to bring some cheer to the Tokyo area!

Snow Globe Lights

Photo Spots

Puro Christmas Special Greeting

Kitty & Daniel's Party-Party Christmas

Exclusive Menu

Puro Christmas Limited-Time Merchandise

'The Puro Christmas' Musical Show

Guests will be treated to an entire world of Sanrio characters within a glittering snow globe, and each of them will be wearing limited-edition Christmas costumes. Seasonal photo spots and opportunities to spend time with characters will line the space, along with Christmas trees and other holiday decorations!

The special Christmas food menu features a Santa Claus theme and dishes are dotted with red and green. Exclusive snow globe-themed merchandise available for purchase includes keychains, pins, and sweets that are perfect to give as a gift this holiday season. In addition, a special four-day event 'Kitty & Daniel's Party-Party Christmas' will invite guests to enjoy a full buffet while watching a live performance and partaking in a photo session after the meal!

First performed in 2018, 'The Puro Christmas' musical show is making a comeback this year after becoming a big hit with fans. 

© 2021 SANRIO CO., LTD. TOKYO, JAPAN  著作 株式会社サンリオ

MUSER FEST.2021 -MUSIC AID- Event Holds Spin-Off Event for One Night Only

Last month's MUSER FEST.2021 -MUSIC AID- event isn't quite over! A spin-off event, ZIP-FM presents LIVE LIVE! Super Collaboration with MUSER FEST.2021, will be broadcast online on October 22 at 21:00. Since August, collaborative live performances have been planned with different guest artists each month on ZIP-FM's LIVE LIVE! With MUSER FEST.2021 program hosted by CHAI. This event is the culmination of these plans and the lineup is sure to get fans pumped. 

Performing artists include YUNA from CHAI, Suzuka and Mizyu from Atarashii Gakko!, Tabu Zombie from SOIL & "PIMP" SESSIONS, and Shingo Suzuki from Ovall. Ryo Kishimoto from fox capture plan will also join the live performance as a supporting artist. An archived stream will be available for two weeks after the live show, and tickets are on sale now on the official MUSER website. 

 

Information

ZIP-FM presents LIVE LIVE! Super Collaboration with MUSER FEST.2021

Broadcast Date: October 22, 2021 from 21:00-22:00

Price: 2,000YELL – ¥2,200 (Tax Included) *Includes access to archive

Buy Tickets: https://muser.link/__b/events/573 

Archive Available from October 23 – November 5 at 23:59

Archive Ticket Sales Period: October 23 – November 5 at 23:59

Official Site: https://muser.link/

Seaside Park Nagoya in Kinjofuto Event Offering Exciting Activities This Fall

Seaside Park Nagoya in Kinjofuto is coming to Makers Pier in Nagoya City on October 16 and 17, as well as October 30 and 31. The event will feature 30 different activities for both parents and children to enjoy, along with workshops where kids can learn new things, such as cardboard crafts and lunch totes. 

For those more adventurous types, bouldering and slacklining will invite guests to stretch and refresh their bodies while enjoying the sea air. Even beginners can safely enjoy some of these more strenuous activities, as instructors will be on site. Plenty of unique experiences will keep little ones busy discovering and exploring. 

 




When the sun goes down, the Night Cinema will begin, and guests can enjoy a movie beneath the stars. How would you like to come and relax by the seaside? 

Information

Seaside Park Nagoya in Kinjofuto

Dates: 

October 16, 17 from 10:00-20:00

October 30, 31 from 10:00-20:00

*After 5:00, all activities except movie screenings will be closed. 

Address: Inside Maker's Pier 

Official Site: https://seasidepark.info/

Naruto and Boruto Summer Event Begins at Nijigen no Mori

Nijigen no Mori, an amusement park located on Awaji Island in Hyogo, began a summer event at its Naruto and Boruto-themed zone on July 22 which is set to run until September 30.

Event-exclusive stickers

The event includes a huge water gun event where 25 litres of water will be sprayed to cool down guests during the hot summer event. With themed character panels displayed around the park, join Naruto and the gang, including Zabuza and Haku, for some summer fun. All guests receive a free original sticker too.

© 岸本斉史 スコット/集英社・テレビ東京・ぴえろ

Information

NARUTO&BORUTO SHINOBI-ZATO
Running: July 22, 2021 – September 30, 2021

Location: Nijigen no Mori

Opening Hours: 10:00-18:00
Price: Free (But park entry payment required)
Official Website: https://nijigennomori.com/naruto_shinobizato/

BanG Dream! Girls Band Party x Fuji-Q Highland Summer Event Announced

Fuji-Q Highland is set to host a summer event in collaboration with the mobile rhythm game BanG Dream! Girls Band Party from August 7 to September 12.

This marks the amusement park's 4th collaboration with the game which will see newly-illustrated artwork of the characters decorating the attractions, a special talk show hosted by the voice actresses, limited-time announcements on the attractions recorded by the voice actresses, a themed food menu, original merch, and more.

A digital stamp rally will also take place which will have guests locating life-sized panels of seven characters which they need to scan with their smartphone. This will give them a special voiced story. Those who obtain all the digital stamps by scanning all the panels will receive a free novelty as well as an original voiced guide for boarding the amusement park train. The train too will be decorated in BanG Dream! artwork.

©BanG Dream! Project ©Craft Egg Inc. ©bushiroad All Rights Reserved.