Gamers! Rally Your Teammates For A New Quest: TOKYO GAME SHOW
The TOKYO GAME SHOW is in a league of its own. It is a mecca for gamers who cannot get enough of Japanese games and entertainment. This is where Japan's major game publishers from all kinds of platforms unite to put on an enormous exhibition. 
This includes the opportunity to explore games that are yet to be released as well as hear new announcements about the direction developers are steering the future of gaming. There's no lagging behind. This is a major event for the gaming industry, raking in leagues of heroes every year. 
On August 28, a total of 2,417 game booths were announced, which is the largest number the event has ever seen in its history. This event is home to games on a range of platforms including for console, smartphone and PC. The enormous variety of genres includes the most cutting-edge and latest trends including Esports, VR and much more.
For those of you who love cosplay, this event is your chance to finally meet your fantasy. The outside area of Hall 9 will have a Cosplaying Area Stage where two events will take place: a cosplay fashion show and a gathering. 
On Saturday 14th, Hall 1 event stage will hold the Cosplay Collection Night@2019 event where participants and event staff will take over the stage in game character cosplay. Spectating is free, so feel free to watch as each cosplayer dominates the entire stage, showing off their excellent craftsmanship and skills as they walk the runway and strike a pose definitely worth saving in your highlights! 
On Sunday 15th at 2:30 pm, cosplayers will take to the stage in units of two or more to put on a dance or combat show that you just cannot critically miss out on. 
Schedule:
September 14 (Sat)  From 12:00 ー Cosplay Runway  From 15:30 ー Cosplay Runway
September 15 (Sun) From 13:30 ー Cosplay Runway From 14:30 ー Cosplay Dance and Combat Shows From 15:30 ー Cosplay Runway
The Gathering is where cosplayers can interact with one another and have photos taken ー the perfect opportunity to send those friend requests. On September 14, a gathering dedicated to the Final Fantasy Tales Series will take place on the Cosplay Area Stage. On September 15, there will be gatherings for the Dynasty Warriors and Samurai Warriors series.
Schedule:
September 14  13:00-13:30 Final Fantasy Series Gathering  14:00-15:00 Final Fantasy Tales Series Gathering 
September 15 12:30-13:00 Dynasty Warriors and Samurai Warriors Series Gathering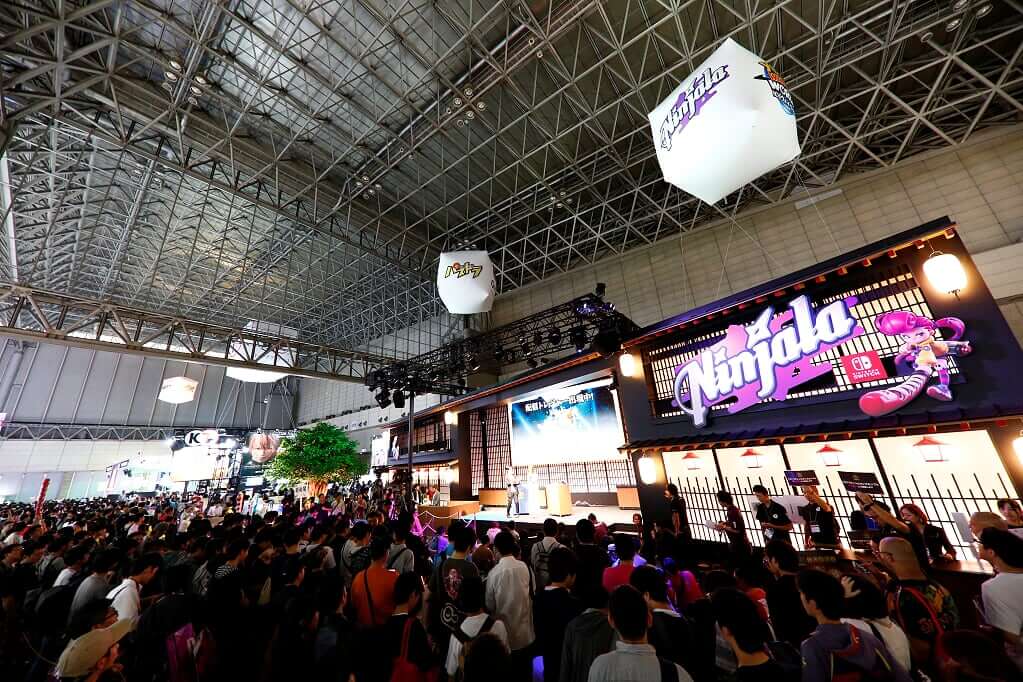 More information on the exhibitions, booths and events will be announced on the morning of September 12 so please check it out. 
There is no better way to multi kill your time than to spend the entire day at TOKYO GAME SHOW 2019 ー get your tickets and GLHF!
Information
TOKYO GAME SHOW 2019
Event Information
Business Days*: September 12 & 13, 2019 (10:00~17:00)
*Business Days are open to industry and press only.
Public Entry*: September 14 & 15, 2019  (10:00~17:00)
*Doors may open at 9:30 am according to conditions on the day.  
Venue: Makuhari Messe (Mihama Ward, Chiba)
Exhibition Halls 1-11/ Event Hall/ International Conference Hall
Entry Fee: Advanced tickets: ¥1,500 (after tax)
On The Door: ¥2,000 (after tax)
Those under Elementary School age can enter for free (public entry days only)
Official Website: https://expo.nikkeibp.co.jp/tgs/2019/en/
RECOMMENDED ENTRIES
Tokyo's Anime & Game Concept Hotel Announces Collaboration With Granblue Fantasy

Sunshine City Prince Hotel is currently collaborating with the anime and game media franchise King of Prism and the video game DREAM!ing to rave reviews on the hotel's IKEPRI25 floor.

The hotel has just announced that its third collaboration will be with the popular RPG video game Granblue Fantasy which will arrive in early November.

IKEPRI25 is located on the hotel's 25th floor and operates as a "concept floor." Decked out with 20 rooms and 4 lounges, the floor is every anime, manga and game fan's paradise as it themes its room on many different titles. The floor is produced in co-operation with Tokyo Otaku Mode Inc.

Granblue Fantasy is a fantasy role-playing game for Android, iOS, and web browser. It launched in 2014 and is available to play in both English and Japanese. The game features music by legendary composer Nobuo Uematsu who is known worldwide for his work on the Final Fantasy series. A new title, Granblue Fantasy Versus, developed by Arc System Works (Guilty Gear series; BlazBlue series).

Further details on the concept room will be announced in the near future, so stay tuned.

©Cygames, Inc.

Tokyo Disney Resort Reveals Its Spooky Halloween Programme and Character Costumes

Get ready for some spooky fun as Tokyo Disney Resort® transforms for the 52-day-long horrifically exciting Disney Halloween from September 10 to October 31. Head to DisneySea to be captivated by the new harbor show Festival of Mystique, or get spooked out of your skin at the Spooky "Boo!" Parade at Disneyland. Today, we will be revealing the spooky looks of both parks.

Tokyo DisneySea Festival of Mystique Costumes

Working with the main theme of a medieval European halloween, inspiration has been taken from the living creatures and waves at the port town Porto Paradiso. 

Mickey Mouse's costume inspiration comes from the the bones and scaly body of a sea creature. He will also be seen wearing a broach decorated with beautiful jewels. 

Minnie Mouse's costume resembles that of a medieval princess. You will see her in a fancy hat that bears beautiful pearls. Her costume is covered in scales on the chest and on the back which really suits her.

Tokyo Disneyland's Spooky Boo! Parade Costumes

Disney friends have joined forces with a group of spooky spirits. You just can't miss out on this rare chance to see your favourite Disney characters disguised as ghosts and skeletons. The strange and unusual atmosphere is sure to send a chilling shiver down your spine. 

Mickey and Minnie will be completely refreshing their colourful look. Mickey's necktie and Minnie's skirt are very mysterious and particularly intriguing.  Please come check them out!

Enjoy the beautiful costumes and the fun range of events this Halloween at Tokyo Disney Resort.

©️Disney

Japan's Poop Museum Dumps Its Load in Shanghai

The poop-themed exhibition Unko Museum is set to roll into Shanghai on October 19 where it will run until January 3 next year.

The museum first appeared at the entertainment facility ASOBUILD, which is connected to Yokohama Station, where it is still running as Unko Museum YOKOHAMA. It was then followed by Unko Museum TOKYO where it is still open at DiverCity Tokyo Plaza. This will mark the museum's first trip overseas.

Just 4 months after opening in in Yokohama, the museum had amassed over 200,000 visitors. The subsequent Tokyo museum served to promote the new Japanese concept of "kawaii poop" to tourists both Japanese and foreign. It was a huge success and enjoyed substantially more visitors than predicted.

With the museum receiving huge attention from both Japan and overseas, Shanghai was chosen as the next destination as a means to develop the concept outside Japan since Shanghai is one of the main global cities of the Asian region. There is also the fact that mainland China has a population of over 1.4 billion. The Unko Museum aims to promote and establish itself as a new entertainment experience.

The museum will be set up at Joy City Shopping Mall, which is home to a whole host of experience entertainment, as well as restaurants, shops, and even a Ferris wheel. It will have the same content as the museum in Japan, including giant poop statues, the "Unstagenic Area," a combination of the Japanese word for "poop" (unko) and the words "Instagram" and "photogenic" with cute and stylish poops, and more.

Information

Unko Museum SHANGHAI
Address: Joy City Shopping Mall Floor 4F, 166 Xizang N Rd, Zhabei Qu, Shanghai Shi, China
Running: October 19, 2019 – January 3, 2019
Opening Hours: 10:00-22:00 (Last Entries 21:00)

Official Website: https://unkomuseum.com/
RELATED ENTRIES
Licaxxx Announces Tokyo Community Radio's Second Event Series 'communities' to be Held in Tokyo and Osaka

Tokyo Community Radio (TCR), an online radio platform run by Licaxxx, has announced a new event titled communities. The event will be held at Daikanyama UNIT / Saloon in Tokyo on June 30 and at Osaka JOULE on July 1.

The guest lineup includes re:ni and Laksa, two hot up-and-coming DJs and producers reshaping the UK music scene. The duo has a monthly program on NTS Radio titled re;lax, along with a party series of the same name. In February 2023, they released a new EP, Body Score, on their new label founded to explore music with faster tempos and to carry the torch of UK techno, jungle, dubstep, and grime. Each DJ is also active individually and the two have constantly been in the spotlight.

Music fans are invited to partake in this stunning musical event led by Licaxxx and targeted at the current generation of music makers as they extend beyond Asia and take their activities around the world.

re:lax (re:ni & Laksa)

Licaxxx

Information

■Tokyo
Tokyo Community Radio presents 'communities' with re;lax
Date: June 20, 2023
Time: 22:00
Venue: Daikanyama UNIT / SALOON
Admission: ¥2,000 (Early Discount) / ¥3,000 (ADV) / ¥3,500 (At the door)
Buy Tickets: https://tokyocommunityradio.zaiko.io/item/356159

LINEUP:
Licaxxx
Temple Ov Subsonic Youth (a.k.a Mars89) – Live
Romy Mats

and more..

[Starring]
Special Guest:
re:lax (re:ni & Laksa)

Lineup:
Licaxxx

Temple Ov Subsonic Youth (a.k.a Mars89) – Live
Romy Mats

and more!

■Osaka
Tokyo Community Radio presents 'communities' with re;lax in OSAKA
Date: July 1, 2023
Time: 22:00
Venue: Osaka JOULE
Admission: ¥2,000 (Early Discount) / ¥3,000 (ADV) / ¥3,500 (At the door)
Buy Tickets: https://peatix.com/event/3590421/view

[Starring]

SPECIAL GUEST:
re:lax (re:ni & Laksa)

LINEUP:
Licaxxx
kotsu(CYK)
Romy Mats

and more..

■Attention
Guests under the age of 20 will not be allowed entry.
All guests will be subject to an ID check prior to entry. Please bring a photo ID showing date of birth. (Photocopies will not be accepted.)
If we are unable to confirm your identity, you may be denied admission.

<About Tokyo Community Radio>
TCR is a distribution platform based in Tokyo that focuses on introducing both local DJs and up-and-coming DJs from around Japan. The program features all musical genres and showcases both DJ mixes and live performances. In featured podcasts, DJs talk about their music, hobbies, and interests, allowing fans the rare chance to learn more about their favorite creators. The station also cooperates with community radio stations in other Asian cities and supports DJs and artists from Asia and beyond when they visit Japan. In addition to regular DJ sessions and podcasts, TCR also collaborates with corporate events, produces music events, and matches DJs to places and brands

FRUITS ZIPPER Holds First Anniversary Concert, Announce Appearance at the 'Sayonara Nakano Sunplaza Music Festival' in June

On May 4, the 7-member idol group FRUITS ZIPPER held the first Tokyo performance of their first-anniversary concert tour at Toyosu PIT.

Tickets for both the Tokyo and Osaka shows sold out immediately after they went on sale. To celebrate the first anniversary of the group's debut, the lucky fans who were able to snag tickets came together at Toyosu PIT.

In the year since their debut, FRUITS ZIPPER has skyrocketed in popularity, performing live at several idol festivals and some of Japan's largest fashion events, and successfully touring Tokyo, Nagoya, and Osaka. Their show at LINE CUBE SHIBUYA garnered incredible attention.

For the first anniversary concert, the stage was transformed by a special set and the member appeared in new never-before-seen costumes. They performed a total of 17 songs, and each member expressed their gratitude to their fans during the MC segments.

During the performance, it was announced that the group would perform at the Sayonara Nakano Sunplaza Music Festival on June 26. The venue, which has seen countless performances over its long history, will be demolished and replaced to commemorate its 50th anniversary. Fans are excited to see their favorite artists perform on this legendary stage, and many are curious to see how it will be transformed in the future.

FRUITS ZIPPER has also released the song Cho Medetai Song ~Konnani Shiawasede Iinokana? ~ (The Super Joyful Song ~Is It Okay to Be This Happy?~) on all major streaming services. The track was co-written by Sho Yamamoto, who wrote the group's hit song Watashino Ichiban Kawaiitokoro, currently with over 700 million views on TikTok, and Gento Miyano, who has written songs for numerous popular artists. The super-happy pop tune has a sound reminiscent of idol tracks from the 2000s and has been a smash hit at live shows, stirring the fans into a frenzy.

Information

<Sayonara Nakano Sunplaza Music Festival Performance Information>
Sayonara Nakano Sunplaza Music Festival
Date: June 26, 2023
Venue: Nakano Sunplaza (Tokyo)

Ticket information and additional information will be posted on the official FRUITS ZIPPER Twitter page(@FRUITS_ZIPPER)as it becomes available.

<Release Information>
FRUITS ZIPPER New Single
Cho Medetai Song ~Konna ni Shiawase de Iinokana?~
Streaming Date: May 4, 2023
Streaming URL: https://kawaiilab.lnk.to/CSKSI
Available on all major music streaming and download sites

1. Cho Medetai Song ~Konna ni Shiawase de Iinokana?~
2. Cho Medetai Song ~Konna ni Shiawase de Iinokana?~ -Instrumental-

<FRUITS ZIPPER Tour Information>
FRUITS ZIPPER Japan Tour 2023 AUTUMN
9/3 – Zepp Namba (Osaka)
9/5 – Zepp Nagoya (Aichi)
9/8 – Zepp Fukuoka (Fukuoka)
9/10 – BLUE LIVE HIROSHIMA (Hiroshima)
9/13 – PENNY LANE24 (Hokkaido)
9/16 – KT Zepp Yokohama (Kanagawa)

Kyary Pamyu Pamyu Performs Theme Song for RPG Dark Tales ~Mirror and Mad Princess~

The smartphone game Dark Tales ~Mirror and Mad Princess~ was officially released on April 11, and the popular singer and talent Kyary Pamyu Pamyu performed the theme song for the title.

The dark RPG tells a tale of the loss of childlike innocence and was pre-downloaded over 1 million times. The theme song, Magical Mirror, was written and composed by Yasutaka Nakata.

Fans of the genre won't want to miss out on this mysterious mobile title!

ZEROTOKYO and ASOBISYSTEM Collaborate on ASOBIZA Party Event

ZEROTOKYO, an entertainment mecca known for heating up Tokyo nights, is teaming up with ASOBISYSTEM to create an exciting new party! ASOBIZA, named after the origin of Kabukicho, will be held on April 28.

The lineup includes music artists as well as charismatic figures at the top of their fields in fashion, beauty, and art. Transcending musical genres and generations, this night will embody ZEROTOKYO's concept of being a true "Entertainment Junction."

Additional performers may be announced in the future.

Tokyo Diary Map #1: Actor Ryo Ogata Recommends Relaxing Spots in Tokyo

The new Tokyo Diary Map series aims to introduce readers to awesome spots in Tokyo that they might want to visit! Each entry features locations recommended by a single artist or talent, and fans will get to not only discover new places to visit in Japan's capital, but also get to learn more about the thoughts and feelings of these unique individuals.

The first participant in the Tokyo Diary Map series is Atsushi Ogata, a multi-talented TV personality and actor. Last year, he appeared as a beauty-concious man on Nippon TV's DANCING SANMA PALACE, spurring a major buzz by revealing his cosmetic routine. He's also a notable actor, having appeared in the papercraft theater company's 7th performance Sekai ga Asa wo Shiroutomo (Though the World May Know Morning), telling the story of a man and a woman, a couple of friends, and a certain woman "until morning."

 

  

-Tell us about your favorite spot in Tokyo!

"Daikanyama T SITE TSUTAYA. I feel like I can really relax there. I love being surrounded by my favorite fashion magazines, and no matter what magazine you pick up, they're all so exciting and educational. That's what I like about bookstores–you can pick up something you're not usually interested in and learn something new. It's the best."

Daikanyama T SITE TSUTAYA
16-15 Sarugakucho, Shibuya-ku, Tokyo
https://store.tsite.jp/daikanyama/

– How do you like to spend your time at Daikanyama T SITE TSUTAYA?

"I pick up a new book, find a seat, and take my time reading. I like people-watching and checking out people's fashion too. Also, there's a nice café called ivy place nearby, where I can read while having a relaxing cup of coffee."

Ivy Place

東京都渋谷区猿楽町16-15

https://www.tysons.jp/ivyplace/

 

-You studied fashion design in the United States. How did that experience influence you? How do you want to make use of that experience going forward?

 "Learning about fashion at art school was very inspiring. It was also very interesting to see how people with different ethnic backgrounds dress and to see their individual personalities. For example, I saw high school students wearing backpacks instead of using school bags. I just loved seeing people's unique fashion. It made me realize something that I still believe in to this day–that there's  nothing more beautiful than wearing what you like in your own way. I'd actually like to create my own clothing brand in the future, so I hope to put my high school fashion design studies to good use."

–Which apparel stores do you frequent?

I always peek into Dover Street Ginza!

Dover Street Ginza
Ginza Komatsu West Building (6-9-5 Ginza, Chuo-ku, Tokyo)
https://ginza.doverstreetmarket.com

-What fashion styles are you interested in lately?

"I like a lot of different genres, but lately I've been into chic styling, like pairing shirts and sweaters. I dream of dressing like Thom Browne. I want to try to buy at least one piece from his collection.

-You post a lot of illustrations on your Instagram. Do you usually like to draw? When do you lke to create? 

"I bought an iPad to draw because I really wanted something to do something new during COVID. For me, when I plan time to draw something, it never goes well, so I tend to just draw when inspiration suddenly strikes. I have no particular style, I just draw whatever I want!"

-What inspires you as someone so expressive? What has piqued your interest lately?

"I get inspiration from a wide range of different people. It could be people walking on the street, people on the train…lately, I've been meeting the most inspiring and wonderful people. Listening to their stories is what inspires me the most. Fashion inspires me, humanity inspires me, people's auras inspire me."

 

-Finally, please give a message to those who are planning on coming to Japan!

"Japan is just wonderful. It's the best. The food, the people, the scenery, all of it is incredible. Once you visit, you'll definitely want to come back. Please come and enjoy!" (Laugh)

Popular Manga Series 'Under Ninja' Gets Anime Adaptation from Tezuka Productions in October 2023

On February 22, known as Ninja Day in Japan, a teaser visual and website for the anime adaptation of the manga series Under Ninjawere unveiled. The series will premiere on TBS and other networks in October 2023.

Under Ninja is written and illustrated by Kengo Hanazawa, known for his series I Am a Hero and Boys on the Run. The manga series is currently serialized in Kodansha's Weekly Young Magazine and tells the story of a secret society of ninjas. While the underground warriors were thought to have disappeared after WWII, Kuro Kumogakure is one of them, though he's also a NEET.

A TV anime adaptation has been announced for 2023, a teaser trailer has been released, and a new teaser visual and teaser website have also been unveiled.

Teaser Trailer

The new visual released on February 22 depicts the main character Kuro lurking in the shadows. The staff lineup has also been revealed, with the series being directed by Satoshi Kuwabara with character designs by Nobuteru Yuki.

Check out the teaser site and get ready for battle in October!

©花沢健吾・講談社/アンダーニンジャ製作委員会

BAND-MAID to Hold First Performance at KNOTFEST JAPAN 2023 to be Held at Makuhari Messe

The popular female rock band BAND-MAID will perform for the first time at KNOTFEST JAPAN 2023, scheduled for April 1 and April 2 at Makuhari Messe in Chiba.

KNOTFEST was begun by the American heavy metal band Slipknot, and the festival has been held yearly since 2012. BAND-MAID will perform on Day 1 along with headliners Slipknot, Trivium, and MAN WITH A MISSION.

Tickets for the May shows to be held in the United States as part of the BAND-MAID 10TH ANNIVERSARY TOUR are none on sale. The group managed to bring in over 20,000 fans during their solo U.S. tour in 2022. In addition to performing at Pointfest 2023, Welcome to Rockville 2023, and the Sonic Temple Art & Music Festival, BAND-MAID will also perform six solo shows. With some venues selling out instantly last year, you'll want to snag tickets while you can!

Information

KNOTFEST JAPAN 2023

*BAND-MAID to perform on Day 1, April 1
DAY 1 – ROADSHOW

April 1, 2023
DAY 2 – FESTIVAL

April 2, 2023
Venue: Makuhari Messe International Exhibition Halls 9-11
https://knotfestjapan.com
Official Site: https://bandmaid.tokyo

Hisashi Eguchi's Illustration Exhibition "Tokyo Girlfriend" Coming to Tokyo Midtown Hibiya, New Works to be Exhibited for the First Time

From March 14 until April 23, 2023, Tokyo Midtown Hibiya will hold Hisashi Eguchi's Tokyo Girlfriend illustration exhibition, set to show off the artist's unique perspectives on people and cityscapes. The exhibition will feature new illustrations of the titular girlfriend standing in the streets of Hibiya drawn especially for this exhibition, as well as various other girlfriends both large and small.

GING NANG BOYZ Kimi to Boku no Dai 3ji Taisen-teki Renai Kakumei CD Jacket (2005)

A LONG VACATION – Eiichi Ohtaki 40th Tribute Illustration (2021) ©2023 Eguchi Hisashi

Hisashi Eguchi, a manga artist and illustrator, continues to convey the charm of the city and its people by vividly depicting Tokyo and the many unique happenings within. As Tokyo Midtown Hibiya celebrates its 5th anniversary along with many other nearby businesses, the Tokyo Girlfriend exhibition of illustrations by Hisashi Eguchi is being held to celebrate.

The exhibition will feature a new painting of the mysterious girlfriend standing in the streets of Hibiya, newly created for the Tokyo Midtown Hibiya exhibition. A number of original pieces using Pantone overlay, Eguchi's favorite painting medium in the 80s and 90s, will also be on display for the first time.

During the exhibition period, guests can enjoy autograph sessions, live sketches in which Eguchi himself will draw a portrait of selected subject on the spot, and workshops where he will teach tips on how to be a better illustrator.

Don't miss your chance to meet one of the greatest illustrators of the modern era!

©2023 Eguchi Hisashi

Anime RPG Princess Connect! Re:Dive Gets 31st Character Song CD

The 31st Character Song CD from Cygames' popular smartphone anime RPG Princess Connect! Re:Dive was released on January 25, 2023.

This new release includes the song Knight's Soul sung by Matsuri (Asami Shimoda) and Christina (Chiaki Takahashi), as well as Hatsuyuki Twin Approach by Yori (Sayuri Hara) and Akari (Azumi Asakura). Original karaoke and solo remixes of each song are also included.

These tracks were used as the ending themes for the limited-time Tribal Spirits: Raising Sword and Pride Bridge event, which began last October, and the Happy Happening Happy Twin Angels and Christmas Eve Gift event, which began last November.

The songs are also available to stream on all major music streaming services!

In addition, a music campaign will begin on February 14 to celebrate the fifth anniversary of Princess Connect! Exclusive A3-size posters (2 varieties) will be given to those who purchase the new CD at participating stores while supplies last.

© Cygames, Inc.

FRUITS ZIPPER Valentine Pop-Up Shop to Open at Laforet Harajuku

Laforet Harajuku will host a pop-up shop inspired by the up-and-coming idol group FRUITS ZIPPER from February 1 until February 14! The FRUITS ZIPPER Valentine Pop-Up Shop will be found on the 5th floor MAKE THE STAGE area.

FRUITS ZIPPER debuted in April 2022 and embodies a simple concept: "From Harajuku to the World." The group's second single Watashino Ichiban Kawaiitokoro exploded in popularity on TikTok, pulling in over 600 million views. In February, the girls will embark on their first solo concert tour in Tokyo, Nagoya, and Osaka. This is the first FRUITS ZIPPER-inspired limited-time shop, and during the event, visuals of the group's members will be displayed in the show windows found on the first floor of Laforet Harajuku.

◆About the FRUITS ZIPPER Valentine Pop-Up Shop

When entering the venue, fans will be greeted by a 5-meter-wide board where visitors can write and attach their messages to the FRUITS ZIPPER members on heart-shaped cards. Costumes that the members have worn on stage will also be on display, allowing fans to see each stitch up close.

Exclusive items featuring new photos of the members will be on sale at the pop-up shop. Fans can enjoy seeing the girls in their own personal style, and these items will only be available during the event! Starting February 4, tour merch for the group's upcoming solo concert series will also be available for purchase.

◆Collaboration with Fruit Sandwich Specialty Store 'Fruits Box Daikanyama'

Last year's popular collaboration with Fruit Box Daikanyama, a well-known fruit sandwich shop, is happening again in 2023! Fans can find the Collaboration Gift Box for sale, including seven baked meringue goods each featuring one of the member's colors. The box also comes with snapshots of the members, and for a few lucky fans, these snaps might be signed! The idol group and sandwich shop have also teamed up to create the Collaborative Lucky Grab Bag Lottery, including popular FRUITS ZIPPER goods and original items from Fruits Box Daikanyama. The lucky first-prize winner will receive a special set of all available February tour merchandise in all sizes.

◆Member Appearance Planned on Valentine's Day

On February 14, the final day of the pop-up shop, the members of FRUITS ZIPPER will make an appearance! Guests will be able to participate in the first-ever hands-on event with the members, so keep an eye out for more details!

Stay up to date with the latest FRUITS ZIPPER news at the official Twitter page (@FRUITS_ZIPPER).

FRUITS ZIPPER Pop-Up Shop Exclusive Goods


Random Photo – Valentine pop-up ver. (21 varieties): ¥330 (Tax Included)


Random Pin – Valentine pop-up ver. (7 varieties): ¥500 (Tax Included)


Random Purikura Stickers – Valentine pop-up ver. (14 varieties): ¥600 (Tax Included)

Information

FRUITS ZIPPER Valentine POP-UP SHOP
Running: February 1 – February 14, 2023
Venue: Laforet Harajuku 5F MAKE THE STAGE
*Closed on February 7 and February 8

[Fruits Box Daikanyama Collaboration Goods]
Collaboration Gift Box: ¥3,500 (Tax Included)
Collaborative Lucky Grab Bag Lottery: ¥1,500 per try (Tax Included)

Check out more details about the pop-up below!
https://www.laforet.ne.jp/pop_up_shop/fruitszipper_2301/

Stay up to date:
FRUITS ZIPPER Official Twitter
https://twitter.com/FRUITS_ZIPPER/

<Tour Information>
FRUITS ZIPPER 1st LIVE TOUR 2023 WINTER

Date: February 3, 2023
Venue: ReNY limited
Time: Doors open 17:30 / Show starts 18:30
Contact: Sunday Folk Promotion (052-320-9100) *Open daily 12:00-18:00

Date: February 5, 2023
Venue: Nanba Hatch
Time: Doors open 16:30 / Show starts 17:30
Contact: Kyodo Information (0570-200-888)

FRUITS ZIPPER 1st LIVE TOUR 2023 WINTER 〜FRUITS DAY〜
Date: February 9, 2023
Venue: Shibuya WWW X
Time: Doors open 18:00 / Show starts 19:00
Contact: HOT STUFF PROMOTION (03-5720-9999) *Open weekdays 11:00-19:00

FRUITS ZIPPER 1st LIVE TOUR 2023 WINTER 〜ZIPPER DAY〜
Date: February 10, 2023
Venue: Shibuya WWW X
Time: Doors open 17:30 / Show starts 18:30
Contact: HOT STUFF PROMOTION (03-5720-9999) *Open weekdays 11:00-19:00

FRUITS ZIPPER 1st LIVE TOUR 2023 WINTER -TOUR FINAL –
Date: February 12, 2023
Venue: LINE CUBE SHIBUYA
Time: Doors open 17:00 / Show starts 18:00
Contact: Sunrise Promotion Tokyo (0570-00-3777) *Open weekdays 12:00-15:00

Buy tickets for all shows here: https://l-tike.com/artist/000000000899959/

Japanese Indie Game Label Yokaze to Hold Exhibition at Taipei Game Show

Japanese indie game label Yokaze will exhibit many anticipated upcoming titles at the 2023 Taipei Game Show. The event will be held in Taiwan from February 2 until February 5, 2023.

ghostpia


ghostpia's visuals mix warm, delicate art that would be fit for an illustrated children's book with glitch and noise effects, for a strangely nostalgic visual novel vibe. The story takes place in a snowy town where immortal "ghosts" live. When Sayoko, a girl who doesn't belong, meets Yoru, a newcomer to town, her world begins to change. Her thoughts begin to drift outside of the town, and certain events bring her back to a lost friendship. Filled with mystery and a bit of violence, this title is being touted as a movie you can read on PC.

Developer: Chosuido
Release Date: 2023
Platform: Nintendo Switch™/Steam, etc.
Website: https://ghostpia.xyz/

Recolit


Recolit is a pixel art mystery adventure game where players explore a strange town by following trails of light. After your spaceship crash lands in a mysterious place, you'll have to help the residents of the town as you explore and progress through the story.

Developer: Image Labo
Release Date: 2023
Platform: Steam/itch.io (Others planned)
Website: https://image-labo.com/recolit/

 

Kitsune: The Journey of Adashino

Kitsune: The Journey of Adashino is a 3D adventure game set in a mysterious version of Japan. One day, a fox girl and her frog friend find themselves on a mysterious island shrouded by darkness but for a few floating lights. Torii gates, food stall lanterns, and neon signs give light and color to the island. Something is lurking in the shadows, inching ever closer. Kitsune can use light to temporarily blind these demons, giving her enough time to find safe routes and hiding places. Be sure to enjoy this curious tale when it releases in the future!

Developer: Rias
Release Date: TBD
Platform: Nintendo Switch™/Steam (Others planned)
Website: https://www.foxandfrog.net/

TRIGUN STAMPEDE Opening and Ending Themes Available on One Album

An album featuring both the opening and ending themes of the anime series TRIGUN STAMPEDE will be released on a single album on February 22, 2023 from TOY'S STORE. The opening, TOMBI, is performed by Kvi Baba, while the ending, Hoshi no Kuzu α, is performed by both Salyu and Haruka Nakamura.

Preorders are now available and those snagging a copy will also be gifted an original sticker featuring the album's artwork.

The record is only available in limited quantities and sales will conclude once the item is sold out.

TRIGUN STAMPEDE Non-Credit Ending


TOMBI, performed by Kvi Baba, was released on January 6 and has seen a surge in popularity, appearing on a number of popular playlists and reaching the top spot on the iTunes Rap and Hip-Hop chart.

The ending theme song, Hoshi no Kuzu α by Salyu and Haruka Nakamura, was released on January 13, 2023.

The jacket features an original design featuring the main character, Vash the Stampede, from the Trigun anime series.

The jacket was designed by Takahiro Yasuda, an art director and graphic designer belonging to the creative association CEKAI.

The non-credit ending video featuring the ending theme song is now available on the YouTube TOHO animation channel.

Be sure to tune into the long-awaited series TRIGUN STAMPEDE!

© 2023 内藤泰弘・少年画報社/「TRIGUN STAMPEDE」製作委員会