Godzilla 65th Anniversary Sneakers Released by Patrick
To celebrate the 65th anniversary of the Godzilla franchise, stylish sneaker company Patrick has created 4 different shoe models: Godzilla Marathon, Chibi Godzilla Marathon, and two Chibi Godzilla Velcro.
Chibi Gozilla was created this year for the anniversary and is aimed at children. A book entitled Ganbare Chibi Godzilla was released in October last year and by the following month, huge orders were placed as the book received huge attention. A second picture book was released in May this year titled Nakayoshi Chibi Godzilla. In the books, a cute and tiny Godzilla befriends an equally cute and tiny Mothra and Anguirus. The first Chibi Godzilla animated film is also now airing at TOHO cinemas across Japan, attraction the attention of not only kids but movie fanatics too. A Hollywood movie titled Godzilla: King of the Monsters was also released earlier this year and became a worldwide hit.
And now, from the big screen and books, the Godzilla craze is now entering the real world in the form of sneakers. Let's take a look at the models.
Godzilla Marathon (Unisex) *Adult size
These sneakers are made from a special lacquer material to make it feel like Godzilla's tough, amour-like skin. The specially-designed insoles and woven logo are sure to be a hit with Godzilla fans.
Chibi Godzilla Marathon (Unisex) *Adult size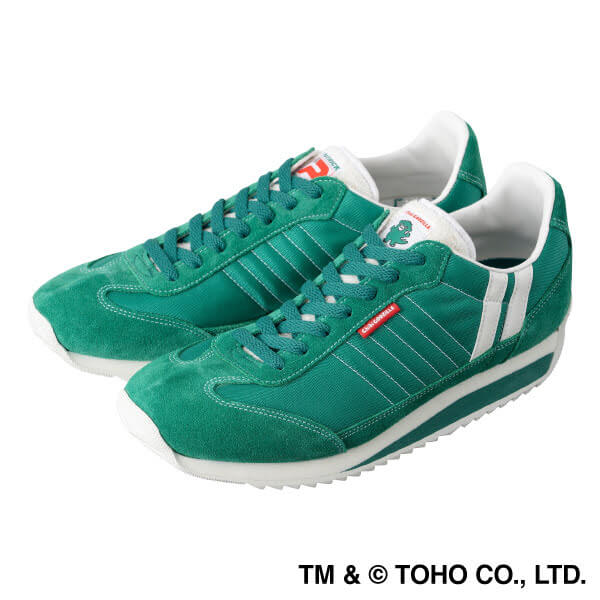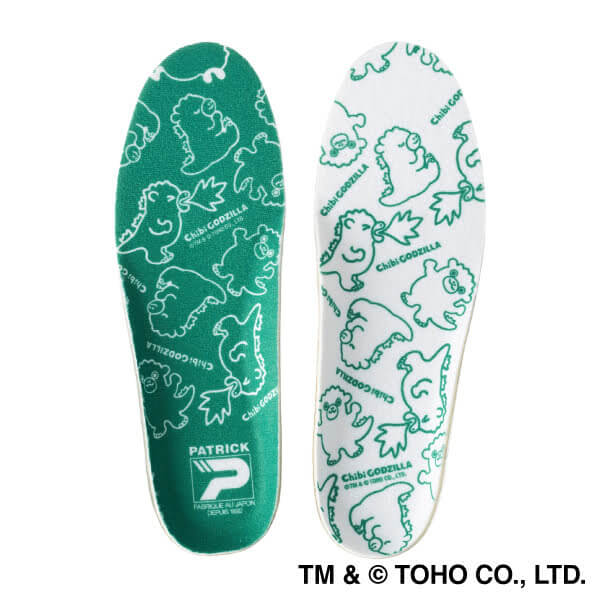 The entire shoe is covered with illustrations of Godzilla. The insoles have logos have also been specially designed for this model.
Chibi Godzilla Velcro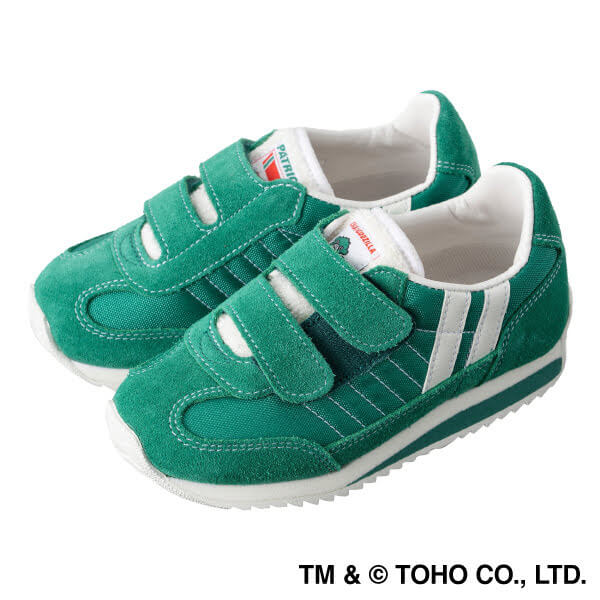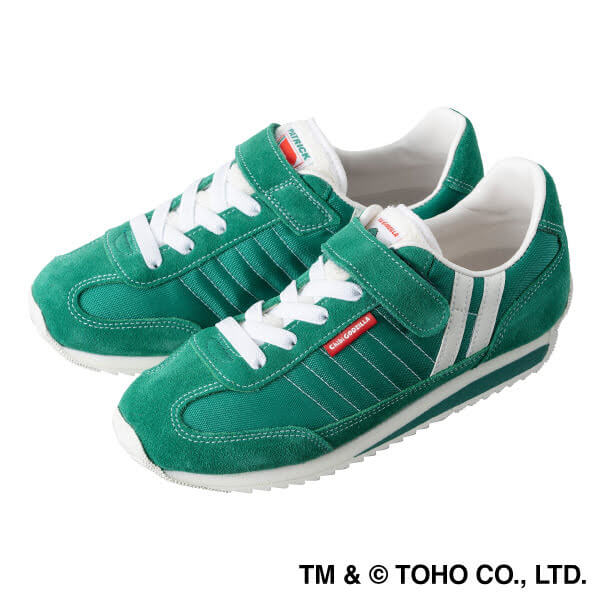 Also featuring Chibi Gozilla's iconic green colour is this model pair with Velcro for an easy fit. The kids version comes with double Velcro.
The line-up features sneakers that both kids and adults alike can enjoy. Which pair is your favourite?
TM &(C) TOHO CO., LTD.
TM &(C)  TOHO CO., LTD. Designed by Chiharu Sakazaki
Information
Godzilla Marathon
Price: ¥19,000 (Before Tax)
Size: 35-45 (22.5cm-28.0cm)
Colour: Black
Material: Steer Leather
Release Date: End of October 2019
Chibi Godzilla Marathon
Price: ¥15,000 (Before Tax)
Size: 35-45 (22.5cm-28.0cm)
Colour: Green
Materials: Nylon x Velvet
Release Date: End of October 2019
Godzilla Velcro
Price: Kids Model ¥7,500 (Before Tax) / Junior Model ¥9,500 (Before Tax)
Size: Kids 14.0cm-18.0cm / Junior 19.0cm-22.0cm
Colour: Green
Materials: Nylon x Velvet
Release Date: End of October 2019
Available At: Patrick and Godzilla Store Tokyo
Godzilla Store Tokyo Official Website: https://godzilla.store/tokyo/
RELATED ENTRIES
Onitsuka Tiger x Shu Uemura Announce Unisex Sneaker and Cosmetic Collaborations

Japanese fashion brand Onitsuka Tiger and professional makeup artist brand Shu Uemura have joined up to release a new pair of collaborative sneakers and line of cosmetic products.

Since their individual establishments, both Onitsuka Tiger and Shu Uemura have hailed as pioneering brands from Japan, cementing their names across the globe. Together, Onitsuka Tigerーa brand which fuses heritage and innovation around fashion and sports in their contemporary collectionsーand Shu Uemuraーa company which inspires the millennials to bring out their unique and inner beautyーhave collaborated to release a pair of sneakers as well as 11 cosmetic items.


The new sneakers by Onitsuka Tiger are a new model that take inspiration from the company's DELEGATION EX™ pair which released back in 1964 and were worn by Japanese sports players back then. Glossy enamel has been added to bring to mind cosmetics, and matte has been used to create smooth calves. Tokyo Red is used for the colouring. The mid soles have volume and are made with spongy FLYTEFOAM™ Propel, ensuring comfort. Both ends of the spare laces, which are also Tokyo Red, bear the brand logos. The overall design screams active and urban sporty.


Unisex Shoes – ¥17,000 (Before Tax)

Shu Uemura's new collection of 11 items is made up of five different cosmetic products which come in Onitsuka Tiger's iconic key colours: Tokyo Red, Energy Orange, Indigo Blue, and others. They also bear Onitsuka Tiger's stripes. The cosmetics elicit stylishness and an energetic mood.

The new Onitsuka Tiger shoes were released on May 1, 2020 at select stores and online shops both inside and outside Japan.

Skilfully Hand Drawn Godzilla Jeans to Release at Godzilla Store in Tokyo

Last year marked the 65th anniversary of the first-ever Godzilla film which was released in 1954. The Hollywood live-action movie Godzilla: King of the Monsters was released last year, and the new Godzilla vs. Kong will release on November 19, 2020 as Hollywood's third Godzilla film. Going into 2020, many things are planned as part of the 65th anniversary celebrations.

This includes the new collaboration with the brand ZEN, which aims to promote a type of traditional clothes dyeing from Kyoto called kyo-yuzen which involves the artist painting directly onto the cloth. ZEN has teamed up with Godzilla and will release their new Godzilla jeans on March 18, 2020.

ZEN produces its jeans in Okayama, the only place in Japan famous for manufacturing denim. All of their jeans are hand drawn one by one by skilled artisans of Kyoto Kimono Yuzen, making them a difficult to mass produce. The process of using this type of dyeing is so delicate that the slightest change in pressure on the brush can make drastic changes. This means that no one pair of their jeans is the same, making every pair unique and the only one in the world. This gives them a "Made In Japan" quality and makes them more special-rather than being mass produced, your pair of jeans has had time and careful consideration put into by the dyer.

The Representative Director (⻯⽥昌雄) at Kyoden, Inc. said: "We want to promote art and culture from Kyoto by creating, so getting to collaborate with a name like Godzilla, known the world over, is a dream for us. I was really happy to hear about this project. We will use this opportunity to get Godzilla fans interested in Kyoto's culture, and to make sure that happens, we have been conscious about the touches that are unique to hand-drawing, while making something that reminds people of Japan."

TM & © TOHO CO., LTD.

New Kaiju Comedy Film 'Daikaiju no Atoshimatsu' to Release in 2020

The world never seems to be short of big SFX movies, with the announcement of Godzilla Vs. Kong set for release in the US on November 20, 2020 and Shin Ultraman in Japan in 2021.

But what about a comedic kaiju (giant monster) film? Well, that's exactly what we're about to get with the surprise announcement that movie companies Shochiku and Toeiーwho are normally rivalsーare coming together for the first time to put a spin on the monster movie genre with a completely original script. The title of the film is Daikaiju no Atoshimatsu ("Cleaning Up After the Big Monsters"), and it's coming this year.

Ever wondered who cleans up after a giant monster wrecks a city? Who's in charge of cleaning up a kaiju corpse?"

The story is as follows. One day, a giant monster who wreaked havoc across the country dies suddenly. Its dead body is extraordinarily enormous, enough to make you do a doubleーno, a quadruple take. Time is of the essence as the gas emitting from the dead beast could explode at any moment. If it's not taken care of immediately, it could mean disaster for the country. Someone has to do it. And that person is Arata Taito (played by Ryosuke Yamada), a member of the Prime Minister's special forces who is responsible for the role of the field commander for this unprecedented national disaster. Before him appears Yukino Ameoto (Tao Tsuchiya), Arata's former fiancee and a secretary for the Minister of the Environment. They are tasked with the unheard-of, unreasonable demand to "clean up the giant corpse of a monster," which they must do using their wisdom, their scheming, and their… love?

Everybody knows what happens in SFX kaiju movies, but nobody has seen into the world of what happens after. Now we'll get to see that impossible mission unfold.

Japanese actor and singer Ryosuke Yamada  (Hey! Say! JUMP), who will play the role of Arata Taito, is known for playing characters who are firm and resolute. This will be his first dive into a fully-fledged comedy movie. Tao Tsuchiya, who will play Yukino Ameoto, is climbing her way to the top in both name and reality in the industry as an actress. This will be Yamada and Tsuchiya's first time working together.

Cast Comments

Ryosuke Yamada (Arata Taito, Special Forces)

"When we first had talks about this film, although I've been in a lot of serious movies, this was my first ever talk about a comedy movie, so I felt really lost. But when they let me read the script, I saw how interesting it was that the protagonist is super serious despite being in such a ridiculous situation. So I said sign me up! I don't really feel much pressure now. I'm going make the character interesting and go all out to be as ridiculous as I can to meet director [Satoshi] Miki's expectations."

He continues: "The movie makes you think, 'So this is what happens when adults try to be as silly as possible!' <laughs> And the cast line-up is incredible, you'd think it was a lie. The jokes are really gonna come down! This is my first time working with [Tao] Tsuchiya in a film, but she's played a lot of movies roles where she's the serious one in a comedic situation, so  she can be both serious and humorous. I'm looking forward to seeing her in action in this one. I wondered to myself if it's really alright for Shochiku and Toei to come together for the first time in a film like this. It's industry-shaking. But I also think it's really significant that such big players in the movie industry come together to go all out have fun like this too. I want to work hard to make this a film where people say, 'Yamada and Tsuchiya' do this kind of thing!?' and make it one that's more than just people playing to watch it. I ask all of your support."

Tao Tsuchiya (Yukino Ameoto, Secretary for the Environmental Minister)

"I love heroes. Films that are called SFX talk about things that are important in life, things you can't forgive, things that you do forgive but will never forget. Like something that satirises reality, like a real sense of danger. It has everything in there, and within that are the heroes who shine bright, who suffer, who fight. They've given me so much courage."

She continues: "When I came to know about heroes as a kid, there wasn't a system in place at cinemas where you could reserve seats. You would line up in the morning. The first time I experienced experienced excitement before a film starts when it goes dark in the room might have been a Shochiku film or a Toei film. Whatever film it was, I remember getting sucked into the screen, and was intensely moved by it. When I read the script for Daikaiju no Atoshimatsu, the emotions from that memory came flooding back, and my eyes opened. And when I met director Miki, I had a hunch of the power and deepness that this film holds. I'll stand resolute and return the favour to all those heroes as a member of the team supporting the protagonist, who's played by Ryosuke Yamada."

Information

Daikaiju no Atoshimatsu

Release Date: 2020 (Japan)

Yutaro Features in PUMA's Promotional Material For 80's Fast Rider Sneakers

Inspired by their Fast Rider sneakers from the 80's, PUMA has forged two new models of the running shoes: the Future Rider Ride On and Style Rider Ride On. A special website went live in Japan featuring Japanese actor and model Yutaro as the model for promoting the sneakers.

The new models feature a cool and fun street style design for the new generation while retaining but revamping that retro look. Yutaro, who began his career from the age of 15 working in a second-hand clothing store and eventually went into modellingーand this year featured in the Japanese drama series Sherlockーdons the Ride On's and walks the streets of Tokyo in the photo shoot wearing outfits co-ordinated by himself.

In an interview for the promotion, Yutaro looked back at the complexes and indifferent personality of his past and how he grew as an individual after getting into modelling and working. He said his world became more colourful like the Ride On sneakers.

Future Rider Ride On

These sneakers feature an iconic pop style combining vibrant colours like neon green, red, and blue. The lightweight uppers are made from ripstop nylon with a suede overlay an minimum padding. The mid soles are made from the new Rider Foam which has high resilience. The outer soles and TPU stabilisers are made with superior comfort and stability in mind.

Style Rider Ride On

The eye-catching blue Style Rider Rider On's are made with TPU gel and boast an upfront fun street style. These sneakers are also made with the newly-developed Rider Foam on the mid soles. The thick mid soles are lightweight and cushioned, and the sneakers enjoy a strong grip.

Both styles have ridden the wave of generations to reappear in current times. Be sure to check out the special website featuring more content with Yutaro and Riders.

Information

Future Rider Ride On

Price: ¥9,000 (Before Tax)
Stock No.: 372838
Colours: 1

Style Rider Ride On

Price: ¥11,000 (Before Tax)

Stock No.: 372839
Colours: 1

Now available at PUMA stores, the PUMA online store, and select stores in Japan.

PUMA RIDER Special Website: https://puma-rider.com/ 

Yutaro Official Website: https://asobisystem.com/talent/yutaro/

Life-Sized Godzilla Theme Park Attraction Stomps Its Way to Japan in Summer 2020

This year is a towering year for Godzilla, marking 65 years since the first Godzilla film was first released in 1954. The third-ever Hollywood studio adaptation from the franchise, Godzilla: King of the Monsters, was released on May 31 this year. A new film from Hollywood, entitled Godzilla vs. Kong, will be released on March 13, 2020.

Nijigen no Mori, a theme park on Awaji Island in Hyogo Prefecture, has announced that a new Godzilla-themed attraction entitled "Godzilla Interception Operation Awaji ~National Awaji-Island Institute of Godzilla Disaster~" will open at the park in summer 2020.

Zip Line

Shooing Game

The new attraction imagines Godzilla landing on Awaji Island, ready to display his immense size and power to the people living there. Those brave enough to go head-to-head with the giant monster can look forward to a variety of missions, including zooming along a zip line straight through a detailed recreation of Godzilla's insides, a shooting game, and more.

There will also be official and exclusive themed merchandise and food too. If you're looking for a real Godzilla experience when visiting Japan, then look no further (and try not to get eaten!)

TM & © TOHO CO., LTD.  

Information

Godzilla Interception Operation Awaji ~National Awaji-Island Institute of Godzilla Disaster~

Grand Opening: Summer 2020 (Subject to Change)

Location: Nijigen no Mori, 2425-1 Kusumoto, Awaji, Hyogo

Official Website: https://nijigennomori.com/godzilla_awaji

*Listed information is correct at the time of this article's publication but is subject to changes. Please visit the park's official website for the latest information.

Escape From Godzilla at TOKYO MYSTERY CIRCUS Escape Game Theme Park

TOKYO MYSTERY CIRCUS's catalogue of games just keeps on growing. The puzzle and escape game theme park has just announced the return of its escape game Escape From Shin Godzilla which is being held in collaboration with the 2016 film Shin Godzilla.

The event was previously held last April where it ran until October, enjoying huge popularity with over 40,000 escape game-goers. Players took the role of a member of the Kyosaitai―the anti-Godzilla task force―based in Kabukicho, Shinjuku where you will be tasked with solving puzzles to defeat the colossal giant.

The thrilling event returns once more with original visuals created to make it look like Godzilla has really invaded Kabukicho. Tickets are now on sale, and you can pick up exclusive merchandise and themed food at the venue too. Can you defeat Godzilla?

TM&©TOHO CO., LTD. ©SCRAP

Information

Escape From Shin Godzilla

Location: Himitsu Kichi Lab, TOKYO MYSTERY CIRCUS (Floor B1F)

Running: October 4, 2019 – November 10, 2019

Times

Weekdays: 13:20 / 16:20 / 19:20
Weekends & Holidays: 10:10 / 12:40 / 15:10 / 17:40 / 20:10
*The event will end 100 minutes after each starting time

Price
Advance: Single ¥3,300 / Group ¥12,000 / Repeater Group Ticket ¥12,000
Same-Day: Single ¥3,800 / Group ¥14,000 / Repeater Group Ticket ¥14,000
*Same-day tickets will not be available if all advance tickets sell out

 

TOKYO MYSTERY CIRCUS

Address: APM Bldg., 1-27-5 Kabukicho, Shinjuku, Tokyo, 160-0021

Opening Hours: Weekdays 11:30-23:00 / Weekends & Holidays 09:30-23:00

No Fixed Holidays.

Price: Free Entry (*Separate tickets required for games)

Official Homepage (English): https://mysterycircus.jp/en/

Event Page (Japanese): https://mysterycircus.jp/shin-godzilla/

Kaiju Monsters to Take Over Shibuya With Limited-Time Exhibition

The world's first ever exhibition for kaiju monsters that have fought with Godzilla or who have always stayed as minor characters is set to take place at Seibu Shibuya from April 27 to May 6.

The line-up will include an army of different monsters including the instantly-recognisable ones that even people who aren't fans will know, like Baragon and Hedorah, amongst others. The exhibition will feature figures, monster suits, recordings of monster fights, and more.

The exhibition will also feature written commentary throughout by production designer Toshio Miike. Miike will also appear at the event on the final day to give a guided tour on the exhibition.

Japanese mangaka Shinji Nishikawa will also hold a live drawing performance. Full details are on the event's official website.

Promotional material for the upcoming film Godzilla: King of the Monsters will be dotted throughout the event. The movie is set for worldwide release on May 31, 2019.

Information

Gojira Janai Kata Ten (Exhibition Of Those Who Aren't Godzilla)

Running: April 27, 2019 – May 6, 2019
Location: Seibu Shibuya (Floor 7F)
Time: 10:00-21:00
Price: ¥900 (Free for elementary school students and younger)
Bonus Ticket: ¥1,200 (Choose between two illustrated postcards)
*The first 5,000 people to attend the exhibition will receive an exclusive trading card
Official Event Page: http://no-godzilla.world

Sangacio Collaborates With New York City to Release Japanese NYC Sneakers

Sangacio have combined the official NYC trademark with the Japanese character "にゅ" (Nyu, meaning "New") to create their new "NYU YORK" logo.

The design is a linguistic fusion that takes the "Nyu" from the brand's "Nyuuzu" collection which itself comes from the Japanese phrase for "New Shoes." The sneakers have the official City of New York stamp of approval on them along the bottom as well as the Central Park symbol on the tongue.

NYU YORK GREEN: ¥30,240 (Tax Included)

Every pair of these sneakers is made to order and crafted from carefully selected material by shoe experts. They come with a year's free guarantee and offer repairs during that period.

NYU YORK NAVY: ¥28,890 (Tax Included)

The funky Japanese hiragana characters offer a fun design while also promoting the fact they are made in Japan to the world. Pick your pair and incorporate them into your outfit!

Information

Sangacio "にゅ YORK"

On Sale: December 3, 2018 (2 Colours)

Product Name: にゅYORK GREEN

Price: ¥30,240 (Tax Included)

Sizes: 22.0cm-30.0cm

Product Name: にゅYORK NAVY/YELLOW

Price: ¥28,890 (Tax Included)

Sizes: 22.0cm-30.0cm

On Sale: December 18 (2 Colours)

Product Name: NYU YORK DENIM

Price: ¥26,460 (Tax Included)

Sizes: 22.5cm-29.0cm

Product Name: にゅYORK RED/WHITE

Price: ¥28,890 (Tax Included)

Sizes: 22.5cm-29.0cm

Guarantee: 1 Year (Includes maintenance throughout this period)

Product Page: https://sangacio.base.ec/blog/2018/11/22/104245

DEERUPT RUNNER ATMOS Trainers to be Released in Collaboration With adidas Originals & atmos

adidas Originals is teaming up with atmos―the purveyors of Tokyo sneaker culture―to release the new collaborative DEERUPT RUNNER ATMOS models. They drop on November 10.

DEERUPT RUNNER ATMOS G27330 – Price: ¥13,000 (Pre-Tax)

This new pair of bright-red sneakers features a grid design and is made with a completely new structure with Deerupt Runners as the base.

The uppers and mid soles use a stretchy mesh to cover the sneakers. The light and comfortable insoles follow in the footsteps of a foam pocket. The iconic three stripe logo of adidas can also be seen through the mesh.

The golden tips of the shoelaces bring a sophisticated tinge to the overall design.

Information

DEERUPT RUNNER ATMOS

Release Date: November 10, 2018

Available Stores

adidas Originals Flagship Store Tokyo

adidas Original Shops in Japan

Shinsaibashi, HEP FIVE, LaLaport IWATA, LaLaport Shin Misato, Abeno Hoop, LaLaport Fujimi, Girls Shop Shibuya 109, Yokohama Vivre, DiverCity Tokyo Plaza, Fukuoka, Lazona Kawasaki, adidas Brand Core Store Sendai, Shinjuku, Shibuya, Nagoya, Hiroshima

Atmos Official Website: http://www.atmos-tokyo.com/

adidas Originals Official Website: https://shop.adidas.jp/originals/

adidas Originals by Dragonball Z to be Released on September 29

adidas is teaming up with Dragon Ball Z for the very first time to release their new adidas Originals by Dragonball Z line of sneakers.

You can look forward to kicking it with 7 different sneaker designs which will be released over the next few months. The first two models are inspired by Goku (ZX 500 RMDB) and Frieza (YUNG-1DB) and will drop on September 29. Both will come packaged in special boxes. This will be followed by Son Gohan (adidas Deerupt) and Cell (adidas Prophere) in October, Vegeta (adidas Ultra Tech) and Majin Buu (adidas Kamanda) in November and finally Shenron (adidas EQT Support Mid ADV Primeknit) in December.

The sneakers are sure to leave an impression people as they combine the classic adidas design with generation-transcending and internationally beloved Dragon Ball Z franchise.


Goku (ZX 500 RM DBD97046): ¥17,000 (Pre-Tax)

These ZX 500 RM sneakers are inspired by Goku with a blue and orange colour palette. They are still made with the classic mesh and suede like the originals and by keeping the iconic three stripes they have been able to recreate the outfit that Goku wears. The toe box and sides are lined with yellow mesh to symbolise turning Super Saiyan. The back of the shoe also features Goku's kanji "悟" and the sides also features Flying Nimbus graphics.


Frieza (YUNG-1 DB  D97048): ¥22,000 (Pre-Tax)

This pair of YUNG-1 DB sneakers is inspired by Frieza, showcasing a white and purple colour palette. It has a smooth and impactful silhouette, combining a variety of materials including suede. There's also a touch of pink to finish that Frieza look. The purple TPU material is made to look like Frieza's shiny shoulders while the suede emboss patches on the sides represent his tough and strong body. The tongue and insoles also feature Dragon Ball illustrations.

If you're a fan of the Dragon Ball series then boast your love for the franchise with these awesome-looking sneakers. Stay tuned for the other models coming out over the coming months.

【MOSHI MOSHI SHOPS!】atmos Harajuku

Tokyo to the world. Get kicks you can't get anywhere else.

MOSHI MOSHI NIPPON brings Harajuku culture to the world — for all you Harajuku-fashion-crazed readers who've been scouring all over the internet, scraping off every inch of information you can on stores that closet the hottest sartorial trends in Harajuku right now, MOSHI MOSHI SHOPS! is now ready to be your go-to guide. atmos is the first store to kick off our series, known for their abundance in limited edition kicks and flexibility with order-made kicks. We know it's boring to be look like everybody else, so here's a store when you can get your one-and-only kicks.

Stemming from the word atmosphere, atmos aims to be the store that exists just like "a type of atmosphere."

The store is home to various types of sneakers that come in all shapes and colors, and every fashion-lover would know that rush of adrenaline you feel when you pick up the one that makes your heart go boom out of a massive selection.

Some sneakers even have the store name atmos engraved in their sneakers, so if you want to find one you can only find at this store, those are the ones to go diving in for. These collab sneakers usually sit on the 10,000-20,000yen price range — you can also get bags, caps, and sportswear with this collaborative design.

The hidden gems here though, are the socks. "Wear some NIKE logo socks, and your kicks are going to look that much better. They're reasonably priced, so I'd assume that's also a huge appeal, isn't it?" (Shop staff)

ASICS Tiger × atmos GEL-LYTE V

17,280yen(tax incl.)

PUMA for atmos DISC BLAZE VENUS

18,360yen(tax incl.)

The black ASICS Tiger with a dash of gold is a collaborative model — the nicely-cushioned midsoles keeps your feet comfortable, striking the whole palette with its luxurious white and gold simmers. These kicks pull the best out of a formal/mode style by drawing out just enough casual into the look.

PUMA DISC BLAZE VENUS is another one that is only available at the store. The elasticity allows your shoe to adjust to your feet shape as you walk, and the mesh keeps the shoes from trapping all the heat, allowing your feet to remain smell-able after a long day of walking. Aiming to be a pair of sneakers you can rely on for a long day of walking, the kicks also remain fashionable with its autumn-sky-inspired design.

Reebok CLASSIC INSTAPUMP FURY GALLERY

21,384yen(tax incl.)

NIKE WMNS AF1 FLYKNIT

21,600yen(tax incl.)

atmos has also got their own line of apparel, "ATMOS LAB" where they've got a lineup full of items that "will achieve the final touch to your sports-casual outfit" (shop staff)

Pop sneakers with bright colors, forward-minded sneakers made out of never-before-heard-of material, classic kicks to kawaii kicks, you're sure to find a pair right here at atmos.

atmos Harajuku

Enter into google maps: 3-22-8, Jingu-mae, Shibuya-ku, Tokyo

tel: 03-6804-2274

Hours: 11:00~20:00

ENGLISH OK

5 min. walk from Harajuku Station Takeshita Exit (JR Yamanote Line)

4 min. walk from Meiji Jingu-mae (Tokyo Metro)

Words:Kenji Yoshida(SHUTTER)