Autumn 2019: Maple Trees and Roses Adorn Karuizawa Lake Garden in Full Bloom
Karuizawa Lake Garden is a natural garden that displays creative harmony between humans and nature, where one can enjoy its bountiful selection of plants throughout all four seasons along with the lake across a 33,000m² area.
This year's autumn season at the garden is scheduled from October 12 to November 4 where you can enjoy the breathtaking scenery of the red and yellow leaves simultaneously alongside colourful roses.
Beautiful Japanese maple trees aren't the only thing you can enjoy during the fall season at Karuizawa Lake Garden. Soak in the sight of an abundance of autumnal plants and inhale the floral scent of the many roses. They will open across eight areas, including the main Rose Garden, by the waterside.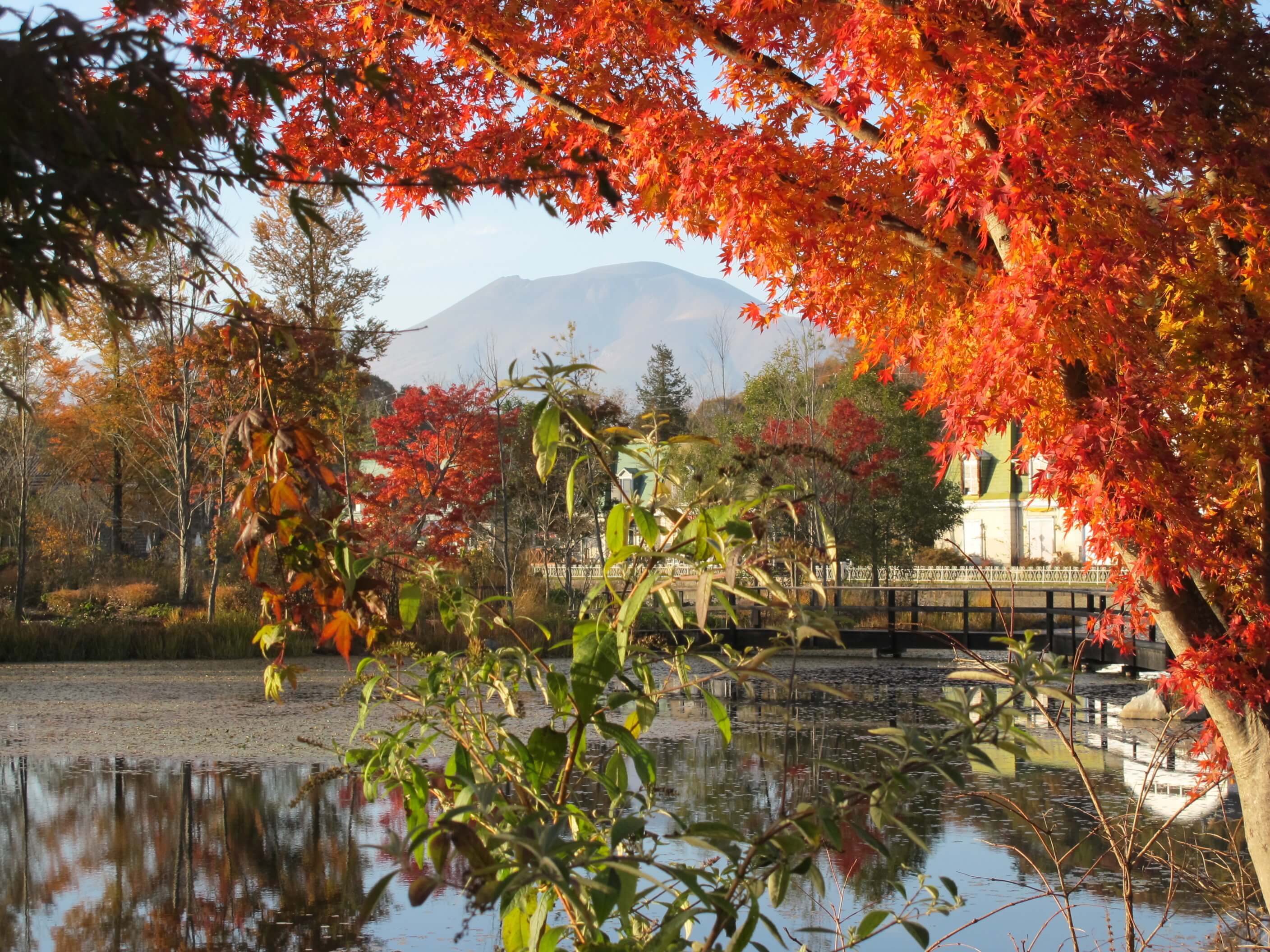 Welcome the autumntime this year at the incredible Karuizawa Lake Garden.
Information
Karuizawa Lake Garden Autumn Season
Running: October 12, 2019 – November 4, 2019
Address: Address: Lake New Town, Hotchi, Karuizawa, Kitasaku District, Nagano Prefectur
Autumn Season Opening Hours: 9:00-16:00 (Last Entries 15:30)
Official Website (Japanese): http://www.karuizawa-lakegarden.jp/
RELATED ENTRIES
Karuizawa's New Apple Farm Opens in Collaboration With Hoshino Resorts and Local Farmers

The Karuizawa-based hotel and hot spring complex Hoshino Onsen Tombo-no-yu joined hands with local apple farmers last year to help support apple cultivation for their apple hot springs. This is now being taken to the next level with the opening of Ringo Tsuchi, an apple farm that Tombo-no-yu staff helped to build. The farm opened on March 19, and locals will be able to visit part of the farm for free starting on April 26.

The project ties in with the global Sustainable Development Goals (SDGs) initiative, specifically the 12th goal: "Responsible Consumption and Production," which looks to ensure sustainable consumption and production patterns. Karuizawa is located in Nagano Prefecture which is ranked as the 2nd biggest producer of apples in Japan. When growing apples, those fruits which incur any kind of damage or grazing isn't shipped to the country's supermarkets or stores. It's these not-so-perfect apples that Tombo-no-yu uses for its apple hot spring experience. Though it may just be a small step towards that goes, it still goes a small incremental way towards achieving it.

Free entry to Ringo Tsuchi

The main raw materials at Ringo Tsuchi ("Apple Earth") are the apples used in the apple hot springs and fallen leaves from around the Hoshino area. In addition to compost and water, the materials are fermented, which adds the necessary nutrients to growing apples and creates soft and breathable soil. And since compost is added, it creates an environment where gardening tools can be used in the earth without any prior preparation.

The completion of Ringo Tsuchi

In the mid-October last year, work was carried out at Nomoto Kajuen Orchards in Mimakigahara Okubo, Nagano, to carefully select picked apples and not-so-perfect apples. These apples were used for the apple hot springs at Tombo-no-yu over a three day period from October 23 to 25. The apples are placed in both the male and female hot springs to float on the water.

After that three-day period, the apples were collected, washed, and cut to be used for compost. Since fermentation removes water content, the staff also had to add water twice a month to manage the compost.

Working with the locals

Katsuya Nomoto is a representative of Nomoto Kajuen Orchards, a farm that grows apples, prunes, and more. The farm takes advantage of the area's high altitude and takes pride in its work to cultivate produce that is healthy to the body and environment using soil microbes as an organic fertiliser. It's also officially recognised as a farm dedicated to supporting Nagano's environment, and carries out school trips for children to visit, creating ties with the local community.

Karuizawa Shiraito Falls Midwinter Light Up Arrives For 2020-2021

Shiraito Highland Way has announced that this year's Karuizawa Shiraito Falls Midwinter Light Up will run from December 19, 2020 to February 14, 2021.

The illumination event will take place at Karuizawa Shiraito Falls, a 3-meter tall waterfall that spans 70-meters in length. The lights will add a warmth to the cool evening and glow under a starry night sky.

The event creates a different atmosphere from the summer light-up, allowing visitors to enjoy the enveloping nature in a way that they normally can't and see beauty they may not have noticed in the area before. The waterfall is located in Jōshin'etsu-kōgen National Park, a protected area which means the lights will be set up in a way that's considerate to the park.

If you're in Japan this winter then don't miss out on this year's Karuizawa Shiraito Falls Midwinter Light Up which will be split into three sessions: the Christmas Session, New Year Session, and St. Valentine Session. More details below.

Information

Karuizawa Shiraito Falls Midwinter Light Up
Location: Karuizawa Shiraito Falls
Running: December 19, 2020 – February 14, 2021
・Christmas Session: December 19th-20th, 24th-27th (17:00-19:00)
・New Year Session: January 2nd-3rd,  8th-11th (17:00-19:00)
・St.Valentine Session: February 11th-14th (17:30-19:30)

Access: https://karuizawa-shw.com/access/
*Please see the website for the latest information

*Entry restrictions may be made depending on the number of visitors

Official Website: https://karuizawa-shw.com/

5 Must-Visit Places in Japan to See the Autumn Colours in 2020

Online travel website Booking.com has revealed its 5 must-visit and places in Japan for seeing the autumn colours, all of which can be enjoyed safely with the necessary social distancing measures in place.

According to a survey carried out by Booking.com, when asked what the next desired travel destination is, 37% of users in Japan responded that they wanted to plan a sightseeing trip outdoors in nature. With the autumn leaves still ripe in Japan and the winter spectacle on the horizon, the website has compiled a list of recommended destinations.

Sanga Nikko in Nikko, Tochigi

If kicking back and relaxing is your thing, but you still want to keep active then Sanga Nikko is a place to consider. Mid November is the peak of the autumn season when all the trees are dyed reds and yellows. There, friends and families can stay in a villa all of which avoid the three C's: closed spaces, crowded places, and close-contact. The owner is an advocate of the outdoors and so guests can rent bicycles there to feel the breeze on their faces while lost in nature. (User Rating: 9.3/10)

Rakuyu in Fujikawaguchiko, Yamanashi

Rakuyu is a hotel where guests can relax in luxury while embedded in the expanse of the outdoors. It sits high on Lake Kawaguchi, and all rooms offer a breathtaking panoramic view of the lake. There are open-air baths and rentable private baths where guests can enjoy the view, one which is gorgeous to behold even from the hotel lobby. If you book through Booking.com there's a meal plan which offers Japanese-style food made with seasonal ingredients. (User Rating: 9.0/10)

Jeugiya Inn in Higashiyama, Kyoto

Those looking for an authentic Japanese experience that also incorporates autumn should check out Jeugiya Inn. Nobel Prize-winning Japanese novelist Yasunari Kawabata stayed at this inn and likened it to a Kyoto-style home. Its favourable location also puts it within 5-minutes walking distance of many Kyoto sightseeing spots such as Yasaka Shrine and Chion-in, as well as Gion-Shijō Station, making it easy to get to. One group can stay at the single building for one day, giving them a chance to enjoy the traditional Japanese garden. There's a spacious bath too from which guests can enjoy nature. (User Rating: 9.9/10)

Tsukihitei in Kasuganocho, Nara

Tsukihitei is separated from the hustle and bustle of the city which is perfect for those looking for a quiet and tranquil time. It's limited to three groups per day and is sits within Kasugayama Primeval Forest which is listed as a UNESCO World Heritage Site. Guests can open the sliding doors to reveal an unbroken view of autumnal woods. Food served here is served as authentic Japanese-style kaiseki-ryori made with carefully-selected seasonal ingredients. (User Score: 9.6/10)

Sanso Tensui in Hita, Oita

If you're talking seeing the autumn colours the popular Hita area of Kyushu then Sanso Tensui is a must-mention. There are various room types available such as the Special Rooms which are limited to three groups per day, single buildings, and more. Sanso Tensui is another place that serves up meals with abundant seasonal ingredients. After strolling around to see the red and yellow hues, guests can take a dip in the hot springs to enjoy a soak under the autumn colours.

10 Spots in Kyoto to Fall Into the Autumn Colours

Kyoto, the ancient capital of Japan, is littered with countless leafy spots to enjoy the autumn colours. Here's a list of must-visit, little-known good spots in the city that enjoy all the visual treats of the seasonal, all of which are carrying out proper social distancing and anti-COVID-19 measures.

Forgot about the time and enjoy the scenery with few people around

Soak up autumn with a boat ride | Hozugawa River in Kameoka

Ride the Hozugawa River along the 16km valley from Kameoka to Arashiyama. The autumn spectacle in this area is a grand sight to behold. Visitors can enjoy two hours along the valley stretch with the colours of the maple trees reflected off the water's surface, allowing them to fall into nature and forget their stresses for a while.

Hozugawa River
Peak Autumn Time: Mid November – Early December
Address: Shimonakajima-2 Hozucho, Kameoka, Kyoto
Boat Times: 09:00-15:00 (Changes depending on season)
Price: Adults ¥4,100 / Children ¥2,700
TEL: 0771-22-5846 (Hozukawa River Boat Service)
Official Website: https://www.hozugawakudari.jp/

Shrouded amongst it all | Kuwayama Shrine in Kameoka

Planed on the grounds of Kuwayama Shrine are around 1,000 individual trees which give rise to vivid colours during autumn. Since the shrine is located among the mountains, the site enjoys an earlier bloom than other parts of Kyoto, with trees blossoming from early to mid November.

Kuwayama Shrine
Peak Autumn Time: Early to Mid November
Address: Kamigaichi-22-2 Kamiyadacho, Kameoka, Kyoto
Viewing Times: Any time
Price: ¥300
TEL: 0771-22-1023
Official Website: http://www.kuwayama-jinjya.jp/

Walk the autumn carpet | Komyo-ji in Nagaokakyo

Komyo-ji Temple, also known as Autumn Colour Temple (Momiji-ji), is famous for being the head temple of Seizan Pure Land Buddhism. Easily accessible from the city proper, the temple site is home to hundreds of towering trees which dye the area vibrant reds and yellows around this time. One of the main paths at the temple in particular has been nicknamed Autumn Colour Road (Momiji Sando) as the overhead trees and fallen leaves on the ground create a tunnel and carpet of brilliant colour.

Komyo-ji
Peak Autumn Time: Mid to Late November
Address: 26-1 Aosaijonai, Nagaokakyo-shi, Kyoto
Viewing Times: 9:00-16:00
Price: ¥500 (Free outside autumn season)
TEL: 075-955-0002
Official Website: http://www.komyo-ji.or.jp/

Thousands of fiery trees burn red and yellow | Kongoin in Maizuru

Kongoin is famous for its autumn scenery and is nicknamed Autumn Temple of Tango. The temple is home to thousands of maple trees all of various ages from decades to hundreds of years old. It faces Kahara Park which itself boasts incredible autumnal sights and is also home to a 3-storied pagoda which makes for a picturesque snapshot together with the trees.

Kongoin
Peak Autumn Time: Mid to Late November
Address: 595 Kawara, Maizuru, Kyoto
Viewing Times: 09:00-17:00
Price: ¥300
TEL: 0773-62-1180
Official Website: http://www.maizuru-kanko.net/spot/sightseeing/kongoin.php

Contrasting beauty of red maples and ordinary greens | Omoto Shinen in Ayabe

Omoto Shinen is a popular sightseeing spot in Ayabe, home to several must-sees including a wooden structure called "The Palace of Eternal Life," the Konohana-an building which is listed as an Important Cultural Property, and more. Its expansive grounds are also home to a garden where the autumn colours collide with the greens of ordinary trees, creating a beautiful contrast.

Omoto Shinen
Peak Autumn Time: Mid to Late November
Address: 1-1 Hongucho, Ayabe, Kyoto
Viewing Times: 09:30-16:30
Price: Free
TEL: 0773-42-0187
Official Website: https://www.ayabe-kankou.net/spot/omotoshinen/

A magical scene at an Important Cultural Property | Gansen-ji Temple in Kizugawa

Gansen-ji Temple is an ancient Buddhist temple that was built in 729. It's home to a three-storied pagoda which is is a registered Important Cultural Property which nestles amongst the trees. If you visit the temple this year by November 30, you will be treated to a very rare look at one of its treasures which is normally closed to the public.

Gasen-ji
Peak Autumn Time: Mid November – Early December
Address: Kaminomon-43 Kamocho Iwafune, Kizugawa, Kyoto
Viewing Times: 08:30-17:00 (09:00-16:00 from December to February)
Price: Adults ¥500 / Junior High School Students ¥400 / Elementary School Students ¥200
TEL: 0774-76-3390
Official Website: http://gansenji.or.jp/

The garden of special scenic beauty | Joruri-ji Temple in Kizugawa

Joruri-ji is a temple of the Shingo Ritsu school of Buddism. It's also home to a famous garden which is listed as a Place of Special Scenic Beauty. The vibrancy of the reds trees is truly an overwhelming delight to the eyes which is enhanced by the bright-red three-storied pagoda.

Joruri-ji Temple
Peak Viewing Time: Mid to Late November
Address: Futaba-40 Kamocho Nishio, Kizugawa, Kyoto
Viewing Times: 09:00-17:00 (Last Entries 16:00)
Price: Adults ¥400 / Children – Free
TEL: 0774-76-2390
Official Website: http://0774.or.jp/temple/jyoruriji.html

Red and yellow hue fusion | Choanji in Fukuchiyama

Choanji's autumn colours make for a truly staggering experience as the dazzling reds and yellows complement each other. There's a 600-year-old tree in near the temple which throws in another huge chunk of yellow to the red dye of the temple grounds.

Choanji
Peak Autumn Time: Early to Mid November
Address: 577 Okunobe, Fukuchiyama, Kyoto
Viewing Times: 09:00-16:30
Price: Adults ¥300 / Children ¥100
TEL: 0773-22-8768
Official Website: http://www.chouanji.jp

Evening illuminations for a late-night autumn experience

Breathtaking in the day or night | Nariaji Temple in Miyazu

Nariaji is an ancient temple huddle among mountains that overlook Amanohashidate, one of Japan's Three Scenic Views. The five-storied pagoda there is an example of Kamakura Period architecture and offers an unmissable view together with the hundreds of trees during autumn. On November 14 and 15, the area will be lit up in the evenings.

Nariaji
Peak Autumn Time: Early to Late November
Light Up Times: 17:20-21:00 (Regular viewing times are 08:00-16:30)
Address: 339 Nariaji, Miyazu, Kyoto
Price: Adults ¥500
TEL: 0772-27-0018
Official Website: http://www.nariaiji.jp/

Autumn reflected on the water | Keihanna Commemorative Park in Soraku

Keihanna Commemorative Park is split into several areas such as the Suikei-en (Japanese garden) and Mebuki-no-Mori (Budding Tree Forest). There's also the Momijiya, a garden designed in a valley where maple trees grow. Talking a stroll along the bridge and looking down at the 80 trees in their autumnal garbs reflecting off the water surface is a sight to not be missed. especially at night when the lights are turned on.

Keihanna Commemorative Park 

Peak Autumn Time: Mid to Late November

Light-Up Period: Fridays, weekends, and holidays from November 3, 2020 – November 29, 2020

Light-Up Time: Sunset to 21:00 (Last Entries 20:30)

Address: 6-1 Seikadai, Seika, Soraku District, Kyoto

Price: Adults ¥200 / Children ¥100
TEL: 0774-93-1200
Official Website: https://keihanna-park.net/

Autumn Illuminations to Light Up the Red and Yellow Trees at Musashi Kyuryo National Government Park

Musashi Kyuryo National Government Park is set to host an autumn illumination event from November 14 to 29 where around 500 individual trees of 20 species will be lit up with beautiful lights. The best time to see the park's autumn colours is dated at November 20.

Musashi Kyuryo National Government Park opened as Japan's first national government park in 1974. This enormous park spans 5km between its north and south entrances. It's home to many fun family activities including trampolines, an athletic course, and more. It also offers gorgeous natural scenery throughout the year.

500 maple trees lit up at night

The park will be open in the evenings for this event when red, yellow, and orange maple trees will be illuminated in breathtaking lights. There will also be art installation illuminations for visitors to enjoy too.

Information

Maple Tree Illuminations
Running: November 14, 2020 – Novmeber 29, 2020

Location: Musashi Kyuryo National Government Park
Time: 16:30-20:30 (Last Entries 20:00)

Musashi Kyuryo National Government Park 
Address: 1920 Yamata, Namegawa, Hiki District, Saitama
Closed: December 31, January 1, and the 3rd and 4th Sunday of January

Official Website: https://www.shinrinkoen.jp/

Six Spots in Tokyo's Chiyoda Ward To Enjoy The Autumn Scenery

There's no better way to embrace autumn in Japan than to take a relaxing stroll in the autumn leaves. There are so many spots around Tokyo where the autumn leaves make for a breathtaking sight you just can't miss. Today we'll be introducing you to six spots around Chiyoda Ward which would make for the perfect autumn stroll.

Hibiya Park

The 160,000㎡ park is home to maidenhair trees, Japanese maple trees and flowering dogwood. When autumn arrives, the park turns a yellow and red tinge. There is a spectacular row of maidenhair trees in the shape of an "S" which extends from the side of the tennis court near Kasumigaseki. Make sure to also visit Kumogata Pond where the red and yellow leaves reflect off the water's surface with a relaxing effect.

Address: Hibiya Park 1-6, Chiyoda Ward, Tokyo

Yasukuni Shrine


Enter through the shrine's main gate known as Ōtorii and continue down the path to the main shrine. The 240 metre-long path is lined with beautiful maidenhair trees and stone lanterns, creating a gentle amber path for you to follow. Make sure to visit Kamiike Garden located at the back of the main shrine for a breathtaking scenery of autumn leaves.

Address: 3-1-1, Kudankita, Chiyoda Ward, Tokyo

National Diet Building


The eight-lane road facing the National Diet Building is lined with graceful maidenhair trees in perfect symmetry. Enjoy a peaceful stroll around the garden joined to the National Diet Building which is filled with a variety of species of trees. The park changes colour from season to season.

Address: Nagatachō 1 Chōme, Chiyoda Ward, Tokyo

Gyōkō-dōri Avenue

This road connects the Imperial Palace and Tokyo Station. It represents the gateway to Japan and its rich history and culture. The road is pedestrian-friendly and is lined with an abundance of trees. As autumn falls, the trees turn to yellow and amber, brightening the streets with warm colours.

Address: Kokyogaien, Chiyoda Ward, Tokyo

Kitanomaru Park

This park is located among the Edo Castle ruins. The west side of the garden is home to a large area of Japanese Maple trees of different varieties. The autumn leaves pile so high that it was nicknamed the "Momiji-yama" (mountain of autumn leaves). At the peak of autumn, the scenery makes for one of the most beautiful spots in Tokyo.

Address: Kitanomaru Park 1-1, Chiyoda Ward, Tokyo

Shimizudani Park

Shimizudani Park is a breath of fresh air hidden amongst the hustle and bustle of busy Tokyo life. You can reach it in just a three-minute walk from Akasaka-mitsuke Station or a five-minute walk from Nagatachō station. The bright red maidenhair leaves create a peaceful atmosphere perfect for relaxation. The park is also home to Ōkubo Toshimichi Memorial which celebrates the life of Ōkubo Toshimichi – a great samurai from the 1800s who is regarded as one of the main founders of modern Japan.

Address: Kioicho 2-1, Chiyoda Ward, Tokyo

If you're in Tokyo and need a break from busy city life, head to one of these spots to put your mind at ease.

Autumn Leaves at Ibaraki Prefecture's Ryujinotsuri Bridge Are a Must See in 2020

The marvel that is the 375m-long Ryujinotsuri Bridge in Ibaraki, is a must-see this autumn season as maple trees, sawtooth oaks, and other autumnal spectacles dye the area in breathtaking reds from mid to late November.

Ryujinotsuri Bridge: Japan's biggest suspension bridge

Ryujinotsuri Bridge is located in Okukujichanosato Park in Ibaraki Prefecture's city of Hitachiota. From atop the towering bridge one can overlook at the expansive gorge 100m down below where the misty Ryujin Lake flows. Trees stretch to a horizon in this incredible breathtaking environment, offering beautiful vistas throughout all four seasons.

Bungee jump over Ryujin Lake

Ryujinotsuri Bridge is the biggest suspension bridge in Japan, and so of course it has to offer something special to visitors. And that would be bungee jumping which is sure to excite thrill-seekers travelling to Japan.

Outdoor activities galore

Visitors can enjoy the surrounding nature by taking a canoe or boat on top of Ryujin Lake.

BBQ and camping facilities

There are also BBQ and camping facilities in the area for people to enjoy the outdoors and see the stars at night.

A full hiking autumn experience at Ryujinotsuri

There are several hiking courses on offer that cater to both beginners and pros. Get close with nature and see the autumn colours, hear the birds sing, and breathe in that fresh air.

Starbucks Japan Reveals Berry Berry Cheesecake Frappuccino® for the Holiday Season

Starbucks Coffee Japan is set to launch the Starbucks holiday season on November 1 with a selection of special drinks and products. The theme this year is "a Special Holiday with Starbucks Classics."

The coffee chain revealed three seasonal drinks for the holiday season this week including the Starbucks® Christmas Blend, Gingerbread Latte, and Macadamia Toffee Latte. Now they're showcasing the "Berry x Berry No-Bake Cheesecake Frappuccino®" and "Berry x Berry White Mocha" which will also be added to the seasonal menu.

Berry x Berry No-Bake Cheesecake Frappuccino® | Tall ¥590 (Before Tax)

Berry x Berry White Mocha | Short ¥450 | Tall ¥490 | Grande ¥530 | Venti® ¥570 (Before Tax)

Opening up the first holiday season door at Starbucks is the Berry x Berry No-Bake Cheesecake Frappuccino®, a sweet and sour combination of no-bake cheesecake and a tangy sauce made from strawberries, cranberries, and raspberries. The drink is inspired by the Cranberry Bliss Bars sold at Starbucks, indulging your mouth with a mouth-watering mixed berry fusion to bring a smile to your face at the first taste.

If you're looking for a hot beverage during the autumn and winter season, then the Berry x Berry White Mocha has you covered. This too contains the mixed berry sauce and is also laced with a white chocolate sauce. To finish, a shot of espresso and steamed pink for a rich kick to the sweetness. The espresso adds a deep flavour akin to caramel.

Starbucks Japan have also posted a special advent calendar on their official Instagram page which will run from November 1 up to Christmas Day where they will post various clips and videos. One video will be in collaboration with Japanese singer-songwriter Dai Hirai who is set to produce a new song for the event and perform it live online.

Information

Berry x Berry No-Bake Cheesecake Frappuccino®
Berry x Berry White Mocha
Running: November 1, 2020 – November 24, 2020

Available: Starbucks in Japan
Starbucks Japan Official Website: https://www.starbucks.co.jp/

Starbucks Japan Reveals Gingerbread Latte For the 2020 Holiday Season

Starbucks Coffee Japan is set to launch the Starbucks holiday season on November 1 with a selection of special drinks and products. The theme this year is "a Special Holiday with Starbucks Classics."

With less than two months to go before Christmas, the coffee chain is set to release a variety of seasonal beverages including the Starbucks® Christmas Blend, Gingerbread Latte, and Macadamia Toffee Latte. It will also release the first range of holiday season merchandise on November 6.

Hot and cosy drinks for the holiday season

Macadamia Toffee Latte: Short ¥440 | Tall ¥480 | Grande ¥520 | Venti ® ¥560

Gingerbread Latte: Short ¥420 | Tall ¥460 | Grande ¥500 | Venti ® ¥540

Winter White Chocolate: Short ¥400 | Tall ¥440 | Grande ¥480 | Venti ® ¥520

The spicy Gingerbread Latte is a must-have on the menu during the holiday season at Starbucks, one that latte lovers look forward to every year. And this year, coffee consumers in Japan have two new drinks to look forward to: the Macadamia Toffee Latte which is a crunchy combination of macadamia nuts and sweet toffee, and the snowy powdered sugar-topped Winter White Chocolate.

Starbucks® Christmas Blend and Cranberry Bliss Bar Pairing

From Left: Starbucks® Christmas Blend Espresso Roast | Starbucks® Christmas Blend | Starbucks® Christmas Blonde Roast – ¥1,520 Each (Before Tax)

A cup of Starbucks's Christmas Blend fills you with that cosy nostalgic feeling of the season. This year's recipe at Starbucks Japan is inspired by the one first sold in 1984 which has a rich, deep blend. It's a coffee combination of dark roast Sumatran, Papua New Guinean, Columbian, and Guatemalan coffee beans. There's also some aged Sumatra coffee in there to elevate the flavour.

Each cup is a complex mix that brings to mind herbs and spices, and hidden within all that a subtle sweetness.

Cranberry Bliss Bar | ¥270 (Before Tax)

Starbucks Japan is bringing back its signature Cranberry Bliss Bar dessert for the holiday season and pairing it with the Christmas Blend. The cake has orange in it which brings a tangy but fresh kick that matches heavenly with the spicy notes.

The First Merchandise Batch

The first batch of holiday season merchandise to drop at Starbucks Japan incorporates Christmas motifs like ribbons, candy canes, and reds and white colouring. The line-up includes a stainless steel bottle with a gingham checked pattern and gold dots to a stainless TOGO cup with a classic design reminiscent of a candy cane, notebooks, and more.

The holiday season is shaping up to be another cosy welcoming again this year at Starbucks Japan.

Information

Starbucks Japan Holiday Season 2020

Running: November 1, 2020 – December 25, 2020

Merchandise Batch 1: November 6, 2020 – December 25, 2020

Starbucks Japan Official Website: https://www.starbucks.co.jp/

Fujikawaguchiko Autumn Leaves Festival 2020 Begins This November

The Fujikawaguchiko Tourism Association will host this year's Fujikawaguchiko Autumn Leaves Festival, which will be the 22nd run, to help support the tourism industry in the northern region of Fuji which has seen a great impact as a result of the COVID-19 pandemic.

With much less people travelling to Japan during the pandemic, and the virus having continued for a long time, the Fujikawaguchiko Tourism Association is instead focusing on travellers within the country by hosting various events that can be enjoyed at Fujikawaguchiko.

All the necessary precautions will be taken at this year's festival, including taking people's temperature upon arrival, the mandatory wearing of face masks, alcohol gel being available at the site, and more. This will protects not only the locals but sightseers too, and so cooperation is being asked of everyone visiting.

At this year's festival, visitors can look forward to the popular Momiji Tunnel of maple trees which will be lit up at sunset until 10:00pm. The beautiful autumn colours can be enjoyed with Mount Fuji in the background. There will also be food, souvenirs, and a variety of activities to be enjoyed.

The Momiji Tunnel is an absolute must-see for anyone visiting Yamanashi during autumn and is nothing less than Instagram-worthy.

Information

22nd Fujikawaguchiko Autumn Leaves Festival
Location: Around Lake Kawaguchi
Running: November 7, 2020 – November 29, 2020

Opening Hours: 9:00-19:00 (Light up is from sunset to 22:00)
Access: 25 mins from Kawaguchiko Station by bus (nearest bus stop: Itchiku Kubota Art Museum Stop)
Entry: Free

*Please observe social distancing and government guidelines in relation to COVID-19.

*Fujikawaguchiko is a World Heritage Site and recognised as a place of natural beauty. Please take your trash home with you.

Halloween Food Served Up at Meiji Jingu Shrine's Constitution Memorial Hall

Meiji Kinenkan, also known as Constitution Memorial Hall, has announced that its beer terrace Sekirei will open up for October to serve up a Halloween themed menu.

Meiji Kinenkan is a unique and premium venue at Meiji Jingu Shrine that serves as a host to many different kinds of gatherings. It was designated as an important cultural property of Tokyo for its architecture in March of this year.

Sekirei normally opens during the summertime each year, but this year they've decided to open up for business for the autumn season too. Guests can enjoy a line-up of over 40 different food items in the beautiful autumn-kissed gardens along with beer and a selection of other beverage.

Halloween Menu

The Halloween menu arrived on Monday and features a colour arrangement of tasty bites, with an original line-up of foods and desserts conceived by Meiji Kinenkan's chef who specialises in French cuisine at the site.

Other Autumn Options

Autumn is a very pleasant season in terms of weather, and so as well as the Halloween menu, Sekirei has cooked up a separate seasonal assortment too including Japanese roast beef with vegetables, fried masutake mushroom and salmon, and more.

Sekirei has a special indoor all-you-can-drink plan as well in case it rains, so guests don't have to worry about the weather and can keep warm indoors if the occasion calls for it.

Autumn Lights Set to Illuminate Kyoto's Konkai-Komyoji Temple This November

Autumn illuminations are set to shine on Konkai-Komyoji Temple in Kyoto from November 13.

Konkai-Komyoji Temple is a Buddhist temple that was founded in 1175. It is one of the eight temples of the Jodo sect of Buddhism and his home to numerous treasures including a painting by Edo period painter Itō Jakuchū, folding screen paintings by Tomioka Tessai, and more. There are many wonders to behold at the temple, such as the Tora-no-ma which has sliding doors that depending on how they are open or closed display a different number of tigers, or the Shiun Gardens which have a stream that reflects the beautiful autumnal colours of the overhead trees.

The temple is also home to the Goko Shuyui Amida Butsu statue, which has been picked up by the Japanese media on many occasions and referred to as the "Afro Buddha" due to its afro hairstyle.

There will be Japanese music performances with traditional instruments like the koto and shinobue three times an evening for the illumination event. If you're in Kyoto this autumn, this is one event to not miss.

Information

Konkai-Komyoji Temple Autumn Lights
Running: November 13, 2020 – December 6, 2020

Viewing Hours: 17:30-20:30 (Last Entries 20:00)

Price: General ¥1,000 / Elementary School Students ¥500 / Infants – Free / Groups of 20+ ¥800 each

Konkai-Komyoji Temple

Address: 121 Kurodanichō, Sakyō-ku, Kyoto
Official Website: https://www.kurodani.jp/lightup_aut/