Autumn 2019: Maple Trees and Roses Adorn Karuizawa Lake Garden in Full Bloom
Karuizawa Lake Garden is a natural garden that displays creative harmony between humans and nature, where one can enjoy its bountiful selection of plants throughout all four seasons along with the lake across a 33,000m² area.
This year's autumn season at the garden is scheduled from October 12 to November 4 where you can enjoy the breathtaking scenery of the red and yellow leaves simultaneously alongside colourful roses.
Beautiful Japanese maple trees aren't the only thing you can enjoy during the fall season at Karuizawa Lake Garden. Soak in the sight of an abundance of autumnal plants and inhale the floral scent of the many roses. They will open across eight areas, including the main Rose Garden, by the waterside.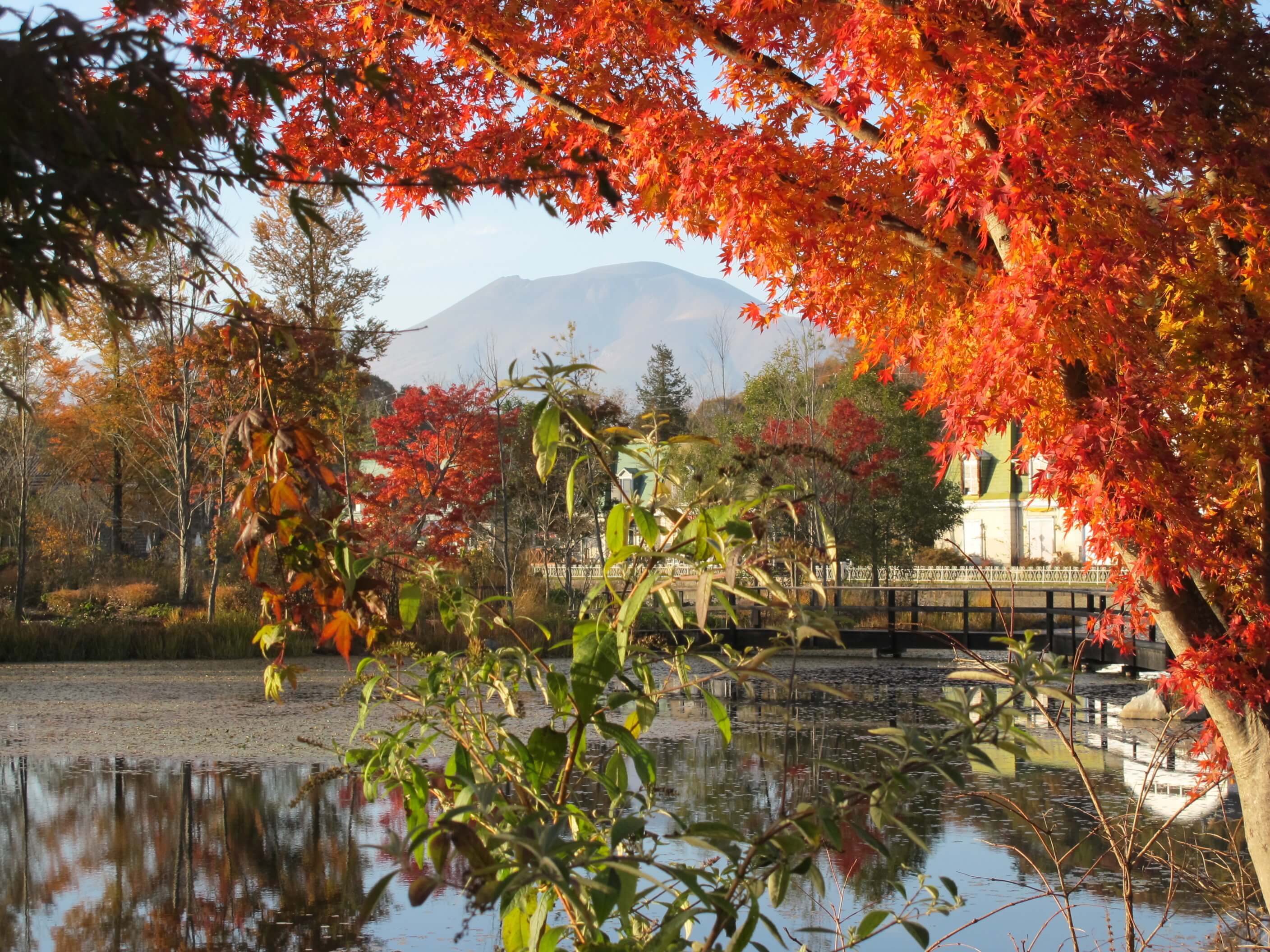 Welcome the autumntime this year at the incredible Karuizawa Lake Garden.
Information
Karuizawa Lake Garden Autumn Season
Running: October 12, 2019 – November 4, 2019
Address: Address: Lake New Town, Hotchi, Karuizawa, Kitasaku District, Nagano Prefectur
Autumn Season Opening Hours: 9:00-16:00 (Last Entries 15:30)
Official Website (Japanese): http://www.karuizawa-lakegarden.jp/
RELATED ENTRIES
Kawaii Fruit Desserts Now Being Sold at Shibuya Scramble Square in Tokyo

Tokyu Food Show Edge and +Q Beauty inside Tokyo's Shibuya Scramble Square mixed-use skyscraper are now serving a succulent selection of autumn fruit desserts, incorporating autumn flavours like chestnuts, apples, and Japan's famous Shine Muscat grapes.

Let's take a look, and try not to drool too much on your keyboard.

MORI YOSHIDA PARIS

Mont Blanc | ¥918 (Tax Included)

A mont blanc with cream draped around like a helix. Inside you will find Crème Chantilly and chestnuts, while the base is baked in parcel.

apple & roses

Caramel Apple Rose Cake/Raspberry Rose Cake | ¥2,160 (Tax Included)

These rich butter and almond rose cakes come in two flavours: caramel apple with apples specially selected from Nagano Prefecture, and raspberry, which add a sweet and sour kick.

Péché Mignon

Feuilletée (Box of Two) | ¥756 (Tax Included)

Feuilletée pies filled with a chestnut paste which add a delightful sweetness. The box contains two base flavours: chestnut and chestnut chocolate.

c7h8n4o2


Fresh Fruit Tablet Shine Muscat | ¥2,592 (Tax Included)

Whole specially selected Shine Muscat grapes wrapped in chocolate and shaped into a tablet bar. The chocolate is a rich 70% Piura Quemazon from Pacari Chocolate which blends deliciously with the grape juice.

Atelier Anniversary


Whole Chestnut Pound Cakes (Set of 4) | ¥1,404 (Tax Included)

The dough is combined with chestnut paste and each mini pound cake contains a whole chestnut.

ANNA'S by Landtmann


Red Apple | ¥693 (Tax Included) *Eat-in price

This apple cake is filled with apple mousse, chocolate mousse, and chocolate sponge. The entire thing is coated in a red apple glaze, giving it a cute appearance.

6 Best Spots to Visit in Japan's Oita Prefecture During Autumn – MOSHI MOSHI NIPPON

Oita in Kyushu has been nicknamed "Hot Spring Prefecture Oita" due to having the largest number of hot spring water sources and outputs in Japan. Oita welcomes many visitors every year who flock to the prefecture's many famous hot spring locations like Beppu and Yufuincho Kawakami.

But the charm of Oita doesn't lie solely in its hot springs. It's also a location that offers breathtaking scenery during autumn. We've picked 6 spots around Oita Prefecture that are must-visits during autumn.

Keiseki-en

The gorge of Yabakei is designated as a Place of Scenic Beauty in Japan. Keiseki-en is a beautiful Japanese garden that was built to commemorate the completion of the Yabakei dam. It's home to over 31,000 individual trees of around 100 species as well as a lake, waterfalls, and crags. It's a place that boasts natural beauty throughout all four seasons.

Address: 2286-1 Yabakeimachi Ōaza Ōshima, Nakatsu, Oita

Kinrin Lake

Kinrin Lake is one of Yufu's most famous sightseeing spots for the mysterious torii gate that sits within the lake. Spring water and hot spring water flows through the lake, and because the temperature of the water is warm throughout the year, you can see steam rising from the surface in the early hours of winter days. Tenso Shrine also sits on the bank of the lake which is home to a sacred tree that's designated as a natural monument.

Address: 1561 Yufuinchō Kawakami, Yufu, Oita
Access: 20 minutes on foot from Yufuin Station (JR Line)

Kyusuikei

Kyusuikei's scenery spans through the prefectural road that connects the Kokonoe IC to Yamanami Highway. Its 2km expanse is made up of sheer cliffs which create the valley that is known for its autumn colours. Visitors can enjoy a panoramic view of the maple and ginkgo trees from the observation deck that runs along the cliff. There are other nearby sightseeing spots too like Kokonoe Yume Otsurihasi Bridge and Kyusuikei Onsen hot springs.

Address: Tano, Kokonoe, Kusu District, Oita
Access: 20-minutes by car from Kokonoe IC

Hakubakei

The valley of Hakubaki was designated as a Place of Scenic Beauty of the city of Usuki. In autumn, surrounding trees are dyed in reds and yellows, bringing people from all over to witness the spectacle. And because the valley it at a high altitude, the gradation of the colourful trees changes as you go further in.

Address: Badai, Usuki, Oita
Access: 5-minutes by car from Usuki IC

Fukiji Temple

Fukiji Temple was built in the Heian Period for the high priest of Usa Jingu. The temple is a national treasure, and the Amida-Nyōrai contained inside is designated by the Japanese government as an Important Cultural Property.

Address: 2395 Tashibufuki, Bungotakada, Oita
Access: 30-minutes by car from Usa Station

Mount Kuju

Mount Kuju stands as the highest mountain in Kyushu Island at nearly 1,800-meters tall, which has also led to to be nicknamed the "Rooftop of Kyushu." Its has many peaks, the highest being Mount Nakadake at 1,791-meters. One peak in particular draws mountain climbers, and that's Mount Taisen. At its apex one can enjoy the breathtaking autumn colours together with the sight of the rolling mountains.

Address: Tano, Kokonoe, Kusu District, Oita
Access: 40-minutes by car from Kokonoe IC.

See Japan's Autumn Colours on a Bus Tour to the Chapel of the Wind and Rokko Alpine Botanical Garden

The Mount Rokko Cable Car & Tourism Company has announced a special bus tour which will take passengers to the Chapel of the Wind and Rokko Alpine Botanical Garden. Running on weekends and public holidays between October 24 and November 15, the bus will depart from Kobe Sannomiya, and will also include a special lunch at the Rokko View Palace inside Rokko Garden Terrace.

What to look forward to

Chapel of the Wind, known as Kaze no Kyokai in Japanese, was built by internationally-renowned Japanese architect Tadao Ando. It's open for the autumn season only, and the bus tour will give you a chance to go inside and take in one of Ando's early works.

The lunch offered on the tour will be served at Rokko View Palace inside Rokko Garden Terrace, a staggering 880m above sea level. The menu includes roast chicken and beef, salad, bread, and dessert.

Rokko Alpine Botanical Garden will be in full autumn bloom during the bus tour, with reds, yellows, and oranges presented by the beeches and maples. There's also an exhibition taking place at the garden centred on Persian cyclamens and diamond lilies. You will stroll leisurely through the garden as the garden staff take you on a tour to see the beautiful autumnal sights.

Starbucks Japan's Chocolate Chestnut Frappuccino® Arrives This Autumn

The autumn leaves are set to fall on Starbucks in Japan again this year as the coffee chain announces the return of the "Artful Autumn @ Starbucks® Promotion" which is set to begin on September 2, 2020.

This year's drink concept is "Naturally Good Artfully Simple" which hopes to have customers feeling peaceful and enjoying the transition from summer into autumn.

Autumnal beverages made with whole blended chestnuts

Chocolate Chestnut Frappuccino®: ¥590 (Tall Only)
Chocolate Chestnut Latte: Short ¥450 / Tall ¥490 / Grande ¥530 / Venti® ¥570

What makes the Chocolate Chestnut Frappuccino® so special is its use of whole blended Japanese chestnuts—the quintessential autumn flavour of the country. The delicately broken pieces of chestnut add texture to the smooth milk and coffee and invite you into the cosy embrace of the season. Starbucks has chosen chocolate as the perfect partner to the chestnut. To best enjoy the balance of both flavours, the beverage is loaded with a "Chestnut Cacao Sauce" which gives the drink's appearance a beautiful marble effect. Everything's topped off with a squirt of whipped cream and a topping of chocolate flakes and candied cacao nibs.

Then there's the Chocolate Chestnut Latte, a combination of the same tasty Chestnut Cacao Sauce together with steamed milk and espresso carefully prepared by the baristas. The hot drink is completed by a topping of chocolate flakes and candied cacao nibs. The result is a wonderful mix of chestnut, chocolate, and espresso.

Another seasonal Starbucks latte


Autumn Latte: Short ¥340 / Tall ¥380 / Grande ¥420 / Venti® ¥460

The Autumn Latte is made with Starbucks Japan's "Autumn Blend" coffee beans. It has a smooth and gentle flavour.

Autumn in Japan is a time for seriously tasty drinks and desserts, so if you're in the country this autumn, be sure to stop on by Starbucks for an autumn coffee.

Information

Chocolate Chestnut Frappuccino®
Chocolate Chestnut Latte
Autumn Latte
Running: September 2, 2020 – October 31, 2020

Available: Starbucks in Japan (select branches not participating)

Starbucks Japan Official Website:  https://www.starbucks.co.jp/

Kyukaruizawa Kikyo, Curio Collection by Hilton Ranks On Tripadvisor's Best Hotels List

Kyukaruizawa Kikyo, Curio Collection by Hilton, a hotel in Karuizawa, Nagano that is managed by Tokyu Resort Service Co., Ltd. made it onto Tripadvisor's 2020 Travellers' Choice Best of the Best and also ranked on the website's Top 20 best hotels in Japan for high quality service.

Travellers' Choice Best of the Best is Tripadvisor's highest recognition, presented annually to the top 1% of businesses across select categories.

Kyukaruizawa Kikyo hails as Hilton's first "Curio Collection by Hilton" in Japan. First open in 2018, the hotel's name "Kiyko" is a reference to both the flower of the same name and the Japanese word kikyo which means "to return to one's home" or "homecoming." The hotel is active alongside the community in working towards the Sustainable Development Goals and is committed to the Hilton CleanStay initiative to ensure the cleanest possible stay for guests.

Hilton's first Curio Collection hotel in Japan

Curio Collection by Hilton is an upscale hotel brand first established by Hilton in 2014. To date, the brand has around 70 establishments worldwide, supporting guests who are looking for unique and authentic hotel experiences.

Get away from the hustle and bustle of the city

Karuizawa is a popular resort area that's easily accessible from Tokyo. It's loved by some of the biggest names in the political, financial, and celebrity worlds. Guests can enjoy a free rides in a Mercedes-Benz from Karuizawa Station to the hotel.

Enjoy the sights while shopping and soaking up nature

The hotel is just a 5-minute walk from Old Karuizawa Ginza Street with shops offering all things Karuizawa. It's also the perfect spot to enjoy walking and cycling while taking in the sights of nature.

Information

Kyukaruizawa Kikyo, Curio Collection by Hilton
Address: Kyūkaruizawa-491-5 KaruizawaKitasaku-gun, Nagano
Access: 1 hour by Shinkansen from Tokyo Station

Official Website: https://www.kyukaruizawa-kikyo.com/

Experience a Crisp Japanese Autumn While Ice Skating in Karuizawa

This autumn, Karuizawa Hoshino Area is opening up the Kera-Ike Skate Rink for a limited time from October 16 where visitors can skate around the ice while soaking up the reds and yellows of the surrounding forest.

Karuizawa Hoshino Area is a resort managed by Hoshino Resorts. The middle of October is when Karuizawa's red maple trees blossom, while the beginning of November marks the incoming yellow karamatsu Japanese larches.

An ice skating rink enveloped in a forest

Kera-Ike Skate Rink is a frozen lake in the middle of a forest in Karuizawa. It's located ride by Karuizawa Wild Bird Sanctuary, so Hoshino Resorts had the idea to turn it into an ice rink so that people can enjoy the local wildlife while skating. For this year's opening of the ice rink, Hoshino Resorts has a range of art content related to Japanese autumn for people to enjoy too.

Reds, Yellows, and White

Karuizawa sits 1,000 meters above sea level, and so the autumn leaves begin showing from the middle of October. This is when the urushi Japanese lacquer trees and momiji maples dye the forest a bright-red. Following shortly after are the karamatsu Japanese larches which add a bright yellow to the red hues. Visitors can soak up the kaleidoscope of colours while skating across the pure white ice rink.

Beautiful autumn leaf themed content

The ice skating chairs are a popular item at Kera-Ike Skate Rink and are a great way for beginners and children to enjoy being on the ice. This year, the chairs have been pained in the same colours at the autumnal leaves.

Autumn leaf decorations on the windows

The rink-side cafe has six giant glass windows spanning 2.5 meters across. Each window has its own unique autumn leaf design on it.

Autumn Leaf Latte

The cafe will serve the perfect autumn-time beverage, a latte topped with momiji and kaede maple leaves designs made from pumpkin powder—a fitting flavour for the season.

Information

Kera-Ike Skate Rink
Running: October 16, 2020 – November 10, 2020
*Run period subject to change depending on the autumn leaves.
*The 2020-21 skate rink opening period runs until March 7, 2021. Closed November 26, 2020 and January 19-21, 2021.
Opening Hours: 10:00-16:00

Official Website: http://www.hoshino-area.jp/archives/area/skate

Take a Summer Trip to Karuizawa in Style at Hoshino Resorts BEB Karuizawa

"BEB" is a brand of hotel established by Hoshino Resorts which aims to support young people travelling by being cost-effective as well as make travelling more fun for the younger generation. This year, BEB5 Karuizawa is promoting a spending a fun and stylish summertime.

Enjoy the outdoors in a wide, open space

The indoor "Yagura Room" is fitted with spacious sofas and bed spaces where people can chat together, read a book, and enjoy their free time. There's also "TAMARIBA," a 24-hour public space with a garden, lounge, cafe, and library. A cool breeze sweeps through the tall windows, letting in cool air on a hot summer's day. Guests can kick back and enjoy some relaxation. The cafe even sells wine so guests can treat themselves to an evening drink or have a little drinking get-together with friends.

Summer resort rental items

Guests can experience the true thrill of summertime in Karuizawa with a selection of rental items including straw hats, a bug catching net, portable speakers, electric fans, and more. These can be rented from July 13, 2020 to August 31, 2020.

The lush green outdoors surrounds the hotel

BEB5 Karuizawa is located in one corner of the Karuizawa Hoshino Area which is home to a bright green forest. Located laong the bath is Harunire Terrace which is home to 16 unique shops, and there's even a hot spring which flows directly from the water source.

Hoshino Onsen Tonbo no Yu

There are plenty of things for guests to do outside, including participating in a nature tour hosted by wild flora and fauna specialists Picchio, having a picnic at the benches by the flowing water, and more.

Karuizawa is one of Japan's best places for a summer retreat. Just a one hour bullet train ride from Tokyo, it's an easy place to access from the country's capital.

Information

Hoshino Resorts BEB5 Karuizawa

Address: Hoshino, Karuizawa-machi, Kitasaku-gun, Nagano
TEL: 0570-073-022 (Hoshino Resorts Booking Centre)
Rooms: 73 (Check In 15:00 / Check Out 11:00)

Price: From ¥9,000 per night (1 room for 2 people, service charge and meal charged separately)
Official Website: https://hoshinoresorts.com/ja/hotels/beb5karuizawa/

SHISHI-IWA HOUSE in Nagano Prefecture Makes Travel + Leisure Magazine's "2020 It List"

SHISHI-IWA HOUSE, a "boutique resort" located in Karuizawa, Nagano, has made it into the "2020 It List" of American travel magazine Travel + Leisure.

Travel + Leisure is a New York-based travel magazine. "The Best New Hotels in the World (The It List)" shines a light on hotels around the world that have newly-opened or have been renovated that year.

The "2020 It List" has placed 72 establishments around the world in its ranking. Ten of these are located in Asia, with two being in Japan: SHISHI-IWA HOUSE and Aman Kyoto.

SHISHI-IWA HOUSE opened in February 2019. Described as a boutique resort, this hotel was built by internationally-acclaimed Japanese architect Shigeru Ban who won the 34th Pritzker Architecture Prize in 2014ーthe most prestigious award in modern architecture. The unique hideaway blends together nature and architecture, and is built in such a way as to strengthen the bonds between people.

The resort accommodation has two floors, and a unique structure which makes it look curved. It has ten individual rooms and three terraces. All the rooms enjoy a breathtaking view of the gardens which enjoy gorgeous scenery all year around. It's home to over 250 trees, including cherry blossoms, maples, and evergreens. You can also see Mount Asuma from all rooms.

Planning a trip to Nagano? Why not book to stay at this little hideaway?

Watch the Stars and Snow Glow at the Shiraito Falls Midwinter Light Up in Karuizawa

Throughout the year, Japanese people escape their busy city life to Karuizawa: a popular resort town hidden in the mountains near Nagano. From December 21, 2019 – February 15, 2020, Shiraito Falls located in Jōshin'etsu-kōgen National Park, Karuizawa will be holding the Shiraito Falls Midwinter Light Up, providing the perfect excuse for a soothing getaway.

The 3-metre-tall and 70-metre-wide Shiraito Falls does not freeze below freezing temperature as the water flows from a subterranean river of Mount Asama. The winter lighting will make the water glisten and the falling snow and starry night sky glow with the charm of winter. 

This light up event is a follow up from last year's illumination event. The Midwinter Light Up aims to make Shiraito Falls a beautiful tourist spot which can be enjoyed even on a winter night.

The Midwinter Light Up is one step ahead of the summer light up event which previously took place. To emphasise the beauty of nature, the illumination this time round will allows visitors to appreciate the starry night sky on a fine day and reveal the stunning natural scenery which is not visible during the daytime. 

As the Shiraito Falls light up event will take place in Jōshin'etsu-kōgen National Park, the event contents were created strictly abiding the guidelines and regulations from the Ministry of the Environment​. The quantity of light produced, its hues and even the way it is produced has been carefully considered, creating a light display that does not disrupt the natural environment. 

This breathtaking light display will give you an entirely new perspective on the breathtaking winter scenery of Shiraito Falls and would be the perfect experience to share with your family or friends. 

Information

Karuizawa Shiraito Falls Midwinter Light Up

Location: Shiraito Falls, Karuizawa

Running on 18 days between December 21, 2019 and February 15, 2020

The running period is split into the following sessions:

・Christmas Session December 21 – 24, 2019

・New Year Session January 4 – 5, 2020

・Spring Festival Session February 1 – 2, 2020, February 7 – 11, 2020, February 14 – 15, 2020

* There will be no light up event on days other than those stated above.

* The light up event on February 15 is a Valentine's Day special. This includes the display of an ice sculpture and the chance to meet Ruiza: Kauizawa's mascot. Visitors will also be given a gift.   

Openining Hours

・Christmas Session    17:00 – 19:00

・New Year Session     17:00 – 19:00

・Spring Festival Session   17:30 – 19:30

Price: There is no entry fee. However, there is a fee to cross the toll road. (The price is subject to change)

Autumn in Aichi: Cherry Blossoms and Maples at Obara Shikizakura Matsuri & Korankei Maple Festival

Early November marks the opening of the autumn cherry blossoms in Obaracho, Toyota. By the time mid-November rolls around, close to 10,000 shikizakura cherry blossoms bloom a pale pink until the end of the month.

The Yoshino cherry bears its pink petals in springtime, but the shikizakura blossoms twice a year: first in spring, then in autumn. They are considered one of the most beautiful flowers of autumn, especially when they bloom against the gorgeous and vibrant red maple leaves. The Obara Shikizakura Matsuri began on November 1, and right now, you can witness this spectacle for yourself.

The shikizakura trees planted in Obara have been there since Kansei era (1789-1801). With the helping hand of locals, the trees have become one of Japan's most famous shikizakura spots. They were designated as Chiku (District) Trees in 1978 and can be seen throughout the entire district. Some of the trees are over 100 years old and as such registered as Natural Monuments of Aichi prefecture.

This is a spot we highly recommend visiting when travelling to Aichi.

▼Obara Shikizakura Cherry Blossoms

Peak Blossom Time: From Mid-November

Locations:

441-1 Johei, Obaracho, Toyota, Aichi (Obara Fureai Park)

Senmichi, Toyota, Aichi (Senmi Shikizakura no Sato)

Access: Take the Toyota Oiden Bus bound for Kaminigi (上仁木行き) and get off at Obaraokusa (小原大草) or Kaminigi (上仁木)

Details:  http://www.kankou-obara.toyota.aichi.jp/

▼Obara Shikizakura Matsuri

Running: November 1, 2019 – November 30, 2019

Locations: Senmi Shikizakura no Sato, Obara Fureai Park, and elsewhere in the region

Notes: The Kururin Bus can be boarded for free on weekends and public holidays while the festival is on

Official Website: https://www.aichi-now.jp/spots/detail/132/

The Korankei Maple Festival is also taking place this month where you can witness around 40,000 maple trees bearing their gorgeous autumn foliage.

The trees are being lit up every night for the month of November. Watch the sun set before the illuminations are turned on, creating an enchanting atmosphere with the warm, radiating lights against the night sky.

▼Maple Trees

Peak Blossom Time: From Mid-November

Location:  Iimori Asukecho, Toyota, Aichi

Access: Ride the Meitetsu Mikawa Line to Toyotashi Station, change onto Meitetsu Bus, and alight at Korankei (香嵐渓)

Official Website:  http://asuke.info/korankei/

▼64th Korankei Maple Festival

Running: November 1, 2019 – November 30, 2019

Location: Around Iimori Asukecho, Toyota, Aichi

Light-Up: Sunset to 21:00

Access: 20 minutes from Sarugata Green Road Interchange / 20 minutes from Toyota-Kanpachi Interchange

Official Website: http://asuke.info/event/nov/entry-705.html

Witness two of Japan's most celebrates treesーthe cherry blossom and the mapleーflower together in one place in Aichi.

See the Breathtaking Autumn Foliage of the Former Shizutani School in Okayama

The Former Shizutani School, recognised as the oldest school existing for commoners in Japan, has reached its peak season for autumn foliage. Speficially, for the Chinese pistache tree, which is a symbol of the school.

Shizutani School first opened in 1670 during the Kambun era. In 2015, it was registered as an Educational Heritage Site from Early-Modern Japan. The majority of the site is listed as an Important Cultural Property, including the temple, Shizutani Shrine, as well as the auditorium which is considered a national treasure.

The school's surrounding natural landscape enjoys the blooming of many different flowers throughout the entire year which people flock to see. It's especially famous for autumn, a season during which the enchanting red and yellow hues boas their beautiful blossom.

The three colours reflect from the lacquered flooring of the auditorium, rippling like ocean waves.

The beautiful contrast between the reds and yellows of the pistaches can be enjoyed during autumn-time only. The best time to see them is from now until November 20, so if you're travelling to Okayama, be sure to pay the Former Shizutani School a visit.

Kyoto Sightseeing | 4 Spots to Visit Before Autumn 2019 Ends

Autumn is a popular season in Japan, especially amongst tourists and travellers. While in spring you have the bright pink cherry blossoms, when autumntime rolls around, the trees turn into enchanting reds and yellows. People from around the world flock to see this incredible sight, with Kyoto being a very popular location.

Of course, viewing the beautiful colours of the trees and their leaves is a must during the daytime, but seeing them in the evening has become popular in recent years too. It offers you an entirely different experience and atmosphere. So if you're in the ancient capital for autumn this year, why not experience the season in an entirely new lightーat night?

Jitokuin Temple

Jitokuin Temple is located in the town of Yosano in Yosa District. Maple trees were planted almost 11 years ago with the help of locals and the chief priest to create local ties. Every autumn, the trees behind the mountain bloom in vivid hues, leading the temple to be nicknamed "Koyo-ji," or "Temple of Autumn." The locals work hard in the surrounding gardens day by day, so the sights change a little bit every year.

The maple trees are planted in a way that it looks like they take an entire side of the mountain. They are a sight to be hold during the day, but for one week in November there will be illuminations in the evenings, creating a magical scene under the night sky.

▼Jitokuin Temple

Light-Up Period: November 9, 2019 – November 16, 2019

Light-Up Time: 17:00-20:00 (Temple is open 09:00-20:00)

Autumn Foliage Peak Period: Early-Mid November

Address: 2250 Akeshi, Yosano, Yoza-gun, Kyoto

Support Fund: ¥300

Official Website: http://jitokuin.com

Nariaiji Temple

Nariaiji Temple, located in Kyoto Prefecture's city of Miyazu, is an ancient temple betwixt mountains overlooking Amanohashidate, one of Japan's "Three Scenic Views." It's home to a grand 5-storey pagoda which is surrounded by hundreds of maple trees, offering an incredible, quintessentially Japanese view during autumn.

During the day, you can snap some gorgeous photos with the Sea of Japan and Amanohashidate in the back. For two nights only, on Saturday November 9 and Sunday November 10, the entire area will be beautifully lit up with warm illuminations.

▼Nariaiji Temple

Light-Up Period: November 9, 2019 – November 10, 2019

Light-Up Time: Sunset – 21:00 (Temple is open 08:00-16:30)

Autumn Foliage Peak Period: Early-Late November

Address: 339 Nariaiji, Miyazu, Kyoto

Price: ¥500

Official Website: http://www.nariaiji.jp/

Kasagiyama Prefectural Natural Park

Kasagiyama Prefectural Natural Park: is located atop Mt. Kasagi and is also home to Kasagi-dera, a temple with a 1,300-year history. During autumn, one entire side of the park is dyed in autumnal colours.

This November, the area will be lit up for a limited period, offering a gorgeous view from the mountain peak of the trees below as well as the flowing Kizugawa river.

▼Kasagiyama Prefectural Natural Park

Light-Up Period: November 1, 2019 – November 30, 2019

Light-Up Time: 17:00-21:00 (Temple is open 09:00-16:00)

Autumn Foliage Peak Period: Early-Mid November

Address: Mt. Kasagi, Kasagi, Soraku District, Kyoto

Price: Illuminations – Free / Temple – Adults ¥300, Children ¥100

Official Website: https://www.kasagidera.or.jp

Yokokuji Temple

Normally, the Joshoin at Yokokuji Templeーalso known as Yanagidani Kannonーonly opens on the 17th of every month. But for a special autumn event, it is now open every day up until December 1. The beauty of its autumn colours have come to be enjoyed by VIPs, dating back to the pre-war period when it was designated as a place of scenic beauty. For more details on this event, click here.

▼Yanagidani Kannon Autumn Colours Week

Running: November 2, 2019 – December 1, 2019

Time: 9:00-16:00 (Joshoin open 10:00-15:00)

Location: Yanagidani Kannon, Yokokuji Temple (Dōnotani-2 Jōdodani, Nagaokakyo, Kyoto)

Entry Price: ¥300

Full Ticket: ¥1,100→¥1,100 (Includes entry to multiple areas)

Official Website: http://yanagidani.jp/

Take the time to enjoy an autumnal Kyoto this year at one of the city's seasonal events.