Revue Starlight 1st Anniversary Celebrated With Themed Cafes in Akihabara & Osaka
To celebrate the 1st anniversary of media franchise Revue Starlight, two themed cafes are set to open in Toyko and Osaka on October 11 and November 8 respectively.
Revue Starlight is a multimedia project that currently consists of stage plays, an anime series which aired last year, several ongoing manga series, and a smartphone game.
Beautiful Sky Invincible Set – Yakisoba & Hot Dug Bun: ¥980
Nana's Handmade Banana Muffins: ¥1,180
Rinmeikan All-Girl's School Matcha au Lait: ¥750
Everything on the menu is inspired by the characters and world of Revue Starlight, from light meals to desserts and drinks.
Pin Badge Set (Set of 5): ¥2,100
Canvas Art (5 Designs): ¥3,500 Each (Karen Aijō/Hikari Kagura/Tamao Tomoe/Aruru Otsuki/Akira Yukishir0)
Exclusive merchandise will be sold at the cafes too, including designs of the characters dressed at cafe staff.
Reservation-Only Bonus Item: Original A4 Stickers (2 Chosen Randomly)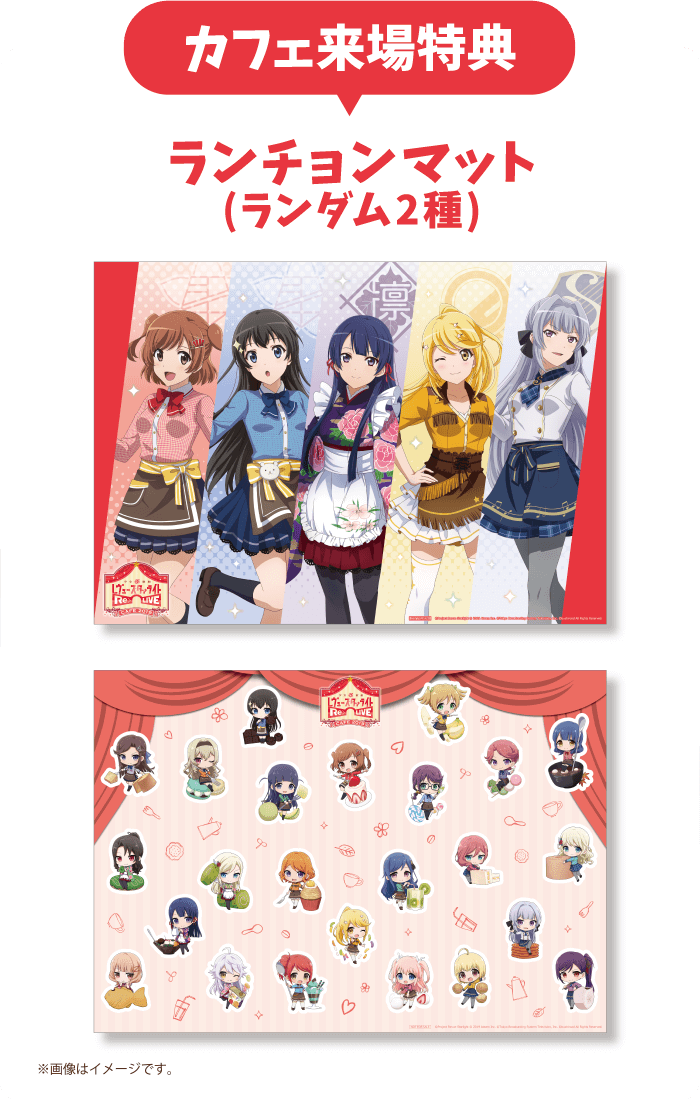 Bonus Item For Diners: Original Lunch Mat 92 Designs (2 Chosen Randomly)
Bonus Item For Drink Orders: Original Coaster (1 Chosen Randomly)
The cafes also have a line-up of bonus items for if you book a table in advance, dine at the cafe, and order a drink at the cafe.
Information
Revue Starlight -Re LIVE- Cafe 2019
Locations
①Akihabara, Tokyo (Ogiso Bldg. Floors 3F-4F, Sotokanda, Chiyoda Ward, Tokyo) / Running October 11, 2019 – November 24, 2019
②Nipponbashi, Osaka (KUS Nipponbashi Bldg. Floors 2F-3F, 4-8-18 Nipponbashi, Naniwa Ward, Osaka) / Running: November 8, 2019 – December 8, 2019
Reservations: Open September 19, 2019 at 18:00 (JST)
Reservation Price: ¥650 (Includes Bonus Item) *4 seats max
Cafe Website (Japanese): https://revuestarlight-relive-cafe.jp/
RECOMMENDED ENTRIES
Tokyo DisneySea's Dark Halloween Festivities For 2019 Begin

Disney Halloween 2019 has finally begun! The Tokyo DisneySea fun is set to run until October 31 where it will provide guests with a dark and mysterious Halloween experience that will keep you on edge… like something's about to happen, but you're not sure what.

Tokyo DisneySea's decor takes on a more grown-up bewitching look compared to Tokyo Disneyland's cute decorations.

Hung throughout the park you will find decorative banners featuring illustrations of Disney characters dressed in their spooky garments. This year, Mickey, Minnie and the rest of the cast invite guests into a truly bewitching wonderland.


If you pop over to American Waterfront you'll find some great photo opportunities, like the Minnie Mouse and Daisy Duck statues waiting to welcome you at the entrance, clad in hauntingly beautiful attire and stood next to night-black pumpkins and dried flowers.


You'll find the rest of the costumed characters further in too. Be sure to get photos with everyone!

Chicken & Vegetable Steamed Bun – ¥600 @ Nautilus Galley / Teriyaki Chicken Rubber Ring Steamed Bun – ¥600 @ Seaside Snacks

Nothing has been left out from the Halloween spell this year, even the food menu and drinks which arrive in festive colours like black and purple like this bandage-wrapped mummy steamed bun and rubber ring steamed bun.

Inside the mummy is a delicious concoction of chicken, cabbage, and other veg.

The rubber ring steamed bun is the perfect snack to munch on as you walk around the park. It's filled with rich teriyaki chicken wrapped in a striking purple dough.

All of the food is packaged in cute packaging too―don't throw it away straight away and check out which illustration you got!

Assorted Sweets – ¥430 @ Gondolier Snacks and elsewhere

Check out these bite-sized confections, from a mini baumkuchen cake on a lollipop stick to strawberry cheesecake and purple sweet potato cream mochi. The chewy mochi Mickey can only be described as kawaii♡

Grape Tapioca Tea – ¥500 @ Mamma Biscotti's Bakery

Sparkling Black Tea Tapioca Drink – ¥450 @ Hudson River Harvest

Tokyo Disneyland's tapioca drinks are really popular in summer, and for Halloween they've arrived with all-new flavours, exclusive to the Disney Halloween event.

There's lots to see and experience at this year's Disney Halloween. Be sure to look everywhere, even in shop windows. And if you're eager to see more of the food and drinks available at both parks then click here.

Sanrio-Style Sarazanmai Café to Steal the Scene at Tokyo and Osaka

A café based on the popular anime Sarazanmai is coming to Tokyo on September 19 and Osaka on September 26 and will run for a limited time only. The café designs were produced by Sanrio. 

Sarazanmai is a TV anime which was produced by animation studios MAPPA and  Lapin Track. The anime became incredibly popular when it aired between April and June 2019 on the Fuji TV programming block Noitamina. The last episode was met by an undying stream of grateful messages from fans and even those involved in the creation of the series. 

Sanrio produced Sarazanmai designs which are perfect for the traditional coffee shop theme and the retro Asakusa atmosphere of the series. The collaboration cafés will open in Ikebukuro in Tokyo and Nipponnbashi in Osaka.

Menu

Football Curry of Youth: ¥1,380 (before tax)

Football is what connects the three main characters Kazuki, Kuji and Enta. Come taste the delicious flavour of budding friendship in the form of a delicious curry at the café.   

Pudding a la Mode of Friendship: ¥1,280 (before tax)

The three middle schoolers are represented in the form of colourful fruit. This is a delicious dish easily enjoyed by anybody. 

Sparkling Jelly Juice (Kazuki/Kuji/Enta): ¥650 each (before tax)

These jelly drinks are also themed around Kazuki, Kuji and Enta. The jelly lurking at the bottom of the cup adds a wonderful accent to the flavour.  

Original Goods

Badge (10 random designs): ¥450 (before tax)

Mug (one design only): ¥1,500 (before tax) 

Special Bonus Goods

Those who book seats in advance (¥500 + tax) and order from the menu will receive an original design sticker. You will be presented with one of four designs at random. 

For each item ordered from the menu, you will receive an original design drink coaster. One of six designs will be given to you at random. 

This café is the perfect place to relax at your own pace this autumn. 

© イクニラッパー/シリコマンダーズ

Information

Sarazanmai Café (Designs Produced by Sanrio)

Open:

・Ikebukuro, Tokyo: September 19 ー October 27, 2019

・Nipponnbashi, Osaka: September 26 ー November 5, 2019 

Advanced reservations accepted from 7pm on September 6, 2019 

Reservation Fee: ¥500 (comes with a bonus for reserving)

Official Website: https://sarazanmai-sanrio-cafe.jp/

My Hero Academia Themed Cafe to Open at SEGA Ikebukuro GiGO in Tokyo

A cafe based on the hit TV anime series My Hero Academia will open at SEGA Ikebukuro GiGO on October 12.

Drinks Menu

 

Drinks – ¥600 Each (Before Tax)

Original Latte Art (11 Designs) – ¥700 Each (Before Tax) *Choose your own

Food Menu

Menu ①: October 12, 2019 – November 1, 2019

Katsu-Lover Midoriya's Pork Rib Noodles / Eijiro Kirishima's Crunchy Kakiage Don – ¥1,200 Each (Before Tax)

Menu ②: November 2, 2019 – November 24, 2019

Katsuki Bakugo's Spicy Mapo Doufu / Shoto Todoroki's Fire & Ice Tomato Cheese Pasta – ¥1,200 Each (Before Tax)

Dessert Menu

Menu ①: October 12, 2019 – November 1, 2019

Ochaco Uraraka's Japanese-Style Dessert Set with Matcha Milk – ¥1,200 (Before Tax) / Tenya Iida's Source of Strength Orange Parfait – ¥900 (Before Tax)

Menu ②: November 2, 2019 – November 24, 2019

U.A. Dessert Plate – ¥1,200 (Before Tax) / Tsuyu Asui's Kero Kero Parfait – ¥900 (Before Tax)

Enjoy a fun selection of food, drinks and desserts inspired by the My Hero Academia character cast. You can only pick between one meal and/or dessert when ordering.

 

Bonus Merch

When ordering from the drinks menu or one of the latte art coffees, you will receive one drinks coaster selected randomly from the following designs during the following dates.

Coaster Line-Up ①: October 12, 2019 – November 1, 2019

Coaster Line-Up ②: November 2, 2019 – November 24, 2019

And when ordering from the food or dessert menu, you will receive one of the below-pictured original bromide pictures chosen randomly. All of these bonus items are first-come, first-served.

Merchandise Shop

The cafe will also have its own merchandise corner selling exclusive items in collaboration with SEGA.

Available From October 12

Holographic Pin Badge (7 Designs) – ¥500 Each (Before Tax) *Chosen randomly, up to 10 allowed per person in one transaction 

Acrylic Key Ring with Stand – ¥1,200 Each (Before Tax) *Chosen randomly, up to 10 allowed per person in one transaction

Available From November 2

Mini Card (7 Designs) – ¥600 Each (Before Tax)

There are lots of other pieces of merchandise to get your hands on too. The cafe-exclusives are available only to those who use the cafe.

You must book a table in advanced if you want to visit, so be sure to get yours in quick.

©Kohei Horikoshi / Shueisha・My Hero Academia Production Committee ©SEGA

*Photos are for illustrative purposes only. Actual product may differ.

Information

SEGA Collabo Cafe My Hero Academia

Running: October 12, 2019 – November 24, 2019

Location: SEGA Collabo Cafe Ikebukuro GiGO (SEGA Ikebukuro GiGO Floor B2F, 1-21-1 Higashi-Ikebukuro, Toshima Ward, Tokyo

Schedule

Menu ①: October 12, 2019 – November 1, 2019

Menu ②: November 2, 2019 – November 24, 2019

*Menu items and coaster designs will change for each menu

*More details can be found on the SEGA Collabo Cafe official website

Cafe Website: https://sega-collabocafe.com/ikebukuro/heroaca02.html

My Hero Academia Official Website: https://heroaca.com/
RELATED ENTRIES
Tokyo's MARUKO & COJICOJI CAFE Food Menu is Just Too Kawaii to Eat

Fans of Japanese mangaka Momoko Sakura won't be able to resist the new MARUKO & COJICOJI CAFE which is set to open at Sunday Brunch in Tokyo on January 31, 2020 for six months. It's collaboration between the manga series Chibi Maruko-chan and Coji-Coji, both by Momoko Sakura.

The cafe is opening to promote the release of the Chibi-Maruko-chan and Coji-Coji picture book. Customers can look forward to joining the two characters on their adventures as they are vividly recreated on their plates, with food and drink inspired by the beautiful scenes seen throughout the four seasons, cherry blossoms, Mount Fuji, and more. The menu line-up is an homage to Momoko Sakura's iconic work.

Today, we finally get to take a peek at what's on the menu at the cafe. Keep in mind this is just a small selection of what will be served.

*Menu item names are translated from Japanese

Homage Menu: Coji-Coji Came To Visit- ¥1,850 (Before Tax)

Both Marko-chan and Coji-Coji are made from cookies and are flying through the air together. Below them is Mount Fuji, made from rice and adorned with cherry blossoms. It's sat in a lake of cod roe cream sauce littered with tea leaves.

Summer Menu: King of Sun Kingdom – ¥2,000 (Before Tax)

Enjoy this healthy keema curry packed full of nutritious vegetables as well as a piece of French toast made from fresh eggs and milk. The individual suns are made from pumpkin flavoured mashed potato, while the two pals have written a letter that says "To the King."

Winter Menu: Three's Company – ¥1,880 (Before Tax)

Delicious butterfly pea and spinach purees sit atop a bed of shrimp tomato cream and pumpkin soup, creating an eye-popping mixture of colours.

Sweets: Coji-Coji Came to Visit Baked Cheese Cake – 1 Slice w/Drink ¥1,380 (Before Tax)

This baked cheese cake celebrates the two's meeting. You get one slice which will contain Mount Fuji and either Maruko-chan or Coji-Coji. Which will you be given?

Sweets: A Chat in the Cold Morning Chocolate Cake – 1 Slice w/Drink ¥1,380 (Before Tax)

Layered with sumptuous mango custard cream, this cute gateaux chocolate cake is moist and delicious.

Parfait Drink: Onigiri People & Star Festival – ¥1,700 (Before Tax)

Inspired by the Milky Way in the Tanabata festival, this parfait drink includes jelly under which hides an assortment of fruits, cream, and vanilla ice cream. The juice itself has a squirt of cheese cream in it too.

Special Drink: What's The Rainbow Invitation? – ¥980 (Before Tax)

A glass of lemonade that comes with a cafe-exclusive charm. There's jelly inside the glass which dances and sparkles as you stir.

The cafe itself will also be decorated in picture book art in the form of tapestries and other things. There will also be a display of Momoko Sakura's work, as well as Maruko-chan and Coji-Coji merchandise up for sale.

©️Momoko Sakura ©️Sakura Production

Information

MARUKO & COJICOJI CAFE

Location: Sunday Brunch, Marronnier Gate Ginza 1 Floor 4F (2-2-14 Ginza, Chuo Ward, Tokyo)

Running: January 31, 2020 – July 31, 2020 (Subject to change)

Opening Hours: 11:00-21:00

Reservations/Official Website: http://www.marucoji-cafe.com

Akihabara's popular maid Café @Home Cafe Teams up with Hello Kitty

Akihabara's popular maid café @Home Cafe is partnering up with the world's favourite Sanrio character Hello Kitty, creating a beautiful collaboration café that will open on January 21 and run for a limited time. The new café will see a new original menu, café-limited goods and much more.

@Home Cafe collaborated with Sanrio characters My Melody and Cinnamoroll in 2018, and with Pompompurin in 2019. Each year, the collaboration café was very popular. As 2020 marks the year of the Tokyo 2020 Games, Sanrio has stepped up their game, sending in their legendary Hello Kitty to the café to ensure that 2020 is celebrated to the max.

The collaboration café features illustrations of Hello Kitty and her twin sister Mimmy dressed as maids and serving customers in the café. The collaboration café will see the walls dressed in pink and yellow gingham checkered patterns and lots of sweet and cute illustrations.

Hello Kitty's KAWAII ♡ Pink Curry (Comes with Certificate Card): ¥1,400


Hello Kitty and Mimmy's Moe Moe Ribbon Pasta Plate: ¥1,300


Hello Kitty's Lovely Sandwich with Sweet and Sour Soup: ¥1,300

Hello Kitty's Moe Moe Parfait: ¥1,000 Mimmy's Kyun Kyun Parfait: ¥1,000

Bright Red Apple Okyumuka Cake: ¥1,000

As the café's main theme is "moe" (feeling of strong affection),  Hello Kitty and Mimmy are sure to enhance your moe experience to the max.

Masters and mistresses who visit the café will also be presented with one of two designs of free collaboration placemat.

There are three varieties of original drink coasters at the café too. Masters and mistresses who order a drink will be given one for free.

Lunch Tote Bag: ¥1,500

Acrylic Keyings (Three Varieties): ¥600 Each

The café is also full of a wide range of collaboration merchandise so make sure to check them out after filling up on some delicious kawaii food.

The maids at the café will also be wearing original Hello Kitty and Mimmy-themed maid outfits that you just cannot miss if you are a Hello Kitty fan.

*All prices stated above are prices before tax.

*The English names of the dishes and merchandise mentioned above have been translated.

©1976,2020 SANRIO CO., LTD. APPROVAL NO.S603899

Information

@Home Cafe and Hello Kitty Collaboration Café 

Running: January 21, 2020 – March 29, 2020 

Location: @Home Cafe, Floor 5 Mitsuwa Building, 1-11-4, Sotokanda, Chiyoda, Tokyo

Opening Hours

Weekdays: 11:00 – 22:00

Weekends and National Holidays: 10:00 – 22:00

*Last Orders: 21:20

*Open from 10:00 on Weekdays, Weekends and National Holidays in March

No Regular Holidays

*Opening hours are subject to change. Please refer to @Home Cafe's official website for the latest updates.

@Home Cafe Official Website: http://www.cafe-athome.com/

6 Popular Character Collaboration Cafés to Open in January 2020

Every month, Japan sees numerous collaboration cafés opening all over the country featuring the world's most favourite characters, artists and much more. We've summed up the ones to look out for in January 2020.

Cafe de Perochi with Seven Days War, Shinjuku

To celebrate the anime film Seven Days War which premiered on December 13, a themed café opened at EJ Anime Theater in Shinjuku, Tokyo. The café opened in collaboration with popular creator Pantovisco who has over 680,000 followers across his social media.

 The cute menu line-up features Seven Days War-inspired food and desserts with Perochi and his friends joining in with the fun. There's also a drinks menu with a line-up of colourful beverages and lattes which you can get various latte art drawings on.

Cafe de Perochi with Seven Days War

Running: December 13, 2019 – January 12, 2020

Location: EJ Anime Theater Shinjuku Floor 5F (Shinjuku Bunka Bldg., 3-13-3 Shinjuku, Shinjuku Ward, Tokyo)

Official Website: http://7dayswar.jp/

More Information: https://www.moshimoshi-nippon.jp/280643

BT21 Café, Shibuya, Tokyo and Abeno, Osaka

The BT21 collaboration café is currently running for the fifth time. The café opened in Shibuya, Tokyo and Abeno, Osaka on November 21, 2019 and will close on January 13, 2020. This there are more BT21 family members and friends featuring in the foods and drinks as part of the BT21 UNIVERSE series' first-ever menu. There is lots of menu and café-limited merchandise to get your hands on too. 

Korean Burger: ¥1,490

Double Yangnyeom Chicken Rice: ¥1,490


BT21  Café, Shibuya, Tokyo Abeno, Osaka

Location: Shibuya BOX CAFE&SPACE (Shibuya BOX109)

Running: November 21, 2019 to January 13, 2020
*Closed January 1

BT21  Café, Abeno, Osaka

Location: Abeno, Abeno contact

Running: November 21, 2019 – January 13, 2020
Official Website: https://www.bt21.com/relations

Devil May Cry 5 x Capcom Cafe Ikebukuro

The Capcom Cafe is collaborating with the action-adventure hack and slash video game Devil May Cry 5 once again at the Ikebukuro, Tokyo branch from December 5, 2019 to January 15, 2020.

Devil Breaker "Overture" Potato – ¥880 (Before Tax)


Demon World Mont Blanc – ¥980 (Before Tax)


The cafe will feature various menu items and merchandise that was sold at the Laketown branch of Capcom Cafe, as well as new meals, drinks and even more merchandise.

 Devil May Cry 5 x Capcom Cafe Ikebukuro

Running: December 5, 2019 – January 15, 2020

Address: Capcom Cafe Ikebukuro, 1-30-3 Higashi-Ikebukuro, Toshima Ward, Tokyo

Opening Hours: 10:00-22:00 (Last Orders: 21:00)

Official Website: http://www.capcom.co.jp/amusement/capcomcafe/ikebukuro/

More Information: https://www.moshimoshi-nippon.jp/276074

Pokémon Sword and Shield: Nihombashi, Tokyo and Shinsaibashi, Osaka

The Tokyo (Nihonbashi) and Osaka (Shinsaibashi) branches of the Pokémon Cafe are releasing their second batch of menu items in collaboration with Pokémon Sword and Shield which will be served between January 18 and March 19 next year.

Weezing's Chemical Change Gas Pancakes – ¥1,628


Morpeko's Hungry W Sauce Omurice – ¥1,628


Pokémon Sword and Shield was released on Nintendo Switch on November 15 so if you're a Pokémon fan in Japan, this is the perfect way to celebrate.

 Pokémon Sword and Shield

 Pokémon Cafe (Nihombashi, Tokyo)

Address: Nihombashi Takashimaya SC East Bldg. 5F, 2-1-2 Nihombashi, Chuo Ward, Tokyo

Business Hours: 10:00-22:00

No Fixed Holidays (Except when Nihombashi Takashimaya SC is closed)

Reservations: https://www.pokemoncenter-online.com/cafe/reservation.html

Pokémon Cafe (Shinsaibashi, Osaka)

Address: Daimaru Shinsaibashi Honkan 9F, 1-7-1 Shinsaibashisuji, Chuo Ward, Osaka, Osaka Prefecture

Business Hours: 10:00-21:30

No Fixed Holidays (Except when Daimaru Shinsaibashi is closed)

Reservations: https://www.pokemoncenter-online.com/cafe/reservation.html

More Information: https://www.moshimoshi-nippon.jp/283263

Korilakkuma Cafe: another me in the mirror, Harajuku

"Korilakkuma Cafe: another me in the mirror" opened in Japan's hub of kawaii culture Harajuku on December 21 and will run until March 22 next year. The cafe is the perfect spot to relax with Korilakkuma and be entertained by projection mapping.

Table Projection Mapping Seats: ¥2,500 per person (Before Tax)


Twin Korilakkuma Strawberry Milk – ¥990


The cafe incorporates "interactive tabletop projection mapping" technology developed by Sony, which allows customers to enjoy their meals while playing together with the characters as they walk around their plates and tables.

Korilakkuma Cafe: another me in the mirror

Running: December 21, 2019 – March 22, 2020 (Not running December 30, 2019 to January 3, 2020)

Location: HARAJUKU AR BOX -table projection mapping cafe- (4-28-28 Jingumae, Shibuya, Tokyo)

Official Website: https://korilakkumacafe.jp/

More Information: https://www.moshimoshi-nippon.jp/284456

MARUKO&COJICOJI CAFE, Ginza

 The MARUKO & COJICOJI CAFE is set to open in Marronnier Gate Ginza, Tokyo on January 31, 2020 where it will run until July 31. It is a collaboration between the manga series Chibi Maruko-chan and Coji-Coji, both by Momoko Sakura. The cafe is opening to promote the release of the Chibi-Maruko-chan and Coji-Coji dream collaboration picture book. Customers can look forward to joining the two characters on their adventures as they are vividly recreated on their plates.

MARUKO & COJICOJI CAFE

Location: Sunday Brunch, Marronnier Gate Ginza 1 Floor 4F (2-2-14 Ginza, Chuo Ward, Tokyo)

Running: January 31, 2020 – July 31, 2020 (Subject to change)

Opening Hours: 11:00-21:00

Reservations: Opening on the official website from mid-January 2020

More Information: https://www.moshimoshi-nippon.jp/284763

How about kicking off New Year in Japan at a cute collaboration café?

Chibi Maruko-chan and Coji-Coji Join Hands at the MARUKO & COJICOJI CAFE in Tokyo

The MARUKO & COJICOJI CAFE is set to open at Sunday Brunch in Tokyo on January 31, 2020 where it will run until July 31. It is a collaboration between the manga series Chibi Maruko-chan and Coji-Coji, both by Momoko Sakura.

Sunday Brunch has collaborated with numerous franchises in the past including Shaun the Sheep and The Very Hungry Caterpillar.

The cafe is opening to promote the release of the Chibi-Maruko-chan and Coji-Coji picture book. Customers can look forward to joining the two characters on their adventures as they are vividly recreated on their plates. From dishes to drinks and desserts, everything on the menu is original and exclusive to Sunday Brunch.

The cafe will be decorated with tapestries featuring artwork in the style of the picture book, and fans can expect to purchase some exclusive merchandise too. More information is TBA, so stay tuned.

©️Momoko Sakura ©️Sakura Production

Information

MARUKO & COJICOJI CAFE

Location: Sunday Brunch, Marronnier Gate Ginza 1 Floor 4F (2-2-14 Ginza, Chuo Ward, Tokyo)

Running: January 31, 2020 – July 31, 2020 (Subject to change)

Opening Hours: 11:00-21:00

Reservations: Opening on the official website from mid-January 2020

Pokémon Sword and Shield Themed Food to be Served at the Pokémon Cafes in Tokyo and Osaka

The Tokyo (Nihonbashi) and Osaka (Shinsaibashi) branches of the Pokémon Cafe are releasing their second batch of menu items in collaboration with Pokémon Sword and Shield which will be served between January 18 and March 19 next year.

Pokémon Sword and Pokémon Shield are the latest games in the Pokémon video game franchise and were released for the Nintendo Switch on November 15, 2019. The two new menu items fans can hope to enjoy based on Weezing and Morpeko. Also, due to popular demand, the serving period for the first collaborative menu which featured Grookey, Scorbunny, and Sobble has been extended to March 19, 2020.

Weezing's Chemical Change Gas Pancakes – ¥1,628

Try pouring the accompanying blueberry sauce over Weezing's cotton candy gas clouds and you might just see an actual chemical change yourself!

Ingredients: Pancakes, Matcha Whipped Cream, White Chocolate Sauce, Blueberry Sauce

Morpeko's Hungry W Sauce Omurice – ¥1,628

Just like Morpeko can change between two forms via its Hunger Switch ability, this omurice too is served with two different flavoured sauces.

Ingredients: Omurice, Demi Glace Sauce, Tomato Cream Sauce

If you've yet to visit the Pokémon Cafe in Japan be sure to put it on your list of things-to-do, and expect to enjoy a whole range of Pokémon-themed treats!

*All listed prices include tax

©2019 Pokémon. ©1995-2019 Nintendo/Creatures Inc./GAME FREAK inc.

Pokémon, ポケットモンスター and ポケモン are registered trademarks of Nintendo, Creatures Inc., and GAME FREAK inc..

Information

Pokémon Cafe (Nihombashi, Tokyo)
Address: Nihombashi Takashimaya SC East Bldg. 5F, 2-1-2 Nihombashi, Chuo Ward, Tokyo
Business Hours: 10:30-22:00
No Fixed Holidays (Except when Nihombashi Takashimaya SC is closed)
Reservations: https://www.pokemoncenter-online.com/cafe/reservation.html

Pokémon Cafe (Shinsaibashi, Osaka)
Address: Daimaru Shinsaibashi Honkan 9F, 1-7-1 Shinsaibashisuji, Chuo Ward, Osaka, Osaka Prefecture
Business Hours: 10:00-21:30
No Fixed Holidays (Except when Daimaru Shinsaibashi is closed)
Reservations: https://www.pokemoncenter-online.com/cafe/reservation.html

*Reservations available online only. Telephone reservations not available.

Korilakkuma Cafe Opens in Harajuku With Projection Mapping Incorporated Dishes

The all-new "HARAJUKU AR BOX -table projection mapping cafe-" will open in Harajuku, Tokyo on December 21, 2019. This permanent cafe incorporates "interactive tabletop projection mapping" technology developed by Sony. The cafe runs in a "pair seating" system and so tables must be occupied by two people. 

The first collaboration to hit the cafe for its grand opening is with Korilakkuma. The collaboration is titled "Korilakkuma Cafe: another me in the mirror." Customers will be able to enjoy their meals while playing together with the characters as they walk around their plates and tables through projection mapping technology.

The theme of the cafe is "Korilakkuma inside a mirror," which sees Korilakkuma meeting another Korilakkuma inside the mirror in a world of cats and cosmetics.

Customers will be able to get their hands on a range of exclusive merchandise with original art illustrated for the cafe, as well as enjoy themed meals which come in the form of courses made to share between two people. They are free to choose an appetizer, main dish and dessert. *Course menu only – items not available to order separately

Menu item names are translated from Japanese.

Appetizers: Soup and Salad

Welcome to the World Inside the Mirror! Soup & Salad

There are two soups to choose from: clam chowder and minestrone. As a pair you can also order one of each.

Main Dishes

Omurice – Let's Draw Together

Chicken and Mushroom Cream Pasta Made Delicious With Magic!

Friendly Twin Korilakkuma Burger (Available December 21 – January 19 only)

There are five main dishes in total to choose from including those above.

Desserts

Spell-Cast Pancakes

Crème Brûlée & Magic Mirror (Available December 21 – January 19 only)

Heart-Filled Fondant Chocolate (Available January 20 to February 16 only)

There are five desserts in total to choose from including those above.

Drinks

Korilakkuma Cafe au Lait – ¥890 (Served Hot Only)

Korilakkuma Cocoa – ¥890 (Served Hot Only)

Twin Korilakkuma Strawberry Milk – ¥990

When you order a drink, you'll get an original coaster too.

Merchandise

Pin Badge (6 Designs) – ¥400

Folder Set – ¥500

Sliding Mirror (Pink or Purple) – ¥1,200 Each

There are lots of other exclusive pieces of merchandise to get your hands on too. Every customer will also receive one of two dolomite crystals.

*All listed prices include tax. Photos are for illustrative purposes only.

©2019 San-X Co., Ltd. All Rights Reserved.

Information

Korilakkuma Cafe: another me in the mirror

Running: December 21, 2019 – March 22, 2020 (Not running December 30, 2019 to January 3, 2020)

Location: HARAJUKU AR BOX -table projection mapping cafe- (4-28-28 Jingumae, Shibuya, Tokyo)

Grand Opening: December 9, 2019 at 16:00

Reservations: Now Open

*This cafe serves course menus for two people to share only

*Drinks ordered separately

Table Projection Mapping Seats: ¥2,500 per person (Before Tax)

*Reservations for two people only
*Course menu charged separately

Official Website: https://korilakkumacafe.jp/ 

Seven Days War Anime Film Release Promoted With Themed Cafe in Shinjuku

To celebrate the December 13th release of the upcoming anime film Seven Days War, a themed cafe will open at EJ Anime Theater in Shinjuku, Tokyo. The cafe will collaborate with popular creator Pantovisco who has over 680,000 followers across his social media.

The collaboration was born from Pantovisco's being able to relate to the theme of Seven Days War which focuses on the heart of today's youth.

The cute menu line-up features Seven Days War-inspired food and desserts with Perochi and his friends joining in with the fun.

There's also a drinks menu with a line-up of colourful beverages and lattes which you can get various latte art drawings on.

And for every food item ordered on the collaboration menu, you'll receive an original sticker selected randomly from several designs.

And if you order a drink, you'll get a special card introducing various characters from both Seven Days War and the world of Pantovisco.

©2019 Osamu Souda・KADOKAWA / Seven Days War Production Committee

©Pantovisco

Information

Cafe de Perochi with Seven Days War

Running: December 13, 2019 – January 12, 2020

Location: EJ Anime Theater Shinjuku Floor 5F (Shinjuku Bunka Bldg., 3-13-3 Shinjuku, Shinjuku Ward, Tokyo)

*Please check the EJ Anime Theater website for details on the menu items and more

・All customers using the cafe during this collaboration must each order at least one item

・Entry restrictions and time limits may be implemented during very busy hours

・Cash only

・Photography allowed including posting online. Post with the hashtag #EJアニメシアター and let them know how you liked it!

*Photography is prohibited for certain displays which will be marked in Japanese with "撮影禁止"

Seven Days War Official Website: http://7dayswar.jp/

Pantovisco Official Website: http://www.pantovisco.com/
EJ Anime Theater Shinjuku Official Website: https://ej-anime-t.jp/shinjuku/

Cafe Webpage: https://ej-anime-t.jp/cafe_and_gallery/perochi_7dayswar/

Gintama Diner: Tokyo's Gintama Themed Cafe Heads to Animate Branches Across Japan

Animate Cafe, a chain of cafes that collaborate with popular anime and game franchises, is teaming up with Gintama to open the Gintama Diner for a limited time at the following branches: Ikebukuro 3, Kobe Sannomiya, and Nagoya 2.

The cafe will be inspired by American diners, and will run from December 19 to January 7 next year. Each cafe has its own system for being able to dine there. The Ikebukuro 3 and Kobe Sannomiya branches are all reservation-only, with each daily reservation going through a lottery system for a chance to have a place allocated. The Nagoya 2 branch has the same system for December 19-20 only, otherwise it is first-come, first-served.

Thick-Cut Bacon Burger – ¥850

Yorozuya Gin-chan's Sakata Parfait – ¥850

Gin's Strawberry☆Milk – ¥600

The menu features dishes, desserts and drinks inspired by the characters of the series. The bacon burger comes with a side menu item of your choice, with each being based on a specific character's favourite side menu item. The parfait too is bright and vivid like the Yorozuya members.

When fans order from the themed menu, they'll receive one of eight possible coasters featuring original designs.

Big Acrylic Stands (Diner ver.)

Squishy Trading Pin Badges

Trading Acrylic Keyrings (Diner ver.)

Fans will also be able to pick up some exclusive cafe merchandise they won't find anywhere else, including acrylic stands, pin badges, key rings, and moreーall featuring a diner design.

©️Hideaki Sorachi/Shueisha・TV Tokyo・Dentsu Inc.・BNP・Aniplex

*All listed prices include tax

Information

Gintama x Animate Cafe

Running: December 19, 2019 – January 7, 2020

Participating Branches

・Animate Cafe Ikebukuro 3

・Animate Cafe  Kobe Sannomiya

・Animate Cafe Nagoya 2

How to Enter

You must reserve a place for dining at Animate Cafe Ikebukuro 3 or Animate Cafe Kobe Sannomiya where you will be entered into a lottery and randomly allocated a slot. This applies to Animate Cafe Nagoya 2 for only December 19-20, weekends and public holidays, otherwise this branch is first-come, first-served.

Cafe Website: https://cafe.animate.co.jp/event/gintama1912

KIRBY CAFÉ: The World's First Permanent Kirby-Themed Café to Open in Tokyo

The KIRBY CAFÉ is set to open on the 4th floor of Toyko Solamachiーthe shopping, dining and entertainment complex under Tokyo Skytreeーon December 12, 2019 as the world's first permanent Kirby-themed café.

Though we still have a week to wait until Kirby inhales us whole into his café, the official website is already live, showcasing a new line-up of food and merchandise different from that held at the pop-up Kirby cafés (which we have covered extensively in Fukuoka and even Tokyo Solamachi, the latter of which has seen the most pop-ups).

Some of the menu items are served in a Kirby lunch box, on a Kirby plate, and more. Let's take a look. Menu items below are translated from Japanese.

KIRBY CAFÉ's Stone Baked Pizza ~Maximum Tomato Margherita~ – ¥1,380 (Before Tax)

KIRBY CAFÉ's Stone Baked Pizza ~Greedy Half 'n' Half~ – ¥3,980 (Before Tax)

Served on an original plate, the half 'n' half comes served with two pizza flavours of your choice. Perfect for those times when you can't decide because all the options are too good!

Kirby's Munching Loco Moco Bowl – ¥1,980 (Before Tax)

Munch and chew on this tasty serving of loco moco just like Kirby is adorably doing on the lunch box it comes in.

Whole Egg Plant & Meat Pasta: Say Your Wish to the Galaxy – ¥1,380 (Before Tax)

Meta Knight's Precious Matcha Mousse – ¥780 (Before Tax)

Doctor Kirby's Secret Lab Soda – ¥1,280 (Before Tax)

As well as these incredible-looking dishes, there's lots of other cute ones you can order for takeout too.

If you visit the KIRBY CAFÉ, you'll have to pay a visit to KIRBY CAFÉ THE STORE as well which is located on the 2nd floor of Solamachi. There's around 200 pieces of Kirby merchandise including exclusives as well as KIRBY CAFÉ-themed items.

The KIRBY CAFÉ has its own soundtrack which you can actually buy at the store too. It will be released on December 12. We did an article about it here.

Customers can received a specially-made sticker with the CD design when they buy something at the café or store.

The KIRBY CAFÉ gives priority to reservations, so if you're hoping to get sucked into the world of Kirby, be sure to book in advance.

Information

KIRBY CAFÉ TOKYO

Grand Opening: December 12, 2019

Address: Tokyo Skytree Town Solamachi Floor 4F (1-1-2 Oshiage, Sumida, Tokyo)

Opening Hours: 10:00-22:00 (Last Orders 21:00)

*No fixed holidays except where Tokyo Solamachi is closed

Reservations & Website: https://kirbycafe.jp/tokyo/

*Reservations for February 2020 onward will open on Christmas Day at 18:00 (JST)

*Reservations can only be made via the official website – phone reservations not available

*The merchandise corner at the café is limited to café customers

*Depending on how busy the café is, customers may be permitted entry on the day without a reservation

*There is an allocated 85-minute time limit for using the café, and a group limit of up to 8 people

KIRBY CAFÉ THE STORE

Address: Tokyo Skytree Town Solamachi East Yard Floor 2F (1-1-2 Oshiage, Sumida, Tokyo)

Opening Hours: 10:00-21:00

Pompompurin Cafe Reveals Christmas Menu For Harajuku, Yokohama & Umeda Branches

The Harajuku, Yokohama and Umeda branches of the Pompompurin Cafeーthe cafe chain centred on Sanrio's popular character Pompompurinーis serving up two cute Christmas menu items this year from December 1 to 25.

*Food names below are translated from Japanese

Hurry Up Santa – Pompompurin Cheese Keema Curry – ¥1,290 (Before Tax)

This rich and spicy keema curry is made with Parmesan cheese, cheddar cheese, and natural cheese. The colourful stars are made from carrot and paprika, while the spiralled Christmas cheese is a combination of spinach and mashed potato. Purin is made of rice and is waiting in anticipation for Santa to deliver his present. You'll see he's holding a stocking which is a made from bread and walleye pollack mayo. A hearty dish that is both delicious and adorable

Snowman Pompompurin – Snow Covered Chocolate Tart ¥1,190 (Before Tax)

Pompompurin has turned into a vanilla ice cream snowman and is standing next to a pistachio cream Christmas tree. They are both atop a rich chocolate tart. This cute dessert is like a Christmas garden straight out of a children's picture book.

If you decide you want to spend your Christmas with Pompompurin this year, then you'll receive a free lunch mat when you order food and a free coaster when you get a drink. These are both limited in quantity, so don't miss out!

©1996, 2019 SANRIO CO., LTD. APPROVAL NO.S603310

Information

■Pompompurin Cafe Harajuku

Address: CUTE CUBE HARAJUKU 3F, 1-7-1 Jingumae, Shibuya, Tokyo

Opening Hours: 11:00-21:00 (Food Last Orders 20:00 / Drinks Last Orders 20:30)

Access: 3-minutes on foot from the Takeshita Exit at Harajuku Station

TEL: 03-5786-0770

■Pompompurin Cafe Yokohama

Address: Yokohama Sotetsu Square, 2-1-5 Minamisaiwai, Nishi-ku, Yokohama-shi

Opening Hours: 10:00-21:00 (Last Orders 20:30)

Access: 5-minutes on foot from West Exit at Yokohama Station via JR

TEL: 045-311-6750

■Pompompurin Cafe Umeda
Address: Hankyu Sanbangai South Wing B2F, 1-1-3 Shibata, Kita-ku, Osaka-shi
Opening Hours: Weekdays 11:00-22:00 (Last Orders 21:30) / Weekends & Holidays 10:00-22:00 (Last Orders 21:30)
Access: 3-minutes from Osaka Station via JR
TEL: 06-6292-7140

Pompompurin Cafe

Official Website: http://pompom.createrestaurants.com

Devil May Cry 5: Capcom Cafe Ikebukuro Collaborates With DMC5 Again Featuring New Menu & Merch

The Capcom Cafe is collaborating with the action-adventure hack and slash video game Devil May Cry 5 once again at the Ikebukuro, Tokyo branch from December 5, 2019 to January 15, 2020.

The cafe will feature various menu items and merchandise that was sold at the Laketown branch of Capcom Cafe, as well as a new meal and two new desserts. For new merchandise, they have introduced a Vergil perfume.

New Menu Items

Devil Breaker "Overture" Potato – ¥880 (Before Tax)

These fries are inspired by the Overture Devil Breaker used by Nero. They are served with two kinds of sauce: ketchup and bagna càuda. Enjoy this simple but delicious dish based on the first Devil Breaker available in the game.

My Strawberry Sundae – ¥1,100 (Before Tax)

Piled to the top with sweet strawberries, now fans can enjoy Dante's favourite dessert too.

Demon World Mont Blanc – ¥980 (Before Tax)

Dive into the Demon World with this mont blanc, made with black cocoa and mixed berries for a rich and deep flavour.

These are the new food items introduced, but there are lots of others you can order too.

New Merchandise

Vergil Perfume – ¥4,800 (Before Tax)

This perfume captures everything about the DMC character Vergil including his path to seeking the truth and his superiority. The first smell to hit your nose is the cool and piercing mint, followed by the waft of cedarwood, and finally amber for an oriental finish.

The cafe also has plans to reproduce the Nero, Dante and V perfumes for the cafe too, all of which originally sold out.

©CAPCOM CO., LTD. ALL RIGHTS RESERVED.

Information

Devil May Cry 5 x Capcom Cafe Ikebukuro

Running: December 5, 2019 – January 15, 2020

Address: Capcom Cafe Ikebukuro, 1-30-3 Higashi-Ikebukuro, Toshima Ward, Tokyo
Opening Hours: 10:00-22:00 (Last Orders 21:00)

Official Website: http://www.capcom.co.jp/amusement/capcomcafe/ikebukuro/

Adorable Sanrio Character My Melody Gets Her First Permanent Character Café in Osaka

A new character café themed around the sweet and adorable Sanrio character My Melody will open on the 7th floor of HEP FIVE, which is just a three-minute walk from HANKYU Umeda Station in Osaka. The café is set to open on December 5 and will be Japan's first permanent My Melody Café.

Once you enter the café, you will be immersed in a world of pink, green and white pastel colours. Take a seat in the pleasant British garden-themed café surrounded by roses. Sanrio friends My Melody, My Sweet Piano and Kuromi are relaxing in the garden, enjoying afternoon tea together in the soothing atmosphere. 

Food Menu

My Melody European-Style Curry ¥1,490 + tax

Kuromi's Green Flower Prawn and Avocado Doria: ¥1,390 + tax 

My Sweet Piano's Fluffy and Foamy Pollock Roe Pasta ♪ ¥1,390 + tax

Dessert Menu

My Melody's Hide-And-Seek in the Strawberry Mountain Parfait: ¥1,690 + tax 

Kuromi's Tiramisu Flower Pot: ¥1,490 + tax

Giant Blooming Flower Pancake: ¥1,490 + tax

The café's original menu is bursting with the cuteness of My Melody and her friends. You won't be able to resist posting your photos of the interior and food on Instagram. 

Original Merchandise 

Make sure to take a photo with My Melody and friends at one of the photo spots in the café and check out the large variety of My Melody café-limited goods which cannot be purchased anywhere else. The above photo shows just a small selection of the cute goods that are available. 

Customers who enjoy a meal in the My Melody Café will receive a free placemat and sticker. If you order a drink, you will receive a free drink coaster. These are in limited stock so if you want them, make sure to visit the café as soon as you can.

©1976, 2005, 2019 SANRIO CO., LTD. APPROVAL NO.S603311

Information

My Melody Café, Umeda

Address: HEP FIVE Floor 7, 5-15 Kakudacho, Kita Ward, Osaka

Opening Hours: 11:00 ー 22:30 (Food/Drinks Last Orders: 22:00)

Closing times depend on HEP FIVE closing times.

HEP FIVE Official Website: https://www.hepfive.jp/