Tokyo DisneySea's Dark Halloween Festivities For 2019 Begin
Disney Halloween 2019 has finally begun! The Tokyo DisneySea fun is set to run until October 31 where it will provide guests with a dark and mysterious Halloween experience that will keep you on edge… like something's about to happen, but you're not sure what.
Tokyo DisneySea's decor takes on a more grown-up bewitching look compared to Tokyo Disneyland's cute decorations.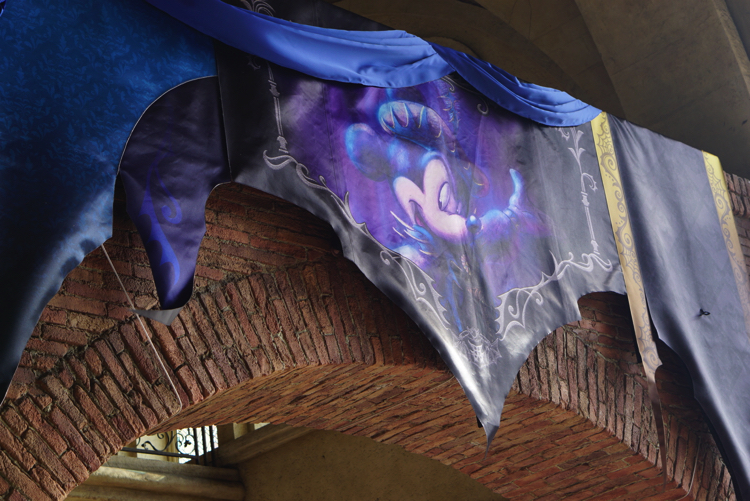 Hung throughout the park you will find decorative banners featuring illustrations of Disney characters dressed in their spooky garments. This year, Mickey, Minnie and the rest of the cast invite guests into a truly bewitching wonderland.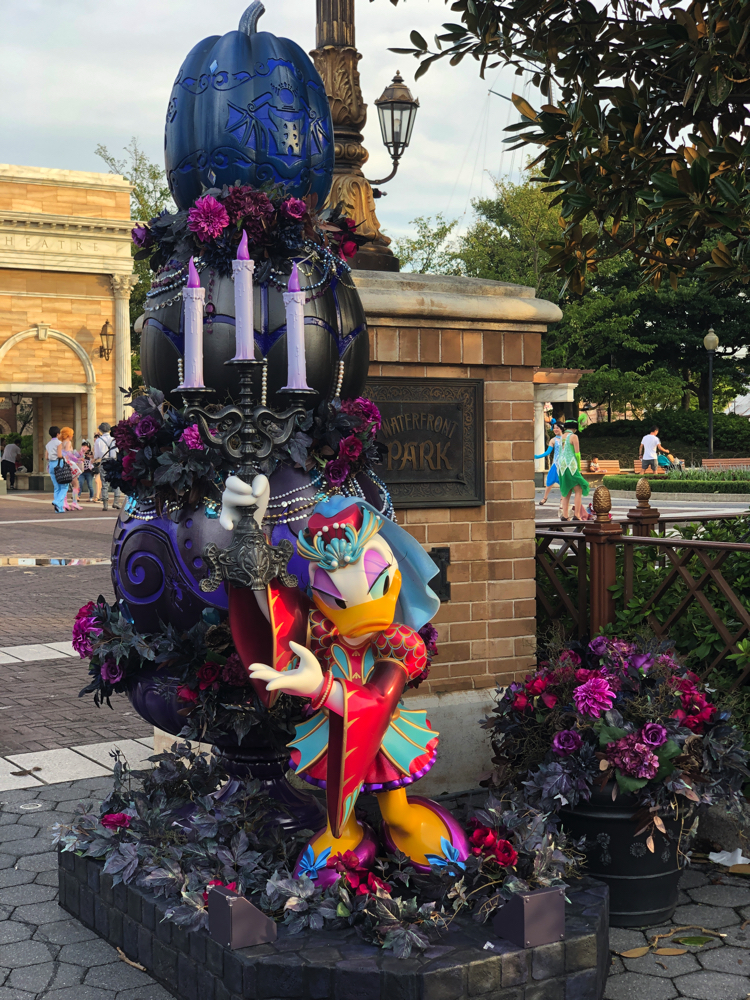 If you pop over to American Waterfront you'll find some great photo opportunities, like the Minnie Mouse and Daisy Duck statues waiting to welcome you at the entrance, clad in hauntingly beautiful attire and stood next to night-black pumpkins and dried flowers.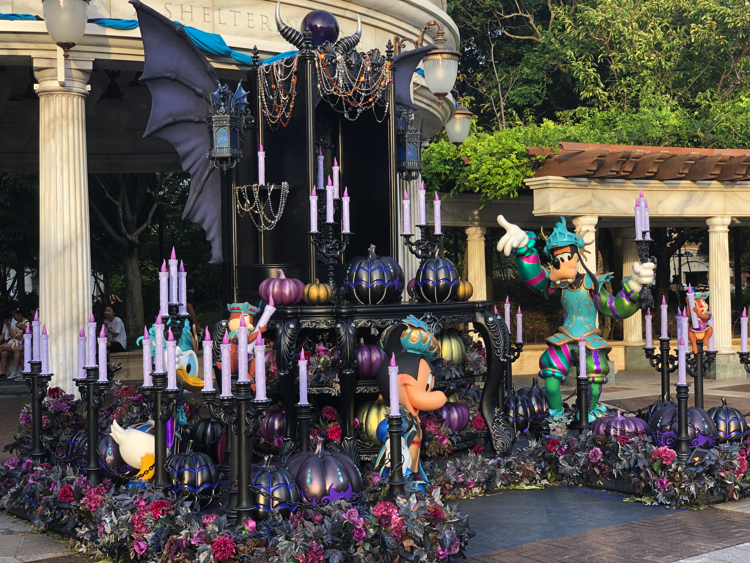 You'll find the rest of the costumed characters further in too. Be sure to get photos with everyone!
Chicken & Vegetable Steamed Bun – ¥600 @ Nautilus Galley / Teriyaki Chicken Rubber Ring Steamed Bun – ¥600 @ Seaside Snacks
Nothing has been left out from the Halloween spell this year, even the food menu and drinks which arrive in festive colours like black and purple like this bandage-wrapped mummy steamed bun and rubber ring steamed bun.
Inside the mummy is a delicious concoction of chicken, cabbage, and other veg.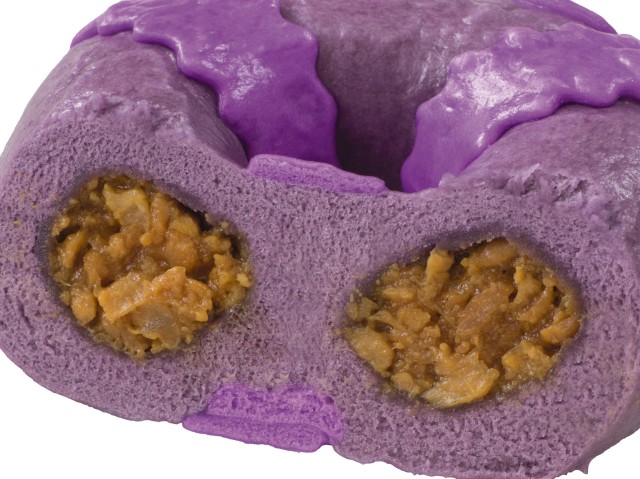 The rubber ring steamed bun is the perfect snack to munch on as you walk around the park. It's filled with rich teriyaki chicken wrapped in a striking purple dough.
All of the food is packaged in cute packaging too―don't throw it away straight away and check out which illustration you got!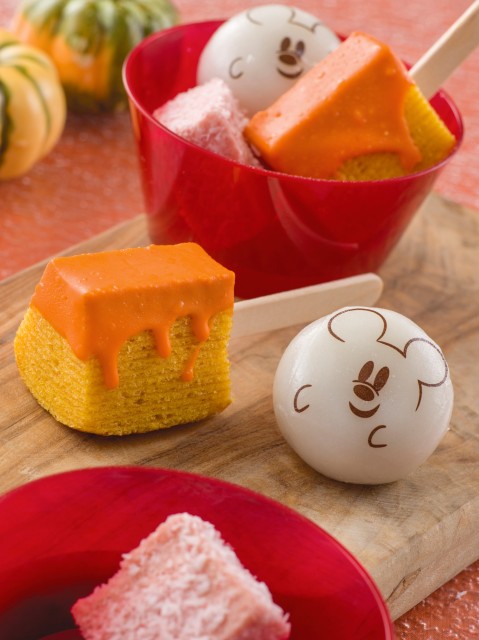 Assorted Sweets – ¥430 @ Gondolier Snacks and elsewhere
Check out these bite-sized confections, from a mini baumkuchen cake on a lollipop stick to strawberry cheesecake and purple sweet potato cream mochi. The chewy mochi Mickey can only be described as kawaii♡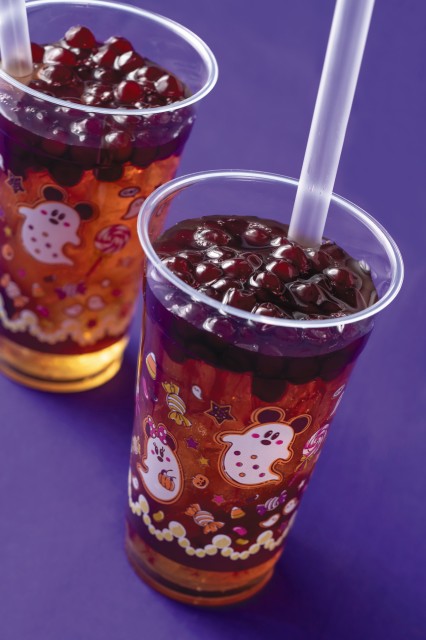 Grape Tapioca Tea – ¥500 @ Mamma Biscotti's Bakery
Sparkling Black Tea Tapioca Drink – ¥450 @ Hudson River Harvest
Tokyo Disneyland's tapioca drinks are really popular in summer, and for Halloween they've arrived with all-new flavours, exclusive to the Disney Halloween event.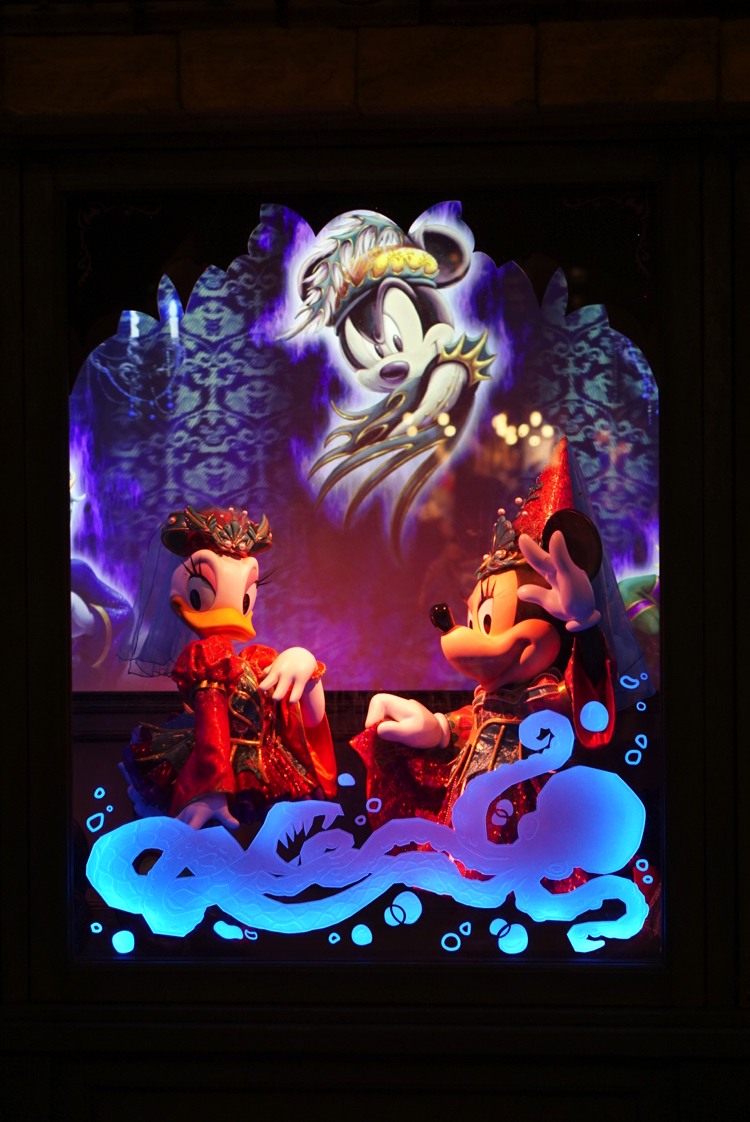 There's lots to see and experience at this year's Disney Halloween. Be sure to look everywhere, even in shop windows. And if you're eager to see more of the food and drinks available at both parks then click here.
RECOMMENDED ENTRIES
Sanrio's Kuromi Takes Over Harmonyland This Halloween For Devilish Events

Sanrio character theme park Harmonyland in Oita has announced this year's Halloween event, Kuromi's Happy Halloween, which will begin on September 13. The devilish and mischievous Kuromi, whose birthday is on October 31-Halloween day-is taking over the park this year to deliver a very cute and just a tiny bit spooky Halloween to kids and adults this year.

Harmonyland's Halloween Night Party, a huge hit every year, will also return on October 26. In addition to Kuromi's birthday event, Wish me mell, another one of Sanrio's cute characters, will also celebrate her birthday on September 20.

The event also has its own story. While Hello Kitty was having fun preparing for Halloween with everyone, Kuromi looked at the calendar and noticed that the park was scheduled to be closed on October 31, her birthday. Angry by this decision, the scheming Kuromi began Halloween preparations of her own.

Pashakawa SWEET HALLOWEEN

This event is a chance to meet your favourite characters, who will be dressed up in their Halloween costumes, and take a photo with them. Be sure to say the secret password to them, "trick or treat," to get some free candy! The fun doesn't stop there though, as there'll be a chance to dance with the characters too.

Omotenashi Hello Kitty Cafe

Hello Kitty will serve as owner of the Hello Kitty Cafe, while Kuromi will be your maid along with the cafe staff, and Meister Cinnamon will learn your name and teach teach it to the rest of the character staff. At the end of the show, the cafe staff will change into their Halloween costumes.

Halloween Photo Spots

Special Halloween photos spots will be dotted around for Halloween where you can snap some cute pictures. From pumpkin heads of Hello Kitty, My Melody and  Kuromi to flower beds decorated with Kuromi, there will be no shortage of Instagrammable spots for photos. And when you get close to the two flower beds, you might just run into a trick set up by Kuromi herself… Also, the background music playing at the park was all chosen by Kuromi.

Halloween Merch & Menu

Of course, there will be lots of exclusive character merchandise to grab, as well as a cute themed menu designed just for Halloween.

Halloween Night Party ~Pink or Black~

The popular Halloween Night Party returns again this year, a one-night-only spectacle of lights, music and dance. The theme this year is "pink or black." Clad yourself in one or both of these colours and have a fun Halloween night!

・Date: October 26, 2019 (18:00-21:00)

・Price: ¥1,000 (Everyone aged 4+) *Price is reduced to ¥500 to those who hold an annual ticke

・A shuttle bus will be operating for free (limited spaces)

Celebrate Halloween this year together with Kuromi.

ⓒ '76, '91, '96, '99, '01, '05, '09, '17, '19 SANRIO

Escape From Godzilla at TOKYO MYSTERY CIRCUS Escape Game Theme Park

TOKYO MYSTERY CIRCUS's catalogue of games just keeps on growing. The puzzle and escape game theme park has just announced the return of its escape game Escape From Shin Godzilla which is being held in collaboration with the 2016 film Shin Godzilla.

The event was previously held last April where it ran until October, enjoying huge popularity with over 40,000 escape game-goers. Players took the role of a member of the Kyosaitai―the anti-Godzilla task force―based in Kabukicho, Shinjuku where you will be tasked with solving puzzles to defeat the colossal giant.

The thrilling event returns once more with original visuals created to make it look like Godzilla has really invaded Kabukicho. Tickets are now on sale, and you can pick up exclusive merchandise and themed food at the venue too. Can you defeat Godzilla?

TM&©TOHO CO., LTD. ©SCRAP

Information

Escape From Shin Godzilla

Location: Himitsu Kichi Lab, TOKYO MYSTERY CIRCUS (Floor B1F)

Running: October 4, 2019 – November 10, 2019

Times

Weekdays: 13:20 / 16:20 / 19:20
Weekends & Holidays: 10:10 / 12:40 / 15:10 / 17:40 / 20:10
*The event will end 100 minutes after each starting time

Price
Advance: Single ¥3,300 / Group ¥12,000 / Repeater Group Ticket ¥12,000
Same-Day: Single ¥3,800 / Group ¥14,000 / Repeater Group Ticket ¥14,000
*Same-day tickets will not be available if all advance tickets sell out

 

TOKYO MYSTERY CIRCUS

Address: APM Bldg., 1-27-5 Kabukicho, Shinjuku, Tokyo, 160-0021

Opening Hours: Weekdays 11:30-23:00 / Weekends & Holidays 09:30-23:00

No Fixed Holidays.

Price: Free Entry (*Separate tickets required for games)

Official Homepage (English): https://mysterycircus.jp/en/

Event Page (Japanese): https://mysterycircus.jp/shin-godzilla/

Universal Studios Japan Countdown Party 2020: Celebrate 1 Year Of USJ in One Night

Universal Studios Japan (USJ) has dropped some details on this year's New Year's celebrations. The event, titled Universal Studios Japan Countdown Party 2020, will wrap up 2019, celebrating one year of the theme park in a single night. It will begin at 7pm on December 31 and run until 2am on New Year's Day. Pre-sale tickets to the event, called "Party Passes," went on sale on Thursday (September 12).

The park has over 3,500 colourful fireworks in its arsenal ready to launch into the sky after the countdown, beckoning the New Year and the start of USJ in 2020. During the event, all the most popular attractions will be all-you-can-ride for a total of 26 hours. Last year's countdown party was so popular that all of the tickets sold out. According to a survey carried out by the park, 95% of people were highly satisfied with the experience.

USJ has another incredible line-up of exciting things planned for 2019, including the special "one-night-only season events" which have been revamped this year. This consists of a variety of incredible shows and entertainment themed on each season.

The World Street Festival, which thrilled guests back in spring, will make an exciting return, as well the Extra Cool Summer event which cooled down the park with water and snow this summer.

And it doesn't end there, because the Halloween Horror Night, which is currently running at the park, will creep its way to the New Year's countdown party as well with the likes of the zombie dance event, in addition to the Universal Crystal Christmas event which has received a new theme this year.

There are only a limited number of tickets and no more will be released once they're all gone, so if you're in Japan for the New Year then make sure you've got yours booked!

HARRY POTTER characters, names and related indicia are © & ™ Warner Bros. Entertainment Inc. Harry Potter Publishing Rights © JKR. (s19)

Despicable Me, Minion Made and all related marks and characters are trademarks and copyrights of Universal Studios. Licensed by Universal Studios Licensing LLC. All Rights Reserved.

TM & © 2019 Sesame Workshop © 2019 Peanuts Worldwide LLC © 1976, 2019 SANRIO CO., LTD. APPROVAL NO. EJ9091102

TM & © Universal Studios & Amblin Entertainment TM & © Universal Studios. All rights reserved.

Information

Universal Studios Japan Countdown Party 2020

Date: December 31, 2019

Time: From 19:00

*You can only enter the event with a Party Pass. With the Party Pass, you can enter and leave as many times as you like until 21:00. You cannot enter with an Annual Pass or regular ticket.

Date: January 1, 2020

Time: 02:00-21:00

*You can enter with a Party Pass or with one of the Studio Passes from 02:00 as long as it's valid on January 1, 2020

Party Pass Price List

Party Pass: ¥12,900 (Tax Included)

Party Pass + Special Express Pass: From ¥22,100 (Tax Included)

Party Pass + Special Express Pass + Special Viewing Area Entry Ticket: ¥24,260 (Tax Included)

Party Pass + Special Express Pass + Special Viewing Area Entry Ticket (VIP Seat): ¥32,300 (Tax Included)

Party Pass + Special Express Pass + Special Viewing Area Entry Ticket (Lagoon): ¥27,700 (Tax Included)

Purchasing a Party Pass

Club Universal Member Pre-Sale: Available from September 12, 2019

LAWSON Pre-Sale: Available from September 13, 2019

General Sale: Available from September 17, 2019

Official Website (Japanese): https://www.usj.co.jp/countdown2020/index.html
RELATED ENTRIES
ANNA'S by Landtmann in Shibuya Scramble Square Now Offering Halloween Sweets

ANNA'S by Landtmann, a cafe located inside +Q Beauty on the 6th floor of Shibuya Scramble Square, has begun selling two Halloween cakes! These spooky sweets will be available until October 31, 2022.

Halloween Mont Blanc

Halloween Poison Apple

Guests will be able to snag the Halloween Mont Blanc and Halloween Poison Apple cakes, available for ¥580 each including tax. The Mont Blanc is filled with pumpkin custard and Chantilly cream. The Poison Apple is a sweet and sour cake featuring a blend of chocolate mousse covered in red glaze and applesauce with apple pulp.

Which of these two adorable cakes would you like to enjoy this autumn?

Colorful and Cute Halloween Menu Now Available at Huis Ten Bosch in Nagasaki

Nagasaki's Huis Ten Bosch is now offering up some tasty and colorful autumn sweets! Visitors can enjoy the feel of an authentic European Halloween at the Netherlands-inspired theme park for a limited time only. 

Forest Fantasia Cafe's Sorciere Sweet Potato au Lait

Cafe Deli Plus's Halloween Party Parfait

Madame Chocolat's Special Halloween Parfait at the Former Residence of Madame Chocolat

Chestnut Witch Hat at Bikken Bikken

Akanbe Burger at Bikken Bikken

The Exciting Halloween Burger with Colorful Veggies and Pumpkin at dam

Jack-o'-lantern Shrimp Cheese Fondue at Gokuu

Halloween Lunch and Dessert Buffet at Anchors Lounge

Ghostly Forest Carnival Pasta at Pinoccio

Halloween Ghost Curry at Tottotto

This Halloween menu features a wide variety of seasonal ingredients. Why not enjoy the autumn season to the fullest by having your fill?

Terrifying Halloween Night Yokai Tour to be Held at Kokuminshukusha Shodoshima in Kagawa Prefecture

In conjunction with the autumn segment of Setouchi Triennale 2022, the Yokai Halloween 2022 event will be held for the first time at the Yokai Art Museum in Shodoshima in Kagawa. During the event, guests can take part in the Halloween Night Yokai Tour on Saturdays, which will invite them to transform into terrifying ghouls! Each guest will receive a yokai mask and will be tasked to test their courage in this unique Halloween event. Those visiting the museum in costume will receive a discount, and visitors can also enjoy some spooky treats at the Yokai Bar. This is one museum horror fans won't want to miss!

Visit the Yokai Art Museum at Night 

Unlike daytime, the Yokai Art Museum is filled with a mysterious energy at night. With a flashlight in hand, staff members will lead guests on a tour through the museum, which exhibits more than 800 yokai sculptures. Visitors can wear yokai masks and costumes, and unlike a haunted house, you won't need to worry about yokai jumping out at you. However, the staff may ask you to keep an eye out for anything mysterious. Guests are permitted to take as many photos as they like inside the museum, so be sure to share your experience on social media!

Too Realistic! Enjoy Finger Cookies at the Yokai Bar

At the Yokai Bar attached to the museum, guests can find these terrifying finger cookies! These were made in collaboration with FUJI, a popular snack shop in Shidoshima. While tasty, they might be a little too realistic for some people. These will be available in two flavors: spicy and sweet. 

Rent a Halloween Lantern for Free

A Night Walk through the Shidoshima Maze will invite visitors to carry a Halloween-themed lantern through the town. This event is being held to promote tourism in the town at night, and lanterns will be free to rent! These will be available in different colors from the first floor of the nearby Shodoshima International Hotel. Shodoshima, known as the City of Mazes, has over 60 streets with three-way intersections and many mysterious alleys. Walking through the town at night will be an experience you'll never forget, especially during the spookiest time of the year!

Information

Halloween Night Yokai Tour

Dates: October 1, 8, 15, 22, 29 / November 5

Time: 20:00 at the Yokai Art Museum (Please reserve your spot by 20:00.) 

Venue: Yokai Art Museum (298 Kou, Tonosho, Shozu District, Kagawa)

Price: Adults ¥3400 / Middle/High School Students ¥1,950 / Elementary Students and Under are free (Must be accompanied by a parent or guardian.)
*Fee includes admission, yokai masks, and the tour. 

Details/Reserve Tickets: https://www.asoview.com/channel/tickets/eZLNyX5SzG/

*The tour will feature parts of buildings 1-4 and will be led by staff members. Fee includes admission to the museum. Guests can enjoy the museum both before and after the tour, and may re-enter the museum only on the same day. 

NAKED's Halloween Event Coming to Tokyo Tower for a Limited Time

Digital art collective NAKED will hold a special Halloween projection mapping show at Tokyo Tower! The Tokyo Tower City Light Fantasia ~Halloween Party 2022~ event will run from September 16 until October 31 on the 2nd floor of the tower's main deck. 

NAKED has collaborated with Tokyo Tower in the past to create shows inspired by the seasons. These incredible illuminations captivate audiences at night, and this fall, visitors will be captivated by autumn leaves dancing in the breeze along with silvergrass swaying and the sound of chirping insects. The scene will eventually change into something more spooky–a ghost will appear alongside witches, bats, and pumpkins! The main deck will be enveloped in Halloween colors perfect for a fall photoshoot!

Information

TOKYO TOWER CITY LIGHT FANTASIA ~Halloween Party 2022~

Venue: Tokyo Tower Main Deck (150m), 2F North Side Floor
Running: September 16 – October 31, 2022
Hours:
September 16 – September 30 / 18:00-Close
October 1 – October 31 / 17:30-Close
Entry: Guests can enjoy the main deck for only the price of entry to the observation deck.

Sanrio Puroland Begins Autumn's Puro Halloween Event

From September 9 until November 1, Sanrio Puroland is celebrating the spookiest season of the year with the Puro Halloween event. On the first day of the event, guests immediately showed up to enjoy the new additions to the park, including the light show, Halloween photo spot, and an exclusive food menu filled with autumn flavors. 

The theme of this year's event is the popular Halloween phrase "Trick or Treat!" Popular Sanrio characters are all dressed up in spooky costumes, with each joining Team Trick or Team Treat!

First Set of Seasonal Goods (Costume ver.)

Light Show

 

At Puro Village, guests can see the incredible Trick or Treat light show, perfect for getting into the Halloween mood!

Fairyland Theater will present the new 'Let's Trick or Treat' stage show as well, with Hello Kitty and Dear Daniel dressed in new costumes as they dance and play games with each other.

Special Greeting

'Vampire Butler Cafe ~Broken Rules~' Immersive Horror Experience


Along with these new shows, those looking for a fright can visit the Vampire Butler Cafe, Puroland's first immersive horror show featuring handsome actors dressed as vampires. This will only be open after Puroland closes, and only on select dates. Younger children can also enjoy a special candy-catching event sure to excite!



Starting October 1, a Halloween version of the Mewkledreamy March stage show will wow audiences. Everyone's favorite characters Mew, Peko, and Su will appear in new costumes, so don't miss it!

Limited Time Food Menu

Limited Time Photo Spot


In the Rainbow Hall on the third floor, guests can take pictures a bright orange and purple photo spot. In the Character Food Court on the first floor, new menu items are available, served on decorated tables. The limited food menu offers everything from Meatball Curry to a Luxurious Sweet Potato Parfait. If you like autumn treats, be sure to enjoy while taking some pictures to post on social media!

Come enjoy the Halloween season with your favorite Sanrio characters, and don't forget to say "Trick or Treat!" 

© 2022 SANRIO CO., LTD. TOKYO, JAPAN MMP,TX 著作 株式会社サンリオ

Yokohama Royal Park Hotel to Hold Halloween Sweets Fair in October

From October 1 until October 31, Yokohama Royal Park Hotel will hold a special Halloween Fair at its delicatessen and lounge Coffret. In addition to six playful sweets from the Halloween Frankenstein to the Halloween Mummy, two types of autumn bread featuring pumpkin and purple sweet potato will be available, allowing guests to enjoy the taste of the season!


Halloween Frankenstein

Halloween Cat

Halloween Mont Blanc

Halloween Mummy

Halloween Pudding

Halloween Pound Cake

Pumpkin Cream Fondue / Halloween Anpan

  

Come enjoy this Halloween with some cute and silly sweets!

Information

Halloween Fair

Running: October 1 – October 31, 2022
Venue: Coffret Delicatessen and Lounge, 1F
Hours: Lounge 10:00-20:00 (*Cakes served starting at 11:00) /
Delicatessen 11:00-20:00
Reservations: 045-221-1111 (Representatives available 11:00-20:00)

Q-pot CAFE to Offer Cute Halloween Sweets to Celebrate 10th Anniversary

Q-pot CAFE in Omotesando will be offering up some Halloween treats to celebrate the location's 10th anniversary! Guests will be able to sample these special sweets from September 3 until October 31, 2022.

Happy Halloween! Afternoon Tea Set

The festive Happy Halloween afternoon tea features pink Jack-o'-lantern macarons and other Halloween-inspired sweets.

Fluffy Floating Ghost Plate (Drink Included)

The adorable ghost is made from fluffy milk mousse covered with gyuhi, a typical ingredient in Japanese sweets made from rice flour. Inside is blackcurrant and redcurrant jelly with an incredibly sweet and sour flavor.

Black Devil Tea Mocha

Featuring large devil wings, this tasty and eye-catching beverage is a mix of black tea, chocolate, and milk. When the cocoa cream melts, the taste changes to something creamy and cozy, perfect for the autumn months.

Shimmering Blueberry & Grapefruit Soda

This refreshing sweet and sour drink combines blueberries and pink grapefruit along with soda and pearl powder.

Come enjoy Halloween while celebrating the cafe's 10th anniversary!

Information

Q-pot CAFE 10th Halloween Menu

Location: Q-pot CAFE Omotesando

Running: September 3 – October 31, 2022

Hours: 11:00-19:00 (Last Order at 18:30)

Details/Reservations: http://www.Q-pot.jp/news/2022/08/1746.html

Sanrio Characters to Celebrate Halloween with Special Campaign

Namco will be releasing some exclusive Halloween prizes featuring everyone's favorite Sanrio characters! The Halloween event will run from September 9 until October 31 at around 200 Namco Amusement Centers nationwide and on the Torumo online crane game mall.

 

During the campaign, exclusive prizes featuring brand-new designs of popular Sanrio characters will be available in crane game machines!

When ¥500 is inserted into select crane games using the link function of the Namco Point app, an original sticker will be gifted to players! Starting September 16, those collecting three of these original stickers will receive an original pin that looks just like candy! All guests need to do is show their stickers to the staff. 

Collaboration Goods

Exclusive Clear Shopping Bag (3 varieties)

Original Sticker (5 varieties)

Original Candy Pin (5 varieties)

Blanket

Prizes will also be available from Torumo, an online crane game mall. In addition, a present campaign will be held to select winners to receive a special blanket! To enter, all you need to do is play the target machine three times. During the campaign period, by following a participating store on the Namco Point app, customers will receive a limited edition shopping bag!

Come grab some of these Halloween goods and show off your Sanrio love!

ⓒ '22 SANRIO CO., LTD. APPR. NO. L633490
©Bandai Namco Amusement Inc.

Halloween Afternoon Tea with Black Cat Motif Coming to Tokyo's Grand Prince Hotel New Takanawa

During the month of October, Grand Prince Hotel New Takanawa in Tokyo will be offering a special Autumn Afternoon Tea. Inspired by Halloween–and particularly black cats–Lounge Momiji on the first floor will invite guests to devour some tasty treats. 

This year's Halloween theme is 'black cats,' which are said to be the messengers of witches. Guests will be able to enjoy Halloween-specific sweets and afternoon tea to fully enjoy the flavors of autumn.

 

In addition to sweet and sour macaroons filled with blackcurrant with a black cat motif, visitors can enjoy a bat-themed purple sweet potato Mont Blanc and cream puffs made with pumpkin. The black cat cookies are also perfect for posting to Instagram, so come enjoy lots of sweet and savory goods made with autumn fruits and vegetables such as grapes, persimmons, and figs.



Come enjoy afternoon tea and get into the Halloween spirit this October!

Halloween Afternoon Tea with a Ghost Theme Coming to Kyoto for a Limited Time

Art Grace Wedding Hills, a wedding venue in Kyoto, will be offering a ghostly Halloween Afternoon Tea experience in September and October!

Mischievous Ghost Halloween Parfait *Sample Image

Sweets *Sample Image

Savory Dishes *Sample Image

Adorable ghosts and Halloween-inspired sweets made with autumn flavors such as pears, apples, chestnuts, pumpkins, and sweet potatoes will be on the menu. The Mischievous Ghost Halloween Parfait has a refreshing finish with blackcurrant mousse and blood orange jelly. The marshmallows, made to look like ghosts wearing witch hats, are perfect for posting on social media.

 

How would you like to spend a sweet time in Kyoto this Halloween season?

Information

~Trick or Treat~ Halloween Autumn Afternoon Tea

Dates:
September 4, 9, 16, 18, 25, 30
October 2, 7, 14, 15, 16, 21, 23, 30

Times: Seating 1, 13:00-14:30 / Seating 2, 15:15~16:45 (90 minute seatings)
*Must make a reservation a minimum of 15 minutes before seating.
*Only 1 seating on weekdays.

Venue: Kyoto Art Grace Wedding Hills
Details/Reservations: https://www.bestbridal.co.jp/guestparty/kyoto/artgrace_kyoto/2022event-37/


GARNiDELiA to Host Halloween Party Featuring luz, Syounen T, Shoose

Music duo GARNiDELiA will hold its annual Halloween party on October 21, 2022 at Toyosu PIT. The lineup now includes a number of popular acts, including luz, Syounen T, and Shoose. Titled 'GARNiDELiA Presents HALLOWEEN MiRACLE WONDER PARTY 2022,' the live performance will invite participating artists to dress up in costumes for one festive autumn night.

Previously, luz appeared on MARiA's 2nd solo album Moments, performing with the singer on the track Cafe Latte no Uta feat. luz. This will be the first time the pair performs the song live, so expectations are high.

Along with the singers performing at the event, Miume and 217 will participate as dancers for the fourth time. The two previously announced that they would retire from dancing this year. Together with MARiA, the two created the globally popular video series Odocchatte Mita (I Tried Dancing), which has drawn in over 200 million views on YouTube, along with Gokuraku Jodo with 85 million views.

MARiA gave a comment regarding the exciting announcement.


"It's that time of year again, and it's time to spend time with GARNiDELiA! Some entertaining and unique friends are coming to play this year, and as we all know, one of the most fun parts of Halloween is dressing up! What costumes will our friends choose? On October 21, come party with us! We'll be waiting!"

toku also gave his thoughts. "It's our fourth annual Halloween event. As hosts, we can't wait to see the artists taking the stage this year. We'll be waiting for you with collaborations you can only see on October 21! Come out, get dressed up, and have some fun!"


Presale lottery tickets went on sale on August 22 at 19:00 at each artist's fan club, so be sure to enter if you'd like to party at this incredible event!

Information

GARNiDELiA Presents HALLOWEEN MiRACLE WONDER PARTY 2022
Date: October 21, 2022 / Doors Open at 17:30, Show Starts at 18:00
Venue: Toyosu PIT by Team Smile

GARNiDELiA Official Site: https://www.garnidelia.com/

Halloween Afternoon Tea Featuring AR Technology Coming to Shinjuku

From September 1 until October 31, the District Brasserie, Bar, and Lounge at the Kimpton Shinjuku Tokyo will be offering a spooky Halloween-themed afternoon tea set. The tasty treats won't be the only scary thing on the plate–the event will incorporate AR technology! By holding up your phone, you'll be able to see monsters moving around on your plate.

The goodies will also be available for take-out, making them perfect for souvenirs or at-home Halloween parties! Nine types of Halloween sweets, six small dishes, and two tea sachets will be included. Why not spend Halloween in a more elegant way in 2022?

Information

Kimpton Halloween MONSBLANC Afternoon Tea
Running: September 1 – October 31, 2022
Hours: 11:30-17:00 (Last Order at 15:00), 2-hour seatings
*Reservations must be made by 16:00 on the previous day.
Venue: Kimpton Shinjuku Tokyo, District Brasserie, Bar, and Lounge
Reservations/Details: https://bit.ly/3Qi5d3K

Official Site: https://www.kimptonshinjuku.com/jp/