Tokyo DisneySea's Dark Halloween Festivities For 2019 Begin
Disney Halloween 2019 has finally begun! The Tokyo DisneySea fun is set to run until October 31 where it will provide guests with a dark and mysterious Halloween experience that will keep you on edge… like something's about to happen, but you're not sure what.
Tokyo DisneySea's decor takes on a more grown-up bewitching look compared to Tokyo Disneyland's cute decorations.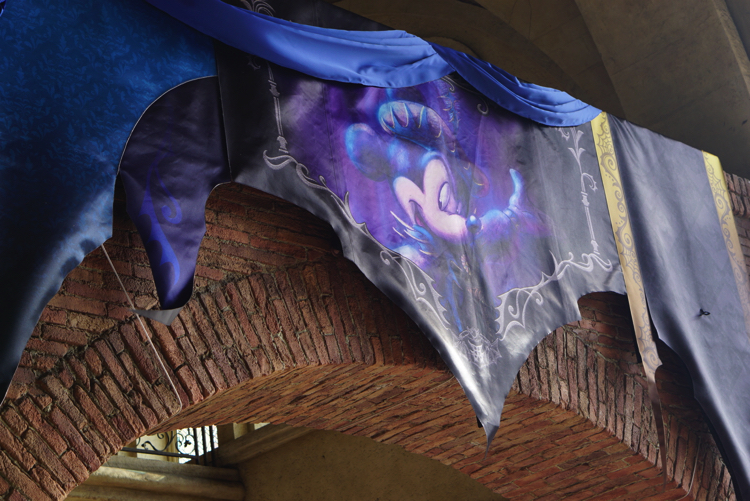 Hung throughout the park you will find decorative banners featuring illustrations of Disney characters dressed in their spooky garments. This year, Mickey, Minnie and the rest of the cast invite guests into a truly bewitching wonderland.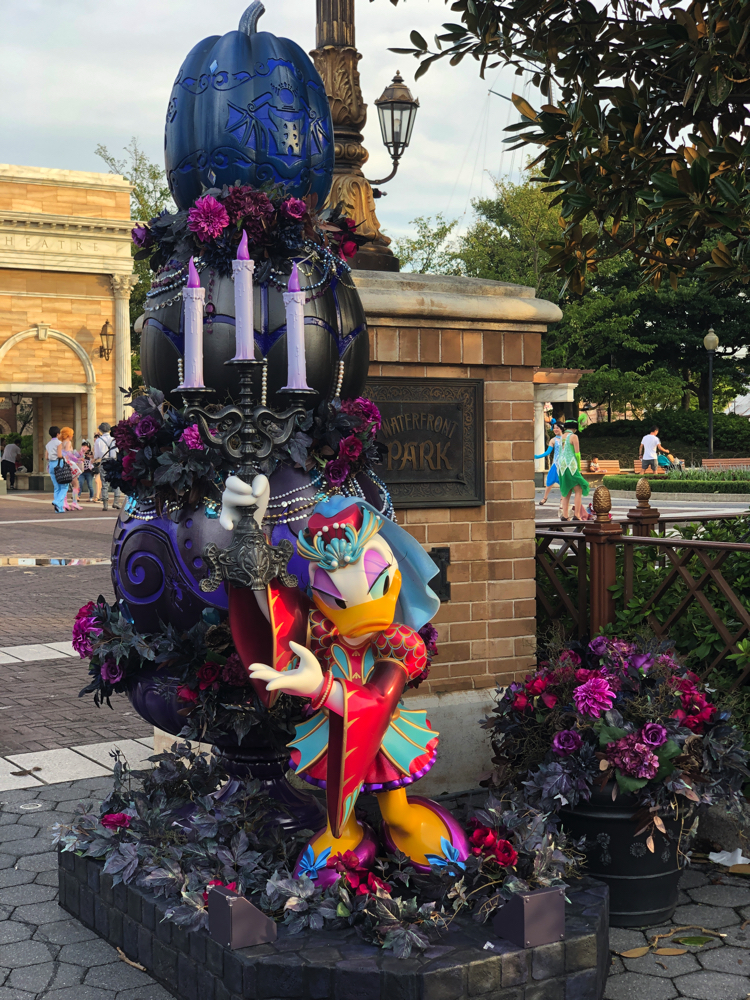 If you pop over to American Waterfront you'll find some great photo opportunities, like the Minnie Mouse and Daisy Duck statues waiting to welcome you at the entrance, clad in hauntingly beautiful attire and stood next to night-black pumpkins and dried flowers.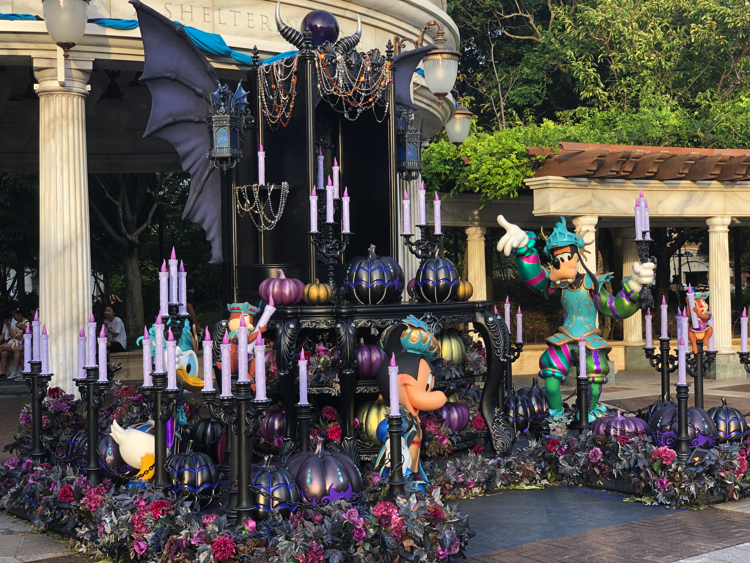 You'll find the rest of the costumed characters further in too. Be sure to get photos with everyone!
Chicken & Vegetable Steamed Bun – ¥600 @ Nautilus Galley / Teriyaki Chicken Rubber Ring Steamed Bun – ¥600 @ Seaside Snacks
Nothing has been left out from the Halloween spell this year, even the food menu and drinks which arrive in festive colours like black and purple like this bandage-wrapped mummy steamed bun and rubber ring steamed bun.
Inside the mummy is a delicious concoction of chicken, cabbage, and other veg.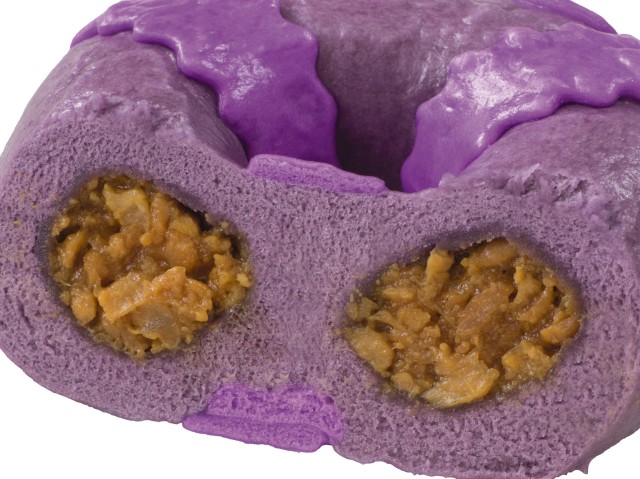 The rubber ring steamed bun is the perfect snack to munch on as you walk around the park. It's filled with rich teriyaki chicken wrapped in a striking purple dough.
All of the food is packaged in cute packaging too―don't throw it away straight away and check out which illustration you got!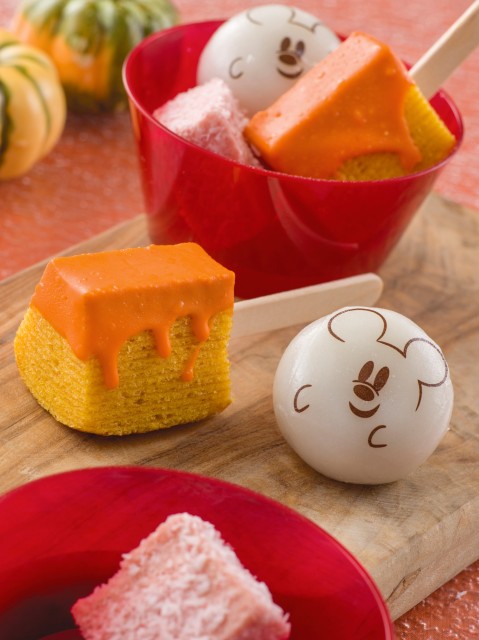 Assorted Sweets – ¥430 @ Gondolier Snacks and elsewhere
Check out these bite-sized confections, from a mini baumkuchen cake on a lollipop stick to strawberry cheesecake and purple sweet potato cream mochi. The chewy mochi Mickey can only be described as kawaii♡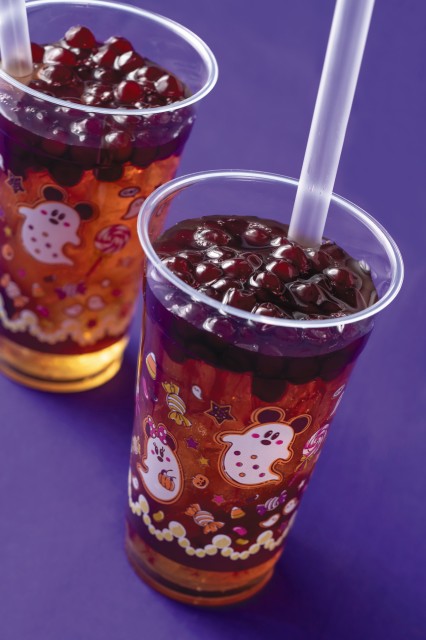 Grape Tapioca Tea – ¥500 @ Mamma Biscotti's Bakery
Sparkling Black Tea Tapioca Drink – ¥450 @ Hudson River Harvest
Tokyo Disneyland's tapioca drinks are really popular in summer, and for Halloween they've arrived with all-new flavours, exclusive to the Disney Halloween event.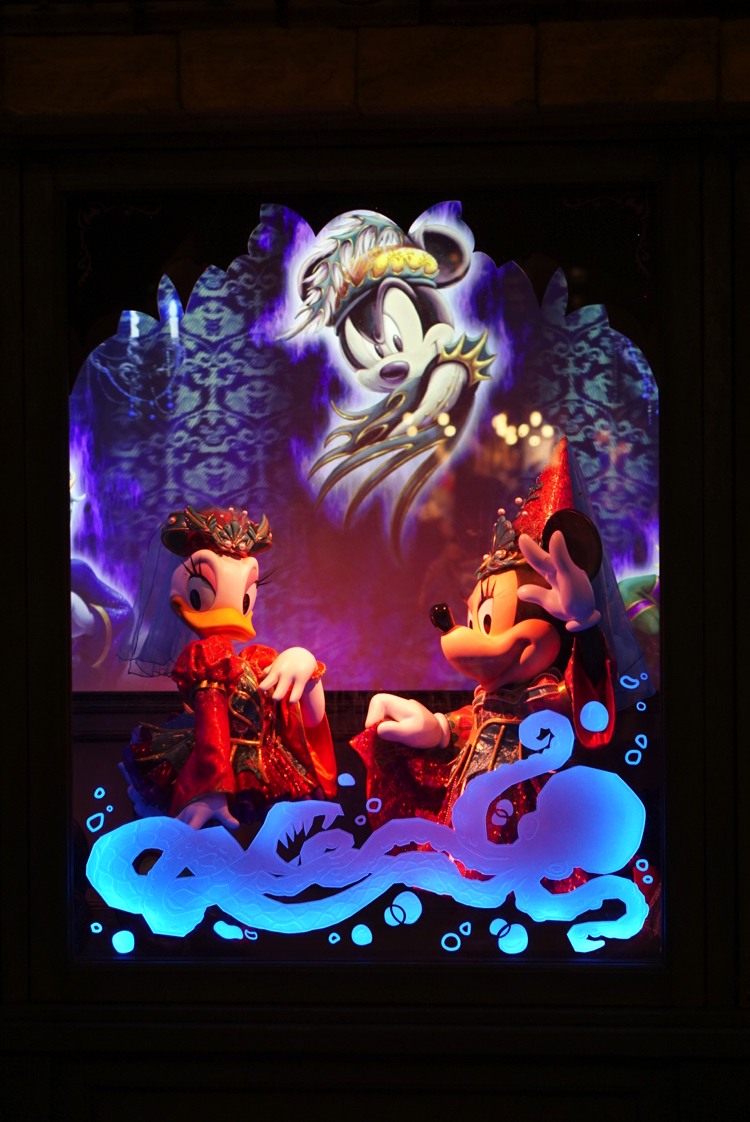 There's lots to see and experience at this year's Disney Halloween. Be sure to look everywhere, even in shop windows. And if you're eager to see more of the food and drinks available at both parks then click here.
RECOMMENDED ENTRIES
Sanrio's Kuromi Takes Over Harmonyland This Halloween For Devilish Events

Sanrio character theme park Harmonyland in Oita has announced this year's Halloween event, Kuromi's Happy Halloween, which will begin on September 13. The devilish and mischievous Kuromi, whose birthday is on October 31-Halloween day-is taking over the park this year to deliver a very cute and just a tiny bit spooky Halloween to kids and adults this year.

Harmonyland's Halloween Night Party, a huge hit every year, will also return on October 26. In addition to Kuromi's birthday event, Wish me mell, another one of Sanrio's cute characters, will also celebrate her birthday on September 20.

The event also has its own story. While Hello Kitty was having fun preparing for Halloween with everyone, Kuromi looked at the calendar and noticed that the park was scheduled to be closed on October 31, her birthday. Angry by this decision, the scheming Kuromi began Halloween preparations of her own.

Pashakawa SWEET HALLOWEEN

This event is a chance to meet your favourite characters, who will be dressed up in their Halloween costumes, and take a photo with them. Be sure to say the secret password to them, "trick or treat," to get some free candy! The fun doesn't stop there though, as there'll be a chance to dance with the characters too.

Omotenashi Hello Kitty Cafe

Hello Kitty will serve as owner of the Hello Kitty Cafe, while Kuromi will be your maid along with the cafe staff, and Meister Cinnamon will learn your name and teach teach it to the rest of the character staff. At the end of the show, the cafe staff will change into their Halloween costumes.

Halloween Photo Spots

Special Halloween photos spots will be dotted around for Halloween where you can snap some cute pictures. From pumpkin heads of Hello Kitty, My Melody and  Kuromi to flower beds decorated with Kuromi, there will be no shortage of Instagrammable spots for photos. And when you get close to the two flower beds, you might just run into a trick set up by Kuromi herself… Also, the background music playing at the park was all chosen by Kuromi.

Halloween Merch & Menu

Of course, there will be lots of exclusive character merchandise to grab, as well as a cute themed menu designed just for Halloween.

Halloween Night Party ~Pink or Black~

The popular Halloween Night Party returns again this year, a one-night-only spectacle of lights, music and dance. The theme this year is "pink or black." Clad yourself in one or both of these colours and have a fun Halloween night!

・Date: October 26, 2019 (18:00-21:00)

・Price: ¥1,000 (Everyone aged 4+) *Price is reduced to ¥500 to those who hold an annual ticke

・A shuttle bus will be operating for free (limited spaces)

Celebrate Halloween this year together with Kuromi.

ⓒ '76, '91, '96, '99, '01, '05, '09, '17, '19 SANRIO

Escape From Godzilla at TOKYO MYSTERY CIRCUS Escape Game Theme Park

TOKYO MYSTERY CIRCUS's catalogue of games just keeps on growing. The puzzle and escape game theme park has just announced the return of its escape game Escape From Shin Godzilla which is being held in collaboration with the 2016 film Shin Godzilla.

The event was previously held last April where it ran until October, enjoying huge popularity with over 40,000 escape game-goers. Players took the role of a member of the Kyosaitai―the anti-Godzilla task force―based in Kabukicho, Shinjuku where you will be tasked with solving puzzles to defeat the colossal giant.

The thrilling event returns once more with original visuals created to make it look like Godzilla has really invaded Kabukicho. Tickets are now on sale, and you can pick up exclusive merchandise and themed food at the venue too. Can you defeat Godzilla?

TM&©TOHO CO., LTD. ©SCRAP

Information

Escape From Shin Godzilla

Location: Himitsu Kichi Lab, TOKYO MYSTERY CIRCUS (Floor B1F)

Running: October 4, 2019 – November 10, 2019

Times

Weekdays: 13:20 / 16:20 / 19:20
Weekends & Holidays: 10:10 / 12:40 / 15:10 / 17:40 / 20:10
*The event will end 100 minutes after each starting time

Price
Advance: Single ¥3,300 / Group ¥12,000 / Repeater Group Ticket ¥12,000
Same-Day: Single ¥3,800 / Group ¥14,000 / Repeater Group Ticket ¥14,000
*Same-day tickets will not be available if all advance tickets sell out

 

TOKYO MYSTERY CIRCUS

Address: APM Bldg., 1-27-5 Kabukicho, Shinjuku, Tokyo, 160-0021

Opening Hours: Weekdays 11:30-23:00 / Weekends & Holidays 09:30-23:00

No Fixed Holidays.

Price: Free Entry (*Separate tickets required for games)

Official Homepage (English): https://mysterycircus.jp/en/

Event Page (Japanese): https://mysterycircus.jp/shin-godzilla/

Universal Studios Japan Countdown Party 2020: Celebrate 1 Year Of USJ in One Night

Universal Studios Japan (USJ) has dropped some details on this year's New Year's celebrations. The event, titled Universal Studios Japan Countdown Party 2020, will wrap up 2019, celebrating one year of the theme park in a single night. It will begin at 7pm on December 31 and run until 2am on New Year's Day. Pre-sale tickets to the event, called "Party Passes," went on sale on Thursday (September 12).

The park has over 3,500 colourful fireworks in its arsenal ready to launch into the sky after the countdown, beckoning the New Year and the start of USJ in 2020. During the event, all the most popular attractions will be all-you-can-ride for a total of 26 hours. Last year's countdown party was so popular that all of the tickets sold out. According to a survey carried out by the park, 95% of people were highly satisfied with the experience.

USJ has another incredible line-up of exciting things planned for 2019, including the special "one-night-only season events" which have been revamped this year. This consists of a variety of incredible shows and entertainment themed on each season.

The World Street Festival, which thrilled guests back in spring, will make an exciting return, as well the Extra Cool Summer event which cooled down the park with water and snow this summer.

And it doesn't end there, because the Halloween Horror Night, which is currently running at the park, will creep its way to the New Year's countdown party as well with the likes of the zombie dance event, in addition to the Universal Crystal Christmas event which has received a new theme this year.

There are only a limited number of tickets and no more will be released once they're all gone, so if you're in Japan for the New Year then make sure you've got yours booked!

HARRY POTTER characters, names and related indicia are © & ™ Warner Bros. Entertainment Inc. Harry Potter Publishing Rights © JKR. (s19)

Despicable Me, Minion Made and all related marks and characters are trademarks and copyrights of Universal Studios. Licensed by Universal Studios Licensing LLC. All Rights Reserved.

TM & © 2019 Sesame Workshop © 2019 Peanuts Worldwide LLC © 1976, 2019 SANRIO CO., LTD. APPROVAL NO. EJ9091102

TM & © Universal Studios & Amblin Entertainment TM & © Universal Studios. All rights reserved.

Information

Universal Studios Japan Countdown Party 2020

Date: December 31, 2019

Time: From 19:00

*You can only enter the event with a Party Pass. With the Party Pass, you can enter and leave as many times as you like until 21:00. You cannot enter with an Annual Pass or regular ticket.

Date: January 1, 2020

Time: 02:00-21:00

*You can enter with a Party Pass or with one of the Studio Passes from 02:00 as long as it's valid on January 1, 2020

Party Pass Price List

Party Pass: ¥12,900 (Tax Included)

Party Pass + Special Express Pass: From ¥22,100 (Tax Included)

Party Pass + Special Express Pass + Special Viewing Area Entry Ticket: ¥24,260 (Tax Included)

Party Pass + Special Express Pass + Special Viewing Area Entry Ticket (VIP Seat): ¥32,300 (Tax Included)

Party Pass + Special Express Pass + Special Viewing Area Entry Ticket (Lagoon): ¥27,700 (Tax Included)

Purchasing a Party Pass

Club Universal Member Pre-Sale: Available from September 12, 2019

LAWSON Pre-Sale: Available from September 13, 2019

General Sale: Available from September 17, 2019

Official Website (Japanese): https://www.usj.co.jp/countdown2020/index.html
RELATED ENTRIES
KAWAII MONSTER CAFE HARAJUKU Collaborates With Alice's Fantasy Restaurant For Halloween Fair

KAWAII MONSTER CAFE HARAJUKU is set to collaborate with Tokyo's three branches of Alice's Fantasy Restaurant to serve up a Halloween themed menu. It will be served from September 19 to October 31.

The Halloween season is right around the corner, and the KAWAII MONSTER CAFE is once again joining in with the spooky festivities. This year, the cafe has joined hands with Alice's Fantasy Restaurant to create a collaborative Halloween menu lineup.

Colourful Rainbow Pasta With Halloween Cream | ¥1,400

Colourful pasta served in rich pumpkin sauce and with a variety of different ghost creams.

Singing Alice's Caesar Salad | ¥1,360

Alice's Fantasy Restaurant's popular Caesar salad heads to KAWAII MONSTER CAFE, an assortment of purple carrots, pumpkin, and other tasty delights. Alice is also hidden in the pasta somewhere as a black witch.

Kingpin Choppy & Henchman Humpty Dumpty Curry | ¥1,300

KAWAII MONSTER CAFE's mascot is served wearing a silk hat and comes with his fellow henchman Humpty Dumpty.

Cheshire Cat Splatter Ice Cream | ¥1,100

Soft serve ice cream topped with crunchy cereal, cotton candy, and chocolate, all drizzled in a splattered sweet strawberry sauce.

Customers who post a photo of their foot onto social media with the hashtag #tokyohalloweencollection can enter for a chance to win some Halloween merchandise.

Halloween Doughnuts Creep Their Way Into Krispy Kreme Doughnuts in Japan

Halloween arrived at Krispy Kreme Doughnuts in Japan on September 16 with the "monster HARVEST" collection of themed doughnuts. Available until November 1, the spooky lineup incorporates a selection of Japanese autumn flavours like pumpkin and purple sweet potato.

The doughnut collection is here to put us in the Halloween spirit nice and early. Krispy Kreme Japan's popular jack-o'-lantern doughnuts are back this year, as are the new black cat doughnuts which first arrived last year. A completely new purple sweet potato flavour was also introduced to the menu on September 1.

Pumpkin Pudding Jack-o'-lantern | ¥240 (Before Tax)

The jack-o'-lantern doughnuts have been made even more delicious for Halloween 2020 by using pumpkins from Hokkaido and filling them with velvety pumpkin Japanese-style pudding. Add to that the chocolate facial features and you've got yourself a tantalising treat for the spooky season.

Black Cat Caramel | ¥250 (Before Tax)

A black cat made with big white chocolate eyes and a dark chocolate face topped with crunchy almond pieces and stuffed with caramel cream.

Muchimochi Purple Sweet Potato Mont Blanc | ¥240 (Before Tax)

The tasty, chewy, and hot purple sweet potato doughnut is made with sliced sweet potato and coated in powdered sugar. It's served hot which makes the flavour even more intense.

Halloween Dozen (12 Doughnuts) | ¥2,000 (Before Tax)

Share a dozen with friends this Halloween which includes not only two of each of the ones already shown, but Krispy Kreme's popular "Chocolate Sprinkle" and "Original Glazed®" too.

Halloween Mini Box (20 Doughnuts) | ¥2,000 (Before Tax)

There's also a colourful box of 20 mini versions of the doughnuts too.

Information

monster HARVEST
Running: September 16, 2020 – November 1, 2020

Krispy Kreme Doughnuts Official Website: https://krispykreme.jp

Kyoto's Female-Only Hotel CAFETEL Kyoto Sanjo for Ladies Reveals Halloween Room

CAFETEL Kyoto Sanjo for Ladies, a hotel in Kyoto exclusive to female guests, is offering a new Halloween room plan between October 1 and November 1. There is just one room and it can only be booked for one day between that period. This plan was offered last year and was a resounding success amongst guests.

Last year's Halloween room took on a more cute and bright theme, but they're going for something darker this time. The theme this year is "The Secret Witches-Only Get-Together," with all ideas and designs conceived and handmade by the hotel staff themselves.

Guests will find decorations all around the room, such as bats on doors and walls who will listen in on the witches' gossip to creepy crawly spiders in the bed. Candles are provided in the room to set the Halloween mood, and there's even witch and devil costumes and props for guests to dress up in.

Free goodies for the witch get-together

Guests can enjoy a gorgeous view of the Kamogawa River from their room. They are also presented with a free Halloween drink exclusive to those who stay in this room.

Information

CAFETEL Kyoto Sanjo for Ladies

Running: October 1, 2020 – November 1, 2020

Rooms: 1 (up to 3 people)

Price: From ¥10,650

Official Website: https://cafetel.jp/

Pastel Coloured Halloween Served Up at Grand Nikko Tokyo Bay Maihama's Happy Halloween Sweets Buffet

Grand Nikko Tokyo Bay Maihama is a new hotel which opened on July 1 this year. Easily spotted by its pink exterior, the hotel offers Grand Nikko's brand concept of guests releasing all of their sense to enjoy a relaxing and sophisticated time while providing a refreshing resort-like experience.

This Halloween, the hotel's all-dining restaurant Le Jardin will serve up its "Happy Halloween Sweets Buffet" from October 10 to 16.

There will be 20 different desserts to pick from all in pastel colours, offering a different kind of Halloween vibe. Desserts are decorated with cute Halloween motifs like Jack-o'-lanterns, ghosts, and pumpkins. The chefs will also be certain desserts in front of guests like pumpkin mont blanc, praline mille-fuille, and pavlova.

There will also be a savoury menu too like roast beef in onion sauce, seafood acqua pazza, bread, salad, soups, and more, as well as soft drinks and non-alcoholic cocktails.

The restaurant will be restricting the number of people allowed in the dining area at once to protect diners during the pandemic.

Information

Happy Halloween Sweets Buffet
Location: Le Jardin – Grand Nikko Tokyo Bay Maihama Floor 3F
Running: October 10, 2020 – October 16, 2020

Time: 12:00-14:30 (Last Orders 14:00)

Prices: General ¥4,500 / 9-12 years old ¥2,780 / 4-8 years old ¥1,580 / 3 years old and below – Free
Enquiries/Bookings: 047-711-2427 (10:00-18:00)

Official Website: https://bit.ly/325uwjt

Grand Nikko Tokyo Bay Maihama
Address: 1-7 Maihama, Urayasu, Chiba

Official Website: https://tokyobay.grandnikko.com

Sanrio Puroland Begins Halloween 2020 Event 'PURO HALLOWEEN PARTY'

Sanrio Puroland's Halloween event "PURO HALLOWEEN PARTY" is now on and is set to run up to Halloween Day, with everyone's favourite characters dressed in their spooky attire ready to greet guests, themed food and decorations, Halloween illuminations, and more.

Sanrio characters greet guests in their Halloween costumes

Masquerade Party is the theme of this year's Halloween event at Puroland.

"Miracle Light" Halloween illuminations

Photo Spot

The event welcomes a new illumination show to the beat of Halloween tunes as well as a photo spot that combines cute pastel and stylish dark themes for the Masquerade Party theme.

Meet characters dressed in Masquerade Party outfits

There's also a chance to meet your favourite characters dressed in Masquerade Party attire for one minute by yourself.


There's plenty of pastel and dark inspired food and merchandise too, available both at the park and the Sanrio Puroland Online Shop. The park is also carrying out video calls for visitors who can meet the Sanrio characters online using talkport.

Pastel & Dark food menu

The spooky menu includes the "Hello Kitty & Dear Daniel Dark Masquerade Beef Curry," "Sleepy Pompompurin's Halloween Beef Ramen," and more.

©1976, 2009 SANRIO CO., LTD.  ©1976, 1989, 1993, 1999, 1996, 2001, 2020 SANRIO CO., LTD.

Information

PURO HALLOWEEN PARTY

Running: September 11, 2020 – October 31, 2020

Sanrio Puroland Official Website: https://www.puroland.jp

Kyary Pamyu Pamyu's Halloween Look Decorates Shiseido Beauty Square in Harajuku

Following her firework-inspired summer promotion look for Shiseido Beauty Square, Japanese pop icon Kyary Pamyu Pamyu has returned to the beauty facility with an all-new Halloween look, first revealed on Friday.


Kyary is serving a dark romantic world in Harajuku this Halloween, with Gothic hair and makeup that delivers us spook fantasy mixed with a bewitching, fairy tail-like sweetness. The look was brought to life thanks to Shiseido's top hair and makeup artist Tadashi Harada.

Kyary Pamyu Pamyu became the ambassador for Shiseido Beauty Square when it opened back in June. The concept of the beauty facility is centred on having people discovering their beauty, having fun, sharing experiences, and learning the latest in the scene

Information

Shiseido Beauty Square
Opened: June 18, 2020

Address: WITH HARAJUKU Floor 1F, 1-14-30 Jingumae, Shibuya, Tokyo

Opening Hours: 11:00-20:00

No Fixed Holidays
TEL: 03-5413-7717

Official Website: https://beautysquare.tokyo/

*Website available in English, Japanese, and Chinese

Tokyo's Miniature Theme Park SMALL WORLDS TOKYO Begins Halloween Event

SMALL WORLDS TOKYO, the world's 'biggest' miniature theme park in Tokyo, opened its Halloween event on Thursday (September 10) which is set to run all the way up to Halloween Day.

Visitors will experience Halloween on a miniature scale this year at SMALL WORLDS TOKYO. Halloween Party 2020 is taking place in the Global Village Area where ghosts and monsters have taken to the tiny streets. You yourself can become part of that world too. Visitors who dress up in Halloween costumes and purchase the "Figure Program Plus Resident Rights" will have themselves scanned using a 3D scanner to create a miniature figure of themselves to put into the town.

There's also an entry fee discount to ¥1,000 (tax included) for those who wear Halloween attire and visit after 5:00pm. The theme park is also holding a variety of Halloween themed workshops like making your own Jack-o'-lantern and more.

SMALL WORLDS TOKYO is taking all necessary precautions against the spread of COVID-19 so that people can experience Halloween like never before.

©SMALL WORLDS

KUROMI♡MY MELODY CAFE Reveals Halloween Themed Menu

Sanrio's beloved characters Kuromi and My Melody have taken over EGG&SPUMA in Shinjuku this summer with the KUROMI♡MY MELODY CAFE which is open for a limited time until October 31, 2020.

The cafe has been split into two separate themes, with the second theme arriving on September 16, turning the cafe into a cute Halloween experience.

The menu, including the popular afternoon tea set, will transform into spooky Halloween inspired food, with Jack-o'-lanterns and bats decorating the plates.

The Kuromi Kimagure Omelette Curry will be sold in limited quantities on weekends at dinnertime. This cute plate features a pink curry topped with Kuromi's favourite leeks as well as seafood, souffle omelette, and Kuromi herself who is made out of rice.

There's also cute pancakes drizzled in berry sauce, My Melody and Kuromi drinks, and more.

Customers who order anything from the Halloween menu will receive one of these coasters free too!

© 1976, 2020 SANRIO CO., LTD. APPROVAL NO. L611679

Information

KUROMI♡MY MELODY CAFE

Location: EGG&SPUMA

Address: Shinjuku Lumine EST 8F, 3-38-1 Shinjuku, Shinjuku-ku, Tokyo

Running: August 1, 2020 – October 31, 2020

Opening Hours: 11:00-21:00 (Last Orders 20:00)

TEL: 03-6273-0255

Official Website: http://salt-group.jp/shop/egg-spuma/

Spooky Halloween Dessert Buffet to be Served at Conrad Tokyo

Conrad Tokyo has unveiled its upcoming Halloween and autumn inspired sweet and savoury buffet which will be sold at its Cerise restaurant from September 5, 2020.

Cerise's Halloween dessert buffet is popular every year, delighting customers with its array of Halloween motif bites. The theme this year is "Witch's Castle," so the restaurant's chefs have cast some spooky culinary magic to create a tasty lineup of sweet and savoury food fitting for the occasion and to put customers in the Halloween mood. This year, the chefs will also be holding the buffet's first ever live station where they will prepare food in front of people too.

The dessert lineup includes velvet cupcakes inspired by a witch's pointy hat, a black cat-topped purple pistachio cream cheesecake, a pistachio cream-loaded pavlova covered in bats, a rose and strawberry mousse, a blackcurrant ganache made with a skeletal white chocolate mousse, and other fun witch treats. There's also a selection of general Halloween and autumn desserts too like chocolate tarts that look like coffins, pumpkin mont blanc, chocolate cream puffs with ghouls on them, raspberry jelly fromage blanc mousse, and more.

On the savoury side of things there's raisin-topped quiche made with butternut squash, smoked salmon tarts with basil and tomato, egg sandwiches with chopped truffles, and more.

The chefs have whipped up a true Halloween feast to enjoy this autumn.

Universal Studios Japan Announces Halloween 2020 Event

Halloween at Universal Studios Japan (USJ) is set to begin on September 18, 2020 when guests will see each area around the park transformed into Halloween mode with decorations, a spooky soundtrack, and more. Popular characters at USJ will also be dressed up in their Halloween outfits ready to greet guests.

The "Minion Monster Greeting" will be a must-see as the cheeky Minions make an appearance for some mischief. The popular annual "Universal Monsters Live: Rock and Roll Show" will also return and see familiar faces like Dracula, Beetlejuice, and other creepers perform song and dance. This year will also see a special show called "Monster de Dance" where monsters and performers will take to the street in masses and perform the 'rat-tat-tat' dance with guests. This dance originates from Sandaime J Soul Brothers from Exile Tribe's song and music video Rat-tat-tat, and this year will be performed in a special "social distancing" version.

EXILE NAOTO | Comment

"We are returning again to Universal Studios Japan this Halloween to perform Sandaime J Soul Brother's 'Rat-tat-tat' once more! This year, we've evolved the dance into the 'Social Distancing Rat-tat-tat' so that people can still enjoy the dance while keeping a distance from other people. It would make me happy to see people get involved!"

Kenjiro Yamashita | Comment

"I'm aware that due to the coronavirus pandemic, the number of places that people can have a good time have become few in number across the world. I'm thankful to the many people who joined in with our 'Rat-tat-tat' dance last Halloween. This year, we've powered up the dance and kept social distancing in mind so that everyone can feel safe, so please be sure to give it a go!"

At USJ, which is known as the 'holy ground for costumes and dress-up,' they are continuing to provide exciting entertainment for people during the new normal to ensure that anyone can participate and feel safe.

Halloween food and merchandise

The Minions, Sesame Street characters, and others will be dressed up in their Halloween best. There will also be a special Halloween art display of the Minions and Snoopy at the 42nd Street Greeting Gallery.

Spooky Halloween Doughnuts Served Up at Mister Donut in Japan

Mister Donut Japan began holding its "Ouchi de MISDO HALLOWEEN" Halloween event on Friday which features five different doughnuts.

The event has its own story which imagines five cute Halloween creatures who have jumped out of their Jack-o'-lantern home and into Mister Donut to bring smiles to everyone on Halloween. Let's take a look at each doughnut.

Ouchi de MISDO HALLOWEEN | ¥150 per doughnut (Before Tax)

Scared Ghost


Coated in white chocolate, topped with shaved coconut, and finished with cute eyes, this ghost scared itself when it looked into the mirror.

Flapping Bat


Coated in a purple sweet potato glaze and finished with chocolate eyes and bat wings. This is the boss bat with a following of bat minions. It loves children and desserts more than anything.

Black Cat French


This is a French Cruller doughnut coated in chocolate and topped with eyes and ears. This black cats appears when the witch uses her magic. Its charm point is its nimble feet; it walks like walking on a cloud.

Swirly Pink Mummy


A chewy fruit stick coated in strawberry chocolate and made to look like a mummy. This character is a smart and cute idol in the mummy world. she has a good fashion sense and people look up to her.

Swirly Chocolate Mummy


A Pon de Ring doughnut covered in chocolate with chocolate eyes. It has cute chubby cheeks, and admires his older sister, the pink mummy.

Information

Ouchi de MISDO HALLOWEEN

Running: September 4, 2020 – October 31, 2020

Available: Mister Donut shops in Japan

Official Website: https://www.misterdonut.jp

Sanrio Harmonyland Announces 'Happy Halloween' Event For October 2020

Harmonyland, a theme park centred on Sanrio's cast of characters, has announced that this year it is holding a Halloween themed event titled "Happy Halloween" which will run from October 11 to 31.

Meet the characters

A greeting event will take place twice a day where guests can have photos taken next to the Sanrio characters who will be dressed in their best Halloween outfits. For the afternoon greeting, the characters will dance too.

Photo opportunities

There will be many photo opportunities around the park at a variety of Hello Kitty, My Melody, Kuromi, and other character decorations. Shops inside the park will also be decorated in all things spooky.

Hello Kitty's Castle transforms into Halloween mode

Hello Kitty Castle will feature Halloween themed decor to greet guests who enter. Hello Kitty will also change into a spooky ghost costume at 10:00, 12:00, and 14:30 each day of the event.

Halloween character merchandise

Sanrio fans can get their hands on a selection of Halloween themed character merch.

Limited-time character events

Sanrio character 'Wish Me Mell' will also have her own birthday party between September 20 and 23 where she will be out to greet guests. After each greeting, 100 people will be given a special free thank you card on a first-come, first-served basis.

Pin Badge Set ¥990 / Acrylic Key Ring Set ¥1,540 / Strawberry Milk Pudding ¥500 / Pancakes ¥600 / Smile Set ¥1,200

This year marks the 15th anniversary of Kuromi, as well as My Melody's 45th anniversary, and so both will be performing mini live concerts between September 25 to October 31. After each show 100 people will be given a Kuromi anniversary card on a first-come, first-served basis.

Pin Badge Set / Kuromi Black Curry ¥1,380

©'76,'79,'88,'89,'91,'93,'96,'98,'99,'01,'05,'10,'12,'13,'17,'20 SANRIO  S/D・G
*The information in this article is correct as of September 2, 2020. Please note that information related to the event is subject to change.