Food Review: Shibuya's Stylish Sandwich Shop BUY ME STAND
Hello, readers of MMN! I'm Banako of the MOSHI MOSHI FRIENDS program.
Today, I'm here to show you a unique and stylish sandwich shop I visited in Shibuya called BUY ME STAND. Shibuya is home to countless restaurants and cafes, but if it's sandwiches you're looking for, this place is the one people are going to recommend. That's how famous it is!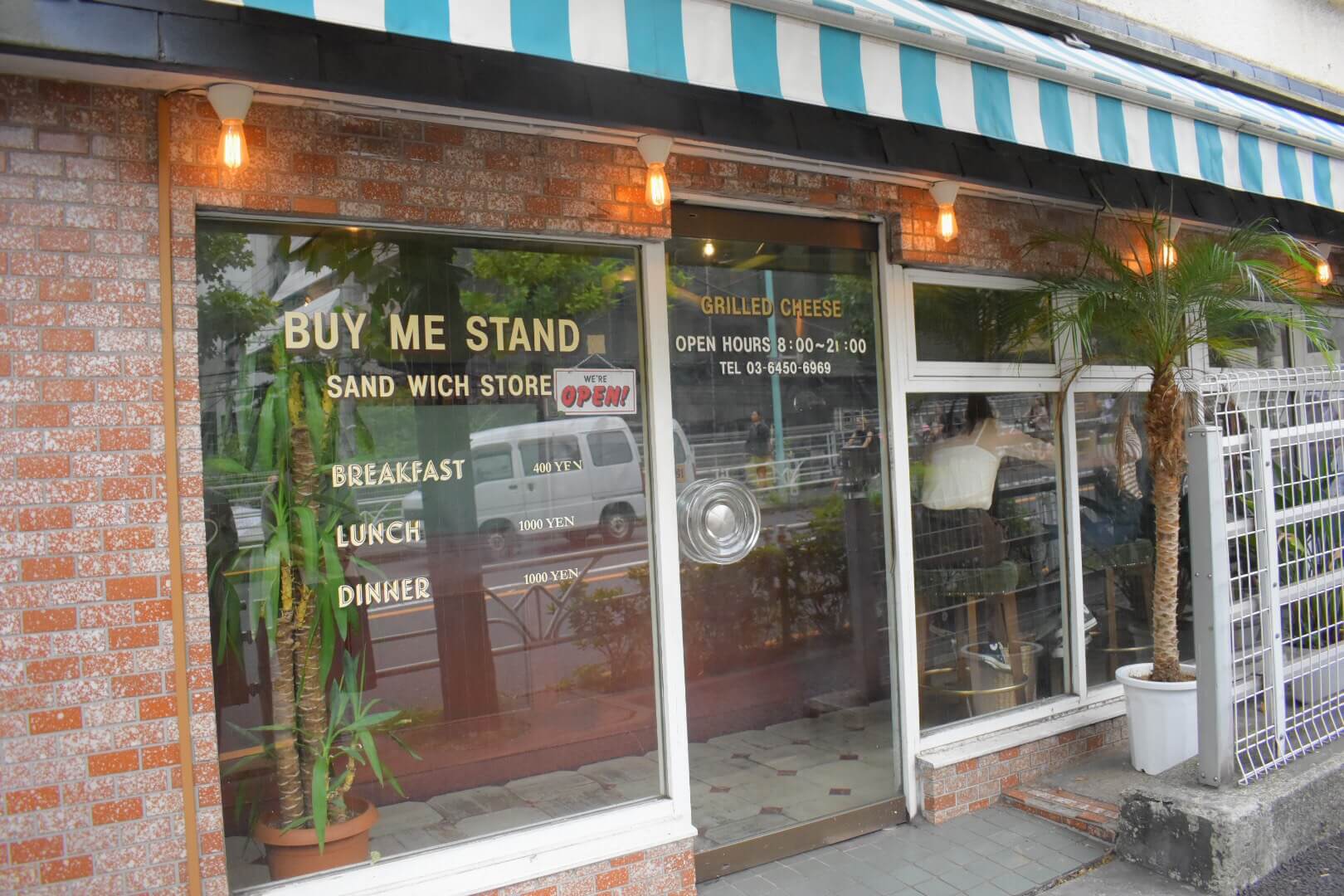 You can reach it in just a brisk 5-minute stroll from the New South Exit of Shibuya Station's JR Line building. You'll know it by the big windows and green and white stripes.
The store is managed by apparel brand SON OF THE CHEESE. The entire interior is coloured in mint green, and it has a vintage American vibe to it. Both the outside and inside are nothing short of stylish-looking. It has a second floor too which has table seats.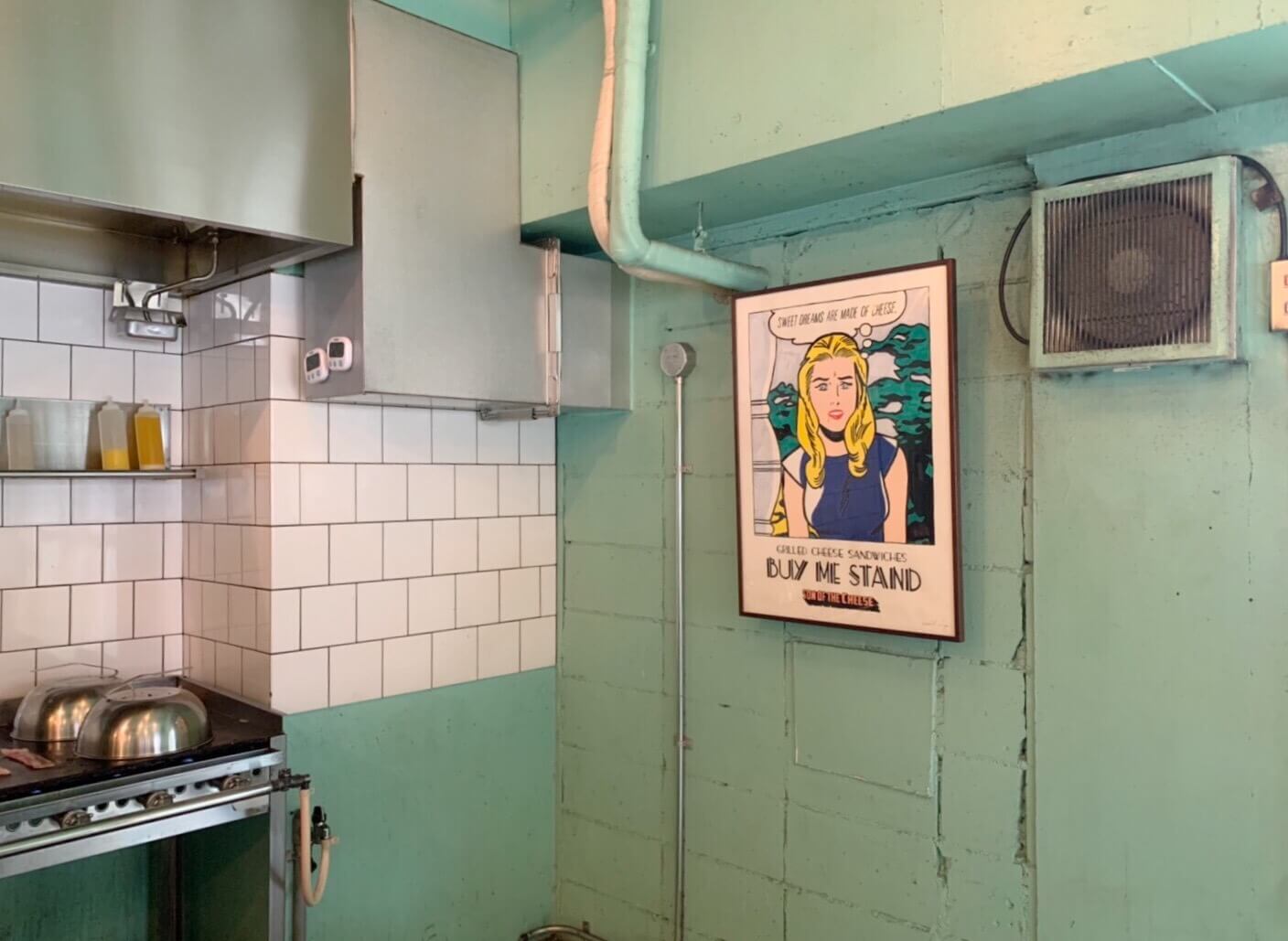 I ordered the shop's most popular menu item: "Apple Cheeks." The sandwiches are cooked to order in an open kitchen in full view of the customers.
BUY ME STAND typically serves hot sandwiches. Most of them are filled with cheese which is grilled until melted and oozing.
This is the Apple Cheeks, which costs ¥1,200. Take a look inside, what do you see?
That's right. Just as the name of the sandwich suggests, is stuffed with apple slices. As well as apple, it also contains pork belly, onions, and Camembert cheese.
Apples and sandwiches are seemingly an unlikely combination, but by my first bite into the crunchy toast I was already hooked. The melted cheese coils itself delicious around the pork belly and onions while the apple adds a favourable sweetness to the combination of flavours. It was like happiness in my mouth.
It's quite a hearty sandwich, but it comes with a crunchy coleslaw salad which is a great palate cleanser and changes up the flavour party on your tongue, so you can get through it all no problem
Since there's a lot of ingredients packed inside their sandwiches, they are also served with a burger bag like when you eat a hamburger, so you can wrap it up to ensure nothing falls out.
Sandwiches are generally seen as a quick and light meal, but BUY ME STAND has redefined their image by making their sandwiches fat and filling.
BUY ME STAND is open from 8am, and breakfast is sold until 11am where they serve a range of food options in addition to sandwiches. I wanted to try everything.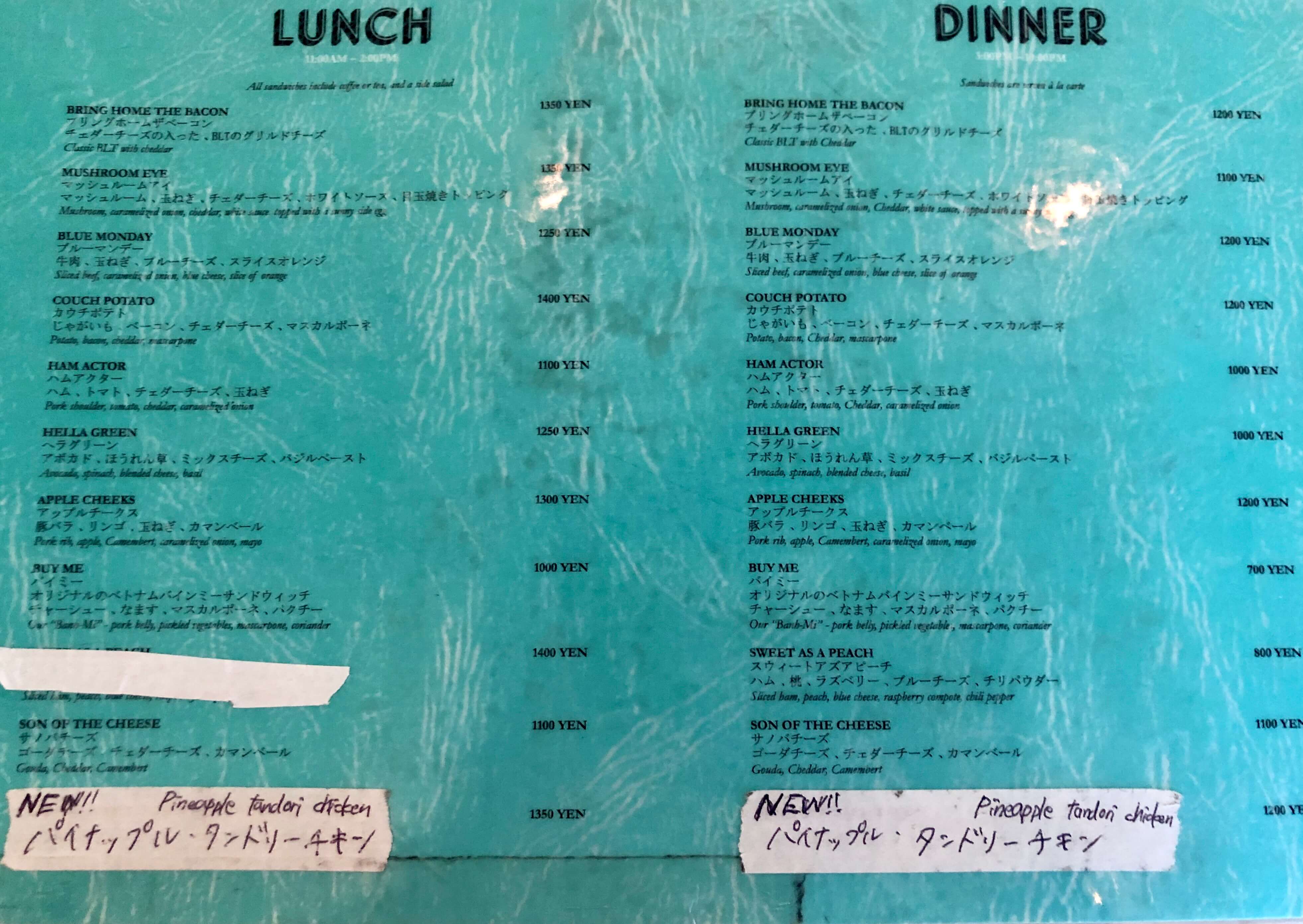 The menus differ slightly for breakfast, lunch and dinner.
BUY ME STAND is in fact a chain sandwich shop and has branches not only in Shibuya, but Yokohama, Fukuoka, and even Okinawa too, and all of them are just as fancy as one another.
Pay a visit to BUY ME STAND yourself and find your sandwich of choice!
RECOMMENDED ENTRIES
Check Out the Chocolate Matcha Frappé at McDonald's This Autumn

McDonald's is bringing back its irresistible Uji Matcha drinks series this autumn and adding a brand new drink: The Choco Matcha Frappé, which will be sold from September 25 for a limited period. This drinks series is only available at McDonalds Restaurants which serve the McCafé by Barista menu. 

The overwhelmingly popular Uji Matcha Series is currently being served for a limited period. From a Strawberry Matcha Frappé to Uji Matcha Chocolate and even Oreo® Cookie toppings, this series is the perfect way to indulge in a fusion of Japanese and western flavours. The Choco Matcha Frappé is the latest drink to join this series.

The base of the chocolate Matcha Frappé consists of chocolate whipped cream and a layer of high quality Belgian couverture chocolate sauce. The next layer is the frappé, which consists of matcha milk made from matcha sourced from Uji, Kyoto. This is topped with chocolate whipped cream and chocolate sauce and sprinkled with bitter cocoa Oreo® pieces. The faint green colour of the matcha is a wonderful contrast with the chocolate colour, creating the image of autumn.  

The mild flavour of the Uji matcha and chocolate is a matcha match made in heaven that you will want to taste again and again. The crunchy, bitter Oreo® cookie pieces create a texture adventure and enhances the flavours of the chocolate and matcha. This frappé is the perfect way of enjoying both the colours and flavours of autumn.  

The Matcha Frappé Latte, Matcha Latte and Iced Matcha Latte have been returning to the menu year after year since their first appearance in 2014. These drinks are also available this year. The entire drinks series is made using the slightly bitter Uji matcha sourced from Kyoto: the birthplace of matcha. The mellow flavour is perfectly balanced out by the milk. These matcha drinks are definitely worth trying. 

Information

Choco Matcha Frappé

Price (After Tax): Regular ¥490 /  Large ¥530

Selling: September 25 – Mid October 2019 (subject to change)

Matcha Frappé Latte

Price (After Tax): Regular ¥450 / Large ¥490

Selling: Until mid-October (subject to change)

Iced Matcha Latte

Price (After Tax): Regular ¥390 / Large ¥430

Selling: Until mid-October (subject to change)

Matcha Latte

Price (After Tax): Small ¥350 / Regular ¥390

Selling: Until mid October (subject to change)

Available only at McDonald's branches in Japan with a McCafé by Barista area.

* Please visit McDonald's official website to find out more information. 

* Only available during "McCafé by Barista" opening hours. Opening hours vary from branch to branch.

Warm Up With a Cup Of Hot Tapioca at Mister Donut

The beautiful warmth of summer is slowly fading away, ready to let in the cool autumn weather and subsequent winter. What better way to warm yourself up than with a nice hot cosy drink? Mister Donut is lovingly pouring two new seasonal hot tapioca drinks this autumn from September 20, including the Hot Milk Tea and the Hot Matcha Milk.

Mister Donut's "Hot Tapioca" beverages first hit back in the spring where they tantalised the taste buds of customers, with each sip becoming more delicious and addictive after the next. The Hot Milk Tea is a mix of royal milk tea made with uva tea leaves and tapioca while the Hot Matcha Milk combines matcha-flavoured tapioca with milk.


It seems that even after these hot drinks have been released, Mister Donut's regular Tapioca Milk Tea and Tapioca Matcha Milk beverages are still enjoying big sales. It's always nice to have a choice to order what you like depending on your mood.

Tapioca Hot Milk Tea: ¥496 (Tax Included)

Indulge in this black tea filled with chewy tapioca and steeped in rich uva tea leaves to create a full-bodied royal milk tea.

Tapioca Hot Matcha Milk: ¥496 (Tax Included)

For something a little more Japanese-tasting, enjoy a cup of hot milk mixed with tapioca matcha.

These drinks will be sold until mid-February 2020, so if you're in need of warming up this autumn and winter in Japan, head to Mister Donut.

Information

Hot Tapioca Drinks: Hot Milk Tea/Hot Matcha Milk

Running: September 20, 2019 – Mid February 2020 (Release dates may differ from branch to branch)

Mister Donut Japan Official Website: https://www.misterdonut.jp

Experience the Heart of the Japanese Tea Ceremony This Autumn in Ginza

In line with the annual autumn event Ginchakai―which is held in Ginza and brings together multiple schools of tea in Japan for an open-air tea ceremony―Tokyu Plaza Ginza is hosting an event themed on the heart of the Japanese tea ceremony.

This special event will serve Japanese omotenashi, or "hospitality," thorough various exhibits including a co-project with Tokyo University of the Arts, an exhibition by one of Japan's leading confectionery companies Toraya Confectionery, and more.

The co-project with Tokyo University of the Arts will feature installations produced by the university that is centred on calligraphy drawn by Japanese calligrapher Shoko Kanazawa, who performs both in Japan and overseas, and the tea ceremony. There will also be several tokonoma alcoves around the event which will be like miniature gardens where one can enjoy the beauties of nature. There will even be covers of famous songs about autumn on October 27 at the KIRIKO TERRANCE on the roof.

Up in the KIRIKO LOUNGE on the 6th floor, Toraya will serve up a selection of traditional Japanese confections, including those that had already been created by the end of the Edo period. You can order a set of two confections and a drink. Sweets include the Kiren Kaki, which is made to look like a Japanese permission, and the Kuri Goyomi, which is made with chestnuts, sugar, and agar-agar.

Soak up the enchanting nostalgia of autumn while enjoying the Japanese tea ceremony at Tokyu Plaza Ginza.

Information

The Heart of the Tea Ceremony in Ginza (Japanese Title: 銀座で触れる、茶の湯の心)

Running: September 26, 2019 – October 27, 2019

Location: Various places around Tokyu Plaza Ginza

GINZA Tokonoma Alcoves: Admire the Season With Tokonoma Art

Running: September 26, 2019 – October 27, 2019

Time: 11:00-21:00
Locations: Floors 3, 4, and 6

Autumn Music Performances

Date: October 27, 2019

Time: 12:00-15:30

Location: KIRIKO TERRACE on the Tokyu Plaza Ginza rooftop

TOKYU PLAZA GINZA x Bunkamura SPECIAL PROGRAM ~ Toraya Confectionery~

Running: October 11, 2019 – October 27, 2019

Time: 11:00-23:00 (Until 21:00 on Sundays and public holidays)

Location: KIRIKO LOUNGE (Tokyu Plaza Ginza Floor 6F)

Tokyu Plaza Ginza

Address: 5-2-1 Ginza, Chuo Ward, Tokyo

Official Website: https://ginza.tokyu-plaza.com/
RELATED ENTRIES
Detective Conan Themed Cafes Open in Japan to Promote Upcoming 'Scarlet Bullet' Anime Film

To promote the upcoming anime film Detective Conan: The Scarlet Bullet which is set to released in Japan on April 16, 2021, seven themed cafes will open in Tokyo, Osaka, Nagoya, and Sapporo from March 24. The cafe is themed on a retro diner which will transport fans back in time to diners inspired by America in the 1950s and 60s.

Main Visual

Bonus Items

RETRO AMERICAN DINER MENU

DETECTIVE BURGER/SNIPER BURGER/ZERO BURGER/BOYISH BURGER/SHERRY BURGER/OSUSOWAKE BURGER – ¥1,599 Each (Before Tax), +¥500 For Acrylic Key Ring

DETECTIVE SUNDAE/SNIPER SUNDAE/ZERO SUNDAE/BOYISH SUNDAE/SHERRY SUNDAE/OSUSOWAKE SUNDAE – ¥1,099 Each (Before Tax), +¥500 For Acrylic Key Ring

DETECTIVE SODA/SNIPER SODA/ZERO SODA/BOYISH SODA/SHERRY SODA/OSUSOWAKE SODA – ¥899 Each (Before Tax), +¥500 For Acrylic Key Ring

CONAN CAFE CLASSIC Menu

APTX-4869 TROPICAL LAND CURRY | ¥1,400 (Before Tax)

COLUMBO MINT SAUCE PASTA ¥1,499 / DELICIOUS TO DIE FOR RAMEN ¥1,099 / POIROT CAFE SANDWICH ¥1,399 (All Prices Before Tax)

AI'S BERRY CHEESE FRENCH TOAST ¥1,200 / RAN'S LEMON PIE ¥1,499 / HIROSHI AGASA'S "SHIPPAI JA" PANCAKES VER.2 ¥1,199 (All Prices Before Tax)

CRIMINAL'S BLACK SESAME STRAWBERRY AU LAIT ¥999 / CRIMINAL'S SOUVENIR MUG +¥1,400 (All Prices Before Tax)

LEFT'S CAFE LATTE ¥899 / YOUNG DETECTIVE SHAKE ¥1,099 / RAN'S BERRY JELLY SODA ¥999 (All Prices Before Tax)

LIMITED EVENT MENU

1st Menu: Detective Conan: The Scarlet Bullet Menu | April 16, 2021 – May 31, 2021

AKAI FAMILY BANQUET ¥1,499 / UNAGI'S KABAYAKI & TARE OKAWARI RICE ¥1,699 / SHUKICHI & YUMI'S DELICIOUS SHORTCAKE ¥1,399 / SCARLET OGURA STRAWBERRY TOAST ¥1,599 (All Prices Before Tax)

2nd Menu: Phantom Thief Kid & Aoyama Sensei's Birthday Menu | June 1, 2021 – July 11, 2021

*Only available at Nagoya cafe from July 1-11

THE JEWEL GARDEN SALAD ¥1,499 / MAGIC SPICE PARFAIT ¥1,200 / AOYAMA-SENSEI BIRTHDAY CURRY ¥1,399 (All Prices Before Tax)

3rd Menu: Shuichi Akai Season 1 Menu | July 1, 2021 – August 15, 2021

4th Menu: Shuichi Akai Season 2 Menu | August 16, 2021 – September 26, 2021

*Menus 3 and 4 exclusive to Shinjuku and Umeda cafes

*Menus 3 and 4 are centred on the character Shuichi Akai

Original Merchandise

Pins (6 Designs) | ¥450 Each (Before Tax)

Acrylic Coasters (12 Designs) | ¥800 (Before Tax)

Mini Acrylic Stands (12 Designs) | ¥900 (Before Tax)

Acrylic Magnets (6 Designs) | ¥500 (Before Tax)

Folders (6 Designs) | ¥300 (Before Tax)

Bandanas (2 Designs) | ¥1,500 Each (Before Tax)

Eco Bag | ¥1,850 (Before Tax)

Chocolate Tin | ¥1,600 (Before Tax)

Fans can tuck into a Detective Conan-themed retro menu as well as get their hands on some exclusive merchandise featuring original chibi art.

Make sure you don't miss Detective Conan: The Scarlet Bullet.

©青山剛昌/小学館・読売テレビ・TMS 1996

THE iDOLM@STER SideM Themed Cafes Open in Ikebukuro, Tennoji, and Nagoya

Three branches of Animate Cafe in Ikebukuro, Tennoji, and Nagoya are now serving as the venues for a limited-time THE iDOLM@STER SideM cafe experience until March 14. Fans of the multimedia series can enjoy a range of themed food and drink as well as get their hands on exclusive merchandise of their favourite characters in chibi form.

Animate Cafe Ikebukuro Exclusive Mini Character Illustration Tapestry

Animate Cafe Ikebukuro "High x Joker" Life-Size Panels

The idol characters will be waiting to welcome you, the Producer, to a special "Sweetie Wonderland" themed space.

Food and drink names, which are inspired by past event that have taken place in THE iDOLM@STER SideM video game, have been translated from Japanese by MMN.

Themed Food Inspired by Past In-Game Events

Ryu Kimura's Workout Tray Don | ¥950 (+¥200 for Cocoa Protein Drink) | Comes With SASUGA Logo Sticker

Super Live Fes 2016 Shiki Iseya – Shiki's Kumacchiman Steamed Bun | ¥750

2020 Valentine's Event – Prepping the Cacao Soil | ¥800

Bubbly AP CIDER!! Live Hokuto Ijūin – Sparkling Moment | ¥600

Jiro Yamashita's Jelly Drink | ¥600

Shoma Hanamura's Night Party Lemonade | ¥600

Merch

Acrylic Key Rings Sweetie Wonderland A-Group (15 Designs) – DRAMATIC STARS / Altessimo / Shinsoku Ikkon /  Café Parade / S.E.M | ¥700

Acrylic Key Rings Sweetie Wonderland B-Group (15 Designs) –  Beit / Sai / THE Kogado / F-LAGS / Legenders | ¥700

Acrylic Key Rings Sweetie Wonderland B-Group (16 Designs) –  Jupiter / W / FRAME / High x Joker / Mofumofuen | ¥700

Pins – Sweetie Wonderland A-Group (15 Designs) – DRAMATIC / STARS / Altessimo / Shinsoku Ikkon / Café Parade / S.E.M | ¥400

Pins – Sweetie Wonderland B-Group (15 Designs) – Beit / Sai / THE Kogado / F-LAGS / Legenders | ¥400

Pins – Sweetie Wonderland C-Group (16 Designs) – Jupiter / W / FRAME / High x Joker / Mofumofuen | ¥400

Pin Cover Sets (3 Included / 15 Designs) | ¥500

Pin Cover Example

Frog Chocolates With 2 Coasters (46 Designs) | ¥1,800カエル型チョコ 注文特典コースター全46種よりランダム2枚付き 1,800円

Clear Tasty Box With PVC Key Ring (15 Designs) | ¥1,800 Each

Campaign

Free Birthday Bromide Campaign

Free Coaster Campaign

©BANDAI NAMCO Entertainment Inc.

Uji Matcha Loaded Pancakes Get Served Up at Eggs 'n Things Japan This Spring

For the entire month of March this year, Eggs 'n Things Japan is serving up "Uji Matcha Tiramisu Pancakes" and "Egg Scramble House Sandwich" at all branches.

The Seasonal Menu


Uji Matcha Tiramisu Pancakes | Eat In ¥1,480, Takeout ¥1,080

 These rich tiramisu pancakes are made with a dough laced in delicious Uji matcha and topped with succulent strawberries.

*The takeout option doesn't come with whipped cream

Egg Scramble House Sandwich | Eat In & Takeout ¥1,380

 A classic BLT layered perfectly so every ingredient stands out for every bite.


A Refreshing, Fruity Springtime Drink


Tropical Fruit Mix | ¥650

 Customers can stay refreshed this spring with this tropical fruit mixed beverage of mango, pineapple, banana, and more.

Japan's Cafe Chain Bread, Espresso & to Open New Branch in Kamata

Hitobito, the company behind Japan's popular bakery cafe chain Bread, Espresso &, is set to open a new branch inside Makita General Hospital in Kamata on March 1. The cafe opened its doors for pre-openings earlier this month with shortened business hours.

 

Bread, Espresso & has 20 branches across Japan including the popular one located in Omotesando, Tokyo. Its frequented by people of all ages for its deliciously soft bread made from 100% Japanese wheat.

The cafe's picture book-like interior design caters to children featuring bread-shaped tables and cute illustrations.




Customers are welcome to try out the free samples on display. Each sample has a little card detailing various information which customers can take to the register if they want to buy that item. Often in Japanese bakeries there are tongs and trays which customers are free to use, but this new style of service lessens contact with others for a safer trip during the pandemic.

The bakery serves Bread, Espresso & classics like French toast and their mu pastries, as well as alternatives like gluten-free breads, no-sugar treats, and more.

Information

Pan, Espresso & Kamata

Address: 8-19-1 Nishi-Kamata, Ota-ku, Tokyo

Opening Hours:  9:00-21:00 (Until 18:00 during pre-opening)

Holidays: None (Except Sundays during pre-opening, after it will be open 7 days a week)

TEL: 03-6424-7920

Pan, Espresso & Official Website: http://www.bread-espresso.jp/

Disney Japan Celebrates Minnie's Day With Exclusive Minnie Mouse Merchandise

Minnie's Day is set to fall in Japan on March 2, so to celebrate, Walt Disney Japan is getting in on the festivities nice and early by announcing the release of a new Minnie Mouse merchandise collection, called the "Disney ARTIST COLLECTION by Kelly Park," which will be officially released at Disney stores in Japan on February 23. Pre-sales will also roll out at select stores and Disney Japan's online store shopDisney from February 19.

©Disney

©Disney

Plushie ¥3,300 / Makeup Brush Set ¥2,640 / Tote Bag ¥2,090 / Room Fragrance ¥4,180 / iPhone Case (iPhone 11) ¥3,520 / Mirror ¥2,420 / Ballpoint Pen & Notebook Set ¥1,980 – (Prices Include Tax)

©Disney

nuiMOs Plushie ¥2,750 (Tax Included)


Kelly Park is an artist that is enjoying immense popularity in South Korea right now. Their new "Disney ARTIST COLLECTION by Kelly Park" is an exclusive release in collaboration with Disney Store.

The line-up is a celebration of all things Minnie Mouse for her big day, aptly named "Minnie's Day," on March 2. Vibrant blue is the main colour for the collection which Kelly Park has created to support fellow dreamers out there – those who have big hopes and aspirations in their everyday lives. The designs are bright, beautiful, and full of positivity, making them a perfect pick for the coming spring season. Minnie fans can feel fresh this spring season with fahsion items, accessories, stationery, a variety of lifestyle goods, and more.

Disney's popular nuiMOs plushie range will welcome an exclusive new Minnie Mouse plushie on February 26 which features the date "March 2, 2021" on it for Minnie's Day. It also comes with a pin. These plushies are limited-edition and only 320 will be sold – a number that of course aligns with March 2.

Celebrate the day of the original Disney Princess with the new Disney ARTIST COLLECTION by Kelly Park.

Fruit Packed Sandwiches Get Whipped Up at Limited-Time Shop in Tokyo

The fruit sandwich eatery Maruichi Seika has opened a pop-up shop on the second floor of Kita-Senju Marui in Adachi, Tokyo. The shop is a collaboration between the popular local restaurant Ippo Ippo and Maruichi, a long-standing and much-loved fruit shop.

Fruit is the key ingredient at Maruichi Seika where they want customers stuffing their cheeks with strawberries, oranges, pineapple, and more. Fruit is packed into fat sandwiches and combined with mascarpone cheese for a filling treat. The bread is provided by Furansuya, a local bakery in Kita-Senju that has been running for over 10 years.

A Select Look at the Line-Up

Sky Berry | ¥740 (Tax Included)

This sandwich is named after a particular variety of strawberry is known as the Sky Berry. It's sourced from Tochigi Prefecture and is known for its superior sweetness, juiciness, and the fact that it's low in acidity. Ordering this lets you enjoy three different kinds of well-known strawberry: the titular Sky Berry, the Tochiotome which is also from Tochigi, and the classic Amaou from Fukuoka.

Setoka | ¥840 (Tax Included)

The Setoka is a rare and super sweet, full-bodied citrus fruit that's normally given as a gift in Japan. In sandwich form, it enjoys a perfect balance of sweetness and tanginess.

Pineapple | ¥630 (Tax Included)

The Golden Pineapple from the Philippines is the variety used in this sandwich, packed with mouth-watering sweetness and offering a rich fruity fragrance.

Maruichi Mix | ¥740 (Tax Included)

This sandwich is a combination of fruits including the Amaou strawberry from Fukuoka, the Kanjuku Kiwi from Ehime, and the Premium Banana from the Philippines. It also contains the best picked mikan which are bought fresh from the market every day.

If you've never tried a fruit sandwich in Japan and are in Tokyo this winter, then don't miss out on Maruichi Seika's limited-time line-up.

Information

Maruichi Seika

Address: Kita-Senju Marui Floor 2F – Kitchen Garden 350

Address: 3-92 Senju, Adachi-ku, Tokyo

Kita-Senju Marui Official Website: https://www.0101.co.jp/084/

Shibuya PARCO Reveals Fashion Campaign Key Visual For Spring 2021

Shibuya PARCO has unveiled its key visual for its Spring 2021 fashion campaign "SHIBUYA PARCO S/S NEW LOOK" which features Japanese model Lala Takahashi.

SHIBUYA PARCO S/S NEW LOOK Key Visual

In the visual, Lala Takahashi is donning the 'Pablo' series by UNDERCOVER which is inspired by Picasso's 'Blue Period.' It's been transferred onto a print of an abstract oil painting by Jun Takahashi. The photo was taken by visual artist Takako Noel, while the conceptual headpiece, which is made from recycled plastic, was created by hair stylist Haruka Tazaki.

The campaign brings with it a wave of new fashion and cosmetic items from stores inside Shibuya PARCO. A special coupon that can be used on the PARCO online store from February 9 to 28 is also available. It comes in response to stay-at-home measures raised in Japan due to the pandemic.

Cute Milk Bottle Pudding Releases at Milk Bakers in Tokyo

Tokyo-based bakery Milk has released an adorable new milk pudding at two of its branches, both of which are served in cute milk bottles.

Smooth Pudding / Milk Pudding – ¥380 Each (Tax Included)

Box of 4

Box of 8

Pudding Soft

Carefully-selected and fresh milk of high quality is used to make these Japanese-style puddings, known as purin. Each and every one is handmade individually, and they can be bought separately or in boxes of 4 and 8. No preservatives, additives, of any nasty stuff is added to the dessert either.

Also on the menu is a milk-loaded soft serve ice cream. The cup it's served in has a cute retro design to it.

Information

Milk Pudding
Available: Milk Sano / Milk Shibuya
Address: 2-7-1 Sano, Adachi-ku, Tokyo
TEL: 03-5613-5550
Opening Hours: 10:00-18:00
Closed: Wednesdays
Official Website: https://tokyo-milk.jp/

Enjoy a Valentine's Day Bath at Ofuro Cafe no Yu Hakuju in Saitama

Ofuro Cafe Hakuju no Yu is holding a special Valentine's Day event for lovers which will run from February 6 to 14.

Though the bath house is split between male and female, couples can write messages of love to their special someone on a heart-shaped plaque made from Japanese cypress wood. The plaques were made in collaboration with the local business Kanezawa.

Choko Sweet Sake Shake | ¥630 (Before Tax)

For the Valentine's event, the bath house is also serving up a special shake beverage made with chocolate and sweet sake. The polyphenol in chocolate is said to be good for health and beauty, making it a perfect choice for a day of luxury at Ofuro Cafe Hakuju no Yu.

Guys who visit the bath house on Valentine's Day itself will also receive free Valentine's chocolate.

Information

Valentine's Bath
Running: February 6, 2021 – February 14, 2021
Venue: Ofuro Cafe Hakuju no Yu
Address: 337-1 Wataruse, Kamikawa, Kodama District, Saitama
TEL: 0274-52-3771
Official Website: https://ofurocafe-hakujyu.com/

■About Ofuro Cafe

Ofuro Cafe is a chain of hot spring brands made for long stay periods. It offers a variety of free services such as coffee, magazines, comics, massage chairs, PC rental, and more. The experience created is like being invited to a friend's house to kick bck and relax. There are three branches in Saitama including Ofuro Cafe Utatane, Ofuro Cafe Hakuju no Yu, and Ofuro Cafe Bivouac, as well as one branch in Mie, Ofuro Cafe Yumoriza. It also has three franchise branches: Ofuro Cafe Bijinyu in Shizuoka, Ofuro Cafe Biwakoza in Shiga, and Ofuro CafeSeiyukan in Hokkaido. "おふろcafe(R)" is a registered trademark of ONSENDOJO INC.

■ONSENDOJO INC.
Founded in March 2011. Manages hot spring facilities including the Ofuro Cafe brand as well as resort facilities, consultation services, and supporting regional businesses.
http://onsendojo.com/

Blue Bottle Coffee to Open Pop-Up Stores at Shibuya Scramble Square in Tokyo

Blue Bottle Coffee Japan has announced that it will open a pop-up store on the second floor of Shibuya Scramble Square in Tokyo from February 10 to March 15.

Cacao Candy & Instant Coffee Set | ¥2,800 (Before Tax)

Coffee Set | ¥3,200 (Before Tax)

Sweet Bean Jelly & Instant Coffee Set | ¥3,000 (Before Tax)

The pop-up shop will sell a variety of Blue Bottle Coffee products like fresh coffee beans, mugs, Valentine's Day gifts, item sets, and more.

Information

Blue Bottle Coffee Pop-Up Store
Running: February 10, 2021 – March 15, 2021
Location: Shibuya Scramble Square Floor 2F

Address: 2-24-12 Shibuya, Shibuya-ku, Tokyo
Opening Houes: 11:00-20:00
Official Website: https://store.bluebottlecoffee.jp/

hotel koe tokyo Celebrates 3rd Anniversary With Luxurious Financier Strawberry Open Sandwich

hotel koe tokyo is celebrating its third anniversary by serving up a special financier strawberry open sandwich at the koe lobby on the first floor.

Financier Strawberry Open Sandwich | ¥1,045

The sandwich is made using a financier bread baked by the hotel koe bakery. This fluffy and airy treat has crunchy sides and sits on top of a bed of fresh cream bathed in crème anglaise. It's finished with a loaded topping of fresh strawberries which add a sweet and tangy flavour to the sandwich.

If you're staying in Tokyo this month, don't miss out on this limited-time treat which is being served from February 8 to 28.

Information

hotel koe tokyo Financier Strawberry Open Sandwich
Where: koe lobby @ hotel koe tokyo
Serving Dates: February 8, 2021 – February 28, 2021

Serving Times: 15:00-18:00提供期間:2021年2月8日(月)~2月28日(日)
Opening Hours:

[Morning] 7:30-11:00 (Last Orders 10:30)

[Lunch] 11:00-15:00 (Last Orders 14:30)

[Tea Time & Dinner] 15:00-20:00 Last Orders 19:30)

Official Website: https://hotelkoe.com/food/

Valentine's Themed Menu Now Serving at FENDI CAFFE by ANNIVERSAIRE in Omotesando

Luxury Italian brand FENDI is currently teamed up with the iconic Aoyama-based ANNIVERSAIRE CAFÉ OMOTESANDO to serve up a special Valentine's Day themed menu at the cafe which it's calling "FENDI CAFFE by ANNIVERSAIRE."

Cake Set | ¥2,800 (Before Tax)


Tart Saison | ¥1,000 (Before Tax)

The cake set and tart saison are revamps of current menu items, now topped with in-season strawberries. The cafe has also been adorned with romantic red roses and multi-coloured decorations for this year's Valentine's Day.

Information

FENDI CAFFE by ANNIVERSAIRE
Running: November 28, 2020 – February 14, 2021
Where: FENDI CAFFE by ANNIVERSAIRE
Address: 3-5-30 Kita-Aoyama, Minato-ku, Tokyo

Opening Hours: 11:00-20:00
TEL: 03-5411-5988
FENDI Official Website: http://www.fendi.com