Tokyo Disney Resort to Unlock A Whole New World in 2020: New Area, New Attractions, New Adventures
Tokyo Disney Resort will be telling the guards to open up the gates to an enormous number of brand new attractions, events and much more all at once on April 15, 2020. Over the course of the year, there will be so many exciting events and programs all over the resort that you will be wanting to waltz into Disney Resort® every day. This is the perfect chance to experience your perfect Happily Ever After. 
In short, Alongside the numerous seasonal programs and events, Tokyo Disneyland will be expanding Fantasyland. A new area will be built inside it called New Fantasyland, which is dedicated to the Disney film Beauty and the Beast. There will even be a new attraction called 'Enchanted Tale of Beauty and the Beast', an indoor theatre called 'Fantasyland Forest Theatre', and much more. Along with the new Fantasyland developments, Tomorrowland will be home to the new ride 'The Happy Ride with Baymax' and Toontown is getting an attraction called Minnie's Style Studio. 
New Disneyland Attractions to Open on April 15, 2020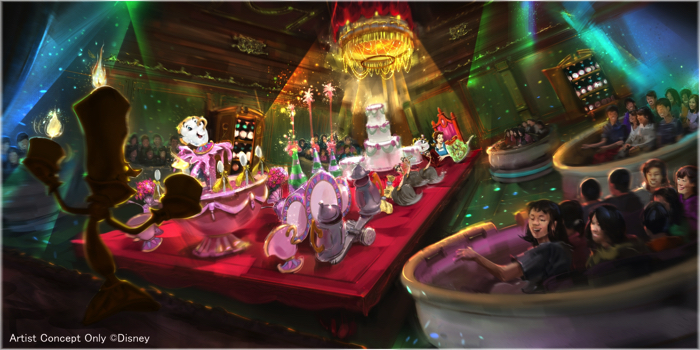 New Attraction: Enchanted Tale of Beauty and the Beast
There will be a brand new large-scale attraction dedicated to the Disney classic Beauty and the Beast. Enter the picturesque village of medieval France where Belle resides. Embark on a journey through the film in a dancing teacup and become part of famous scenes as the nostalgic movie music embraces you. You will want this beautiful moment to last forever.
 New Indoor Theatre: Fantasyland Forest Theatre
This is the first ever full-scale indoor theatre to ever be built at Disneyland and it will reside in Fantasyland. The theme of the theatre is travelling the wonderful world of music with your favourite Disney characters. The live performances to take place on the stage will be undoubtedly dynamic and intense. 
Minnie Mouse Meet and Greet Facility: Minnie's Style Studio
For the first time in forever, Tokyo Disneyland is setting up a greeting facility for Minnie Mouse to greet guests. Head to Toontown to meet fashion designer Minnie Mouse in her beautiful costumes. Make sure to get a picture with her! 
*Toontown, where Minnie's Style Studio is located, will be presented by Kodansha Ltd.
The Happy Ride with Baymax
If you're a fan of Big Hero 6 then this ride is for you. Your favourite personal medical healthcare companion Baymax will pull you along on a thrilling and rather unpredictable journey. 
* The Happy Ride with Baymax is presented by Daihatsu Motor Co., Ltd.
Seasonal Events
Tokyo DisneySea 'Disney Easter' Special Event
March 27- June 12, 2020
Tokyo DisneySea has some incredibly exciting news: The Usapiyo chicks are due to hatch in time for Easter! These mysterious chicks with bunny ears are sure to have your heart hopping with happiness. They will be taking part in a show held at the Mediterranean Harbor. The Usapiyo will be joining Mickey Mouse and the gang to celebrate spring and fill your heart with excitement and fun.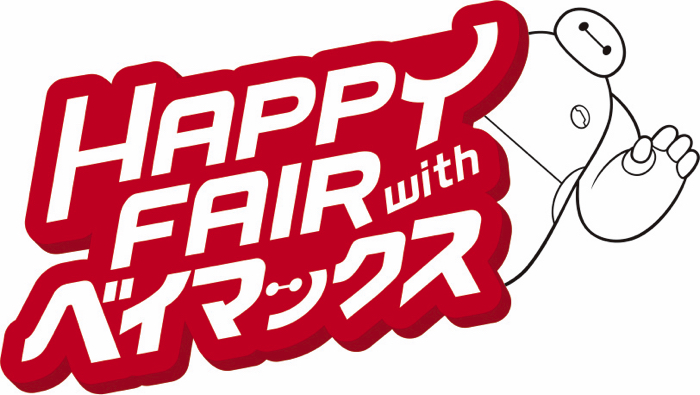 Tokyo Disneyland Special Program: 'Happy Fair with Baymax'
June 4 – November 1, 2020
This program will take place in Tomorrowland and will see the park filled with decorations, photo spots, merchandise and menu items themed on Big Hero 6. Your excitement levels are bound to inflate dramatically!
These are just a few exciting events that 2020 holds in store. Be Prepared for some fun!
*All images in this article are illustrations. 
©Disney
RECOMMENDED ENTRIES
ROPPONGI HILLS HAPPY HALLOWEEN 2019: Monster Desserts, Horror Film Parade & More

Roppongi Hills has announced this year's Halloween festival. Titled "ROPPONGI HILLS HAPPY HALLOWEEN 2019," it will take place from October 1 to 31, packed full of spooky fun from a Halloween costume parade to a ghoulish gourmet menu line-up, featuring an always-unique array of food and drink.

Halloween Cupcakes – ¥638 Each @ LOLA'S Cupcakes Tokyo (Available from October 5)

LOLA'S Cupcakes has baked up an assortment of cute monster motif cupcakes, with flavours including pumpkin, purple sweet potato and more. Whichever one you pick, it's sure to give you a smile and delight your taste buds.

Halloween Mixed Berry Cake – ¥530 @ Roasted coffee laboratory

Creepy eyeballs adorn this cake, which is topped with blackberries and blueberries while drizzled in bloody blackcurrant jam. The cake is layered with sponge, fresh cream and a sweet and sour strawberry jelly.

Happy Monster – ¥980 @ Cafe Crepe

Delight in this cute pumpkin and fresh cream crepe, filled with pumpkin ice cream and snug in an orange crepe wrap. Housed inside is an adorable purple sweet potato mont blanc monster wearing a witch's hat.

A movie-themed parade will take place on Saturday October 26 at the event in line with the 2019 Tokyo International Film Festival. Children and adults can take part in the parade if they dress up. The 1km parade will last 25 minutes.

Gift bags will be given to all kids who get involved!

▼Halloween Parade

Date: October 26, 2019

Time: 10:30-13:30 (subject to change)

Location: Roppongi Hills Arena

Participation Conditions: Anybody who dressed up can join (the theme is "Movies")

Participation: Free

Enquiries: 03-6406-6000 (Roppongi Hills Information)

Halloween will hit Roppongi Hills for the entire month of October. Be sure to visit if you're in Japan next month!

Japanese Fireworks Light Up the Night Sky Of Saudia Arabia

In celebration of the annual Saudi National Day―which commemorates the establishment of the Kingdom of Saudi Arabia―STAR ISLAND held a special event at Jeddah Fountain View on September 23 entitled "STAR ISLAND SAUDI ARABIA NATIONAL DAY EDITION" which was attended by Salman bin Abdulaziz Al Saud, the King and Prime Minister of Saudi Arabia.

STAR ISLAND was created in Japan and describes itself as 'future firework entertainment.' It fuses traditional Japanese fireworks with cutting-edge technology such as 3D sound, lighting and lasers. It has been taken both around Japan and overseas.

The event completely sold out, with close to 300,000 people gathering to witness the jaw-dropping, one-night-only firework spectacle forged specially for the 89th Saudi National Day. Also in attendance was Tsukasa Uemura who is the Ambassador of Japan at the Embassy of Japan in Saudia Arabia, as well as Amr Banaja, the CEO of General Entertainment Authority Saudi Arabia.

This was the second STAR ISLAND to be held outside of Japan. A special edition was prepared for the celebrations. The theme was "The Boy and The Falcon." In the show, young boys from both countries went on a trip around the world with a falcon, experiencing many difference cultures. The boys travelled to the year 2030 to see that both countries were still as wonderful as ever.

The story touched on Saudi Vision 2030, a long-term plan by Saudi Arabia which looks to further grow itself as a tourism nation, develop public sectors, and diversify its economy.

During the performance, local dance groups and Japanese performers stood on stage together to celebrate Saudi Arabian tradition and other cultures. It was an historical moment for the books.

The event was held at the behest of the Saudi Arabian General Authority for Entertainment (GEA), resulting in the development and vitalisation of both countries' entertainment markets as well as helping to create jobs. It also deepened the relationship between Japan and Saudi Arabia.

Information

STAR ISLAND SAUDI ARABIA NATIONAL DAY EDITION

Date: September 23, 2019

Time: 21:00-22:30 (Doors opened 19:00)

Location: Jeddah Fountain View (2099 Al Kurnaysh Rd, Al Hamra District, ,حي الحمراءJeddah 23212)

Official Website: http://www.star-island.jp

Hello Kitty Launches #HelloGlobalGoals Project With the United Nations

Sanrio launched its #HelloGlobalGoals (#HelloSDGs) co-project with the United Nations at the UN headquarters on September 24 which sees their popular character Hello Kitty helping to spread the words about Sustainable Development Goals (SDGs).

The Sustainable Development Goals (SDGs) are a set of 17 global goals established by the United Nations General Assembly in 2015 to be reached by the year 2030. This includes "No Poverty," "Zero Hunger," "Climate Action" and so on.

Since September last year, Hello Kitty has been helping to promote SDGs on her YouTube channel as part of Japan's involvement in the global efforts. The UN recognised this, and had Hello Kitty join them at the headquarters in New York at the SDG Media Zone presentation, which was attended by people around the world, where they announced #HelloGlobalGoals.

Hello Kitty dressed up in the SDG promotional colours and appeared alongside Amina Mohammed, the Deputy Secretary-General of the United Nations, who expressed her wish for more people around the world to come to learn about SDGs, as well as to create a world where everybody can get along harmoniously and with kindness.

At the event, all 17 goals were showcased on a huge art piece featuring Hello Kitty to break the project down and make it easier for people to understand.

Up to now, Hello Kitty has posted videos about what Japan has been doing for the SDGs on her channel, but now she will begin posting about countries around the world at the behest of Amina Mohammed in a new video series as shown above.

Hello Kitty's dress for the #HelloGlobalGoals is rainbow-coloured, representing each of the goals. This is the dress she will wear for her forthcoming SDG promotional activities.

Join Hello Kitty in her mission to spread word about SDGs and the #HelloGlobalGoals project.

©️'76,'19 SANRIO

Information

Hello Kitty YouTube Channel
RELATED ENTRIES
Tokyo Diary Map #1: Actor Ryo Ogata Recommends Relaxing Spots in Tokyo

The new Tokyo Diary Map series aims to introduce readers to awesome spots in Tokyo that they might want to visit! Each entry features locations recommended by a single artist or talent, and fans will get to not only discover new places to visit in Japan's capital, but also get to learn more about the thoughts and feelings of these unique individuals.

The first participant in the Tokyo Diary Map series is Atsushi Ogata, a multi-talented TV personality and actor. Last year, he appeared as a beauty-concious man on Nippon TV's DANCING SANMA PALACE, spurring a major buzz by revealing his cosmetic routine. He's also a notable actor, having appeared in the papercraft theater company's 7th performance Sekai ga Asa wo Shiroutomo (Though the World May Know Morning), telling the story of a man and a woman, a couple of friends, and a certain woman "until morning."

 

  

-Tell us about your favorite spot in Tokyo!

"Daikanyama T SITE TSUTAYA. I feel like I can really relax there. I love being surrounded by my favorite fashion magazines, and no matter what magazine you pick up, they're all so exciting and educational. That's what I like about bookstores–you can pick up something you're not usually interested in and learn something new. It's the best."

Daikanyama T SITE TSUTAYA
16-15 Sarugakucho, Shibuya-ku, Tokyo
https://store.tsite.jp/daikanyama/

– How do you like to spend your time at Daikanyama T SITE TSUTAYA?

"I pick up a new book, find a seat, and take my time reading. I like people-watching and checking out people's fashion too. Also, there's a nice café called ivy place nearby, where I can read while having a relaxing cup of coffee."

Ivy Place

東京都渋谷区猿楽町16-15

https://www.tysons.jp/ivyplace/

 

-You studied fashion design in the United States. How did that experience influence you? How do you want to make use of that experience going forward?

 "Learning about fashion at art school was very inspiring. It was also very interesting to see how people with different ethnic backgrounds dress and to see their individual personalities. For example, I saw high school students wearing backpacks instead of using school bags. I just loved seeing people's unique fashion. It made me realize something that I still believe in to this day–that there's  nothing more beautiful than wearing what you like in your own way. I'd actually like to create my own clothing brand in the future, so I hope to put my high school fashion design studies to good use."

–Which apparel stores do you frequent?

I always peek into Dover Street Ginza!

Dover Street Ginza
Ginza Komatsu West Building (6-9-5 Ginza, Chuo-ku, Tokyo)
https://ginza.doverstreetmarket.com

-What fashion styles are you interested in lately?

"I like a lot of different genres, but lately I've been into chic styling, like pairing shirts and sweaters. I dream of dressing like Thom Browne. I want to try to buy at least one piece from his collection.

-You post a lot of illustrations on your Instagram. Do you usually like to draw? When do you lke to create? 

"I bought an iPad to draw because I really wanted something to do something new during COVID. For me, when I plan time to draw something, it never goes well, so I tend to just draw when inspiration suddenly strikes. I have no particular style, I just draw whatever I want!"

-What inspires you as someone so expressive? What has piqued your interest lately?

"I get inspiration from a wide range of different people. It could be people walking on the street, people on the train…lately, I've been meeting the most inspiring and wonderful people. Listening to their stories is what inspires me the most. Fashion inspires me, humanity inspires me, people's auras inspire me."

 

-Finally, please give a message to those who are planning on coming to Japan!

"Japan is just wonderful. It's the best. The food, the people, the scenery, all of it is incredible. Once you visit, you'll definitely want to come back. Please come and enjoy!" (Laugh)

BAND-MAID to Hold First Performance at KNOTFEST JAPAN 2023 to be Held at Makuhari Messe

The popular female rock band BAND-MAID will perform for the first time at KNOTFEST JAPAN 2023, scheduled for April 1 and April 2 at Makuhari Messe in Chiba.

KNOTFEST was begun by the American heavy metal band Slipknot, and the festival has been held yearly since 2012. BAND-MAID will perform on Day 1 along with headliners Slipknot, Trivium, and MAN WITH A MISSION.

Tickets for the May shows to be held in the United States as part of the BAND-MAID 10TH ANNIVERSARY TOUR are none on sale. The group managed to bring in over 20,000 fans during their solo U.S. tour in 2022. In addition to performing at Pointfest 2023, Welcome to Rockville 2023, and the Sonic Temple Art & Music Festival, BAND-MAID will also perform six solo shows. With some venues selling out instantly last year, you'll want to snag tickets while you can!

Information

KNOTFEST JAPAN 2023

*BAND-MAID to perform on Day 1, April 1
DAY 1 – ROADSHOW

April 1, 2023
DAY 2 – FESTIVAL

April 2, 2023
Venue: Makuhari Messe International Exhibition Halls 9-11
https://knotfestjapan.com
Official Site: https://bandmaid.tokyo

Hisashi Eguchi's Illustration Exhibition "Tokyo Girlfriend" Coming to Tokyo Midtown Hibiya, New Works to be Exhibited for the First Time

From March 14 until April 23, 2023, Tokyo Midtown Hibiya will hold Hisashi Eguchi's Tokyo Girlfriend illustration exhibition, set to show off the artist's unique perspectives on people and cityscapes. The exhibition will feature new illustrations of the titular girlfriend standing in the streets of Hibiya drawn especially for this exhibition, as well as various other girlfriends both large and small.

GING NANG BOYZ Kimi to Boku no Dai 3ji Taisen-teki Renai Kakumei CD Jacket (2005)

A LONG VACATION – Eiichi Ohtaki 40th Tribute Illustration (2021) ©2023 Eguchi Hisashi

Hisashi Eguchi, a manga artist and illustrator, continues to convey the charm of the city and its people by vividly depicting Tokyo and the many unique happenings within. As Tokyo Midtown Hibiya celebrates its 5th anniversary along with many other nearby businesses, the Tokyo Girlfriend exhibition of illustrations by Hisashi Eguchi is being held to celebrate.

The exhibition will feature a new painting of the mysterious girlfriend standing in the streets of Hibiya, newly created for the Tokyo Midtown Hibiya exhibition. A number of original pieces using Pantone overlay, Eguchi's favorite painting medium in the 80s and 90s, will also be on display for the first time.

During the exhibition period, guests can enjoy autograph sessions, live sketches in which Eguchi himself will draw a portrait of selected subject on the spot, and workshops where he will teach tips on how to be a better illustrator.

Don't miss your chance to meet one of the greatest illustrators of the modern era!

©2023 Eguchi Hisashi

FRUITS ZIPPER Valentine Pop-Up Shop to Open at Laforet Harajuku

Laforet Harajuku will host a pop-up shop inspired by the up-and-coming idol group FRUITS ZIPPER from February 1 until February 14! The FRUITS ZIPPER Valentine Pop-Up Shop will be found on the 5th floor MAKE THE STAGE area.

FRUITS ZIPPER debuted in April 2022 and embodies a simple concept: "From Harajuku to the World." The group's second single Watashino Ichiban Kawaiitokoro exploded in popularity on TikTok, pulling in over 600 million views. In February, the girls will embark on their first solo concert tour in Tokyo, Nagoya, and Osaka. This is the first FRUITS ZIPPER-inspired limited-time shop, and during the event, visuals of the group's members will be displayed in the show windows found on the first floor of Laforet Harajuku.

◆About the FRUITS ZIPPER Valentine Pop-Up Shop

When entering the venue, fans will be greeted by a 5-meter-wide board where visitors can write and attach their messages to the FRUITS ZIPPER members on heart-shaped cards. Costumes that the members have worn on stage will also be on display, allowing fans to see each stitch up close.

Exclusive items featuring new photos of the members will be on sale at the pop-up shop. Fans can enjoy seeing the girls in their own personal style, and these items will only be available during the event! Starting February 4, tour merch for the group's upcoming solo concert series will also be available for purchase.

◆Collaboration with Fruit Sandwich Specialty Store 'Fruits Box Daikanyama'

Last year's popular collaboration with Fruit Box Daikanyama, a well-known fruit sandwich shop, is happening again in 2023! Fans can find the Collaboration Gift Box for sale, including seven baked meringue goods each featuring one of the member's colors. The box also comes with snapshots of the members, and for a few lucky fans, these snaps might be signed! The idol group and sandwich shop have also teamed up to create the Collaborative Lucky Grab Bag Lottery, including popular FRUITS ZIPPER goods and original items from Fruits Box Daikanyama. The lucky first-prize winner will receive a special set of all available February tour merchandise in all sizes.

◆Member Appearance Planned on Valentine's Day

On February 14, the final day of the pop-up shop, the members of FRUITS ZIPPER will make an appearance! Guests will be able to participate in the first-ever hands-on event with the members, so keep an eye out for more details!

Stay up to date with the latest FRUITS ZIPPER news at the official Twitter page (@FRUITS_ZIPPER).

FRUITS ZIPPER Pop-Up Shop Exclusive Goods


Random Photo – Valentine pop-up ver. (21 varieties): ¥330 (Tax Included)


Random Pin – Valentine pop-up ver. (7 varieties): ¥500 (Tax Included)


Random Purikura Stickers – Valentine pop-up ver. (14 varieties): ¥600 (Tax Included)

Information

FRUITS ZIPPER Valentine POP-UP SHOP
Running: February 1 – February 14, 2023
Venue: Laforet Harajuku 5F MAKE THE STAGE
*Closed on February 7 and February 8

[Fruits Box Daikanyama Collaboration Goods]
Collaboration Gift Box: ¥3,500 (Tax Included)
Collaborative Lucky Grab Bag Lottery: ¥1,500 per try (Tax Included)

Check out more details about the pop-up below!
https://www.laforet.ne.jp/pop_up_shop/fruitszipper_2301/

Stay up to date:
FRUITS ZIPPER Official Twitter
https://twitter.com/FRUITS_ZIPPER/

<Tour Information>
FRUITS ZIPPER 1st LIVE TOUR 2023 WINTER

Date: February 3, 2023
Venue: ReNY limited
Time: Doors open 17:30 / Show starts 18:30
Contact: Sunday Folk Promotion (052-320-9100) *Open daily 12:00-18:00

Date: February 5, 2023
Venue: Nanba Hatch
Time: Doors open 16:30 / Show starts 17:30
Contact: Kyodo Information (0570-200-888)

FRUITS ZIPPER 1st LIVE TOUR 2023 WINTER 〜FRUITS DAY〜
Date: February 9, 2023
Venue: Shibuya WWW X
Time: Doors open 18:00 / Show starts 19:00
Contact: HOT STUFF PROMOTION (03-5720-9999) *Open weekdays 11:00-19:00

FRUITS ZIPPER 1st LIVE TOUR 2023 WINTER 〜ZIPPER DAY〜
Date: February 10, 2023
Venue: Shibuya WWW X
Time: Doors open 17:30 / Show starts 18:30
Contact: HOT STUFF PROMOTION (03-5720-9999) *Open weekdays 11:00-19:00

FRUITS ZIPPER 1st LIVE TOUR 2023 WINTER -TOUR FINAL –
Date: February 12, 2023
Venue: LINE CUBE SHIBUYA
Time: Doors open 17:00 / Show starts 18:00
Contact: Sunrise Promotion Tokyo (0570-00-3777) *Open weekdays 12:00-15:00

Buy tickets for all shows here: https://l-tike.com/artist/000000000899959/

Macaroni Empitsu 10th Anniversary Exhibition Makes Triumphant Return to Tokyo

Fans of the pop rock band Macaroni Empitsu will want to head to Tokyo from February 17 to March 6, 2023 to enjoy a newly-reworked 10th-anniversary exhibition. Guests are invited to look through various macaroni holes around the exhibition hall to catch glimpses of some curious and rare items only on display for a limited time.

After being held at several locations around Japan, the exhibition will return to Ikebukuro PARCO in Tokyo next month.

Items appearing in the Macaroni Empitsu 10th Anniversary Book -Macaroni Kuronikuru- will be on display, and a short film titled Aspirations will be screened following its premiere in Shibuya.

Graphic designer Shun Sasaki served as the art director for the exhibition.

Fans won't want to miss out on the exhibition's original merchandise featuring key visuals and lyrics from the band. Come get a glimpse at the history and personal lives of Macaroni Empitsu's members while you can!

[Comment from Vocalist Hattori]
"Macaroni Empitsu's exhibition is making a triumphant return to Tokyo! New content has been added this time around, so be sure to come fall into the macaroni hole!"

Information

Macaroni Empitsu 10th Anniversary Exhibition in Tokyo
Running: February 17 – March 6, 2023
Venue: Ikebukuro PARCO 7F / PARCO FACTORY
Hours: 11:00 – 21:00 *Admission permitted up to 30 minutes prior to closing
*Closing at 18:00 on March 6
Admission: ¥500 (Tax Included) *Reservations required. For more information, check parco.art.
*Free for preschool children
Details: https://art.parco.jp/parcomuseum/detail/?id=1147
*Event details are subject to change without notice.
*Hours of operation are subject to change.

<Touring Exhibition Information>
Osaka Venue
Umeda LOFT 4F Event Space
Running: January 13 – February 5, 2023

■Release
wheel of life EP
Release Date: March 8, 2023
wheel of life EP Special Site: https://macaroniempitsu-wheeloflife.com/

■LIVE
TALTO Night 2023
March 3, 2023 / Zepp Haneda
Performers: SAKANAMON / Macaroni Empitsu / Yayuyo / WON
*Opening act planned

Official Site: http://macaroniempitsu.com/

Atarashii Gakko! to Perform Solo at Zepp Venues in Tokyo and Osaka in Spring 2023

Atarashii Gakko! will hold solo concerts at Zepp venues in Tokyo and Osaka in April and May of 2023.

These performances will be held almost a year after the girls held their solo concert at Zepp DiverCity in Tokyo last May. This year's events will be held at Zepp Osaka Bayside on April 30 and Zepp Shinjuku in Tokyo on May 2.

ATARASHII GAKKO! – HANAKO (Official Music Video)


ATARASHII GAKKO! – Pineapple Kryptonite (Official Music Video)


Information

Atarashii Gakko! at Tokyo & Osaka Zepp
-We're working on some amazing new songs and we're dying for everyone to see our newest evolution (Tentative title)-
April 30, 2023 – Zepp Osaka Bayside
May 2, 2023 – Zepp Shinjuku (Tokyo)
Fan's Presale Tickets (Starting January 1)
https://www.fansnet.jp/leaders

Tokyo Bay Night Cruise Collaborates with Hatsune Miku for Four Days Only Starting February 2023

For four days only starting in February 2023, fans of Hatsune Miku will want to take an incredible night cruise around Tokyo Bay. The virtual singer will collaborate with the popular Tokyo Bay Night Cruise which travels between Yokohama and Tokyo. The event will include special tickets, exclusive bonuses for guests, collaborative goods, and onboard decorations. Collaborative goods will be available to purchase on the ship or from the Shimapochi online store.

Outline

Dates: February 19, February 26, March 5, March 12

Night Cruise Itinerary:

Osanbashi, Yokohama / Check-in 16:00-18:00

Osanbashi, Yokohama / Departure 18:10, Enjoy the night view from the ship

Takeshiba Wharf, Tokyo / Arrival 19:45

*Guests will be led by a special MC narrating the night scenery. Snacks and drinks will be available for purchase.

Special Ticket Fare:

Adults ¥2,000 / Children ¥1,500 (Includes consumption tax and fuel price adjusted for inflation)

[Includes Hatsune Miku Collaboration Sticker and Postcard (6 varieties, random)]

Special tickets featuring Hatsune Miku will only be available to those reserving their spot online. Reservations can be made two months prior to the boarding date. Space is extremely limited, so grab a spot while you can!

Those not interested in bonuses can also enjoy a night cruise during this period, with adult tickets costing ¥1,000 and children's tickets costing ¥500. More details will be released at a later date.

Short Film Featuring Star Wars Character Grogu and Studio Ghibli's Dust Bunnies Released on Disney+

Over the past few decades, Star Wars has become one of the most beloved properties with fans around the world.

 

Grogu, known by many fans as Baby Yoda, first appeared in The Mandalorian, a series on Disney+ currently celebrating its third anniversary. 

 

With his mysterious background and incredible use of the Force, the tiny and adorable character became a hit with fans around the world, quickly making him one of the most popular characters in the recent Star Wars series.

 

World-renowned Japanese animation studio Studio Ghibli recently produced a short animation starring Grogu and Makkuro Kurosuke, also known as the Wandering Soot or, in the title for the short, Dust Bunnies. The characters first appeared in the film My Neighbor Totoro.

 

Studio Ghibli director Hayao Miyazaki and producer Toshio Suzuki have long been friends with Lucasfilm president Kathleen Kennedy, who readily agreed to produce the short as a symbol of their longstanding friendship. The short was directed by Katsuya Kondo.

Will you give this a watch on Disney+?


(C)2022 & TM Lucasfilm Ltd.(C)2022 Studio Ghibli.

Information

Zen – Grogu and Dust Bunnies

Streaming: November 12, 2022

Available on Disney+

Shibuya Hikarie's Disney HARVEST MARKET by CAFE COMPANY Store to Sell Christmas Menu Items and Merch

From November 9 until December 25, the Disney HARVEST MARKET by CAFE COMPANY Shibuya Hikarie location will be offering a special Christmas menu and exclusive holiday merchandise. 

The location's popular Afternoon Tea Party set will see a Christmas makeover, and a limited number of original Christmas cards will only be handed out to those who order one. Other menu items include a Stew Plate with Meatballs and Vegetables, Minnie's Berry and Cocoa Mousse, and plenty more tasty treats to get visitors into the holiday spirit. 

Menu

HAPPY CHRISTMAS! Afternoon Tea Set (Christmas Exclusive)

Original Christmas Cards (Limited quantity, not for sale)

​Meatball and Vegetable Stew Plate

Berry & Cocoa Miss Sweet Mousse ~Minnie Style~ 

Berry Dot Cioccolata

Holiday Fruit & Spice Tea

Exclusive Goods

Almond Chocolate

A 2.7-meter-high pure white statue of Mickey Mouse will welcome guests to the location, which will be filled with Christmas decorations. Come enjoy a fun Christmas season


 

Information

Disney HARVEST MARKET By CAFE COMPANY

Special Christmas Menu

Available: November 9 – December 25, 2022

Address: Shibuya Hikarie 7F (2-21-1 Shibuya, Shibuya-ku)
Hours: 

11:00-20:00 (Last food and drink orders at 19:00

Weekends & Holidays: 11:00-21:00 (Last food and drink orders at 20:00)

Online Shop: https://d-harvestmarket-shop.com/

Official Site:https://d-harvestmarket.com

The World of Peanuts to Take Over Grandberry Park this Winter

The limited-time Christmas event 'SNOOPY Merry Colorful Christmas' will be held at the Grandberry Park shopping mall from November 12 until December 25, 2022. The complex is directly connected to Manami-Machida Grandberry Park Station on the Den-en-toshi Line. 

This year's event is the most colorful one yet, focusing on diversity and individuality. Fans of Snoopy and friends are in for a treat, as the area around Grandberry Park will be illuminated in beautiful colors and decorated with unique Christmas decorations that will excite the whole family. 

Colorful Sculpture

Colorful Illuminations

Snoopy Ice Rink

Snoopy Happiness Float 2022

During the event period, a giant 8-meter-tall Christmas tree decorated with Peanuts-inspired ornaments will be set up for guests to enjoy. A huge and very colorful sculpture measuring 6 meters across and over 2 meters tall will also welcome visitors to this Christmas wonderland. In addition, colorful lights will be scattered around the entirety of Grandberry Park, and a special Christmas menu filled with cakes and hors d'oeuvres is sure to delight.

On December 10, the Snoopy Ice Rink will open at Oasis Plaza, and the Snoopy Happiness Float 2022, a giant Snoopy that has traveled across Japan, will return for another year of fun.

Come have a fun time this holiday season with Snoopy and friends! A series of events will be held over the next year to market the Colors of Peanuts marketing campaign throughout the country, so keep an eye out for more news!

*Sample images only.

Tokyo Prince Hotel to Offer Adorable Retro Sundaes for a Limited Time

Tokyo Prince Hotel has announced a collaboration with Aderia Retro, known for its classic glassware. A collection of tasty treats will be available at the hotel's Pikake Tea Salon from October 16, 2022 until March 31, 2023. 

 

The Aderia Retro brand has created a splash with its nostalgic yet new style, offering glassware with a classic Showa-era feel. This marks the second collaboration with the brand, and guests can enjoy the event at the Pikake Tea Salon, in business since 1964. Visitors can enjoy a traditional sundae, each served with an original coaster designed by Aderia Retro. 13 unique cushions were also designed for the collaboration, meant to make guests feel extra cozy.

 

Menu

Cream Soda

 

Showa Retro Pudding

 

Spaghetti Napolitan

 

Omurice

 The Tokyo Prince Retro Sundae is served in Aderia Retro glassware and decorated with chocolate. You won't want to miss snapping a pic for the socials.

 

The chocolate-coated flakes are topped with chocolate ice cream and a generous dollop of fresh cream. Finished with bananas and Napoleon cherries, this decadent dessert is sure to make any day wonderful. 

Come enjoy some old-fashioned fun in this cozy hotel lounge that's been a guest favorite since the Showa era. 

Information

Tokyo Prince Hotel Retro – Tea Salon Pikake x Aderia Retro

Available: October 16, 2022 – March 31, 2023

Details/Reservations: https://www.princehotels.co.jp/

Maison de FLEUR Introduces Baymax Goods to Ongoing Disney Collection

Popular Japanese accessories brand Maison de FLEUR has started selling new goods as part of the Disney Collection. This time, Baymax from Big Hero 6 takes center stage, and items are available now at Maison de FLEUR locations nationwide and online.

The company chose Manami Enosawa to model the collection–a fitting choice, as Baymax is her favorite Disney character. Enosawa will also act as the director of the apparel brand ARUMDY starting this fall.




The Baymax collection features a total of eight items perfect for everyday use. Fans can find everything from slippers featuring the robot's face to bags, charms, and pouches perfect for bringing to school or carrying around town. 


Come enjoy Maison de FLEUR's newest goods featuring Baymax, one of the most popular Disney characters in recent memory.

Information

BAYMAX from the Disney Collection /  Manami Enosawa x Maison de FLEUR

Release Date: October 8, 2022 *Available online on October 7 at 20:00
Where to Buy: Maison de FLEUR locations nationwide *Excluding Ikspiari store and outlets,
STRIPE CLUB online store (https://stcl.page.link/LQ19), ZOZOTOWN
Official Site: http://www.stripe-intl.com/