ROPPONGI HILLS HAPPY HALLOWEEN 2019: Monster Desserts, Horror Film Parade & More
Roppongi Hills has announced this year's Halloween festival. Titled "ROPPONGI HILLS HAPPY HALLOWEEN 2019," it will take place from October 1 to 31, packed full of spooky fun from a Halloween costume parade to a ghoulish gourmet menu line-up, featuring an always-unique array of food and drink.
Halloween Cupcakes – ¥638 Each @ LOLA'S Cupcakes Tokyo (Available from October 5)
LOLA'S Cupcakes has baked up an assortment of cute monster motif cupcakes, with flavours including pumpkin, purple sweet potato and more. Whichever one you pick, it's sure to give you a smile and delight your taste buds.
Halloween Mixed Berry Cake – ¥530 @ Roasted coffee laboratory
Creepy eyeballs adorn this cake, which is topped with blackberries and blueberries while drizzled in bloody blackcurrant jam. The cake is layered with sponge, fresh cream and a sweet and sour strawberry jelly.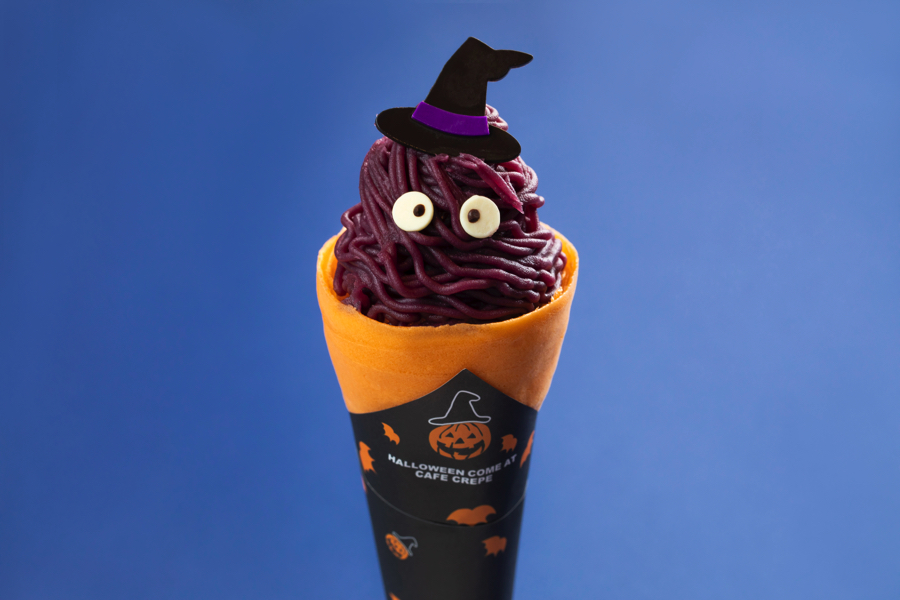 Happy Monster – ¥980 @ Cafe Crepe
Delight in this cute pumpkin and fresh cream crepe, filled with pumpkin ice cream and snug in an orange crepe wrap. Housed inside is an adorable purple sweet potato mont blanc monster wearing a witch's hat.
A movie-themed parade will take place on Saturday October 26 at the event in line with the 2019 Tokyo International Film Festival. Children and adults can take part in the parade if they dress up. The 1km parade will last 25 minutes.
Gift bags will be given to all kids who get involved!
▼Halloween Parade
Date: October 26, 2019
Time: 10:30-13:30 (subject to change)
Location: Roppongi Hills Arena
Participation Conditions: Anybody who dressed up can join (the theme is "Movies")
Participation: Free
Enquiries: 03-6406-6000 (Roppongi Hills Information)
Halloween will hit Roppongi Hills for the entire month of October. Be sure to visit if you're in Japan next month!
RECOMMENDED ENTRIES
Dare To Treat Yourself to One of These 5 Halloween Dishes

One of Japan's most favourite celebrations of the year is Halloween. As autumn is setting in, you will notice halloween decorations gradually drift into shop windows and more importantly, Halloween-themed desserts and meals taking over restaurant menus. To prepare for this delicious apocalypse, we are now unveiling this year's top Halloween meals and desserts you really need to look out for. 

Krispy Kreme Halloween Doughnuts

Krispy Kreme branches across Japan will be releasing their pumpkin, chestnut and apple flavoured selection called MONSTER HARVEST in Monster DINER from September 11 to October 31.

*Some branches may not sell the Halloween collection. 

Halloween Dozen (Box of 12) Available: September 11 ー October 31, 2019 Price: ¥2,000 (before tax)

If you're having a Halloween party with friends and family then this box of a dozen doughnuts is the perfect treat. It contains autumn-limited flavours such as pumpkin, apple chestnut as well as some of KKDJ's classic doughnuts. Here's a nice trick to save money on your treats: You save ¥440 if you purchase this box over individually purchasing the same doughnuts. Add a splash of autumn colour to your Halloween with this beautiful box of delicious doughnuts. 

▼Krispy Kreme Doughnuts Japan Website: https://krispykreme.jp/

Halloween Menu at The Pokémon Cafe, Nihonbashi 

The Pokémon Cafe in Nihonbashi, Tokyo has revealed its Halloween food and drink line-up for the spooky season which will arrive early on September 7 be served until October 31.

Pikachu's Greedy Halloween Plate 2019 – ¥1,706 (w/ Plate ¥2,894)

This year's Halloween plate features Pikachu wearing a witch's hat. This filling plate features a pumpkin salad, spaghetti and more. Plenty to keep you going until the late-night candy snacking!

When ordering a drink at the cafe you'll receive one of six possible original design coasters. New designs will replace these from September 7. One of the six designs is being kept a secret!

 For the duration of the Halloween event, there's also a limited-edition lunch mat and clear coaster to get your hands on. These are limited in stock so you'll want to catch 'em all quickly! And don't forget, you have to book a table in advance to dine at the Pokémon Cafe.

© 2019 Pokémon.©1995-2019 Nintendo/Creatures Inc./GAME FREAK inc.

 Pokémon, ポケットモンスター and ポケモン are registered trademarks of Nintendo, Creatures Inc. and GAME FREAK inc.

▼ Pokémon Cafe
Address: 2-1-2 Nihombashi | Nihombashi Takashimaya SC East Bldg. 5F, Chuo 103-0027, Tokyo Prefecture
Business Hours: 10:30-22:00

Closed during Nihombashi Takashimaya SC East Bldg's closed hours.

Reservations: https://reserve.pokemon-cafe.jp/

Official Website: https://www.pokemoncenter-online.com/cafe/

Cute Halloween Desserts at The Capitol Hotel Tokyu in Tokyo

The Capitol Hotel Tokyu in Tokyo has revealed that  that it will serve up its Halloween Sweets Selection again this year at the hotel's pastry boutique ORIGAMI located on floor B2F. The confectionery chefs have spun some spooky fun into this collection of 10 cute treats.

 Frankenstein – ¥1,760 / Phantom – ¥1,760 / Cyclops – ¥1,760

The Phantom is a popular confection every year at the hotel, but this year he's had two new freaky friends carved out for him: Frankenstein's monster and a Cyclops. These white chocolate monsters are filled with chocolate-covered almonds, macadamia nuts and other hidden delights.

▼Halloween Sweets Selection

Running: October 1, 2019 – October 31, 2019

Location: ORIGAMI, The Capitol Hotel Tokyu Floor B2F

Full Sweets Line-Up: https://www.tokyuhotels.co.jp/capitol-h/restaurant/boutique/plan/50306/index.html

The Capitol Hotel Tokyu

Address: 2-10-3 Nagatacho, Chiyoda Ward, Tokyo

Official Website: https://www.tokyuhotelsjapan.com/global/capitol-h/

Cool, Cute and Cutting Edge Halloween Treats: Alice Halloween Party Buffet 2019 

Fantasy-themed restaurant Alice in an Old Castle has unveiled a new Halloween edition of their grand all-you-can-eat buffet. The Alice Halloween Party Buffet 2019 will take place from September 7 to October 31, 2019, serving up 30 varieties of desserts and light bites for their Halloween-limited event. 

This season, they are serving a mummy-themed croque madame and carrot cake with a vibrant orange Halloween colour. They will also be bringing out their Alice in Wonderland Pink Spicy Curry which is a filling curry which has become the popular number one. The Pumpkin Potage Soup and many other autumn-themed dishes will also become part of the lineup. There is surely no better way to enjoy your time than to indulge in these splendid desserts and delicious snacks. 

▼ Alice in an Old Castle

Address: Floor B1 Suzuwa Building, 2-16-8, Minami Ikebukuro Toshima, Tokyo

Regular Opening Hours: Mon-Fri, 17:00-23:30(L.O.22:30)

Weekends/national holidays  16:00-23:30(L.O.22:30)

No regular holidays (dependent on Suzuwa Building closing times)

Website: https://www.hotpepper.jp/strJ000999805/

Omotesando Q-pot CAFE. Cute Halloween Menu 

Q-pot. is known for its accessory brand, which features jewellery made to look like sweets and desserts. It is also known for the Q-pot CAFE. which flips that concept, instead making sweets and desserts that look just like real accessories. For Halloween this year, the Q-pot CAFE. has whipped up a spooky menu with the theme "DEVIL NIGHT" featuring appearances of all things Halloween from pumpkins to ghosts.

Vampire Afternoon Tea Set – ¥2,400 each (price after tax, a minimum of two people required)

*Contains milk, eggs and wheat

Take a look at this spooky afternoon tea set perfect for adults! From devils to monsters, Q-pot CAFE. has recruited a number of freaky friends for their themed dishes to terrorize your tastebuds.

The top plate comes with sponge and cream cheesecake pops coated in chocolate and salty breadsticks. The set also comes with homemade scones made from butter cream and sweet and tangy berry sauce, devil heart macaron-topped cupcakes, and pumpkin macarons which are bound to set your Halloween levels to max!

The bottom plate features savoury foods. The croissants are filled with egg, aromatic basil and dried tomatoes which provide an interesting texture.  The set also includes skewers of olives, mini tomatoes and pickles, and a Halloween Pumpkin soup.

If you are experiencing Halloween in Japan, you just have to try the themed desserts and meals!

Tokyo DisneySea's Dark Halloween Festivities For 2019 Begin

Disney Halloween 2019 has finally begun! The Tokyo DisneySea fun is set to run until October 31 where it will provide guests with a dark and mysterious Halloween experience that will keep you on edge… like something's about to happen, but you're not sure what.

Tokyo DisneySea's decor takes on a more grown-up bewitching look compared to Tokyo Disneyland's cute decorations.

Hung throughout the park you will find decorative banners featuring illustrations of Disney characters dressed in their spooky garments. This year, Mickey, Minnie and the rest of the cast invite guests into a truly bewitching wonderland.


If you pop over to American Waterfront you'll find some great photo opportunities, like the Minnie Mouse and Daisy Duck statues waiting to welcome you at the entrance, clad in hauntingly beautiful attire and stood next to night-black pumpkins and dried flowers.


You'll find the rest of the costumed characters further in too. Be sure to get photos with everyone!

Chicken & Vegetable Steamed Bun – ¥600 @ Nautilus Galley / Teriyaki Chicken Rubber Ring Steamed Bun – ¥600 @ Seaside Snacks

Nothing has been left out from the Halloween spell this year, even the food menu and drinks which arrive in festive colours like black and purple like this bandage-wrapped mummy steamed bun and rubber ring steamed bun.

Inside the mummy is a delicious concoction of chicken, cabbage, and other veg.

The rubber ring steamed bun is the perfect snack to munch on as you walk around the park. It's filled with rich teriyaki chicken wrapped in a striking purple dough.

All of the food is packaged in cute packaging too―don't throw it away straight away and check out which illustration you got!

Assorted Sweets – ¥430 @ Gondolier Snacks and elsewhere

Check out these bite-sized confections, from a mini baumkuchen cake on a lollipop stick to strawberry cheesecake and purple sweet potato cream mochi. The chewy mochi Mickey can only be described as kawaii♡

Grape Tapioca Tea – ¥500 @ Mamma Biscotti's Bakery

Sparkling Black Tea Tapioca Drink – ¥450 @ Hudson River Harvest

Tokyo Disneyland's tapioca drinks are really popular in summer, and for Halloween they've arrived with all-new flavours, exclusive to the Disney Halloween event.

There's lots to see and experience at this year's Disney Halloween. Be sure to look everywhere, even in shop windows. And if you're eager to see more of the food and drinks available at both parks then click here.

Kaori's Easy Recipe: Learn to Make Pumpkin and Cream Cheese Pound Cake For Halloween

With just a small bit of ingenuity, turn everyday food into something cute using Kaori's easy recipe! With a few simple ideas, an ordinary recipe magically transforms into a cute dish.

In this recipe, I will show you how to make the perfect treat for Halloween: a pumpkin and cream cheese pound cake, finished with cute bats and a ghost. This is a super easy recipe that can be made by simply putting everything into a blender and baking it in the oven. By the end of you you will have yourself a Halloween-themed rich pound cake as soft as Japanese pudding.

1: Ingredients (Makes one 22cm pound cake)

150g cream cheese

250g cooked pumpkin (skin and seeds removed)

50g-60g sugar

1 egg

150ml fresh cream

20g soft wheat flour

2: Blend all of the ingredients together in a blender

3: Once the mix takes on a smooth texture, pour into a cake tin and bake at 180℃ for 40 minutes. Once cooked, remove from the oven and leave to cool, then leave in the fridge overnight.

4: Once the cake has set, slice a piece and add your dollop of fresh cream for your ghost and decorate.

To see how I did the toppings, check the video I made above. Once your cute toppings are done, your cake is ready to enjoy!

Kaori invites you into her world of character-themed food dishes in her recipe series. Be sure to check out her Instagram where she has uploaded many pictures of her character dishes!

Profile

Kaori Kubota (@kaopan27)
I live in Hokkaido and I love to make character themed foods, desserts and pastries♡

I want to see my family smile, so I enjoy putting in a bit of effort to make character foods and changing food into something cute♡

You can see more of my character foods and character bento boxes on my Instagram page→@kaopan27
RELATED ENTRIES
Raise Your Own Sky Lantern at New Greenpia Tsunan in Niigata

New Greenpia Tsunan, a resort facility in Tsunan, Niigata, is holding an exciting sky lantern event every day until March 31, 2020.

 

The sky lantern event is held every winter at New Greenpia Tsunan, and has returned again for 2020. It began in 2012 as a means of showing respect for and praying for the revival of disaster-stricken areas, such as the areas affected by the 2011 Tohoku earthquake, the Nagano and Niigata earthquake, and so on. Every year, couples and families come together to put their prayers and wishes into the lanterns before letting them go into the night sky. The countless lanterns raised at once soar up high and light up the black cloak of the night like burning stars.

For 2020, the event will also sell lantern t-shirts, handkerchiefs, hand towels, cookies, and other themed items.

 

If you're travelling in or around Niigata in Japan this year, then don't miss New Greenpia Tsunan's very special winter event.

Information

Sky Lantern Event

Running: Everyday until March 31, 2020 (Except select days where the site is closed or booked)

Location: New Greenpia Tsunan (12300 Akinari, Tsunan, Nakauonuma-gun, Niigata)

Time: Weekdays – From 18:00 / Saturdays & Days Before Public Holiday – From 18:00 & 20:00 / March Onward – From 18:30

Booking: Bookings available until 17:00 on the day at New Greenpia Tsunan

Price: ¥1,500 (1 lantern)

Official Website: https://new-greenpia.com/

*In the case of stormy weather, the event will not proceed on that day

Grab Tokyo Souvenirs at Roppongi Hills' New Food & Gift Area

The new "Food & Gift Area" at Roppongi Hills is set to open in the North Tower on Floor B1F on April 10 where you can get your hands on a huge range of exclusive gifts and souvenirs, as well as quick and delicious food. It will house a total of 19 stores; that's 12 shops selling Japanese confections and other picks perfect as gifts to yourself or someone else, and 7 eateries offering takeout and eat-in options.

In the gift area, 12 storesーa mix of new establishments as well as well-known businesses setting up shop in Tokyo for the first timeーwill open their doors, such as the New Style Ginza Sembikiya cafe, Kashi no Kirokujo which sells exquisite cakes that are hard to get your hands on, and more. And there's a whole range of Roppongi Hills exclusives too, like artistic yokan sweet bean jelly inspired by Tokyo's streets, castella with the Roppongi Hills logo on it, senbei rice crackers, assorted sliced mochiーthe list goes on.

Gift Area – Roppongi Hill Exclusives

Tokyo Enbo – ¥4,320 (Tax Included) @ Wagashi Yui

Recreated are the landmarks of Tokyo in the morning sun, with the beautiful silhouettes of the city's skyrise buildings formed into sweet bean jelly. Try and find Roppongi Hills in this picturesque perfection.

Ukeian Castella Wasanbon – ¥2,160 (Tax Included) @ Ukeian

This castella cake is made rich and moist thanks to the eggs laid by specially-bred chickens. It's made with wasanbon fine-grained Japanese sugar,  which gives it a tantalizing smell. The logo stands out too, giving it a beautiful appearance in addition to the delicious flavour.

Roppongi Hills Sanmaido (5 Included) – ¥702 (Tax Included) @ Ginza Matsuzaki Senbei

The senbei rice crackers have a gentle flavour, handcrafted one by one by the shop's master chefsーincluding the Roppongi Hills logo design of these tile-shaped rice crackersーby adding eggs and sugar to wheat flour.

Kinanomiya Sando (Exclusive Packaging/3 Included) – ¥540 (Tax Included) @ KISSHOKARYO

KISSHOKARYO Japan Premium "Miyabi" – ¥1,870 (Tax Included) @ KISSHOKARYO

Munch down on these delicious chocolate cookies made with high quality soy flour, almonds, and oat milk.

They're also serving a special Japanese parfait for eating-in, made with specially-selected Uji matcha from Kyoto and homemade soy flour.

Sankaku Box Sando – ¥1,080 (Tax Included) @ New Style Ginza Sembikiya

Roppongi Hills Exclusive Melon Parfait – ¥2,700 (Tax Included) @ New Style Ginza Sembikiya

Added to the thick and fluffy bread is fresh fruit and subtly sweet cream to make a refreshing sandwich. The chocolate sandwich in the left of the picture is exclusive to Roppongi Hills.

The must-try is the melon parfait, which is made with melons grown in Shizuoka that have been specially selected by the shop.

Cake Shop Miracle Collaboration Set – ¥3,456 (Tax Included) @ Kashi no Kirokujo

This set is an assortment made by four long-standing cake makers: Akasaka Kakiyama, Obusedo, Ganyudo, and Nanohana.

Roppongi Lingotto – ¥3,240 (Tax Included) @ Bicerin

Caffe mocha al Bicerin – ¥660 (Tax Included) @ Bicerin

Served in a limited-edition Roppongi Hills box, the "Roppongi Lingotto" bears the shopping complex's logo, and is a popular gift that was even served to members of the Japanese government at the G7 Ise-Shima and G20 Osaka summits.

When dining in, you can order a rich bicerin which is a mix of espresso, milk, and chocolate sauce topped with whipped cream that's shaped to look like a hill.

Raw Pound Cake Assortment – ¥1,700 (Tax Included) @ Pavlov

Choose from seven adorable small-size cakes, including cream vanille, pistachio fruits rouges, chocolate orange, very berry, Kyoto matcha, caramel nuts, and mont blanc.

Roppongi Exclusive GIFT – ¥918 (Tax Included) @ Jiichiro

Wrapped in special Roppongi Hills packaging, this box contains an assortment of Jiichiro treats from their popular baumkuchen to rusk, gateau chocolat, and more.

In the Food Area, seven restaurants will open serving quick, authentic food. A number of popular restaurants are also making an appearance, like Kyu Yamutei which is famous for its Osaka spice curry, as well as THAI STREET FOOD by KRUNG SIAM. The menu line-ups will include dishes exclusive to Roppongi Hills.

Food Area – Roppongi Hill Exclusives

Curry-Gear MAX – ¥1,650 (Tax Included) @ Kyu Yamutei

This curry combines unique ingredients and spices. The ingredients and roux are switched up every month, and you can pick from one to four rouxs.

Khao Soi No-Broth Mazemen Noodle Curry – ¥1,200 (Tax Included) @ THAI STREET FOOD by KRUNG SIAM

This mazemen noodle curry is a spin on the hugely popular khao soi Chiang Mai ramen, made without any broth. It has the full-bodied aroma and spiciness that comes with Thai-style curry. Change up the flavour with a topping of homemade pepper.

Fisherman's Seafood Spaghetti alla Pescatora – ¥1,848 (Tax Included) @ Pasta & Pizza Uota

Piled with plenty of seafood, this luxurious and specially-made tomato pasta wastes no flavour of the fish used for its rich sauce.

Brioche Vendée N – ¥864 (Tax Included) @ Boulangerie Bonheur

A traditional brioche from Vendée in France. It's combined with orange flower water and contains raisins soaked in Kirsch. The center is moist and just melts in your mouth.

Seafood & Eel Dashi Chazuke – ¥1,320 (Tax Included) @ Dashi Chazuke En

Another exclusive to Roppongi Hills is this chazuke, filled with all the flavours and sea like tuna, porgy, eel, and more. Try it as it is first and then pour over the broth.

Spring Vegetables & Fried Fish Lunch Box – ¥900 (Tax Included) @ Dexee Deli

A set of seasonal vegetables like edible chrysanthemums, asparagus, and cabbage, combined with fried fish, rice, and bamboo shoots.

Find a whole world of food, desserts and gifts at Roppongi Hills' new Food & Gift Area.

Information

Roppongi Hills Food & Gift Area

Address: 6-10-1 Roppongi, Minato Ward, Tokyo

Grand Opening: April 10, 2020

Official Website: https://www.roppongihills.com/

Sanrio Character Museum to Open in Tokyo's Roppongi Hills For 60th Anniversary

Sanrio is set to turn 60-years-old in August 2020. To commemorate, the company has announced that it will open a museum called "Sanrio Character Museum" in summer 2020 where it will tour around Japan until 2025. The full dates and locations have yet to be announced, but its first stop will be the Tokyo City View Sky Gallery located on the 52nd floor of Roppongi Hills Mori Tower in Tokyo. Details for this first stop will be revealed sometime next month.

ⓒ '74, '75, '76, '77, '79, '80, '82, '83, '84, '85, '86, '88, '89, '90, '92, '93, '96, '98, '99, '01, '04, '05, '20 SANRIO CO., LTD.

Since its establishment, Sanrio has sought to spread kawaii culture to the world, as well as the message of everybody getting along and being friends. But how have gotten to this point with each passing generation? The museum exhibition will answer that very question, exploring its line-up of over 450 characters Sanrio has created over the years, including the most prominent ones like Hello Kitty, My Melody and Little Twin Stars who have been around for more than 40 years. It will also showcase characters that will be nostalgic to longtime Sanrio fans.

The exhibition will peruse the history of Sanrio from before it created its characters, and delve into the origin of the company's kawaii world. Fans can expect to see valuable prints, products, materials, and more. The exhibition will also include works made in collaboration with some of Japan's up-and-coming and prominent artists. Expect plenty of kawaii, and plenty of what is sure to be invaluable information for Sanrio fans.

Information

60th Anniversary Sanrio Character Museum

Start Date: Summer 2020

*Details TBA at the time of posting this article

5 Must-Visit Beautiful and Romantic Lantern Festivals in Japan | 2020 Edition

The season for Japan's enchanting and romantic lantern events has finally arrived, and the line-up this year is diverse, from events where lanterns are the main attraction to lantern-lined festivals and Japanese matsuri festivals.

Hankyu Travel International compiled a list of these events , and we've pulled out some of the best ones for you.

Hanamaki Hoshi Meguri no Yoru | Iwate Prefecture

This year marks the third run of "Hanamaki Hoshi Meguri no Yoru," an event held during winter for guests staying at Hanamaki Onsen. The event is comprised of many elements, including fireworks, folk entertainment, and more. People will also write wishes and messages or draw pictures on their lanterns before sending them up into the winter night sky. Afterwards, they can enjoy a dip in the hot springs at Hanamaki Onsen to warm themselves up and unwind from the day.

Running: January 26, 2020/February 22, 2020/February 11, 2020/February 16, 2020/February 24, 2020

Location: Namari Ski Center
Address: Nakadaira-36-1 Namari, Hanamaki, Iwate

▼Hanamaki Hoshi Meguri no Yoru Tour
https://www.hankyu-travel.com/kokunai/keyword/%E3%81%AF%E3%81%AA%E3%81%BE%E3%81%8D%E6%98%9F%E3%82%81%E3%81%90%E3%82%8A%E3%81%AE%E5%A4%9C/?p_baitai=9599

China Lantern Festival | Chiba Prefecture

Tokyo German Village is hosting its second China Lantern Festival, inspired by the typical traditional festivals held in China during spring. A selection of 30 lantern installations of varying sizes made by the world's biggest lantern maker Lantern Group have been set up in the 50,000 square meter area. Pieces include lanterns over 10 meters long and high, lanterns floating on the water, moving lanterns, and more.

Running: November 23, 2019 – April 5, 2020

Location: Tokyo German Village

Address: 419 Nagayoshi, Sodegaura, Chiba

▼Tokyo German Village Tour
https://www.hankyu-travel.com/kokunai/keyword/%E6%9D%B1%E4%BA%AC%E3%83%89%E3%82%A4%E3%83%84%E6%9D%91/?p_baitai=9599

Tsunan Yuki Matsuri | Niigata Prefecture

Since 2012, the people of Tsunan in Niigata have raised sky lanterns into the sky to pray for the revival from the disaster that the Tohoku earthquake brought in 2011. It is a two-day festival, with the first day of the event taking place at night, and the second being the main day of the festival. The festival is so popular that tickets never fail to sell out quickly every year. It brings with it a host of events, from the lanterns to the snowboard straight jumping tournament, the hanging of snow lanterns, snowmobile rides, and more.

Running: March 14, 2020 (There will also be a lantern event the night before on March 13, 2020)

Location: New Greenpia Tsunan

Address: 12300 Akinari, Tsunan, Nakauonuma-gun, Niigata

▼Niigata Tsunan Sky Lantern Festival Tour
https://www.hankyu-travel.com/chubu-hokuriku/niigata/lantern/?p_baitai=9599

Nagasaki Lantern Festival | Nagasaki Prefecture

This festival was originally held during the Chinese New year by the people of Nagasaki Chinatown, but in 1994 it was given the name "Nagasaki Lantern Festival." To date, it has been attended by over 1 million people. This year, around 15,000 lanterns of varying sizes are set to light the streets. Taking place across several areas, some standout pieces include the peach-coloured lanterns at Nagasaki Chinatown, the ceiling lanterns at Hamanomachi Arcade, the water lanterns at Nagashimagawa Park, and more. On weekends, there are also parades, traditional Chinese performance, and other exciting events. And if you head to Nagasaki Confucian Shrine (also known as Koshi-byo), you can offer a love lantern to pray for happiness in your relationship.

Running: January 24, 2020 – February 9, 2020
Locations: Nagasaki Chinatown/Central Park/Tojin Yashiki/and elsewhere
Address: Various places throughout the city of Nagasaki

▼Nagasaki Lantern Festival

Hankyu Travel International Tour: Hankyu Travel International

Nagasaki Tourism Page: https://travel.at-nagasaki.jp/en/what-to-see/62/

Ryukyu Lantern Festival 2019-2020 | Okinawa Prefecture

Murasaki Mura Ryukyu Kingdom Theme Park is known for having originally been used as the set for several historical drama series, and was subsequently turned into a theme park after filming was finished. The Ryukyu Lantern Festival welcomes a variety of different lanterns, including Chinese lanterns, paper lanterns, various Asian lanterns, and more, each of which bring a completely different atmosphere depending on the area you are in. This year sees the welcome return of the annual lantern contest where 45 individual lantern pieces are exhibited. There are also different street performances every day on the Night Lantern Stage, as well as projection mapping displays, the Night Lantern Cafe, and more.

Running: December 1, 2019 – March 31, 2020

Location: Murasaki Mura Ryukyu Kingdom Theme Park

Address: 1020-1 Takashiho, Yomitan, Nakagami-gun, Okinawa

Murasaki Mura Official Website: https://murasakimura.com/

Be part of one of Japan's many beautiful lantern festivals this year and witness some seriously breathtaking night scenes.

Celebrate Tokyo Midtown's Cherry Blossoms at MIDTOWN BLOSSOM 2020 Event

MIDTOWN BLOSSOM 2020 is set to take place in Tokyo Midtown from March 20 to April 19 to celebrate and welcome the spring and the cherry blossoms.

This marks the 13th year of the event, which will take place both in Tokyo Midtown's garden area which is home to rows of gorgeous cherry trees, as well as around the building where they have sparkling wine, sweets, flower displays, and many other exciting things planned.

CHANDON Blossom Lounge

Enjoy a luxurious cherry blossom experience this year with a glass of premium Chandon sparkling wine available at the outdoor limited-time CHANDON Blossom Lounge. This vibrant sparkling rosé wine is the perfect accompaniment to your springtime banquet and to say "Cheers!" to this year's hanami flower-viewing in Japan.

There will also be food prepared by Nagase Mitsunao, head banquet chef at the 5-star Ritz-Carlton Tokyo Hotel, as well as incredibly decorative-looking sweets to adorn the able. There are two new types of seats available this year with Japanese twists to them, including seats in the roofed lounge where you can enjoy the cool spring weather in the evening.

Running: March 20, 2020 – April 19, 2020 (Closed in the case of stormy weather)

Time: 12:00-20:00 (Last Orders 19:30) *Extended to 21:00 (Last Orders 20:30) on Fridays, Saturdays and during cherry blossom full bloom

Location: Midtown Garden, Sakura-dori area

*Select seats require a reservation – full details to be released in mid-February

Spring Flower Display ~Flower Art Award pre~

 

Za Sogetsu is a performance unit specialising in ikebana, or flower arrangement. One of the most recognised groups in the industry, their work will displayed around various locations at Tokyo Midtown, including large-scale pieces as well as never-before-scene ones. One look at this breathtaking flower art will be enough to fill you with spring vibes.

Running: March 20, 2020 – April 19, 2020

Time: 9:30-24:00 (Galleria Floor 1F) / 11:00-21:00 (Galleria Floors 2F-3F)

Location: Galleria 1F's Tree Shower & various locations at Galleria 2F-3F

Nighttime Cherry Blossom Light-Up

The entire 200-meter length of cherry trees in Tokyo Midtown's garden area will be lit up with beautiful illuminations at night-a sight that never fails to drawn in countless people. Before the flowers are in full bloom, pink lights will be used to get people ready for the main show. When the cherry blossoms are at their height, white lights will be used every night.

Running: March 20, 2020 – April 19, 2020

Time: 17:00-23:00

Location: Midtown Garden, Sakura-dori area/In front of Garden Terrace

Tokyo Midtown has many other events planned for spring 2020, so don't miss out this year.

Information

MIDTOWN BLOSSOM 2020

Running: March 20, 2020 – April 19, 2020

Location: Tokyo Midtown (9-7-1 Akasaka, Minato Ward, Tokyo)

Official Website: https://www.tokyo-midtown.com

BALCÓN TOKYO: Roppongi's Sophisticated New Bar and Restaurant Offers Luxurious Food & Drinks

BALCÓN TOKYO is the newest luxury bar and restaurant to hit Tokyo's Roppongi district. Set to open on the 14th floor of Mitsui Garden Hotel Roppongi Tokyo Premier on January 24, BALCÓN TOKYO offers opulent lounge and balcony spaces for fine wine and dining.

Located away from the hustle and bustle of busy Roppongi, the establishment offers a breathtaking view of Tokyo's city nightscape in both the eastern and western directions.

When customers pass through the beautiful bar and lounge they are met with the spacious museum-like balcony area where they can enjoy a dining experience wrapped in soft warm lights. For those looking for a more private meal, they can reserve one of the individual private rooms, each of which has its own distinct touch and flavour. Whether you're looking for a quiet drink or dinner, or even midnight teatime, BALCÓN TOKYO caters to customers' needs.

The interior design is the brainchild of none other than Yasumichi Morita of GLAMOROUS co.,ltd., and company that specialises not only on interior and exterior building and establishment designs, but graphic visuals, products, and more.

​Taking the spotlight at dinnertime is the restaurant's incredible and mouthwatering roast beef which is aged at ice temperature and cooked carefully with time and care. The gravy sauce drizzled over the meat takes three days to make and only adds to the delicious offering of the beef.

The restaurant also offers plenty of seasonal foods and ingredients that go perfect with a glass of champagne. Whether you're celebrating something special or just out for a casual meal, the restaurant caters to all.

For breakfast, a half-buffet of western-style food is prepared where you can pick one main. And so that foreign guests can get a taste of the quality of Japanese food, all ingredients used at the restaurant are domestic to Japan. The restaurant also uses organic vegetables shipped directly from growers and producers.

To celebrate the grand opening of BALCÓN TOKYO, customers who reserve a table online or via telephone between January 24 and February 29 this year will receive a 30% discount on meal courses.

Information

BALCÓN TOKYO
Address: Mitsui Garden Hotel Roppongi Tokyo Premier (Floor 14F), 3-15-17 Roppongi, Minato War, Tokyo
Opening Hours:
・Morning 6:30-10:30 (Last Orders 10:00) *Please note that there may be waiting times due to priority going to hotel guests
・Dinner 17:00-02:00 (Food Last Orders 01:00 / Drinks Last Orders 01:30)

Enquiries: 03-6441-3231
Official Website:  http://balcon-tokyo.jp/

Reservation Page: https://www.tablecheck.com/shops/balcon-tokyo/reserve

Roppongi Hills Kicks of New Year's Celebrations with Luxurious Food, Fukubukuro, Traditional Games and More

Roppongi Hills will be kicking off the New Year's celebrations from January 1 to 3, 2020 with New Year's good fortune around every corner. 

January 1 will be filled with exciting lion dances and Japanese drum performances. January 2 and 3 will see traditional and nostalgic games that are free to play, providing fun for the whole family. 

Restaurants and cafés will be serving New Year's food themed around good fortune, happiness, good omens and new beginnings. Indulge on Spiny Lobster, fatty tuna, sea bream and many other luxurious "good fortune" foods.

Spiny Lobster and Sea Bream Acqua Pazza (Limit of 15 sold per day): ¥3,278

Mohri Salvatore Cuomo

Colourful Chirashizushi Pintokona (Limit of 10 sold per day): ¥2,020

Angus Beef Steak Burger (Limit of 15 sold per day): ¥2,800
AS Classics Diner

Crêpe 2020 (Limit of 10 sold per day): ¥980
Cafe Crepe

There are also New Year's "Fukubukuro" to look out for. This is a Japanese New Year's custom where "lucky bags" are filled with unknown contents and sold at a substantial discount. There are even January sales with items up to 70% off. Travel agency H.I.S. Co., Ltd. is bringing back their yearly dream holiday package which includes a top-quality resort lodge in the Savanna and safari experience for just ¥4 million.

Have a wonderful New Year's celebration at Roppongi Hills.

Information

Event Information

January 1: 12:00-15:00

Free Entry

Japanese Drum Performance Start Times: 12:30, 13:30, 14:30

Lion Dance Start Times: 13:00, 14:00

Sake Offering: 13:00 (First-come-first-served, limit of 200 people, entry from 12:00. Obtain a ticket from the Seiriken Haifusho (整理券配布所)

 

January 2, 3: 11:00-16:00

Entry fee applies to certain areas

Japanese Drum Performance Start Times: 11:00, 13:50, 15:30

Lion Dance Start Times: 11:10, 12:30, 15:00

Koto Performance Start Times: 11:30, 12:30, 14:30

*The Koto experience corner will be closed between the following times: 11:30-11:50, 12:30-12:50, 14:30-14:50

Spinning Top Championships: January 2 from 13:00

*First-come-first-served, 12 places, please obtain a ticket from the Seiriken Haifusho (整理券配布所). Tickets will be available from 11:00.

Kendama Championships: January 3 from 13:00

*First-come-first-served, 20 places, please obtain a ticket from the Seiriken Haifusho (整理券配布所). Tickets will be available from 11:00.

Old traditional games available: Koma-mawashi (Spinning tops), kendama, beigoma, otedama and much more

Roppongi Hills

Address:  6-10-1 Roppongi, Minato City, Tokyo 106-6108, Japan

Official Website: https://www.roppongihills.com/en/

FLOWERS BY NAKED 2020: Details Revealed For Tokyo's Flower-Themed Art Event

FLOWERS BY NAKED is an annual flower-themed art event held by NAKED Inc., and the company has announced its next run: FLOWERS BY NAKED 2020 – Sakura – will take place from January 30 to March 1 next year at Nihonbashi Mitsui Hall in Tokyo, where visitors can enjoy flowers an a wholly new kind of interactive experience. Tickets went on sale on December 17, 2019, and this event will mark its 5th anniversary of taking place in Nihonbashi.

To date, FLOWERS BY NAKED has seen over 500,000 people attend the events, which have become a place for Instagrammable photos with over 660,000 posts made with the hashtag #flowersbynaked.

2020's theme is cherry blossoms, so to celebrate, NAKED has unveiled four key visuals for four gardens set for the event along descriptions. As visitors journey through the gardens, they will experience an immersive story melding the worlds of flowers and art.

■Prologue

"When a butterfly telling the spring dances in the snowy winter world, the page is turned and the world changes from winter to spring."

This is where the story begins: where winter flowers bloom. But as the pages of the big book are turned, the space is transformed into springtime as the snow melts.

■Dandelion Hill

"When you blow dandelion as if you were playing as a child, the fluff soars up to the sky with your old memories."

Watch as the scenery changes when you blow on the towering dandelions in this incredible interactive experience that combines real life with digital technology.

■Glowing Garden

"In a shimmering space that seems to be lost in a kaleidoscope by a mirror, the sun shines even more."

When you step into this radiant garden which is lit by the pouring sunlight, it will seem as if the entire world around you glows with the fiery light of our burning star.

■OUSAI Garden

"The fastest cherry blossom viewing space in Japan where you can enjoy the five senses, such as the blossoming cherry blossoms and the scent of spring."

The river seen at the beginning of the story leads to here, a holy cherry blossom garden watched over by an enormous pink cherry tree. There is plenty to interact with in this area for visitors to experience cherry blossoms with all five of their senses.

Advance tickets for this event are now on sale, so don't miss out.

Information

FLOWERS BY NAKED 2020 – Sakura –

Running: January 30, 2020 –  March 1, 2020

Opening Hours: 10:00-20:00 (Last entries 30 minutes before closing time)

*Opening hours subject to change

Location: Nihonbashi Mitsui Hall COREDO Muromachi Floors 1F + 5F (Entrance is on 4F)

Official Website (English/Japanese): https://flowers.naked.works/2020nihonbashi/

Roppongi Hills Christmas Market 2019: Authentic German Food, Christmas Ornaments, Desserts & More

Christmastime has fallen on Roppongi Hills as it kicked off Roppongi Hills Christmas 2019 on Monday. The event sees the return of the gorgeous Keyakizaka illuminations from last year.

Keyakizaka-dori Street runs almost 400 meters, along which "Snow & Blue" LED lights glow and glisten like frost-covered trees, turning the street into a winter wonderland. For 2019, a very special photo spot has been designed by Japanese illustrator Yu Nagaba as pictured above amongst the ocean of illuminations. Over on the West Walk, passersby will spot a draped Christmas tree.

Starting this Friday (November 15), more illuminations will light up over at Mori Garden, which will reflect enchantingly from the garden lake, and 66 Plaza will be lit up too. All of these illuminations will glow until late in the night, making them a perfect spot for a little evening date.

A Christmas market will take place starting on November 30 which will feature German food and drinks, a shop where you can buy a real fir Christmas tree, and more. And on November 15, restaurants and cafes at Roppongi Hills will adorn their menus with Christmas cakes, sweets, and dinner plans.

Christmas Market 2019

2019 marks the 13th year of the Roppongi Hills Christmas Market, and this year, many of Japan's leading shops are taking part. The market will recreate the atmosphere and decor of a German Christmas market, with gorgeous decorations lining the roof, as well as the 11 stalls which will sell German-made Christmas sundries, German mulled wine, frankfurter sausages, and more. There will be over 2,000 individual items to find.

Christmas Cakes & Merry Desserts

Top: Christmas Show Girl ¥3,672 / Bottom: Christmas Tree ¥10,800 @ LOLA'S Cupcakes Tokyo

Cafes and restaurants have cooked up various treats for the Christmas season which will be sold between November 15 to December 25, including Christmas cakes to complete your Christmas dinner, desserts so cute they almost seem a waste to eat, and little items perfect to give as gifts. There's plenty on the menu to be enjoyed with friends, family and loved ones.

Have a very special and merry little Christmas this year at Roppongi Hills.

Information

Roppongi Hills Christmas 2019 

Running: November 11, 2019 – December 25, 2019
Locations: Roppongi Hills (Roppongi Keyakizaka-dori, 66 Plaza, West Walk, Roppongi Hills Arena, Rooftop Plaza, and elsewhere)

Official Event Page: https://www.roppongihills.com/en/sp/christmas/2019/

Christmas Market 2019

Running: November 30, 2019 – December 25, 2019

Time: 11:00-21:00 (Until 22:00 on Fridays, Saturdays & Christmas Eve)

Location: Rooftop Plaza

Keyakizaka Illuminations

Running: November 11, 2019 – December 25, 2019

Time: 17:00-23:00

Location: Roppongi Keyakizaka-dori

5 Places to Celebrate Halloween in Tokyo | 2019 Edition

Halloween is right around the corner, and in Tokyo, the spooky celebrations are beginning early. If you're in the capital this month, here are 5 places you must check out this Halloween.

Plain Clothes Halloween 2019 @ Shibuya

Worried about what to wear for Halloween this year? No need to panic. If you're spending your Halloween in Shibuya this year, which is known the world over for its incredible Halloween festivities, then head to Tokyo Culture Culture on October 27 where a very unique event is taking place.

Jimi ("Plain") Halloween is an event that takes out the stress of having to go all out for Halloween as people go dressed as ordinary people. It has been held annually since 2014, with the number of attendees growing each year. Over 800 people took part last year, all clad in their plain clothes.

This year's event will be split into three slots, with a capacity of 200 people per slot. Sign-up has already started, so if you're interested, check the times below and book ASAP.

Full Details: https://www.moshimoshi-nippon.jp/263176

▶︎Jimi Halloween

Date: October 27, 2019 (3 Slots / 200 People Per Slot)

 Slot ①: 11:00-14:00 

 Slot ②: 15:00-18:00 

 Slot ③: 19:00-22:00 

★Places are available on a first-come, first-served basis at the website below

Venue: Tokyo Culture Culture (cocoti SHIBUYA 4F, 1-23-16 Shibuya, Tokyo)

Entry: Free (Apply at the link below)

Sign-Up: https://dailyportalz.jp/kiji/jimihalloween2019

MAX UNKO HALLOWEEN @ Odaiba

Unko Museum Tokyo, a poop-themed (unko in Japanese) museum located on the second floor of DiverCity Tokyo Plaza in Odaiba, opened its Halloween event "MAX UNKO HALLOWEEN ~Unko & Dancing Halloween~" last Friday which will run all the way up to October 31. They are serving "max unko kawaii-ness" in this all-new Halloween event.

At the Unko Museum this Halloween, expect to see nnko idol monsters, unko mummies, and lots of other cute and fashionable unko critters. All of them will be part of a spooky parade together with the museum's mascot character Umberto. 

Also, if you go up to one of the museum staff members and say, "Trick or Unko?" you'll receive a special Halloween gift. There's lots of other unko-fying entertainment to be enjoyed, so if you're looking for a different kind of Halloween experience, be sure to find out more about MAX UNKO HALLOWEEN.

Full Details: https://www.moshimoshi-nippon.jp/262397

▶︎MAX UNKO HALLOWEEN ~Unko & Dancing Halloween~

Location: Unko Museum Tokyo

Address: DiverCity Tokyo Plaza Floor 2F, 1-1-10 Aomi, Koto Ward, Tokyo

Opening Hours: 10:00-21:00 (Last Entries 20:00)

No Fixed Holidays (Except when DiverCity Tokyo Plaza is closed)

Ticket Reservations: https://reserve.ale-box.com/reserve/169

Official Website: https://unkomuseum.com/tokyo

ROPPONGI HILLS HAPPY HALLOWEEN 2019 @ Roppongi

Roppongi Hills has announced this year's Halloween festival. Titled "ROPPONGI HILLS HAPPY HALLOWEEN 2019," it will take place from October 1 to 31, packed full of spooky fun from a Halloween costume parade to a ghoulish gourmet menu line-up, featuring an always-unique array of food and drink.

Halloween Cupcakes – ¥638 Each @ LOLA'S Cupcakes Tokyo (Available from October 5)

LOLA'S Cupcakes has baked up an assortment of cute monster motif cupcakes, with flavours including pumpkin, purple sweet potato and more. Whichever one you pick, it's sure to give you a smile and delight your taste buds.

Happy Monster – ¥980 @ Cafe Crepe

Delight in this cute pumpkin and fresh cream crepe, filled with pumpkin ice cream and snug in an orange crepe wrap. Housed inside is an adorable purple sweet potato mont blanc monster wearing a witch's hat.

There's plenty of other Halloween-themed menu treats besides these too in addition to numerous spine-chilling events.

Full Details: https://www.moshimoshi-nippon.jp/257307

▶︎ROPPONGI HILLS HAPPY HALLOWEEN 2019

Running: October 1, 2019 – October 31, 2019

Official Website: https://www.roppongihills.com/en/

PURO HALLOWEEN PARTY ~KAWAII MASQUERADE~ @ Tama

Sanrio Puroland is currently holding its "PURO HALLOWEEN PARTY ~KAWAII MASQUERADE~" Halloween festival will until October 31. This is the park's first mask-themed festival, with each day split into two slots: Day and Night. During the daytime, guests are invited to the park's "Cute Masked Party" string of events. But when night falls, the monsters creep their way out for the "Beautifully Scary Masquerade Party."

With the release of IT Chapter Two―the sequel to one of the biggest horror hits in years―Sanrio Puroland is collaborating with the film. This includes Hello Kitty taking Pennywise's place in the movie poster amongst other special content.

A ball mask parade is taking place on the first floor Puro Bridge. The Sanrio cast is dressed up in ballroom attire with masks and dance elegant dances, pulling onlookers into a frightening yet beautiful world.

As part of the Halloween celebrations, if you arrive at the park in full Halloween dress you can get a discount on Passport Tickets. Be sure to go clad in your best outfit to have the most fun!

Full Details: https://www.moshimoshi-nippon.jp/249600

▶︎PURO HALLOWEEN PARTY ~KAWAII MASQUERADE~

Running: September 13, 2019 – October 31, 2019

DAY: Weekdays – Until 14:30 / Weekends – Until 15:00

NIGHT: Weekdays – From 14:30 Until Closing / Weekends – From 15:00 Until Closing

*Weekday closing hours during the Halloween period is 6:00pm. Times subject to change.

Event Page: https://www.puroland.jp/2019_halloween/

VISION HALLOWEEN PARTY 2019 @ Shibuya

VISION HALLOWEEN PARTY 2019 @ Shibuya

The annual Halloween event at SOUND MUSEUM VISION, a club in Dogenzaka, Shibuya, will take place again this year on October 31.

Look forward to seeing live DJ performances from Yasutaka Nakata and SHINTARO with special guest acts from Kuro-chan and Ringo-chan of Yasuda Dai Circus as well as live performances from Yayoi Daimon and Rei©hi.

Dress up in your fanciest Halloween dress and club all night this Halloween!

VISION HALLOWEEN PARTY 2019

Date: October 31, 2019

Time: Open – 21:00

Price: Dress-Up Discount ¥2,500 / Door ¥3,500

Event Page: http://www.vision-tokyo.com/event/vision-halloweenparty-2019

Which of these events takes your fancy? Let us know on Twitter @moshi_moshi_glb or Facebook at https://www.facebook.com/msmsnippon/

Ginza's Gorgeous Ice Cream Shop coisof Releases Halloween Parfait

Ginza's luxury ice cream shop has released a new parfait flavour for the Halloween and autumn season.

They have called it the "Akiiro Murasaki coi Parfait" (Autumn Colour Purple coi Parfait). Coloured like the vivid sumire plant―a species of violet―this mouth-watering parfait contains a jam made in-house with whole natsuhaze, a wild type of blueberry that has been used in Japan since ancient times. It's topped with a dollop of rich and milky ice cream, a puree made from in-season purple sweet potatoes, and assorted nuts for added crunch.

Natsuhaze blueberries contain a lot of polyphenols, giving them an elegant sour flavour which goes unbelievably well with the taste of the milky ice cream and sweet potato. The parfait is served with a liqueur made from sumire extract.

For the Halloween period between October 16 to 31, the parfait can also be topped with various spooky decorations at no extra cost, like chocolate ghosts, spiders and cobwebs.

If you're celebrating Halloween in Japan this year, or want to treat your date to a Halloween treat, then take them to Tokyo's high-class shopping district Ginza for a luxurious parfait.

Information

Akiiro Murasaki coi Parfait

Price: With Liqueur ¥1,200 (Before Tax) / Without Liqueur ¥1,000 (Before Tax)

Running: October 16, 2019 – November 30, 2019

*Free Halloween parfait toppings available October 16, 2019 – October 31, 2019

Coisof

Grand Opening: January 17, 2019

Address: re:Dine GINZA Floor 9F, 4-3-1 Ginza, Chuo Ward, Tokyo

Opening Hours: 11:00-22:00

TEL: 050-3628-5009

Website: coisof.favy.jp/

Starbucks Japan Unveils Halloween Dark Night Frappuccino®

Starbucks Coffee Japan has announced a new beverage called the Halloween Dark Night Frappuccino® which will be released at Starbucks branches (*1) across Japan from 17:22 (*2)―the time of sunset when night begins―on October 18, 2019. The coffee chain is also releasing its new "Halloween Masquerade" filter on Instagram (*3).

*1. Select branches not participating.
*2. Roll out time may differ at select branches.
*3. Instagram is a service owned by Facebook, Inc. The above-mentioned filter is not backed or managed by Instagram in any way nor is it affiliated with the service.

The Halloween Dark Night Frappuccino® is themed on an evening masquerade party. It will go on sale when the sun sets at 17:22 on October 18. As the name suggests, the drink itself is black and mysterious like the night, blending together black cocoa powder with white chocolate brownie.

The jet black beverage also has a red hue to it which comes from a sweet and sour red berry sauce made from raspberries, cranberries and strawberries. It's topped with a squirt of fluffy whipped cream, sprinkled with black cocoa powder, and drizzled with more of that red berry sauce to create that Halloween aesthetic. The black cocoa adds a delicious bitterness to the sweetness of the brownie and the sweet and sour mixed berries, creating a mouth-watering flavour combination.

The Halloween Masquerade filter was developed by Starbucks for people's Instagram stories this Halloween. There are four masks to choose from which can be changed by just tapping on the screen. There are other cool Halloween effects on the filter to find too. Something might even pop out of your mouth if you open wide…

Starbucks Japan will also sell the above-pictured Halloween cup stands when the drinks go on sale. Limited in stock, the stands come in black and white, titled Halloween Red Night Frappuccino® or the Halloween Dark Night Frappuccino® respectively. You can buy them separately or as a set.

Experience a spooky masquerade party at Starbucks this Halloween.

Information

Halloween Dark Night Frappuccino®

Price: Tall Size Only – ¥590 (Before Tax)

Running: October 18, 2019 at 17:22 to October 31, 2019 (While supplies last)

Available: At most Starbucks Japan branches

 

Starbucks "Halloween Masquerade" AR Filter

Available: From October 16, 2019 at 10:30 (JST)

How to Use:
・Available from Starbucks Japan's official Instagram profile @starbucks_j

・Download the Instagram app on your phone and access via https://sbux.jp/masq

*The filter will be removed without notice on November 1, 2019

Cup Stands


Running: October 18, 2019 – October 31, 2019 (While supplies last)

Halloween Red Night Frappuccino® / Halloween Dark Night Frappuccino®

Price: ¥990 Each (Before Tax) *Fits Tall size drinks only, Frappuccino® drink sold separately at ¥590

Available: At most Starbucks Japan branches

Starbucks Coffee Japan Official Website: https://www.starbucks.co.jp/