Hello Kitty Launches #HelloGlobalGoals Project With the United Nations
Sanrio launched its #HelloGlobalGoals (#HelloSDGs) co-project with the United Nations at the UN headquarters on September 24 which sees their popular character Hello Kitty helping to spread the words about Sustainable Development Goals (SDGs).
The Sustainable Development Goals (SDGs) are a set of 17 global goals established by the United Nations General Assembly in 2015 to be reached by the year 2030. This includes "No Poverty," "Zero Hunger," "Climate Action" and so on.
Since September last year, Hello Kitty has been helping to promote SDGs on her YouTube channel as part of Japan's involvement in the global efforts. The UN recognised this, and had Hello Kitty join them at the headquarters in New York at the SDG Media Zone presentation, which was attended by people around the world, where they announced #HelloGlobalGoals.
Hello Kitty dressed up in the SDG promotional colours and appeared alongside Amina Mohammed, the Deputy Secretary-General of the United Nations, who expressed her wish for more people around the world to come to learn about SDGs, as well as to create a world where everybody can get along harmoniously and with kindness.
At the event, all 17 goals were showcased on a huge art piece featuring Hello Kitty to break the project down and make it easier for people to understand.
Up to now, Hello Kitty has posted videos about what Japan has been doing for the SDGs on her channel, but now she will begin posting about countries around the world at the behest of Amina Mohammed in a new video series as shown above.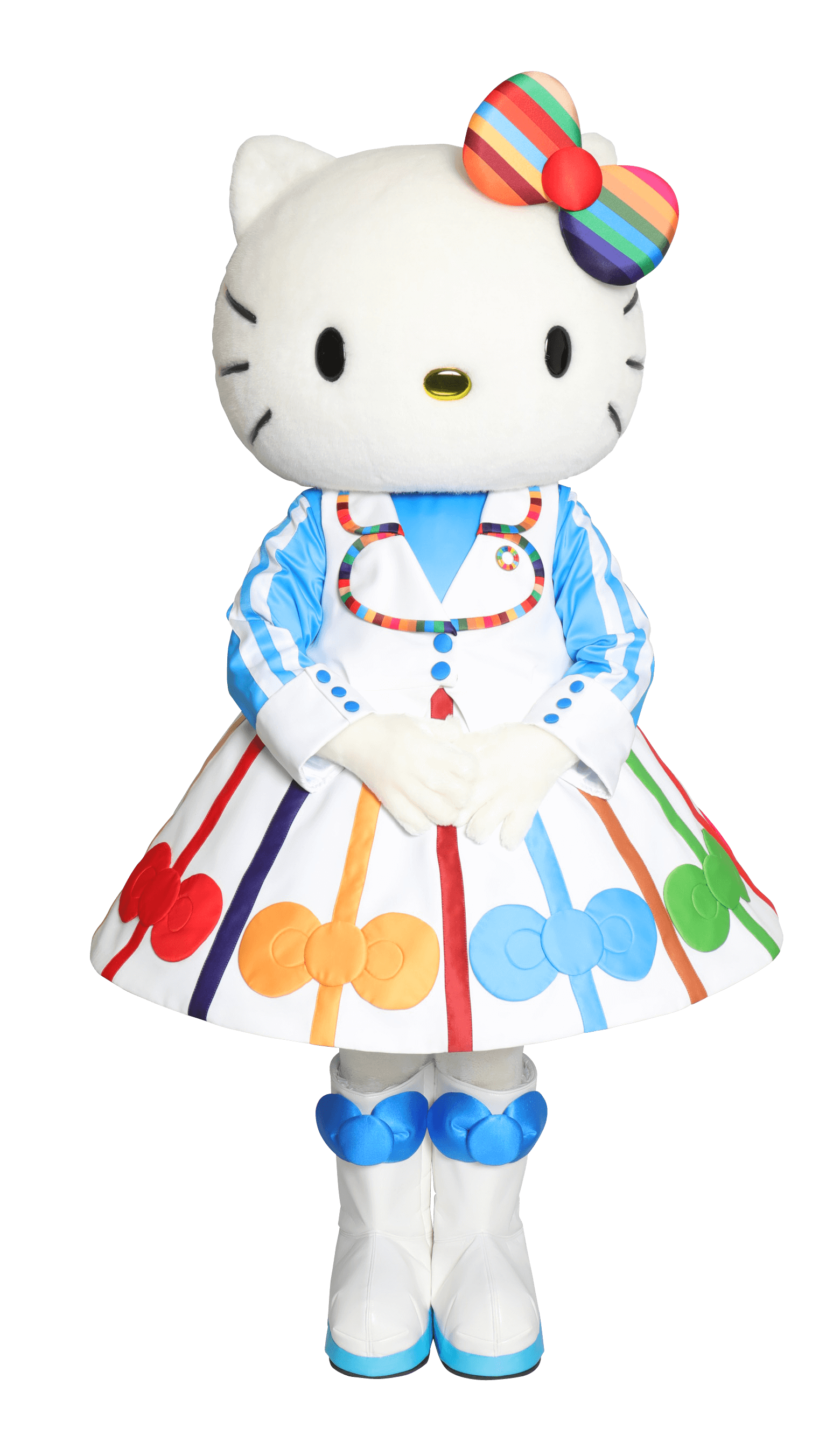 Hello Kitty's dress for the #HelloGlobalGoals is rainbow-coloured, representing each of the goals. This is the dress she will wear for her forthcoming SDG promotional activities.
Join Hello Kitty in her mission to spread word about SDGs and the #HelloGlobalGoals project.
©️'76,'19 SANRIO
Information
Hello Kitty YouTube Channel
RELATED ENTRIES
Hello Kitty Summer Event Themed On the Undersea Palace Princess Oto-hime Kicks Off in Hyogo

The Hello Kitty media art facility and restaurant HELLO KITTY SMILE on Awaji Island kicked off a summer event on July 1. Titled "HELLO KITTY SMILE Oto-hime Ryugu-jo Beach Summer Festival," the event is set to run until the end of August.

Digital fireworks set the summer vibe

Catch your own Sanrio figure

Decorate your own Sanrio character ceramic

Children's meal at the Party Terrace


Hello Kitty afternoon tea at the Party Balcony

Spicy tortilla at the Garden Terrace

The event is themed on Oto-hime, the princess of the underwater palace Ryugu-jo which features in the Japanese folktake of Urashima Taro. It focuses on Hello Kitty and is a celebration of Bon odori, a type of dance that takes place during the Japanese summertime Bon Festival. Hello Kitty performs the dance on stage, and the audience can join in with handclapping, dancing, and waving the free fan they receive upon entering the venue. Visitors can also buy a ticket to meet Hello Kitty, and those who do receive a free plush toy along with a photo with the Sanrio queen herself.

At the event, visitors can enjoy Sanrio versions of all the fun things Japanese summer festivals, or natsumarui, have to offer like catching a Sanrio figure instead of a goldfish, painting ceramics, making vinyl prints, squirting water pistols, jumping on a giant trampoline, and so much more.

Other things to look out for include special screenings at the HELLO KITTY SMILE theatre and the firework projection mapping show. The event also has four different restaurants which are serving limited-time, seasonal summer treats: the Party Terrace, Party Balcony, Restaurant Tamatebako, and Garden Terrace.

Ⓒ2021 SANRIO CO., LTD. APPROVAL NO. L627610

Information

HELLO KITTY SMILE Oto-hime Ryugu-jo Beach Summer Festival

Japanese Event Title: HELLO KITTY SMILE 乙姫竜宮城 海辺の夏祭り

Running: July 1, 2021 – August 31, 2021
Opening Hours:10:00-19:00 (Last Entries 18:00)
*Brunch served exclusively on weekends and public holidays at the Party Terrace at 9:00-10:00 (last orders 10:30)

Closed: Tuesdays

Address: 985-1 Nojimahikinoura, Awaji, Hyogo 656-1721, Japan

Official Website: https://awaji-resort.com/hellokittysmile/

BABY MILO® x HELLO KITTY Collaborative T-Shirt Collection Drops

A BATHING APE's® mascot character BABY MILO® has joined paws with Sanrio's Hello Kitty to release a collaborative t-shirt collection at A BATHING APE® stores and their online store. Hello Kitty first appeared in 1974 and has gone on to become an instantly-recognisable icon and symbol of kawaii culture across the world. Merchandise of Hello Kitty is available in 130 countries globally.

Adult Tees

Shoes

Mug

Kid's Line-Up

BAPE.COM WEB STORE/BAPEXLUSIVE™ Aoyama Branch

BABY MILO® and Hello Kitty have collaborated to fans delight numerous times in the past. This cute collection is actually a re-release and features the same original graphics. There are also some exclusives in the collection along with a kid's line-up.

© 2021 SANRIO CO., LTD. APPROVAL NO. L629192

Sanrio's Earphone Collection Includes Hello Kitty, Pompompurin, and Other Character Designs

Sanrio and joined hands with the hearable device series Zeeny, which enables the voice reading of messages received on smartphones, to release a collection of earphone featuring Hello Kitty, Pompompurin, Cinnamoroll, Little Twin Stars, and Pochacco designs. The collection is available to buy in Japan until September 19.

Hello Kitty

Pompompurin

Cinnamoroll

Little Twin Stars

Pochacco

Zeeny is a hearable device that supports voice notifications and reads out the notifications that pop up on your smartphone. It supports music, calls, voice assistants, and more. This new collection features newly-recorded voices of the Sanrio characters.

The Hello Kitty model is limited to just 300 and is equipped with high-quality Zeeny ANC sound. It has active noise-cancelling to allow the user to be more immersed in their music without distractions, and of course has Hello Kitty's voice to assist them.

The Pompompurin, Cinnamoroll, Little Twin Stars, and Pochacco models are limited 250. All are equipped with Zeeny Lights which won the VGP audio awards in Japan. These earphones also work with wireless devices.

Zeeny, Spicetoneは、日本で登録されたNain Inc.の商標です。
その他、記載されている商品名、技術名および会社名等は、各社の商標または登録商標です。

Information

Zeeny x Sanrio Characters
Order Window: June 19, 2021 – September 19, 2021

Shipping: October 2021

*Available while supplies last

Buy Here: https://zeeny.com/collections/sanrio

Hello Kitty Promotes Messages of Protecting the Earth and the SDGs in Short Movie

A section of Deloitte Tohmatsu Group and FC Imabari's educational book Watashi, Chikyu (Me, Earth) has been turned into a short movie featuring Hello Kitty. Released on YouTube on Wednesday, the video is aimed at elementary school children to educate them on the Sustainable Development Goals (SDGs), a global initiative to create a sustainable future.

The 9-minute video takes Hello Kitty on a journey through earth's life from 4.6 billion years ago, animal life on the planet, and the drastic changes that have come about from human activity.

At the end of the video, Hello Kitty has a message for kids: "I wanted to be in this so I can learn about what I can do for our future. I would love for this to get lots of people thinking about what they themselves can do, even if it ends up only being one person."

Painfully Kawaii Sanrio Figures Feature the Characters Sleeping Peacefully

Takara Tomy Arts is rolling out a new sleepy collection of Sanrio character figures at capsule toy machines in Japan this month.

The adorably dozing collection

Pochacco

Tuxedosam & Hello Kitty

The line-up includes Hello Kitty, Kerokerokeroppi, Pochacco, Badtz-Maru, and Tuxedosam with their heads leaning to the right, perhaps exhausted from being cute all day long. This is the first line-up in a series of these figures. And if you line more than one up together, it looks like they're sleeping on each others' shoulders.

©2021 SANRIO CO.,LTD. APPROVAL NO. S620286

Sanrio Releases Hello Sweet Days Dress-Up App in the US, Canada, and South Korea

Digital content enterprise Cocone has made Sanrio's popular character dress-up game Hello Sweet Days available in the US, Canada, and South Korea. The app hit the overseas countries on June 10, allowing for fans outside Japan to enjoy dressing their avatars up like their favourite Sanrio characters.

Hello Sweet Days first launched in Japan back in August 2017 and has since amassed over 2 million downloads. It rolled out to Taiwan, Hong Kong, and Macao in 2020, and now an English version has finally been made available. There are plans to release the app to even more countries in the future.

Pre-registration opened early in South Korea on May 24 when it garnered 60,000 advance sign-ups. Those who registered early even received K-pop idol-style fashion items. Since releasing last Thursday, it is now being used by over 300,000 fans in South Korea.

Head on over to the App Store or Google Play and enjoy Hello Sweet Days in English now!

© 2021 SANRIO CO., LTD. TOKYO, JAPAN Ⓗ. APPROVAL NO. S620438 ©cocone corp.

Sanrio Announces Kawaii Musical 'From Hello Kitty'

Sanrio has announced that their popular cast of characters are set to perform at an attraction-style musical titled From Hello Kitty which will run at the IHI Stage Around Tokyo on from July 26 to September 26.

All of the familiar faces from Sanrio's character roster, including Hello Kitty, Dear Daniel, Cinnamoroll, Pompompurin, My Melody, and the Little Twin stars—all of whom ranked high on this year's Sanrio Character Ranking—will make an appearance alongside notable Japanese actors Shota Takasaki, Dai Gotou, and Kodai Miyagi.

The musical is a historical lookback at 60 years of Sanrio and a delivery of their core message: to help everyone in the world get along. A special edition of the 'Miracle Gift Parade' held at Sanrio Puroland will also take place with an original story.

The art direction of the stage performance is being done by Sebastian Masuda, the music composed by music producer Hyadain, and the choreography created by Yukio Ueshima who has worked on countless Broadway musicals including a theatrical adaptation of the popular sports manga series The Prince of Tennis.



The musical is taking place at IHI Stage Around Tokyo, a unique theatre with 360-degrees rotating audience seats surrounded by movable huge screens and stages. The audience seats that are placed on a huge circular platform slowly rotates to each stage set as the story moves on, without waiting for set changes. Visitors will also be able to take photos with different Sanrio characters each day.

IHI Stage Around Tokyo is produced by TBS Television, Inc., Imagine Nation B.V., and The John Gore Organization Inc.

2021 Sanrio Character Ranking: Cinnamoroll Takes Home the Crown For the Second Year in a Row

Sanrio announced the final results and winners of the 36th Sanrio Character Ranking, an annual event where fans vote for their favourite Sanrio character to see who is the most popular. A total of 21,346,750 votes were submitted for 2021.

2021 Sanrio Character Ranking: General Ranking

Comments from the Winners

1st Place: Cinnamoroll
"I'm going to treasure this feeling forever! Thank you all for your support!♪"



2nd Place: Pompompurin
"Thanks so much for cheering me on!♡ I'm so grateful for all the love!"



3rd Place: Pochacco
"I can't believe I got 3rd again this year! It's thanks to all your support! I'm going to try hard next year too!"

2021 Sanrio Character Ranking: Collaboration Category

This year sees Cinnamoroll take the top spot for the second year in a row. In the first round-up of announcements, Cinnamoroll was already at number one, but in the second round-up he dipped to 2nd place. That didn't stop him however as after gaining over 2.3 million votes, he grabbed that shiny crown once again. Pompompurin, who is celebrating his 25th anniversary this year, came in 2nd again, and Pochacco in 3rd again. Hello Kitty, who ranked 5th last year, came in 6th place this year – a place she kept since the second round-up. SHOW BY ROCK!! who will commemorate her 10th anniversary next year came in 8th once again. Kuromi, who received much love from overseas fans this year, climbed from last year's 7th to 5th this year, making it the first time she has clocked in the Top 5 spot in 11 years. Cogimyun came in 10th after coming in 13th last year, making it her first time in the Top 10.

The Collaboration Category, which began in 2013, saw 27 entrees from different businesses and creators. Popular creators Azuki and Hapidanbui took 1st place this year.

Sanrio Character Ranking 2021 to Announce Winner in Collaboration With Tokyo Girls Collection

Sanrio has announced that the announcement ceremony for the winner of the 2021 Sanrio Character Ranking will take place in collaboration with Tokyo Girls Collection (TGC), a semi-annual fashion festival in Tokyo, on June 8. The event will be streamed live on Hello Kitty and TCG's respective LINE accounts, as well as Sanrio's official YouTube account, so that more people can tune in to this year's announcement and see which of Sanrio's characters will take the crown.

80 characters are participating in this year's Sanrio Character Ranking which will be announced in order from 80 to 1. This year also sees the return of the sub-award categories including Collaboration. Hosting the event as MC is tarento and actress Nao Asahi and the Japanese comedy duo Wagyu ga Tsutome.

But the winner announcement is not the only event scheduled for 2021's ranking. Since this time is a collaboration with TGC, there will be a fashion runway where popular models will show off their looks, a live performance with JO1 and the Sanrio characters, a rap battle, and more.

Fashion Runway: Famous models display the Sanrio character aesthetic

On the fashion stage, a line-up of well-known Japanese models will serve fashion inspired by Sanrio's most famous characters including My Melody, Kuromi, Little Twin Stars, and Pompompurin.

Marie Iitoyo and Maika Yamamoto will use a real-time composite photography system as they dress up as the adorable My Melody and her rival Kuromi. Serving the dreamy star-filled world of Kiki and Lala are Kaane and Sakura Saiga, Yoshiaki & Michi, and Rikariko. For the Pompompurin section, which is themed on the golden retriever's daily life, we have Nana Kato, Ami Komuro, Natsuki Deguchi, Sachi Fujii, and Roy. But that's not all as Sakachin, Yuki Higashihara, and Reina, who won the LINE LIVE auditions to appear on this year's fashion runway, will also appear.

A heated rap battle between the Sanrio characters

In the rap battle, KIRIMI-chan, Kuromi, Kogimyun, and Pompompurin will go head to head against special guests Tsukasa Saito of comedy duo Trendy Angel and Yuriyan Retriever. 

The Sanrio cast join music artists for a concert

The adorable Cinnamoroll, who is also expanding his work as an idol, will perform alongside JO1, while Hello Kitty will sing with singer-songwriter Sonoko Inoue.

A new virtual experience using the latest technology

Japanese digital advertising company CyberAgent, who produced virtual events and 3DCG content, will be using the latest in 3DCG and XR tech to blur the lines between reality and the virtual space with an interactive experience, such as people's comments on social media and the video displaying in real time, and more.

Sanrio Character Themed Afternoon Tea and Cafe Items Arrive at EGG & SPUMA

The Shinjuku branch of EGG & SPUMA is now hosting "Sanrio Characters CAFE," a menu of food and drink themed on Sanrio's beloved characters. Running until August 31, the cafe has also been decorated in colourful and cute Sanrio designs.

Receive a free coaster with your order

The menu line-up features lots of fruits, including the Cinnamoroll crème brûlée which is served on weekdays only, fruit sandwiches which will include My Melody themed ones this month and June, Hello Kitty and Keroppi ones in July, and Little Twin Stars in August. There's also fruity jelly and more.

If you're a Sanrio fan look to indulge a little more, then there is also a two-tiered afternoon tea set. The upper plate includes Kiki & Lala sandwiches, a Keroppi tart, the Cinnamoroll crème brûlée, and more. On the bottom plate there is Hello Kitty apple jelly, My Melody strawberry caprese salad, Kuromi canapé, and so on. There will also be special pancakes and a jelly dessert arriving in June which must be booked in advance.

Which of these Instagram-worthy delights do you want to tuck into?

Information

Sanrio Characters CAFE
Address: EGG & SPUMA Shinjuku Lumine EST (Floor 8F), 3-38-1 Shinjuku, Shinjuku-ku, Tokyo,  160-0022
Running: May 15, 2021 – August 31, 2021

Opening Hours: 11:00-20:00 (Last Orders 19:00)
TEL: 03-6273-0255
Official Website: http://www.salt-inc.co.jp/egg-and-spuma/

2021 Sanrio Character Ranking: Pompompurin Takes 1st Place in Interim Results

Votes for the 2021 Sanrio Character Ranking opened on April 9. Fans around the world have been voting for their favourite characters to win this year. The winner is set to be announced on June 8, but results of 1st place to 10th place for the second round-up have been revealed. These interim results were collected from votes placed online, in Sanrio's Ichigo Shimbun magazine, and Sanrio's online shop.

Taking the number one spot of the interim results is Pompompurin who made his debut 25 years ago. In 2nd place is Cinnamoroll, who is not far behind in the voting numbers. In 3rd is Pochacco, in 4th is My Melody, and in 5th is Kuromi. These characters are usually ones to rank high each year. Hello Kitty has moved up two places from the first round-up to 6th. Yoshikitty, the character representing music artist YOSHIKI, is in 8th.

Entering the Top 10 for the first time ever is Kogimyun in 9th place. There's still a little ways to go until votes close on May 24, so it could still be anyone's game. The winner will be announced online on June 8 at 19:30 (JST).

Comments from the Top 3 (Translated by MMN)

1st Place: Pompompurin

"Wow, 1st place! Thanks for all your support♪ I'm super happy, so lemme tell you something! I found an island that's shaped like me! The world we live in sure is exciting. My dream is to go there with you all after getting 1st place♪"

2nd Place: Cinnamoroll

"Thanks so much for your support! I love you all, and I want you to see me become an idol, stand on a big stage, and sing and dance for you♪"

3rd Place: Pochacco

"I'm still in 3rd place from the first round-up! Thank you, allll♪ It's all thanks to your support. Make a stop with me on our walk. If I'm together with you all, we're sure to see a brand new world. Keep supporting me, okay?"

Top 5 Characters Ranking Analysis

1st Place: Pompompurin

Pompompurin has been in the Top 3 for several years in a row. He last took 1st place in 2016. This year marks the 25th anniversary of his debut. He's looking to be number one after five long years.

2nd Place: Cinnamoroll

Cinnamoroll is a very busy individual, even making a CD debut. He first took 1st place in 2017 and has done three times in total. Will he take home the top spot again like last year?

3rd Place: Pochacco

Pochacco finally entered the Top 3 again last year for the first time in 23 years. This veteran character actually achieved this feat five years in a row between 1991-1995. Will 2021 be his year?

4th Place: My Melody

My Melody has been in the Top 5 for 24 years in a row. She has gone up one place since the first round-up. She has been in the Top 3 every year since 2017.

5th Place: Kuromi

Also known as My Melody's rival, Kuromi has seen a huge increase in popularity in recent years, and her place in the Sanrio Character Ranking has surged. Will she enter the Top 3 for the first time ever and beat her biggest rival, My Melody!?

Voting at the Sanrio Character Ranking is open to fans around the world. Hurry and make your vote before they close on May 24!

©'21 SANRIO S/F·G 著作(株)サンリオ

Information

2021 Sanrio Character Ranking Interim

Vote Deadline: May 24, 2021

Final Result Announcement: June 8, 2021 @ 19:30 (JST)

Vote Here: https://ranking.sanrio.co.jp/en/

Sanrio's Hello Kitty Inspires Cute Robot Set by LOVOT

GROOVE X's home robot series LOVOT is set to launch its first collaboration with Sanrio's beloved character Hello Kitty on May 17 with the release of a limited-edition set of two robots.

Yellow nose sold separately

The Hello Kitty x LOVOT original set comes with a charm (pictured far right)

Dress up in a cute Hello Kitty outfit


Those who purchase this set receive an original cloissone ware charm, each of which has a unique serial number on it. There's also a cute Hello Kitty outfit for dressing up your robot. The base of these robots, all of which are handmade individually, are coloured white like Hello Kitty and features her cute whiskers and red ribbon.

LOVOT launched four years ago and began selling its home robots in December 2019. This marks the company's first tie-up with Hello Kitty, a character known to all around the world.

2021 SANRIO CO., LTD. APPROVAL NO. S620221