Two Snoopy Chocolate Shops to Open in Kyoto on October 9
Two chocolate shops themed on American cartoonist Charles M. Schulz's Peanuts character Snoopy are set to open simultaneously in Arashiyama and Kiyomizu-zaka in Kyoto on October 9, 2019.
Tablet Chocolat – From ¥1,200
Named SNOOPY Chocolat, the shops have many delicious treats lined up for fans of Snoopy, including these tablet-shaped chocolates. There are 8 in total, each telling a story of love, friendship and family that serve to give you courage.
Tablet Chocolat Japan – From ¥500
These cute heart-shaped tablet chocolates are made with Japanese ingredients like wasabi, yuzu, shiso, sesame, matcha, adzuki, shichimi, houjicha and more.
BonBon Chocolat – From ¥800
Made with rich, fragrant cocoa and Japanese flavours like yuzu, wasabi, roasted soy flour, matcha, houjicha and Japanese sake, these luxurious chocolates are like little pieces of art featuring Snoopy in his many different looks.
Both shops will feature an interior design reminiscent of Japanese-style houses. The Kiyomizu-zaka branch will have a luxury white chocolate colour tone while the Arashiyama branch will have a brown-coloured milk chocolate tone.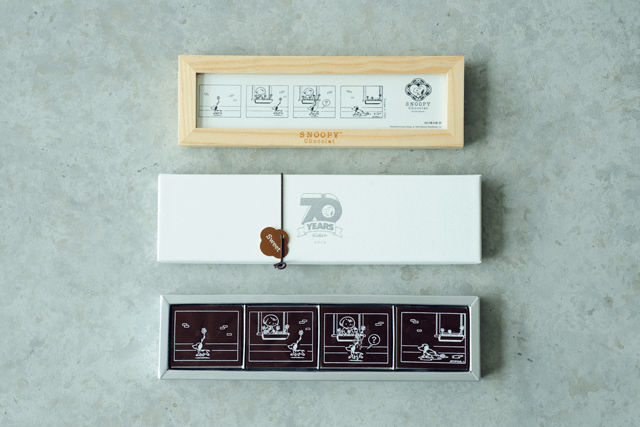 Tablet Chocolat (Arashiyama Exclusive)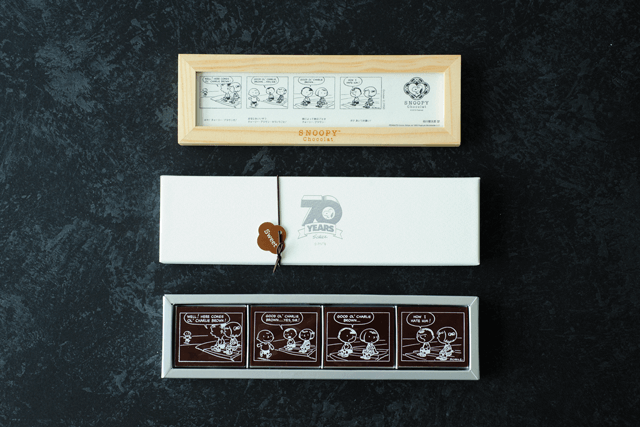 Tablet Chocolat (Kiyomizu-zaka Exclusive)
Both shops will also have their own individual exclusive items too like the ones above, all original to SNOOPY Chocolat.
There will of course be plenty of original merchandise to get your paws on too, like plush toys, takeout cups, mugs, tote bags, freezer bags, and more, all perfect for use at home or as gifts to a friend.
Information
SNOOPY Chocolat (Kiyomizu-zaka Branch)
Address: 2-252 Kiyomizu, Higashiyama Ward, Kyoto, Kyoto Prefecture
Business Hours: 9:30-18:30 (Open from 10:00 on October 9 only)
No Fixed Holidays
Access: 20-minutes on foot from Kiyomizu-Gojō Station via Keihan Electric Railway
SNOOPY Chocolat (Arashiyama Branch)
Address: 22 Sagatenryūji Susukinobabachō, Ukyo Ward, Kyoto, Kyoto Prefecture
Business Hours: 10:00-18:00
No Fixed Holidays
Access: 5-minutes on foot from Arashiyama Station via Keihan Electric Railway / 15-minutes on foot from Saga-Arashiyama Station via JR Line / 20-minutes on foot from Arashiyama Station via Hankyu
SNOOPY Chocolat Official Website:  http://www.snoopy-chocolat.jp
RELATED ENTRIES
Experience a Hotel Camping Experience at Rihga Royal Hotel Kyoto

Rihga Royal Hotel Kyoto is collaborating outdoor recreation product brand Coleman to launch the Hotel Camp Buffet which will run from May 1 to August 31 at the hotel.

Guests can enjoy a fusion of the hotel and camping experiences as Coleman provides their tents, tables, chairs, and other outdoor items to be used at Rihga Royal Hotel Kyoto. The hotel chef, Honda, has also conceived a camp buffet for guests to enjoy at both lunchtime and dinnertime.

The hotel is carrying out all necessary measures against COVID-19 including providing guests with a how-to breakdown at all tables, providing alcohol spray, mouth guards with the Coleman logo so guests can enjoy dining and talking, and more.

Coleman x Rihga Royal Hotel Kyoto Hotel Camp Buffet

Individual Room Plan | Capacity: 4-6 People

Enjoy a camping buffet with tents, chairs, and other camping goods provided by Coleman. Everything will already be set up for guests to enjoy.

 

Lunch & Dinner Buffet Menus

Dinner

・Beef churrasco in black pepper

・Chicken paella

Lunch

・Frankfurt and smoked berry ham

Lunch & Dinner

・Meat and potato cottage pie

・Atlantic salmon wood plank grill

・Croque-madame style hot ham and cheese sandwich

・Spare ribs in BBQ sauce

Information

Hotel Camp Buffet

Where: ALL DAY DINING KAZA (Rihga Royal Hotel Kyoto Floor 1F)

Address: 1 Taimatsuchō, Shimogyo Ward, Kyoto

Running: May 1, 2021 – August 31, 2021

Times: [Lunch] 11:30-15:00 (Last Orders 13:00) / [Dinner] 17:30-21:00 (Last Orders 19:00)

Bookings: Must be made 3 days in advance. Slots are two hours max.

Price: ¥6,050 (Includes lunch and dinner buffet and room)

Lunch/Dinner: https://www.rihga.co.jp/kyoto/restaurant/list/kaza/menu/lunch/

Rihga Royal Hotel Kyoto Official Website: https://www.rihga.co.jp/kyoto

Queen Bee Garden has released its new Snoopy-themed natural Pure Honey PEANUTS and Pure Maple PEANUTS in collaboration with the Peanuts comic strip.

The Line-Up

Snoopy Pancake Syrup

Pure Honey PEANUTS

Line up multiple pots together to make a cute Peanuts image

Pure Honey PEANUTS Orange Flavour

Wooden charm different with every product

Queen Bee Garden has produced maple syrup and honey made with entirely natural ingredients. Each bottle or jar also comes with a cute wooden charm.

© 2020 Peanuts Worldwide LLC( 短縮形 © 2020 Peanuts )

Peanuts Comic Launches 70th Anniversary Birthday Campaign in Japan

Japan's five Peanuts comic-themed cafes are now holding a birthday plan campaign in celebration of the series' 70th anniversary.

Each cafe branch is offering something different

PEANUTS Cafe Nakameguro x WHYTROPHY With Birthday Rosette

PEANUTS DINER Yokohama With Embroidered Striped Pin

PEANUTS DINER Kobe With Embroidered Striped Pin

PEANUTS Cafe Snoopy Museum With Tote Bag

PEANUTS Cafe Nagoya With Tote Bag

Campaign Art

Customers at the cafes will also be randomly selected to stay at the PEANUTS HOTEL and will receive a free sticker as pictured above. All who order the birthday plan and their group will even receive a free present.

(C) 2021 Peanuts Worldwide LLC (短縮形 (C) 2021 Peanuts)

Snoopy Café Opens in Niigata in Collaboration With Hoshi Tabeyo Rice Crackers

Befco is collaborating its Hoshi Tabeyo star-shaped rice crackers with the lovable Peanuts comic strip to open a themed café at Hotel Nikko Niigata. Named the "Hoshi Tabeyo x Snoopy Café @ Hotel Nikko Niigata," the café will open for a limited time from April 9 to May 9."

Snoopy and fans of Japanese snacks can look forward to an original themed menu, with every food item and drink ordered getting them a free novelty. Of course, the café will sell its own original merchandise too. The café will be decorated in all things Peanuts and Hoshi Tabeyo, and there will even be two photo booths for snapping a commemorative photo of your fun day.

The Menu

1. Snoopy Beef Stew: With a juicy meat and bouillon base, this stew is made with beef, onion, and mushrooms, all topped off with a Snoopy made from rice.

2. Snoopy Hamburger Curry: Snoopy's rice ears are topped with a hamburger, and the curry sauce is made with fruit and vegetables. There's even a little Woodstock made from cheese.

3. Snoopy Hot Sandwich: There are two different sandwiches, one with ham and cheese and the other with potato salad, and both have a different toasted illustration on them. These come in a free lunch box.

4. Hoshi Tabeyo Shaka Shaka Caesar Salad: A salad served in a cup drizzled in a Caesar dressing and with Hoshi Tabeyo rice crackers instead of croutons.

5. Thick Soufflé Pancake: Fat and fluffy pancakes combined with French meringue and served with a Snoopy cookie and sweet-tasting Hoshi Tabeyo. Enjoy together with the accompanying strawberry sauce.

6. Chocolate Parfait: A towering, chocolate-packed parfait layered with chocolate sauce, chocolate cornflakes, chocolate ice cream, and brownie. This is all topped off with a Snoopy cookie and Hoshi Tabeyo rice cracker.

7. Hotel Original Cookies (Set of 4): Crunchy cookies with various prints of familiar faces like Snoopy and Woodstock.

8. Lemonade: A sweet and refreshing lemonade beverage served with honey.

*Dishes 1-3 come with the Shaka Shaka Caesar Salad

*Ordering anything from the menu gets you one of four possible Hoshi Tabeyo x Snoopy postcards

Merchandise

© 2021 Peanuts Worldwide LLC( 短縮形 © 2021 Peanuts )

Information

Hoshi Tabeyo x Snoopy Café @ Hotel Nikko Niigata

Running: April 9, 2021 – May 9, 2021

Location: Hotel Nikko Niigata Floor 31F

Address: 5-1 Bandaijima, Chuo Ward, Niigata

Opening Hours: 11:30-18:30 (Last Orders 17:30)

Official Website: https://www.hotelnikkoniigata.jp/sys/news/detail/323

Demon Slayer: Kimetsu no Yaiba Holds Wisteria Event in Japan to Ward Off Demons

Keifuku Electric Railroad launched an event on Boxing Day last year in Japan in collaboration with the TV anime series Demon Slayer: Kimetsu no Yaiba. The event is still taking place and is set to end on April 11.

At Arashiyama Station on the Randen Line, there is a temporary area draped with wisteria flowers that commuters are encouraged to participate in as part of the collaboration. Built to ward off demons, fans of the anime series can write their own messages to be strung up on the flowers. They can write their thoughts and feelings on the characters and series as well as wishes and prayers for COVID to soon be over for all. It's been a popular photo spot amongst passengers. And if you head from this area up to the roof, you can gaze out at the incredible view of Arashiyama.

Sony Store Collaborates With Snoopy on New PEANUTS Collection

Sony Marketing released its new PEANUTS Friends Collection on Wednesday in collaboration with the beloved American comic strip Peanuts known for its iconic cast of characters like Snoopy and Charlie Brown. The colleciton includes wireless headphones, wireless speakers, and Walksman®.

 

A look at just some of the items in the PEANUTS Friends Collection

WF-XB700 Wireless Stereo Earphones | ¥16,500 (Tax Included)

The WF-XB700 wireless stereo earphones comes in 36 different patterns from a choice of six designs including Snoopy A, Snoopy B, Snoopy C, Woodstock, Charlie Brown, and Snoopy's Footprints.

There are also two case designs as pictured above featuring Woodstock and Snoopy/Charlie Brown and Snoopy.

The WF-XB700 offer crystal clear, high-quality audio wirelessly and are durable against water droplets like rain and sweat.

WF-XB700 Wireless Stereo Headset | ¥22,000 (Tax Included)

This headset features Snoopy on the left ear and Charlie Brown on the right. They offer immersive, high-quality sound and can be folded up to make them compact for carrying.

SRS-XB23 Wireless Portable Speakers | ¥15,400 (Tax Included)

Listen to your music wherever you go whether in the bathtub, kitchen, are at the beach, outdoors, and more with these wireless portable speakers. Available in two designs: Snoopy & Woodstock/Snoopy & Charlie Brown.

Walkman® NW-A50 Series| ¥27,500 (Tax Included)

This stylish collection of Walkmans® will make you forget about listening to music on your phone. What's even better is that buyers can have letters, Japanese characters, and numbers (up to 23) engraved on them to create a personalised device whether for yourself or as a birthday present for someone.

Walkman® S Series | ¥15,400 (Tax Included)

A slimmer version of the Walkman® if you're looking for something more compact. Up to 16 letters can be engraved on this one.

The New Disney Kyoto Traditional Design Series Combines Disney With Kyoto Craftsmanship

Kyoto City and Japanese company Shintsu are set to release their Disney/Kyoto Traditional Design Series after previously having to postpone the release due to the pandemic. It will be available from April 27 to May 10 and celebrates the skilled, dexterous hands of Kyoto's expert craftsman and their industry which has been passed down for thousands of years. They have innovated to create something brand-new that captures both the craft and culture of Kyoto and the contemporary wonder of Disney.

Comments from the Creators

©Disney

Okazen | Comment

"We have existed inside our town in Kyoto for 200 years. We make a variety of items from garments for maiko apprentice geisha to our own company-originals products. For this Disney/Kyoto Traditional Design Series, we wondered how we could express the world of Disney using the kyoyuzen Kyoto-style method of dyeing. We made something with detailed consideration, looking at all the intricate things in the dyeing process. Our Fantasia furisode long-sleeved kimono features a truly treasured scene which enabled use to incorporate many different methods in order to capture the expression, clothing, and all the stars as much as possible. We believe this piece will suck everyone into Fantasia's world."

©Disney

©Disney

Asahido | Comment

"For producing something for the Disney/Kyoto Traditional Design Series, we asked gave one of our craftsmen free rein to put their own individual self into the work. At the time, they were primarily an illustrator, so we were worried if the judges would overlook them, but the end result was something that looks truly complete and finished. The traditional craftwork of Kiyomizu pottery is a process of hand making and hand drawing each and every little thing. I believe it's this quality that gives the characters warmth and life. I'd love for people to take it in their hands themselves and take their time looking at it in a full 360°."

©Disney

Tsujikura | Comment

Tsujikura is Japan's oldest wagasa Japanese umbrella shop. We've been in Kyoto since 1690. In that small space underneath the washi Japanese paper and bamboo, one enters a rich world where they can feel the four seasons of Japan. Our umbrella for the Disney/Kyoto Traditional Design Series uses a very advanced technique known as kiritsugi, a type of cutting and patching. We displayed Mickey Mouse and Minnie Mouse on handmade washi paper which we dyed. You can feel an affinity with the umbrellas for their simple and minimal designs. Our aim was to incorporate Disney elements into a traditional Japanese umbrella pattern."

Other Featured Works

©Disney

aiba

©DISNEY Based on the"Winnie the Pooh" works by A.A. Milne and E.H. Shepard .

Asahido

©Disney

Kamiya

©Disney

©Disney

EIRAKUYA

©Disney

Okazen

©Disney

Katoriya

©Disney

Kanbayashi Shunsho Honten

©Disney

KYUKYODO

©Disney

Shoyeido

©Disney

Tankosha

©Disney

Tsujikura

©Disney

Nakajima Zougan

©Disney

Nakamura Rosoku

©Disney

Miyawaki Baisen-an

Poké Lid Project Lays Down New Manhole Covers in Kyoto

Five new Pokémon manhole covers were laid in Kyoto on Tuesday as part of the Poké Lid  project to place Pokémon-design manhole covers across the country.

Kyoto Original Poké Lids

The five Poké Lids are located in Arashiyama, Okazaki Park, Maruyama Park, Umekoji Park, and Nishikyogoku Athletic Park.

All of the Poké Lids placed across Japan feature completely original Pokémon designs making each individual one the only one in the world. The Pokémon Company is also working to make each one of them PokéStops for Pokémon GO.

 ©2021 Pokémon. ©1995-2021 Nintendo/Creatures Inc./GAME FREAK inc.

Tokyo's New Vegan Dessert Shop the vegan marshmallooow Opens in Ginza

Ginza Mitsukoshi is welcoming a limited-time vegan dessert shop by the name of 'the vegan marshmallooow' which is open from April 1 to June 30. This shop is known amongst the vegan community in Japan for its vegan cakes, and due to that positive response, is now opening its first long-term promotional pop-up shop in collaboration with Mitsukoshi Isetan Group.

Online orders opened at Mitsukoshi Isetan on March 27 with a delicious line-up that includes their signature vegan chocolate cake.

A look at just some of the mouth-watering line-up

Chocolate Cake

Their number one most popular order: a gorgeously gluten-free mirror cake made with rich chocolate.

 

<NEW> Whole Fruit Cake

For those who like something a little more fruity and refreshing, this juicy cake is topped with assorted fruits like setoka orange, peach, kiwi, blueberry, strawberry, and more. The gluten-free sponge and soy cream give it a light texture that's also rich.

 

<NEW> Special Chocolate Cake Slice

An exquisite three-layered version of the shop's iconic chocolate make made with plant-based ingredients. Its triple tier is formed harmoniously of sponge, chocolate mousse, and cream. A single serving for a single sweet tooth.

Strawberry Shortcake

Two moist layers of gluten-free strawberry sponge with a soy milk base. Smooth, creamy, light, and delicious.

 

Mont Blanc

This mont blanc is specially made with Japanese chestnuts. The addition of soy cream elevates the nutty flavour throughout. A crunchy tart and fluffy sponge also makes for a textural sensation.

the vegan marshmallooow's vegan cake now available online at Mitsukoshi Isetan

Vegan Chocolate Cake Set (3 Pieces)

Godzilla vs. Kyoto Event Begins This Spring

Kyoto Tower is set to be host to the upcoming Godzilla vs. Kyoto event which is running from April 16 to June 30. 

Key visual illustrated by Yusuke Nakamura

Stamp design

Stamp design

Stamp rally postcard

Godzilla vs. Kyoto Official Merchandise

Novelty illustrated by Yusuke Nakamura – available for the first 50 people each day

Kyoto Tower will hold a stamp rally event as part of Godzilla vs. Kyoto which will have people trying to find stamps in six locations in the tower as well as at Toji Temple and elsewhere. There is also a selection of official merchandise, a Godzilla exhibition, and much more planned.

If you're in Japan this spring, don't miss Godzilla taking over Kyoto.

TM & (C) TOHO CO., LTD.

イラスト/中村 佑介 TM & (C) TOHO CO., LTD.

Matcha and Latte Cookies and Drinks Released by Yojiya

Kyoto makeup brand Yojiya is now selling its own collection of snacks and drinks which it released via its website last week.

Yojiya Matcha Sandwich Cookies | ¥1,400 (Tax Included)

Yojiya Cafe Latte Chocolate Cookies | ¥1,350 (Tax Included)

Yojiya Matcha Milk | ¥950 (Tax Included)

Yojiya's snack line-up is made with the idea of being able to enjoy high-quality food products at home. Their collection includes crunchy matcha and cafe latte cookies along with matcha milk, the latter of which is made with famous Uji matcha from Uji, Kyoto. Perfect for a tea/coffee break or as a souvenir.


Cherry Blossom Chocolate and Soda Releases From MAISON CACAO

Japanese aromatic raw chocolate brand MAISON CACAO is launching a new Kamakura-based brand called Shiki to Maison ("Four Seasons & Maison") which will feature chocolates that capture the events and culture found throughout the four seasons in Japan.

The first entries to the series are cherry blossom chocolates which are available from March 26 to April 4, as well as cherry blossom drink which can be enjoyed on March 27 and 28.

 

Aroma Raw Chocolate SAKURA ¥2,200 / Cacao Vinegar Soda SAKURA ¥550 (Before Tax)

Aroma Raw Chocolate SAKURA

Indulge in a box of these luxury cherry blossom chocolates which are made with 100% cacao powder which have a refreshing white chocolate aftertaste. The chocolates are made with cherry blossom as well as a fresh cream laced with salt-pickled cherry blossom. They also include a paste made from liquid drawn from cherry blossom petals. It's a taste of Japanese spring with every bite.

Cacao Vinegar Soda SAKURA

This springtime beverage includes a cacao vinegar made from cacao pulp and is coupled with fragrant cherry blossom. This one is available at the Komachi and Cacao Hanare branches as well as at CHOCOLATE BANK.

Information

Shiki to Maison Sakura Sweets

Japanese Product Name: 四季とメゾン 桜スイーツ

Serving: March 26, 2021 – April 4, 2021

MAISON CACAO Official Website: https://onlineshop.maisoncacao.com/