American publisher collaborates with BEAMS to create the book of beauty "BEAMS beyond TOKYO"
New York publishers Rizzoli International Publications Inc. (Rizzoli) focus on art, photography and fashion and have now published a new book full of visual wonder entitled "BEAMS beyond TOKYO.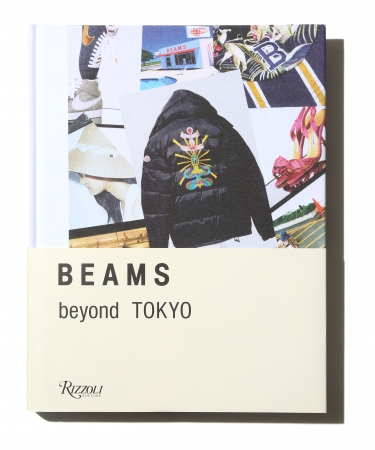 To this day, worldwide brands remain the focus of Rizzoli and they produce only the best quality books. However, this is the first time that a Japanese retailer has picked one of Rizzoli's books to start selling. Since its establishment in 1976, BEAMS has continued to serve as a boutique, selling a large range of fashion brands. Much-loved brands, designers, artists and creators from all over the world and brand collaborations that came into existence as the establishment grew have been archived in this book. This book will be released for sale on Tuesday 14th February.
The art director, photographer, and up and coming Japanese staff are just some of the members of the production team that made this book. Up until now, not are the visual representations of the items compiled in this book visual masterpieces, but it also consists of messages and interviews with people that have connections with the staff at BEAMS and much more. All of this represents 40 years of their booming success ー what a perfect way to summarise and celebrate.
"BEAMS beyond TOKYO" will be sold in Japan and on the official online shop on Friday 20th January before becoming available in other countries around the world.
 
■Information
 BEAMS beyond TOKYO
Release date: Tuesday 14th February
 There will be advanced sales of this book commencing on Friday 20th January, however, these advanced sales are only available at BEAMS stores within Japan or the official online shop. 
Number of pages: 256
Language: English  *Japanese translation included at the end of the book
Price: US $55/BEAMS price:¥7,000(Tax not included)
Art director:Natsuko Yoneyama(YONEYAMA LLC.)
Editor:RCKT/Rocket Company
Contributors:              David Marx
          Kaname Murakami(WWD JAPAN)
          Stella Ishii(<The News Inc.> Founder/representative)
          Toby Bateman(<Mr Porter> Managing director)
          Jonathan Barnbrook(Graphic Designer)
          Sophia Coppola(Film director, Scriptwriter, Fashion designer)
          NIGO®(<HUMAN MADE> Director )
          Chitose Abe(<sacai>Designer) and others
−−−
■Related article: Tokyo DisneySea® celebrates its 15th anniversary with limited edition BEAMS goods!
■Related article: New Japanese Souvenir ASOBISYSTEMxBEAMS Project "ASOBEAMS"
RELATED ENTRIES
BEAMS JAPAN Shinjuku Launches Event to Promote Japan's Sento Bath Houses

The Sento no Susume 2021 event being held by BEAMS JAPAN and Cow Brand Soap has now headed to BEAMS JAPAN Shinjuku. As part of the event, Mizuno has held designed a 'running course' is collaboration with sento bath house owners who have listed their recommended spots for running.

From Left: Hiroshi Fukui (Managing Director at Cow Brand Soap), Aya Terakawa (Sports Caster), Mari Yamazaki (Manga Author), Ryozo Naganuma (Kotobukiyu's 3rd Generation Owner), Hikaru Ikeuchi (Chairman of Board of Directors)

BEAMS JAPAN Shinjuku Floor 1F – Sento no Susume 2021 Pop-Up

BEAMS JAPAN Shinjuku Floor 1F – Sento no Susume 2021 Pop-Up

BEAMS JAPAN Sento no Susume 2021 Virtual Venue

For many years, sento public bath houses have been big part of Japanese culture and are located up and down the country. They are places people go to unwind, relax, and destress. However, with times changing, they are because less part of people's lives, and the facilities themselves are seeing significant wear and tear as well as not having successors to take over the businesses. Sento no Susume aims to revitalise sento and raise their cultural value once again by showing how they can be enjoyed. The first event was held in January and February in 2019.

The event arrived at BEAMS JAPAN Shinjuku on April 26 and  invites manga artist Mari Yamazaki on board who has given the store a makeover with her iconic artwork themed on exercise and bathing. This event combines sento bath houses with sports, and so as well as discovering bath houses to visit, you can learn find out about great running courses at the Sento Run no Susume corner. There's also a virtual venue accessible on the official website that creates the store in 4K 3D so everyone around the world can get involved regardless of their location.

Information

Sento no Susume 2021
Srart Date: April 26, 2021

Special Areas

BEAMS JAPAN Shinjuku




Running: April 26, 2021 – May 31, 2021

MIZUNO OSAKA CHAYAMACHI




MIZUNO TOKYO

Sento no Susume 2021 Merchandise

Available at BEAMS in-store and online

Participating Branches: BEAMS JAPAN (Shinjuku)

Dates: April 26, 2021 – June 30, 2021

Future participating branches depending on Japan's state of emergency: BEAMS JAPAN SHIBUYA/BEAMS JAPAN KYOTO/BEAMS STREET UMEDA/HEP FIVE 



Event Details: https://www.beams.co.jp/special/teamjapan/sentou/
Virtual Venue: https://my.matterport.com/show/?m=pMV2FmHUg4M

BEAMS Official Website: https://www.beams.co.jp/

BEAMS Scraps Vinyl Shopping Bags For Sustainable and Environmentally-Friendly Alternative

BEAMS Japan will begin selling cotton shopping bags starting on May 1, scrapping the vinyl shopping bags it has been using until now in an effort to become a more sustainable and environmentally-friendly brand. Being made from natural cotton means no throwing away of plastic, plus it can be reused for a long time.

The BEAMS vinyl shopping bag has been in circulation since 1986

The new cotton bag being introduced on May 1, 2021

BEAMS-original paper water packs

The iconic BEAMS vinyl shopping bag was first introduced in 1986 and was adored for its convenient draw cord function, durability, and reusability. It became synonymous with BEAMS for etching its mark into the history of Shibu Kaji, or Shibuya's casual culture. These bags were free to customers and were made down to the finest details just like clothing attire, from the inking to the braiding. Since their release, the bags have never undergone design or shape changes. The only thing that has been changed over the years is the material used for the eyelet where the cord is strung through in order to make it easier to separate. Additionally, part of the raw materials were changed to plant-based in order to reduce the reliance on oil resources.

BEAMS, which has been in operation for 45 years now, is now getting involved with the sustainable recovery efforts that have come even more to the forefront of the international stage during the pandemic. Their vinyl bags, of which 390,000 are made every year, will be abolished, and replaced with GOTS-certified organic cotton bags and sold for ¥550 (tax included) to customers who purchase something at BEAMS.

BEAMS has been making efforts to reduce since 1999, when it first introduced its scheme to gives shoppers the option to donate ¥100 to the OISCA Children's Forest Program which "educates school children and communities about the environment through tree planting and other related environmental activities." In total, it has raised over 30 million yen. With the introducing of the new cotton bags, this scheme will continue, with 10% of all proceeds made from sales of the bags to be donated to the program.



Additionally, BEAMS introduced FSC-certified paper bags to all BEAMS OUTLET and BEAMS GOLD stores in November 2020 and January 2021 respectively. It also released paper water packs in September 2020 which has saved on 60,000 PET bottles every year.

Information

BEAMS Cotton Shopping Bags

Release Date: May 1, 2021

Price: ¥550 (Tax Included)

Available: All BEAMS stores in Japan

BEAMS Official Website: https://www.beams.co.jp

Cow Brand Soap x BEAMS Japan Take Over Kotobukiyu Bath House in Tokyo

BEAMS Japan and Cow Brand Soap have teamed up to an event titled Sento no Susume 2021 which began on April 23. As part of the event, the two brands have come together at the popular Tokyo-based bath house Kotobukiyu where illustrations for the collaboration drawn by manga artist Mari Yamazaki (Thermae Romae, Olympia Kyklos) has been put up on the outside, inside, and along the walls.

See the illustrations being plastered in the video below.

At the bath house entrance, along the walls, and everywhere else

Fashion shoots are being held at the bath house

Limited-edition merchandise for Sento no Susume 2021

For many years, sento public bath houses have been big part of Japanese culture and are located up and down the country. They are places people go to unwind, relax, and destress. However, with times changing, they are because less part of people's lives, and the facilities themselves are seeing significant wear and tear as well as not having successors to take over the businesses. Sento no Susume aims to revitalise sento and raise their cultural value once again by showing how they can be enjoyed. The first event was held in January and February in 2019.



This year will be the second hosting of the event and invites manga artist Mari Yamazaki on board who has given Kotobukiyu a makeover with her iconic artwork themed on exercise and bathing. Six sports are featured in her drawings for the bath house including basketball, climbing, javelin, surfing, judo, and volleyball.

Have you experienced a Japanese sento before?

BEAMS Japan Gets Involved in Crowdfunding Project to Raise Money For Tohoku Earthquake

BEAMS Japan has announced its participation in the 3.11 Fukkou ni Yorisou Project on the crowdfunding service READYFOR to help raise money for restoration efforts in places that are still affected by the 2011 Great East Japan Earthquake. The apparel brand has created the Bakabon Family Charity T-Shirt, the proceeds of which will be used as a return to supporters of the project. READYFOR launched the project on April 14, 2021, the proceeds of which will be donated to six groups working to restore Tohoku.

From the READYFOR Project page

READYFOR launched back in 2011 as Japan's first crowdfunding service. In the past 10 years, 1,529 crowdfunding pages have been set up for restoration efforts of the Tohoku earthquake, which have brought in over 1 billion yen.

The charity tee by BEAMS Japan is available in nine sizes.

BEAMS JAPAN x Fukushima Prefecture's Fukushima Mono Mappu Project Heads to Kyoto

Fukushima Mono Mappu, a project run in collaboration with BEAMS JAPAN and Fukushima Prefecture, has set up to shop in Kyoto for the first time at BEAMS JAPAN KYOTO where their line-up of products will be available for purchase until March 14.

Shirakawa Daruma BEAMS JAPAN KYOTO Exclusive Model (Purple) | Small ¥900, Medium ¥1,800, Large ¥4,500 (Before Tax)

The Fukushima Mono Mappu project launched in January 2018 as a way to promote Japan's prefecture of Fukushima across the country. The collaborative project has released many different items, and now the people of Kyoto will be able to enjoy what the prefecture has to offer. To celebrate its first time in Kyoto, BEAMS JAPAN KYOTO will also be selling an exclusive purple daruma.

Information

Fukushima Mono Mappu – Peko Taro's City Trip 

Japanese Event Title: ふくしまものまっぷ べこ太郎の都旅

Running: February 17, 2021 – March 14, 2021

Location: BEAMS JAPAN KYOTO

Opening Hours: 11:00-20:00

Address: Shinpuhkan, 586-2 Banocho, Nakagyo Ward, Kyoto, 604-8172

TEL: 075-708-6848

Official Website: https://www.beams.co.jp

BEAMS Japan Kyoto finally opened on June 11, 2020 after the postponed grand opening of ShinPuhKan shopping centre in which it is located.

BEAMS Japan Kyoto comes as the first branch of BEAMS Japan in Kyoto and aims to be a hub of made-in-Japan products from BEAMS's "TEAM JAPAN" range, a project to curate content across a broad range of categories based on the keyword "Japan." The store will collaborated with Kyoto-based creators and businesses and offer a wide selection of branded products, original apparel lines, and more—through the lens of TEAM JAPAN.

The 3.5m high ceiling art of the legendary mythical bird Hou-ou catches the eye upon entry, and the shop lends a modern tinge to its traditional aesthetic. Here, BEAMS JAPAN's many different products are lined up against one another.


BEAMS JAPAN opened a brand in Shinjuku in April 2016 and subsequently in Shibuya in December 2019. BEAMS Japan Kyoto comes as the company's third branch.

Levi's® and BEAMS are teaming up once again to release a new capsule wardrobe called the 'HALF & HALF COLLECTION' which is set to drop on May 21, 2020.

Last year, Levi's® and BEAMS collaborated on their first seasonal capsule collection―called "The Inside Out Collection"―which featured shirts, jeans, and jackets flipped inside out.

Denim Jacket: ¥29,000 (Before Tax) | Sizes: XS-XL

In the new collection, we have Levi's® classic 1936 Denim jacket which represents the first informal uniform for labourers, merged together with another model to create an asymmetrical front with copper shank buttons.

Denim Pants: ¥25,000 (Before Tax) | Sizes: Women's 27, 28, 29 / Men's 29-36



T-Shirt: ¥4,800 (Before Tax) | Sizes: Women's XS / Men's S-XL


The pants also combine two models together: the 1937 501® and the 1993 501®, with an arcuate stitch back pocket. The T-shirt also fuses the corporate colours of both companies into one.

Experience Denim like never before in Levi's® and BEAMS new HALF & HALF COLLECTION.

Information

Levi's® × BEAMS "HALF & HALF COLLECTION"
Release Date: May 21, 2020
Available: Levi's®︎ Harajuku Flagship Store / Levi's®︎ Store Osaka / BEAMS Official online Shop / BEAMS Japan Shibuya / BEAMS Japan Kyoto (Opening June 11, 2020) / BEAMS Street Umeda
*Close note that some stores are closed due to lockdown measures

BEAMS Japan Official Website: https://www.beams.co.jp/

Ziploc® x BEAMS COUTURE Re-Release First Collaborative Collection at BEAMS Japan

Most of the 12 items offered in the second collaboration between Ziploc and BEAMS's upcycle and handmade concept label BEAMS COUTUREーwhich dropped on January 29, 2020ーhave already sold out.

Their first collaborative collection, which was sold in the US last spring, is being restocked in limited supplies and will be available at a pop-up shop inside the Shinjuku branch of the BEAMS Japan store on February 20, 2020 at 11:00 A.M.

Cap: ¥5,400 (Before Tax)

Tote Bag: ¥6,600 (Before Tax)

Backpack: ¥7,800 (Before Tax)

Sacocche: ¥1,080 (Before Tax)

The pop-up shop will run until March 4, 2020, where it will stock a range of Ziploc items with designs created by Japanese art director and graphic designer Yuni Yoshida.


As part of the collaboration, eleven original Instagram GIF stamps are available to users, with designs such as fruits flying out of Ziploc bags, a Ziploc vinyl umbrella opening and closing, and many more fun ones. Try searching for Ziploc and BEAMS.

Information

Ziploc® x BEAMS COUTURE

1st Collaboration Re-Stock

Release Date: February 20, 2020 at 11:00 A.M. (Limited Stock)

Available: BEAMS Japan Shinjuku
*Up to 3 items per person

*Available while supplies last

BEAMS Japan Shinjuku

Address: 3-32-6 Shinjuku, Shinjuku Ward, Tokyo, Japan

Official Website: https://www.beams.co.jp

Starbucks Reserve® Roastery Tokyo Releases Merchandise in Collaboration With BEAMS

Starbucks Coffee Japan has collaborated with BEAMS Creative Lab (ビームス創造研究), which is led by Kazuyoshi Minamimagoe, Senior Creative Director at BEAMS, to release a collection of merchandise to celebrate the coming New Year. The items arrived at Starbucks Reserve® Roastery Tokyo on December 17.

Since opening on February 28, 2019, Roastery Tokyo has collaborated with BEAMS Creative Lab on three separate occasions to release collections of merchandise themed on "Play," "Travel," and "Go out!" respectively. They have proven popular with both Japanese and foreign customers. For this fourth collaboration, the theme is "Lucky Charms."

The line-up of items range from classic Japanese New Year's celebratory items like pochibukuro mini envelopes and a towel with a New Year's greeting design on it to Roastery Tokyo-exclusive Kewpie dolls coloured copper and silver like the roasters in the coffee shop.

Look over the past year and beckon the New Year with a cup of coffee at Starbucks and some festive goodies.

Information

Starbucks Reserve® Roastery Tokyo

Address: 2-19-2 Aobadai, Meguro, Tokyo

Business Hours: 7:00-23:00

No Fixed Holidays.

Access: 14-minutes on foot from Naka-Meguro Station / 14-minutes on foot from the East Exit of Ikejiri-Ōhashi Station

Official Website: https://www.starbucks.co.jp/roastery/

BEAMS JAPAN Unveils Clothing Line-Up For New Shibuya Store

Following the opening of their Shinjuku branch back in 2016, BEAMS JAPAN has announced that it will open a second branch in Shibuya on December 5, 2019. It will be found inside the new Shibuya FUKURAS which is also set to open beside Shibuya Station to this December.

The store is set to be the second hub for BEAMS "TEAM JAPAN," a project which aims to build a community around the brand and promotes products made in Japan.

In the run up to the grand opening, the store has unveiled select products that buyers can look forward to grabbing this winter.

BEAMS JAPAN SHIBUYA x TOWER RECORDS T-Shirts (Hiroshi Nagai) – ¥6,600 Each (Tax Included)

MIZUNO WAVE CREATION WAVEKNIT (Made to Order Model) – ¥23,100 (Tax Included)

BEAMS Shibuya has collaborated with Japanese illustrator Hiroshi Nagai to release various items featuring his designs, including t-shirts featuring Tower Records Shibuya, as well as souvenirs with other Shibuya motifs like Hachiko and Scramble Crossing. There is also a pair of limited-time MIZUNO x HIGHSNOBIETY x BEAMS sneakers to get your hands on.

The store will make use of Japanese-style decor with wooden beams and pillars. There will be ceiling art from Japanese artist Kads MIIDA, as well as a classic hiyoke noren entryway curtain to the store, something which has been used since ancient times.

Gold Adzuki Bar – ¥220 (Tax Included)

BEAMS JAPAN prides itself on promoting local business and culture. For the Shibuya store's opening, they have teamed up with Imuraya Confectionery so that customers can buy Gold Adzuki Bars, an ice cream bar that was created in Mie Prefecture and is considered "the nation's ice cream."

Akafuku Mochi (Includes 8) – ¥760 (Tax Included) / Akafuku Mochi Single Pack (Includes 2) – ¥240 (Tax Included)

And for the first three days of the store's opening, it will offer a rare opportunity to buy akafuku mochi, a Japanese confection consisting of a pounded rice cake topped with red sweet bean paste.

And to further promote Japanese fashion to the world, BEAMS JAPAN will simultaneously launch a new collection at both the Shibuya and Shinjuku branches.

BEAMS Shibuya will also launch its second collaboration with the upcoming Japanese film Tora-san, Welcome Back and will also hand out copies of BEAMS EYE ON SHIBUYA which includes essential information written by the BEAMS staff about what's great about Shibuya. Don't miss out.

Information

BEAMS JAPAN SHIBUYA

Grand Opening: December 5, 2019

Address: Tokyu Plaza Shibuya 2F, 1-2-3 Dogenzaka, Shibuya, Tokyo
Opening Hours: 10:00-21:00
Stocked Labels: Men's <BEAMS> / Women's <Ray BEAMS> <BEAMS BOY> / Other <BEAMS JAPAN> <TOKYO CULTUART by BEAMS>

BEAMS JAPAN Official Website: https://www.beams.co.jp/beams_japan/

Following up from the opening of their Shinjuku branch back in 2016, BEAMS JAPAN has announced that it will open a second branch in Shibuya on December 5, 2019. It will be found inside the new Shibuya FUKURAS which is also set to open beside Shibuya Station to this December.

Shibuya-Exclusive Field Watch – ¥15,000 (Before Tax)

BEAMS JAPAN Shibuya is set to be the second hub for BEAMS "TEAM JAPAN," a project which aims to build a community around the brand and promotes products made in Japan. Opening with a completely original line focused on "super basic" clothing, it is sure to be a welcome addition to the streets of Shibuya―one of Japan's leading districts when it comes to Japanese fashion and culture.

BEAMS JAPAN Hachiko Logo Long T-Shirt – ¥7,800 (Before Tax)

Scramble Crossing/Traffic Safety Caps – ¥5,800 Each (Before Tax)

The new store will stock a whole range of different clothing items, including attire exclusive to the branch such as the above-pictured caps and watch inspired by Shibuya;s tourist sites like the Scramble Crossing and Hachiko statue.

Information

BEAMS JAPAN SHIBUYA

Grand Opening: December 5, 2019

Address: Tokyu Plaza Shibuya 2F, 1-2-3 Dogenzaka, Shibuya, Tokyo
Opening Hours: 10:00-21:00
Stocked Labels: Men's <BEAMS> / Women's <Ray BEAMS> <BEAMS BOY> / Other <BEAMS JAPAN> <TOKYO CULTUART by BEAMS>

BEAMS JAPAN Official Website: https://www.beams.co.jp/beams_japan/

BEAMS fennica to Release Gorgeous Collection in Collaboration With Ainu Crafts

fennica is a fashion label associated with BEAMS that combines traditional Japanese handicraft with new and old designs collected from Northern Europe. The label has announced that it will collaborate with the Akan Tourism Association (法人阿寒観光協会まちづくり推進機構) non-profit organisation to release an all-new collection that incorporates traditional Ainu crafts.

Terry Ellisーthe London-based director of fennicaーand Keiko Kitamura observed Ainu culture in the Lake Akan area in Kushiro, Hokkaido, and have used the creative beauty of young craftsmen and craftswomen who are in charge of next-generation Ainu culture. Overtime they have worked together with the artisans to create an original collection entitled "Ainu Crafts from Lake Akan: Tradition and Innovation" which will be sold on the fifth floor of the Shinjuku branch of BEAMS Japan in the fennica studio and B Gallery from October 12.

The collection incorporates silver jewellery with Ainu patterns, wood-carved cutlery, hamper bags made with traditional materials, and many other lifestyle items familiar to Ainu culture. During the showcasing, there will be other exhibitions related to Ainu in the gallery, as well as talks, live performances, and more.

A special webpage went live on October 1 talking about this collaboration.

The collection's director Terry Ellis commented: "When I was walking around Takiguchi's store Ichigen No Mise, my attention focused on this cutlery. I felt the folklore in its simplicity. Though it's an item to be used, the craftsmanship is incredible. You can't just stop at one, you want to collect more and decorate with them." *Translated from Japanese

Keiko Kitamura, also a director for the collection, commented: "Akan is a rare kind of place, with mountains, rivers, lakes and forests. It has its own shapes and colours because of the light, colours and sounds which change intensely with time and soak into your body. And Ainu art is distinct from the traditional craftsmanship of other countries and regions because in almost all categories you can still produce it even today. There are [Ainu] people who are still continuing to make art for their family to this day. Their still being here is something valuable."

She continues: "Japan's handiwork is in danger of vanishing across all areas of the country. Even if there are no successors, there are people who have been beside them watching, and people who were once involved in the past. So we may barely just make it. Because if this handiwork comes to a stop, it will be no more. We feel a sense of duty to protect this wonderful work."

Information

Ainu Crafts from Lake Akan: Tradition and Innovation

Location: BEAMS Japan – Floor 5F (3-32-6 Shinjuku, Shinjuku Ward, Tokyo)

Running:

<fennica Studio> Product Sales: October 12, 2019 – October 20, 2019 (*AINU CRAFTS products, specially-made fennica select Lake Akan items, and more)

<B Gallery> Lake Akan Exhibitions: October 12, 2019 – October 27, 2019

①Live Event: October 13, 2019 @ 18:00-18:30

Guests: Sister music unit "kapiw & apappo" (Fukuko Gōukon/Emi Shimokura)

②Talk Show: October 20, 2019 @ 18:00-19:30

Guests: Kengo Takiguchi, Hiroyuki Shimokura, Erika Katsuya, Keiko Kitamura, Terry Ellis

*The live event and talk shows are booking-only. Please check the B Gallery website for more details and how to book.

Visit the following website for more details on the participating artisans: https://www.akanainu.jp/karpekuru