BEAMS fennica to Release Gorgeous Collection in Collaboration With Ainu Crafts
fennica is a fashion label associated with BEAMS that combines traditional Japanese handicraft with new and old designs collected from Northern Europe. The label has announced that it will collaborate with the Akan Tourism Association (法人阿寒観光協会まちづくり推進機構) non-profit organisation to release an all-new collection that incorporates traditional Ainu crafts.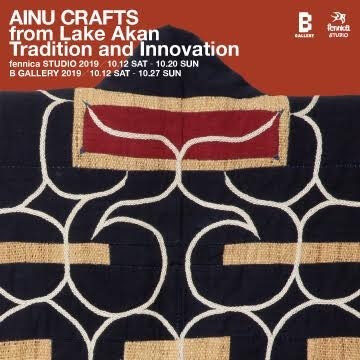 Terry Ellisーthe London-based director of fennicaーand Keiko Kitamura observed Ainu culture in the Lake Akan area in Kushiro, Hokkaido, and have used the creative beauty of young craftsmen and craftswomen who are in charge of next-generation Ainu culture. Overtime they have worked together with the artisans to create an original collection entitled "Ainu Crafts from Lake Akan: Tradition and Innovation" which will be sold on the fifth floor of the Shinjuku branch of BEAMS Japan in the fennica studio and B Gallery from October 12.
The collection incorporates silver jewellery with Ainu patterns, wood-carved cutlery, hamper bags made with traditional materials, and many other lifestyle items familiar to Ainu culture. During the showcasing, there will be other exhibitions related to Ainu in the gallery, as well as talks, live performances, and more.
A special webpage went live on October 1 talking about this collaboration.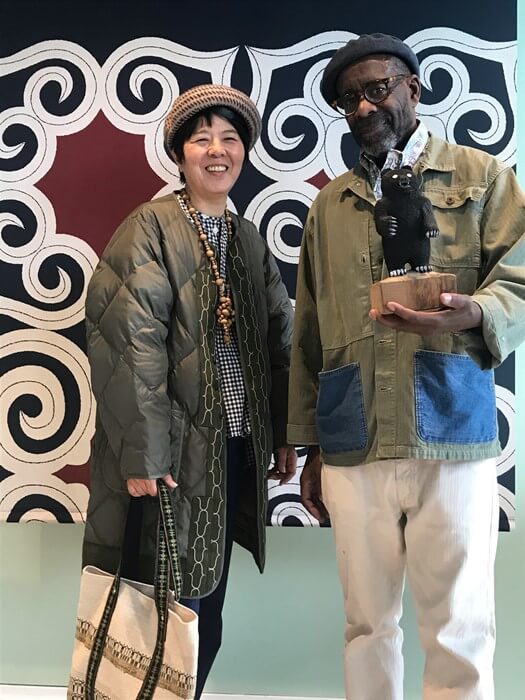 The collection's director Terry Ellis commented: "When I was walking around Takiguchi's store Ichigen No Mise, my attention focused on this cutlery. I felt the folklore in its simplicity. Though it's an item to be used, the craftsmanship is incredible. You can't just stop at one, you want to collect more and decorate with them." *Translated from Japanese
Keiko Kitamura, also a director for the collection, commented: "Akan is a rare kind of place, with mountains, rivers, lakes and forests. It has its own shapes and colours because of the light, colours and sounds which change intensely with time and soak into your body. And Ainu art is distinct from the traditional craftsmanship of other countries and regions because in almost all categories you can still produce it even today. There are [Ainu] people who are still continuing to make art for their family to this day. Their still being here is something valuable."
She continues: "Japan's handiwork is in danger of vanishing across all areas of the country. Even if there are no successors, there are people who have been beside them watching, and people who were once involved in the past. So we may barely just make it. Because if this handiwork comes to a stop, it will be no more. We feel a sense of duty to protect this wonderful work."
Information
Ainu Crafts from Lake Akan: Tradition and Innovation
Location: BEAMS Japan – Floor 5F (3-32-6 Shinjuku, Shinjuku Ward, Tokyo)
Running:
<fennica Studio> Product Sales: October 12, 2019 – October 20, 2019 (*AINU CRAFTS products, specially-made fennica select Lake Akan items, and more)
<B Gallery> Lake Akan Exhibitions: October 12, 2019 – October 27, 2019
①Live Event: October 13, 2019 @ 18:00-18:30
Guests: Sister music unit "kapiw & apappo" (Fukuko Gōukon/Emi Shimokura)
②Talk Show: October 20, 2019 @ 18:00-19:30
Guests: Kengo Takiguchi, Hiroyuki Shimokura, Erika Katsuya, Keiko Kitamura, Terry Ellis
*The live event and talk shows are booking-only. Please check the B Gallery website for more details and how to book.
Visit the following website for more details on the participating artisans: https://www.akanainu.jp/karpekuru
RELATED ENTRIES
BEAMS to Sell Limited-Time Goods Based on Post-Sauna Drink Mix Oropo

Ryusenji no Yu is a chain of bath facilities throughout Japan, offering saunas, bedrock baths, and artificial hot springs. Saunas are surprisingly popular throughout the country, and recently, a beverage called Oropo has been called the perfect drink to enjoy after sitting in the heat. A mixture of the vitamin drink Oronamin C and sports drink Pocari Sweat, it's a perfect blend to refuel after all that sweating. 

The Nagoya Moriyama location will begin selling Oropo-branded goods by BEAMS starting September 16!

Merchandise sold in the odd collaboration will include mugs featuring markings to help mix the perfect amount of Oronamin C and Pocari Sweat to make the ultimate Oropo. T-shirts with pop-up store character Oropo-kun are already the talk of social media. Those who purchase a certain amount of goods will be given a bonus sticker. 

As expected, Oropo will be served during the campaign, along with Oropo Shaved Ice, created by the queen of shaved ice Asako Harada!

Information

Ryusenji no Yu x BEAMS

On sale until September 26, 2021

Where to Buy: Ryusenji no Yu – Nagoya Moriyama Location

Official Site:https://www.ryusenjinoyu.com/

Edo-Tokyo Museum to Hold Exhibition Highlighting the 30,000 Year History of Tokyo

Tokyo as we know it today is built upon tens of thousands of years of history. The Paleolithic era, during which traces of human life have been found in the Tokyo area, dates back more than 30,000 years. It might be difficult to imagine what life was like so long ago, but ruins discovered during urban development offer a glimpse into the ancient past. 

The Edo-Tokyo Museum opened in 1993, and is set to begin a large-scale renovation in April 2022. Prior to the museum's temporary closure, a special exhibition titled 'Memories of the City: A Thirty Thousand Year History of Tokyo' will open from September 18 until December 5, 2021. The installation will look back on the history of Japan's capital, from the Paleolithic era to the present day.

Tokyo Takanawa Coast Steam Railway – Hiroshige Utagawa III. 1871. 

Sword-shaped Haniwa. Excavated from Kannonzuka Burial Mound. From the Kofun Period (250-538 CE)

Roof tiles. Excavated from the Site of Musashi Kokubunji Temple. From the Nara Period (710-794 CE)

Scene from Yamabuki no Sato by Ota Dokan. Saitou Yukio, Saitou Yukitaka, Saitou Gesshin, Hasegawa Settan. 1836. 

Excavated Materials from Hachioji Castle Ruins. From the Azuchi-Momoyama Period (1558-1600 CE)

Map of Edo. 1666. 

Procession of the Lords of Edo. Adachi Ginko. 1889. 

Washington Heights (Tokyo Aerial Photograph). Satou Suiyou. 1957.

Blazer worn by the Japanese Delegation at Tokyo Olympic Games. 1964. 

Nipponbashi at Dawn. Kawase Hasui. 1940. 

As urban development continues to progress, it's incredible to look back at the many people who have lived in the Tokyo area, and the many events that have taken place over time. Recently, a new train stop was added to the busy Yamanote Line in the capital, and the remains of an old railroad track were discovered during construction! What else might be hiding beneath the metropolis? 

Tokyo has undergone constant change due to natural disasters, war, and urban development, but historical buildings and important spots that tell the story of the city are being carefully preserved for future generations. Visitors to Japan often comment on this, claiming that so much of Tokyo's beauty comes from it's blend of old and new. 

Information

Memories of the City: A Thirty Thousand Year History of Tokyo

Running: September 18 – December 5, 2021

Hours: 9:30AM-5:30PM (Closed Mondays, with exception of September 20. Closed September 21.)

Address: Edo-Tokyo Museum, Permanent Exhibition, 5th Floor Feature Exhibition Room (1-4-1 Yokoami, Sumida-ku, Tokyo)

Official Site: http://www.edo-tokyo-museum.or.jp/

Japanred Project Opens New Website to Promote Recultivation of Japanese Akane Plant

The Osaka-Kansai Expo's "TEAM EXPO 2025 Co-creation Challenge" have launched the official Japan Red Project website, marking the beginning of a new project which aims to revive and redevelop the cultivation of the Japanese Akane, a culture which died out during the middle ages.

Japanese Akane, or Madder, is a flowering plant that grows naturally across Japan – But few people are aware of its existence. Despite this, the plant's root has been used to create red pigment in Japan since ancient times, appearing in excavated materials from the Yoshinogari ruins and in the Gishiwajinten records. It was also used to dye multiple precious historical artifacts, such as Nara period Emperor Shomu's favorite items and on Heian period armour. The first rising sun flag, which was established as the official flag of Japan upon the arrival of American ships in 1984.

The color is called JAPAN RED, but the dying method of Japanese Akane is tough – It requires a large number of roots to create the pigment, but the roots take three years to grow. The practice gradually declined, and eventually even the appearance of the Akane was forgotten, becoming a phantom plant. Due to this, the Japanese Akane is not available as a commercial dye.

The Japanred project is working towards agricultural diversification, focusing on the Japanese Akane. Their goal is to bring Japan's most important shade of red into the modern world and introduce it to a wider audience, increasing demand. Why not check out their official website to learn more about the iconic plant?

MOUSSY Announces Third Installment of Art and Fashion Venture PROJECT U

High-casual brand MOUSSY launched a new art and fashion venture in March 2021 titled PROJECT U. The third installment of the project is launching on September 10, and has been made in collaboration with artist JUN INAGAWA.

 

PROJECT U was created to bring MOUSSY together with a variety of talented creators and artists, and to see what possibilities could open up from different collaborations. MOUSSY has fused fashion and culture together countless times in the past along with popular characters from Disney and other brands. PROJECT U focuses exclusively on art!

The third installment of PROJECT U will feature plenty of apparel, from T-shirts and hoodies to tote bags and skateboards. JUN INAGAWA helped design these limited-edition items, with some featuring imagery from his 'Otaku x Street' collection, as well as a theme he works with often: destruction and rebirth. Apparel will be available in two unisex sizes.

The SHEL'TTER TOKYO and MOUSSY FLAGSHIP SHOP will also be holding JUN INAGAWA's solo exhibition and accompanying workshop. For more info on the apparel or exhibition, head to the PROJECT U special site!

Information

PROJECT U Third Installment

 

Release Date & Location:

September 10, 2021

MOUSSY Lumine EST Shinjuku, SHEL'TTER WEB STORE

September 17, 2021

The SHEL'TTER TOKYO / MOUSSY FLAGSHIP SHOP, MOUSSY Stores

PROJECT U: https://www.moussy.ne.jp/project_u/

Official Site: http://www.moussy.ne.jp

Results of First Japanese Traditional Culture Grand Prix Announced

With 130 entries submitted from all parts of Japan, the 8 winners of the first Japanese Traditional Culture Grand Prix have finally been announced. The contest was spearheaded by the Japan Traditional Culture Promotion Project, established in May 2020 as a collaborative effort among companies, associations, and local governments to establish a sustainable framework for the continued development of Japanese traditional culture.

Grand Prix Winner: Nakagawa Woodcrafts Hira Studio "Wave" series (left) "YORISIRO" series (right)

The winner of the top prize was Nakagawa Woodcrafts Hira Studio, in which the craftsmen still use a 700-year-old technique to create their famous wooden buckets. These buckets, once used for storing rice and miso, are still used today for a variety of different purposes, from bathing to cooling champagne! In stepping away from their typical works, the Nakagawa Woodcrafts studio created the more freeform "Wave" series, and the name surely fits–each bucket looks too free to have been manmade. The "YORISIRO" series, rather, keeps the natural curvature of the wood. Both are signature pieces of traditional Japanese artisanal culture.

Runner-up: Cubism in Calligraphy "Natural Stance," Atelier Sisyu, Sisyu

Excellent Award: Kyo Braided Cords Sanjiku-Kumiori "Kujaku Kouki," Saiko Ltd., Koichiro Murokado

Excellent Award: Structured System "Kumiko Endurance Wall," Tosa Kumiko Co., Daisuke Iwamoto

Excellence Award: Porcelain "Yuragi" Hiroshi Taruta

Excellence Award: Lacquer Art "Tataeru" Shinsuke Aoki. 

 

Excellent Student Award: Picture Frame "KOZAI" Ryohei Nomura. 

Special Award: Rinku, a group of young female craftswomen from the Toukai region

The Japan Traditional Culture Promotion Project began this contest as a way to honor outstanding works from creators around Japan. The jury consists of 18 people from various fields, including Richard Collasse, the Chairman of Chanel LLC, and popular model Kozue Akimoto. A collection of online presentations and interviews with the winners is planned in future events, and the project aims to help these artists continue to work sustainably. The second round of applications will open in November 2021.

Wakayama Culture Festival 2021 Coming to Shibuya

ASOBISYSTEM, in cooperation with the Agency for Cultural Affairs, will hold the Kinokuni Wakayama Culture Festival 2021 in Shibuya on October 3, 2021. The event will be free to attend, and will take place at Shibuya CAST, a modern commercial facility located between Shibuya and Harajuku.

The Kinokuni Wakayama Culture Festival 2021, taking place in Wakayama Prefecture from October 30 to November 21, is the one of the largest cultural festival in Japan. This event will bring many popular presentations and goods from Wakayama to Shibuya, allowing Tokyo residents to experience some of the beauty and traditions of this area of the Kansai region. A number of celebrity guests will be in attendance, and local Wakayama goods will be on sale. Measures will be taken during the event to prevent the spread of COVID-19.

Promoting the Wakayama Culture Festival Throughout Shibuya!

In a special collaboration with SHIBUYA TELEVISION, the largest media outlet in the Shibuya area, a promotional video produced in Wakayama Prefecture will be aired on eight large screens in the Shibuya area from September 27 to October 3. Select restaurants in Shibuya will also serve dishes featuring ingredients from Wakayama for a limited time.

Get the Wakayama Panda Mask Cover for Attending!

An original Wakayama Panda Mask Cover, produced by ASOBISYSTEM, will be given to visitors on the day of the event. *Quantity limited.

If you're in the Tokyo area, be sure to come out to this special event where you can experience the charm of Wakayama!

Information

Kinokuni Wakayama Culture Festival 2021 in Shibuya

When: October 3, 11:00-17:00

Where: Shibuya CAST. (1-23-21, Shibuya, Shibuya-ku, Tokyo)

Entry: Free

Content: Wakayama Product Market / Stage Show, etc.

Guests: To Be Announced

Organized by: Agency for Cultural Affairs
Planning: ASOBISYSTEM / Channel 47

Twitter: https://twitter.com/wkym2021_sby

* In order to prevent the spread of COVID-19, the event may be subject to admission restrictions, changes in content, or performance cancellations.

My Teen Romantic Comedy SNAFU Pop-up Shop to Open in Shinjuku

Romantic comedy anime series My Teen Romantic Comedy SNAFU (shortened to OreGairu in Japanese), is getting a Pop-up shop at the AMNIBUS STORE inside Shinjuku Marui Annex from September 3 until September 19. 

All merchandise sold at the Pop-up shop will feature newly-drawn original illustrations of Yukino Yukinoshita, Yui Yuigahama, and Iroha Isshiki in maid attire. 

Event Pre-sale Merchandise

Pins (Random, 9 designs): ¥440 each (Tax Included) / Box of Pins: ¥3,960 (Tax Included)
*Box contains randomly selected pins.

Acrylic Keychain (Random, 9 designs): ¥715 each (Tax Included) / Box of Keychains: ¥6,435 (Tax Included) *Box contains randomly selected keychains.

1/7 scale BIG Acrylic Stand (3 designs): ¥3,300 each (Tax Included)

Mug (3 designs): ¥1,650 each (Tax Included)

Clear Folder (4 designs): ¥440 each (Tax Included)

Life-size Tapestry (3 designs): ¥10,780 each (Tax Included)

Yui Yuigahama Mug: ¥1,650 (Tax Included)

Event Box Purchase Bonus


Those who buy 1 box of Pins will receive a holographic pin as a special gift!

Those who buy 1 box of Acrylic Keychains will receive a holographic Acrylic Keychain as a special gift!

Limited-edition Event Photos (7 varieties)

For every ¥2,200 spent on event-related merchandise (including tax), customers will receive a random Limited-edition Event Photo.

©Wataru Watari、Shogakukan/My Teen Romantic Comedy SNAFU Production Committee

©渡 航、小学館/やはりこの製作委員会はまちがっている。完

Information

My Teen Romantic Comedy SNAFU Pop-up Shop

Running: September 3 – September 19, 2021

Location: Shinjuku Marui Annex 6F / AMNIBUS STORE (3-1-26 Shinjuku-ku, Tokyo)

Hours: 11:00-20:00

Admission by Lottery: To reduce the risk of transmitting COVID-19 and ease congestion in the store, guests will receive a numbered ticket and will be admitted by lottery. Tickets will be available from 10:40-10:50 from September 3-5. 

AMNIBUS STORE Twitter: https://twitter.com/AMNIBUS_STORE

Details: https://store.amnibus.com/oregairu-shinjuku0101annex/

Official Site: https://www.0101.co.jp/005/

BEAMS Announces Virtual Sento Bath Experience at Virtual Market 6

BEAMS is set to have its own booth at Virtual Market 6 (Vket6) which will be hosted by HIKKY from August 14-28. At the BEAMS booth, they will be showcasing must-visit sento bathhouses. Vket is one of the biggest virtual events in the world, and uses Web to VR technology so you don't need a VR headset, meaning people can access it simply by connecting via mobile, PC, or other smart device. This will be BEAMS' second attendance at the event, and shop staff will appear inside as avatars.

Inside BEAMS 'Recommended Sento 2021' Booth at Vket 6

Inside BEAMS 'Recommended Sento 2021' Booth at Vket 6

Vket-chan wearing the free towel you get at the BEAMS booth

BEAMS is taking their ongoing 'Recommended Sento 2021' project, which is running at Kotobukiyu in Ueno, Tokyo, until September, to the virtual realm in a collaboration with COW BRAND SOAP. As well as collaboration merch, players can use Vket-chan's 3D avatar and combine it with the free towel to bathe in the bath as her.

The virtual space is decorated with sento pictures illustrated by manga artist and calligrapher Mari Yamazaki. Users can also launch fireworks, and there are various Japanese summer-themed attractions.

The official Vket merchandise will be available on the Merch by Amazon service and can be shipped to Japan, the US, UK, France, Germany, Italy, and Spain.

Japanese Michelin Star Chef to Open New Restaurant Kimura Don in Shinjuku

A new restaurant by the name of Kimura Don is set to open inside Shinjuku Takashimaya's Restaurant Square on July 20, 2021.

Kimura Don is a new donburi restaurant produced by Koji Kimura, a chef whose popular sushi bar Sushi Kimura, located in Futakotamagawa, has held two Michelin stars since 2013. His new eatery continues the traditions and techniques honed at Sushi Kimura while spinning innovation into new donburi rice bowl dishes conceived from the many ideas Kimura has conceived over the years.

The donburi to be served recreates that perfect balance between vinegared rice and toppings which Kimura mastered at his sushi bar. Customers can enjoy a range of additions including donburi classics such as meat and fish as well as seasonal ingredients. The restaurant also uses locally grown and reared produce and ingredients that's also environmentally-friendly from Tokyo such as Kinuhari rice from Hachiojo and Akigawagyu beef. This will help to foster a relationship between local farmers and consumers. 

Lunchtime Dishes | ¥3,500 Each | Serving Times: 11:00-17:00 (Last Orders 16:00)

Pick from five different donburi bowls such as tuna, pilchard, and roast beef. Each season will also has its own exclusive dish made with seasonal ingredients. There's also a special option to order a set of two smaller versions of the dishes too for ¥3,800. 

Evening Courses | From ¥12,000 | Serving Times: 17:00-23:00 (Last Orders 22:00)

The evening course line-up is also made up of five different bowls as well as seven seasonal snacks.

Koji Kimura | Comment

"I've been set up in Futakotamagawa for 16 years. I studied how to prepare sushi rice for many years, since it serves as the foundation, so that I could create unique sushi. I have made sushi rice that's unique and draws a line under other restaurants, rice which when combined with toppings explodes with umami flavour. I use this same sushi rice as the basis for lots of innovative donburi dishes, and I'd love for people to enjoy a taste at the first place in Japan to do this."

Life Lessons with Uramichi Oniisan Anime Series Collaborates With Rascal the Raccoon

In promotion of the anime adaptation of Gaku Kuze's manga series Life Lessons with Uramichi Oniisan, a merchandise collection was released in collaboration with Nippon Animation's series Rascal the Raccoon on July 9 at Shinjuku Marui Annex. The items will also be released at Nanba Marui and Hakata Marui on July 24 and August 7 respectively.

A little look at some of the items

Name Badges | 5 Designs | ¥660 Each (Tax Included)

Pins | 8 Designs | ¥440 (Tax Included)

Keyrings | 8 Designs | ¥770 (Tax Included)

Keyrings | 6 Designs | ¥1,100 Each (Tax Included)

Keyrings | 8 Designs | ¥880 (Tax Included)

Acrylic Stands | 8 Designs | ¥880 (Tax Included)

Wooden Reversible Keyrings | ¥660 (Tax Included)

Hand Towel | ¥1,100 (Tax Included)

Onigiri Case | ¥1,320 (Tax Included)

Pass Case | ¥2,970 (Tax Included)

Tote Bag | ¥1,650 (Tax Included)

T-Shirts | Sizes: M, L, XL | ¥3,850 Each (Tax Included)

Exclusive artwork was illustrated for the collection featuring the characters Uramichi Omota, Tobikichi Usahara, Iketeru Daga, Utano Tadano, Kotori-san, and Rascal. The designs are featured on the merchandise sold at the pop-up shops.

©久世岳・一迅社/「うらみちお兄さん」製作委員会 © NIPPON ANIMATION CO., LTD.

Hokusai and Hiroshige Japan Blue Ukiyo-e Exhibition Opens in Shinjuku

The Adachi Foundation for the Preservation of Woodcut Printing is currently holding an exhibition centred on the Japanese ukiyo-e artists Hokusai and Hiroshige at their permanent exhibition in Shinjuku.

Shibusawa Eiichi (1840-1931) was a Japanese industrialist who is often known as the 'father of Japanese capitalism.' In Japan, people have a strong image of him as being a great man of modern history, but in actual fact one third of his life was lived during the same era as when esteemed ukiyo-e artists Hokusai and Hiroshige were alive. The Adachi Foundation's exhibition focuses on the colour blue, one which has roots during that era and has gone on to become a prominent colour in present day Japanese companies.

The immense popularity of bright blue ukiyo-e

Aizuri-e is a type of woodblock print that is printed predominanetly in blue. They were extremely popular in Edo and used Prussian blue, also nicknamed 'Japan blue.' Hokusai used this same colour when creating his famous Thirty-six Views of Mount Fuji, as did Hiroshige, bringing life to the backgrounds and environment.

Japan Blue: Ukiyo-e From Japan to Paris

Hiroshige showcased his work at the second Exposition Universelle in 1867, making it the first time for ukiyo-e to be properly shown to the world, allowing for the spread of Japonisme. Taken aback by how he used the Prussian blue, the people of Europe praised Hiroshige's work and named the colour 'Hiroshige Blue.' It was a turning point for Japan as the country began opening up to the world, enabling them to witness the skills of Japanese craft.

The Adachi Foundation is also hosting the exhibition online in VR for free which is available in both English and Japanese. Visitors can enjoy Hokusai and Hiroshige's work up close.

Information

Japan Blue in Hokusai & Hiroshige's Ukiyo-e: The Period in Which Shibusawa Eiichi Lived

Japanese Exhibition Title:「北斎・広重の浮世絵に見るジャパンブルー _~渋沢栄一の生きた時代~」

Running: June 22, 2021 — August 21, 2021

Address: 3-13-17 Shimoochiai, Shinjuku, Tokyo 161-0033, Japan

Opening Hours: [Tue-Fri] 10:00-18:00 / [Sat] 10:00-17:00

Closed: Sundays / Mondays / Public Holidays

Entry: Free

Exhibition Online(JP): https://my.matterport.com/show/?m=WJVeiudxTHg

Exhibition Online(EN):https://my.matterport.com/show/?m=4qQFG4CDSQU

Promare x Little Twin Stars Merchandise Releases in Collaboration With THE CHARA SHOP

The anime film Promare, Sanrio's Little Twin Stars, and THE CHARA SHOP teamed up to release a collaborative merchandise collection at Shinjuku Marui on July 1.

Wire Keyring Illustrated by Shigeto Koyama | 2 Designs | ¥880 Each (Tax Included)

Mirror Illustrated by Shigeto Koyama |  ¥880 Each (Tax Included)

Mini Towels Illustrated by Shigeto Koyama | 2 Designs | ¥990 Each (Tax Included)

Pin Set Illustrated by Shigeto Koyama | ¥1,320 (Tax Included)

Acrylic Stand Illustrated by Shigeto Koyama | 2 Designs | ¥1,430 Each (Tax Included)

Mug Illustrated by Shigeto Koyama | ¥1,650 (Tax Included)

Tote Bag | ¥2,200 (Tax Included)

Freebies for every ¥3,000 spent on merchandsie

The merchandise collection features adorable designs illustrated by Shigeto Koyama in the style of Sanrio's Little Twin Stars.

©TRIGGER・中島かずき/XFLAG © '21 SANRIO CO., LTD. APPR. NO. S620339

Information

Promare x Little Twin Stars x THE CHARA SHOP
Running: July 1, 2021 – July 13, 2021

Location: Shinjuku Marui Annex (Floor 6F)

Address: 3-1-26 Shinjuku, Shinjuku-ku, Tokyo, 160-0022, Japan
*Opening hours subject to change depending on COVID-19