Kyoto Station's Beautiful Cafe Saryo Fukucha Releases New Herb Tea and Dessert Sets & Autumn Menu
Saryo Fukucha has unveiled new Japanese herb tea and dessert pairing sets as well as a batch of seasonal autumntime menu items.
Kyoto is a city where history and tradition come together, and where every single day, people from all around the world come and go, each encountering new experiences. Saryo Fukucha opened inside Kyoto Station back in April this year. It is managed by long-running tea company Fukujuen.
▼Japanese Herb Tea & Dessert Pairing Menu
Herb Tea & Dessert Sets: ¥900 Each (Before Tax) *Herb teas by themselves are ¥500 each
Running: From October 10, 2019 (Available all year round)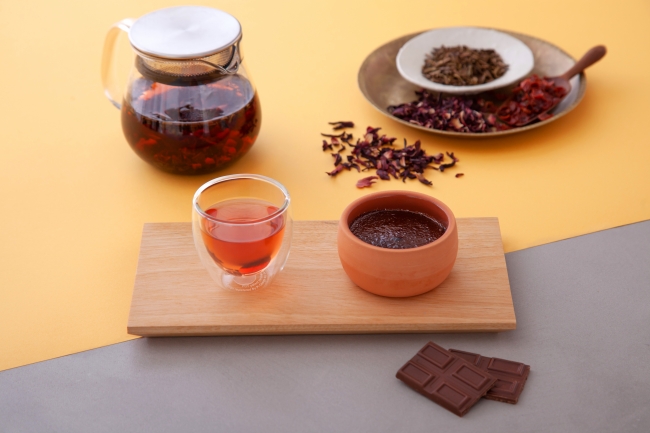 Hibiscus Blend Houjicha x Crème Brûlée Chocolate Berry Confiture
The tea is a luxurious and fragrant blend of light-roasted houjicha, hibiscus and rose hip. It's perfectly paired with a rich chocolate crème brûlée and refreshing berry confiture.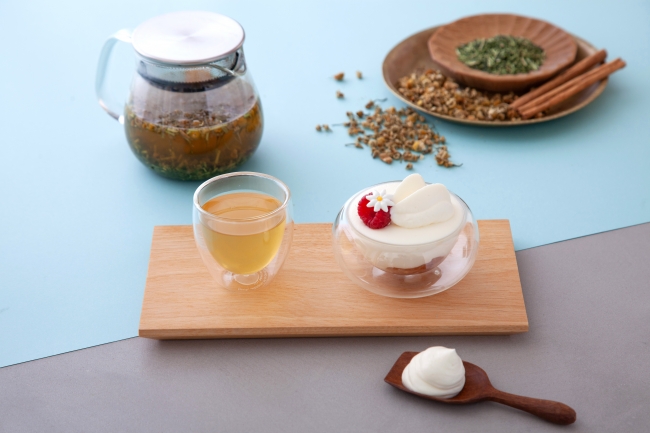 Cinnamon Blend Kukicha x Mascarpone Cream & Apple Tatin
This kukicha, or twig tea, has a distinct refreshing flavour to it. It has been blended beautifully with cinnamon and chamomile. The kukicha is paired with a caramelised apple tatin which is topped with a dollop of rich mascarpone.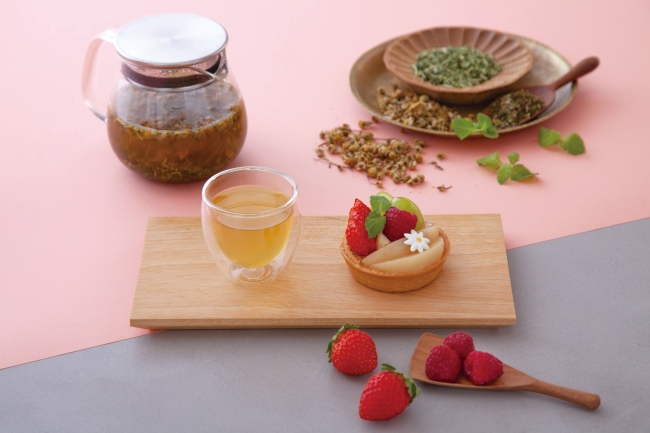 Peppermint Blend Kukicha x Seasonal Fruit Tart
Peppermint and chamomile are the blending ingredients for this kukicha tea. It comes with a tart with a full-bodied almond taste topped with seasonal fruits like strawberries and raspberries.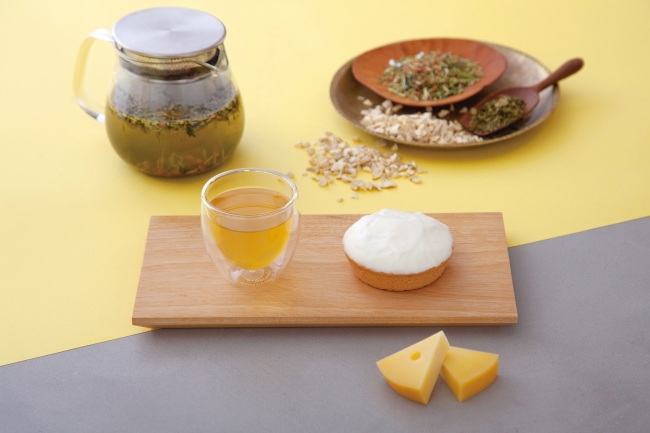 Ginger Blend Genmaicha x Tart Ricotta with Orange
Genmaicha is combined with roasted brown rice, giving it its characteristic sweet-smelling quality. Blended with ginger and dandelion leaves, it's been matched with a fromage blanc cream-topped ricotta cheese tart with a side of orange.
▼Autumn Menu
Running: October 10, 2019 – Late February 2020 (subject to change)
Sasamaki Okowa (Matsutake Mushroom & Daggertooth Pike Conger/Minced Chicken & Yama no Sachi) Houjicha Set – ¥1,200 (Before Tax)
This set was created by Hisato Nakahigashi from Miyamasou, a highly-rated inn in Kyoto. Enjoy the combination of the houjicha tea with the bamboo leaf-wrapped okowa steamed rice.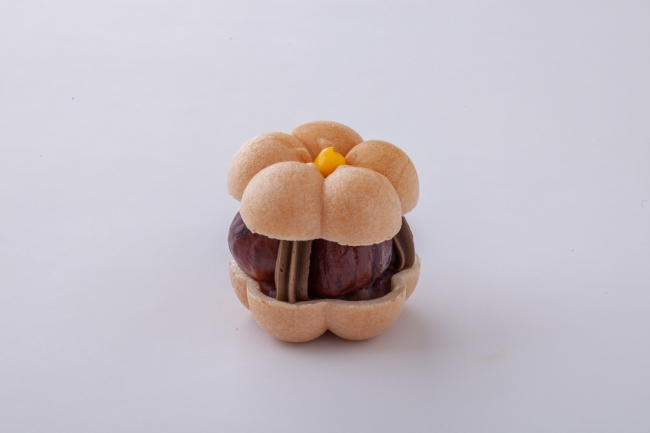 Chestnut Houjicha Wafer Cake – ¥350 (Before Tax)
Not only does this wafer cake look cute, it's packed full of autumnal ingredients too, including astringent chestnut and coarse sweet red bean paste.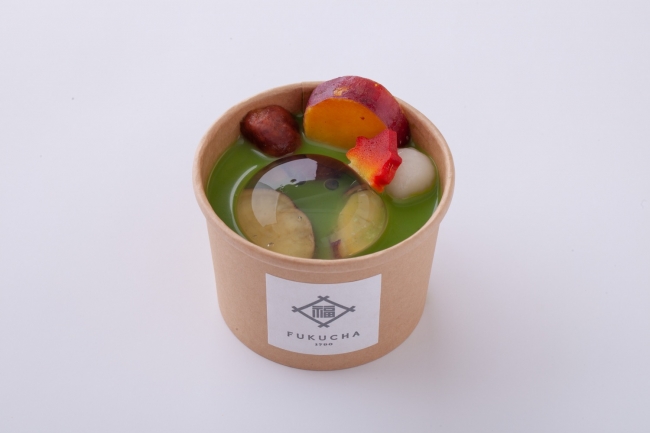 FUKUCHA Specially Made Matcha Koji Sweet Sake Red Bean Soup – ¥700 (Before Tax)
The koji sweet sake used in this dessert has a gentle flavour and a strong aroma. Added to it is matcha, chestnuts, sweet potato, and rice flour dumplings, all set into a mizu manju sweet water jelly.
Japanese confections are always best paired with Japanese tea, so be sure to stop by Saryo Fukucha when travelling around Kyoto.
Information
Saryo FUKUCHA
Address: Kyoto Station Central Exit Floor 2F (901 Higashishiokoujicho, Shiokouji Sagaru, Karasuma-dori, Shimogyo Ward, Kyoto)
Opening Hours: 8:30-21:00 (Last Orders 20:30)
No Fixed Holidays
TEL: 075-744-0552
Official Website: https://fukucha-fukujuen.com/
RELATED ENTRIES
3 Must-Visit Locations to See Kyoto's Autumn Colours at Night in 2019

Kyoto is known as the ancient capital of Japan. It is said to be the place where quintessential Japanese culture started, and has charmed the world over with its incredibly rich 1,200-year history.

Autumn is a popular season in Japan, especially amongst tourists and travellers. While in spring you have the bright pink cherry blossoms, when autumntime rolls around, the trees turn into enchanting reds and yellows. People from around the world flock to see this incredible sight, with Kyoto being a very popular location.

KYOTO SIDE, a regional information website run by Kyoto Prefecture, has listed a number of must-visit places around the city for seeing the autumn foliage, which is known as koyo in Japanese. Of course, viewing the beautiful colours of the trees and their leaves is a must during the daytime, but seeing them in the evening has become popular in recent years too. It offers you an entirely different experience and atmosphere. Here's three places you should jot down for your Kyoto trip this autumn.

Jitokuin Temple: A place of rest created by the chief priest and locals

Jitokuin Temple is located in the town of Yosano in Yosa District. Maple trees were planted almost 11 years ago with the help of locals and the chief priest to create local ties. Every autumn, the trees behind the mountain bloom in vivid hues, leading the temple to be nicknamed "Koyo-ji," or "Temple of Autumn." The locals work hard in the surrounding gardens day by day, so the sights change a little bit every year.

The maple trees are planted in a way that it looks like they take an entire side of the mountain. They are a sight to be hold during the day, but for one week in November there will be illuminations in the evenings, creating a magical scene under the night sky.

Light-Up Period: November 9, 2019 – November 16, 2019

Light-Up Time: 17:00-20:00 (Temple is open 09:00-20:00)

Autumn Foliage Peak Period: Early-Mid November

Address: 2250 Akeshi, Yosano, Yoza-gun, Kyoto

Support Fund: ¥300

Official Website: http://jitokuin.com

Nariaiji Temple: The 5-storey pagoda comes together with the autumn colours

Nariaiji Temple, located in Kyoto Prefecture's city of Miyazu, is an ancient temple betwixt mountains overlooking Amanohashidate, one of Japan's "Three Scenic Views." It's home to a grand 5-storey pagoda which is surrounded by hundreds of maple trees, offering an incredible, quintessentially Japanese view during autumn.

During the day, you can snap some gorgeous photos with the Sea of Japan and Amanohashidate in the back. For two nights only, on Saturday November 9 and Sunday November 10, the entire area will be beautifully lit up with warm illuminations.

Light-Up Period: November 9, 2019 – November 10, 2019

Light-Up Time: Sunset – 21:00 (Temple is open 08:00-16:30)

Autumn Foliage Peak Period: Early-Late November

Address: 339 Nariaiji, Miyazu, Kyoto

Price: ¥500

Official Website: http://www.nariaiji.jp/

Kasagiyama Prefectural Natural Park: A bright-red landscape from the mountain peak

Kasagiyama Prefectural Natural Park: is located atop Mt. Kasagi and is also home to Kasagi-dera, a temple with a 1,300-year history. During autumn, one entire side of the park is dyed in autumnal colours.

This November, the area will be lit up for a limited period, offering a gorgeous view from the mountain peak of the trees below as well as the flowing Kizugawa river.

Light-Up Period: November 1, 2019 – November 30, 2019

Light-Up Time: 17:00-21:00 (Temple is open 09:00-16:00)

Autumn Foliage Peak Period: Early-Mid November

Address: Mt. Kasagi, Kasagi, Soraku District, Kyoto

Price: Illuminations – Free / Temple – Adults ¥300, Children ¥100

Official Website: https://www.kasagidera.or.jp

See Japan's autumn colours in an entirely new way this year at one of Kyoto's many autumn-time illumination events.

THE MACHIYA SHINSEN-EN: Kyoto's New Traditional & Modern Fused Hotel

THE MACHIYA SHINSEN-EN is a new hotel that just opened on Tuesday (October 15) located just a five-minute walk from Kyoto's world heritage site Nijō Castle. Renovated from an old Kyoto-esque townhouse, this 21-room hotel fuses traditional Japanese architecture with the modern, complete with a lounge on the first floor decked with an open space where guests can enjoy a gorgeous breakfast if they choose the option. The friendly staff will be waiting to welcome guests to the hotel like friends.

The hotel's name derives from Shinsenen, a Japanese Buddhist temple and Kyoto sightseeing  spot located just a one-minute walk from the site. The temple is home to Japan's only "ehomaki shrine" where Toshitokujin, the goddess of auspicious directions for the current year, is enshrined. The temple is also home to an enormous and beautiful lake, and is said to provide good luck with marriage ties, something which is known to everyone in Kyoto. The "machiya" part of the hotel's name means "townhouse" in Japanese.

The hotel combines the traditional with the modern effortlessly, with four types of suite rooms available including the spacious corner suite rooms, as well as suite rooms that focus more on traditional Japanese architecture, namely that of the old-fashioned townhouse. All suite rooms have a kitchen, washer/dryer, and other convenient amenities for those looking for a longer stay, as well as for families and larger groups.

THE SHINSEN-EN Deluxe Suite

Located on the top floor, this corner suite room offers a spacious environment and enjoys plenty of natural lighting for the window which takes up an entire wall. There are both beds as well as a tatami area with futons so you can pick how you want to sleep. There's also a roomy washroom as well as a dining space with a fully-equipped kitchen and washer dryer. The room also has a sofa, TV, refrigerator, free WiFi, and more for your convenience.

THE MACHIYA Deluxe Suite (Dragon)

This suite room has a Japanese aesthetic with its paper sliding doors and hanging scrolls. Natural light seeps in from the ceiling window fitted to the high ceiling. As well as the Japanese-style bedroom, it also has a western-style bedroom and living room, as well as both beds and futons, so you can pick if you want a Japanese sleep or a western sleep. There is a fully-equipped kitchen and washer dryer. The room also has a sofa, TV, refrigerator, free WiFi, and more for your convenience.

THE SHINSEN-EN Suite

The entrance to this suite room has lattice doors and stone paving, welcoming you with that traditional Japanese aesthetic. The spacious room basks in natural lighting from the enormous windows. There is a fully-equipped kitchen and washer dryer. The room also has a sofa, TV, refrigerator, free WiFi, and more for your convenience.

In addition to suite rooms there are four other types including Deluxe Twin, Superior Hollywood Twin, Hollywood Twin, and Classic Hollywood Twin. The rooms enjoy indigo blue and orange colouring for a relaxed and modern feel. Each have their own washrooms, toilets, sofas and desks. Additionally, all first floor rooms can be connected, so you can turn them into full 2-3 or 4-5 people spaces.

Guests can use the first floor lounge space freely and at their own leisure. And if they choose so they can also enjoy breakfast there.

The front desk staff can speak both English and Japanese so can support foreign travelers. The hotel is situated in a great place for sightseeing, so be sure to consider booking at the all-new THE MACHIYA SHINSEN-EN if travelling to Tokyo.

Information

THE MACHIYA SHINSEN-EN

Opened: October 15, 2019

Address: 17-1 17 Shinsenencho, Nakagyo Ward, Kyoto

Access: 5-minutes on foot from Nijōjō-mae Station

Rooms: 21 (approx. 22-45㎡)

Capacity: 2-5 people

Breakfast: Served in first floor lounge for an additional fee

Official Website: https://shinsen-en.com/

Suiran Ranks as Japan's Best Hotel in Condé Nast Traveler For Second Year in a Row

"Suiran, a Luxury Collection Hotel, Kyoto" has ranked as the number one hotel in Japan for the second year in a row in the Japan's Top Hotels category of Readers' Choice Awards 2019 in Condé Nast Traveler.

The Condé Nast Traveler Readers' Choice Awards lists the world's best travel experiences as ranked by international travellers. Over 600,000 people voted Suiran as Japan's best hotel for the second time.

Suiran is located in Arashiyama, Kyoto and first opened in March 2015 under a brand of luxury hotels known as The Luxury Collection®. The hotel's concept is to make full use of Arashiyama's appeal, lauded for its deep culture and history, while paving the way to the future. It houses guests from around the world who can enjoy a view of Arashiyama's lush natural landscape which changes beautifully with the seasons, and who can experience a fusion of the traditional and the modern while being served classic Kyoto hospitality.

Speaking about the award, the hotel's general manager Hiroyuki Hatori said the following: "I am greatly honoured that we have been given the number one spot two years in a row in this internationally-recognised poll. To all the people in the region who continue to support Suiran, and to all our guests who use the hotel, I thank you from the bottom of my heart. These results are an incentive to further work hard with our associates to ensure this is a hotel that people will love even more."

If you are travelling to Kyoto and looking for a place to stay, why not consider the city's best: Suiran, a hotel which continues to pass down tradition while embracing the modern?

Information

Suiran, a Luxury Collection Hotel, Kyoto

Address: 12 Sagatenryūji Susukinobabachō, Ukyo Ward, Kyoto

Access: 15-minutes on foot from Saga-Arashiyama Station / 6-minutes on foot from Arashiyama Station via Keifuku Electric Railroad / 15-minutes on foot from Arashiyama Station via the Hankyu Arashiyama Line

Official Website: https://www.marriott.com/hotels/travel/ukylc-suiran-a-luxury-collection-hotel-kyoto/

Rilakkuma & Korilakkuma Confections by Tabemas Coming to Lawson Convenience Stores

Character-inspired Japanese confectionery series Tabemas has revealed that its next products will be Halloween-themed Rilakkuma and Korilakkuma sweets. They will go on sale at Lawson convenience stores across Japan (excluding Lawson Store 100 branches) on October 15, 2019.

These adorable confections are so cute it's hard to choose where to even start eating them from! Both versions are wearing snug pumpkin hats.

'Tabemas' is an abbreviation of the Japanese words taberareru masukotto, meaning 'mascots that you can eat.' It is a Japanese confectionery series that combines well-known characters and Japanese sweets made from ingredients like red bean paste, sugar and rice flour. The sweets are also made with a dough called "nerikiri" which is used in making traditional Japanese wagashi sweets.

To keep with the theme of autumn, Rilakkuma is pumpkin pudding flavoured (which is his favourite treat) and Korilakkuma is maple flavoured.

Stop by the ubiquitous Lawson convenience store while in Japan and grab yourself one of these treats for Halloween.

©️2019 San-X Co., Ltd. All Rights Reserved.

*The photographs are for illustrative purposes only.

*Actual product may differ from the photographs.

*Please be careful not to choke on the mochi.

*The latest information can be viewed via the Bandai Candy homepage.

*Tabemas and 食べマス are registered trademarks of Bandai.

isetan Urban Market KYOTO: Big Name Brands to Gather Inside a Traditional Kyoto Townhouse

isetan Urban Market is a popular fashion store located inside LUCUA 1100, an apparel building directly connected to the JR side of Osaka Station. The shop is set to depart Osaka and head northeast to a traditional townhouse in Kyoto where it will open a new store named isetan Urban Market KYOTO which will open on October 12 for a limited time.

"Have Fun, Be Happy" is the concept of this shop, where a diverse range of items from some of Japan's popular brands will be sold including clothing, accessories, food lingerie, cosmetics, and more.

More than half of these brands are setting up shop in Kyoto for the first time

little $uzie

A long list of brand names will make an appearance at the pop-up shop, such as little $uzie and ch!iii which are huge at isetan Urban Market, as well as other talked-about brands like MALION vintage, Paso, Celvoke, and many more.

BELPER

The shop will also see the likes of BELPER, an up-and-coming brand established by Yuichi Ozaki who won the top prize at the Bilbao International Competition. A confectionery store from Shizuoka will also make an appearance which is so popular it has people lining up outside it two hours before opening.

ASOKO

ASOKO is selling the above-pictured line "TODAY AND." made exclusively for Kyoto.

FARMAN KITCHEN MARKET

As well as designers, Osaka's fruit and vegetable store FARMAN KITCHEN MARKET will also be in attendance selling produce from contracted farmers from around Japan. There will also be a fruit and vegetable market on October 13 and 27 where sandwiches and other delicious foods will be sold.

Tradition and contemporary come together at the townhouse

Visitors will be able to relax and enjoy a mix of traditional and contemporary design at the townhouse, including with its garden and courtyard. The design was carried out by NOTA&design which is managed by NOTA_SHOP, a select shop in Shigaraki, Nagano.

Enjoy a fun and relaxing time this autumn at isetan Urban Market KYOTO.

Information

isetan Urban Market KYOTO

Location: 355 Rokkakuchō, Nakagyo Ward, Kyoto

Access: Roughly 5-minutes on foot from Shijō Station, Karasuma Oike Station, and Karasuma Station

*No car parking or bicycle space. Please arrive using public transport including bus or train

Date: October 12, 2019 – November 4, 201

*Closed Mondays, holidays, October 15, October 21, and October 2019

Time: 12:00-19:00

Official Instagram: https://www.instagram.com/isetanurbanmarketkyoto/

Two Snoopy Chocolate Shops to Open in Kyoto on October 9

Two chocolate shops themed on American cartoonist Charles M. Schulz's Peanuts character Snoopy are set to open simultaneously in Arashiyama and Kiyomizu-zaka in Kyoto on October 9, 2019.

Tablet Chocolat – From ¥1,200

Named SNOOPY Chocolat, the shops have many delicious treats lined up for fans of Snoopy, including these tablet-shaped chocolates. There are 8 in total, each telling a story of love, friendship and family that serve to give you courage.

Tablet Chocolat Japan – From ¥500

These cute heart-shaped tablet chocolates are made with Japanese ingredients like wasabi, yuzu, shiso, sesame, matcha, adzuki, shichimi, houjicha and more.

BonBon Chocolat – From ¥800

Made with rich, fragrant cocoa and Japanese flavours like yuzu, wasabi, roasted soy flour, matcha, houjicha and Japanese sake, these luxurious chocolates are like little pieces of art featuring Snoopy in his many different looks.

Both shops will feature an interior design reminiscent of Japanese-style houses. The Kiyomizu-zaka branch will have a luxury white chocolate colour tone while the Arashiyama branch will have a brown-coloured milk chocolate tone.

Tablet Chocolat (Arashiyama Exclusive)

Tablet Chocolat (Kiyomizu-zaka Exclusive)

Both shops will also have their own individual exclusive items too like the ones above, all original to SNOOPY Chocolat.

There will of course be plenty of original merchandise to get your paws on too, like plush toys, takeout cups, mugs, tote bags, freezer bags, and more, all perfect for use at home or as gifts to a friend.

Information

SNOOPY Chocolat (Kiyomizu-zaka Branch)

Address: 2-252 Kiyomizu, Higashiyama Ward, Kyoto, Kyoto Prefecture

Business Hours: 9:30-18:30 (Open from 10:00 on October 9 only)

No Fixed Holidays

Access: 20-minutes on foot from Kiyomizu-Gojō Station via Keihan Electric Railway

SNOOPY Chocolat (Arashiyama Branch)

Address: 22 Sagatenryūji Susukinobabachō, Ukyo Ward, Kyoto, Kyoto Prefecture

Business Hours: 10:00-18:00

No Fixed Holidays

Access: 5-minutes on foot from Arashiyama Station via Keihan Electric Railway / 15-minutes on foot from Saga-Arashiyama Station via JR Line / 20-minutes on foot from Arashiyama Station via Hankyu

SNOOPY Chocolat Official Website:  http://www.snoopy-chocolat.jp

Pretty, Palatable and Pleasant: A Purin Expert's Top 6 Purin Picks in Kyoto

Here at MOSHI MOSHI NIPPON, we have never failed to provide you with the essentials: updates on the best bubble teas around Kyoto. However, today we have a special sweet treat for you. After consulting expert Instagrammer kyoto cafe life tiara, we have compiled a list of Kyoto's top purin that will fill you with satisfaction and as well as nostalgia. Purin is a type of Japanese custard pudding loved by the Japanese for generations. When it comes to searching for the best desserts in the Kansai region, kyoto cafe life tiara leaves no stone unturned . 

Cafe Yamamoto, Higashiyama

Pudding (Set): ¥750

The bitter and fragrant caramel sauce of this purin is to die for. This purin has a rich eggy flavour and is stiffer than a traditional purin. Enjoy your purin served in a silver plate which will fill you with the nostalgia of the retro Showa Era.

▼Cafe Yamamoto (やまもと喫茶)

Address:307―2 Ishibashicho, Kyoto

Opening Hours: 7:00-17:00 (L.O.16:30)

Closed: Tuesdays

Kissa Zou, Imadegawa

The purin here is rich in flavour and garnished with a scrumptious biscuit. It is too cute to eat.

▼Kissa Zou (喫茶ゾウ)

Address: 440-3 Santeicho, Kamigyo Ward, Kyoto

Opening Hours: 9:00-18:00 (Last Orders: 17:00)

No regular holidays

BAR Tantei, Mototanaka

This fancy pudding is topped with seasonal fruit, ice cream or even cake. The retro atmosphere of the bar is the perfect place to enjoy a fancy moment to yourself.

▼BAR Tantei (喫茶探偵)

Address:

26 Tanaka Satonouchicho, Sakyo Ward, Kyoto

Opening Hours: 12:00-17:00,  19:00-02:00

Closed: Sundays, additional irregular holidays.

Takagi Coffee Takashiji Honten, Shijo Street

Homemade Purin Set: ¥ 800

Takagi Coffee is known for the unique shape of their purin, which looks very similar to a slice of cake. This purin is slightly stiffer than your usual purin and has a lovely accent of rum which adults love. This is best enjoyed with a cup of coffee.

▼Takagi Coffee Takashiji Honten, Shijo Street (高木珈琲店 高辻本店)

Address: 175 Honeyacho, Shimogyo Ward, Kyoto

Opening Hours: 7:00-19:00 (Closes at 18:00 on Sundays)

Closed: January 1-3

Salon de thé François, Gion Shijo

This purin is bigger than you expect it to be. Although the flavour is simple, it will send you on a trip to old traditional Kyoto. This purin is stiffer than usual and sweet with a gentle touch of bitter caramel sauce. This is topped with ice cream and garnished with tangy yet sweet strawberries. This purin is on a slightly more luxurious level which makes it perfect for adults.

▼Salon de thé François (フランソワ喫茶室)

Address: 184 Nishikiyamachi-dori-Shijo-kudaru; Shimogyo-ku, Kyoto.

Opening Hours: 11:00-22:30(L.O 22:0)

No regular holidays

NOTTA CAFE, Saiin

This deceiving purin may appear to look like a cake and avoid jiggling like a true purin would, however, once you take a bite, the rich custard flavour will flood your mouth. The flavour is perfect for those of you who cannot handle very sweet flavours and are looking for something more refined. To fully enjoy your experience, order this purin with the oiri sweets cream soda.

▼NOTTA CAFE (ノッタカフェ)

Address: 37 Saiinkitayakakecho, Ukyo Ward, Kyoto
Opening Hours:

Tuesdays-Sundays: 11:30-20:00

Wednesdays: 11:30-21:00
Closed: Mondays

So, how about it? For those of you who are in desperate need of a sweet fix in the Kansai region, Kyoto café life tiara's Instagram will swoop in to rescue you.

Research for article contents and photos provided by: @happy_pinkrose_tiara

Experience the Heart of the Japanese Tea Ceremony This Autumn in Ginza

In line with the annual autumn event Ginchakai―which is held in Ginza and brings together multiple schools of tea in Japan for an open-air tea ceremony―Tokyu Plaza Ginza is hosting an event themed on the heart of the Japanese tea ceremony.

This special event will serve Japanese omotenashi, or "hospitality," thorough various exhibits including a co-project with Tokyo University of the Arts, an exhibition by one of Japan's leading confectionery companies Toraya Confectionery, and more.

The co-project with Tokyo University of the Arts will feature installations produced by the university that is centred on calligraphy drawn by Japanese calligrapher Shoko Kanazawa, who performs both in Japan and overseas, and the tea ceremony. There will also be several tokonoma alcoves around the event which will be like miniature gardens where one can enjoy the beauties of nature. There will even be covers of famous songs about autumn on October 27 at the KIRIKO TERRANCE on the roof.

Up in the KIRIKO LOUNGE on the 6th floor, Toraya will serve up a selection of traditional Japanese confections, including those that had already been created by the end of the Edo period. You can order a set of two confections and a drink. Sweets include the Kiren Kaki, which is made to look like a Japanese permission, and the Kuri Goyomi, which is made with chestnuts, sugar, and agar-agar.

Soak up the enchanting nostalgia of autumn while enjoying the Japanese tea ceremony at Tokyu Plaza Ginza.

Information

The Heart of the Tea Ceremony in Ginza (Japanese Title: 銀座で触れる、茶の湯の心)

Running: September 26, 2019 – October 27, 2019

Location: Various places around Tokyu Plaza Ginza

GINZA Tokonoma Alcoves: Admire the Season With Tokonoma Art

Running: September 26, 2019 – October 27, 2019

Time: 11:00-21:00
Locations: Floors 3, 4, and 6

Autumn Music Performances

Date: October 27, 2019

Time: 12:00-15:30

Location: KIRIKO TERRACE on the Tokyu Plaza Ginza rooftop

TOKYU PLAZA GINZA x Bunkamura SPECIAL PROGRAM ~ Toraya Confectionery~

Running: October 11, 2019 – October 27, 2019

Time: 11:00-23:00 (Until 21:00 on Sundays and public holidays)

Location: KIRIKO LOUNGE (Tokyu Plaza Ginza Floor 6F)

Tokyu Plaza Ginza

Address: 5-2-1 Ginza, Chuo Ward, Tokyo

Official Website: https://ginza.tokyu-plaza.com/

Kyoto's Capsule Hotel Anshin-Oyado Now Offering Plan to Take Guests to Sacred Sword Locations

Capsule hotel Anshin-Oyado Premiere Kyoto Shijo Karasuma introduced a new plan on September 6 which gives guests the chance to go and see sacred places across Kyoto associated with Japanese swords.

October 4th is known as "Japanese Sword Day" in Japan. In Kyoto alone, the number of people visiting from distant places to see sacred sword places, as well as collect goshuin stamps from shrines and temples, is on the increase-as is the number of people staying at Anshin-Oyado Premiere Kyoto Shijo Karasuma. That's where this new guest plan comes into play.

The plan will take guests around different parts of Kyoto, so the hotel as prepared three options to cater to all guests' needs: one that offers a rental bicycle, a ticket to use the subway or bus, or the normal plan. You will receive a map which shows you the most efficient way to get around all the locations. There is also a QR code on the map which not only shows where you can park your bicycle if you go for that option, but also where to collect goshuin stamps.

Moreover, to really slash home those sword memories, guests will be lent a free selfie-stick which also acts as a tripod. There is also a separate powder room for guests wanting to dress up in full sword cosplay gear too which can be used until checkout.

Guests can also rent a portable power bank for their phone so they don't have to worry about their battery running out when snapping photos amongst other amenities, and have free use of the massage chairs, foot baths, open-air baths, and more to rest up after their long pilgrimage around Kyoto seeing the different swords.

Information

Sacred Sword Site Plan

Running: September 6, 2019 – Late December 2019 (subject to change)

Target: Guests staying at Anshin-Oyado Premiere Kyoto Shijo Karasuma

Information (Japanese): http://ur0.work/UmQa

 

Anshin-Oyado Premiere Kyoto Shijo Karasuma

Six Scrumptious and Satisfying Sodas in Kyoto You Have To Try

At MOSHI MOSHI NIPPON, we have introduced a lot of kawaii bubble tea drinks you can in enjoy in Kyoto. However, we have much more to offer you than just bubble tea news! Today we have summarised the top soda drinks you can enjoy in Kyoto which both look and taste amazing. With the help of kyoto cafe life tiara 's phenomenal photos, we will be introducing you our top six picks.

SHIN-SETSU /Nakagyō-ku

Blood Orange (left)  Blue Curaçao (right): ¥690

With a variety of 24 colourful cream sodas on the menu, this café offers a rainbow of flavours to enjoy. Your aesthetic soda is best enjoyed within the the picturesque American-style interior of the café, which is filled with antiques and cute pink decorations.

▼SHIN-SETSU

Address: 277 Enpukujimaecho, Nakagyo Ward, Kyoto

Opening Hours:

Weekdays: 12:00-19:00(L.O)

Saturdays 13:00-19:00(L.O)

Sundays 12:00-19:00(L.O)

No fixed holidays

Official Instagram: @shinsetsu.kyoto

Rhône(ローヌ)

On top of the refreshing blue ocean of soda floats a scoop of ice cream ー what a nostalgic image. The bright red cherry accents the flavour. Rhône serves not only delicious sodas but also homemade pudding and many other delicious desserts which are sure to leave your stomach satisfied. 

 

▼Rhône

Address: 645-1, Sanjoinokumacho, 

Nakagyo Ward, Kyoto

Opening Hours: 12:00-22:00

Closed: Wednesdays and Thursdays

Kissa Zou (喫茶ゾウ)

After becoming a big hit in Nagoya, Kissa Zou opened a new branch in Kyoto earlier this year in April. An adorable elephant (zou) can be seen riding the very top of your scrumptious soda. It is just too cute to eat!

▼ Kizza Zou 

Address:440-3 Santeicho, Kamigyo Ward, Kyoto,

Opening Hours: 9:00-18:00(L.O 17:00)

No fixed holidays

NOTTA CAFE

Cream Soda with Oiri Sweets (left) :  ¥600 Custard Pudding (right): ¥500

NOTTA CAFE's cream sodas have decorated the front pages of magazines before. A large crowd of oiri (Japanese-style round sweets) of a variety of colours can be seen huddled together riding the ice cream float on top of this cream soda. This ice cream soda is one of a kind and full of a variety of textures and flavours so you must try it.

▼NOTTA CAFE

Address: 37 Saiinkitayakakecho, Ukyo Ward, Kyoto

Opening Hours: 11:30-20:00 (Wednesdays: 11:30-21:00)

Closed: Mondays (additional irregular holidays)

Kissa Soirée (喫茶ソワレ)

Blue Sky Cream Soda (left) Strawberry Cream Soda (right): ¥700 each

This soda is topped with vanilla ice cream and a sakuranbo cherry. When the ice cream mixes with the soda, it becomes creamy. The interesting interior of this café is the perfect place to enjoy your luxurious sparkly cream soda.

▼Kissa Soirée

Address: 95, Nishikiyamachidori Shijo Agaru Shincho, Shimogyo-ku, Kyoto

Opening Hours

1st floor: 13:00-19:00 (L.O.18:00)

2nd floor: 14:00-19:30 (L.O.18:45)

Closed:Mondays

Maeda Coffee (前田珈琲)

This butterfly pea herb tea has minty aroma and a refreshing taste.  When you mix it, it gradually turns pink so you can enjoy the flavour as well as the changing appearance of your drink.

▼Maeda Coffee

Address:  236 Takoyakushi Dori Karasuma Nishi Iru Hashibenkeicho, Nakagyo- ku, Kyoto

Opening Hours: 7:00-19:00

Open all year round.

If you are ever in Kyoto, make sure to check out these cafés. If you are looking for more inspiration, look no further than kyoto cafe life tiara's Instagram, which is full of delicious desserts in the Kansai region.

Text and photos: @happy_pinkrose_tiara

5 Temples in Kyoto Announce Exclusive Viewings For Their Secret Cultural Assets

The history of Yamashina dates back over 1,400 years when Kyoto, then known as "Heian-kyō," was the official capital of Japan. Located in the southeastern part of Kyoto, Yamashina is rich in history, abound with nature, and has maintained a traditional industry that has gone unbroken since ancient times.

This year, with the arrival of Japan's new emperor and the opening of a brand new era, five of Yamashina's great temples are set to unveil several cultural assets, which until now have never been shown to the public.

They are as follows.

Anshoji Temple's Wooden Jūichimen Kannon Statue (Important National Treasure)

Kajū-ji Temple's Sliding Door Panel Artwork  – "Eight Views of Ōmi" & "Tatsuta River Autumn Leaves" (Important National Treasures)

Zuishinin Temple's Gold Lacquered Fan Inkstone Case & 4-Panel Folding Screen

Bishamon-do Temple's Imperial Prince Flag & Tortoise Shell Doors

Honkokuji Temple's Kyōzō (Important National Treasure)

Get away from the hustle and bustle of central Kyoto and steep yourself in its history with this very special once-in-a-lifetime opportunity.

Information

Special Viewings

Running: November 16, 2019 – December 1, 2019

Viewing Times:

Anshoji Temple, Kajū-ji Temple & Honkokuji Temple: 9:00-16:30 (Last Entries 16:30)

Zuishinin Temple: 9:00-17:00 (Last Entries 16:30)

Bishamon-do Temple: [Until November 31] 8:30-17:00 (Last Entries 16:30) / [From December 1] 8:30-16:30 (Last Entries 16:00)

Price

Anshoji Temple: ¥500 / Kajū-ji Temple: ¥400 / Bishamon-do Temple: ¥500

Zuishinin Temple: ¥500 (¥700 during illuminations at 6pm-8:30pm)

Honkokuji Temple: ¥500 (+¥500 to view the Kyōzō)

More details can be found over on Totteoki Kyoto Travel: https://totteoki.kyoto.travel/ (Japanese)

Cute & Shiny Doraemon Cookies & Dango Tin Are Kyoto Souvenirs You Can't Leave Without

If you're looking for must-buy souvenirs while in Kyoto then look no further. Heso Production are set to begin releasing Doraemon cookies and a cookie tin early this month at that are exclusive to souvenir shops and variety stores in Kyoto.

The cute printed cookies feature not only familiar faces from the Doraemon series, including the adorable cat robot himself, but illustrations of sights that are quintessential to traditional Kyoto culture including the five-story pagoda and the Daimonji bonfire.

Another must-grab is this shiny Doraemon tin. Also exclusive to Kyoto, the tin features a way-too-cute shiny design of Doraemon who is holding some dango.

The tin is filled with lemon flavoured ramune candy, a perfect nibble to have while travelling.

©Fujiko Pro・Shogakukan・TV Asahi・Shinei・ADK

Information

Dokodemo Doraemon Kyoto Exclusive Printed Cookies

Contains: 20

Price: ¥800 (Before Tax)

Release Date: Early September 2019 (Date may differ from store to store)

Location: Souvenir shops and variety stores in the Kansai region

Dokodemo Doraemon Kyoto Exclusive Shiny Tin

Contains: 2 bags (8g each) of lemon flavoured ramune candy

Price: ¥600 (Before Tax)

Release Date: Early September 2019 (Date may differ from store to store)

Location: Souvenir shops and variety stores in the Kansai region

Heso Production Official Website: https://www.heso-pro.com/