Variety goods store ASOKO is collaborating with "Doraemon" ー a famous character known all over the world! Originality flows through the veins of famous creator Buggy and illustrator Kazuhiko Ifuku. Until now, there hasn't been Doraemon goods out there quite like these! These collaboration goods will be selling at all ASOKO stores from February 2017.
Buggy has incorporated the concept of monotony into the designs of 9 collaboration items. The designs include Doraemon with a range of facial expressions. These designs feature on tote bags, iPhone cases, pouches, umbrellas and more!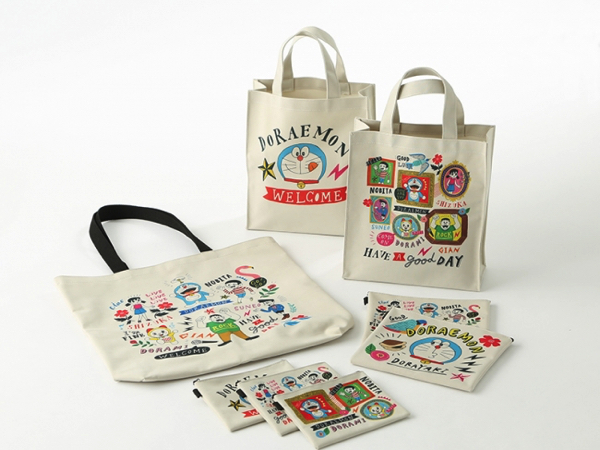 Kazuhiko Ifuku's products are characterised with their colourful designs. These also incorporate the characters Nobita and Suneo, Jaian and Shizuka-chan. These designs will feature on a total of 18 products including tote bags, stationery, watches and iPhone cases.
If you come across lots of products that you love, there's no need to worry about your wallet as each product costs less than ¥1,000. Cute and cool ー you've never seen any Doraemon goods quite like these! Please check them out!
■Information
ASOKO Doraemon collaboration
Release date:4th Feruary 2017
Available at the following stores:
Harajuku store:  Jingu-mae, Shibuya, 6-27-8, Tokyo
Minami Horie store:  Zeneiteki building 1st floor, Minami Horie, Nishi-ku 1-19-23, Osaka
Harborland umie store: Harborland umie Mosaic shopping centre 2nd floor, Higashi-Kawasaki cho, Chuo-ku 1-6-1, Kobe,
(C)Fujiko-Pro,Shogakukan,TV-Asahi,Shin-ei,and ADK
−−−
■ Related article: PUTITTO series release new Doraemon "Shizuka-chan" version! Now you can buy a cute little Shizuka-chan to rest on the edge of your cup!
■ Related article: Doraemon and Rilakkuma are now edible… but they're too cute to eat!! ♡