Gaze Over a Sea of Clouds at Hoshino Resorts Tomamu's New Cloud Bar in Hokkaido
This year's winter season program at Hoshino Resorts Tomamu―Hokkaido's leading snow resort hotel―is set to begin on December 1. As part of the program, the Muhyou Terrace will open on the same day and run until April 5, 2020. The terrace offers a snow-covered picturesque view from atop the mountain where you can see a sea of clouds and the snow-tipped trees at the bottom.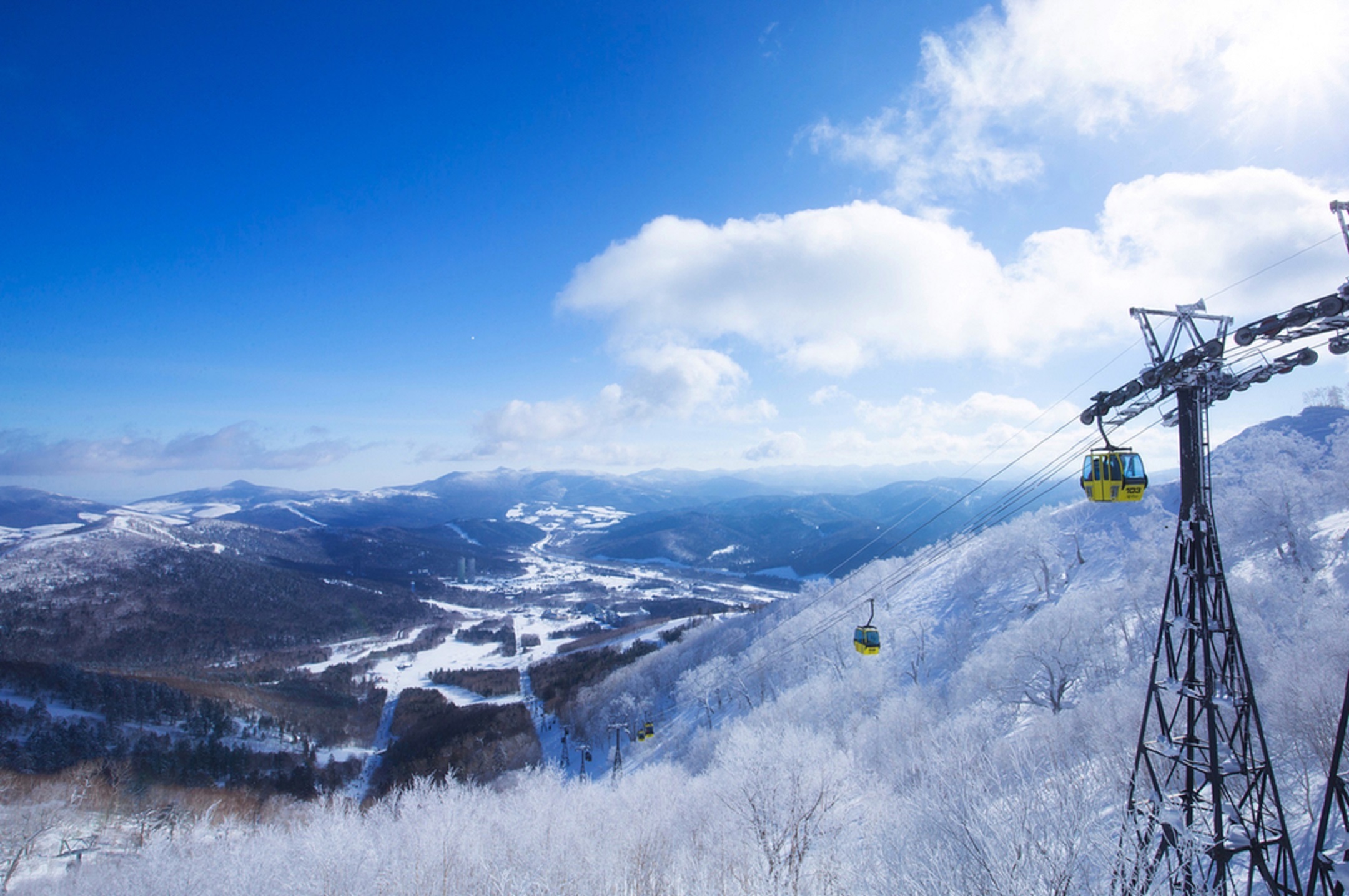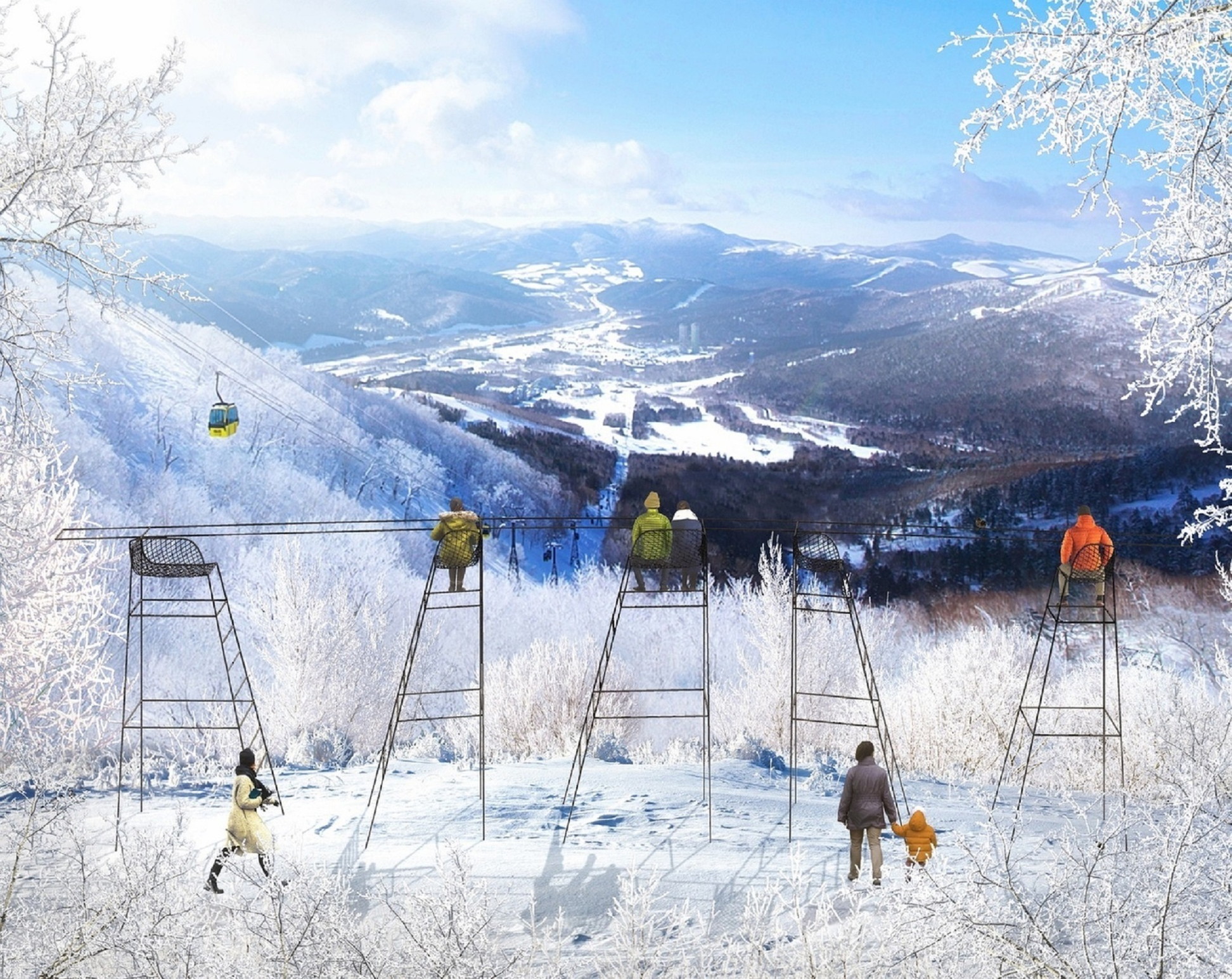 Muhyou Terrace sits on Mount Tomamu up 1,088 meters high. When you picture snowy mountains, especially those in Hokkaido, you imagine people skiing and snowboarding. But for Hoshino Resorts Tomamu, this is only part of their goal. They also want guests to enjoy the beauty of the mountain's natural landscape including the breathtaking view of the scenery below. That's why they decided to open Muhyou Terrace. As well as the daytime scenery, the terrace has also been turning on illuminations every winter night since 2017, offering a new perspective on the surrounding splendour.
The Cloud Bar which opened just up the slope of the Muhyou Terrace this summer features a 13 meter-long counter with chairs from which customers can soak up an incredible view. The bar has options of one or two-seat areas and can seat up to 7 people at once. There is a ladder attached to the chairs. Once you've climbed up and plopped yourself down you get a front row seat to the sights below. And since the bar is attached to the slope of the mountain and there's nothing to obstruct your view, it will feel like you're floating on the clouds as your feet kick the emptiness below.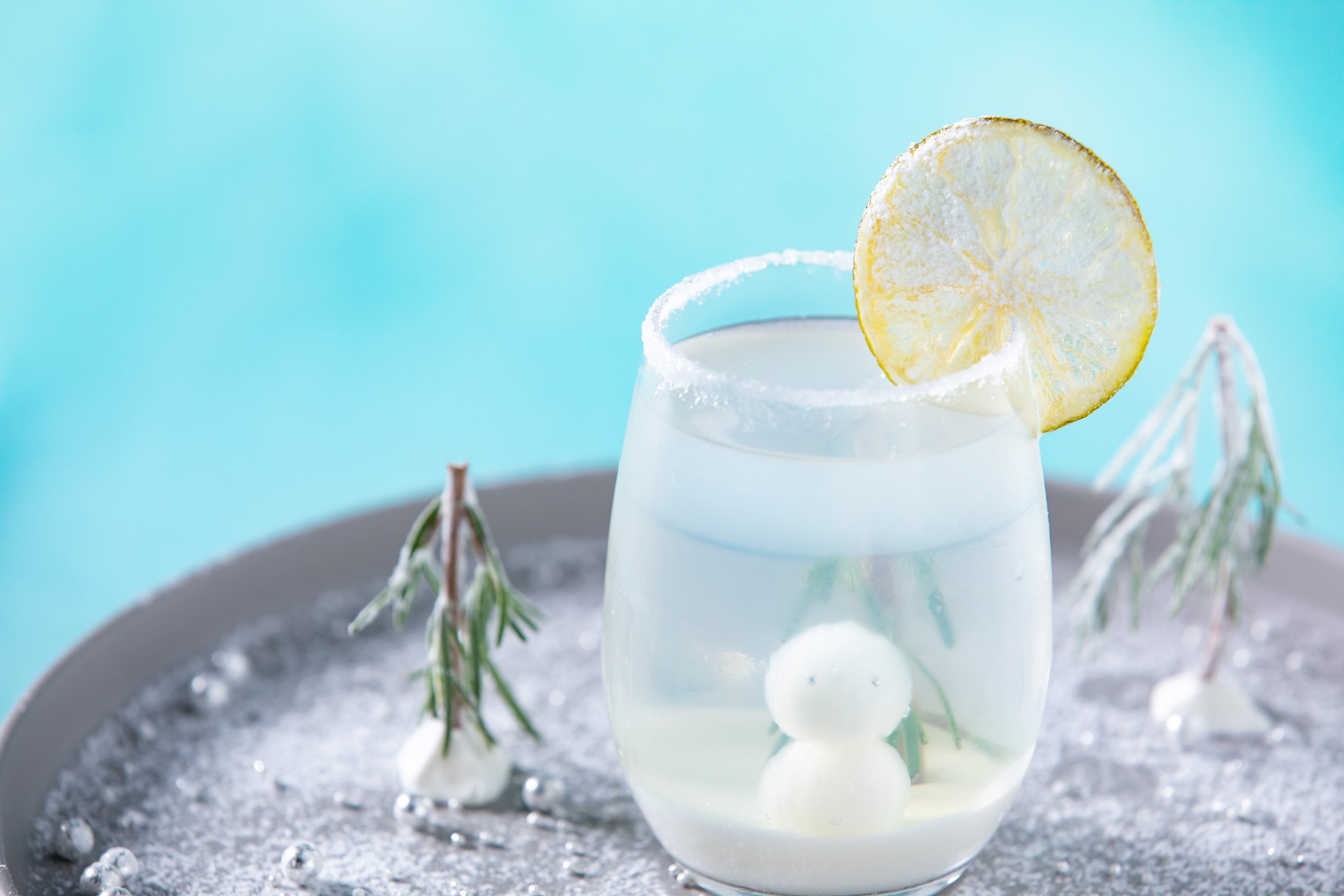 Muhyou Terrace will offer its own original cocktail called the Snow Cocktail which is inspired by the snowy landscapes at Tomamu. This drink is a margarita made with lime juice and cointreau. Inside is a sprig of rosemary made to look like the Ezo spruce trees at the site. The snowman is in fact made of chocolate. Enjoy the best of both worlds when it comes to flavour and finesse!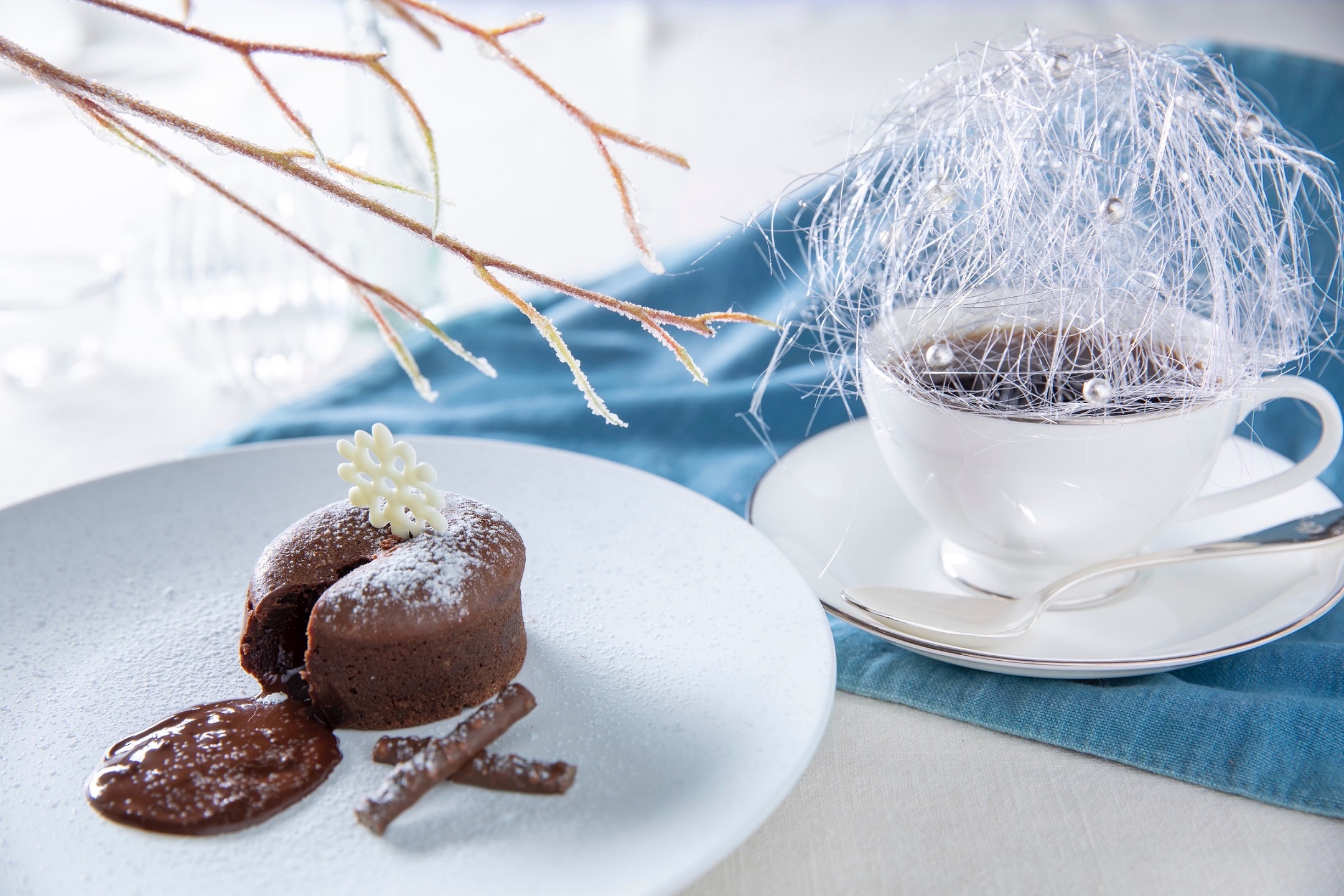 Frosted Coffee – ¥500 / Frosted Fondant Chocolate – ¥600
They also have specially-made chocolate fondant and coffee to warm you up. The chocolate fondant is a warm cake topped with a white chocolate snowflake and is coupled with snow-frosted chocolate branches. The coffee is covered with pure white frosty amezaiku candy. The coffee sweetens as the candy melts into your cup.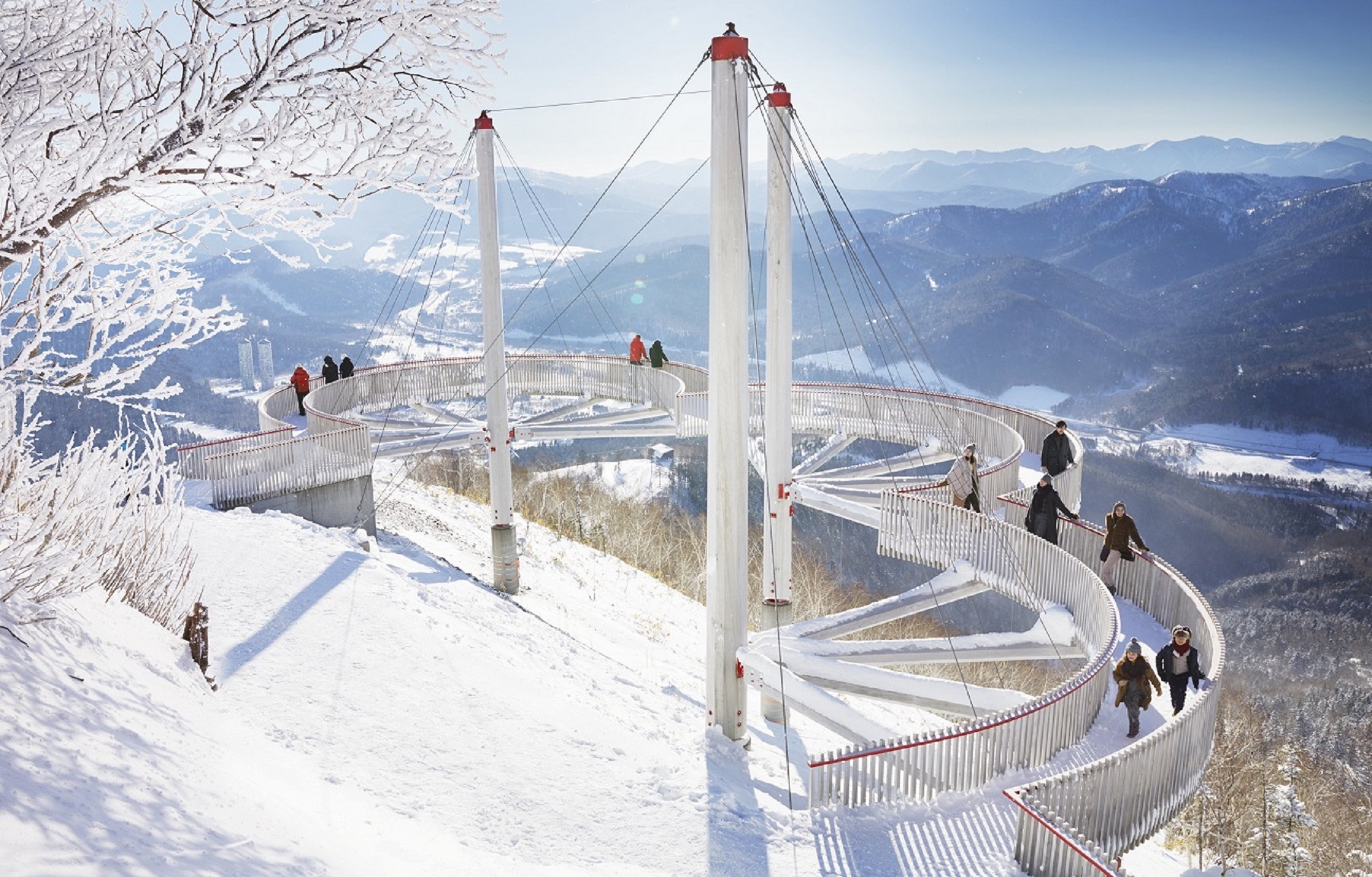 The terrace's observation points, including the Cloud Walk and Cloud Bar, will be lit up with sparkling illuminations in the cool evenings.
Illumination Dates: December 15, 2019 – December 25, 2019
Times: Please check the official website
Information
Unkai Terrace
Running: December 1, 2019 – April 5, 2020
*Last entries to the gondola from the foot of the mountain at 15:00
*Last entries to the gondola from the top of the mountain at 15:3
Price: Gondola Return Ticket – General ¥2,200 / Elementary School Children ¥1,300 (Tax Included)
*Free for guests at Hoshino Resorts Tomamu The Tower and Hoshino Resorts RISONARE Tomamu
Entry: Available to guests and non-guests
*Select services and programs subject to change
*Site may close in the case of bad weather
RELATED ENTRIES
Indulge in a Strawberry Heaven at Hoshino Resorts KAI in Tochigi Prefecture

A new hotel plan has arrived at three branches of Hoshino Resort's hot spring hotel brand KAI in Tochigi Prefecture where guests can enjoy the luxury of strawberries together with their stay. Tochigi is famous for growing strawberries, and so all three hotels will serve up their own unique succulent strawberry experiences. The branches in question are KAI Kawaji, KAI Kinugawa, and KAI Nikko.

For roughly the past 50 years, Tochigi has enjoyed the largest cultivation of strawberries in the whole of Japan. Hoshino Resorts KAI is taking advantage of this milestone by presenting guests with a strawberry experience they won't forget, with the delicious fruit comprising the whole of their stay from checking in to checking out. Each hotel branch will have different varieties of strawberries in stock, and guests will discover new ways to enjoy them. They will also be presented a map highlighting different locations to indulge in strawberry desserts, so they can carry on their fruitful after checking out on the road home too.

KAI Kawaji: Strawberry Picking at a Japanese-Style Hot Spring Inn

KAI Kawaji's "Satoyama Ichigo Taizai" (Satoyama Strawberry Stay) plan offers a one-night stay with a strawberry picking session by the watermill in the hotel grounds. The strawberries there are juicy and sweet and ripen on the stalks. During your stay, you can go and pick them at your leisure. The strawberries grown there are a variety called tochiotome which have a full-bodied aroma are sweet with the perfect amount of sourness. In the evenings, a sunken hearth will be lit at the watermill so you can stay warm in the fresh winter outdoors while you pick your strawberries. Guests can also enjoy a strawberry sweet red-bean soup made with rare white strawberries which came out as a new variety of Tochigi Prefecture strawberry in 2018. They have less sourness and are super sweet with a smooth texture.

Running: January 15, 2019 – February 29, 2019 (Check In)

Price: From ¥25,000 (1 room for up to 2 people / Service charge included / Tax not included)

Reservations/Official Website: https://kai-ryokan.jp/kawaji/

KAI Kinugawa: Taste and compare seasonal strawberries

KAI Kinugawa's "Mingei Ichigo Taizai" (Folk Craft Strawberry Stay) plan will see the appearance of the tochihime strawberry which has been dubbed the "phantom strawberry." This sweet variety is large and has a soft flesh and is exclusive to Tochigi. Guests will be able to taste and compare this and a handful of other types, as well as tuck into various strawberry confections. They will pick from 300 cute different bowls from the bowl gallery and pile inside them strawberries and assorted confections. In the evenings, strawberries will also be served boiled in white wine. A two-day and one-night experience you'd expect from the place that boasts the biggest strawberry haul in Japan.

Running: December 10, 2019 – February 29, 2019 (Check In)

Price: From ¥29,000 (1 room for up to 2 people / Service charge included / Tax not included)

Reservations/Official Website: https://kai-ryokan.jp/kinugawa/

Note: Limited to 5 separate bookings per day

KAI Nikko: Revel in wintertime Okunikko

KAI Nikko is located beside the grand Lake Chūzenji. Their "Zekkei Ichigo Taizai" (Spectacular View Strawberry Stay) plan will see their lobby, which offers a panoramic view of Mount Nantai, turn into a tearoom inspired by the rest stops of Nikkomou, an event that took place during the Edo Period when the Tokugawa Shogunate made their pilgrimage to Nikko. Guests can enjoy the contrast between the setting sun and the snow, as well as the pink-coloured sky when morning breaks. Taking place between sunset and sunrise, guests can tuck into rare white strawberries and warm confections made with yōkan―a Japanese jellied dessert made from red bean paste, agar, and sugar―which is a local specialty of Nikko.

Running: December 1, 2019 – February 29, 2019 (Check In)

Price: From ¥28,000 (1 room for up to 2 people / Service charge included / Tax not included)

Reservations/Official Website: https://kai-ryokan.jp/nikko/

Note: Limited to 2 separate bookings per day

Enjoy you're a seasonal strawberry fill like never before at Hoshino Resorts KAI.

Soak in the Hot Springs and Enjoy the Luxurious Local Cuisine at Hoshino Resorts in Yamaguchi Prefecture

On March 12, 2020, Hoshino Resorts will open a brand new resort around Yumoto Hot Spring (Nagato, Yamaguchi prefecture). Following plans for a new hot spring district in Nagato that were created in January 2020, Hoshino's hot spring resort brand KAI will be opening a resort in Nagato with numerous spa facilities. With the cooperation of the local government and community, this plan has been put into action. 

As part of the masterplan, Hoshino KAI Nagato will include a cafe called Agebono Cafe. This will be the first KAI resort to extend their cafe services to non-guests. The cafe will sell sweet dorayaki pancakes that guests can enjoy while strolling the streets of the hot spring district. 

KAI is a hot spring ryokan brand owned by Hoshino Resorts and can be found all over Japan. The theme of KAI resorts is traditional yet new. Although the room designs are inspired by nature and old and traditional Japanese culture, they cater to the needs of modern guests.

Exterior Appearance

KAI Nagato is the 16th hot spring resort of Hoshino KAI. It is located in the north of Yamaguchi prefecture and is surrounded by grand mountains. The resort sits by the peaceful Otozure River which is the main source of hot spring water for Yumoto Hot Spring. KAI Nagato is located where Agebono bridge stretches across the river. The resort aims to provide guests with an enriching experience of Yamaguchi's traditional old tea house residences (Ochaya Yashiki) as well as the opportunity to indulge in the regions finest traditional culture, food and experiences.  From the lobby to the guest rooms, the resort is full of Yamaguchi's samurai culture.

KAI Guest Room

The designs for the guest rooms were inspired by Yamaguchi's samurai. Each room is fit for a Feudal Lord. The beds are located on flooring which is slightly higher than the rest of the room. The surrounding wooden pillars create a luxurious private atmosphere.

Patterned Wall Decoration

The wall behind the bed is decorated with Tokujihori washi paper which is a type of Japanese paper unique to Yamaguchi prefecture and has a history dating back to the Muromachi period over 800 years ago. This special paper has even been acknowledged as an Intangible Cultural Asset to Japan. The beautiful dainty paper has been dyed a variety of bright and elegant colours to create this beautiful masterpiece. 

Hagi Ware *This is currently still in production so the appearance may vary.

 The room even has a Tokonoma, which is a small alcove where artistic pieces are displayed. Old Hagi ware, which was traditionally used for tea-making, is displayed here. 

Luxury Banquet for One

Enjoy a luxurious banquet for one made with locally sourced seasonal ingredients in a semi-private dining space. Each meal is served on a dainty dish. As Yamaguchi Prefecture is the second largest squid producer in the country, KAI Nagato serves the region's highly-praised Yamaguchi squid as an appetizer and as sashimi. The sweet, soft and chunky squid will leave your mouth watering for more. The dinner set also includes a range of pickled vegetables and a luxurious plate of seasonal sushi and sashimi. All dishes are served in special Hagi ware. 

KAI Nagato was created to fulfil the goal of creating a relaxing hot spring district where visitors can stroll for a relaxing break. KAI has taken one more step towards achieving this goal by creating the Agebono Cafe, which is the first ever KAI cafe to extend its services to non-guests . 

The cafe serves Japanese dorayaki pancakes with sweet jam fillings made using Yamaguchi's original citrus fruits such as Yamaguchi's original Nagato Yuzukichi and the Natsu Mikan. The Natsu Mikan was introduced to Japan from overseas and is now cultivated in Yamaguchi prefecture. Enjoy the refreshing tangy citrus flavour of Yamaguchi prefecture as it perfectly balances with the sweet jam flavour. This is best enjoyed with a cafe latte. 

Hoshino Resorts KAI Nagato is packed with the cultural wonders and flavours of the region. Take a moment to relax in the Yumoto Hot Spring and explore the culture of Japan.

Information

Hoshino Resorts KAI Nagato 

Address: 2229-1 Fukagawayumoto, Nagato, Yamaguchi 759-4103

Open: March 12, 2020

Reservations Open: November 12, 2019

Telephone Number: 0570-073-022 (Hoshino Resorts Reservations Centre)

Price: From ¥22,000 per night (Based on the price per person for one room with two guests. Includes service fee, dinner and breakfast. Tax not included.)

Access: 60-minute drive from JR Shinyamaguchi Station, 90-minute drive from Yamaguchi Ube Airport. 

URL:https://kai-ryokan.jp/en/nagato/ 

Japan's Biggest Cycling Resort Hotel Hoshino Resort BEB5 Tsuchiura to Open in Ibaraki

Hoshino Resorts is set to open Japan's biggest cycling resort, named Hoshino Resort BEB5 Tsuchiura, at PLAY atré TSUCHIURA on March 19, 2020. The establishment will open right when PLAY atré TSUCHIURA celebrates its 2nd anniversary―after having opened back in 2018―and will be the fourth cycling hotel by Hoshino Resorts to open. It will act as a "base camp" to enjoy cycling, and the start point to the 180km Tsukuba Lake Kasumigaura Ring Ring Road cycling course.

PLAY atré TSUCHIURA is a 49-minute train ride from Tokyo and is directly connected to the station, making access very easy. It is home to Tsukuba Kasumigaura Ring Ring Road, one of Japan's prominent cycling courses that runs past many gorgeous natural landscapes, including Lake Kasumigaura and Mount Tsukuba. It is becoming one of Japan's foremost cycling facilities, catering to the needs of all cyclists.

1F BIKE BASE / Ring Ring Square Tsuchiura

2F & 3F

This cosy and casual hotel is the perfect choice for travellers looking to cycle and go sightseeing in Japan.

Information

Hoshino Resort BEB5 Tsuchiura

Grand Opening: March 19, 2020
Price: 1 night from ¥6,000 (up to 2 people per room/tax not included/food charged separately)
Bookings: Now Open

Official Website: https://hoshinoresorts.com/ja/hotels/beb5tsuchiura

Indulge in the Best of Japan's Nature this Autumn at Hoshino Resorts

KAI is a hot spring ryokan brand of Hoshino Resorts which provides the perfect Japanese accommodation experience to enhance your stay. This autumn, KAI is providing guests with an enhanced seasonal experience to fully embrace the beautiful golden and amber autumn atmosphere. Spend some time soaking in the hot springs, taste the finest ingredients of the autumn season and even explore the unique features of the area through art. Hoshino Resorts is offering you a completely unique trip this autumn.

KAI Autumn Plans are being implemented at the following resorts: KAI Hakone, KAI Sengokuhara, KAI Aso, Kai Alps, KAI Kinugawa River, KAI Tsugaru and KAI Kawaji.

Hoshino KAI Japanese Autumn Onsen Ryokan Plans 2019

Hoshino Resorts released a video to show how their different accommodation features allow for guests to maximise their Japanese autumn experience. Today, we will be introducing just one autumn activity that you can experience at each of the resorts.

Autumn Leaf Illumination at KAI Hakone Miyanoshita, Kanagawa

Estimated best time to visit: Late November to early December

From September 6 to December 7, 2019, there will be a beautiful autumn leaf illumination display taking place around the open air baths, which is the perfect opportunity to relax under the auburn atmosphere of autumn. The autumn leaves fall at different times all over the Hakone region due to the mountainous and hilly terrain. This prolonged autumn season provides plenty of opportunities to watch the beautiful illumination display as you enjoy a moment of serenity, soaking in the soothing springs surrounded by the stunning scenery. 

Illumination Times: 16:00 – 01:00

Paint the Picturesque Autumntime at KAI Sengokuhara, Kanagawa

Estimated best time to visit: Mid November- End November

Enjoying a relaxing soak at KAI Sengokuhara Hot Springs is the perfect way to appreciate the picturesque view of any season. On September 1, 2019, they introduced the perfect accommodation plan to fully relax their guests. 

The guest rooms are equipped with traveller's art supplies. From the gorgeous terrace view to the outdoor hot spring view, guests are provided with the opportunity to capture the beauty of the surrounding nature in their own way wherever they feel like it. The autumn view outside every single guest room is breathtaking ― the perfect opportunity for the guests to refresh and relax their minds with a beautiful painting. 

Autumn Leaf Artwork

Available to customers who check in between September 1, 2019 – November 30, 2019 

Price: From ¥43,400 

*Price based on the price per guest per night for a two-person room. Tax and service charge not included. 

Includes: Room fee, dinner, breakfast, rental art set and art museum tickets

Reservations: https://kai-ryokan.jp/sengokuhara/

Your Own Private Outdoor Natural View at Okomori Koyo Onsen KAI Aso (Senomoto Hot Springs, Oita Prefecture)

Estimated best time to visit: Mid October – early November 

KAI Aso is located in Kuju National Park. Each guest room is surrounded by a lush forest, creating the perfect opportunity to soak in the hot springs and take in the beautiful view of the autumn leaves with lots of privacy. 

In the outdoor hot spring, guests can enjoy the beautiful faint yellow Mongolian oak and the natural red leaves. Guests can also get a Japanese citrus bathing set which is scented using a range of Japanese citrus fruits to further enhance your natural autumn colour experience. The guest rooms are equipped with coffee sets which you can enjoy whilst bathing. 

Available to customers who check in between October 1 and 31.

Price: From ¥46,480

*Based on the price per person per night in a 2-person room. Tax and service charge not included. 

Includes: Room fee, dinner, breakfast, bathing set (1 set per room), coffee beans, Aso spring water pet bottle and a range of hot spring rental items: (Pillow for hot spring use, waterproof book cover, coffee mill and coffee dripper)

KAI Reservations Telephone Number: 0570-073-011

Please check KAI's official website to find out more about the wide range of autumn plans on offer.

Embark on An Aquatic Adventure to The Little Mermaid OH MY CAFE in Tokyo

It has been 30 years since Disney's The Little Mermaid came to theatres. To celebrate, The Little Mermaid cafe has dropped its anchor in Tokyo, Osaka, Nagoya and Hokkaido and will be around for a limited time only.  Curious travellers are sure to fall in love with this world filled with Disney magic.

As a big Disney fan, curious model Kanako just could not miss the opportunity to visit, so we headed over to Tokyu Plaza, Omotesando (Tokyo) to create a tongue-tantalizing report just for you. 

The entrance was a treasure trove of exciting 30th anniversary celebratory designs.

Venturing deeper, we came across illustrations of the exciting underwater world. 

Seeing all the images of the characters, memories of the film will come floating into your mind. Just how many wonders can one cafe hold?

There are five delicious meals and five delicious drinks on the menu. Everything was so cute that it was difficult to decide what to order. Time to dive in!

Ariel Vegetable Pasta with Genovese Sauce: ¥1990

This dish particularly caught Kanako's eye. A graceful print made of powdered spices and sauce depicts Ariel gliding through the sea. It went perfectly with the salad. Feel free to take the beautiful paper mat home with you as a souvenir. 

Cream Beach Risotto: ¥1,990

This creamy risotto depicts a beautiful beach. Look closely and you will spot Ariel's most prized treasure: a dinglehopper.  Feel free to take the dinglehopper home with you and add it to your collection of treasure. A layer of shrimp sauce lies hidden between the rice and mountain of salad. Can you spot Sebastian keeping a careful eye on Ariel? 

Seven Princesses of Atlantica Colourful Tartine Plate: ¥2,290

 This plate of tasty tartines depicts the seven sisters and will send you on an exciting flavour journey. The fruity tartine will fill your mouth with a fresh fruity burst of blueberries and strawberries. Next on the plate is a luxurious cream cheese tartine, followed by a chunky vegetable tartine and finally, a filling boiled egg and potato salad tartine. The tartines are surrounded by colourful sauces such as blueberry sauce, pumpkin sauce and carrot sauce. 

 Sebastian's Strawberry Smoothie: ¥890 (with themed drink coaster: ¥1,790)

This yoghurt smoothie is dedicated to King Triton's royal court composer Sebastian. Mix in the strawberry sauce before tucking in to enhance the flavour. You can also take the decoration on the glass back home with you. 

Upon noticing the coaster that came with her drink, Kanako's eyes were sparkling with desire. The drink coaster is a sure way to add some magic to all your drinks at home. Unfortunately, they are in limited supply, so make sure to get one before they are all sold out.

Next, the curious Kanako explored the merchandise corner. The illustrations on the merchandise have been specifically designed for this special cafe.

Canvas Art A/B  (two designs): ¥3,500

Now you can decorate your room with your own collection of whose-its, whats-its, and thingamabobs.

Letter Writing Set with Case (1 design): ¥800

BIC Ballpoint Pen (2 designs): ¥500 each (Flounder/Seahorse)

The pink-themed gadgets and gizmos are very cute too.

Spend over ¥1000 (before tax) in the merchandise corner and you will receive a special Little Mermaid 30th anniversary shopping bag. There are a limited number of these and they are available on a first-come-first-serve basis, so we recommend you go to the cafe as soon as possible if you want one.

This cafe is a whole world waiting to be discovered. Reservations cost ¥500 per person (before tax). Just ordering from the menu will grant you the special gift of an A5 clear file and you can even pick your favourite from 30 designs. Make sure to reserve your spot in advance and get ready to plunge straight into the fun!

©️Disney

Information

The Little Mermaid OH MY CAFE

Tokyo: OH MY CAFE TOKYO Tokyu Plaza Omotesando Harajuku (September 21 – November 9

Osaka: kawara CAFE & DINING Shinsaibashi (September 21 – November 10)

Nagoya: kawara CAFE & KITCHEN Nagoya PARCO (September 27 – November 10)

Hokkaido: Cafe Interlude (September 22, 2019 – October 14)

The Little Mermaid OH MY CAFE Official Website: https://mermaid.ohmycafe.jp/

6 Sailor Moon Cafes Opening Across Japan Including Tokyo and Osaka

LEGS COMPANY, LTD. has announced that it will open six Sailor Moon cafes for its Sailor Moon Cafe 2019 event across Japan this year. The opening dates differ from branch to branch, but the first two will open in Tokyo and Osaka on October 3. See all the opening dates in the Information section below.

LEGS held the Sailor Moon Cafe 2017 event back in September 2017 to celebrate the 25th anniversary of Sailor Moon. The event's theme focused around adulthood imbued with a hint of cuteness. The cafes were so popular that they had a second "encore" run in December of the same year.

This year, LEGS has created an entirely new concept.

The theme this year is "Girls Night Out," and the menu line-up stays true to it, featuring food and drinks all ladies are sure to enjoy on a night out.

5 Sailor Tortilla Wrap Sandwiches – ¥1,590 (Not available at the Saitama cafe)

Pretty Girl's Brunch Pancakes – ¥1,590 (Available at lunchtime only)

Girls Night Out (Chicken Steak Plate) – ¥1,990 (Available at dinnertime only)

Cosmic Heart Berry Sandwich – ¥1,690

Moon Night Parfait – ¥1,490 (Available at dinnertime only)

Girls Night Out Drinks (10 Flavours) – ¥890 Each (Usagi Tsukino/Ami Mizuno/Rei Hono/Makoto Kino/Minako Aino/Chibiusa/Haruka Tennou/Michiru Kaiou/Setsuna Meiou/Hotaru Tomoe)

This is just a select look at what's on the menu―there are many other themed foods and desserts too!

Acrylic Key Ring (12 Designs Chosen Randomly) – ¥650

Clear Bag (1 Design) – ¥1,800

Plate (1 Design) – ¥2,200

The artwork for select cafe-exclusive merchandise was done by popular creator Etoile et Griotte who makes items for girls who love cute things, and Japanese illustrator Jenny Kaori, who creates cute, fashionable and alternative works.

Every person who books a seat in advance (¥650 before tax) at the cafe will receive one of the 5 above-pictured ticket holders chosen randomly.

If you dine at the cafe, you'll get one of the 4 above-pictured lunch mats chosen randomly.

And if you order a drink, you'll get one of the 10 above-pictured coasters chosen randomly.

*All prices are pre-tax prices. Photos are for illustrative purposes only.

©Naoko Takeuchi・PNP・Toei Animation

Information

Sailor Moon Cafe 2019

Dates/Locations

▶︎Tokyo・Shibuya: SHIBUYA BOX CAFE&SPACE SHIBUYA 109

Running: October 3, 2019 – November 17, 2019

▶︎Osaka・Abeno: Abeno contact

Running: October 3, 2019 – November 17, 2019

▶︎Aichi・Nagoya: NAGOYA BOX CAFE&SPACE

Running: October 10, 2019 – November 24, 2019

▶︎Hokkaido・Sapporo: Coach & Four Shinkawa-Dori (Hokkaido Branch)

Running: October 18, 2019 – November 17, 2019

▶︎Kyushu・Fukuoka: kawara CAFE & DINNING KITTE (Hakata Branch)

Running: October 26, 2019 – December 1, 2019

▶︎Saitama・Koshigaya: BOX CAFE&SPACE

Running: November 14, 2019 – January 13, 2019

Reservations: Opened September 26, 2019

*¥650 per reservation. Up to 4 people per reservation. Includes bonus item.

Sailor Moon Cafe 2019 Official Website: https://sailor-moon-cafe2019.jp/

Hokkaido Confectionery Makers Ishiya Open New Cafe in COREDO Muromachi Terrace

COREDO Muromachi Terrace is a new shopping complex in Nihonbashi, Tokyo that opened its doors on September 27, 2019. Confectionery company Ishiya, which is known for its Shiroi Koibito cookers that are considered a souvenir and speciality of Hokkaido, opened its first ever cafe outside Hokkaido entitled ISHIYA NIHONBASHI at the shopping centre.

ISHIYA NIHONBASHI is the first cafe managed by Ishiya outside of Sapporo, Hokkaido. The cafe's concept is to treat the people of Tokyo to the wonderful flavours of Hokkaido. This includes a selection of popular sweets and desserts, including the Shime Parfait―a common accompaniment to the end of any drinking party in Sapporo.

During the day, the establishment offers a sumptuous cafe menu whipped up by the chefs, such as pancakes and parfaits. Let's take a look.

Strawberry Ishiya Pancake (Fluffy) – ¥1,400 (Tax Included)

The Ishiya Pancakes are fluffier than clouds, made lavishly with cream cheese and fresh cream. They're topped with even more fresh cream and strawberries and are finished sweetly with condensed milk and a sweet and sour raspberry sauce. The pure white cream and raspberry sauce make these pancakes look cute and tempting♡

Shiroi Koibito Blend Coffee – ¥400 (Tax Included)

This original blend of coffee was crafted so it goes perfectly with a Shiroi Koibito biscuit. When you order a cup of this coffee you get one biscuit to enjoy with it.

During the evening and late night, the cafe serves snacks made to pair with alcohol as well as exclusive parfaits drizzled in Japanese sake. They also sell the "Shime Parfait," a classic post-drinking dessert in Sapporo.

Parfait Nihonbashi – ¥1,600 (Tax Included)

This Nihonbashi-exclusive parfait is topped with alcohol which you drizzle sake over. The parfait includes rich jelly. You can create even more delicious flavours with the accompanying matcha pudding or brown sugar syrup.

The cafe also sells Saqu, colourful high-class biscuits normally only sold in Hokkaido. They make for a perfect souvenir.

Taste the flavours of Hokkaido in Tokyo at Nihonbashi's newest hot spot.

Information

ISHIYA NIHONBASHI

Address: COREDO Muromachi Terrace 1F, 3-2-1 Nihonbashimuromachi, Chuo Ward, Tokyo

Opening Hours: 11:00-23:00

TEL: 03−6265−1143

No fixed holidays except when COREDO Muromachi Terrace is closed.

Krispy Kreme Releases Brand New Doughnut at Only Two Shops in Hokkaido

It has been one year since Krispy Kreme landed in Hokkaido and started deploying its delicious doughnuts among the nation. To celebrate, a brand new Hokkaido-limited doughnut called 'Hokkaido Premium Double Milk' will be selling at just two Krispy Kreme shops in Hokkaido from October 1 – November 12.

This was developed by staff working at a Krispy Kreme in Hokkaido with the concept of creating something that the people of Hokkaido would want to eat every day. Krispy Kreme's famous fluffy doughnut has been coated in delicious white chocolate and then decorated with small pools of bitter chocolate, creating the appearance of a cow doughnut.

The doughnut sandwiches a luxurious layer of sweet cream and whipped cream that was made using Hokkaido milk. Once you sink your teeth into this fancy doughnut, you will feel like you are eating a cake!

Information

Krispy Kreme: Hokkaido Premium Double Milk Doughnut

Available: October 1, 2019 – November 12, 2019

Price: ¥280 (before tax)

Available at:

① Chitose Outlet Mall Rera
Address: 1 Chome-2-1 Kashiwadaiminami, Chitose, Hokkaido

Opening Hours: 10:00-19:00 

② Sapporo Pole Town

Address: 4 Chome Odorinishi, Chuo Ward, Sapporo, Hokkaido

Opening Hours: 10:00-21:00

Official Website: https://krispykreme.jp/

Delicious and Instagrammable: 7 Bubble Tea Drinks Unique to Sapporo, Hokkaido

Bubble tea is a national sensation in Japan. Until now, MOSHI MOSHI NIPPON has been introducing quite a lot of bubble tea shops in Harajuku, however today, we are going to introduce you to some special bubble teas that you can only get in Sapporo, Hokkaido.

When it comes to cafés, desserts and drinks in Sapporo, you can always count on Instagrammer Kei to pick out the most unique and cute places.  Check out his Instagram (@607keih) which is home to a precious collection of mouthwatering and delicious pictures.

And with that let's get started:

Club China/Tanukikoji 

Almond Jelly Coconut Milk and Bubble Tea ¥600 (strawberry sauce topping: +¥50)

(Chinese almond jelly is sometimes made with apricot kernels.)


Club China is a Chinese restaurant where you can enjoy authentic Chinese food in a classy atmosphere. This rare bubble tea is the perfect way to discover authentic Chinese flavours. You can change the sweetness of your drink by adding gomme syrup, brown sugar sauce or strawberry sauce.

▶︎ Club China (クラブチャイナ)

Address: SYOKUSAN 35 Building 3rd Floor

3-chōme-5 Minami 3 Jōnishi, Chūō-ku, Sapporo, Hokkaido

Opening Hours

・Lunch: 11:00 ー 15:00(Last orders: 14:30)

・Tea 14:30 ー 17:00

・Dinner: 17:00 ー 22:00(Last orders: 21:00)

Closed: Wednesdays (Open on national holidays)

Website: http://www.clubchina.jp/index.html

Oukacha (Located inside Izakaya Chorotto)/Higashi Ward

Strawberry Milk Cream: ¥580

There is a famous Izakaya (Japanese-style pub) in the Higashi-ku area. However, during the daytime, it is sometimes taken over by a bubble tea shop called Oukacha. The drink to look out for is their homemade brown sugar syrup bubble tea, which you can order with topping of whipped cream. This is the way to treat anyone with a sweet tooth! 

▶︎ Oukacha (Located inside Izakaya Chorotto 桜華茶)

Address: 7-1-24, Kita 15 Johigashi, Higashi Ward, Sapporo, Hokkaido

As the opening and closing days/times are irregular, please check them on the shop's official Instagram or Twitter. 

o.cha.bar/Tanukikoji

Ritz Cream Cheese Churros: ¥550, Okinawa Brown Sugar Bubble Milk: ¥650

MESSE Building is a mall full of interesting restaurants including a Bikkuri Donkey. Head to the 5th floor to discover a Taiwanese and Korean restaurant called o.cha.bar. This is where you will come across the Okinawa Bubble Milk. This is a bubble tea which is topped with a generous serving of cream made using salt sourced from Okinawa. The tapioca is imported directly from Taiwan and has a very springy texture. Maximise your experience by dipping the churros in the cream cheese. 

▶︎ o.cha.bar(オチャバー)

Address: N.MESSE Building 5th floor, Minami 3-jo Nishi 3, Chuo-ku, Sapporo-shi, Hokkaido 

Opening Hours: 11:30 ー 21:00

Closed: No regular holidays 

Official Twitter: https://twitter.com/ochabar1

cafe & kitchen unique/Higashi Ward

Strawberry Milk: ¥480 , Matcha: ¥480, Served in a bottle: +¥80

cafe&kitchen unique is famous for their delicious fluffy pancakes that are made in a deep pot and topped with beautiful toppings. However, their bubble teas which are sold in cute bottles are also something you do not want to miss. The Strawberry Milk contains fruity pieces which perfectly compliment the milk. The Matcha Milk has a gentle sweet flavour that adults would love.  

▶︎ cafe&kitchen unique (cafe&kitchen ユニック)

Address: 3 Chome-2-6 Kita 10 Johigashi, Higashi Ward, Sapporo, Hokkaido 

Opening Hours

Lunch : 11:00 ー 14:00

Coffee Time: 14:00 ー 17:00

Dinner: 17:00 ー 22:00

Closed: The 1st and 3rd Thursday of every month. 

Official Website: https://cafekitchen-unique.com/

MY TAPIOCA KOUTA/Higashi Ward

Brown Sugar Bubble Tea Latte 

Ramen restaurant Ore no Ramen Kouta also runs the bubble tea shop MY TAPIOCA KOUTA, where it is possible to order just a bubble tea. The brown sugar adds a strong accent to the flavour. The tapioca pearls are large and although this is filling drink, it is also cheap which makes it a good deal. The shop is open late into the night which is perfect for those late night cravings. 

▶︎ MY TAPIOCA KOUTA

Address: 4-5-26, Honcho 1 jo, Higashi Ward, Sapporo

Opening Hours: 11:00 ー 23:30

Official Twitter: https://twitter.com/tapiocamy

Milk san Asabu Branch/Asabu

Strawberry Milk: ¥650, Brown Sugar Milk: ¥570, Tapioca Topping: ¥70 (served in a bottle) 

Milk san serves delicious drinks made using milk which is specially produced by dairy farmers, contributing to the delicious Hokkaido goodness of the drink. The small tapioca pearls and the rich milky flavour are the perfect combination. The brown sugar flavour is only available at the Asabu branch, so we recommend you try it. As these drinks are served in cute bottles, you just have to post a picture on Instagram. 

▶︎ Milk san Asabu

みるくsan麻生店

Address: Karumu Asabu 1st floor, 5-2-8, Kita 39 Jonishi, Kita Ward, Sapporo 

Opening Hours: 10:00 ー 19:30

Official Website: https://www.milk-san.com/

Iced Biscuit Shop SHONPY/Susukino

Chocolate Mint Frappé: ¥690, Strawberry Milk Bubble Tea with a Tapioca Float: ¥690 

One by one, this shop makes iced biscuits that are original down to their shape. SHONPY also delivers countrywide. The Strawberry Milk Bubble Tea comes with a tapioca float that is too cute to consume. It is filled with fruit such as strawberries and bananas that are a perfect match with the tapioca. The Chocolate Mint Frappé comes in a very cute bottle. This shop opened in Harajuku too.

▶︎SHONPY

Address: SUSUKINO LAFILER 2nd floor, 4 Chome, Minami 4 Jonishi, Chuo Ward, Sapporo, Hokkaido 

Opening Hours: 10:00 ー 21:00

No fixed holidays

Official Website: http://shon-py.jp/

So, how about it? If you ever find yourself in Hokkaido, Kei's recommended Hokkaido-limited bubble teas are bound to make your trip special. 

Kei's Instagram is full of delicious desserts and mouthwatering meals. When in doubt of where to eat out, Kei's Instagram is bound to save your day so please check it out.

 

Photos & Text: Kei(@607keih)

A Magical Ice Village is Forming This Winter at Hoshino Resorts Tomamu in Hokkaido

Hoshino Resorts Tomamu―one of Hokkaido's leading snow resorts―is set to open a new area called the Ice Village this winter. It will run for a limited time from December 10 to March 14.

The Ice Village spans coolly across 3.2 hectares of land and is home to 11 domes made entirely of ice. This winter-only experience has been running every year since 1998. Made to look like a real village, some of its iconic sights include the Ice Church and Ice Hotel which can be found at the very back. Everything from the towering ceilings to the walls are formed solely of ice.

The main street, named fittingly the "Ice Street," includes a cafe, gallery, shops and more, all enveloped in a chilly white world.

Ice Crystal Park: A New Addition to the Ice Village to Gaze at the Sights and Scenery

The Ice Crystal Park is frozen over with tables and chairs made of ice and has snowflakes dotted here and there, creating a true winter wonderland. Order a hot drink from the Ice Bakery & Cafe or munch on a tasty treat from the Ice Sweets Shop as you sit and gaze at the snow-covered landscape of the Ice Village while surrounded by towering white birch trees. And everyday at 19:30, a 5-minute firework show will warm up the winter sky which is best enjoyed while sitting in the park.

Time: 17:00-22:00

Price: Free

Bite Down Frosty Treats at the Ice Sweets Shop

 

It wouldn't be a complete Ice Village without its own glacial cuisine. At the Ice Sweets Shop you can order ice cream which is made from liquid milk on an ice block. The temperature of the air coupled with the frozen coolness of the ice block causes the milk to freeze into a yummy dessert. There's also chocolate ice bars made from hot chocolate, colourful macarons, toasted marshmallows, and more.

Time: 17:00-22:00 (Last Orders 21:00)

Price: Milk Gelato – from ¥1,100 / Macarons ¥550 / Ice Bar ¥550 / Marshmallows ¥550 (*All prices include tax)

Grab a Drink From the Ice Bar

The village even has its own Ice Bar, complete with an ice counter and ice cellar for serving sake. This year, the bar will serve an all-new original gin drink made using snowmelt from Tomamu. There are over 50 drinks to pick from, including original cocktails, whisky, and more.

Time: 17:00-22:00 (Last Orders 21:45)

Price: Original Gin – ¥1,650 / Drinks With Ice Glass – from ¥1,100 (*All prices include tax)

There are many other exciting things to find at the ice village, including the Ice Hotel which you can sleep in, the Ice Atelier, and more. Have a reason to go out this winter by visiting the Ice Village in Hokkaido.

Information

Ice Village

Running: December 10, 2019 – March 14, 2019

Location: Hoshino Resorts Tomamu area

Time: 17:00-22:00 (Last Entries 21:30)

Entry Price: Elementary School Children & Older – ¥500 (Tax Included) *Free for guests staying at Tomamu The Tower or RISONARE Tomamu

Available: To both guests and visitors

Notes: Times, prices etc may vary depending on each service or activity. Select services and activities are subject to changes depending on weather conditions. Certain services and activities scheduled to start at later dates.

Hoshino Resorts Tomamu / Hoshino Resorts RISONARE Tomamu

Address: Nakatomamu, Shimukappu, Yufutsu District, Hokkaido

Official Website (English): https://www.snowtomamu.jp/winter/en/

7 Best Peach Desserts to Enjoy This Season in Hokkaido – MOSHI MOSHI NIPPON

Hokkaido is a popular tourist destination for Japanese people as well as foreigners. During the winter, it is the perfect place to go skiing and during the summer, you will not suffer under sweltering heat like the rest of Japan. Hokkaido not only flourishes with wonderful tourist locations and delicious gourmet seafood, but also beautiful and stylish cafés.

In this feature, we are joined by Instagrammer Kei whose page is centred around cafes in Sapporo, Hokkaido. They have provided us with photos of desserts made with peaches which can be enjoyed right now before summertime ends.

Initial Sapporo in Susukino

Parfait Pêche – ¥1,700

Sapporo cafe Initial was ahead of the parfait game before the boom in Japan. Right now they are selling two new parfaits: one made with melon and the other with peach. They are being served until the end of August.

The parfait is topped with sweet sliced peaches underneath which sits refreshing milk flavoured soft serve ice cream for a heavenly combination. The yogurt mousse elevates the sweetness of the peaches and goes well with the sprinkle of black pepper. There's even Parmesan cheese which tastes gorgeous with everything. No matter where you stick your spoon in this parfait your taste buds will be treated with delight.

▼Initial

Address: DRESS 2F, 5-Chome-36 Minami 3 Jonishi, Chuo Ward, Sapporo, Hokkaido
Opening Hours: [Weekdays] 17:00-Midnight / [Weekends & Public Holidays] 14:00-Midnight (Last Orders 23:30)
No Fixed Holidays
Access: 5-minutes on foot from Susukino Station and Ōdōri Station
Official Facebook Page: https://www.facebook.com/INITIAL.sapporo/

Gohanya Cafe Miyabi in Kita 24 Jo


Whole Peach & Royal Milk Tea – ¥1,380

The seasonal parfait at Gohanya Cafe Miyabi right now is the Whole Peach & Royal Milk Tea. It's served with an entire plump peach on top which is best enjoyed by cutting and eating bit by bit until it drops into the glass. The peaches they use are refreshing and really delicious♡

Tea is the main component of this parfait and that too was super refreshing. It also includes a framboise sorbet which add satisfying sour notes, and the cookies and other hidden treats add a multitude of tasty textures.

▼Gohanya Cafe Miyabi

Address: E-COUR24 1F, 3-Chome-1-1 Kita 24 Jonishi, Kita Ward, Sapporo, Hokkaido
Opening Hours: Lunch 11:00-15:00 / Cafe Time 15:00-17:30 / Dinner 17:30-21:00 (Last Orders 20:00)
Closed: Thursdays
Access: 150 meters from Kita-Nijūyo-Jō Station
Official Website: https://miyabi-sapporo.shopinfo.jp/

TSURU CAFE in Miyanomori


Flavour Soft Peach – ¥830

TSURU CAFE is a stylish and popular little cafe that is selling its new Flavour Soft Peach for a limited time. The syrup is this parfait is in fact made from red shiso leaf. Inside you will find a tower of peach compote, soft serve ice cream, meringue, and the syrup.

The milky ice cream is a a magical mix together with the peach compote. The crunchy meringue is simply melt-in-your-mouth too♡

The syrup has that distinct red shiso fragrance but it tastes sweet and so makes an amazing flavour. The shiso will no longer be served once sales of this dessert finish, so you'll want to get in there ASAP!

▼TSURU CAFE

Address: 5-Chome-2-8 Miyanomori 2 Jo, Chuo Ward, Sapporo, Hokkaido
Opening Hours: [Mon-Sat] 10:00-20:00 / [Sun & Holidays] 10:00-19:00
Closed: Wednesdays
Access: 500 meters from Nishi-Nijūhatchōme Station
Official Blog: http://tsurucafe.jugem.jp/

KAJITSU_CLUB in Tanukikoji Shopping Street


Peach & Hokkaido Soft Cream – ¥600

KAJITSU_CLUB is located in the Beats Eats are on the basement floor of PARCO. You can order the ice cream of this peachy parfait as vanilla, yogurt or mixed. I went with mixed.

The fresh peaches are so good! The soft serve ice cream is nice and sweet and there's also a sour yogurt flavour. The flavours might be simple but the quality is high.

▼KAJITSU_CLUB

Address: PARCO B2F, 3-Chome-3 Minami 1 Jonishi, Chuo Ward, Sapporo, Hokkaido
Opening Hours: 10:00-20:00
No Fixed Holidays
Access: Directly connected to the Ōdōri Station subway
Official Instagram: https://www.instagram.com/kajitsu_club/

SHIRAYUKI in Tanukikoji Shopping Street


Momomo – ¥600

Available this August only, SHIRAYUKI's new bottled drink is made of half frozen peach smoothie and half jelly and Hokkaido milk. This combination is match made in heaven! They come with a bag if you want to order for takeout too.

SHIRAYUKI

Address: Sapporo Aiseikan Bldg., 5-Chome Minami 1 Jonishi, Chuo Ward, Sapporo, Hokkaido
Opening Hours: 12:30-19:00
No Fixed Holidays
Access: 5-minutes on foot from Ōdōri Station
Official Instagram: https://www.instagram.com/shirayuki.hokkaido/

Pâtisserie LEEMO in Shinkotonicho

Whole Peach Parfait – ¥1,350 (*Only 20 available per day)

Pâtisserie LEEMO is known for its cute cakes and baked sweets, but right now they are selling this Whole Peach Parfait until the end of August.

You only need to feast your eyes on this dessert to know how refreshing the flavour is going to be. It even contains a jelly made from rosé wine, but the alcohol taste isn't strong so can be enjoyed by anyone.

Depending on the stock of the bakery's peaches sales of this dessert may end earlier. You can also make a reservation for one which I recommend, so don't miss out!

▼Pâtisserie LEEMO

Address: 6-Chome-2-21 Shinkotoni 2 Jo, Kita Ward, Sapporo, Hokkaido
Opening Hours: 10:00-19:00 (Parfait served at 12:00-18:00)
No Fixed Holidays
Access: Approximately 1km from Shinkawa Station
Official Website: http://patisserieleemo.jp/

Cake and bake HACHI CAFE in Hachiken


Whole Peach – ¥720

This luxurious-looking dessert is a whole peach filled with framboise jelly and custard making for an irresistible sour and sweet combination. The tart underneath is incredible too! Due to limited stock and the time it takes for the peaches to ripen there are days when the dessert isn't serve. You can check the cafe's official Instagram to find out if it's on the menu that day or not.

▼Cake and bake HACHI CAFE

Address: Hachiken 3 Johigashi, Nishi Ward, Sapporo, Hokkaido
Opening Hours: 11:00-17:00
Closed: Wednesdays & Thursdays
Access: 550m from Hachiken Station
Official Instagram: https://www.instagram.com/hachicafe8/

Did you enjoy this list? Make sure to wolf down all of the tempting peach desserts you can in Japan before summer ends.

Kei's Instagram page is a wealth of recommendations for meals and desserts in Hokkaido, so be sure to check out their page if you're planning to travel there.

Photo & Text: Kei (@607keih)

Translation: Joshua Kitosi-Isanga

Travel Japan: Turtle Rock, Oshinkoshin Waterfall & Other Must-Visit Sites in Hokkaido's Shiretoko Peninsula

Shiretoko Peninsula was registered as a UNESCO World Heritage Site in 2005 and is the northernmost location in Japan to have been so. Even in a place such as Hokkaido, which strikes all with its marvellous natural landscape, Shiretoko is said to be home to many secluded locations. Many of these have not been touched by the hands of man―they have been left as they are―and so one can discover sights, animals and much more that they cannot anywhere else.

We are joined by Mirina, an Instagrammer who posts her experiences travelling to Hokkaido's many sightseeing spots located in pockets of nature. She has provided us with photos of her trip to the Shiretoko Peninsula and its must-see spots.

The Shiretoko Five Lakes

The Shiretoko Five Lakes are situated inside an old-growth forest from which you can admire the grand Shiretoko mountain range in the back. Many wild animals live here such as the brown bear and black woodpecker. The view is one would expect from a World Heritage Site, with gorgeous scenery to soak up in every direction.

▶︎The Shiretoko Five Lakes

Address: Onnebetsumura, Shari, Shari District, Hokkaido

Shiretoko Shari Machi Sightseeing Website: https://www.goko.go.jp/multilingual_eng/index.html

Turtle Rock (Cape Chashikotsu)

Cape Chashikotsu, located on the Utoronishi side, can be seen from Shari and looks just like a giant turtle which is where it gets its nickname "Turtle Rock" from.

▶︎Turtle Rock (Cape Chashikotsu)

Address: Utoronishi, Shari, Shari District, Hokkaido

Oshinkoshin Waterfall

Oshinkoshin Waterfall is listed as one of Shiretoko's "8 Sights." This towering waterfall rolls down the rocks and splits into two separate waterfalls halfway down which has given it the nickname "Two Beautiful Falls." The are stairs that enable you to walk beside the waterfall halfway up, letting you get nice and close to the water. There is also an observation deck atop the waterfall from which you can see many sights such as the Sea of Okhotsk and Shiretoko mountain range. The waterfall is also listed as one of Japan's top 100 waterfalls.

▶︎Oshinkoshin Waterfall

Address: Utoronishi, Shari, Shari District, Hokkaido

Shiretoko Shari Machi Sightseeing Website: https://www.goko.go.jp/multilingual_eng/index.html

The Road To Heaven

This long stretch of road spans 18km and has been dubbed the "Road To Heaven" as when observed from uphill looks like it disappears into the clouds. Situated on one side of the farmlands, one can enjoy a quiet and breathtaking view of the road. It's also a popular road with bikers and travellers riding bicycles. It's also a must-see from the observation deck close by.

▶︎The Road To Heaven (Japanese Name: 天に続く道)

Address: Minehama, Shari, Shari District, Hokkaido

Shiretoko Shari Machi Sightseeing Website: https://www.goko.go.jp/multilingual_eng/index.html

Did you enjoy this list? There are countless places to visit in Japan, and some of the best are the quiet, secluded ones. If you get the opportunity to visit Hokkaido, put the Shiretoko Peninsula on your list of must-visit places.