Japanese Sweets Brand Minamoto Kitchoan to Open Cafe Restaurant K. MINAMOTO in Ginza
Japanese confectionery brand Minamoto Kitchoan will open a new cafe and restaurant called "K. MINAMOTO" on October 19.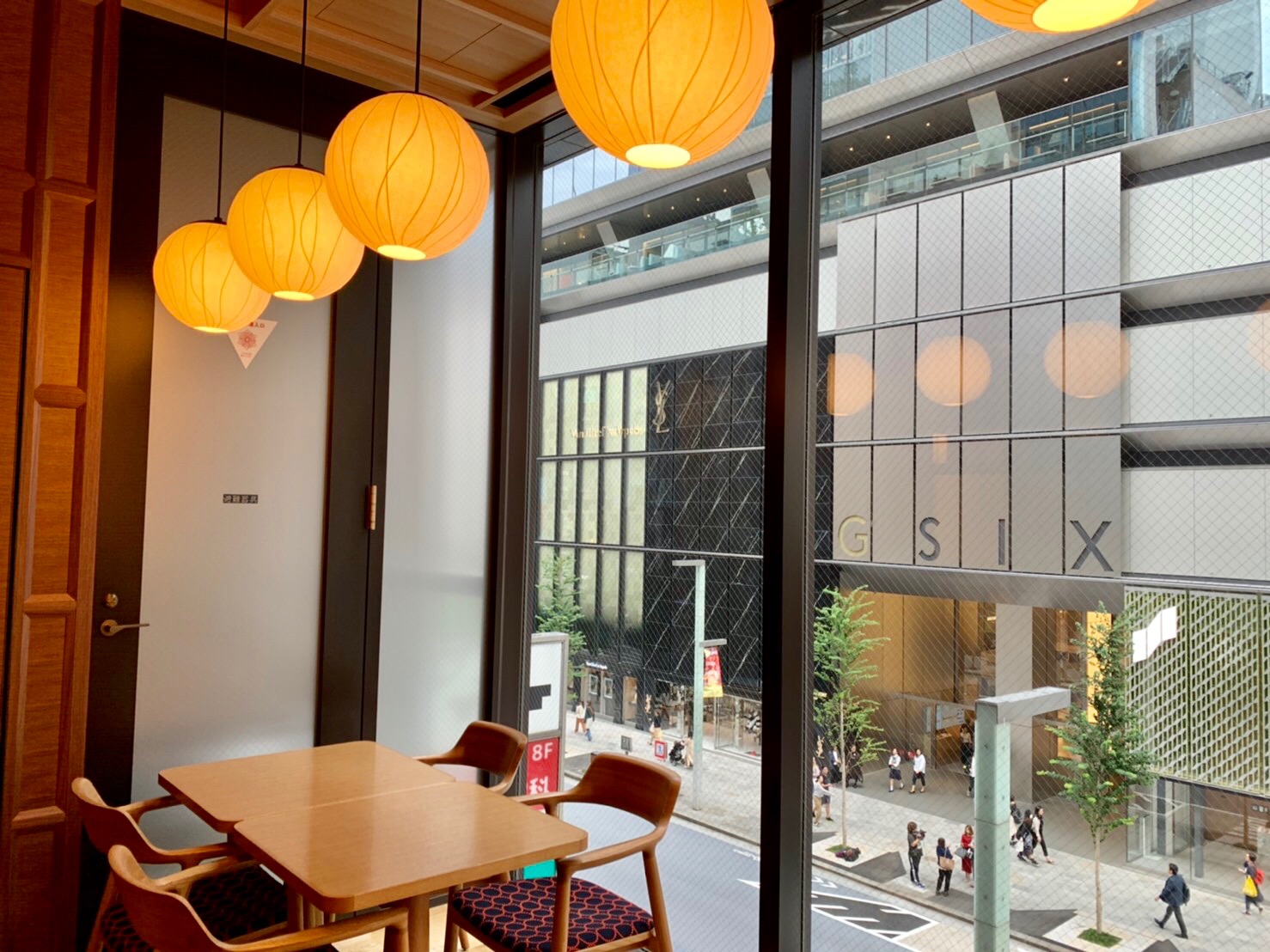 K. MINAMOTO will be located on floors 2-5 at THE HOUSE, Minamoto Kitchoan's new company building which it just moved to on October 3. The cafe-restaurant's menu concept is dubbed "Ginza Sunny Fruits." It takes into consideration how daily fruit consumption has greatly decreased today by serving up a luxurious fresh fruit-packed line-up.
Minamoto Kitchoan is a company that has made full use of fruits since its establishment, including the suikanshuku, a Japanese wagashi confection made of whole dried domestic persimmons. We can trust then that K. MINAMOTO will provide us with our 5-a-day.
Roast Beef Sandwich w/ Fruit Soup – ¥2,420 (Tax Included)
Seafood Lemon Cream Fedelini w/ Fruit Soup – ¥1,650 (Tax Included)
Each and every dish on the menu has fruit, all grown in Japan to ensure the a high level of quality. Since the dishes have fruity flavours, prepping them is simple, and they enjoy the colours and textures of each fruit.
Drinks haven't been left out either. They are made with fruit purees and syrup, or are tossed in as they are, allowing for maximum fruity goodness.
Smoked Salmon, Fruit Salad & Potato Galette w/ Fruit Soup – ¥1,980 (Tax Included)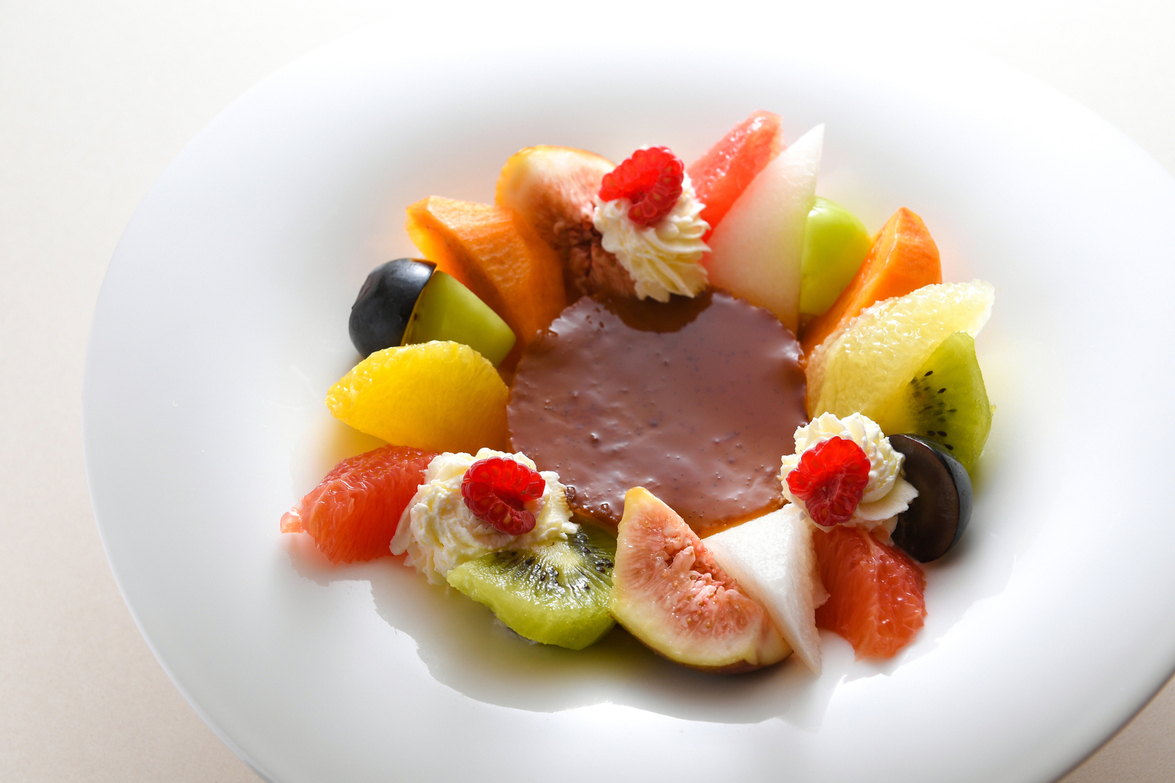 Autumn Fruit Almond Pudding – ¥1,760 (Tax Included)
All the staff at K. MINAMOTO have a wealth of knowledge about the menu and the fruits used in each dish. Their service creates a comfortable atmosphere, and though they are polite they are incredibly friendly, so you can call out to them without worry.
Get your fill of fruit from the all-new K. MINAMOTO, opening October 19.
Information
K. MINAMOTO
Grand Opening: October 19, 2019
Address: Minamoto Kitchoan Shinhonsha Bldg. "THE HOUSE" (Floors 2F-5F), 6-9-8 Ginza, Chuo Ward, Tokyo
Opening Hours: [Mon-Sat] 11:30-20:30 / [Sun & Holidays] 11:30-19:00
No Fixed Closures
Minamoto Kitchoan official website: https://www.kitchoan.co.jp
RECOMMENDED ENTRIES
10 Things You Can Do at the MOSHI MOSHI ROOMS Hotel in Harajuku | Girls' Night In Edition

MOSHI MOSHI ROOMS is a hotel accommodation service run by MOSHI MOSHI NIPPON located in Harajuku and bookable via Airbnb. Our hotel isn't just popular for sleep, however: it has become a hot spot with stylish girls who get together and use it as a party space.

This is our Top 10 list of things you can do in SAKURAーone of the hotel roomsーso you can discover the best way to enjoy your stay in Harajuku.

①Take advantage of the room decor and decorations to snap all the photos you can!

MOSHI MOSHI ROOMS opened its first room SAKURA in December last year, and more recently ORIGAMI in August. From the walls to the furnishing, SAKURA is cherry blossom pink throughout, decked out with countless gorgeous Instagram-worthy spots popular with our female guests.

You can always get a beautiful photo together with the cherry blossom flower monument in the background, located behind the bed and bloomed right up to the ceiling.

The enormous and comfy pink bed is piled full of lots of fluffy cushions. You can take some pretty romantic pictures too when snuggled on top or in the bed.

Photographer: Kayo Sekiguchi

Don't forget about the neon sign either, a symbol of the room and the Japanese kanji character for cherry blossom (桜 sakura). Sit on the sofa in front of it and make use of the sign's lighting to get a more dreamy and fantastical shot.

②Popular Harajuku takeout food perfect for a night at MOSHI MOSHI ROOMS SAKURA

MOSHI MOSHI ROOMS is located in Tokyo's fashion and culture hub of Harajuku, and that means it's within walking distance of some quintessential kawaii and Instagrammable food shops. We've picked out three we think are perfect for ordering takeout to enjoy back in your room at SAKURA.

GOOD TOWN DOUGHNUTS

Smile Mango ¥420 / Raspberry Pistachio ¥400 / Sea Salt Caramel ¥390 (All Tax Inclusive)

GOOD TOWN DOUGHNUTS is a really popular doughnut shop in Harajuku. Their big size doughnuts not only look cute, they're the real deal taste-wise, and are also made with natural yeast, wheat flour from Hokkaido, sea salt sourced in Okinawa, sugar from Tanegashima, and organic oils. They are high-quality doughnuts full of flavour and plenty filling.

GOOD TOWN DOUGHNUTS

Address: J-cube B1F, 6-12-6 Jingumae, Shibuya, Tokyo)

TEL: 03-5485-8827

Opening Hours: 10:00-20:00

No Fixed Holidays

Official Website: http://good-town.com/

AND THE FRIET

Box (2 Friet Types) w/ Dip – From ¥800 (Before Tax)

This French fry shop makes their fries from a variety of carefully selected in-season potatoes, including potatoes from Belgium. They are crunchy on the outside and fluffy in the centre. They're also delicious even when eaten cold, making them a great takeout option. You can pick two types from six varieties for one box, plus a dip of your choice. A perfect party accompaniment.

AND THE FRIET Laforet Harajuku

Address: Laforet Harajuku 2F, 1-11-6 Jingumae, Shibuya, Tokyo
TEL: 03-6434-7568

Opening Hours: 11:00-21:00

No Fixed Holidays (Except when Laforet Harajuku is closed)

Official Website: http://andthefriet.com/

TOAST LUCK

<Macarons> From Left: Soybean Flour / Crunky / Cheese – ¥371 Each (Before Tax)

At TOAST LUCK, you can enjoy a whole range of different South Korean foods, including toast which is their main menu item. They also sell these marble-coloured macarons which are a little bigger than Japanese macarons. There's lots of flavours to choose from, all of which give you a different take on your regular macaron!

TOAST LUCK

Address: 3-27-15 Jingumae, Shibuya, Tokyo

TEL: 03-6812-9499

Opening Hours: 11:00-20:00

No Fixed Holidays

Official Website: https://www.toast-luck.com/

③Line up all your food in your hotel room for a girls' night in

Gather all of your takeout goodies from around Harajuku for a girls' night in at MOSHI MOSHI ROOMS SAKURA! The room has its own kitchen equipped with utensils, a microwave and refrigerator, so you can even prep your own food too.

The living room is nice and spacious so you can really let your hair down and relax. There's a limited number of beds but there's no limit to the amount of people that can stay over, so invite all of your friends along!

④Watch movies on the projector

The room is equipped with an Android TV mobile projector which has Netflix, Hulu, YouTube and other services on it as well as games. There's endless amounts of fun to be had, so grab your snacks and put on a movie or compete together in a game. The screen projects onto the white walls, so you can pick the best spot for viewing.

Projecting it on the wall beside the bed means you can relax while watching films or music videos together.

The cherry blossom pink MOSHI MOSHI ROOMS SAKURA offers a memorable accommodation experience like no other. We will continue the Top 10 list in the next article entitled Birthday Edition.

Remember, if you're looking to stay in Harajuku, be sure to book with MOSHI MOSHI ROOMS.

Models: Aiko / Ringo
Photographer: Haruka Yamamoto
Writer: Sayoko Ishii

Translator: Joshua Kitosi-Isanga

This Week's Dessert: Savouring Autumntime Matcha Sweets at ATELIER de GODIVA in Ikebukuro

One thing I do at least once a week without fail is treat myself out to some delicious food or dessert. It's very important time well spent to ensure happiness.

I've been working relatively hard as of late. I had some spare time before a business meeting, so I took advantage of the occasion to treat myself to some desserts. My destination: ATELIER de GODIVA located inside Seibu Ikebukuro.

GODIVA has numerous stores throughout Tokyo, but Ikebukuro's concept store branch has an eat-in space that's perfect for that tea or coffee break.

ATELIER de GODIVA boasts that same level of quality when it comes to their desserts, some of which are exclusive to this branch. There are only three branches: this one in Seibu Ikebukuro (Tokyo), another in Daimaru Kyoto (Kyoto), and the last in Hakata Hankyu (Fukuoka). The cake I am showing you today is a special dessert sold only in these three branches (and is takeout only at Hakata Hankyu).

The first delight I ordered was the Mousse Matcha Cherry.

Mousse Matcha Cherry: Eat in ¥980 / Takeout ¥780 (*Matcha Ice Cream is eat-in only)

Available: Until November 26, 2019 while supplies last

The shiny cake is served on a round white plate with a dollop of matcha ice cream. The pink berry sauce is drizzled around the plate to make the plating even cuter.

Time to tuck in. This extravagant cake is supported by a fluffy matcha mousse topped with a crunchy chocolate sable. On top of that still are juicy cherries, adding a hint of freshness to the cake. The matcha glaze on the mousse has just the right amount of bitterness, which when coupled with the subtly sweet matcha mousse makes for a heavenly balance of flavours. Lined around the base of the mousse are sweet and sour dried raspberries which elevated the matcha-ness of the matcha mousse.

The matcha ice cream which it comes with when you order to eat in is rich and creamy.

I was full up after my dessert, but since I'd taken the time to come here I wanted to order a drink too… so I got a takeout Chocolixir Uji Matcha Kiwami from a shop adjoining ATELIER de GODIVA.

Chocolixir Uji Matcha Kiwami – ¥602 (*Takeout only at the GODIVA Seibu Ikebukuro branch)

This new drink is part of GODIVA's chocolate and tea pairing series. The chefs at GODIVA have carefully selected the best varieties of tea to combine with chocolate. This one is an iced drink made with white chocolate and matcha.

It's a mix of GODIVA's popular smooth and sweet white chocolate and rich Uji matcha. It's crowned with a sprinkling of bitter Uji matcha powder. All of the flavours are highlighted in this sweet drink. The crunchy white chocolate pieces you sip up as you drink are delicious. It's the kind of drink where you're sure to find something new each time you take a drink.

My 30-minute tea break is my little self-indulgence for the day. Spare minutes in my daily schedule affords me the chance to go and enjoy some delicious desserts. You should treat yourself to some special autumntime sweets too.

Today's Presents

Matcha Adzuki ATELIER Tablet – ¥800

It's important to share the happiness between family and colleagues on when you get the chance to enjoy something tasty. The present I bought today was a tablet chocolate handmade in the shop. The matcha white chocolate has almonds in it as well as Japanese-style chocolate mixed with adzuki. It has a strong matcha flavour and isn't overly-sweet. You can also request for a ribbon to be tied around it for gift-giving. It's a chocolate that's sure to bring anyone joy.

Writer:Sayuri Mizuno(MOSHI MOSHI NIPPON)

Translator: Joshua Kitosi-Isanga

Information

ATELIER de GODIVA Seibu Ikebukuro

Address: Seibu Ikebukuro B1F, 1-28-1 Minami-Ikebukuro, Toshima Ward, Tokyo

Opening Hours: [Mon-Sat] 10:00-21:00 / [Sun & Holidays] 10:00-20:00

ATELIER de GODIVA Daimaru Kyoto

Address: Daimaru Kyoto B1F, 79 Tachiuri Nishimachi, Shimogyo Ward, Kyoto, Kyoto Prefecture

Opening Hours: [Mon-Sun] 10:00-20:00

ATELIER de GODIVA Hakata Hankyu

Address: Hakata Hankyu B1F, 1-1 Hakataekichūōgai, Hakata Ward, Fukuoka, Fukuoka Prefecture

Opening Hours: [Sun-Thurs] 10:00-20:00 / [Fri-Sat] 10:00-21:00

Chocolixir Uji Matcha Kiwami

Running: October 1, 2019 – November 30, 2019

Available: GODIVA

https://www.godiva.co.jp/boutique/?view=map&store_list_id=50

GODIVA Official Website: https://www.godiva.co.jp/

Visiting the Weathering With You Cafe Now Open in Tokyo and Osaka

LEGS COMPANY opened two cafes themed on the hit anime film Weathering with You in Tokyo and Osaka on October 8 and October 10 respectively. The cafes will run for a limited time only.

We paid a visit to the Tokyo branch which opened inside OMOTESANDO BOX CAFE & SPACE which is only a 7-minute walk from Omotesando Station.

The new blockbuster hit from internationally-acclaimed animator and film director Makoto Shinkai Weathering with You dropped back on July 19 and has since amassed over 13 billion yen (approximately US$131 million) in the box office. It was seen by 7.5 million people in the first 34 days of its release, and over 10 million after 75 days. Its huge success has cemented itself in the Japanese animated film industry as another monumental masterpieces from Shinkai. The film has also been nominated for Best International Feature Film for the upcoming 92nd Academy Awards set to take place on February 9, 2020.

While sat in the cafe you can watch scenes from the film on the giant screens while the main songs performed by RADWIMPS play.

The cafe menu features a line-up of drinks, dishes and desserts inspired by the characters and moments in the series, including the chahan set prepared by Hina for Hodaka, the Hodaka Welcome Party Set, and more.

Teru Teru Omurice – ¥1,490

This is the dish I ordered to eat. I couldn't resist how cute it was. It's inspired by the teru teru bōzu that Nagi makes, a traditional Japanese doll used to prevent rain and bring good weather. The doll's head is made of mashed potato. He's sat on a bed of ketchup rice filled with vegetables and bathed in a delicious sauce. This one's too cute it almost seems a waste to eat♡

Nagi's Teru Teru Bōzu À La Mode – ¥1,490

For dessert I ordered another teru teru bōzu treat. This one is made from gyūhi, a type of Japanese confection made from rice flour. Its head is filled with vanilla ice cream, and if you turn it over, you'll find Japanese pudding underneath, and under that granola. It's finished with a lining of bright blue lychee jelly around the outside for a hint of freshness.

The cafe offers plenty of other dishes that will leave any Weathering with You fans spoiled for choice.

Hina's Handmade Sesame Oil Infused Pea Sprout Potato Chahan Set – ¥1,490

A chahan set lovingly prepared by Hina for Hodaka. Chop up the spring onions that come on the side and add them to the soup just like Hina does in the film! This is a hearty set sure to fill you up.

Hodaka's Welcome Party Set – ¥1,590

This one-person set was made lovingly by Natsume when Hodaka comes to work at the same company as her, K&A. If you're looking for a healthy green meal packed with veggies then you'll love this one.

Clearing Up Weather Tiramisu – ¥1,490

This refreshing matcha tiramisu is inspired by the scene when Hina and Hodaka reunite, with the sauce representing the sunlight and the cotton candy the rainy clouds. Pour the sauce over the cotton candy and watch the clouds clear up.

Acai Bowl of the World's Secrets – ¥1,390

Enjoy the main key visual of the film right on top of your plate. The mild flavour of the yogurt coupled with the refreshing kiwi is a mouth-watering combination. The colours are really beautiful, too.

Swirling Snow Whipped Latte – ¥990

Inspired by the immense snow that spirals around Tokyo in the film, a cup of this whipped cream latte is perfect as a post-meal wind-down.

Left: The Fine Weather That Day (Grapefruit) – ¥1,690 / Right: The Sunset That Day (Cranberry) – ¥1,690

These two drinks are for takeout, and are based on iconic scenes in the film, specifically when the turns fine and the sunset. They are served in exclusive cafe-original bottles. Both flavours are sweet, sour and refreshing. Plus, you can reuse the bottles.

If you order one of the many drinks from the menu you'll receive one of six possible coasters chosen randomly.

The cafe has plenty of exclusive merchandise on their shelves too.

Sparkly Rain Smartphone Case (7/8 Ver. & X Ver.) – ¥3,900 Each

When you shake these iPhone cases, it looks like the rain is falling.

Raindrop Stickers (10 Designs) – ¥400

Don't you just want to collect all of these cute raindrop stickers?

If you book a seat in advance (¥650 before tax per person) you will receive one of six possible bromide pictures chosen randomly, so don't forget to reserve in advance.

Plunge yourself into the world of Weathering with You at either one of these cafes, now running until November 17.

*Photos are for illustrative purposes only. All listed prices are pre-tax prices.

©️2019 "Weathering with You" Production Committee

Information

Weathering with You Cafes

Locations/Dates:
①OMOTESANDO BOX CAFE&SPACE (Pine Under Flat B1F, 5-13-2 Jingumae, Shibuya, Tokyo) @ October 8, 2019 – November 17, 2019

②Osaka Shinsaibashi contact (1-6-24 Kitahorie, Nishi Ward, Osaka, Osaka Prefecture) @ October 10, 2019 – November 17, 2019

Table Reservations:

Price: ¥650 (Before Tax) *Includes bonus item

*Advance table reservations opened on September 24, 2019

Weathering with You Cafe Website: https://tenkinoko-cafe.jp/
RELATED ENTRIES
Tokyo's New Museum Cafe is a Haven For Fans of Architecture

Japanese company Banc, which specialises in setting up hotels and other sites, held the grand opening of the new Architecture Cafe Sumika, a new museum/cafe in Shinjuku, Tokyo, on April 28.

A peek inside

A recreation of Fallingwater, a house designed by the architect Frank Lloyd Wright 

Painting by chalk artist Misuzu Wakai

Architectural designs recreated at the new museum cafe

Villa Savoye (Le Corbusier)
Fallingwater (Frank Lloyd Wright)
Casa Ligornetto (Mario Botta)
Sky House (Kiyonori Kikutake)
Maison a Bordeaux (Rem Koolhaas)
Malin Residence "chemosphere" (John Lautner)
Eames House (Charles and Ray Eames)
Silver Hat (Toyo Ito)
Fisher House (Louis Kahn)
Mailam House (Paul Rudolph)
The Glass House (Lina Bo Bardi)
Steel House (Kengo Kuma)

A little look at the menu

<Miho Chef Chocolatier> Premium Gateau Chocolate: ¥1,200 / Raw Marble Chocolate: ¥1,000 / Raw Dami Chocolate ¥450

<Ten no Ya> Egg Sandwich: ¥750

Architecture Cafe Sumika aim sto be a cosy space for architecture lovers who can enjoy thinking about their ideal home, talking about their favourite architect, and thinking about how architecture changes with the times. The cafe has recreated 12 architectural marvels from 12 different renowned architects, each at which sits at a different table.

 

The cafe, which is located in Shinjuku Sanchome, employs a spacious cafe area with high ceilings that can be enjoyed by both lovers of architects and cafe enthusiasts where they can relax with a cup of tea, coffee, a soft drink, or even alcohol, the latter of which is served at bar hours from 18:00, completely changing the atmosphere into a night museum. There's also a tasty food menu to tuck into.

If you're looking to speak to someone about architecture and real estate, Architecture Cafe Sumika also houses its own resident experts. Customers can also enjoy a range of other works by architects and interior designers.

In celebration of the cafe's opening, a competition is being held to create a jungle gym for children where entrees can win cash prizes, the top being ¥300,000. More details below.

Information

Architecture Cafe Sumika

Address: 6th Sanwa Bldg Floor 4F, 3-6-7 Shinjuku, Shinjuku-ku, Tokyo
Opening Hours: Cafe 10:00-18:00 / Bar 18:00-04:00 (Last Orders 03:00)
No Fixed Holidays
TEL: 03-5315-0396
Official Website: https://sumika-shinjuku.com/

1st Architect Contest

Submission Period: June 20, 2021 – June 27, 2021
Winner Announcement: June 28, 2021
Winning Work Display Period: July 1, 2021 – August 30 2021

Submission Entry: Children's Jungle Gym

Size: Max 60cm x 60cm x 40cm

Colouring: Any

Cash Prizes: Winner ¥300,000 (1 Person) / Runner-Ups ¥100,000 (7 People)
Submissions: Must be made by June 19, 2021

How Winners Are Selected: Entrants will be posted on the cafe's official Instagram – the most popular from the votes will be selected

Peter Luger Steak House Opens First Japanese Branch at Ebisu Garden Place

Hailing originally from Brooklyn, the 130-year-old Peter Luger Steak House has announced the opening of its first-ever Japanese branch which will welcome customers at Ebisu Garden Place in Tokyo this September with its 3-storeys of red brick.

Peter Luger is credited with spreading the mouth-watering wonder of dry-aged beef steak to the world which has made the restaurant's name globally famous. The restaurant of course wields a Michelin Star and has been featured high on the Zagat Survey for over 30 years.

The secret behind Peter Luger's signature ingredient

The restaurant's beef fillet and New York strip are signature items on the menu, both of which are made from porterhouse steak. Their steak is also made from USDA Prime beef which is dry-aged by hand to intensify the flavour and aroma.

The porterhouse is placed directly onto the broiler and seasoned solely with salt. The steak is flipped only once during the broiling process. A knob of melted butter is added to a serving platter and the steak is sliced atop it. It's then placed back into the broiler for a few minutes depending on the doneness requested by the customer. It's this process that gives Peter Luger's steaks their deliciousness. 

 

Brooklyn red brick building and theatre decor

The Japanese branch takes inspiration from the Brooklyn restaurant with its red brick exterior.

The first floor is home to the bar where customers can enjoy food and cocktails. There's also a takeout shop with gifts and other items.

The second floor is the spacious dining space which is home to Peter Ruger's first-ever open kitchen. The third floor is another seating area with balcony-like seats so you can look out over the city.

There are seven private dining rooms of varying sizes for those looking a little more intimacy and privacy. The restaurant's lighting was also designed by a New York designer.

Information

Peter Luger Steak House Tokyo

Grand Opening: September 9, 2021

Address: 4-19-19 Ebisu, Shibuya, Tokyo

Bookings: From August 2021

Peter Luger Steak House Japan Official Website: https://peterluger.co.jp/

Shiseido Parlour Releases Creamy BOUQUET DE FRAISES Biscuit Cake

The Ginza branch of Shiseido Parlour in Tokyo released its new BOUQUET DE FRAISES biscuit cake on Friday. The dessert is inspired by Shieido Parlour's strawberry parfait and is made to be held in one hand. It comes with three kinds of creams, and each is a crunchy and customisable delight decorated like a bouquet.

BOUQUET DE FRAISES | ¥540 (Tax Included)

The buttery cone is a cat tongue biscuit and is filled with cream shanty, cream patissiere, and strawberry jam. The bouquets are also topped with fresh strawberries.

BOUQUET DE FRAISES (Box of 10) | ¥5,724 (Tax Included) | Reservation-only

Umbrella Installation Decorates Cafe in Chiba

This cafe will keep your dry while you enjoy your coffee as it brings together the Japanese rainwear brand Wpc. and community space Tsubakimori Komuna with the limited-time cafe Wrapping komuna ~blooming~ which is now running until the end of May.

Tsubakimori Komuna first opened five years ago and recently received huge renovation work, reopening in January of this year. Wrapping komuna ~blooming~ sees the return of the colourful umbrella installation which was featured as part of its reopning.

The theme of the installation is "blooming" and features six different colours of umbrella representing different drinks such as strawberry milk, ramune, and soda. The umbrellas twinkle as the light filters through the trees at different angles, creating a gorgeous atmosphere at the cafe which itself is built like a treehouse.

Information

Tsubakimori Komuna x Wpc. Wrapping komuna~blooming~

Running: April 16, 2021 – May 31, 2021

Where: 1-21-23 Tsubakimori, Chuo-ku, Chiba-shi, Chiba

Access: 3-minutes on foot from Chibakoen Station / 9-minutes on foot from JR Chiba Station
Opening Hours: [Mon-Sat] 11:00-21:00 / [Sun] 07:00-18:00

Official Website: https://www.tsubakimorikomuna.com/

New Doraemon and Korosuke Dessert Gets Served at the Fujiko F. Fujio Museum

The Kawasaki-based Fujiko F. Fujio Museum, which is dedicated to the Japanese manga writing duo who created Doraemon, is now serving up its new Doraemon Korosuke Chiffon Sandwich which was added to the menu on Wednesday.

Doraemon Korosuke Chiffon Sandwich | ¥1,280 (Tax Included)

The new arrival sees Doraemon and Korosuke turned into chiffon sandwiches with the beloved blue robot cat made from chocolate and filled with banana cream and his friend filled with mango cream.

Check out some of the other items available on the menu at the museum too.

Doraemon Arrabbiata | ¥1,230 (Tax Included)

French Toast de Anki Bread | ¥980 (Tax Included)

Fork into the Doraemon Arrabbiata with tomato sauce and a Doraemon face made from egg sheets, or a French toast inspired by Doraemon's Copying Tost, one of his many Secret Gadgets.

ⒸFujiko-Pro

Information

Doraemon Korosuke Chiffon Sandwich

Released: April 21, 2021

Where: Fujiko F. Fujio Museum

Address: 2-8-1 Nagao, Tama Ward, Kawasaki, Kanagawa 214-0023, Japan

Opening Hours: 10:00-18:00

Official Website: http://fujiko-museum.com/english/

SEGA to Open Love Live! Themed Cafe in Akihabara and Around Japan

GENDA SEGA Entertainment is set to open a themed cafe in collaboration with Love Live! Nijigasaki High School Idol Club on April 29, 2021.

A completely original menu themed on the characters

Fans can tuck into a very special menu inspired by the members of the Nijigasaki High School Idol Club with drinks, desserts, and food. The cafe will run over the course of three periods each of which will also include their own unique menu items.

Drinks | ¥660 Each (Tax Included)

Period ①: Hamburger Plate / Yaki Udon | ¥1,320 Each (Tax Included)

Nikujaga Plate / Clam Chowder | ¥1,320 Each (Tax Included)

Period ②: 1st Year Banana Parfait / 2nd Year Strawberry Parfait / 3rd Year Grape Parfait | ¥1,100 Each (Tax Included)

Period ③ menu exclusives to be revealed

Get some freebies simply by ordering

Period ①: Drinks Coaster / Food Coaster / Parfait Costers

Period ②: Drinks Coaster / Food Coaster / Parfait Costers

Period ③ exclusive freebies to be revealed

Character birthday cards

Kanon Shibuya – May 1, 2021 / Sarah Kazuno – May 4, 2021

Ai Miyashita – May 30, 2021 / Nozomi Tojo – June 9, 2021

Mari Ohara – June 13, 2021

Merchandise to add to your collection

Releasing: April 29, 2021

Acrylic Stands | ¥1,320 Each (Tax Included)

Art Panels | ¥660 Each (Tax Included)

Releasing: May 15, 2021

Chibi Key Rings | ¥770 Each (Tax Included)

Bonus merch for every ¥2,000 spent

Bromides | Available April 29, 2021 – May 14, 2021

Bromides | Available May 15, 2021 – May 28, 2021

©2013 プロジェクトラブライブ! ©2017 プロジェクトラブライブ!サンシャイン!!
©2020 プロジェクトラブライブ!虹ヶ咲学園スクールアイドル同好会 
©2021 プロジェクトラブライブ!スーパースター!!
©GENDA SEGA Entertainment Inc.

Information

SEGA x Love Live! Nijigasaki High School Idol Club Collaboration Cafe
Running: April 29, 2021 – June 13, 2021

Where: SEGA Collaboration Cafe Akihabara 3 (SEGA Akihabara 3 Floor 7F) / SEGA Collaboration Cafe Stand / SEGA Akihabara 4 / Nanbasennichimae / Sendai / Okayama / Fukuoka Tenjin / Sasashima
 

Schedule

Period ①: April 29, 2021 – May 14, 2021

Period ②: May 15, 2021 – May 28, 2021

Period ③: May 29, 2021 – June 13, 2021

Cafe Details: https://sega-collabocafe.com/top/nijigasaki03.html

Love Live! Official Website: https://www.lovelive-anime.jp/nijigasaki/

Enjoy a Healthy Junk Food Menu at Shibuya LOFT's New Cafe 2foods

Shibuya LOFT opened its new '2foods' cafe on April 15 which serves junk food healthily.

2foods uses absolutely no eggs or milk in their menu – everything is plant based and healthy, making it a haven for vegan foodies, especially in Japan where there aren't as many vegan places as other countries. What's better is that everything's reasonably priced too. There are around 60 menu items to choose from, like curry and soba as well as desserts, organic coffees and lattes, cold pressed juice, and more.

Artist's rendition of the cafe

Curry | ¥1,023 (Tax Included)

A hearty and spicy curry served with brown rice which is better for digestion.

Tantanmen Ramen | ¥968 (Tax Included) | Shibuya LOFT exclusive

A ramen soup with 100% gluten free rice flour noodles, soy milk, sesame seeds, peanuts, soy meat, and other healthy and natural ingredients.

Egg Doughnut Sandwich | ¥528 (Tax Included)

A vegan egg sandwich that doesn't use eggs but tastes just like them.

Gateau Chocolate | ¥528 (Tax Included)

A rich chocolate gateau made with brown rice powder and soy cream.

Information

2foods Shibuya LOFT

Opened: April 15, 2021

Address: Shibuya LOFT (Floor 2F), 21-1 Udagawacho, Shibuya, Tokyo
Opening Hours: 11:00-20:00 
TEL: 03-6416-4025 

Official Website: https://www.loft.co.jp/

Harajuku's Pompompurin Maid Café to Open on April 14

Akihabara's premiere maid café chain "@home café" announced last month the opening of a permanent maid café themed on Sanrio's popular character Pompompurin. The café is set to open along Harajuku's famous Takeshita Street on April 14, 2021.

 © 2021 SANRIO CO., LTD.  APPROVAL NO. S620028

@home café has collaborated with many of Sanrio's popular characters in the past at its Akihabara-based café branches such as Hello Kitty, My Melody, Cinnamoroll, and of course Pompompurin, but this time the collaboration is flying out of Akiba and straight into the heart of Japanese pop culture: Harajuku.

This new Pompompurin Café is themed on Pompompurin throwing a party for everyone—that's you and your friends. It's a place for Purin to deliver happiness to all who visit in the form of cute and tasty food.

Of course, the @home café maids will also be present, and all wearing original maid uniforms coloured like Pompompurin.

A little look at some things on the menu

The Food

Soufflé Omurice | ¥1,450

Butter Chicken Curry | ¥1,300

The Desserts

Pompompurin Pudding | ¥700

Chocolate Banana Mountain Waffle | ¥1,200

The Drinks

Custard Pudding Latte | ¥850

Muffin's Caffe Mocha | ¥850

Take a commemorative photo

For just ¥550, you can take a chekki photo at the café. It comes with café-original stickers and paper. For an extra ¥300, you can take a photo with one of the maids.

Pompompurin Birthday Party

 

April 16 is Pompompurin's birthday, so on that day the café will have a special dessert prepared (which you can see below) along with novelties for customers, new decorations, and more.

Pompompurin's Birthday Dessert

Special Birthday Parfait | ¥1,700 | Serving: April 14, 2021 – April 30, 2021

Birthday Novelty

To commemorate Pompompurin's birthday and the opening of the café, all visitors will receive the pin below for free.

Pompompurin will visit the café

On the evening on April 16, Pompompurin will visit the cafe for his birthday to celebrate with everyone. Details and bookings can be found here in Japanese.

Information

Pompompurin Cafe x @home cafe

Grand Opening: April 14, 2021

Where: CUTE CUBE HARAJUKU Floor 3F, 1-7-1 Jingumae, Shibuya, Tokyo

Opening Hours: [Weekdays] 11:00-22:00 / [Weekends] 10:00-22:00

No Fixed Holidays

Pompompurin Cafe Official Website: https://pompompurincafe.com/

@home Official Website: http://www.cafe-athome.com/

Renai Mangaka Drama Series Gets Themed Cafe in Tokyo

Fuji TV's ongoing drama series Renai Mangaka opened a theme cafe in Ebisu on April 8 with dishes inspired by the series.

The Menu

Renai Pancakes | ¥1,892 (Tax Included)

Renai Fondant Chocolate | ¥1,122 (Tax Included)

Renai Lemon Sour | ¥660 (Tax Included)

Renai Strawberry Milk | ¥990 (Tax Included)

Renai Bread Gratin | ¥2,805 (Tax Included)

Renai Bread Dessert | ¥990 (Tax Included)

Renai Dessert Plate | ¥1,232 (Tax Included) | Available Early May 2021

Renai Omurice | ¥1,452 (Tax Included) | Available Early May 2021

The story of Renai Mangaka follows Karibe Seiichiro, a manga artist who's not the best at socializing. He rarely goes outdoors and has a strange way of thinking. One day, he meets his late-brother's former girlfriend Kuon Aiko, and asks her to be his pseudo-romance partner.

Information

Cafe Accueil Ebisu x Renai Mangaka Collaboration Cafe

Opened: April 8, 2021

Where: Cafe Accueil Ebisu

Address: 2-10-10 Ebisunishi, Shibuya-ku, Tokyo

Opening Hours: 11:00-21:00 (Last Orders 20:00)

Official Website: http://www.fujitv.co.jp/

The Moomin Cafe at Tokyo Dome City Begins Serving Breakfast Menu

The Moomin Cafe at Tokyo Dome City LaQua introduced a breakfast menu on April 1.

Hot Ham & Cheese Sandwich: One – ¥510 (Tax Included) / Two – ¥800 (Tax Included)

Hattifatteners Hot Dog: ¥600 (Tax Included)

Northern Europe Breakfast Plate | ¥1,500 (Tax Included)

Open Fruit Sandwich | ¥700 (Tax Included)

Five fun and delicious items arrive at the Moomin Cafe for the spring season, each with a reference or design inspired by the beloved Moomins.

Information

Moomin Cafe

Breakfast Menu: Released April 1, 2021

Where: Tokyo Dome City LaQua

Official Website: https://moomincafe.jp/

Gaspard and Lisa Themed Menu to be Served in Tokyo

The popular French characters Gaspard and Lisa are getting their own themed menu at Le Cafe la Boutique du Joel Robuchon in Tokyo. The menu will be served from April 24 to May 9 and takes inspiration from Anne Gutman and Georg Hallensleben's children's book series.

Gaspard and Lisa One Plate & Cocktail Set | ¥3,300 (Tax Included)

Non-Alcoholic Strawberry & Lychee Cocktail | ¥990 (Tax Included)

Strawberry Galette (With Coffee or Tea) | ¥2,420 (Tax Included)

Coasters

Pouch

The first 500 customers who order something from the menu will receive a free coaster, and those who spend over ¥5,000 will get a special pouch.

Enter the charming world of Gaspard and Lisa with this cute themed menu.

(C) 2021 Anne Gutman & Georg Hallensleben / Hachette Livre

Information

Le Cafe la Boutique du Joel Robuchon x Gaspard and Lisa

Running: April 24, 2021 – May 9, 2021

Where: Le Cafe la Boutique du Joel Robuchon (Nihonbashi Takashimaya S.C. Floor 2F)

Opening Hours: 10:30-19:30 (Last Orders 18:30)

Reservations: 03-5255-6933

Official Website: https://www.robuchon.jp/

Ham and Cheese Dorayaki and Other Delicious Foods Release at Old-Time Japanese Dessert Shop Eitaro

Japan's 203-year-old confectionery shop Eitaro Sohonpo is rolling out a new series of delicious delights over the next three weeks at Nihonbashi E-Chaya.

Week One: From April 7, 2021 all year round

Nihonbashi Dorayaki: Ham & Cheese/Egg Salad/Anko Mochi – ¥303 Each (Tax Included)

Week Two: April 14, 2021 – April 28, 2021

Assorted Sweets Set | ¥1,000 (Tax Included)

Week Three: April 21, 2021 – April 28, 2021 (and the same dates every month from May)

Mangetsu Mochi Omusubi | ¥270 (Tax Included)

Exclusive to Nihonbashi E-Chaya, the new release includes two different deli-style dorayaki as well as an anko red bean paste version, a plate of assorted Japanese sweets, and a red rice ball made with black-eyed peas instead of sesame seeds. Red rice was often consumed on joyous occasions during the Edo period.

Information

Nihonbashi E-Chaya 

Address: 1-2-5 Nipponbashi, Chuo-ku, Tokyo

Opening Hours: [Weekdays] 08:00-16:30 / [Saturdays] 10:00-16:30

Closed: Sundays & Public Holidays

Official Website: https://www.eitaro.com/